I'm always excited when Adrianna is testing a new pattern, and I always have to join her testing group. I've been testing for Adrianna for over a year now – the Cheyenne Tunic, the Charleston Dress, the Santa Fe Top, the Tallin Sweater and now the Trevi Top and Dress. I am tempted to say that this is one of my favourite patterns, but aren't the newest makes often the favourite ones, too? But I'm still madly in love with the Cheyenne Tunic and the Charleston Dress, so I guess I'll take it back. The Trevi isn't my favourite pattern, it's great – but so is everything else Adrianna designs.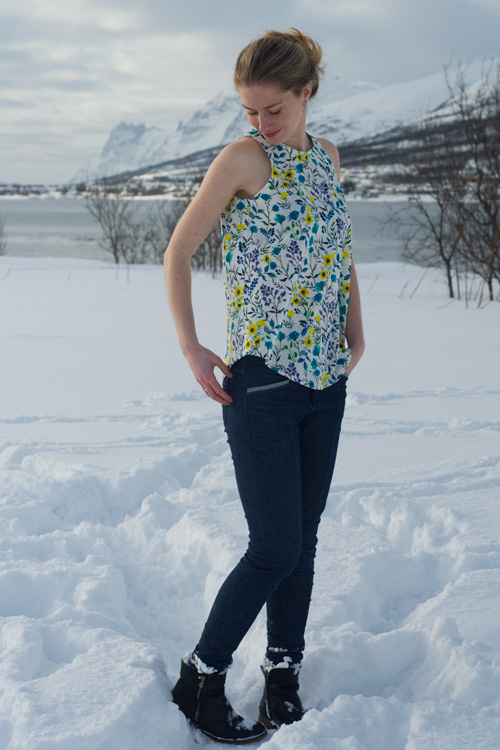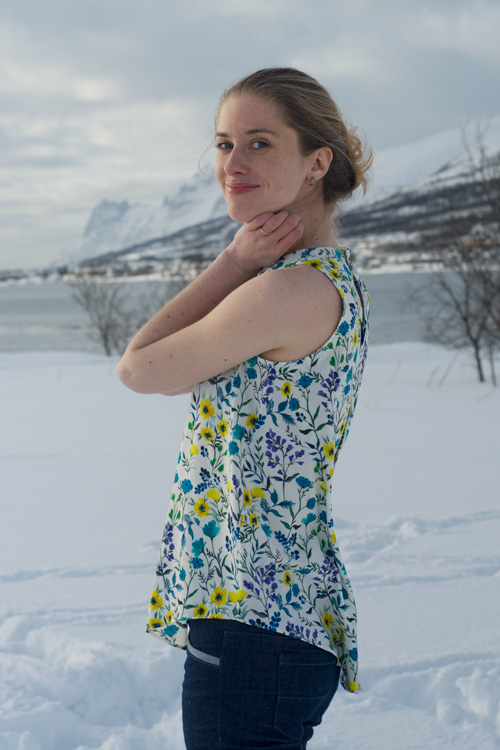 In case you're reading this and haven't tried Adrianna's patterns yet, you'll probably think that I am totally biased and that this pattern review isn't trustworthy at all, or, alternatively, you can just trust me and start believing that everything Adrianna designs is great. Your choice, I'll just keep blabbering about how much I like the Trevi. (Did you know that there's a hashtag called #adriannaisagenius? But psst, Adrianna isn't too fond of it… 😉 )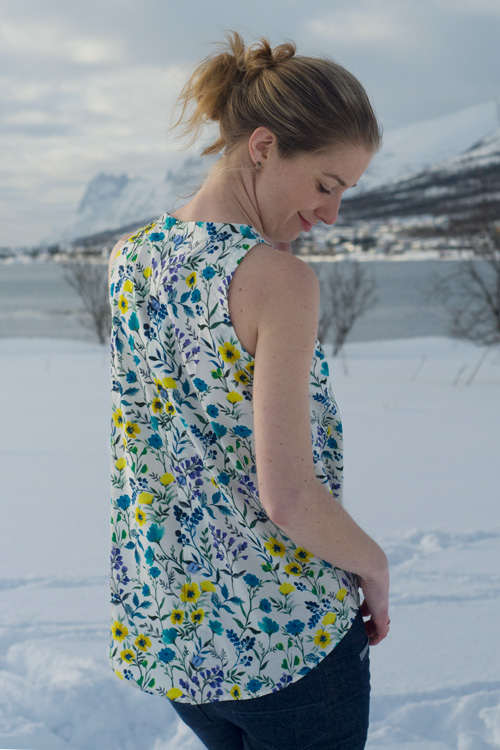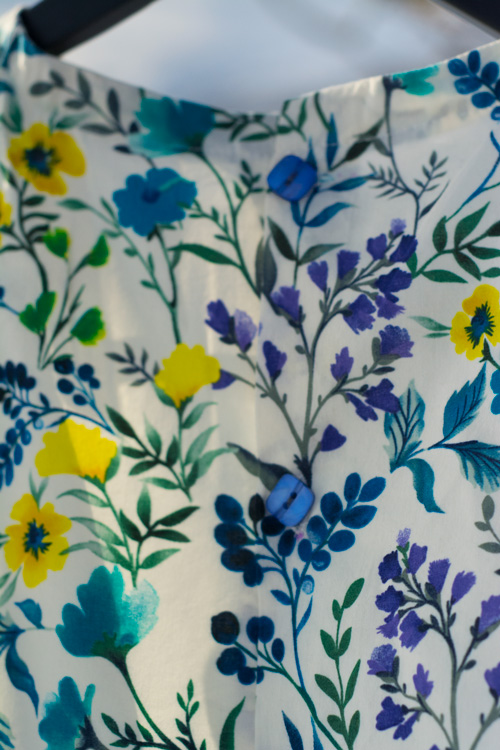 The Trevi Top and Dress is designed for wovens, it's sleeveless, has a high neckline and buttons down the back. That is obviously my favourite part. The pattern comes with and without bust darts, depending on how much difference there is between your high bust and your full bust. Tiny as I am, I made the dartless version, no surprise here.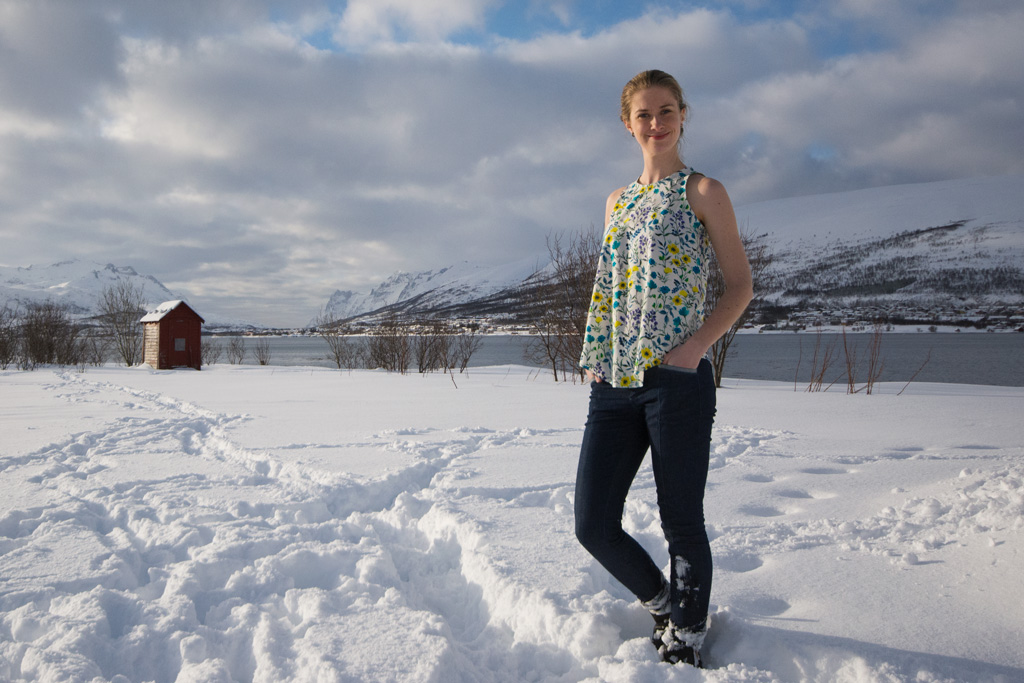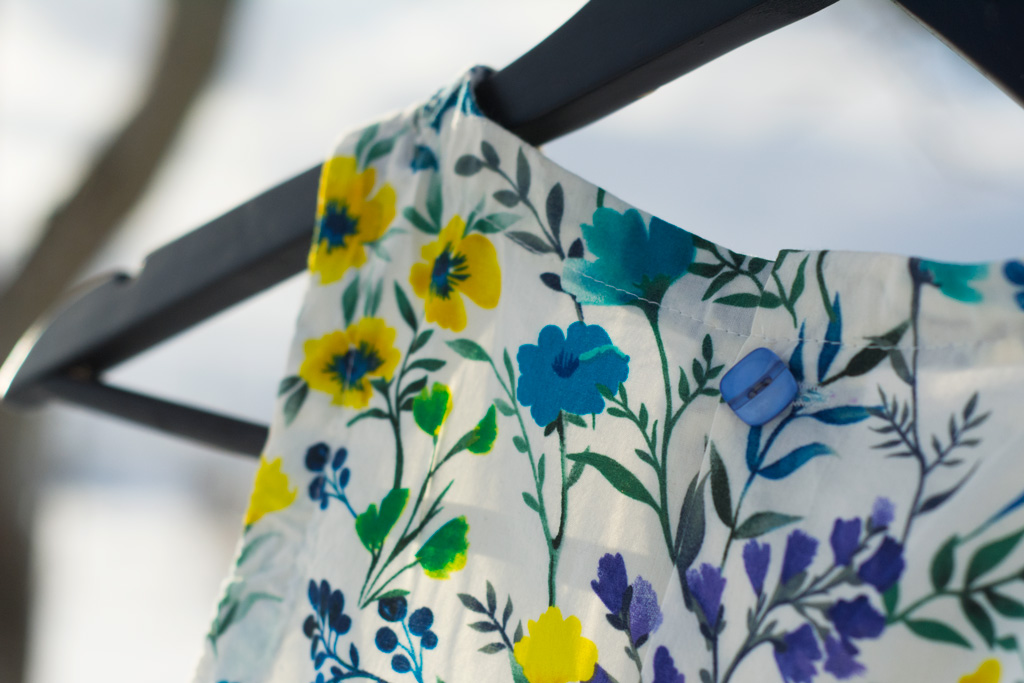 The overall design of the Trevi isn't too different from the Santa Fe, minus the shoulder yokes and the button back. Another thing I really like about the Trevi is that Adrianna's instructions show you how to French seam the whole top (or any other woven pattern Adrianna has designed, the Cheyenne is entirely French seams as well). You can see how tidy my Trevi looks from the inside, it's hard to tell that the top is inside out.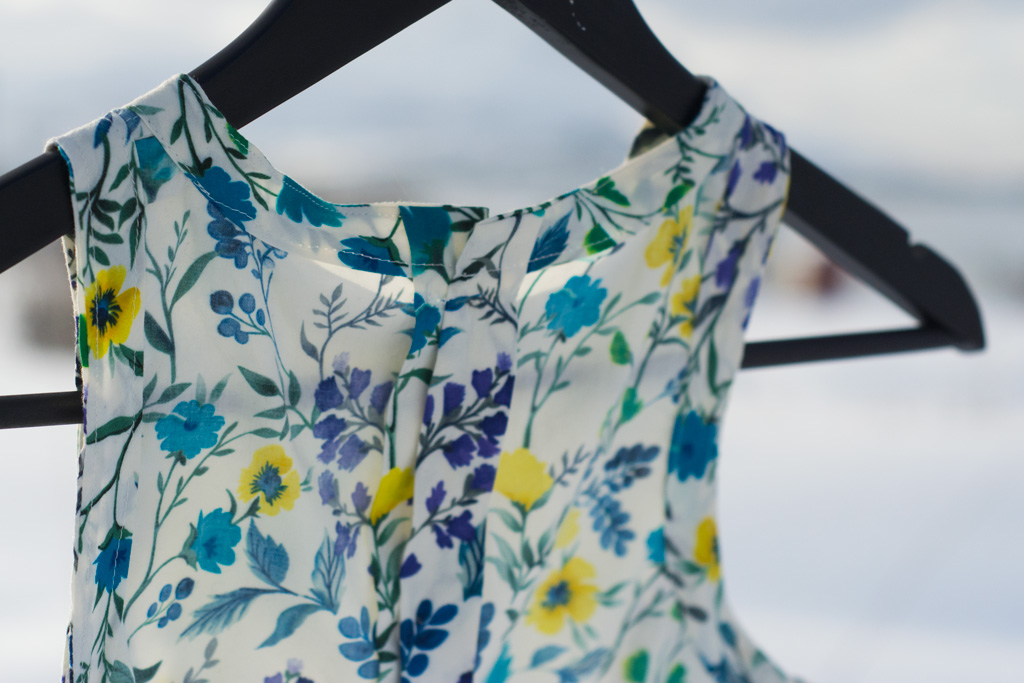 Keep in mind that my version (size XS/2) is a tester version. The binding has been changed to be slightly slimmer, making for a nicer finish, and the tiny baby hem has been changed to be a little bit wider. I love how my 1/4″ hem looks, but it's a little hard to sew and has therefore been changed to a 1/2″ hem. But if you're patient and your fabric cooperates – try the baby hem or a rolled hem! It's perfect for this top!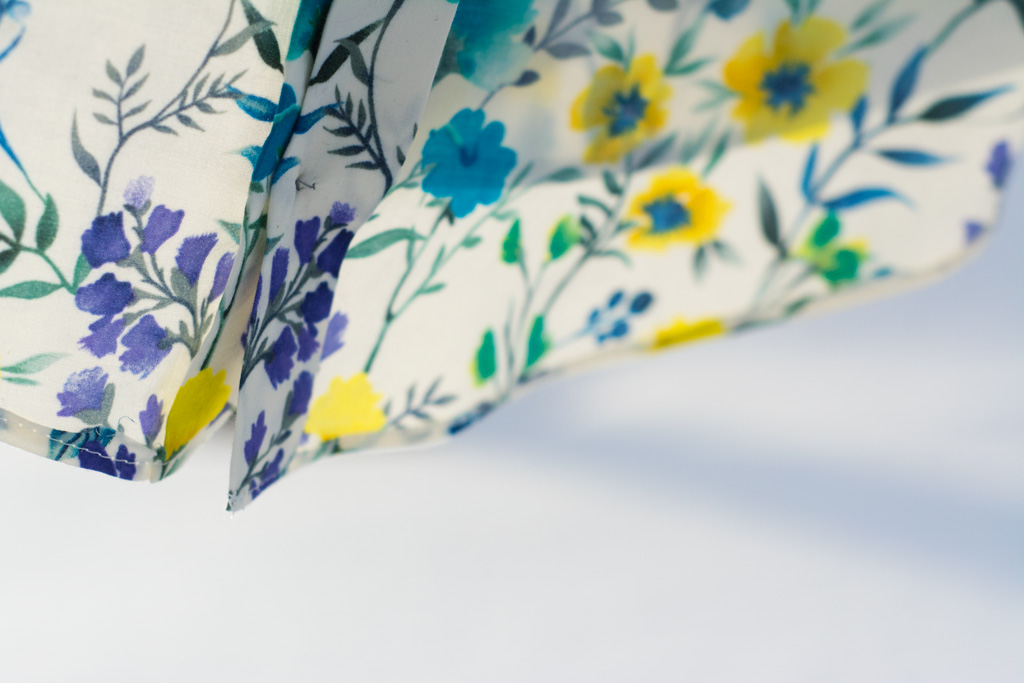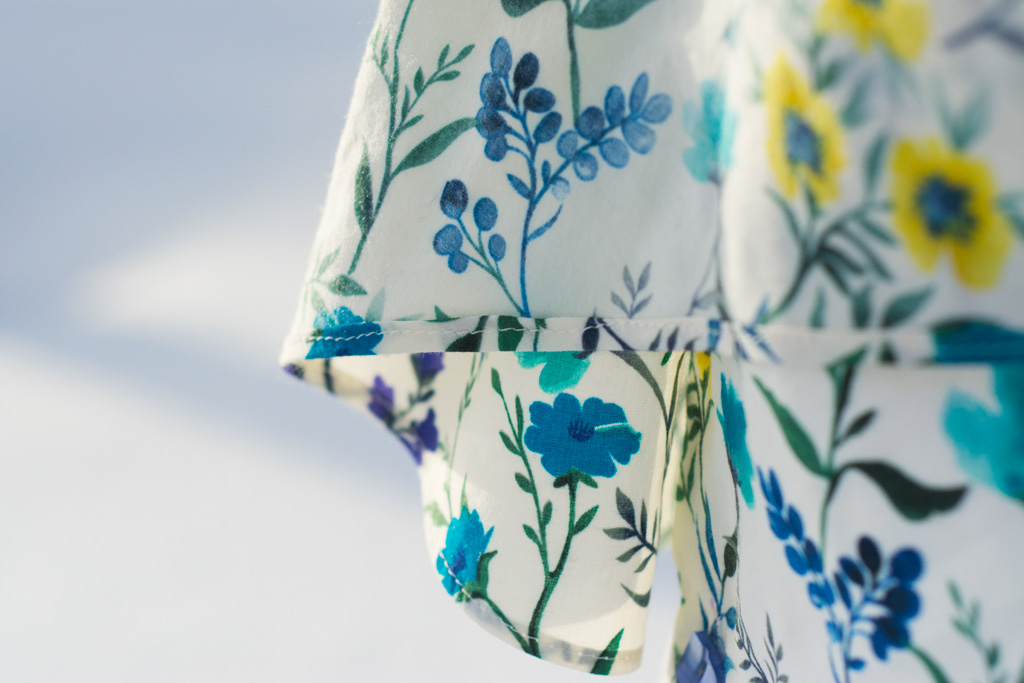 My fabric is a lovely soft cotton/rayon lawn from Miss Matatabi, it's not stiff at all and pretty flowy for a cotton. It's sold in several lovely colours (currently just two colours are available), perfect for summer sewing. I took the time to pattern match the back, although I cheated a little, because I didn't overlap the button placket totally when sewing on the buttons, otherwise the pattern wouldn't have matched as well as I hoped. I tried to find buttons that popped a little, while reflecting one of the colours on the fabric. I'm really happy with these little squared buttons, and decided to sew them on with a corner pointing up, although I doubt that's what they're designed for. Oh, and I forgot to mention: the top button-hole is sewn horizontally, while the rest is sewn vertically – I really think that's a cute detail, too!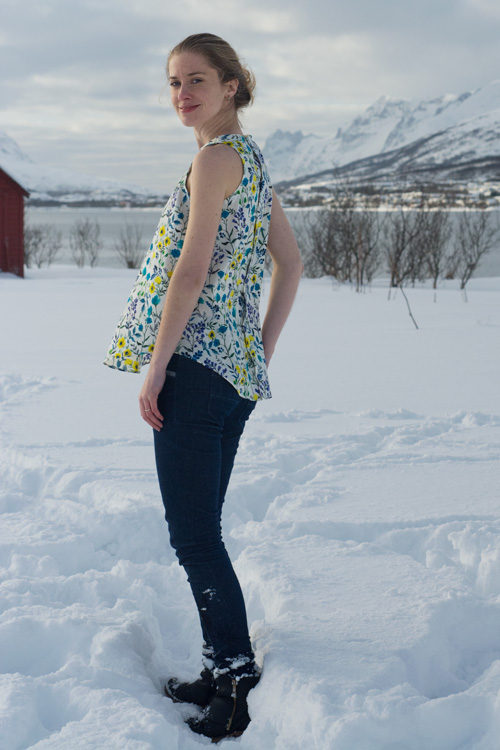 Check out Adrianna's tester round-up, it's going to be posted tomorrow. Several testers made the dress version of this pattern, and I really love the look! I'm sure that I'll make a Trevi dress for the summer. Maybe I should even cut into my precious Cotton & Steel Les Fleurs rayon??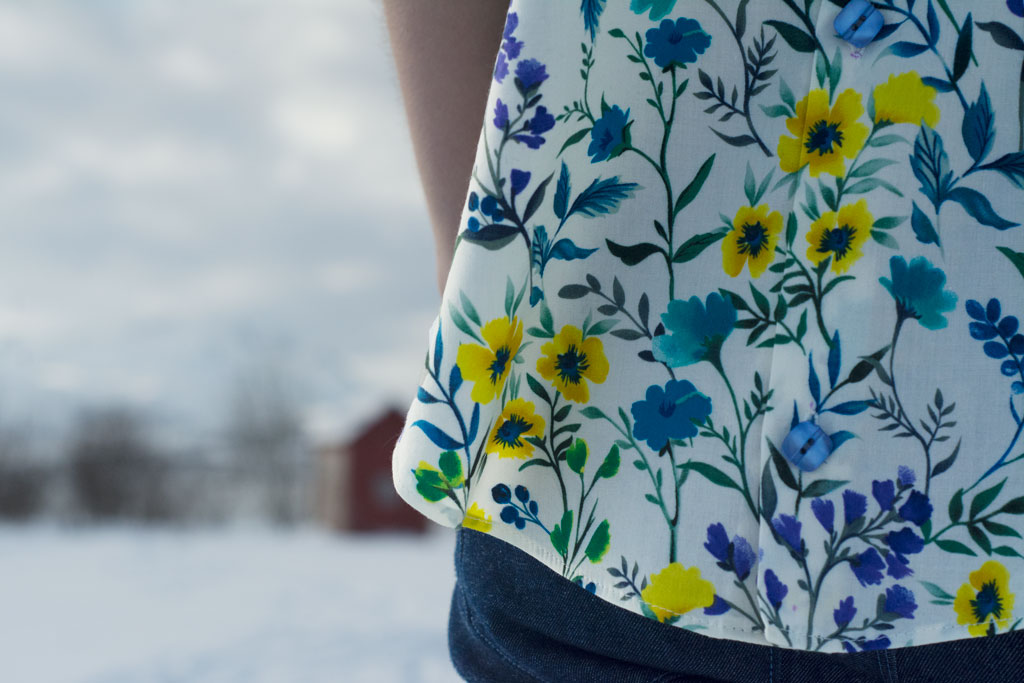 You can buy your copy of the Trevi here – it's on sale for a week!
– This blog post contains affiliate links. However, all opinions are, as always, my own. –