I missed sewing! But now, two months after the birth of our baby girl, I finally finished my first make. And I didn't sew just anything – I started with a pattern and a fabric I really, really love: Back in spring 2020 I bought a beautiful blue Liberty of London tana lawn fabric at Hello Heidi Fabrics. (It's not available there anymore, but it's called Capel Tana Lawn and available other places.) And I bought just the right pattern to go with it, too – the Thea Boho Sleeve Shirt, by Liberty of London, too. The fabric and the pattern are a perfect match, obviously, and I adore the look of this blouse – wide puffy sleeves, gathers, wide cuffs and hidden button placket. I love the blouses and dresses from the Edwardian era (have you seen Anne with an E? I could live in those dresses!) and this blouse has just the right touch of modern meets Green Gables.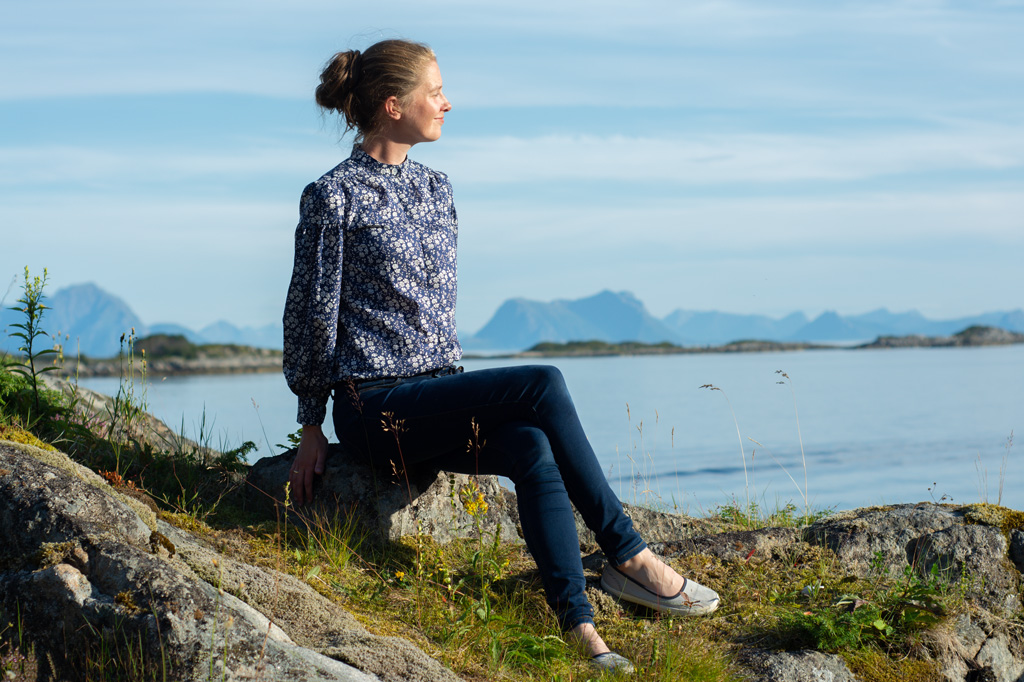 Since the blouse is rather wide I decided not to make a muslin (urgh – really? when using a Liberty fabric?? I know!) I decided to make a size 8 based on my measurements and checked the length of the sleeves and the bodice before cutting into the fabric. Both lengths seemed to be fine, so I didn't make any changes. The shoulder seems are moved towards the front, which means that I didn't expect any fit issues there, either.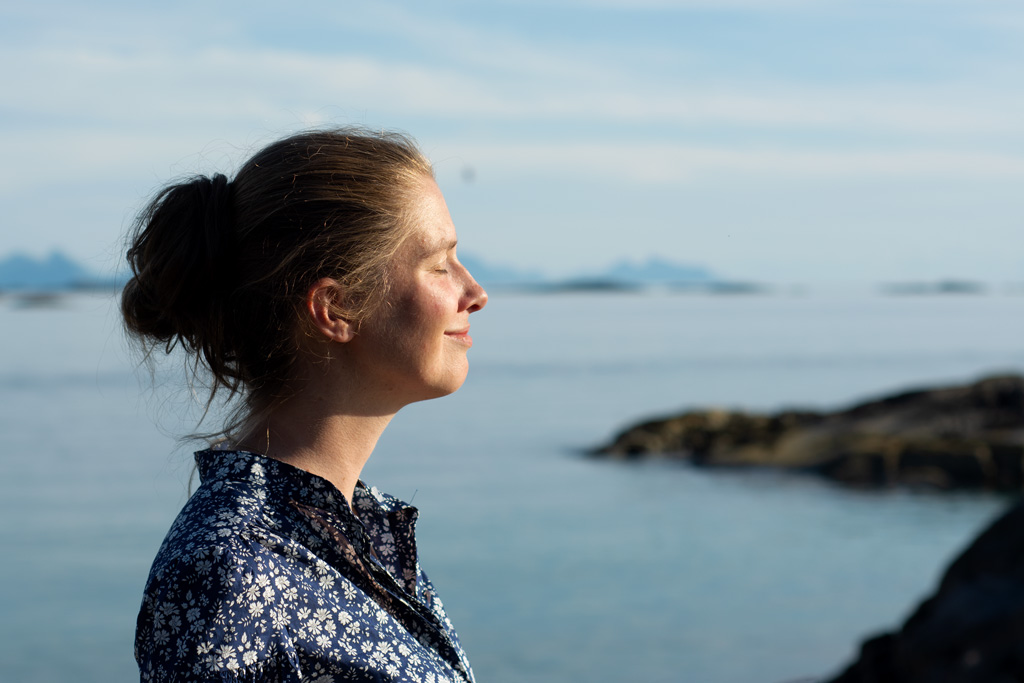 The Thea Boho Sleeve Shirt isn't particularly difficult to sew, but I don't quite agree on Liberty of London's classification as an "easy" pattern. It involves, after all, a collar, a hidden button placket, lots of gathers and cuffs. In addition to pattern instructions that are okay, but not really great, either. There are some illustrations and a step-by-step description, but not as lengthy as many of us are used to from our beloved indie designers.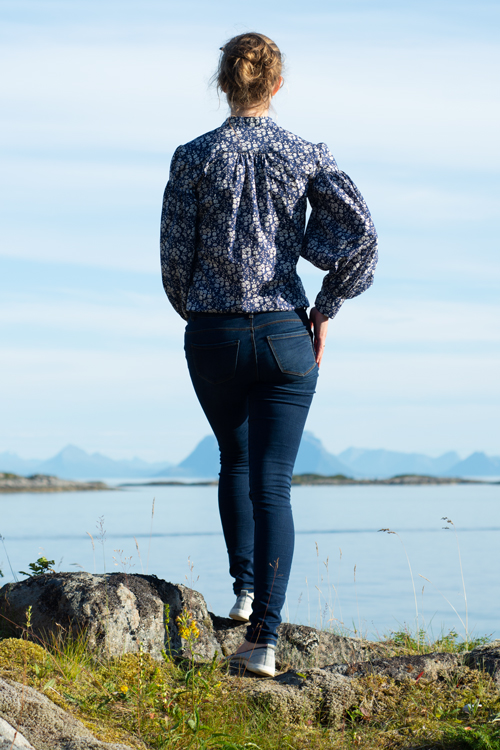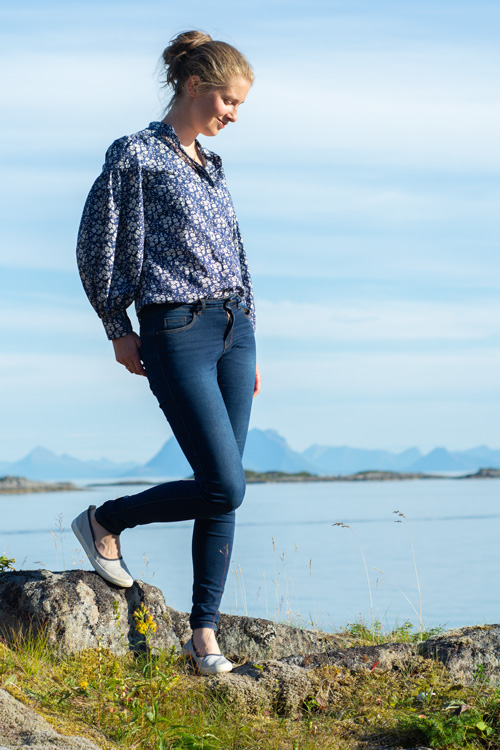 And – worst of all – there are some errors in the instructions. Nothing too severe, as long as you basically already know what to do, but it might be rather confusing for beginner sewists. As an example: The instructions tell you to match the mark at the top of the sleeve cap with the shoulder seam. That would have been correct, had the shoulder seam been at the middle of the shoulder. But in this case the shoulder seam is moved towards the front and the mark at the sleeve should be lined up with the correspondent mark at the back yoke (which is where a regular shoulder seam would have been).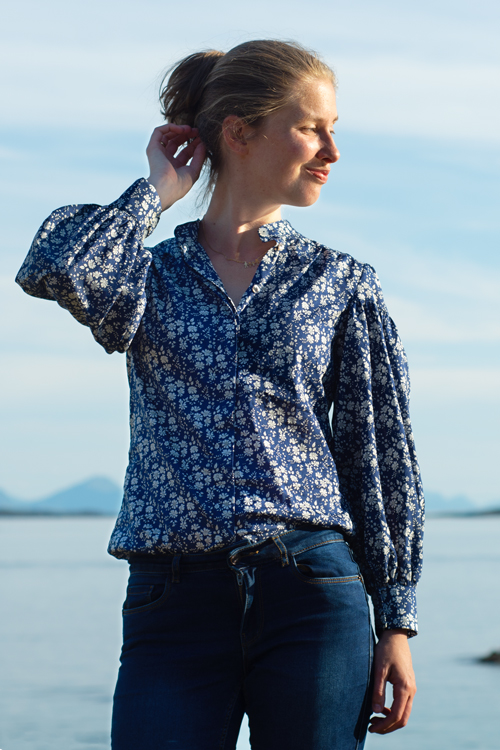 There's also something off with the instructions for the button placket, I am not quite sure what. But you need to be a bit creative to make sure no raw edges are left exposed (or you will need to finish those edges, which Liberty doesn't instruct you to do) and all parts of the placket are caught when topstitching the button placket down. In my case I folded the edge by 0,5 cm, which I thought was correct. But that meant that I wasn't able to catch the hidden part of the button placket where the button holes are sewn to while topstitching. That's okay, since the placket is kept in place by the button holes – but it would have been nicer to tack the placket down! Next time I will add 0.5 cm to the right front pattern piece in order to be able to fold AND catch it while topstitching. The placket isn't interfaced, either, and I will make sure to interface next time.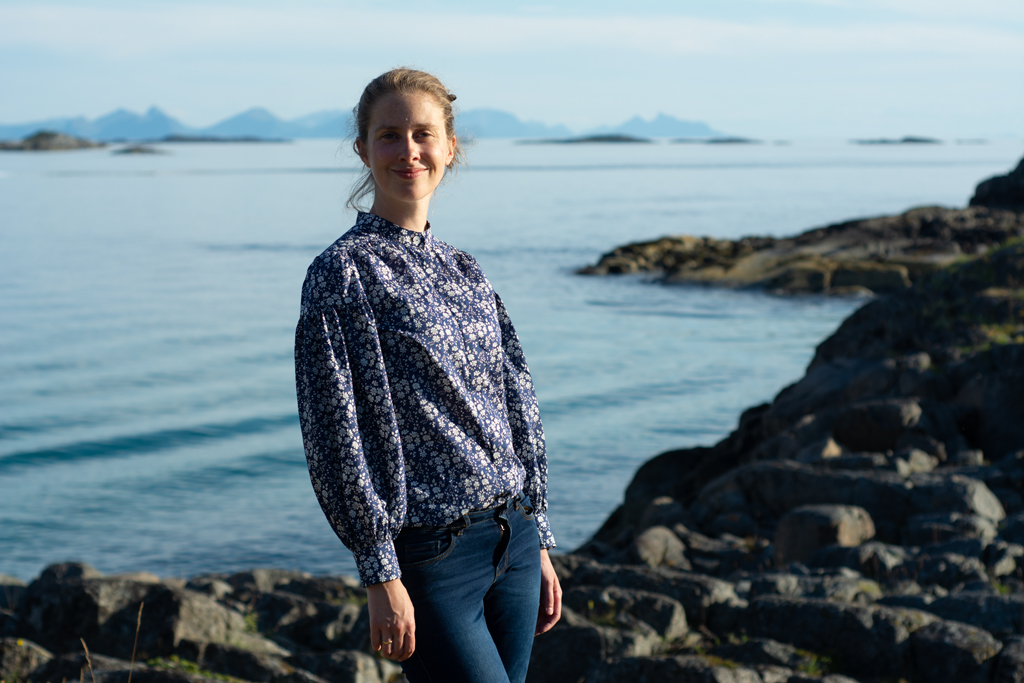 I can recommend sewing at least the top button hole on the hidden placket before attaching the collar and not when everything else is finished. It is possible to sew it with your sewing machine, but really hard work to make sure not to catch the visible part of the placket.
I found five beautiful floral buttons from Arrow Mountain in my stash and decided to use those on my cuffs and the button that is attached to the collar. There are seven hidden buttons under the placket and I bought a few really simple white and flat buttons for that purpose. They don't show and I wanted to make sure that the placket wouldn't gape too much due to thick buttons.
I also decided to sew every seam of the blouse as a French seam, and took extra good care ( lots of pins and tape!) while attaching the collar and the cuffs. That way I ended up with a blouse that is as beautiful on the inside as it is on the outside. No raw edges or wonky seams at all! I also added a nice little label from Kylie and the Machine to make the blouse extra special.
Regardless of some minor difficulties with the pattern instructions, I am hopelessly in love with this blouse. I love the design so much and feel both so professional and unique and fun while wearing it. I like wearing it both all buttoned up (hello Anne of Green Gables!) and with the two top buttons opened up for a slightly more modern look.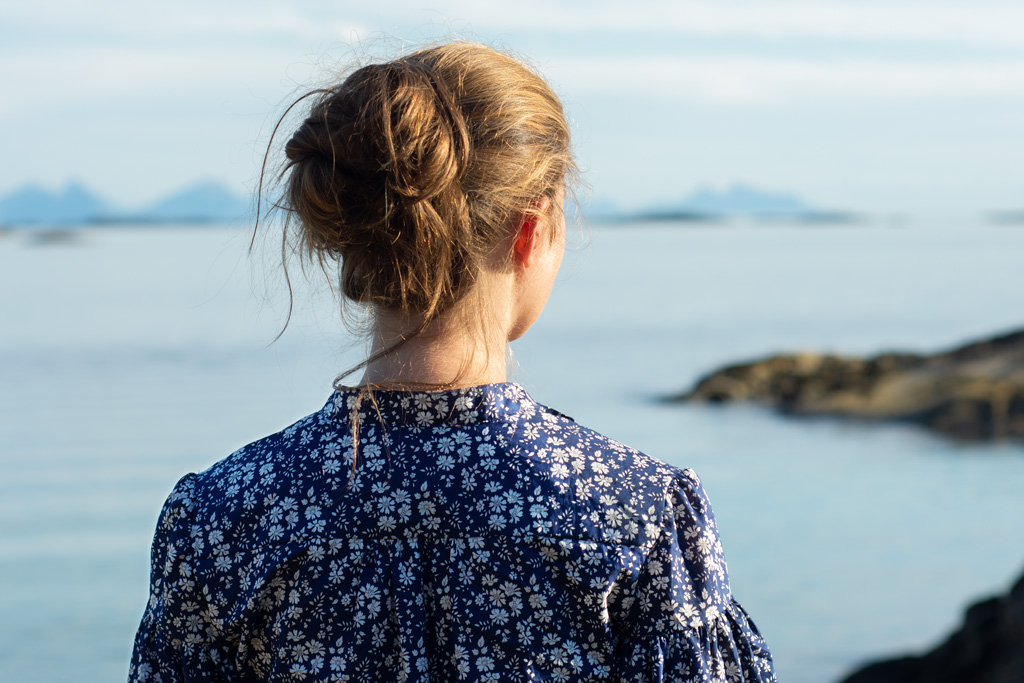 – I bought everything for this blouse myself, with the exception of the thread, which was given to me by Mettler in exchange for reviews. –