Every June, Melissa from Melly Sews dedicates a whole month to summer dresses. Who doesn't love wearing a flowy and comfortable dress when it's hot outside? Every day one blogger shows off their sundress creation – you can check out this post at Melly Sews to see all creations at one place.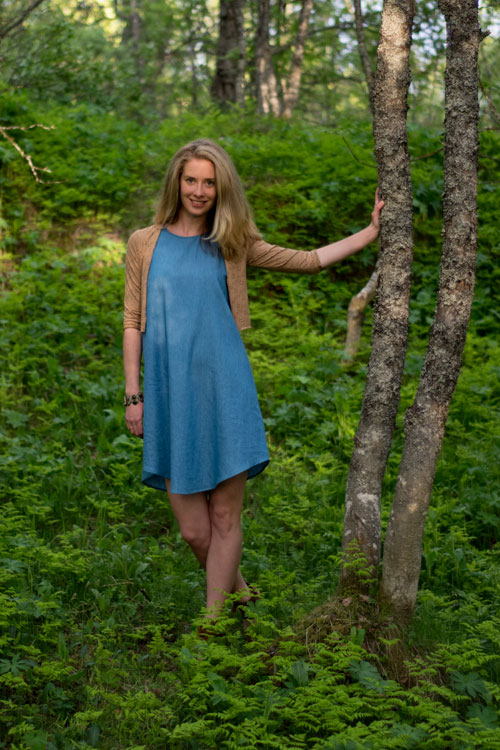 When I was thinking about what kind of dress I should make, I thought of Norwegian summers. We do have lovely beaches, and we do sit on the beach, enjoying summer. But especially in Northern Norway these days are rare, making the days where you're wearing a beachy maxi dress pretty rare.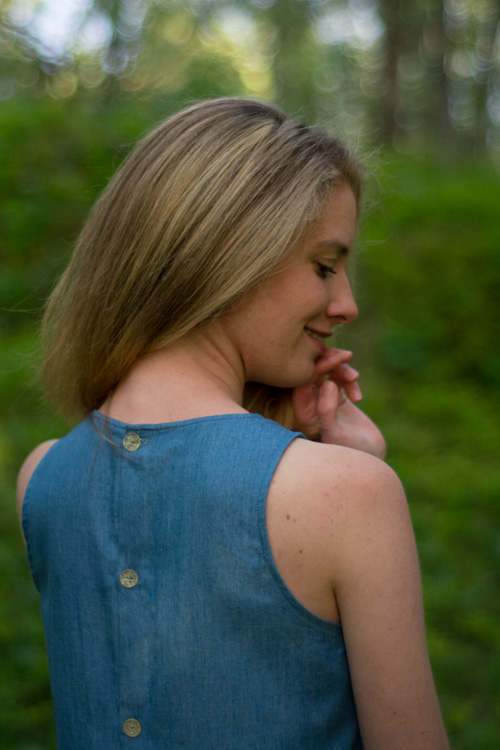 Instead I thought of more Scandinavian summer days, something like Seacrow Island by Astrid Lindgren, for those of you familiar with the story. Long light days and nights, low birch woods, stony shores and lots of green. It always amazes me how quickly everything turns so intensely green when the snow is finally gone! I was thinking of walking around, picking blueberries, warming my feet on warm stones, listening to the wind in the trees and the sea gulls at the shore.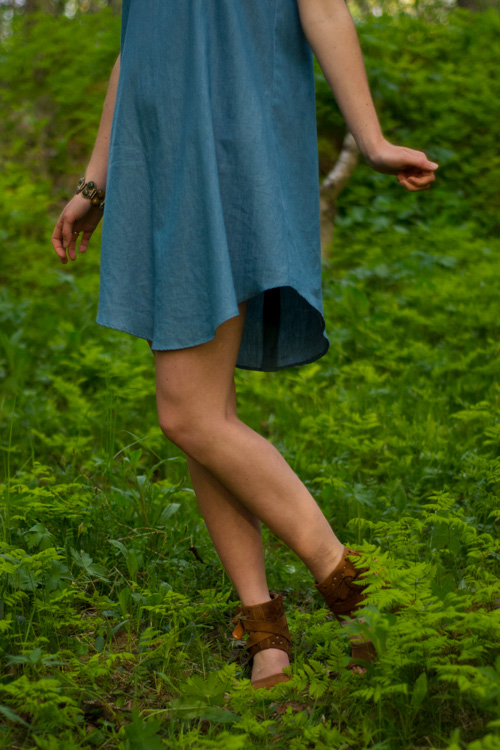 These thoughts resulted in making a Trevi Dress by Hey June and a modified Blackwood Cardigan by Helen's Closet. I've made a Trevi Top before, and I always knew that I wanted to make a Trevi Dress, too. The wide A-line shape and the buttons down the back felt very suitable for the kind of setting I was imagining.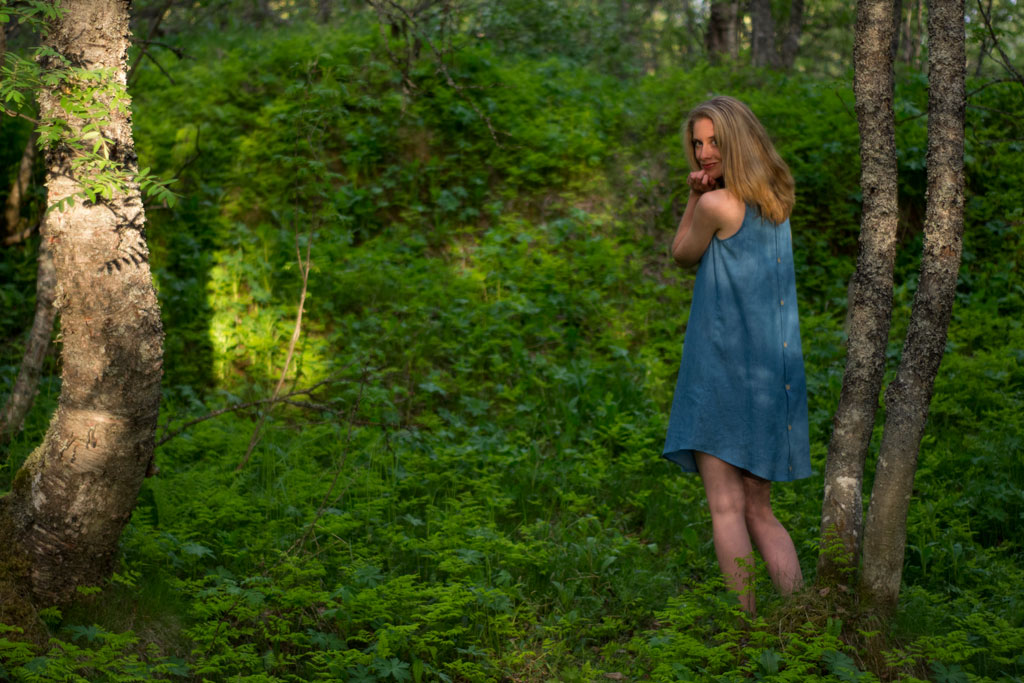 Most of the time it's not warm enough to wear only a dress, so I decided to make a little jacket, too. I've made a Blackwood Cardigan before, too, and really like that it's designed to be worn open. A wide dress like this needs a cropped cardigan to be worn with, so I hacked the Blackwood to a short jacket with 3/4 sleeves, leaving off all bands and cuffs.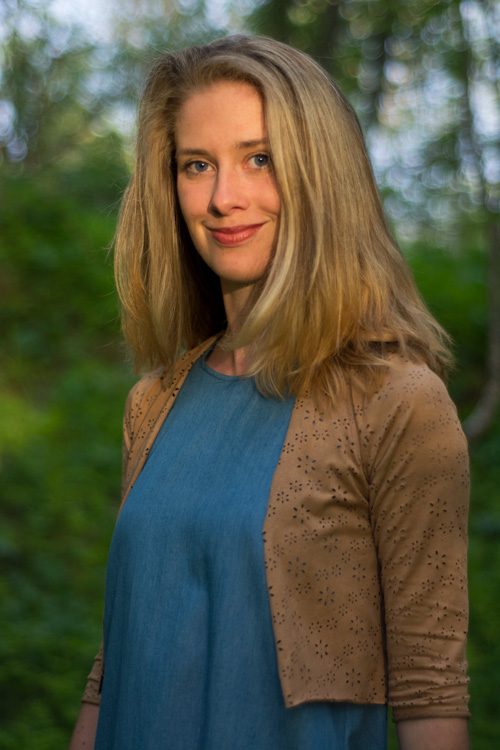 I got the fabrics for both the Trevi Dress and the Blackwood Cardigan for free from the German store Nostalgia Privatim. The blue fabric for the Trevi is a very, very thin denim fabric, called "summer denim". It's not available right now, but it's produced by Editex. I guess you could call it a chambray, too. It's very smooth, has a lovely drape and is light blue on one side and a little darker on the other side – I chose the darker side as the right side.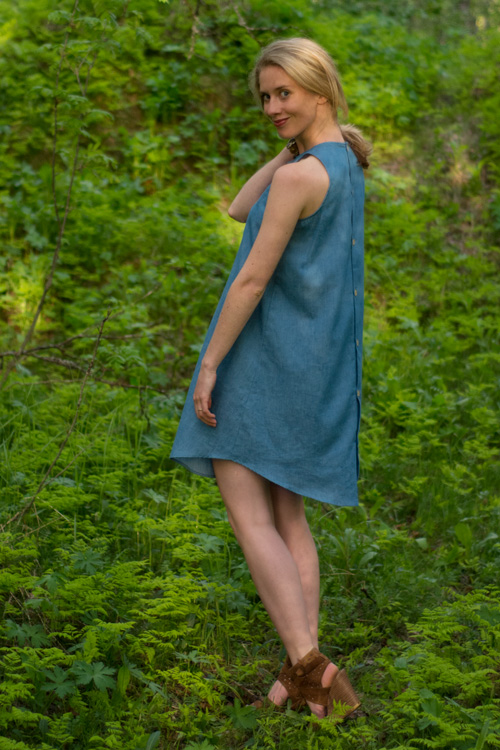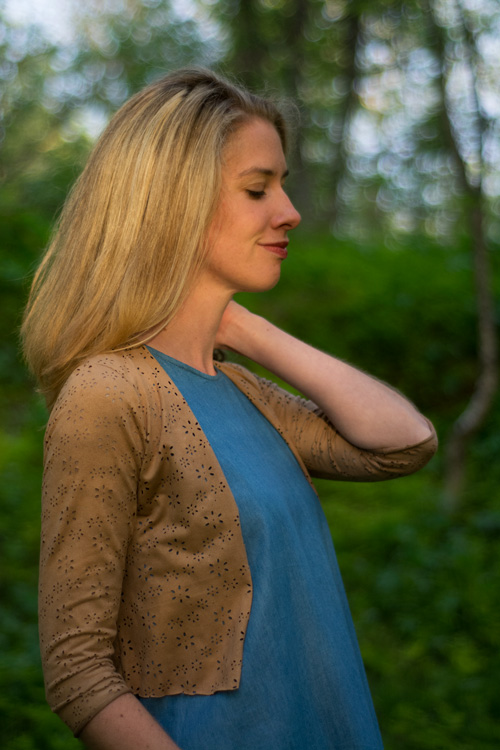 The fabric for the Blackwood Cardigan is a really fun fabric that I had never used before. It's kind of a stretch suede with an eyelet flower pattern punched into it. I really like the natural romantic vibe of the fabric. I have some of it left – any ideas what more I should sew with it?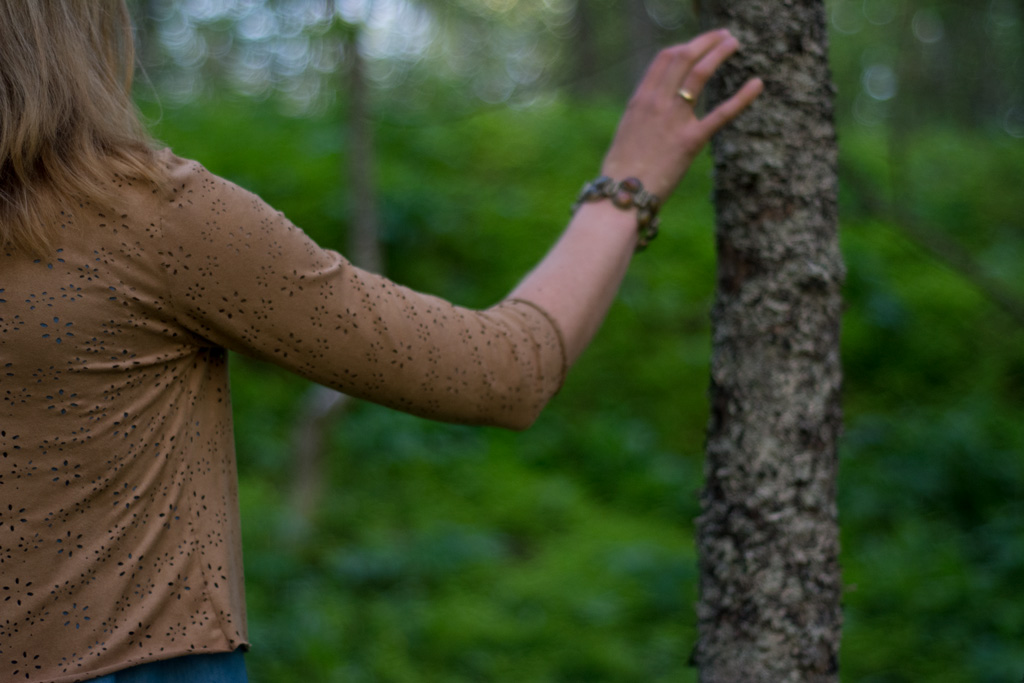 The only change I made to the Trevi Dress was lengthening the dress by 3 cm, a little more than 1″. I used a smaller hem, too, so all together the dress might be 1 3/8″ longer. I can't remember which height Adrianna from Hey June designs for, but I think I might be about 2″ taller than the height the pattern is designed for. I remembered from my Trevi Top that the armscye was slightly too wide for me, so I used a little more seam allowance at the side seams, close to the armscye.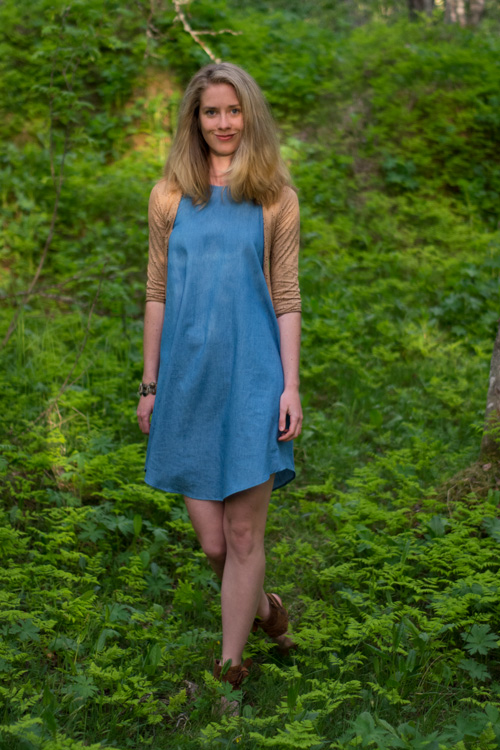 At first I thought that the dress was a little short, but looking at the pics I can see that it really shouldn't have been any longer, since it's so wide. All in all, the dress was sewn super quickly. I clipped the three pieces and the bias binding one night and sewed the dress (with beautiful French seams) together the next day.
Sewing the Blackwood cardigan was a pretty quick affair, too. As you can see, I didn't add any bands and I didn't hem the cardigan, either. The raw edges look nice the way they are and I like how they roll up a little! If the edges start looking frazzled after a few rounds in the washing machine I will simply fold them to the inside and topstitch around the edges. Since I omitted the bands, I chose to add about 1″ to the front of the cardigan and to the neckline. To choose the length of the cardigan and the sleeves I simply held the pattern pieces to my body and marked where I wanted the cardigan to end.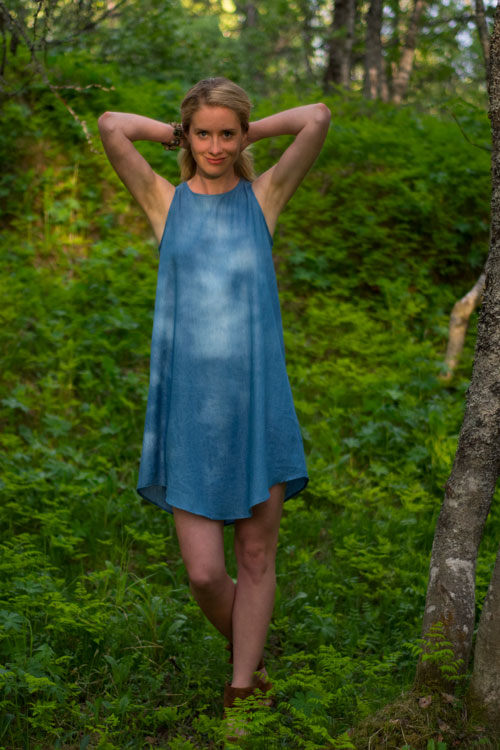 Sewing the stretch suede was surprisingly easy and sewing the six seams was done in no time. The last thing I did before taking pics of my outfit was to trim the seam allowances with my newly bought pinking shears. Yes, I finally have pinking shears, and I don't know why I waited so long!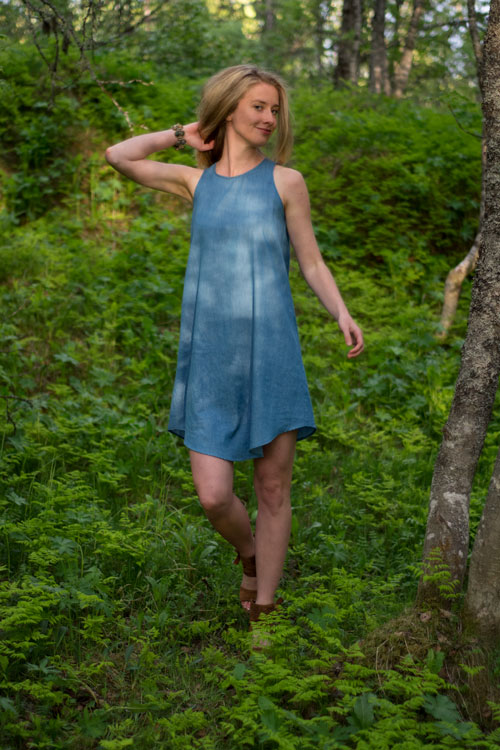 After trying on my outfit I knew that I didn't want to take my usual "shore with a view" pics, but that I rather wanted to take advantage of the lovely little forest close to our house. Within two to three weeks everything went from gray to being intensely green, and this setting felt just right for this outfit, since I felt a little like a wood fairy, frolicking around in the forest in my pretty new dress, while my shoes and my cardigan seem to fit right into this setting, too.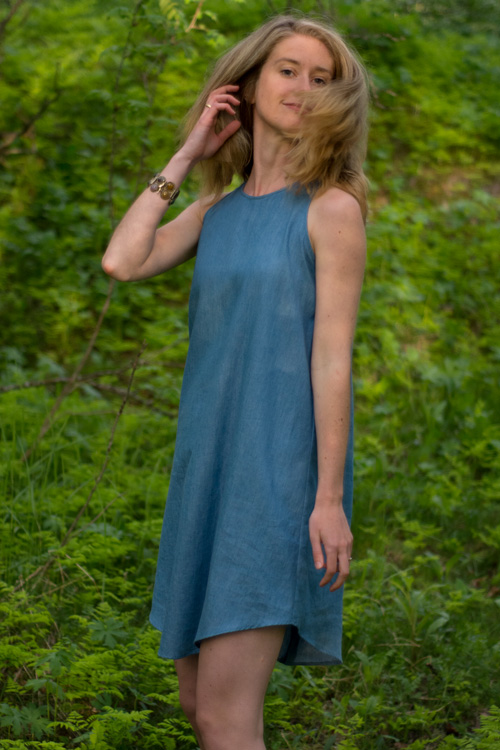 Thank you to Melissa for inviting me to be a part of Sundressing 2017, and don't forget to check out the other blog posts!
– I got the fabric for this post for free from Nostalgia Privatim. However, all opinions are, as always, my own. This blog post contains affiliate links to the Hey June shop.-