I know that you've already been swamped with pretty Fringe Blouses and Dresses, the latest pattern by Chalk and Notch, – but that doesn't keep me from sharing my two Fringes, too! I'll start with my Fringe Blouse and show you my Fringe Dress in a day or two.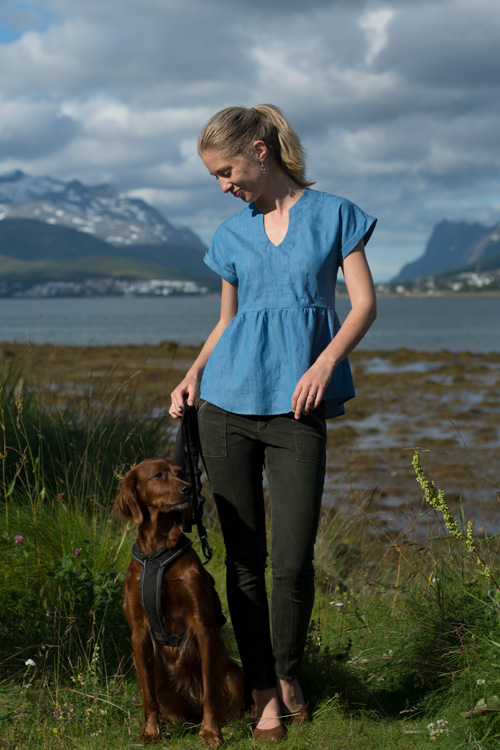 The Fringe comes as a blouse and as a dress and with two different fronts/necklines and cuffs for the sleeves. Both versions come with a gathered skirt and a curved hem – longer in the front and back and shorter at the sides. Version A has a V-neck and a button placket, version B has a pretty rounded V-neck /notched neckline and no button placket. View A has longer cuffs attached to the dropped shoulders – these are supposed to be buttoned up. View B has shorter cuffs that can be left as they are or can be folded up. Both the blouse skirt and the dress skirt are gathered.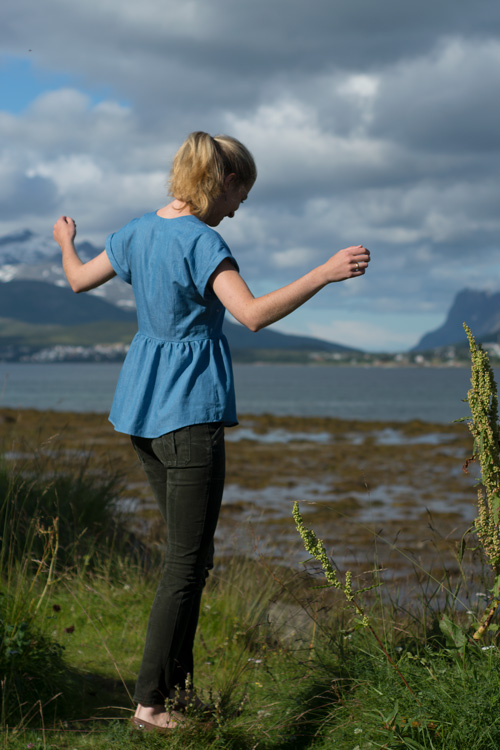 Both views can be made as a blouse or a dress, you can add in-seam pockets to the dress and there's an optional tie for the waist, in case you like your Fringe more fitted. The pattern has waist darts at the front and back and is wide enough at the waist to be able to pull the Fringe over you head. Some people (I'm one of those) need to pull slightly to get the dress over the chest, but once it's on, it's incredibly comfortable to wear.
As you can see, I chose to make View B. The first time I saw the Fringe I saw version A and fell in love. But then I saw version B and the notched neckline blew me away. It's so, so flattering!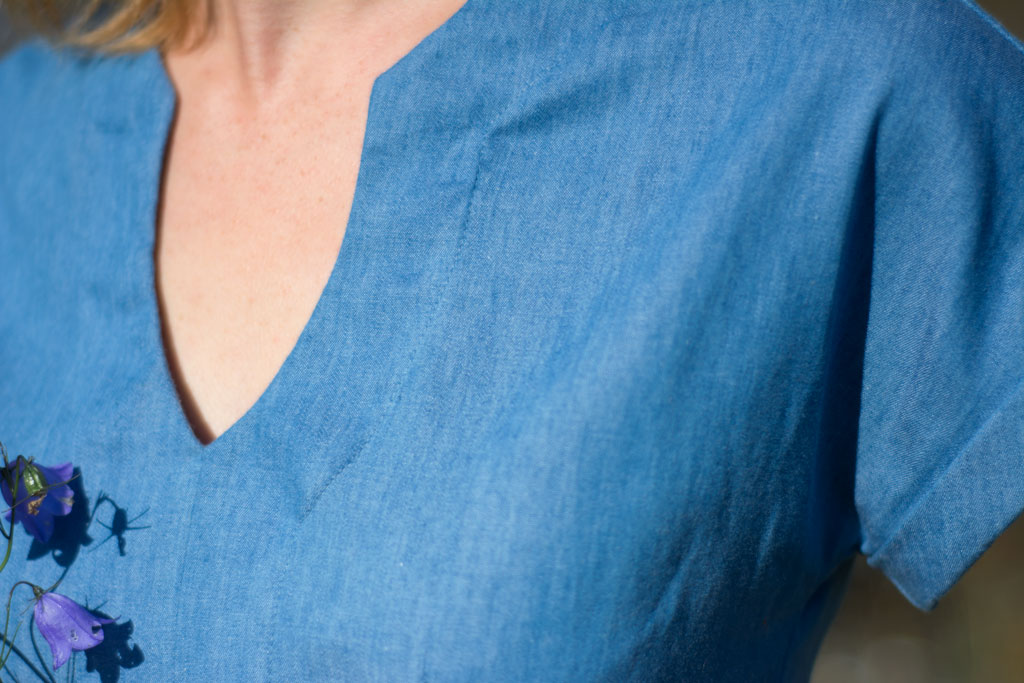 This blouse is actually my wearable muslin, made of the same soft and drapey denim fabric I used to make my Trevi Dress. Hooray for leftovers! The Fringe works best with drapey wovens, but I think you can get away with slightly less drapey fabrics when making the blouse. You should check out Gabriela's blog post about suitable fabrics for the Fringe – she's gathered so many lovely fabric inspirations, and there are lots of fabric coupon codes, too!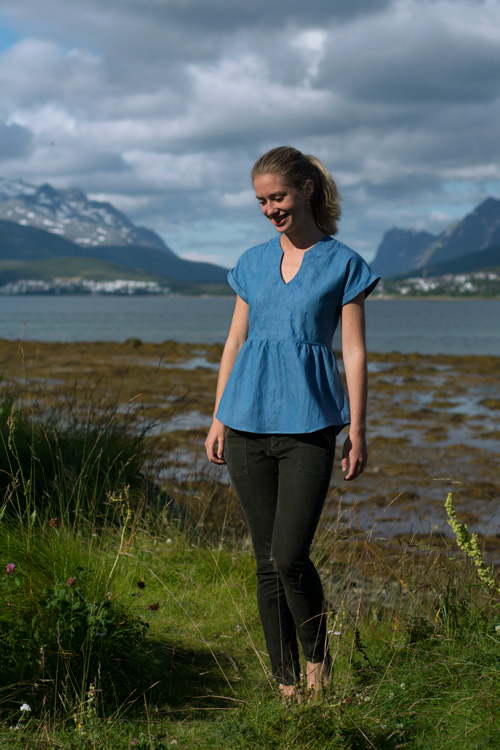 I chose to make the smallest size and didn't make any changes to the pattern, other than lengthening the top part by 2 cm. The seam at the waist is still about 1 cm above the smallest part of my waist, but as far as I know this is part of the style and the skirt can sit a little bit higher. I often find that the smallest part of my waist is sitting pretty low, so on some styles I actually like creating the illusion that the smallest part is a little higher – I think it balances my proportions.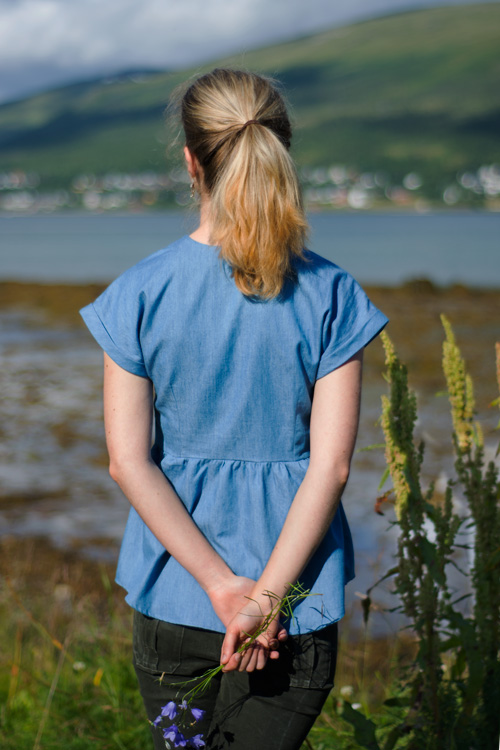 The Fringe is sewn quickly, the only part that scares me a little bit is topstitching the neckline facing to the outer fabric. You have to pin a lot to get the facing to lay exactly right, you have to check whether the edges of the facing are folded under evenly and you have to topstitch carefully to make sure that the stitching is even around the whole neckline. But other than that sewing the Fringe is done in no time!
You all know that I have a love for French seams, and thus, so as so often, I chose to sew my Fringe with French seams – except for the waist seam, since I was concerned about the seam being too bulky with all the gathers. It really is a strange habbit – I have a serger, and I still prefer French seams whenever possible!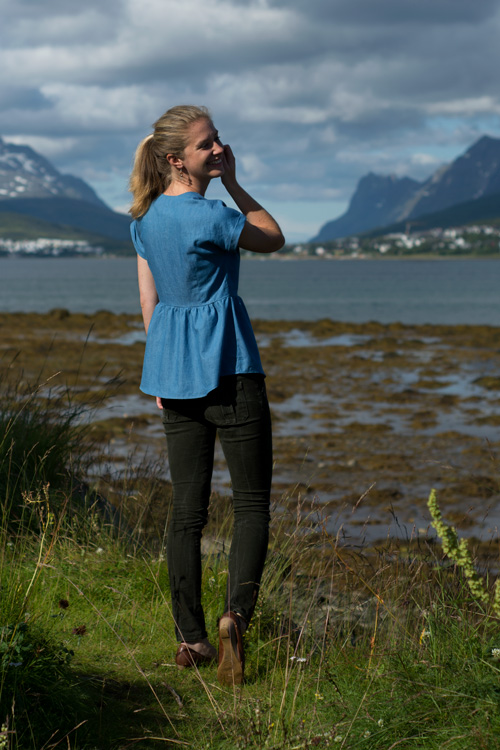 It was a little too sunny while taking these pics, buy hey, summer is basically over here, so I take the little sun I get! And there wasn't any wind, and that's something, too. By the way – I'm wearing my Fringe with my Pinda Pants by Waffle Patterns. You can read the blog post here!
I guess you really want to make your own Fringe Blouse or Dress now, right? You can buy your own Fringe pattern here – it's on sale until August 28th! And don't forget to head over to my instagram account – I'm going to give away two copies of the Fringe!