When thinking of my style, I'd describe it as a combination of modern and timeless elegance, often with a little twist. But I also can see that I like a lot of the typical features of garments from the 50s and 60s, although I most definitely don't have that kind of vintage style. This time around I fell in love with the slash neckline of the Gable Top by Jennifer Lauren Handmade – a top inspired by the 50s.
The Gable Top comes with short sleeves, long sleeves with a wide band and regular long sleeves, like the top I made.  And I'm sure a 3/4 sleeve version would look fabulous, too! There's also an expansion pack for the Gable Top, making it possible to add a skirt to the top.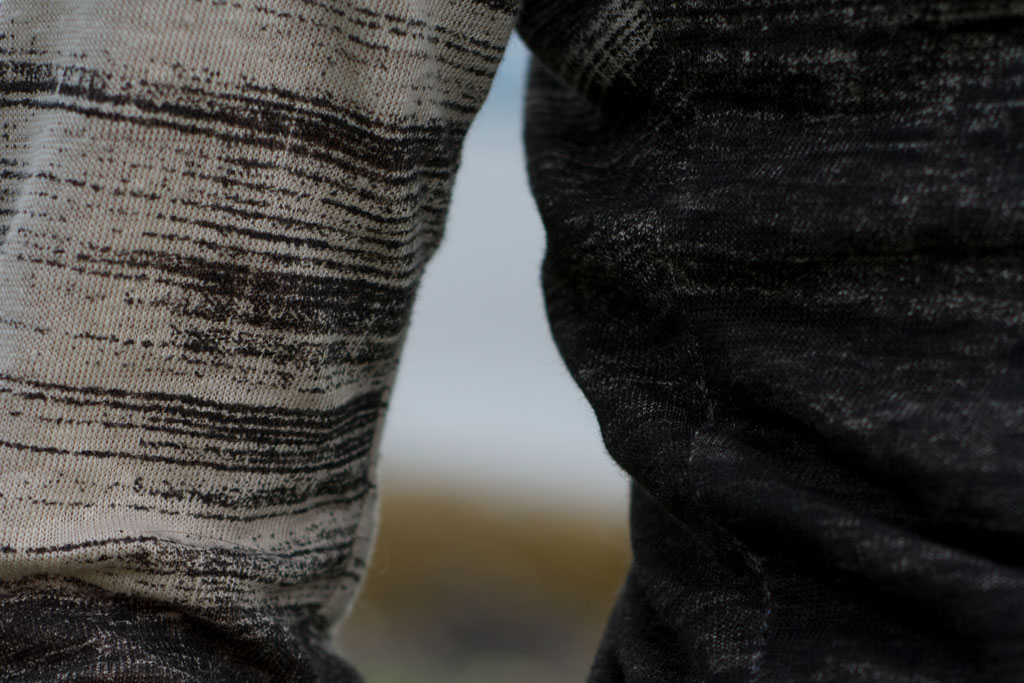 I went back and forth regarding the fabric and couldn't quite decide what to pick. Somehow I felt that the fabric needed to have the same 50's vibe as the pattern itself, and most of my fabrics didn't fit the bill. Luckily Lisa from Paprika Patterns came to my rescue. She recently had a fabric destash on her instagram account and I bought some fabric from her – some rib knit, some viscose, some scuba, some silk. All of these fabrics are still waiting to be sewn up. What I didn't buy was this linen jersey with irregular wide stripes. But when I opened my parcel I found this fabric as a lovely extra. Thank you, Lisa!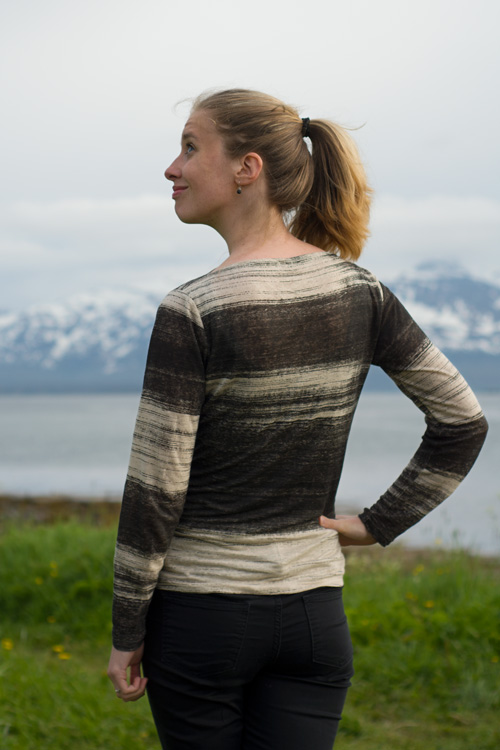 I have to admit that I didn't pay much of attention to the fabric all the time, but then it fell into my hands while I was looking for something suitable for my Gable Top. And this fabric was just right! The colours and the irregular stripes seem to match that period of time, and so did the structure of the linen jersey. The fabric doesn't have a lot of stretch or recovery, so it's definitely not a fabric for a tight fitted garment.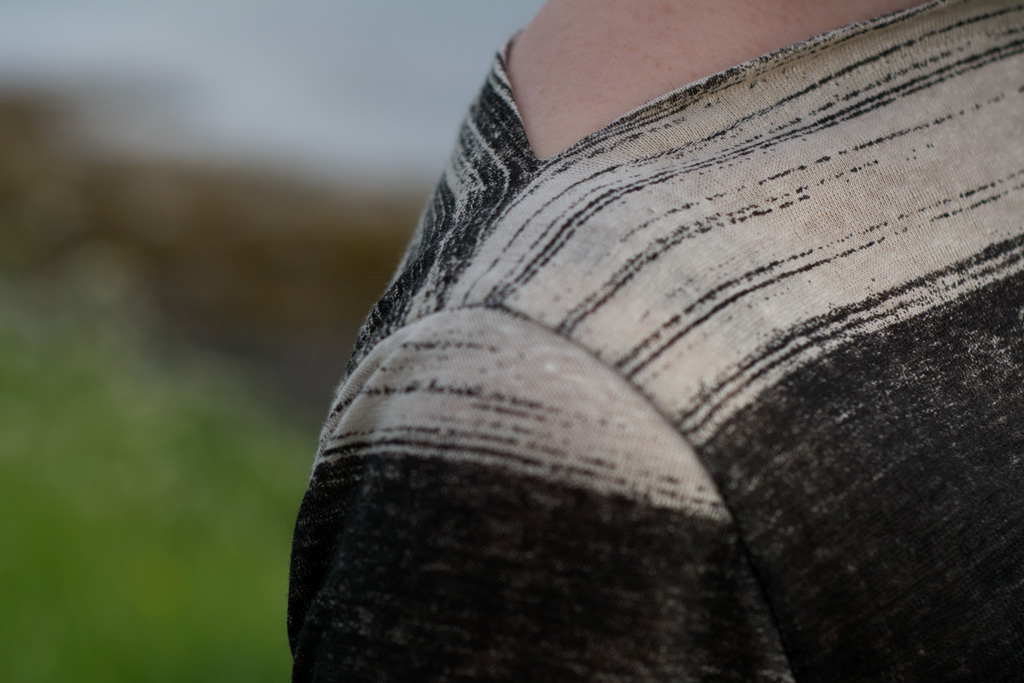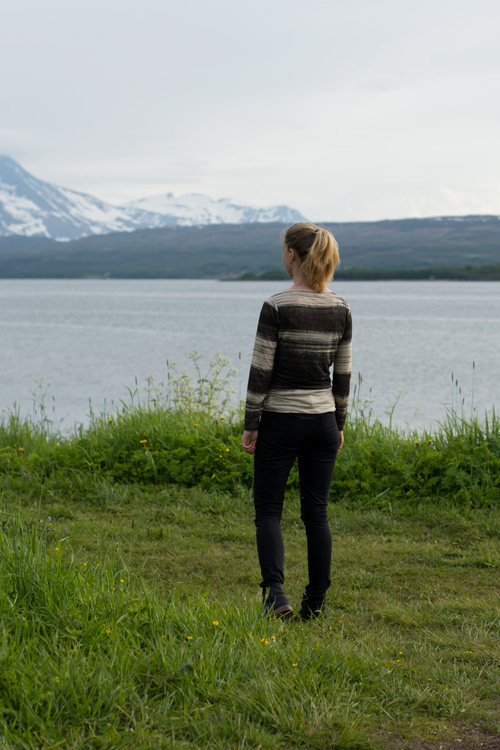 Wearing the Gable Top a little more loose-fitting seemed to suit the design and the fabric. My measurements were right between the two smallest sizes, and I decided to go with the bigger size, grading to the smallest size at the hips. I folded the front neckline a little more than intended by the pattern, giving me a little more room at the front neck. I didn't make any other changes, although I could have made a wide shoulder adjustment to make the fit perfect.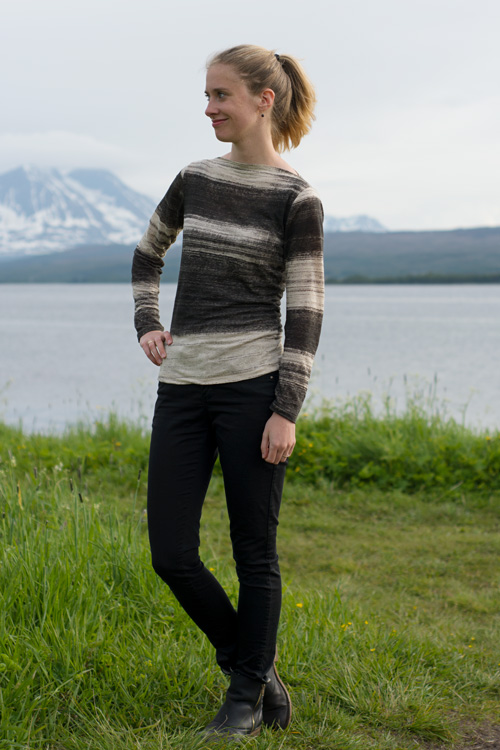 To be honest, I am not too happy with my pattern placement – I feel the white stripe right across my bust is a little unfortunate. I did think of the placement before cutting the fabric, but somehow I thought this stripe would be a little lower. But it's not that bad, and even if had placed a wider black stripe there I might have felt that it highlighted my bust. Anyway, I don't feel bad while wearing my Gable Top and I didn't get the impression of people staring at me, either. The linen jersey is very comfortable to wear, and the slash neckline feels – like all slash and boat necklines – just right for me.
– I am part of the Indiesew blogger team and got the pattern for this post for free. However, all opinions are, as always, my own. This blog post is linked to the German blogger party RUMS. –