Today I have a very special blog post for you, presenting you the newest and hottest online fabric shop: Hello Heidi Fabrics!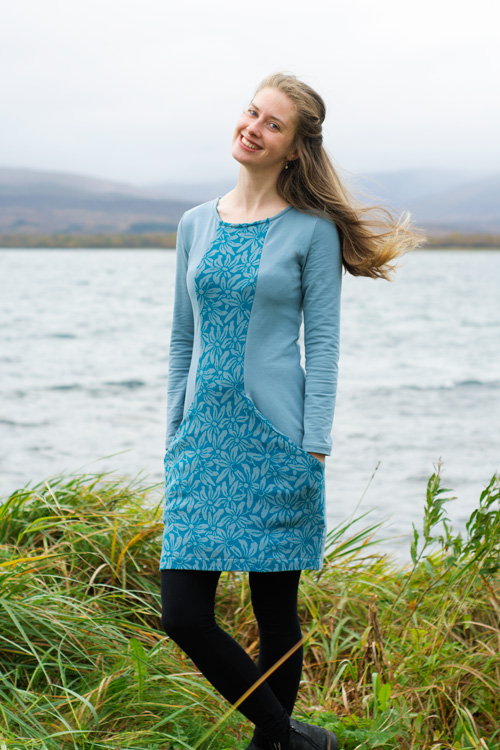 What and who is Hello Heidi Fabrics? Hello Heidi is an online shop with an exclusive selection of high-quality fabrics, most of them organic. They also have notions and cool things like matching pre-made rib cuffs, drawstrings and more. The founders of the shop are my dear friends Bettina and Barbara, well-known to many of you in the indie sewing world. I've been following along their fabric shop journey and I can assure you: They've put so much thought, work and love into every aspect of their shop!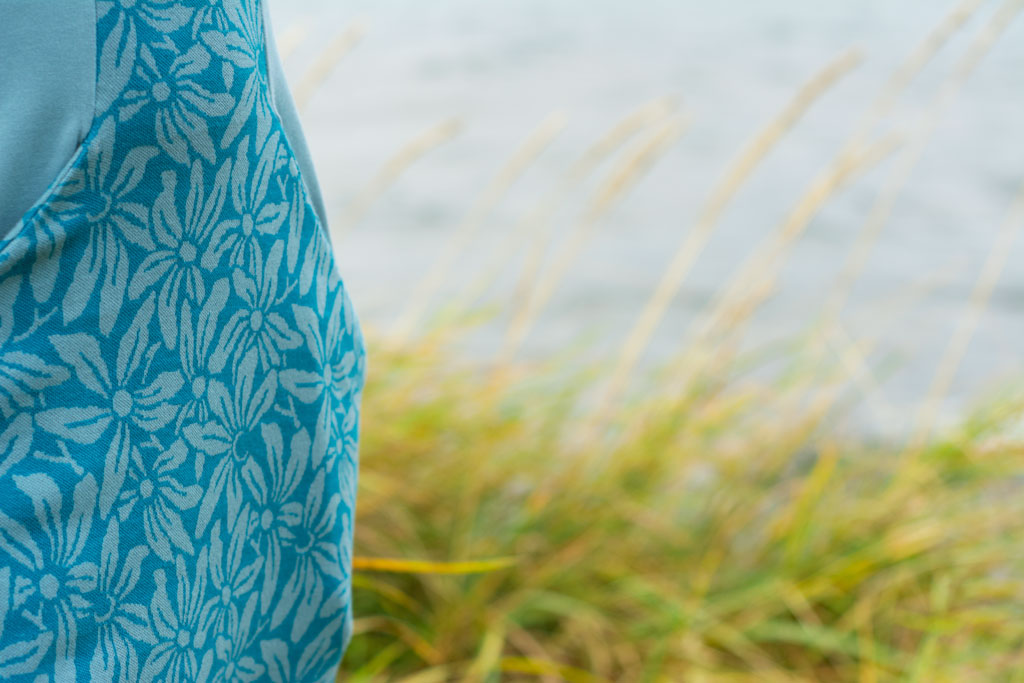 Not only do they sell fabrics, they have their own fabric collection, too, called Flur. Flur is Rhaeto-Romanic (a tiny language spoken in parts of Switzerland) for "flower". It's available in four different colours, and you can see one of those made into my dress. The story behind this design is so wonderful, too – but that's for another blog post (or you can read it here, if you're able to speak German!). It's a buttery soft jacquard knit, made of 100% cotton. Comfortable to wear, easy to sew, beautiful colours, natural organic fibres – what more could you want?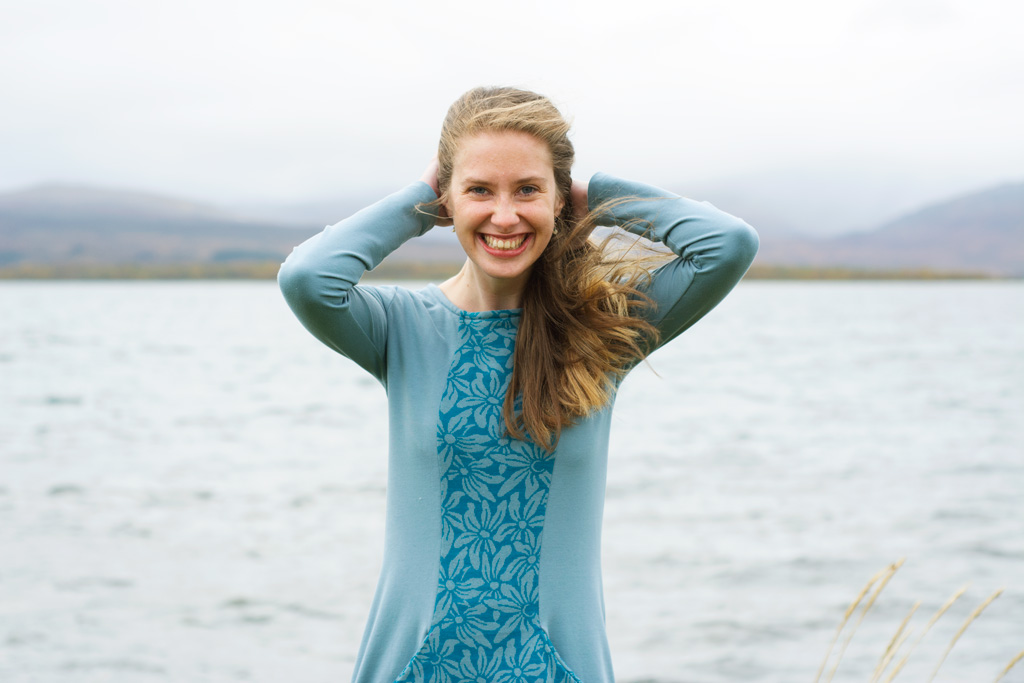 What I really love about this fabric collection is that there are coordinating solid French Terrys, jerseys, rib knits, pre-made cuffs and drawstrings, making it possible to find the perfect coordinating colour for every project. All of these fabrics are exclusive to Hello Heidi and are produced organically by Albstoffe in Germany. All of these reasons alone make me want to buy all the fabric in every possible colour combination. While the four Flur fabrics consist of two colours, the pre-made rib cuffs feature a tiny dot of a third colour – which is available as solids, too. You see – the possibilities are endless and I am really impressed by all these mix and match options. Are you aware that the same colour can look rather different, depending on which other colour it is mixed with? One example: The grey spot on these cuffs is the same colour as the gray on this jacquard. Doesn't it look different? It's much more brown-ish when combined with the lighter blue!
Well, let's talk about my dress for a second, too. Prism is available at Indiesew and was designed by the Swiss designer Wearologie. Sewing a Swiss pattern using Swiss fabric – could it be any more perfect? I mean – quality meets quality! Prism is a knit dress with a centre panel and big hidden pockets at the hips. It's a quick sewing project, the only part that is a little fiddly is sewing the top corners of the pocket, where the side panels turn into pockets. The dress can be sewn completely with a serger, although I decided to sew the pocket parts with my regular sewing machine at first and to serge the edges later.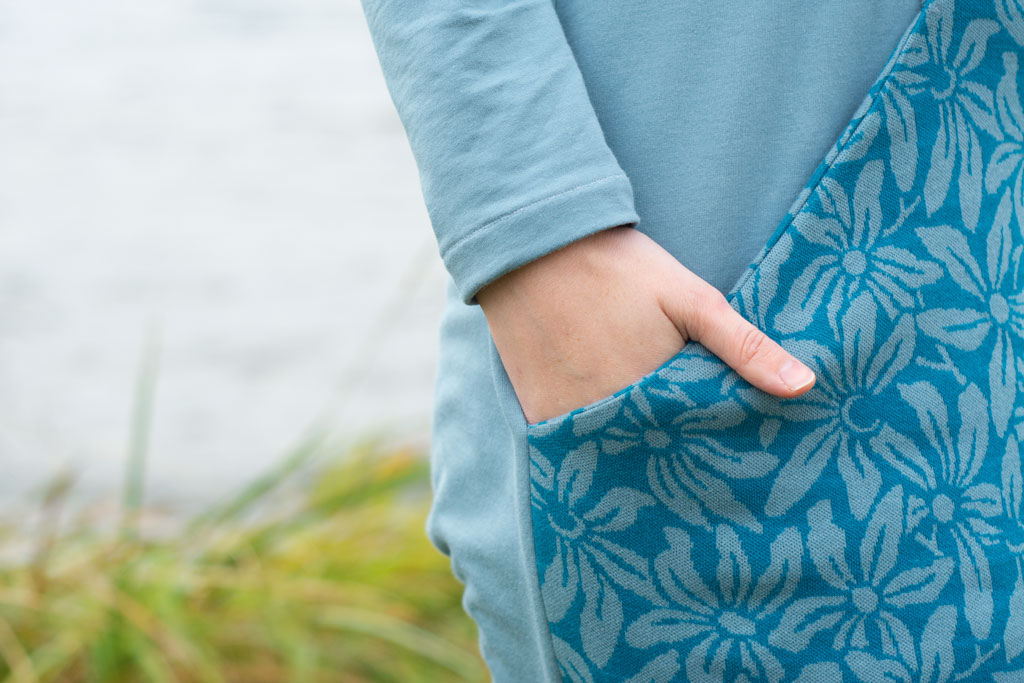 I decided to sew a straight size B for my dress, lengthening the dress around 5 cm / 2″ in total: 1,5 cm at the waist, 1,5 cm at the middle of the skirt and 2 cm at the hem. The dress turned out to be a little too big in the end, so I simple serged the side seams and the sleeve seams one more time, making the dress approximately 2 – 3 cm smaller in total – a little less at the skirt, a little more at my upper body and my upper arms.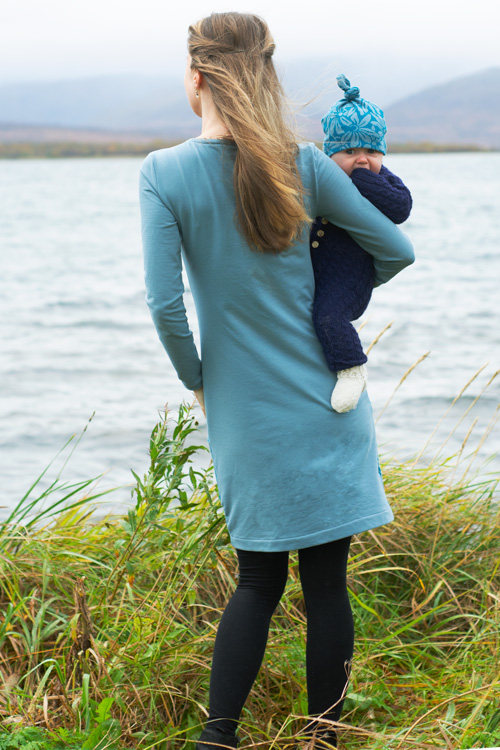 I had a hard time choosing the right colours for my dress! At first I wanted to use the navy Flur, later on I wanted to use the yellow Flur and then I ended up choosing the light blue Flur for the center panel and the French Terry in the colourway "Garda" (matching the flowers on Flur) for the rest of the dress. By the way – I am going to make a Moto Sweatshirt by Seamly using the navy Flur and a sweater using the grey and yellow Flur, too! Can't get enough….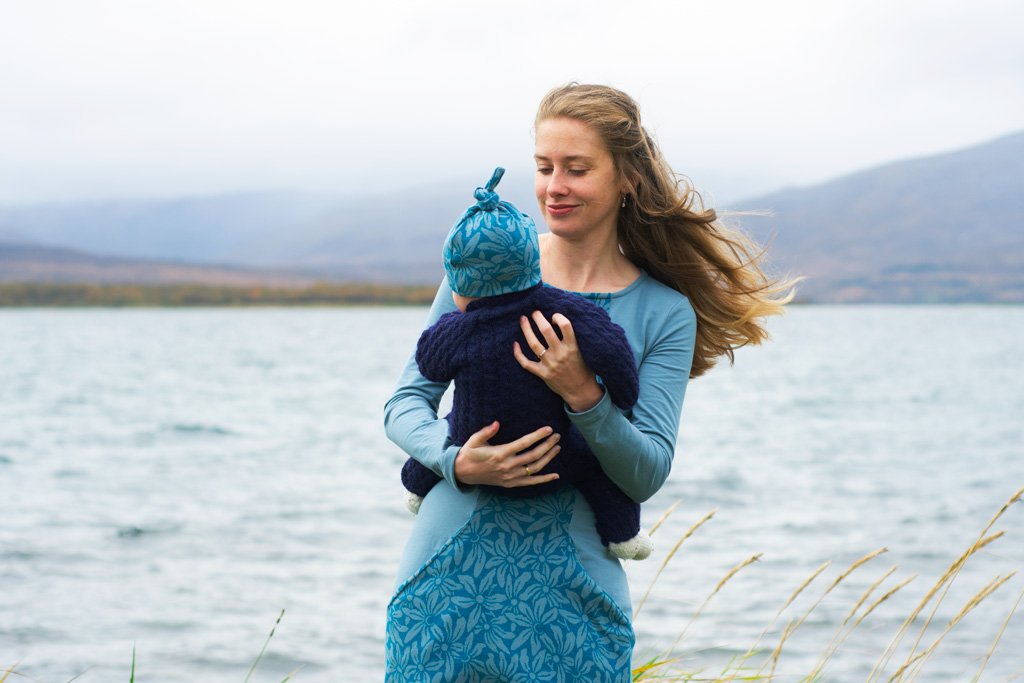 I had some Flur left after making my dress, so little I. got a matching hat and was allowed to join me on some of the pics. Who says flowers are only for girls and matching outfits is only a mother daughter thing??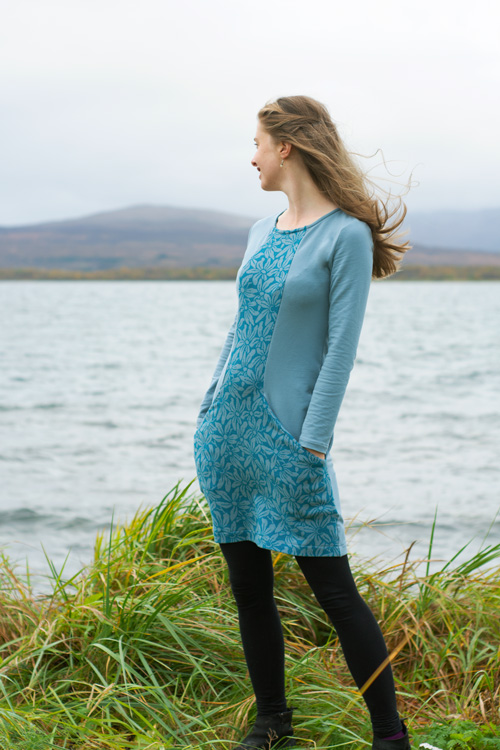 Since Hello Heidi is an international online store, the whole shop is going to be available in English very soon, too – there is a slight technical issue, but I know that the two Heidis are going to fix that super fast! Until then you can easily order using the German homepage, too – most things are self-explanatory. For those of you living in the EU: Hello Heidi is going to bring the fabrics through customs themselves and is going to send every order for the EU from Germany. That way you don't need to worry about any custom issues. Whatever price you pay at check-out is everything you need to pay – VAT and customs and shipping included. What a service!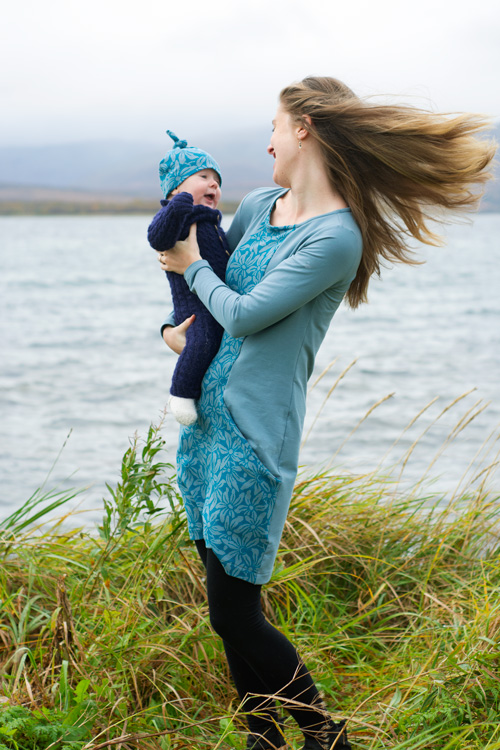 And there's a HUGE give away! Check it out – the main prize is a sewing weekend at the Bernina head quarter in Switzerland! I've been to their head quarter and to the hotel you're going to stay at and I can assure you – it's a beautiful are and quite an adventure to stay there. You don't want to miss this!
– I got the fabric for this blog post for free from Hello Heidi Fabrics and the pattern for free from Indiesew. However, all opinions are, as always, my own. –