I am rarely at the sewing machine these days – moving to Oslo and settling down has taken most of my time! But there was time for one quick project with a very special fabric: Loom by Hello Heidi Fabrics. I know, I know, this is my third blog post within the last two months about Hello Heidi Fabrics! But in my defense: It is very, very exciting when two friends open a fabric store and their fabrics are absolutely gorgeous high-quality fabrics.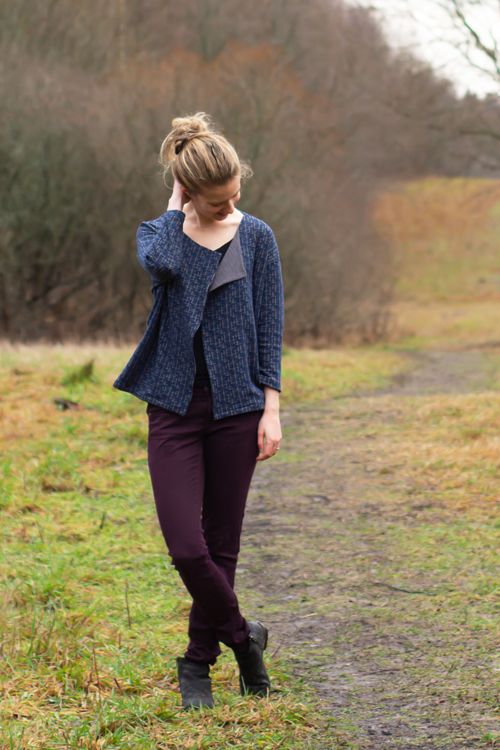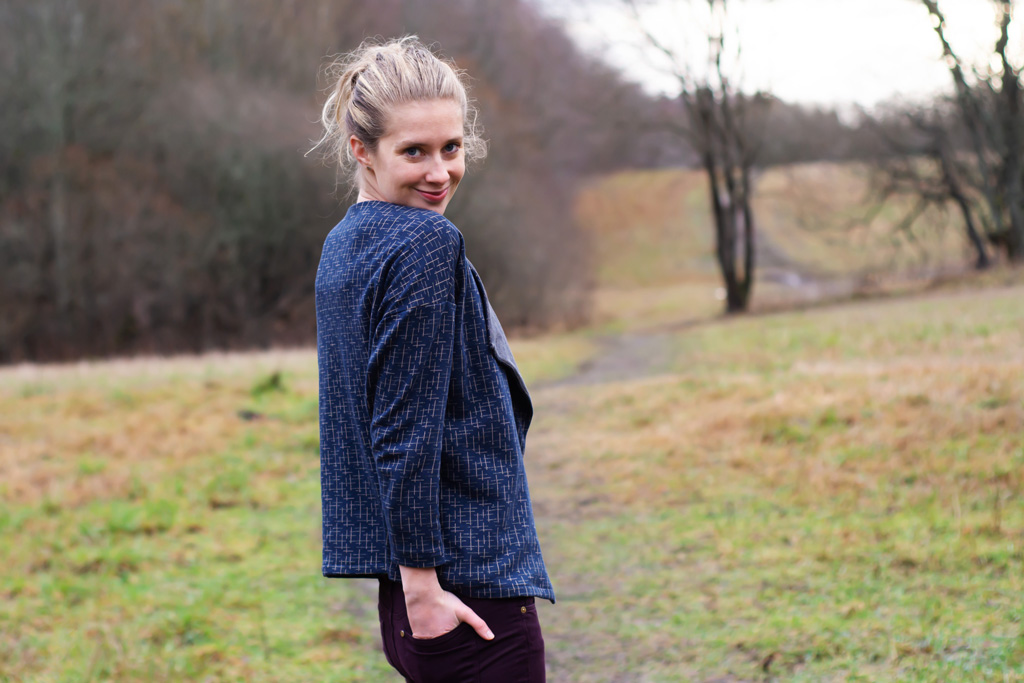 Hello Heidi Fabrics' second collection is called Loom, since the pattern reminds a little of a fabric woven on a loom. It has the same quality as their first collection, Flur (click to see my first and second blog post about that collection). It's a very soft jacquard knit, made from organic cotton – and in this case with 4% lurex, to add some festive glitter! This collection comes in five different colourways – three with gold lurex (blue, powder and bordeaux, one with copper lurex (powder) and one with silver lurex (grey). It's hard to catch the beautiful but subtle glitter on camera – you can see it a little bit on the next picture, but it's even more beautiful in real life. And the wrong side is (nearly) as pretty as the front – perfect for matching accents like collars, belts, pockets, panels and so on. Or you could even only use the wrong side. Seriously! Oh – and there are matching solid jerseys and glitter drawstrings, too!)
You might already have recognized the pattern I chose for this fabric: The Saunio Cardigan by Named Patterns. This is an older pattern, from 2014, that had a revival in 2017, when it was part of Sew My Style. I didn't sew this pretty cardigan in 2014, I didn't sew it in 2017 – but I've finally sewn it now! The Saunio Cardigan is a wide cropped cardigan with dropped shoulders and a wide front with facings that fall open. Because the Saunio is an older pattern, it's actually not like todays pdf patterns by Named and most other indie pdf companies: The pattern pieces are layered on top of each other – so instead of taping and cutting, you have to tape first and after that you have to trace it. I'm not a fan of tracing, so I really hope Named will update this pattern!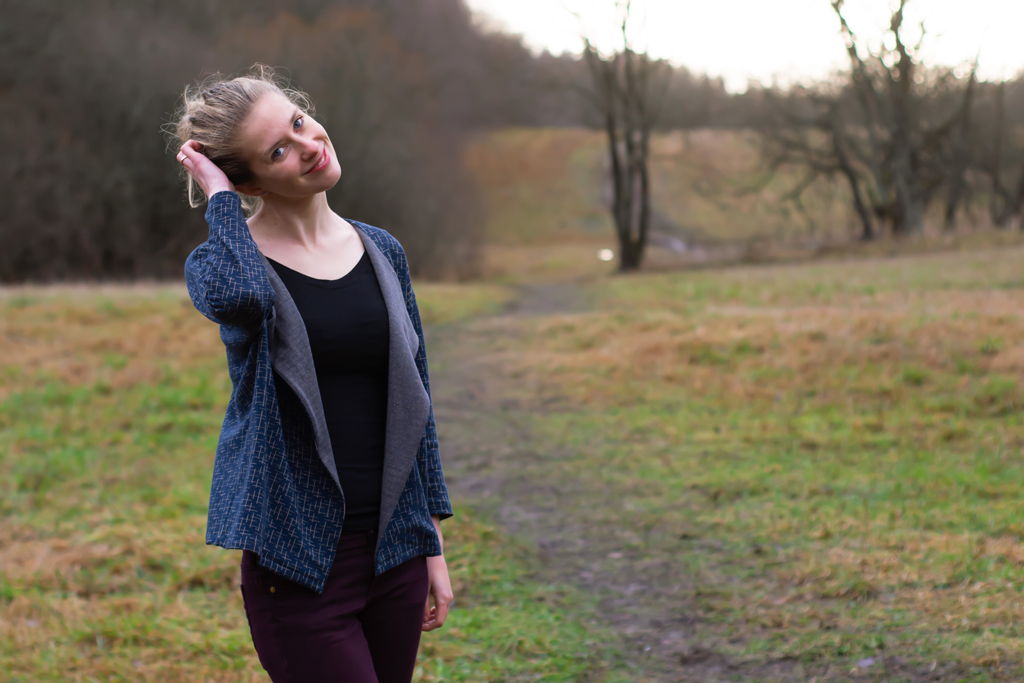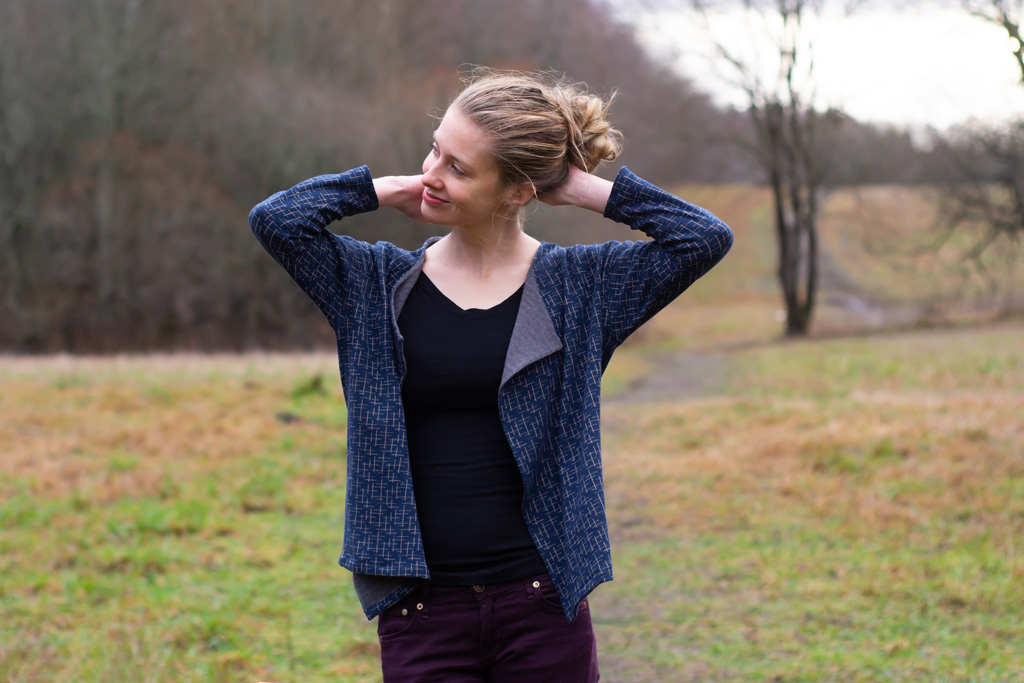 Since the Saunio Cardigan is cut rather wide, it only comes in three sizes. I made the smallest size, without checking the size chart. The smallest size includes the sizes 32 to 36 (0 to 4) and in my experience with Named sizing my measurements had to fall into that size range. I did, however, decide to lengthen the Saunio by 5 cm/2″.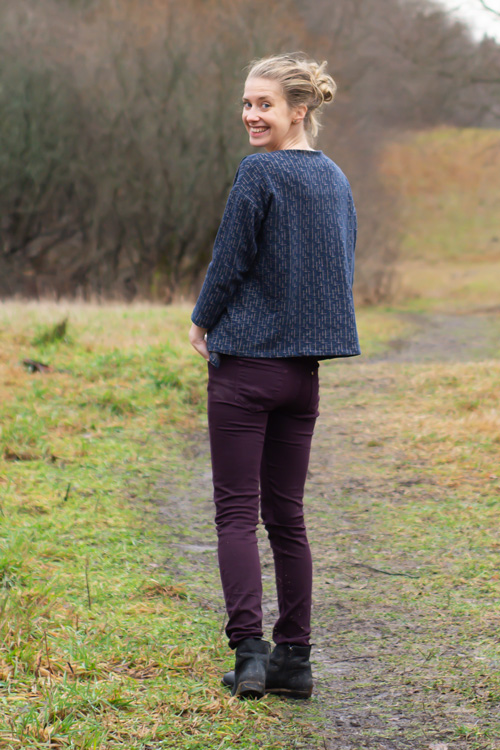 The cardigan consists of few pieces: two front pieces, back, sleeves and facings for the front and back. I really wanted to show off the pretty wrong side of the fabric, too, and decided to sew the facings on "inside out". I wouldn't call myself very talented as regards mixing and matching different fabrics – but I do love using the wrong side of a fabric as an accent! It's more or less a guarantee for a successful colour blocking.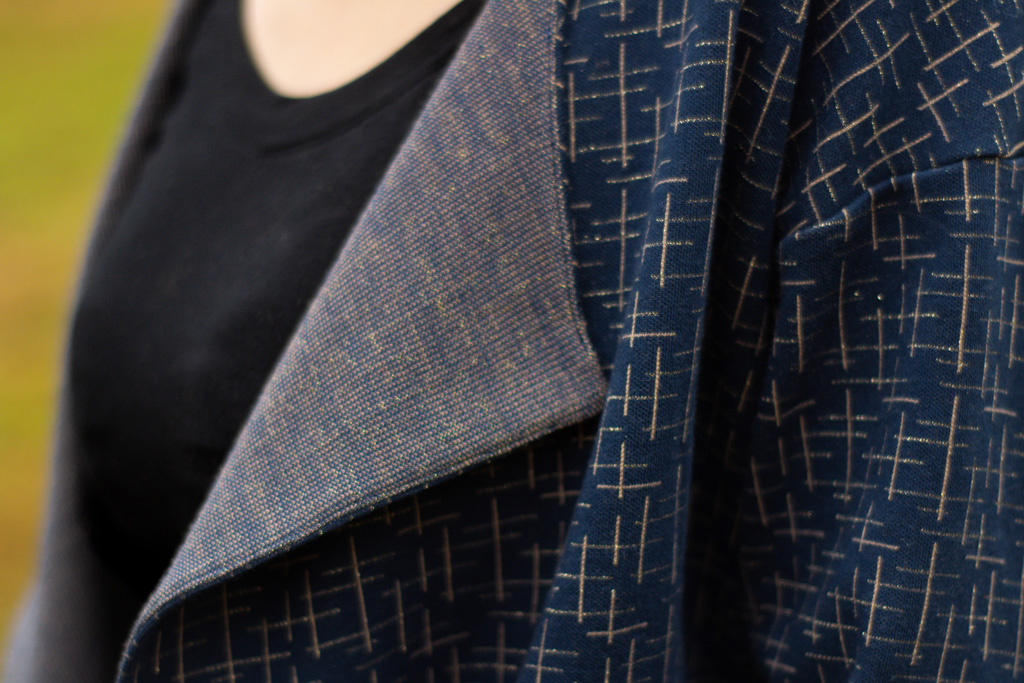 I sewed the cardigan mainly following the instructions, with few exceptions: I understitched the facings to make sure the facings were going to lie nicely. The instructions tell you to topstitch the facings to the main jacket. However, after understitching the facings I opted to simply handstitch the facings to the cardigan at the shoulders, the widest part of the front facings and at the middle of the back facing. I love fabric like this, where small invisible handstitches simply disappear!
I still have a job to do finding the best photo locations close to our new home in Oslo, but at least we have more daylight than in our beautiful Tromsø. I will miss the mountains and the sea, and I know some of you will, too. Luckily it's not for long!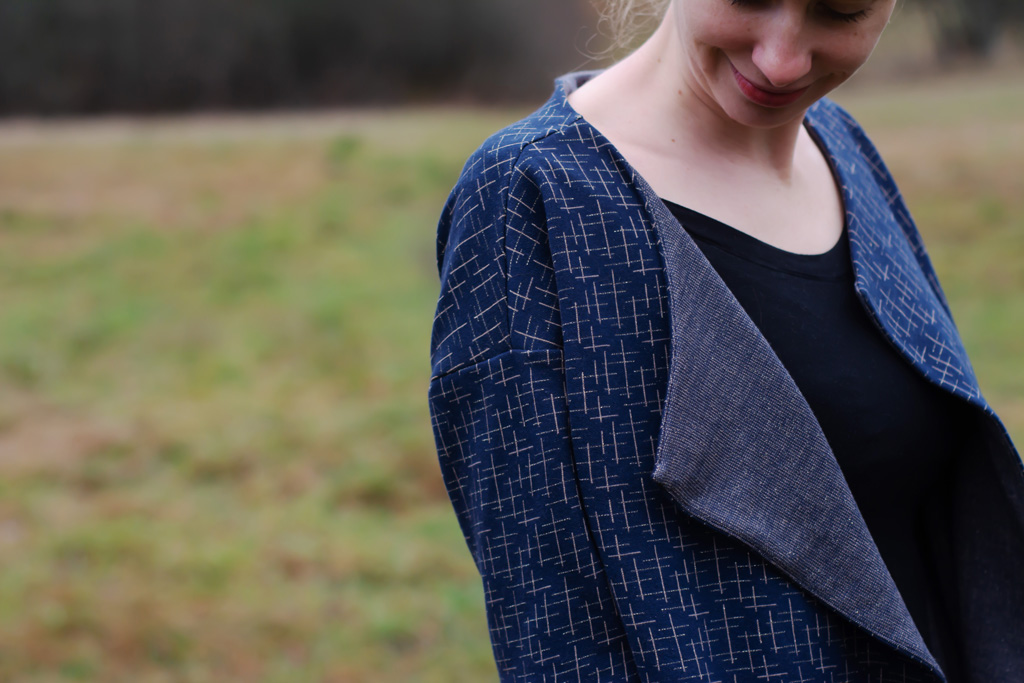 So – jump over to Hello Heidi Fabrics if you want to grab some of this lovely jacquard! I know that it sells like crazy – bordeaux is already sold out completely (but on back order!) and some of the other colours are starting to sell out, too.
– I got the fabric for free from Hello Heidi Fabrics. However, all opinions are, as always, my own. –