Last spring I showed you a dress named Liv by Schnittmuster Berlin, today I'll show you another pattern by the same German label – coat Lara. I got inspired to sew this coat after seeing this version by Sindy from Mein Gewisses Etwas – and I had some beautiful wool and silk in my stash that I finally wanted to use. So why not to sew a simple coat?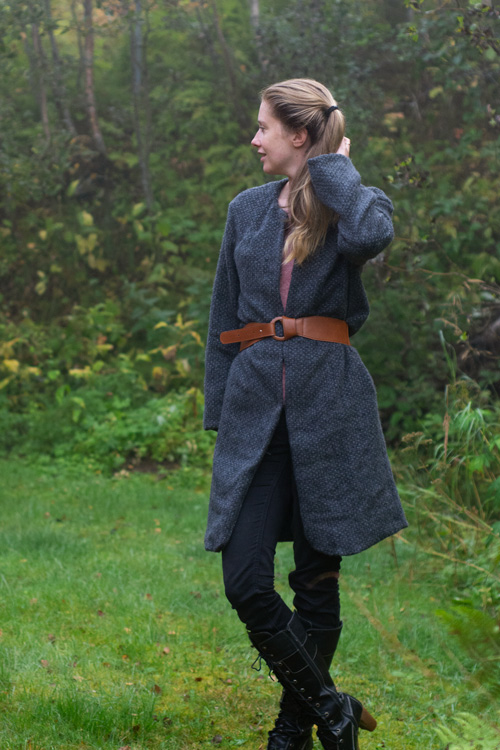 Sewing coats is usually not the most simple kind of project, but this coat is definitely one of the quicker coats to sew. It's closed by hooks, so there's no placket or zipper, there's no collar, no back slit and the sleeves consist of one piece instead of the often seen two-piece sleeves. The only really special detail are the darts at the front neckline, giving the coat  some shaping.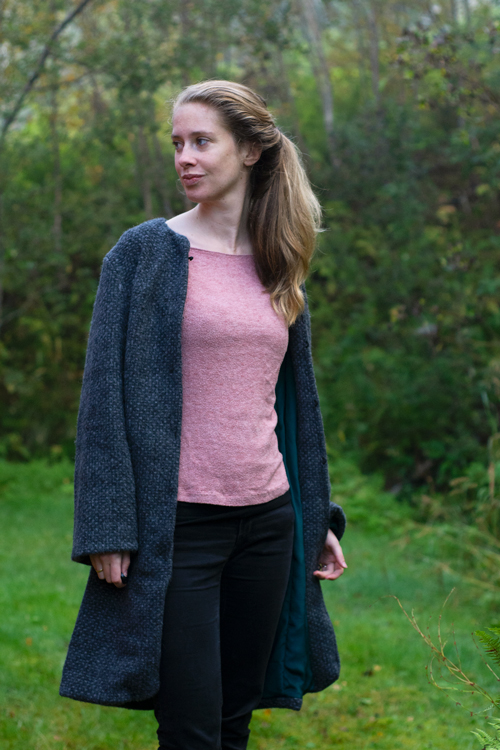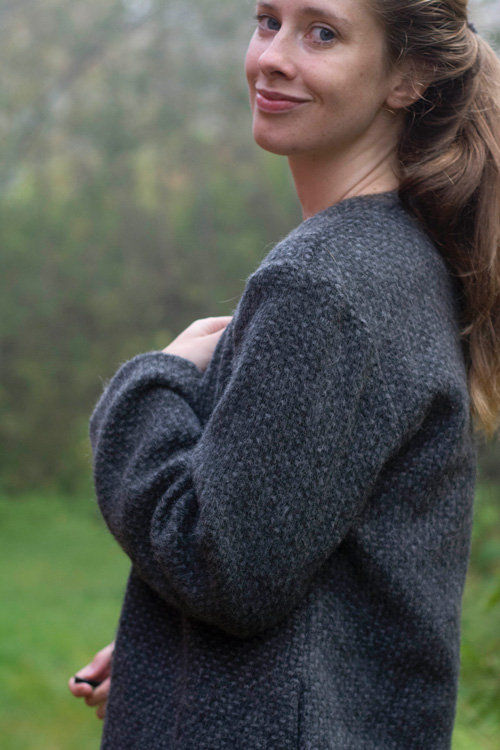 The fabric I used is from Miss Matatabi, bought about two or three years ago. It's a wool blend, mostly wool and some poly or something similar, I think. The silk has been living in my stash for quite a while, too, and was bought directly from China on Etsy. No idea about the quality, but it made for a nice lining! Much better than these shiny poly linings…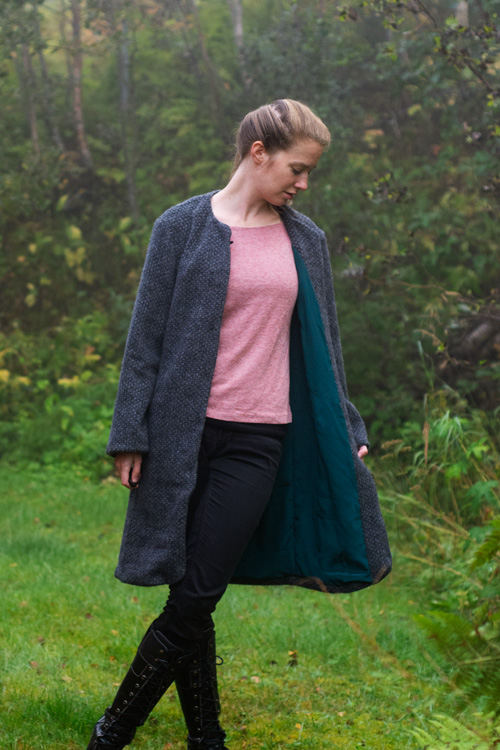 Coat Lara can be bought both as a PDF pattern and as a paper pattern – either with only one size or with several sizes printed on the same piece of paper. Schnittmuster Berlin was kind enough to send me the pattern on paper in size 36. No tracing, no assembling – I just cut out the pattern pieces and could start cutting my fabric.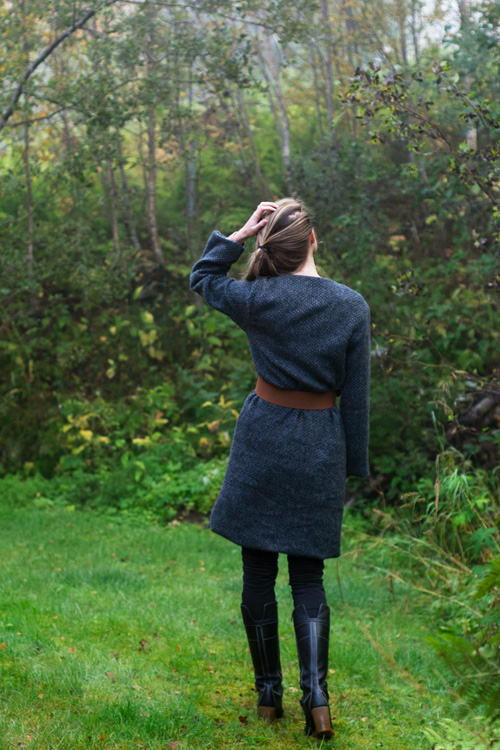 The instructions coming with the pattern are very short, something I mentioned when sewing Liv, too. The difference is that Liv is a simple knit pattern, while a coat is – well, a coat. And not so simple. I do think you should have some knowledge about sewing in general and sewing outer wear specifically to be able to sew this coat with the instructions given. But Schnittmuster Berlin started writing blog posts with a tutorial for all the new patterns! These step-by-step tutorials are very helpful and make the sewing process easier.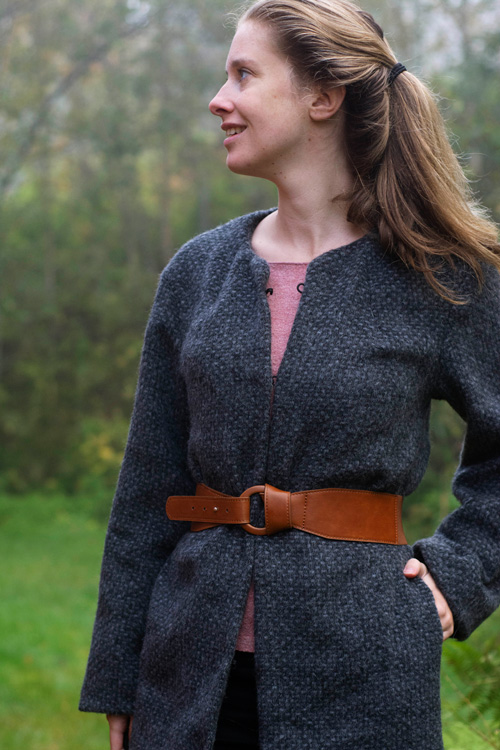 But I still think that with some experience you'll achieve a better result – things like grading the seam allowance, understitching and so on aren't mentioned and I think my coat turned out better because I did those things. The ladies behind Schnittmuster Berlin are very skilled designers and graders, so I think they expect their customers to have some general knowledge about sewing techniques and that's why not everything is explicitly mentioned in the instructions. I might be quite spoiled by some of the indie sewing pattern designers!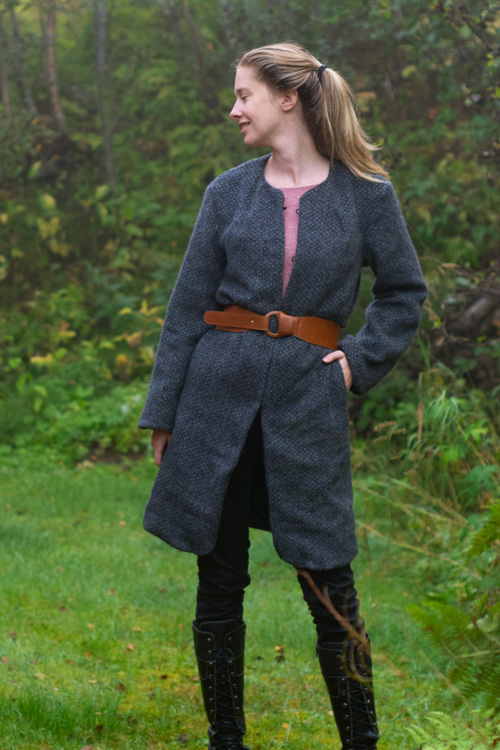 Sewing Lara isn't very hard. You have different pieces for the outer fabric and the lining, like every good coat pattern should have, and everything fits together perfectly. The only adjustment I made was adding some length to the coat – both because I'm tall and because I wanted some more length. You know – because of the whole "living far north where it's cold" story. The coat is closed with five (in my case six) big coat hooks and loops that are sewn in between the outer fabric and the facing (according to this blog post – the written instructions tel you to sew them on by hand). You have to be very careful while sewing over those hooks and loops, or you'll break your sewing needle! No, I'm not speaking out of own experience, of course not … *cough*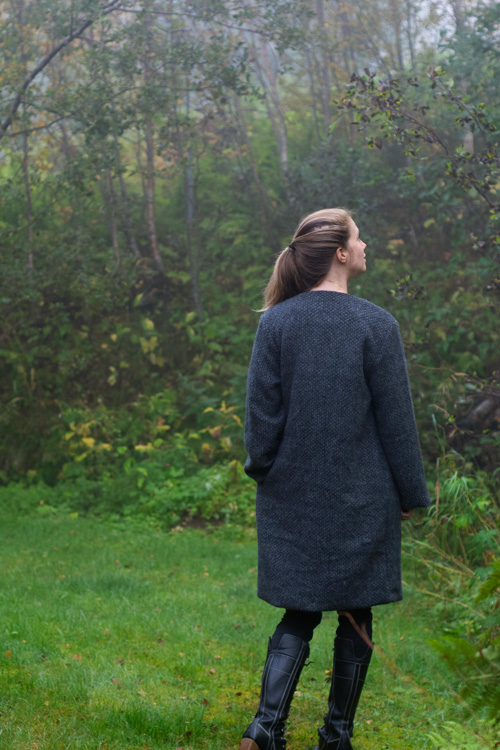 After sewing on the facing I realized that there was too big of a gap for my taste between the two front pieces when closing the coat. And I couldn't sew any closer to the hooks with my sewing machine – hand sewing the facing closer to the hooks wasn't possible either. So I ended up leaving the loops sewn in between the outer fabric and the facing and removing the hooks, sewing those later to the inside of the facing. That way I could sew them so far towards the middle of the facing that the hooks aren't really visible from the outside anymore. Now the gap between the front pieces isn't as big.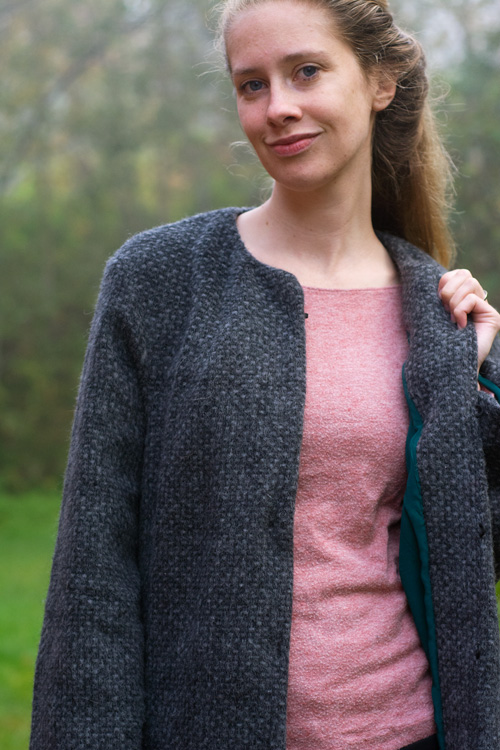 Otherwise I've sewn the whole coat as instructed. I think I messed up a little when hand stitching the hem, somehow the front corners don't lie as nicely as they should. The instructions don't tell you to hem the sleeves, either, but I think the outer fabric needs to be folded towards the inside and tacked down. So that's what I did – I'm not sure if that was correct, but it looks nice like this!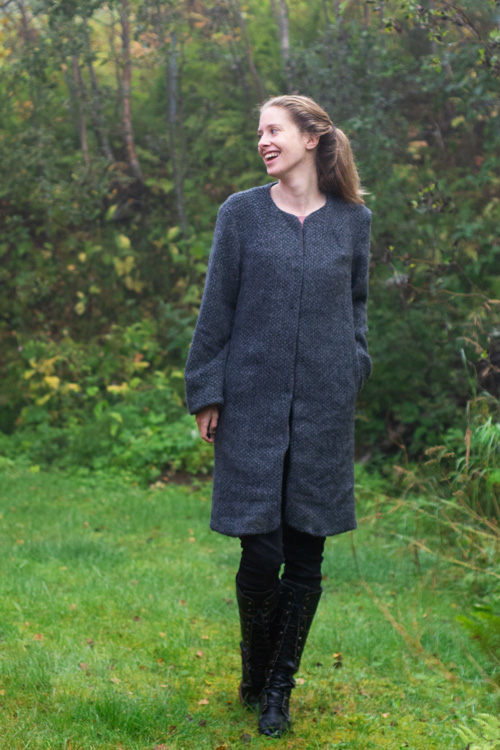 When trying my coat on for the first time my husband looked at me and said: "Oh, this looks like one of the coats Kim Jong Un uses to wear!" Would you take this as a compliment? Well, me neither! But I could see what he meant. Something wasn't quite right. I think it's the combination of the grey fabric, the longer length, the shapeless bodice and the wide sleeves. It was just a little too much on me. I do think this is an issue of styling – there's nothing really wrong with the coat, but I'm having a hard time styling the coat correctly. I tried it with a dress, but that didn't work. I realized that this coat actually looked best when styled in more of a men's wear manner – something not too feminine underneath and boots instead of high heels.
So here's my attempt of styling the coat – hair back, wide top underneath (the Marlene by Fritzi Schnittreif), black laced-up boots and a belt to give the coat a little more shape. I also took some pics without the belt and wore the coat both open and closed. What do you think about my styling attempt? How would you wear this coat? I think a slimmer coat with more shape would be more suitable for my kind of style, but I do think this coat is supposed to look exactly as it does and I quite liked the challenge of figuring out how to wear it. And I've been wearing it a couple of times already, always with the belt.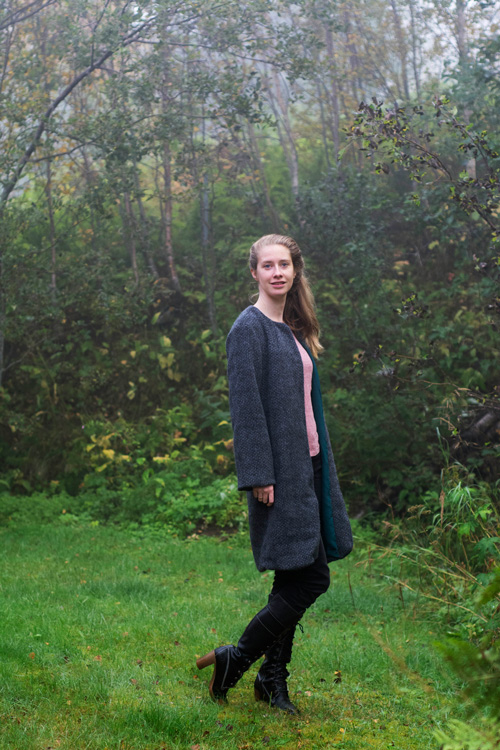 Since my photographer, a.k.a husband, isn't around right now, I had to take some tripod pics. So unusual for me! I'm quite spoiled with my husband taking pics of me for the blog… It was such a misty morning and although it made the pics a little foggy, I love the mood – it seems perfect for this coat!
– I got the pattern for this blog post for free. However, my opinions are, as always, my own. –