A few months have gone by since my friends Bettina and Barbara started Hello Heidi and released their first fabric collection Flur (see my blog posts here and here). The name Flur is raetho-romanic for flower and the collection is based on an old handmade wooden printing plate from a fabric manufacture Barbara's grandfather once worked at. Well – there wasn't just one printing plate, there were two. While the first plate showed big flowers, the second one showed much smaller ones. Hence the name, Flurina, which means "little flower". Needless to say that I needed this fabric in my life, since that's basically my name, Fleurine.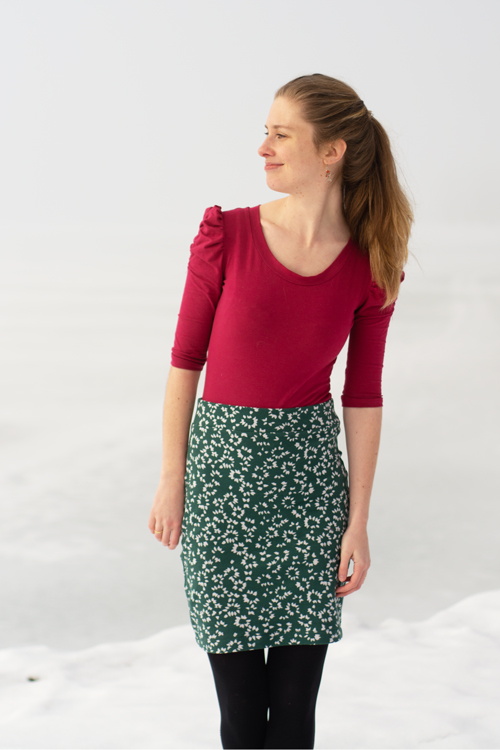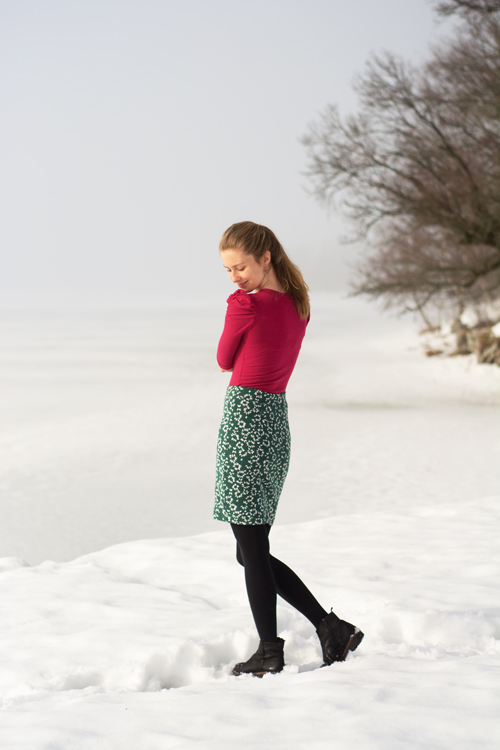 But this collection doesn't only consist of these florals. As always, there are coordinating solids (jersey and French Terry), and this time the collection is accompanied by a bunch of striped jerseys. Once again the colours are exactly the same for the jacquard knit, the striped and solid jerseys and the French terry. Not only do the colours in this collection coordinate, they match the colours from the previous collections, too. I really like this, since it allows you to build a wardrobe over a longer period of time, knowing that all future collections will match the fabrics you already have, and that one navy colour will be exactly the same as another navy colour.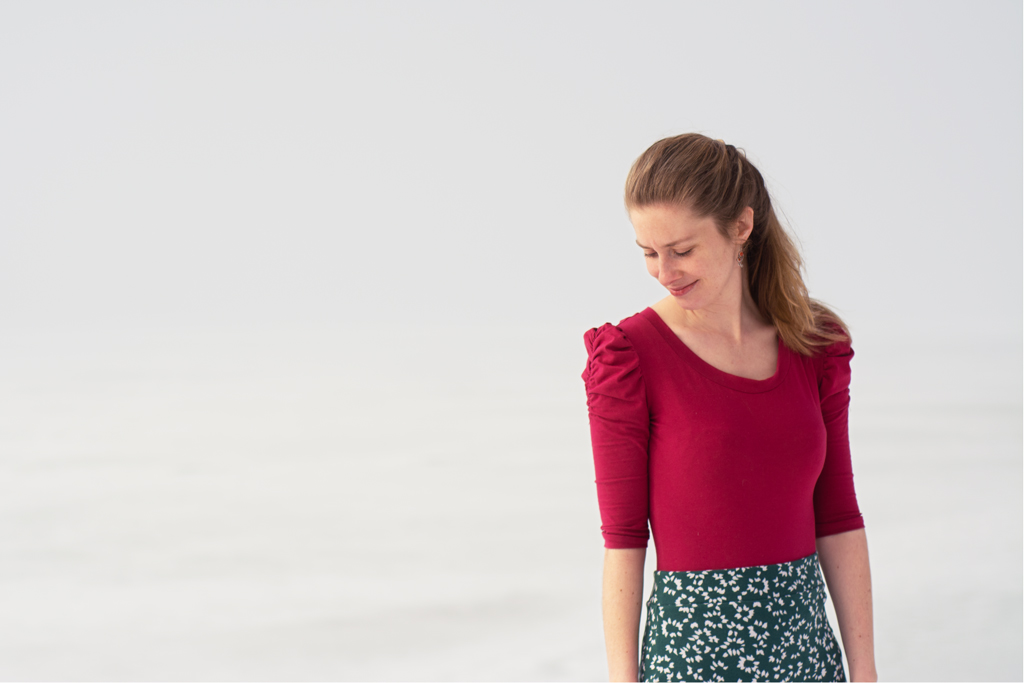 When I first saw the collection, my eyes were drawn to the summery blue and white jacquard knit. But I decided to challenge myself a little and went for another colourway instead: Green with blush flowers. The blush is so light, that it actually looks more cream than blush in combination with the green – but believe me, it's blush! Instead of choosing a green or blush jersey to accompany the jacquard, I went for a contrasting colour, a warm redish-pink.
I decided to make a simple skirt from the jacquard and an Agnes Top by Tilly and the Buttons from the jersey. I've made several of these tops by now and I just love the fun sleeves. However, this is the first time I made a version with short sleeves.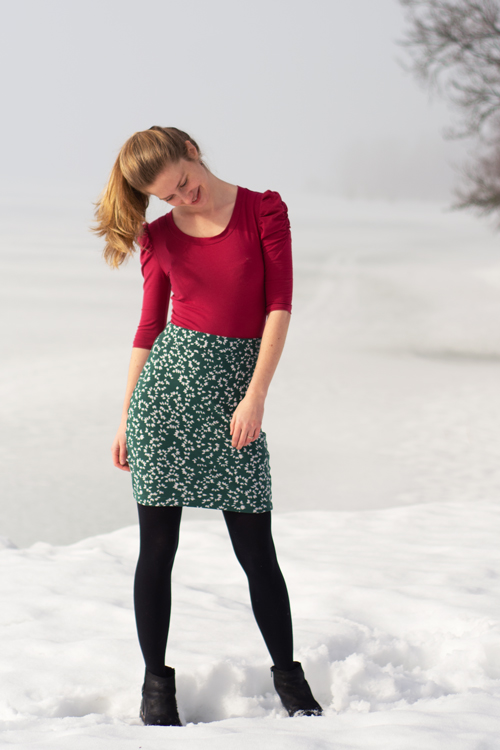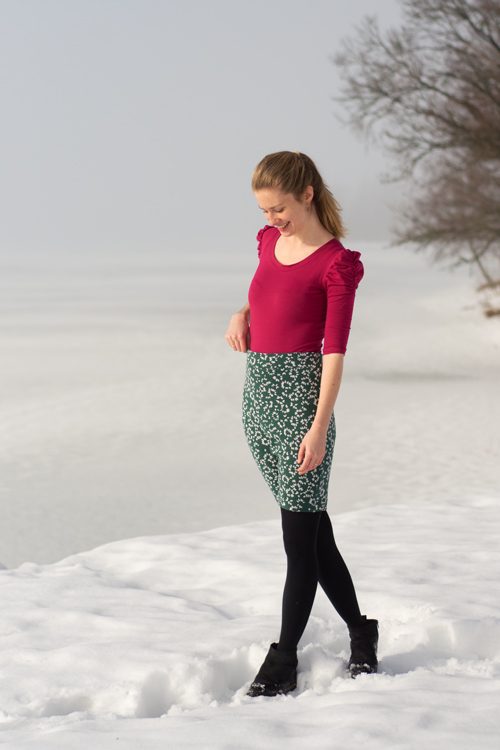 I couldn't decide on a pattern for the skirt, so I simply drafted one myself: I measured my waist, my hips, the length between my waist and my hips and the length I wanted for my skirt. I started by drawing a rectangle based on my waist measurement and the desired length. I then widened the rectangle with a gentle curve towards my hips and made the skirt gradually slimmer from my hips towards the hem of the skirt. I also added two darts to the back of the skirt and cut a rectangular waistband that was just a little shorter than my waist measurement. All that was left now was to add seam allowances and a couple of extra centimeters for the hem and my self-drafted skirt was ready to be cut and sewn.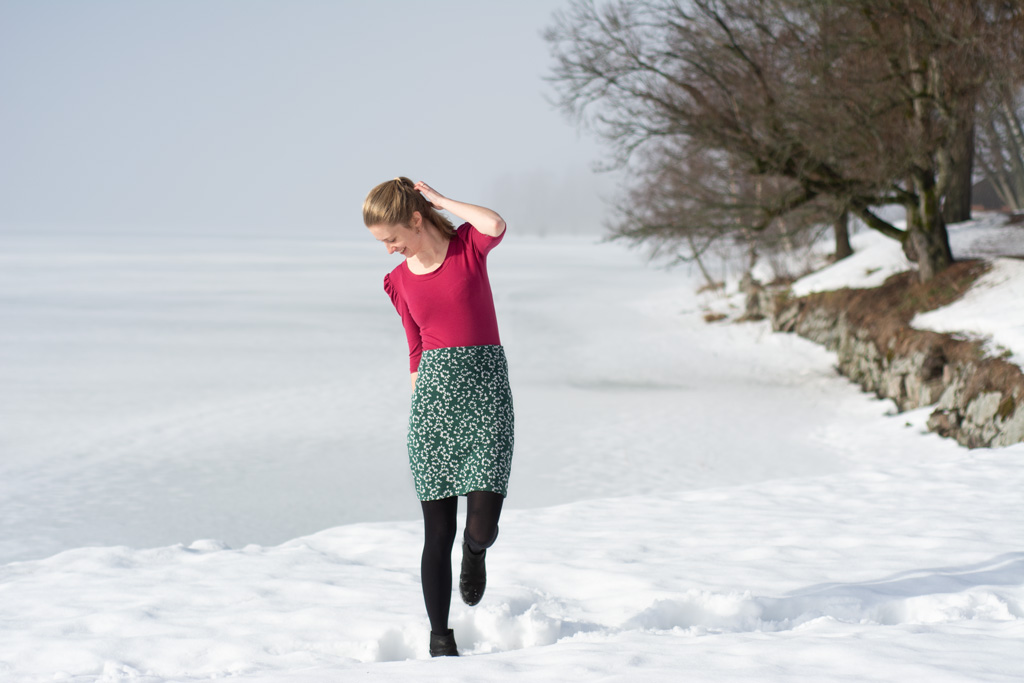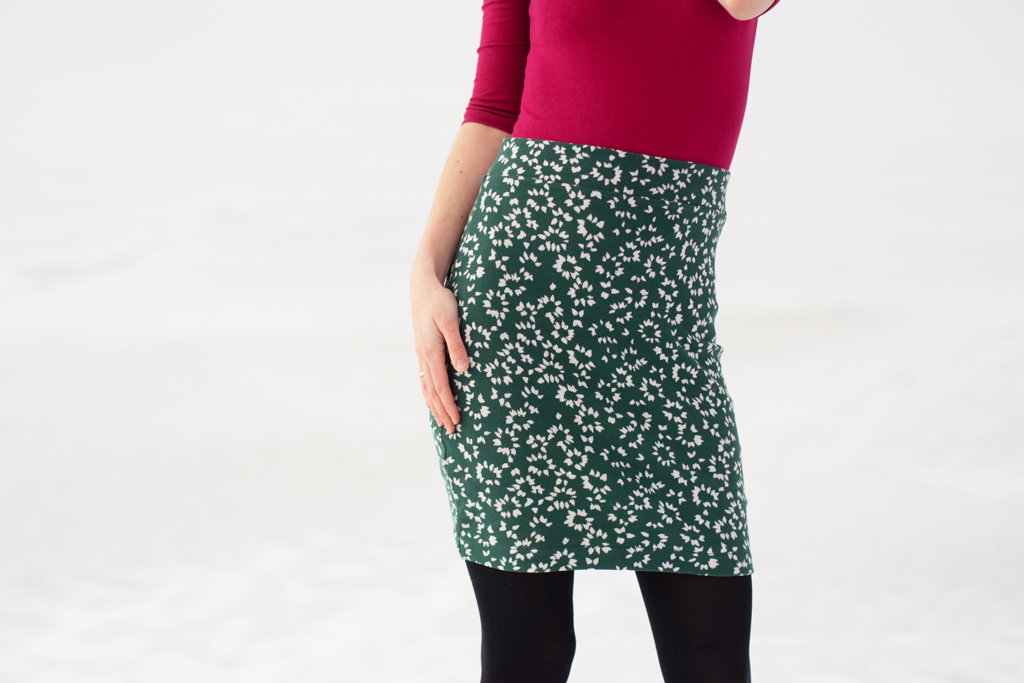 I am actually very pleased with the result. I wanted a very, very basic silhouette for my skirt and knowing that I am by now actually able to draft something like that myself, based om my measurements, is rather satisfying. Sewing the skirt was a breeze, since the jacquard is a very easy fabric to sew with.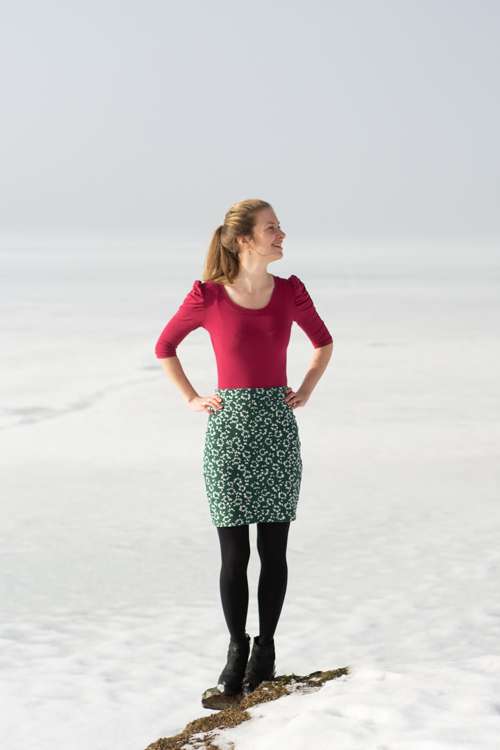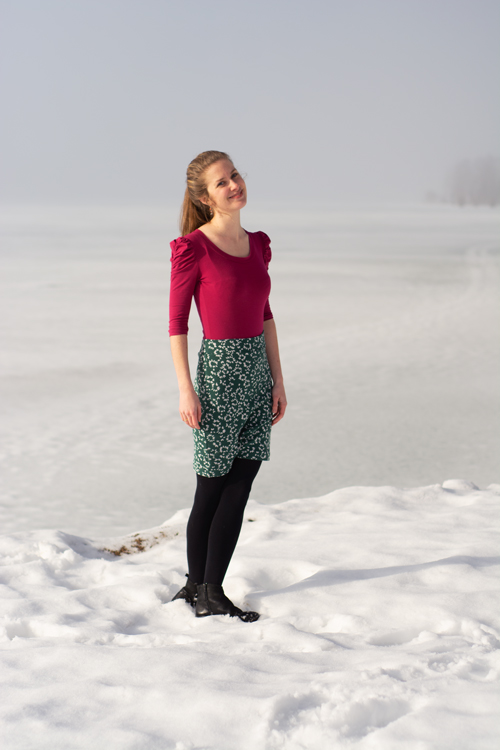 The Agnes is a rather quick project, too. It's a very basic shirt, with the exception of the ruffled sleeves, which require two extra steps. I didn't have the pattern piece for the neckband at hand, so I drafted one myself – which ended up being slightly wider than the original. But I like it! I also decided to add bands to the sleeves instead of hemming them.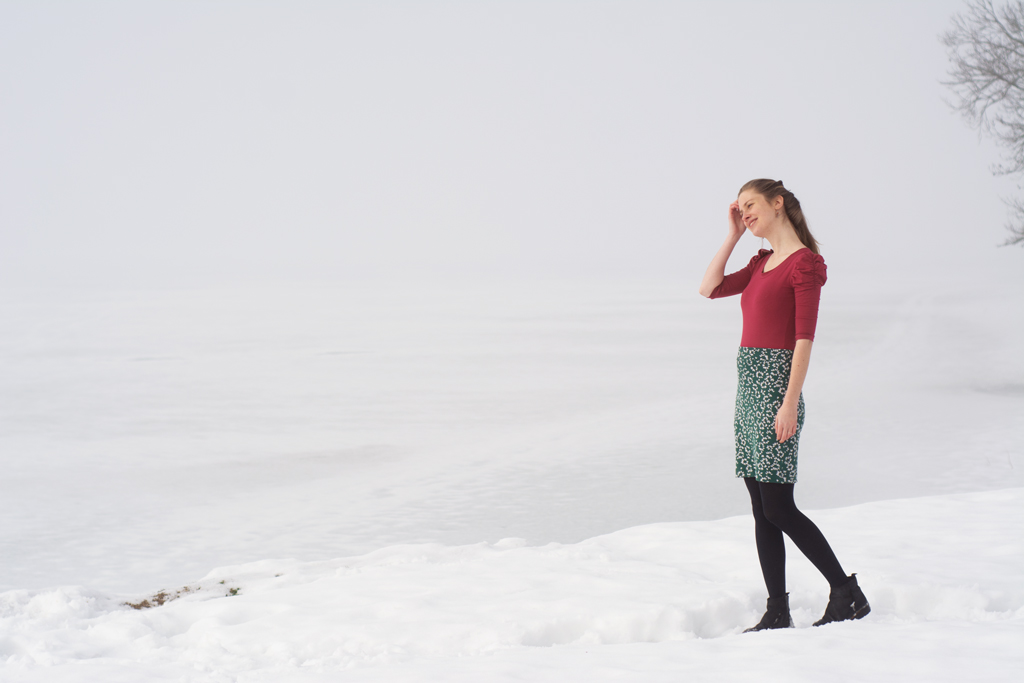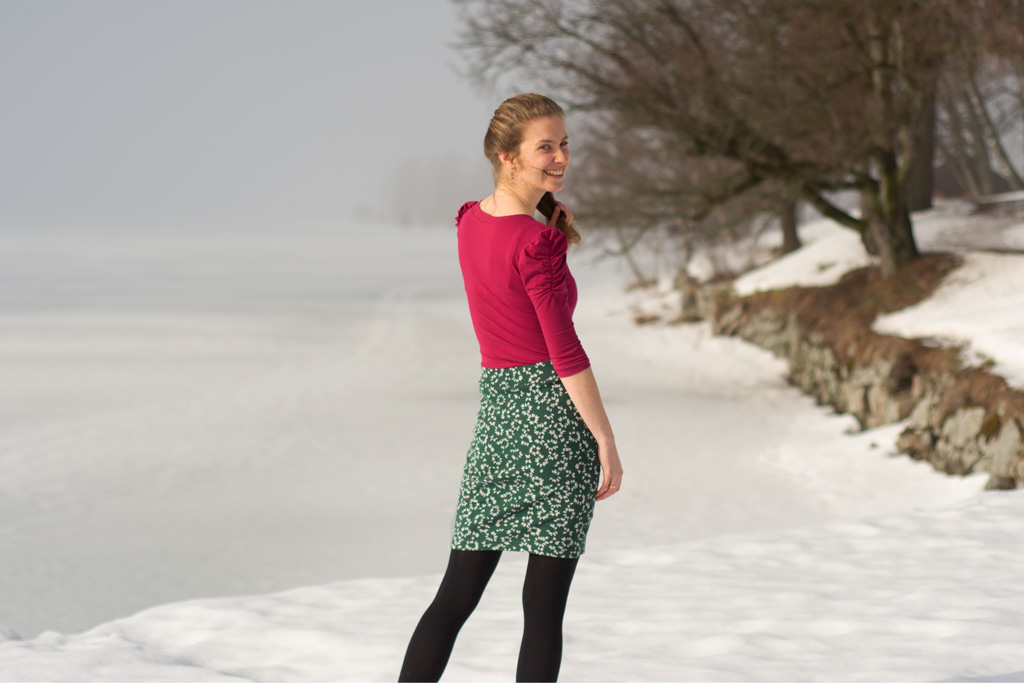 That's all about my little contribution to the launch of the latest Hello Heidi collection! Make sure to check out Hello Heidi on Instagram to get a ton of inspiration and if you'd like to buy some fabric, you can find the entire collection over here.
– I received the fabric for this blog post for free. However, all opinions are, as always, my own.