Welcome to today's stop on this year's Style Maker Fabric Fall Style Tour! I'm sure you've been following along the rest of the tour and have seen all the amazing makes so far. How could I say no to joining this line up?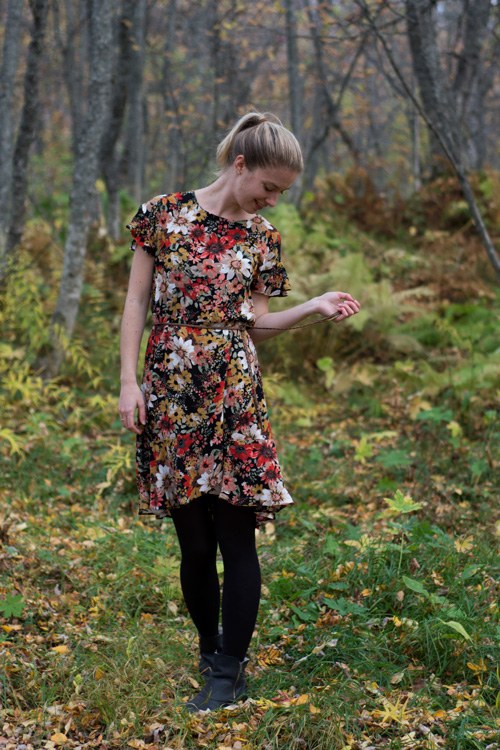 When seeing Michelle's fabric selection I was pretty overwhelmed. What on earth should I choose?? You can read more about Michelle's curated fall fabric selection in this blog post.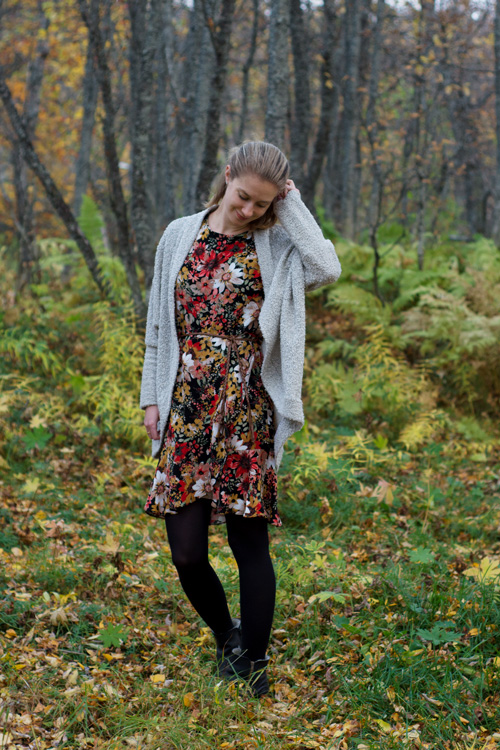 I thought about making a cardigan and a dress, which made me end up with this bouclé knit and this pretty floral rayon crepe. I actually got this great olive twill, too and planned to make a blazer with it, but I didn't find the time. But stay tuned, I still inted to make it very soon!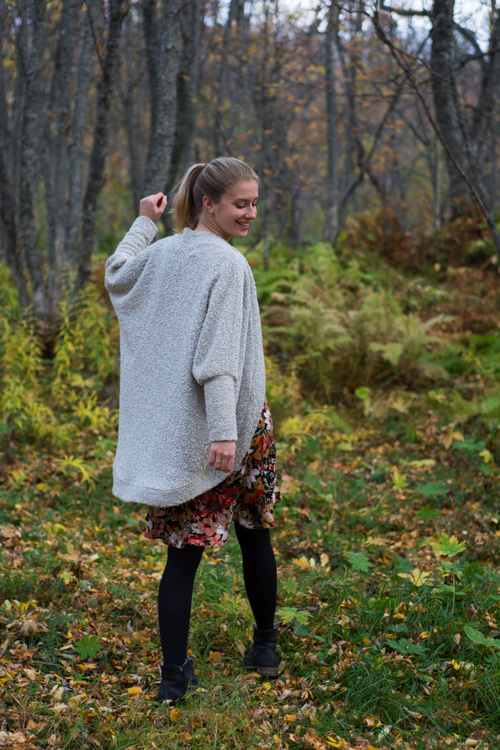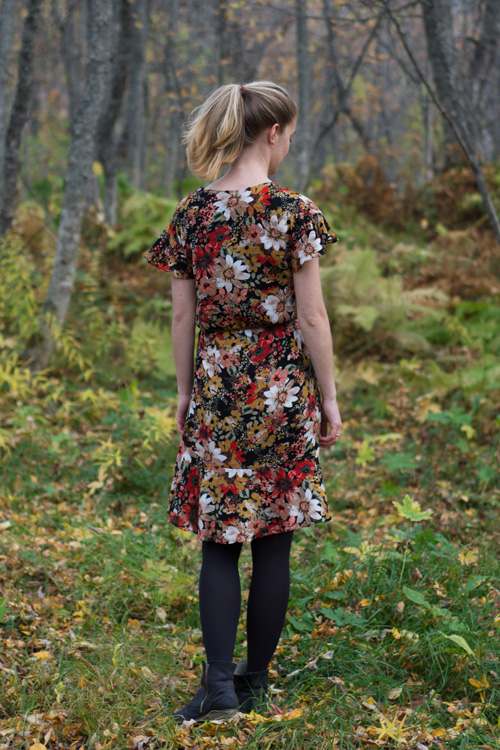 Seeing Leslie's Adrift Dress by Papercut Patterns I knew that I needed that dress in my life. I have made the Nicola Wrap Dress by Victory Patterns before, but because of the risk of showing way too much while walking or sitting, I'm not wearing it often. But Leslie assured me that that's not the case, so I went for it.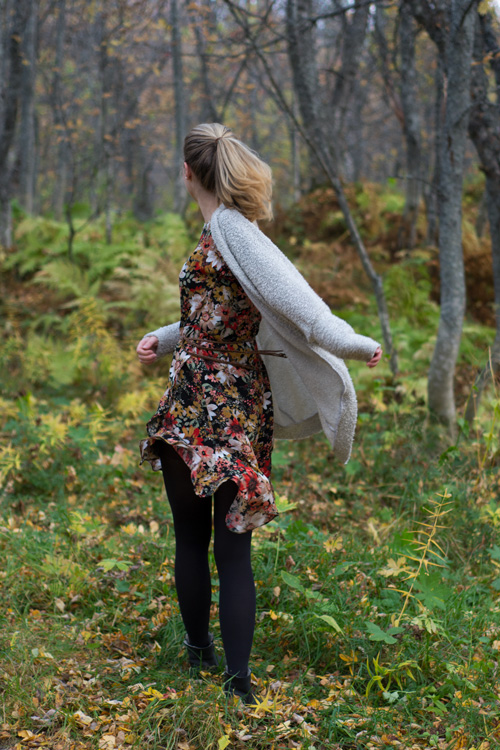 I really like the colours of the rayon crepe. Although it's a floral, the colours make it a perfect autumn fabric, and so does the slight texture. The fabric did actually look much more "wrinkly" after washing it, nearly like a plissé fabric. For the purpose of cutting and sewing I pressed the fabric flat, but I won't do that each time I wash the dress, since I actually quite like the look. I also like that the fabric doesn't really wrinkle, or at least it doesn't show because of the texture and the pattern. I have so many things in my closet that I can't put on in the morning while hurrying to get to work, since they're so wrinkled and I don't have the time to iron them. So I'm very glad to see that this fabric is behaving differently.
The Adrift Dress is a loosely fitted dress with a wrap skirt, a flounce added to the skirt, a round neckline and a flounce sleeve. The dress is actually designed to have a waist tie casing, too, but I dropped the casing and decided to add a belt to the outside of the dress instead of to the inside. Another thing I learned by reading Leslie's blog post and by listening to a story on Allie J's instagram account was that the Adrift Dress is short – like, really short. I ended up adding 3 cm (1′ 1/4″) to both the top and the skirt and am happy that I did. I also raised the front neckline slightly and lowered the bust darts. I even could have lowered the latter some more.
And as Leslie pointed out in her blog post: Don't forget to add length to the top of the flounce, too, if you add length to the skirt! The flounce goes all the way to the top of the skirt and therefore needs to be adjusted, too.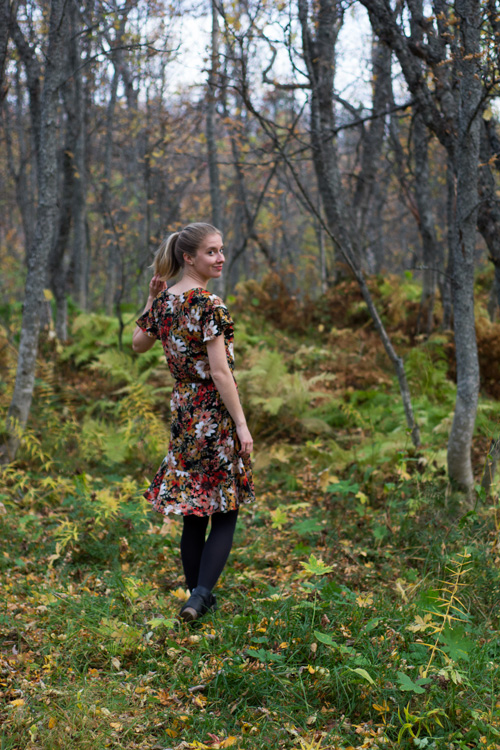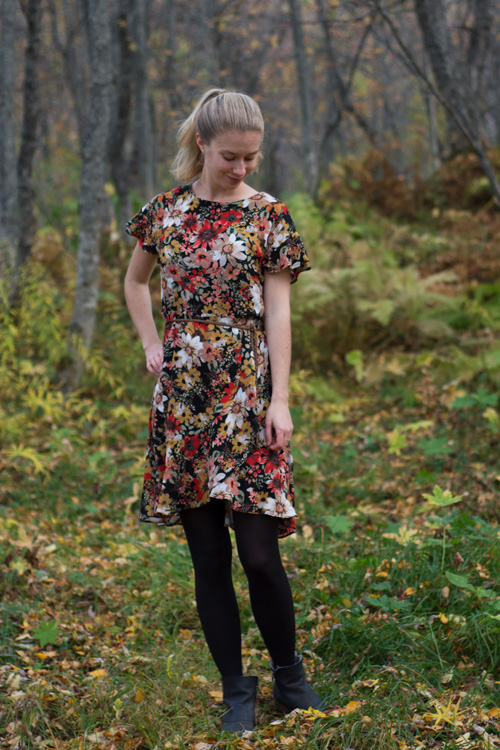 This dress and the thin fabric would have been perfect for using French seams, but before you all role your eyes and say "Yes, we know that Fleurine loves French seams!": No, no French seams this time around! I recently got my new serger from Bernina and quite like working with it. I didn't have a lot of time, so I decided to serge most parts of the dress. And although I still like the classic look of French seams, I have to say that I do like how tidy my dress looks on the inside and how quick everything went.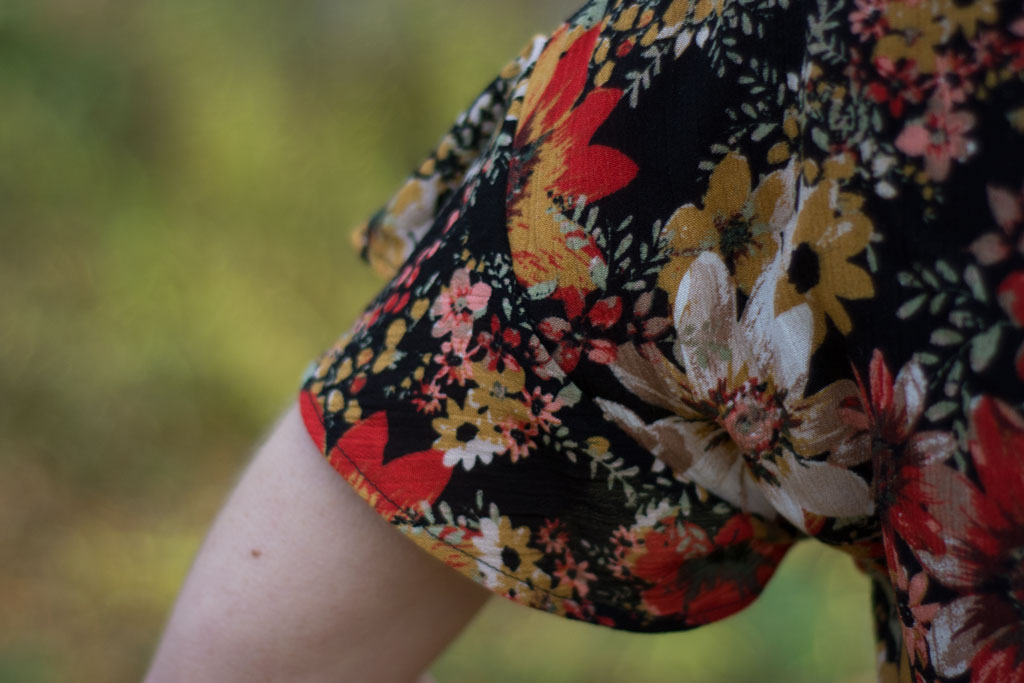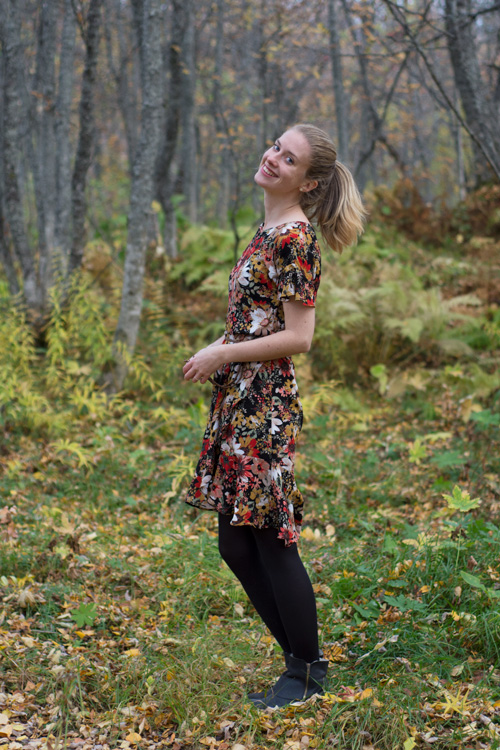 My other make is the Carrie Cardigan by Delia Creates. This is actually my second Carrie Cardigan, you can find my first version here. I've been wearing my Carrie Cardigan all the time and knew that I'd love to have a second version in my closet. This time I cut the longer version, since I thought that the shorter version might look a little strange when worn with a dress.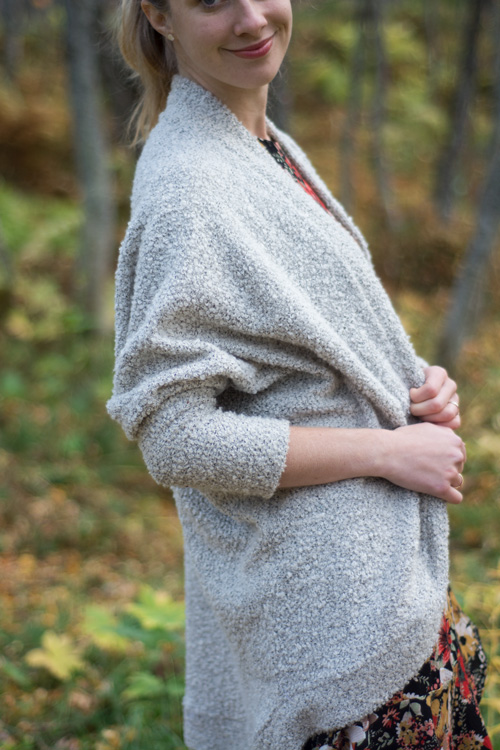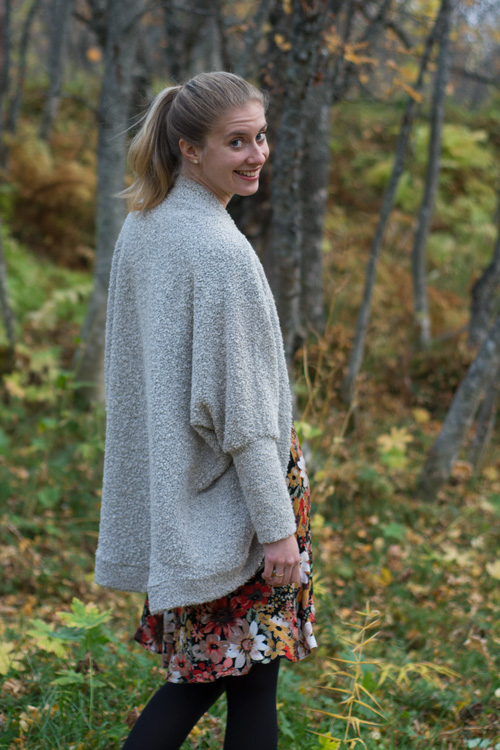 I absolutely love how easy the Carrie Cardigan is to sew, especially when using a fabric like the bouclé I used. The fabric is cut easily and hardly requires any pressing during sewing. I again used my serger to sew the cardigan and was done within an hour, since there are only seven seams to sew.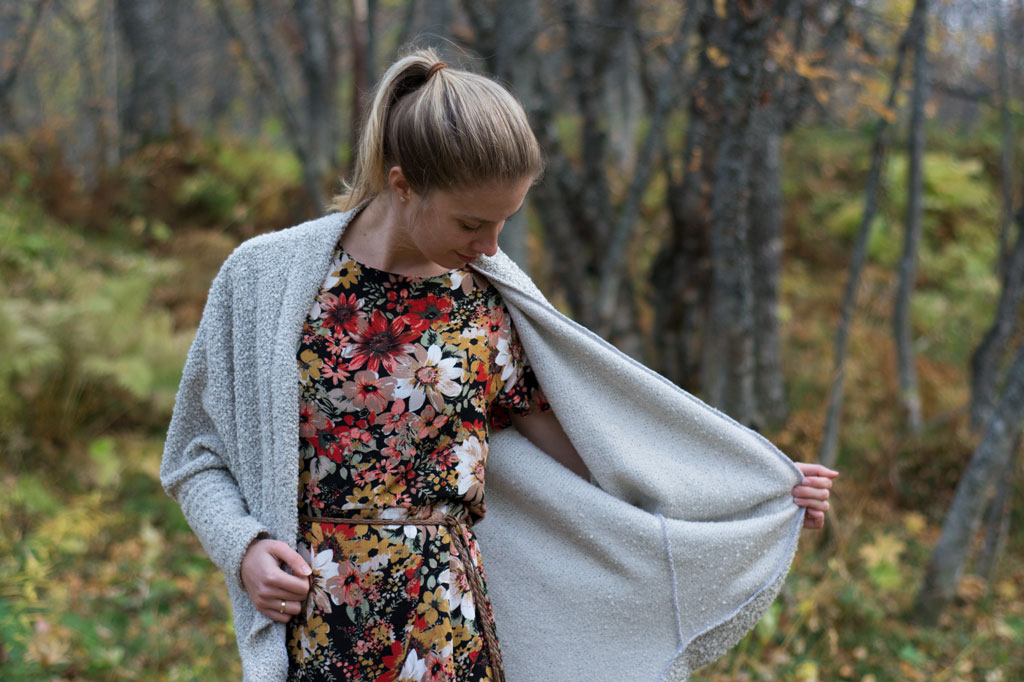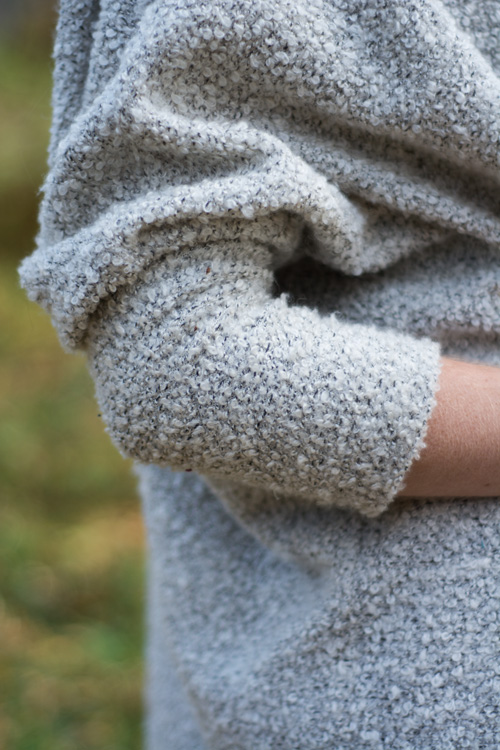 Since the Carrie Cardigan is so wide, there isn't really any need for precise fitting. However, as with my last cardigan, I lengthened the cuffs a little. This time I added a little bit to the sleeves, too. This way the sleeves go all the way to my wrist and keep me warm during the Norwegian winter.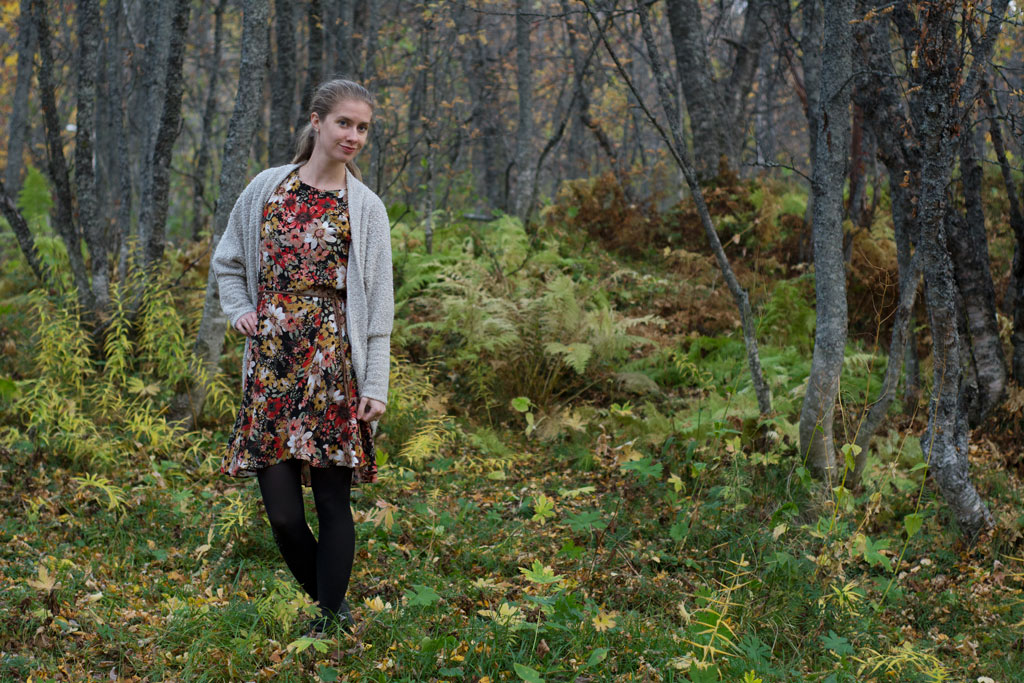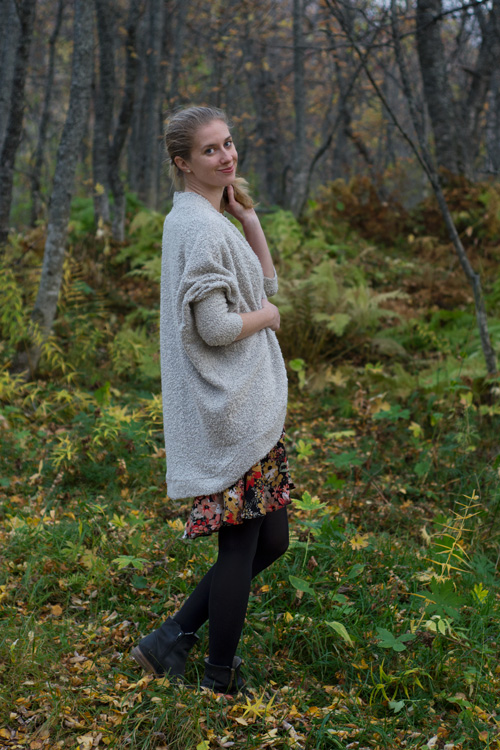 That's all from me for today, but check out the makes of all the other participants of the blog tour, if you haven't done so yet! Tomorrow it's Meg's turn, and I'm sure whatever she has made is gorgeous, as always!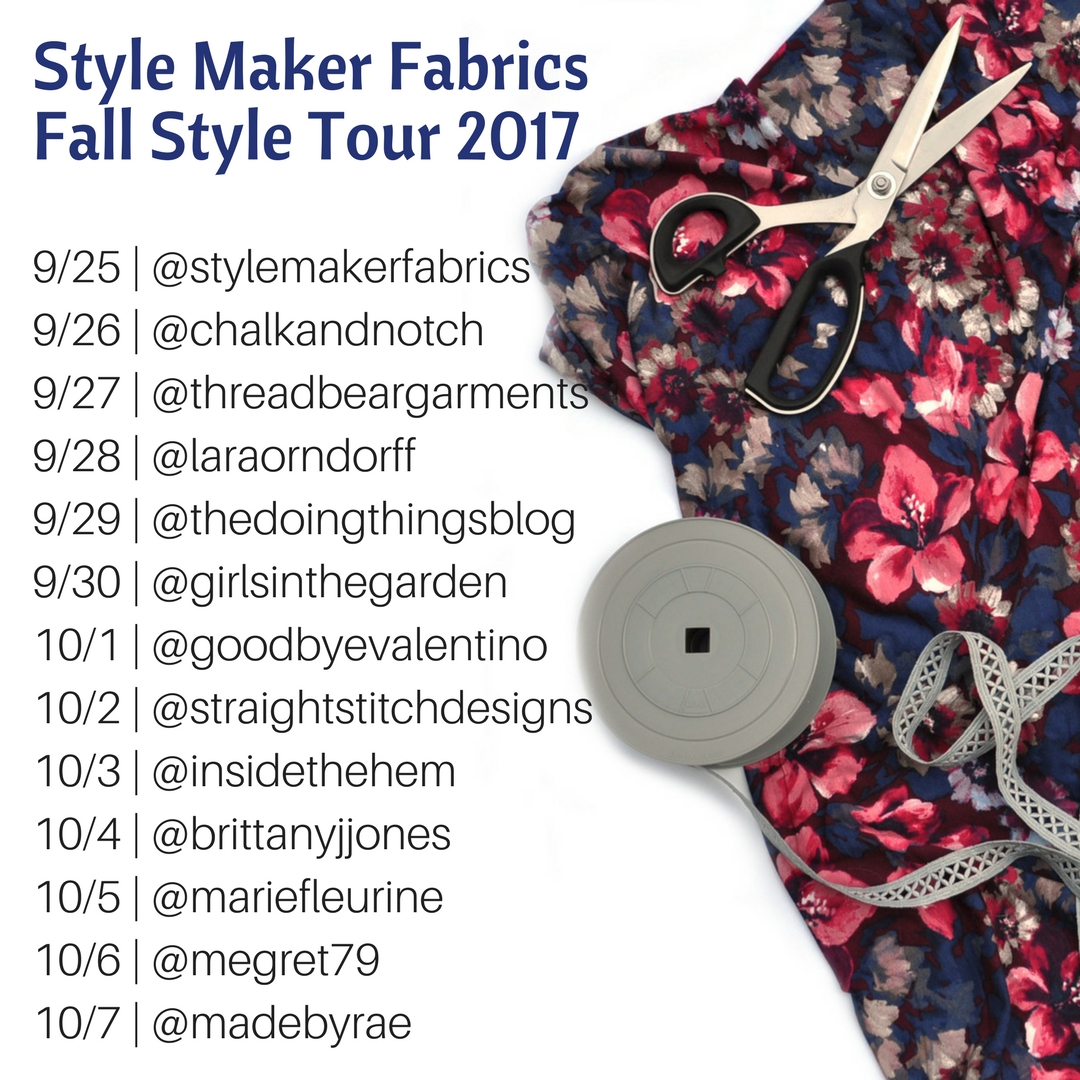 – Style Maker Fabrics kindly provided me with the fabrics used for these garments. However, all opinions are, as always, my own. This blog post is linked to the German blogger party RUMS. –