It has been ages since I last posted something, and I'm glad that things have calmed down a little over here, so that I can show you my latest Indiesew project – and actually my first Burda project ever!
'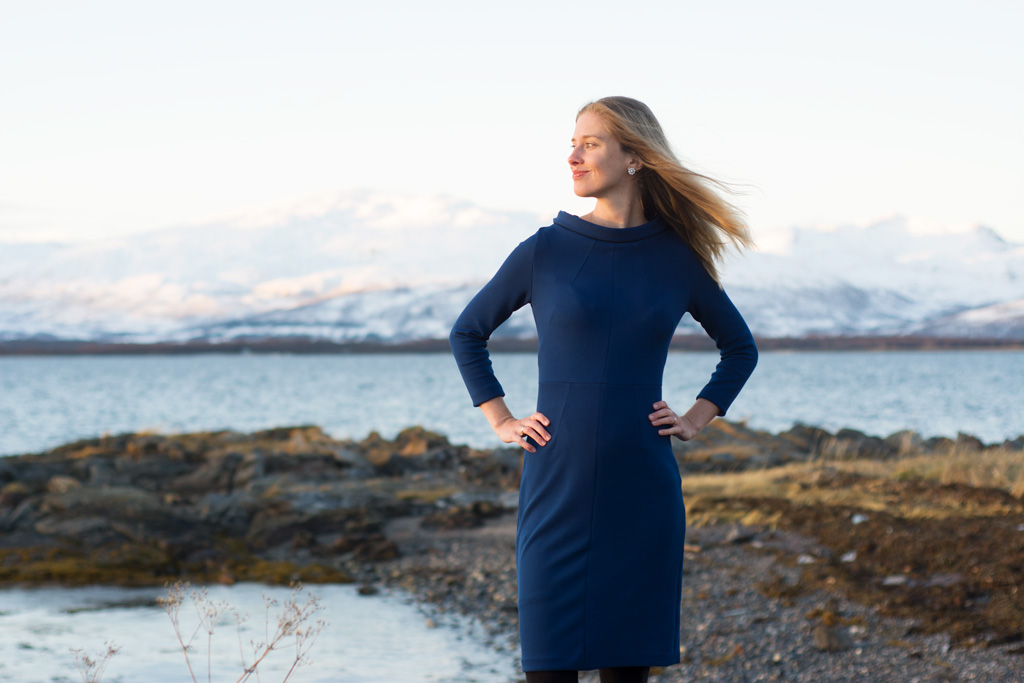 As you know, I was lucky enough to visit Allie from Indiesew and some other lovely ladies from the sewing community back in September – you can read a little about our Denver weekend here! So, for the first time I was able to shop Indiesew fabric without thinking about the fabric weight and shipping costs. For that reason I was finally able to snatch some of the fabulous scuba knit Allie has in stock in Admiral blue and Baywatch red. And I mean Baywatch very literally! Allie wrote somewhere that these two are the actual fabrics used at the Baywatch set, so that's why I call this my Baywatch dress, although that's probably where the similarities to Baywatch end. And I have to admit that I have never even watched Baywatch! But who hasn't seen pictures of these red bathing suits?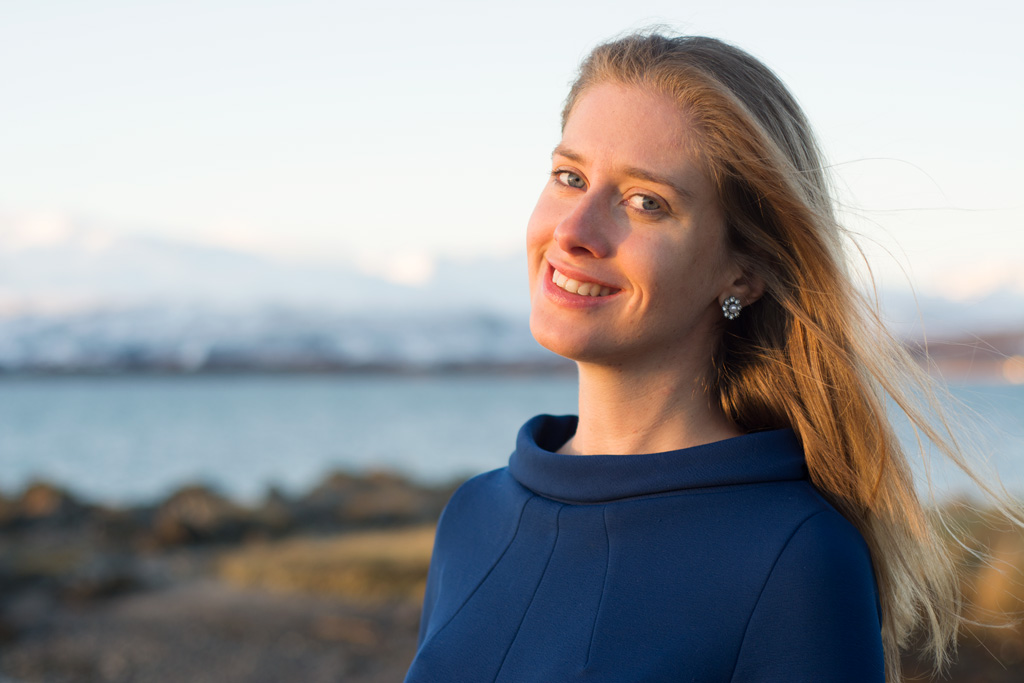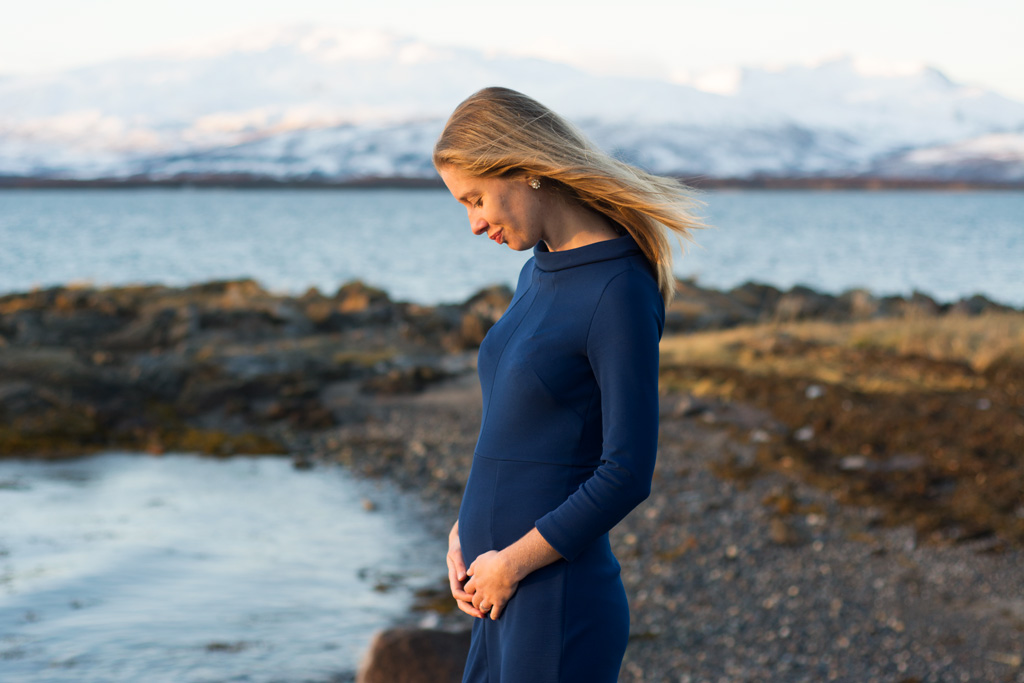 Before I flew to the U.S. a colleague of mine lent me the latest Burda Style Magazine, #08/2017. I'm usually not buying sewing magazines, since I don't like having so many sewing books and sewing magazines lying around, but I just had to borrow the magazine after seeing a darted dress with a 60s vibe. It has a great many seams and darts, which givethe dress a lot of visual interest and a beautiful shape. And when I touched the scuba knit when visiting Allie, I knew that those two were a perfect match.
You're probably just scrolling through this blog post, waiting for me to comment on my little bump. Since there's no chance of hiding it, other than stopping to blog (and we all know that's no real option!) and since sewing for my new body requires some consideration while sewing, let's address the baby bump for a second: Many of you know that we've been struggling with having children for years, so we're very excited to announce that we're hoping to welcome a baby to our family in May. I've been very well during the last few months, other than being a little tired, which kept me from sewing and blogging too much. But hopefully I'll have a more energy during the months to come! I don't know what this means for my blog yet, but hopefully there won't be too many changes, other than an occasional children's outfit from time to time, maybe. And probably fewer blog posts …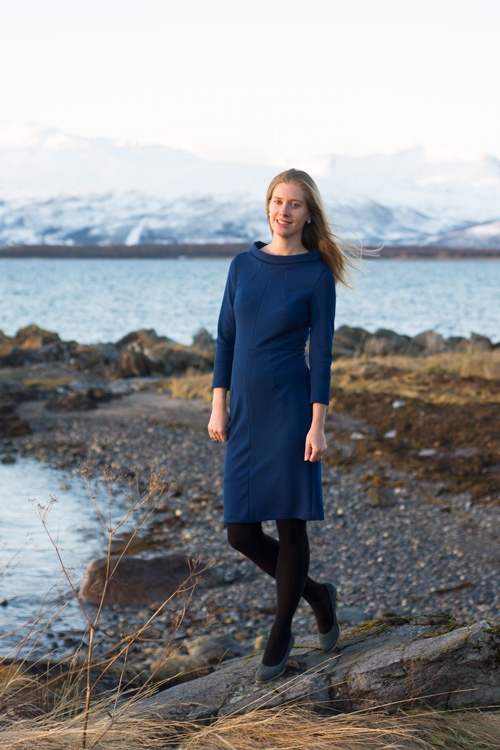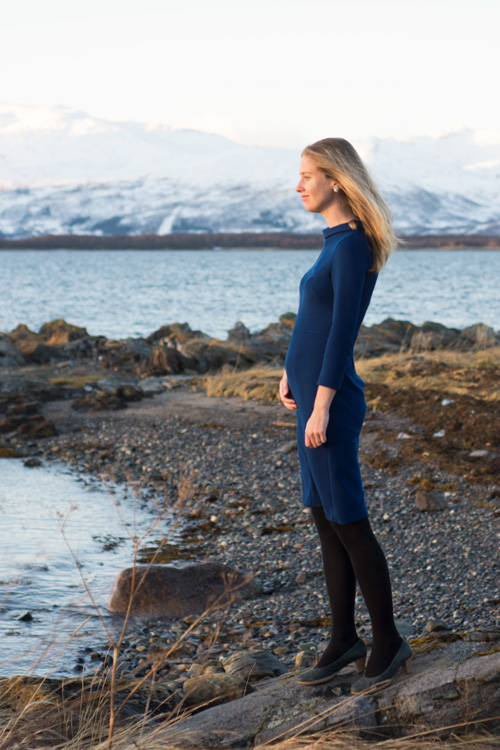 But back to the Baywatch dress! The smallest size this dress comes in is size 36, which is usually too big for me. Also, Burda patterns are designed for people who aren't as tall as I am. Since I'm pregnant, I decided to cut a size 36 to have a little more room. Moreover, I decided not to add length to the bodice in order to raise the waist seam a little. I tried to find a balance where the waist seam wouldn't look strange with my baby bump, but would still look okay after my pregnancy. Because there's no way that I'm only going to wear this fabulous dress for only a couple of months! I think, I succeeded – it's definitely wearable right now, and hopefully it will be wearable later, too. The dress is designed to end below the knee, but I wanted it to end above the knee, so I shortened the dress by approximately 10 cm/4″. That makes the split in the back a little shorter, but the fabric is so stretchy that I really don't need a high split to move comfortably.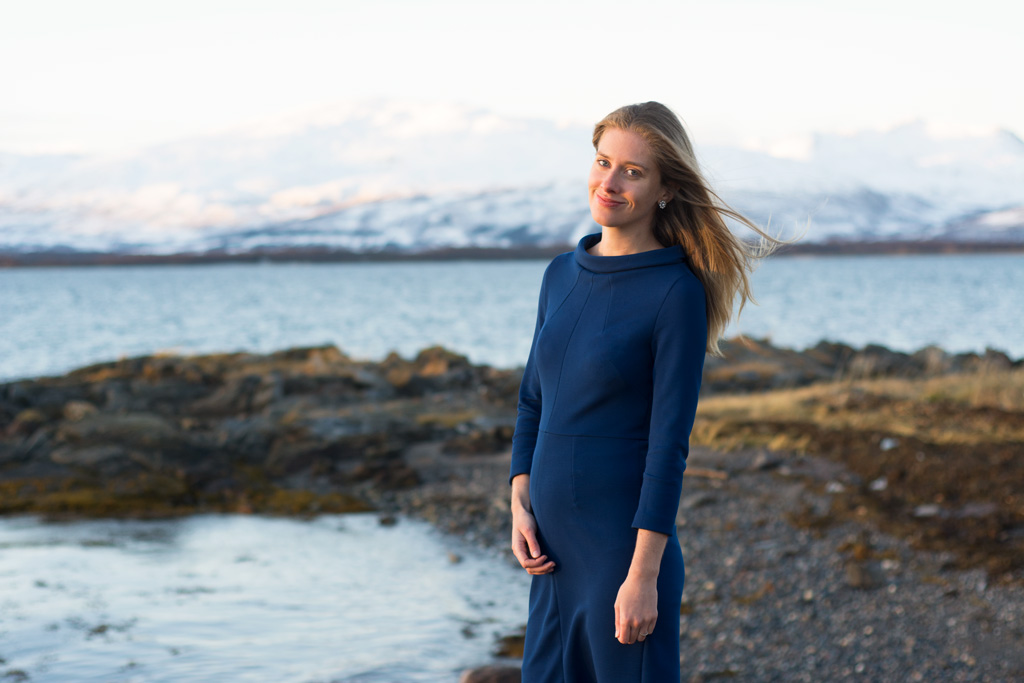 Another change I had to make was making the sleeves a lot slimmer. I should have removed some fabric from the upper back, too, there's a little too much fabric below my neck, especially when the dress moves up a little while I wear it. I should have added a tiny bit of width to the shoulder seams, too. Somehow I messed up the collar – it looks nice in the front, but isn't lying nicely in the back – I think I didn't fold it right in the middle when sewing it down, resulting in some strange drag lines. Hooray for long hair to cover it! I might take off the collar one day, remove some fabric from the middle and re-attach the collar to get it perfect. But that has to wait – I finished this dress on Sunday and took pics on Monday, and we all know that last-minute projects don't allow for too many changes!
The fabric was a dream to work with. I actually decided to use the wrong side of the fabric on the outside. I just loved the rich, dark blue. The right side of the fabric is a little lighter and has the typical lines jersey knit fabrics tend to have. The darts look lovely sewn into this solid coloured fabric, and the fabric was surprisingly easy to press, too. I made myself some extra work, since I wanted to press all the seam allowances away from each other. The fabric is pretty thick and I thought the seams might look better with the seam allowances pressed open – especially in the front and back. That meant that I serged every edge and sewed the seams with my sewing machine, resulting in three seams each instaed of a single one if seam  sewn with my serger. But I think it was worth it!
Working with Burda made me once again appreciate indie pattern instructions even more. I didn't have any trouble assembling the dress, but that's only because I basically knew what I was doing and didn't really depend on the 10 sentences given as an instruction by Burda. I can't imagine how frustrating this would have been for me only a couple of years ago!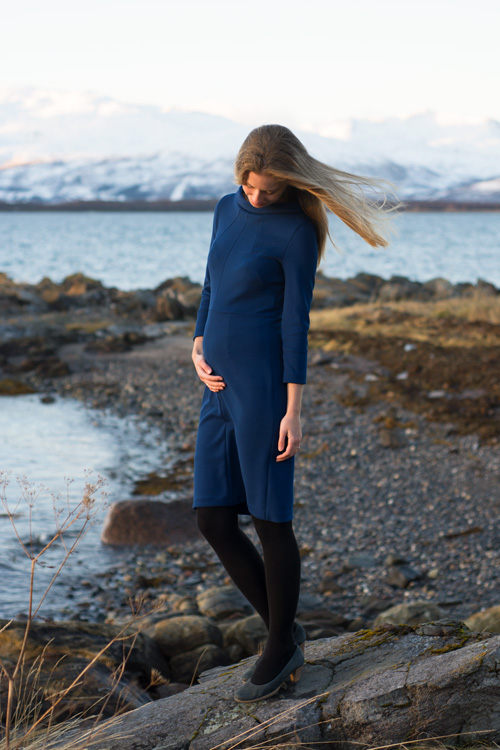 All in all I'm very happy with how this dress turned out and I feel like it's very versatile. I can wear it to work, to birthday celebrations, maybe even for Christmas, and the super stretchy fabric will hopefully allow me to wear this dress for a few more months before it has to stay in the closet for a little while.
– As being a part of the Indiesew blogger team, I received the fabric for this blog post for free. However, all opinions are, as always, my own. –