I love to do co-operations with other people in the sewing world – blog tours, pattern testing, design samples, and so on. I love connecting with other sewists and deadlines get me going. Projects that otherwise might end up at the end of a long queue just get done. But sometimes co-operations have another advantage, too: Projects that otherwise might not get shown to the public end up on the blog nevertheless. And that's a good thing! Not every project ends up being perfect and we all can learn from the experiences of others.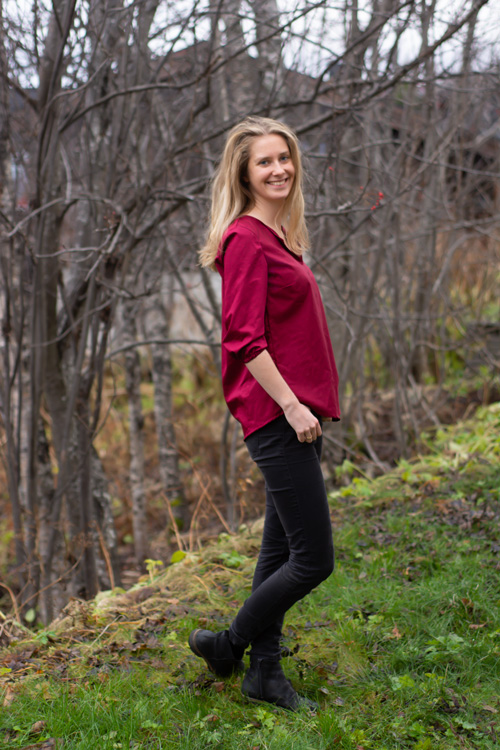 To be honest, Paula is a case like that. And that's a shame, because it would have been avoidable by doing what we always should do: matching patterns and fabrics carefully and making a muslin. Oh – and take our time while sewing!
But let's start at the beginning: Paula by Schnittmuster Berlin is a fun blouse with ruffles along the neckline (What? Where? Well, we'll get to that!), a rather wide shape, a notched collar and long bishop sleeves with elastics at the wrist. There's a back yoke with a few gathers and the front has a middle seam.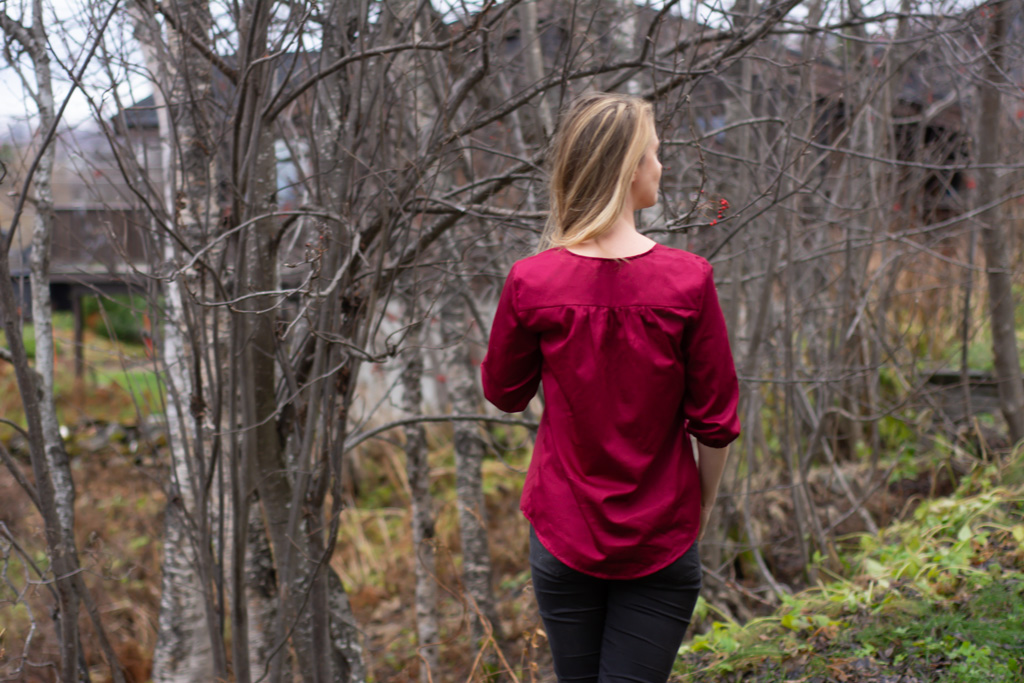 The German fabric store Siebenblau was kind enough to offer us, the people sewing a sample for Schnittmuster Berlin, free fabric – an offer I naturally didn't say no to. Siebenblau is a store selling exclusively organic fabrics. They have a lovely range of high-quality dressmaking fabrics, some are really unique. I used their cotton tulle fabric as a lining for my latest Wedgwood Skirt. My eye fell on a pretty red cotton sateen fabric – I think the colourway is sold out right now, but there are plenty of other colours, among them two different reds. When I got the fabric I realized that it was a little more stable than expected – but the colour and the sheen were beautiful! It is a little hard to keep wrinkle free… Since I got the fabric specifically for this blouse, I didn't change plans and just kept going – looking at the blouse now I should have been wise and switched projects!
I made size 36 without any fitting alterations, other than lengthening the blouse 1 or 2 inch/ 2,5 – 5 cm. And that was obviously my second mistake. Always make a (simple) muslin to check fit, especially when working with wovens and with projects that require an exact fit! There's something going on with the fit around the shoulders – I get some drag lines towards the neckline and down towards my bust, I haven't taken the time yet to figure out what exactly is the problem. I think the shoulders are wide enough, but I might need more fabric in that area, or the bias binding on the inside of the neckline might have distorted the neckline in some way, causing the drag lines.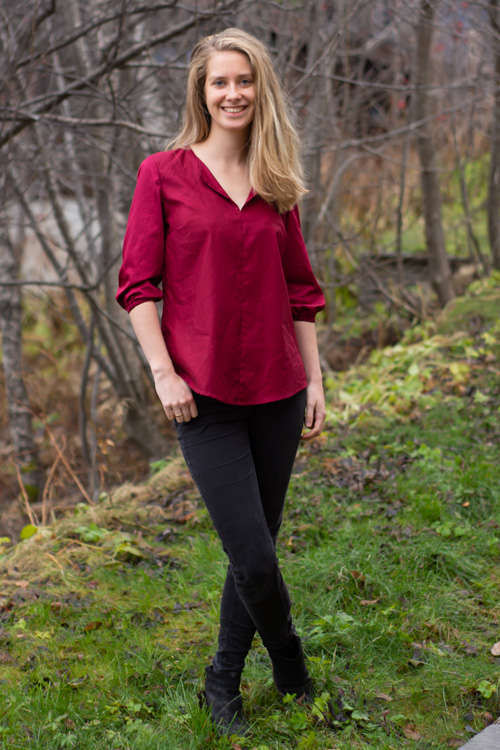 You might still wonder about the ruffles? Well, Paula is designed to have a ruffles collar sewn around the neckline, a feature I love and that first drew me towards the blouse. The thing I discovered when I got the pattern and already had ordered the fabric is that the ruffles aren't hemmed in any way – they're only two strips of fabric, ruffled with raw edges and sewn on top of the neckline. I instantly knew that the pretty satin fabric I chose wasn't suitable to be left unhemmed. Had I chosen a black or navy fabric – anything that was easy to match – I could have added a collar using another fabric, perhaps a tulle or something similar. But I couldn't imagine a contrasting collar on this blouse and matching this specific red would have been really hard. So in the end I decided to ditch the collar. What a shame!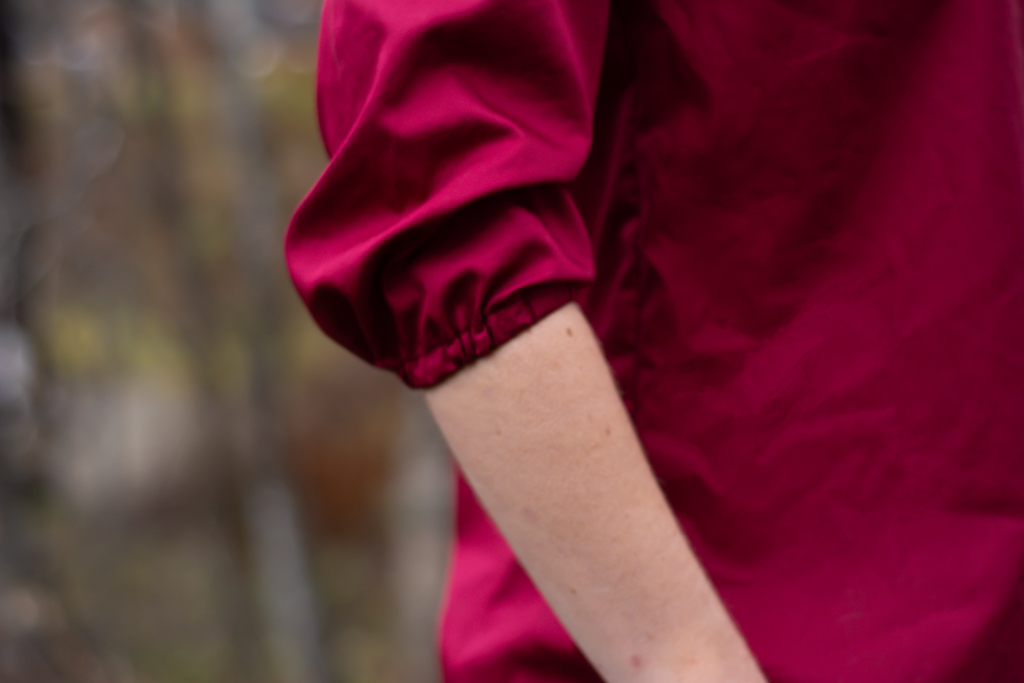 Since my fabric is a little stiffer, the blouse has a lot of volume. To have a little "less blouse" all around me, I decided to shorten the long sleeves to 3/4 sleeves. I think it looks really well like this! I also decided to cut the hem of the blouse slightly rounded instead of straight, as intended by the pattern. I am actually very happy with these two changes! Another small (but invisible) change I made was sewing the whole blouse with French seams and sewing the yoke with the burrito method, hiding the raw seams at the back. Oh – and there's actually a tie at the neckline, too! Well, I omitted that one, too.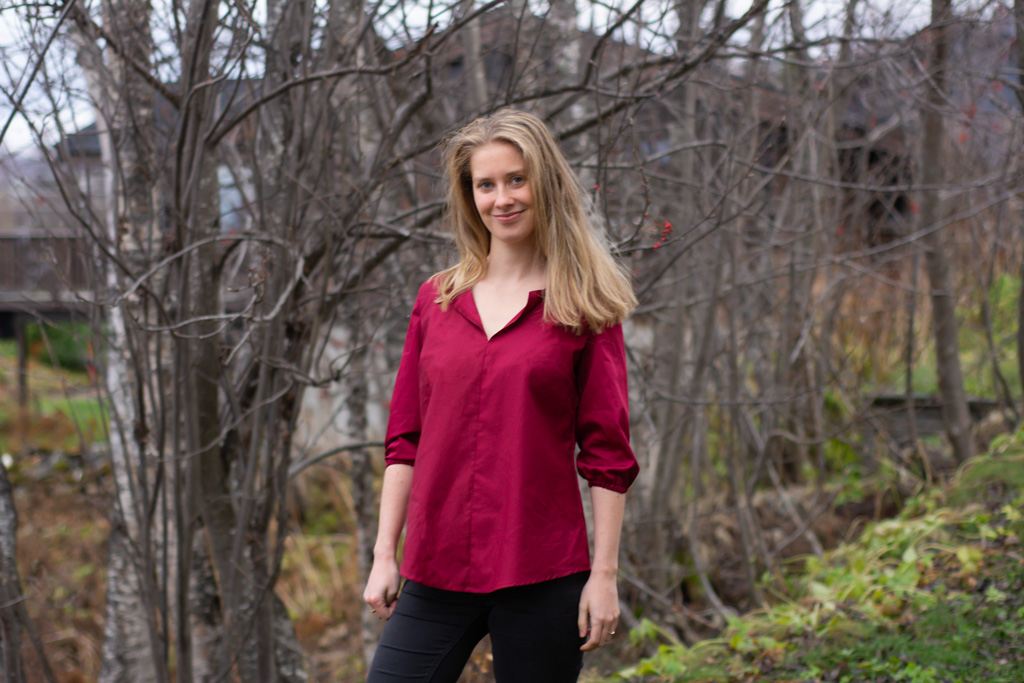 I actually think that the blouse looks better in real life than on these pics. The static nature of the pics makes the blouse look very wrinkly and poofy, while the movement in real life make the firmness of the fabric less noticeable. I will try to get the fabric softer to see if it affects the fit of the blouse, and I will try to make another version of Paula –  one with a very drapey fabric, a tie and those gorgeous ruffles!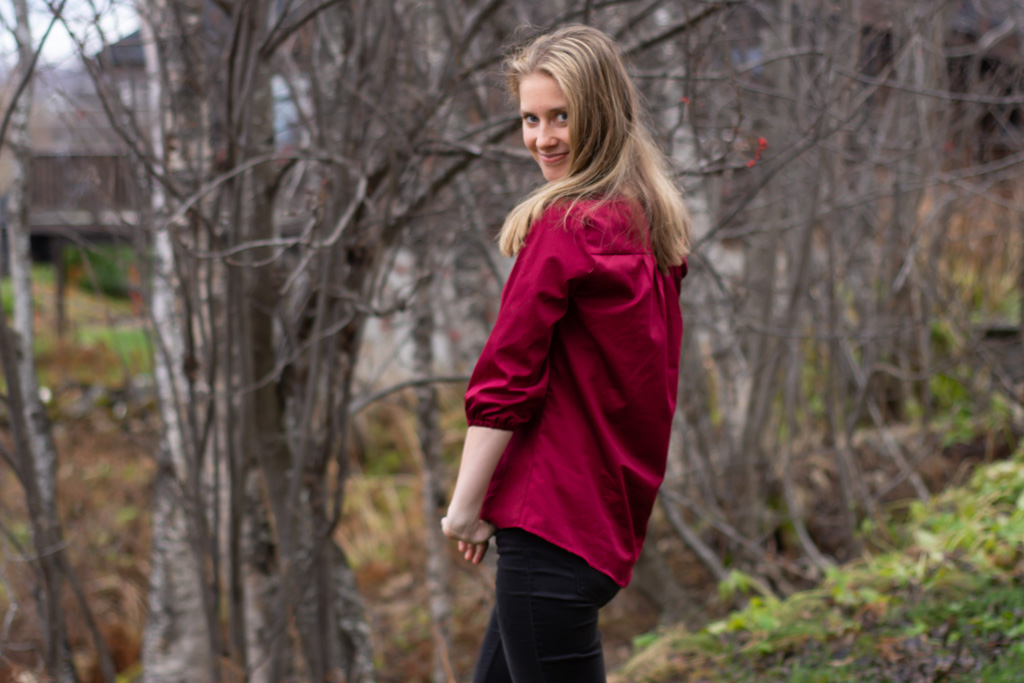 – I got the pattern free of charge from Schnittmuster Berlin and the fabric from Siebenblau. However, all opinions are, as always, my own. –