It might not surprise you that I recently didn't agree to testing or reviewing a lot of patterns. Finding sewing time was hard, my schedules were unpredictable and with limited sewing time, I was even more reserved to commit to projects, knowing I might only be able to sew one or two projects during the next few weeks. Usually, I am rather careful about testing or sewing samples for new-to-me designers, too. You just don't know what you get, and writing a downright negative review isn't much fun, either.
However, a few weeks ago I got a message from Sabine from the German pattern label Einfach Anziehend – it translates as "easy to wear", but "anziehend" does also mean being drawn to/attractive – so it's a fun wordplay for a sewing label. She asked me if I might want to sew a sample of her next pattern – a sweatshirt called "Engel im Schnee" ("Snow Angel") with (optional) ruffles and either a round neckline or a V-neck.
I always kind of liked the ruffle trend, it fits my personal style – but somehow I haven't really made a lot of ruffled garments. Therefore sewing the sweater sounded like a good project – not too time-consumable and very wearable. And when I realized Sabine has a background as a professional pattern designer/grader, I went for it.
The sweatshirt comes with several options – a round neck or a V-neck, plain and with a wedge, a ruffle or a flounce at the shoulder, and with 3/4 or long sleeves. Since I chose to use a rather thick jacquard knit (it's from the sold-out collection "Loom" by Hello Heidi Fabrics – see my Saunio Cardigan made in another colourway here), I figured ruffles were a little too much – but a flounce might work perfect, without appearing overpowering. I knew I wanted long sleeves, but contemplated a while about choosing a round neck or the V-neck. I ended up with the V-neck, and think the result looks good this way.
The pattern comes in A4 format and is layered – meaning you can choose to only print the sizes you need. I always appreciate this. Everything lined up nicely and was cut quickly. Only cutting the flounces took a little bit of time: Since I decided to make a double flounce (leaving no raw edge), I needed to cut 8 circle-shaped flounces. Not the easiest shape to cut! I also needed to make sure I cut the right amount of flounces right side up and wrong side up – which was especially confusing because I chose to use the wrong side of the fabric as right side on the underside of the flounce. This is definitely confusing to write down, and it was equally confusing to cut. Nevertheless – I ended up with eight flounces, equally divided regarding in which direction the flounce was shaped and which side was the "right" side.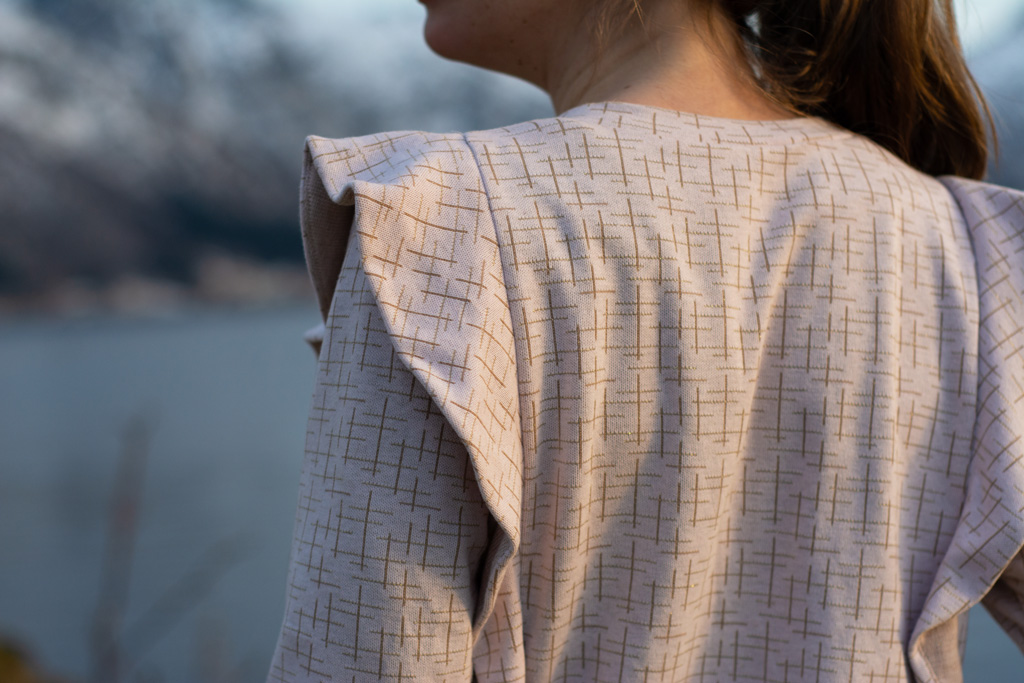 I also forgot to mention that I didn't make any changes to the pattern other than lengthening the sweater by 4 cm. That meant lengthening the flounces too. There aren't any instructions about how to lengthen/shorten the pattern, but after checking with Sabine, I cut the flounces into four pieces, adding a total of 4 cm along the inner edge and a little more at the outer edge of the flounce. That way the overall shape of the flounce kept the same.
The pattern instructions are thorough and include a short version in writing and a longer version with illustrations. There's also a video online, showing you how to sew the V-neck, since this step can be a little confusing when you're new to sewing V-necks.
I made some minor changes compared to the instructions: First of all, I chose to understitch my flounce. The instructions don't mention understitching, but I felt that the edge of the flounce was easier to press and looked sharper after understitching. Once again I was glad for the big case of spools from Mettler, allowing me to find a perfect shade of thread. The second change I made was sewing the V-neck right at the beginning, before adding the flounce, the outer front/back piece and the sleeves. It doesn't really make a difference in the end, but I prefer sewing the neckline while having as little fabric as possible attached to my front and back pieces.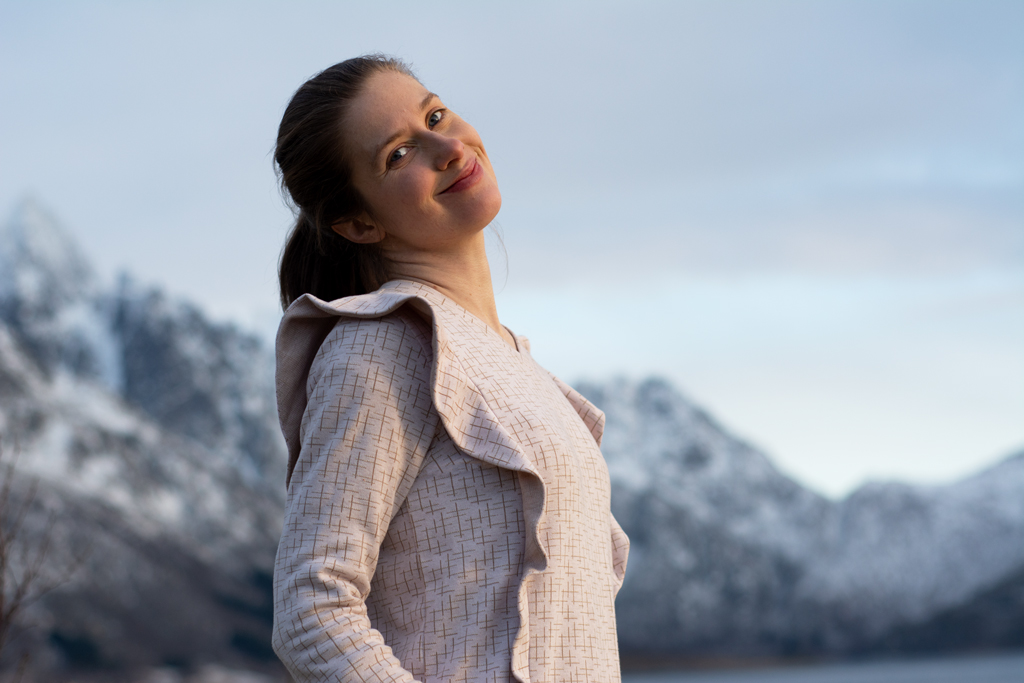 I also want to mention that I tried the Seraflex thread from Mettler for the first time. It's a thread with some stretch to it, allowing for extra stretchy seams and making seams a little bit stretchy even when sewn with a straight stitch. I only have this thread in white (even though it's available in several colours – I might need to stock up!), but since my fabric was so light in colour, this was a great opportunity to try it. I sewed most of the sweater with my overlock, but opted to sew the outer edge of the flounce, the short sides of the cuffs and the hem band, as well as the first round of stitching along the neckline band with Mettler Seraflex and a straight stitch. Using a straight stitch at the flounce was a great option. The area won't be stretched too much – an overlock stitch might have been too bulky and a small zig-zag stitch might have made pressing the flounce nicely more difficult. Using a straight stitch and Seraflex for the short sides of the cuffs and the hem band before folding them allowed me to press the seams open, while being able to sew with a straight stitch, which is way faster on my machine than a zig-zag stitch. I was pleasantly surprised by how stretchy these seams were – time will tell if any of these seams will snap after a while. But for now the thread seems to work great.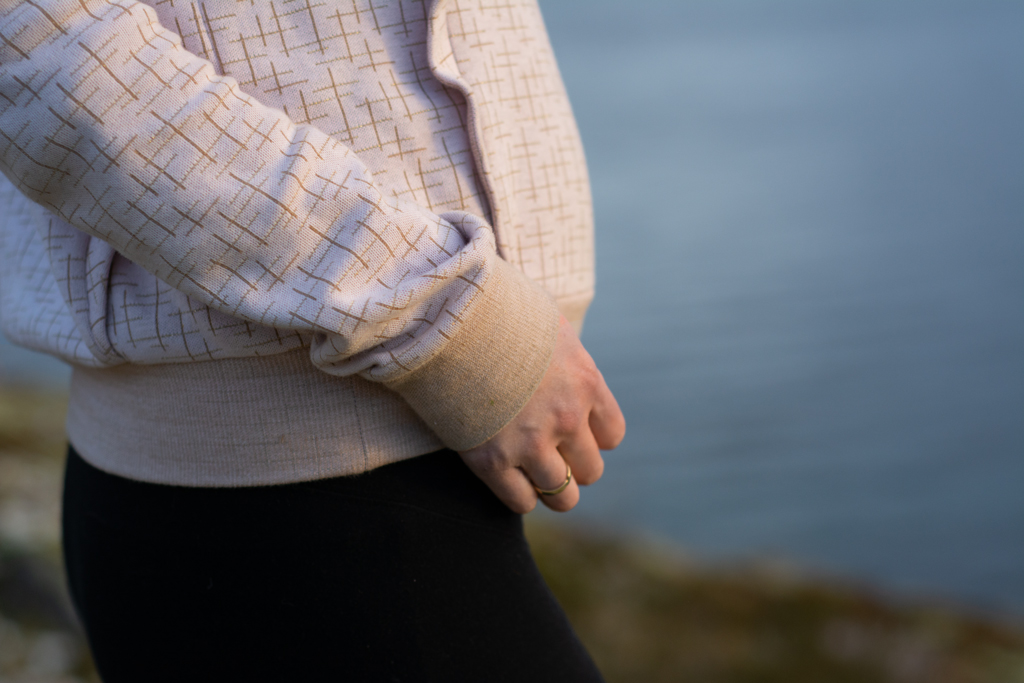 The last step that needed some extra thinking was whether to attach the hem band and the cuffs right sides out or wrong sides out. I simply couldn't decide whether wrong sides out would be nice to accentuate the wrong side of the fabric showing underneath the flounce, or if keeping it completely simple and classic was the better option. After making a poll on Instagram (thank you for voting!!) I decided to go with the majority of 75%, recommending contrasting cuffs. How do you think it turned out?
All in all, I am happy with how the sweater turned out, and I've been wearing it a lot lately. Partly because I grab what's closest when I get up, since our new home isn't insulated very well and it's freezing cold in the morning, and partly because I love the fact that I can wear a cozy sweatshirt that still looks put together and doesn't scream "has given up while stuck with home office!"
You can buy your own copy of Engel im Schnee over here – you can even have a look at the complete instructions before buying the pattern, which I personally think is really helpful when deciding if you're up to sewing the pattern or not.
– I got the pattern for free in exchange for pictures and a review. The Mettler threads used were given to me by Mettler in exchange for writing about them. However, all opinions are, as always, my own. The fabric is from my stash and was paid for by myself. –