Every year, Indiesew launches two  (more in 2015/2016) collections – a spring/summer collection and an autumn/winter collection. (You can find all of them over here). And every year I get really curious during spring and autumn and can't wait to see what Allie has picked for the next collection. Luckily for me, I've been involved in blogging about every collection since spring 2016, (I forgot – I jumped over the last collection!) which means that I always get a little sneak peek of what's to come. 😉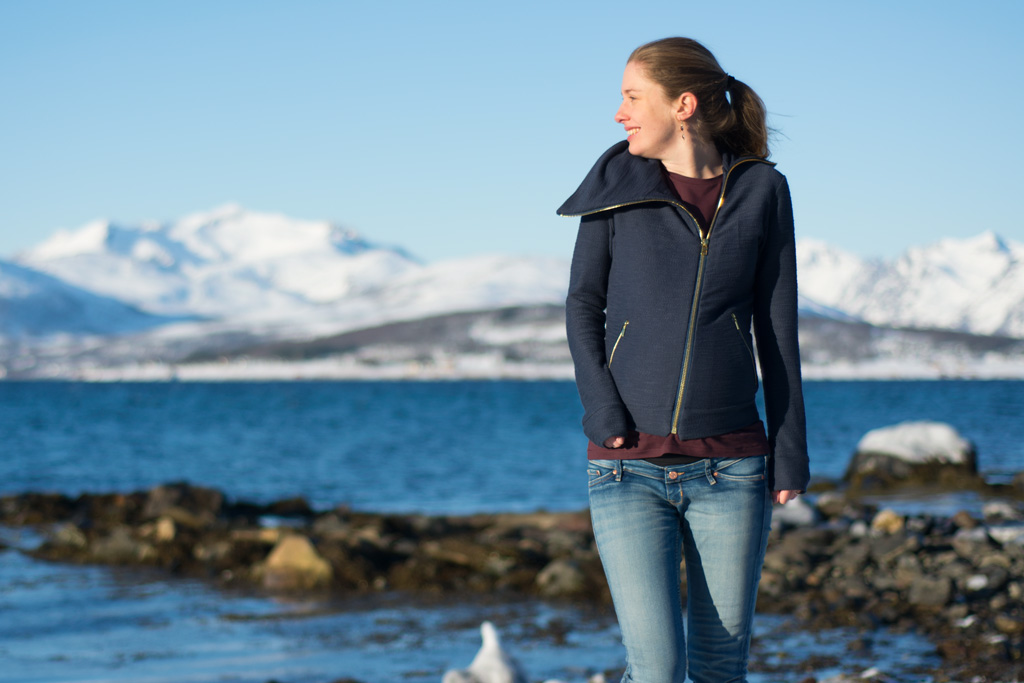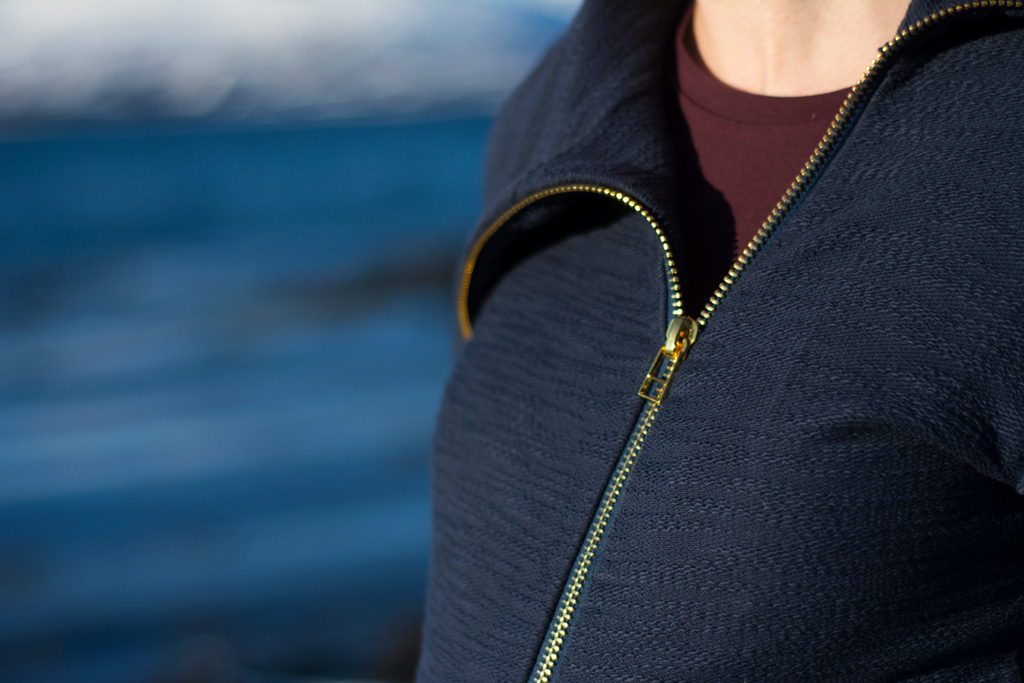 This year, Allie from Indiesew is launching her second collection in collaboration with Seamly. Seamly is a Denver-based company, producing garments from sustainable fibres, sewn in the US. They only have a few garments at a time and don't sell those for a long time.
When they're no longer sold by Seamly, Allie starts selling a few of them as pdf patterns – like these three garments for the Indiesew 2016 Summer Collection. This year there is finally a new Seamly Collection, featuring a pair of joggers/leggings, a collared knit top and the Moto Sweatshirt that I'm blogging about today.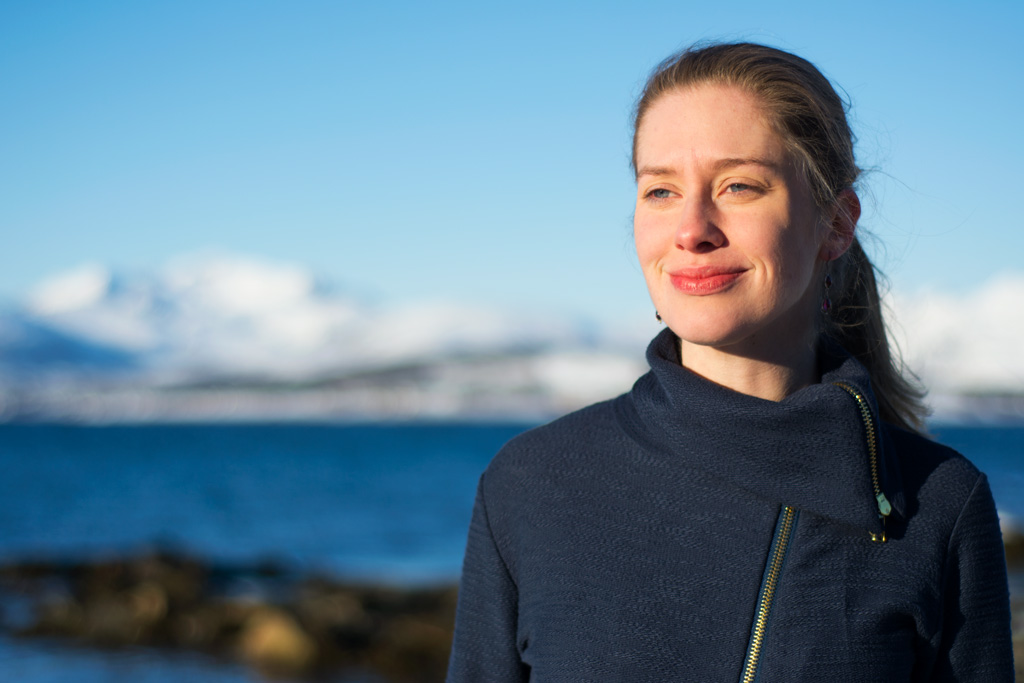 The Moto Sweatshirt is a sweatshirt with a high cowl collar and an asymmetrical zipper in the front, going diagonally from the bottom right to the top left of the collar. It's designed to be rather tight-fitting and the waistband is supposed to hit at the low waist. I don't really own a lot of sweatshirts, but I absolutely loved this design when I saw it for the first time. Yes, it's a sweatshirt, but it's rather fitted and details like the asymmetrical zipper, the pockets and the super high collar take it up a notch.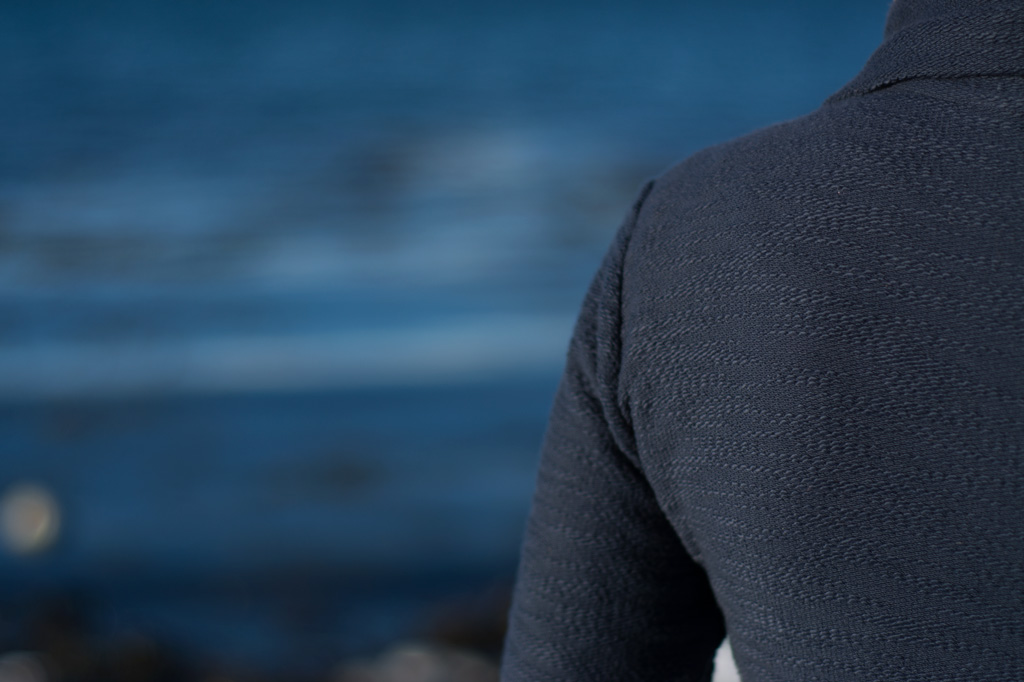 So I absolutely had to test this jacket when Allie sent over the illustrations! Testing while pregnant is not ideal, but I knew that I could test the general fit of the sweatshirt, since I'd be able to wear it open. But to my surprise I could actually still zip the jacket while testing it! And then I hurried to take these pics – I don't think I could zip it up now!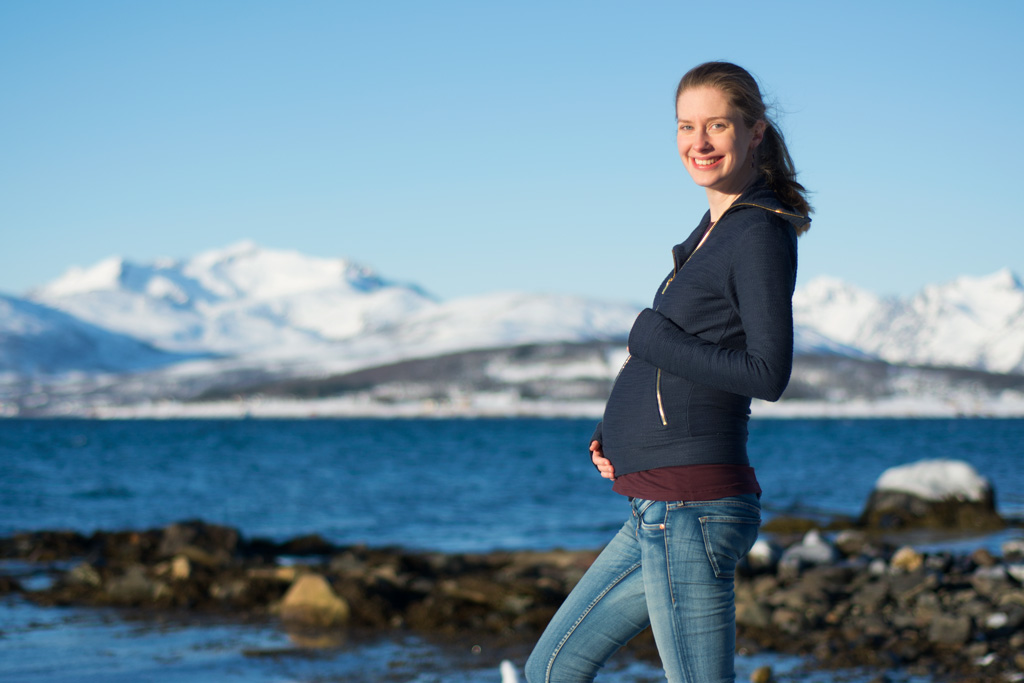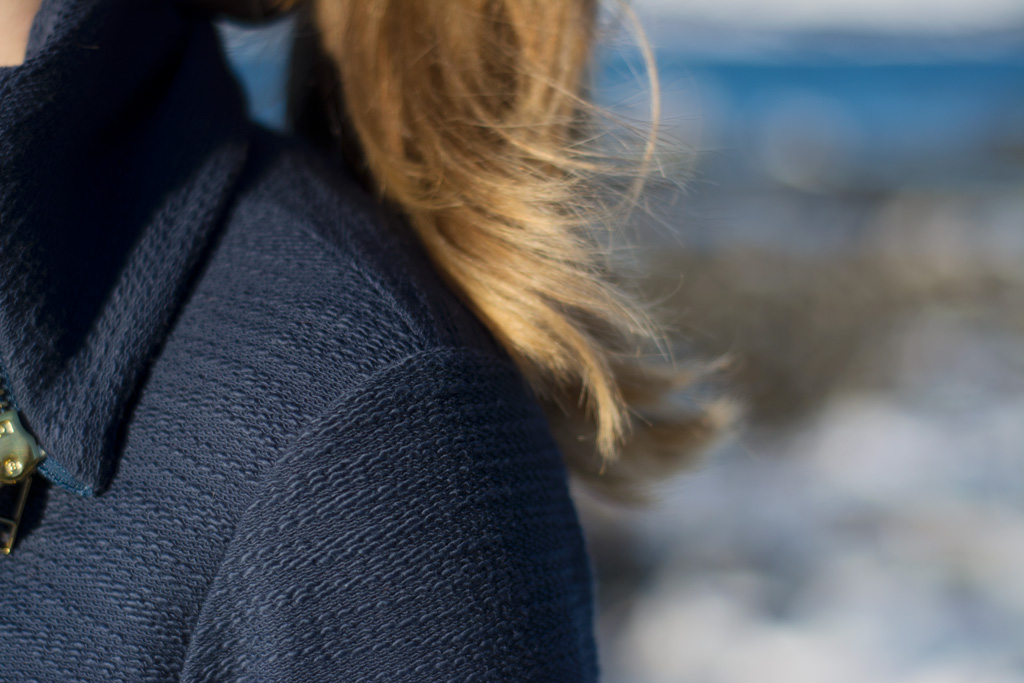 Let's talk a little about fabrics and notions: The recommended fabric for the Moto Sweatshirt is a stable knit with at least 30% stretch. While my fabric definitely checks the first box, I have to admit that it certainly doesn't check the second. Every designer loves a tester who doesn't follow the fabric recommendations, right? =p The fabric I chose is the Laine Slub Sweatshirting by Nosh Organics (available in gray and black). I absolutely adore the texture and knew it was (visually, at least) perfect for the Moto Sweatshirt. The fabric is made of a 100% cotton, which makes it a nice and stable fabric to work with, but it also makes the fabric less stretchy. (By the way – the tee I'm wearing is the Panama Tee by Alina Design Co., made out of Nosh Jersey Plus) You will also need a thinner fabric for the pocket bags, two short zippers for the pockets and a long zipper for the front.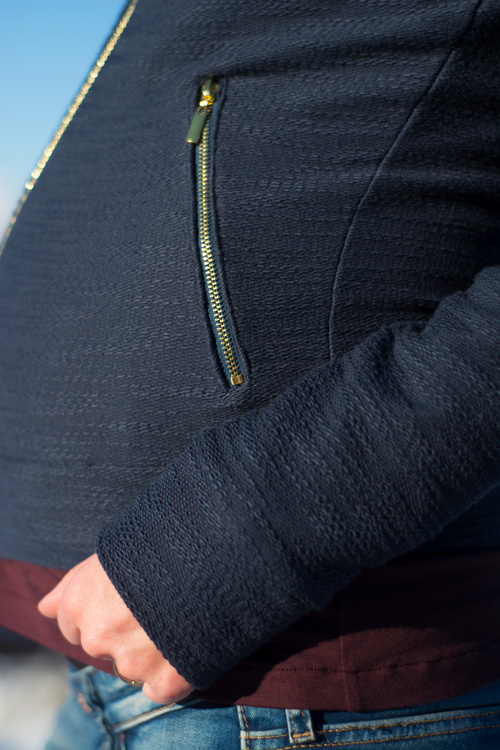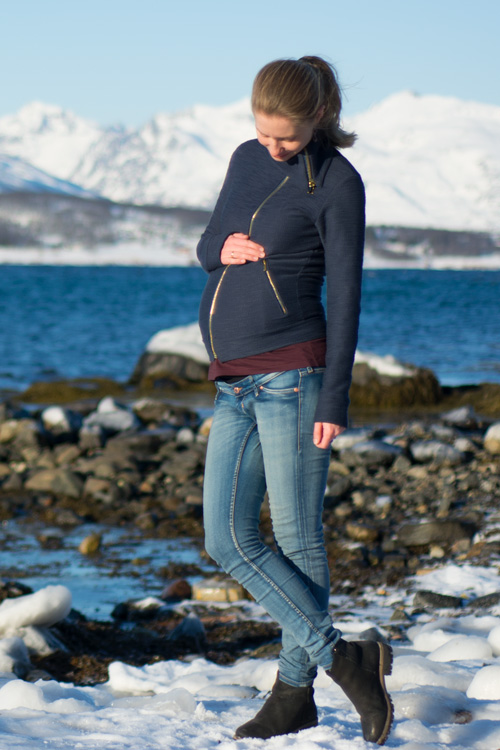 When I first saw the Moto Sweatshirt, I imagined it to be more of a regular jacket. I was pleasantly surprised about how quick and easy it was to sew – at least compared to with what I had expected. Adding the zipper pockets, the asymmetrical collar, the facings and the zipper still takes some time, but it's definitely not a project that's as complicated as sewing a "real" jacket. I really like that – using the right fabric – you may end up with a garment that looks like a jacket but doesn't take much longer to sew than a sweatshirt.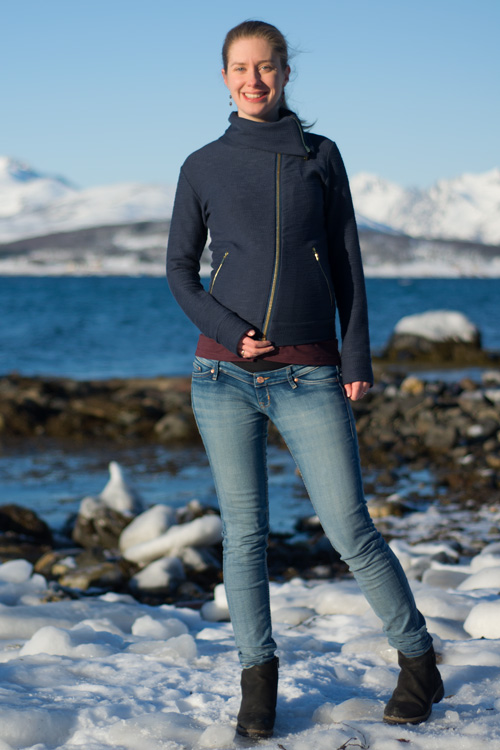 I sewed a size XS, graded out a little at the waist. That's a very normal adjustment for me, even when I'm not pregnant. My upper body and my hips are mostly a size smaller than my waist. I also lengthened the jacket by 2″/5 cm, which is a regular adjustment for me, too. You can see that the shoulders are a little wider, but that's how this jacket is designed to be, and it makes wearing it really comfortable, too. The jacket is obviousy too tight for me around the waist, but I know that it will fit perfectly in a couple of weeks.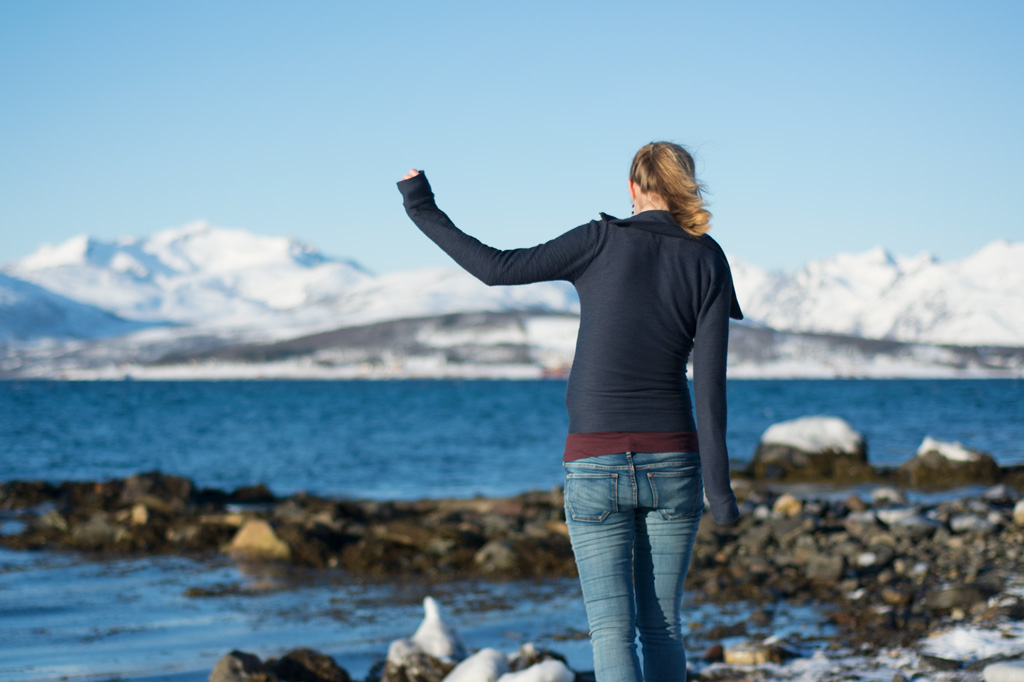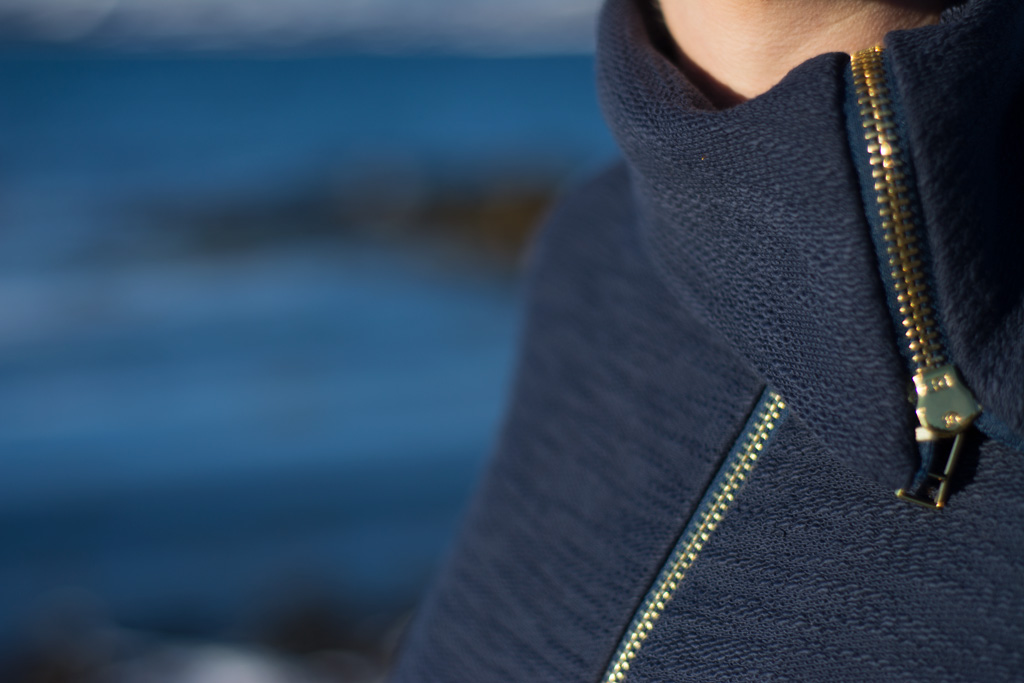 You can buy the Moto Sweatshirt exclusively at Indiesew. You can also buy all three new patterns as a collection bundle for 29 USD, which saves you about 25%. And there are fabrics and zipper kits in the Indiesew shop, too! Go and check them out – I'd absolutely love to buy the sweater knits, and the French terry looks amazing too. But I just bought a bunch of the performance knits available at Indiesew, so – no more fabric for me right now!
– I got compensated for testing the Moto Sweatshirt, but not for blogging about it. I also got the fabric I used for free from Nosh Organics. However, all opinions are, as always, my own. –