When Allie from Indiesew invited me to join their 2016 Spring Collection blog tour, I was absolutely thrilled. I am a fan of Indiesew and  – as a new blogger – to get a spot on the blog tour to present some pieces of their new collection together with several great bloggers and designers was very flattering, to say the least.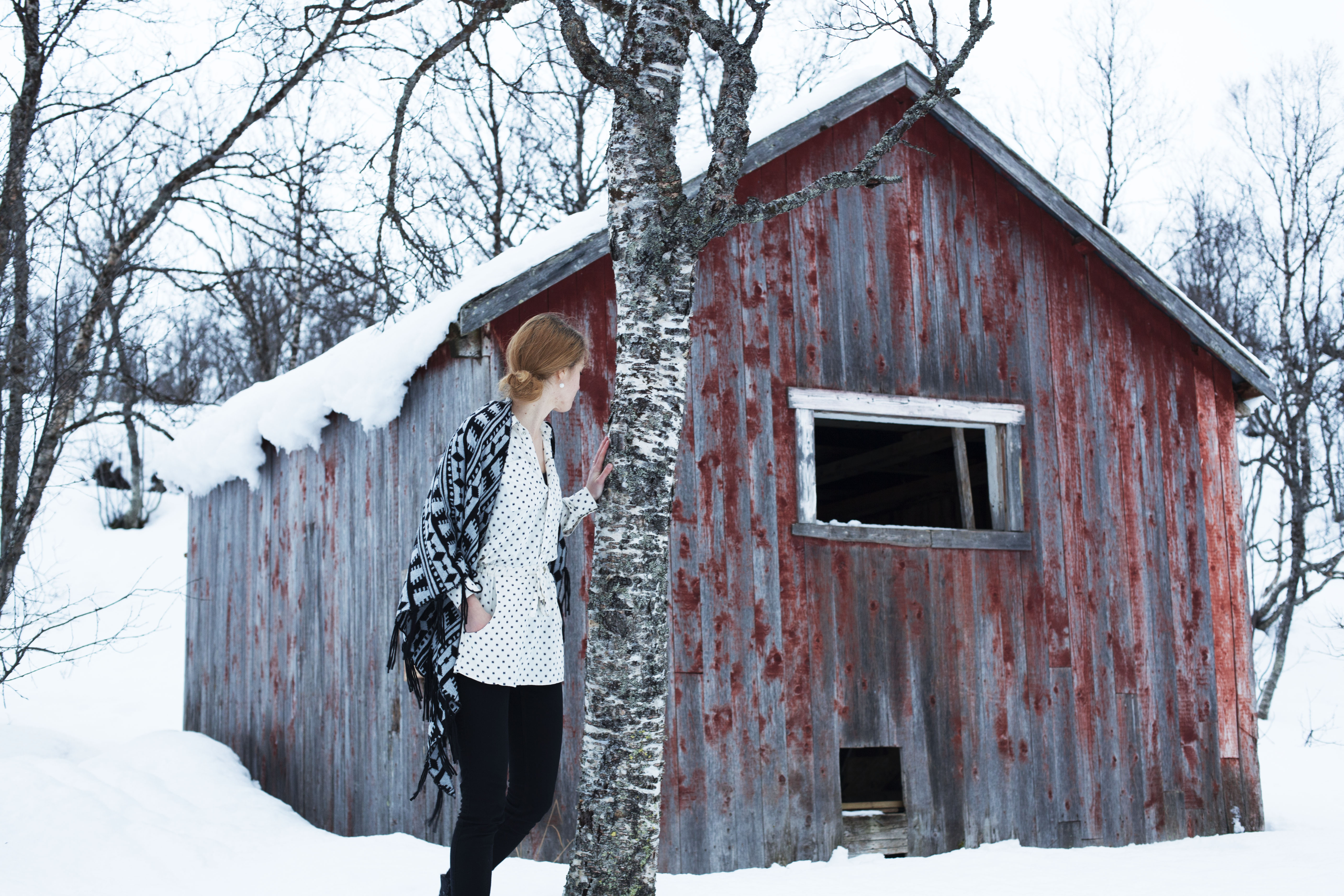 There are several online communities who collect and sell digital patterns, but Indiesew is somehow different. Allie from Indiesew doesn't just add everything out there to the shop. She looks for the best modern indie patterns for women out there and adds them, one at a time. If it's on Indiesew, then it's a good pattern. I promise.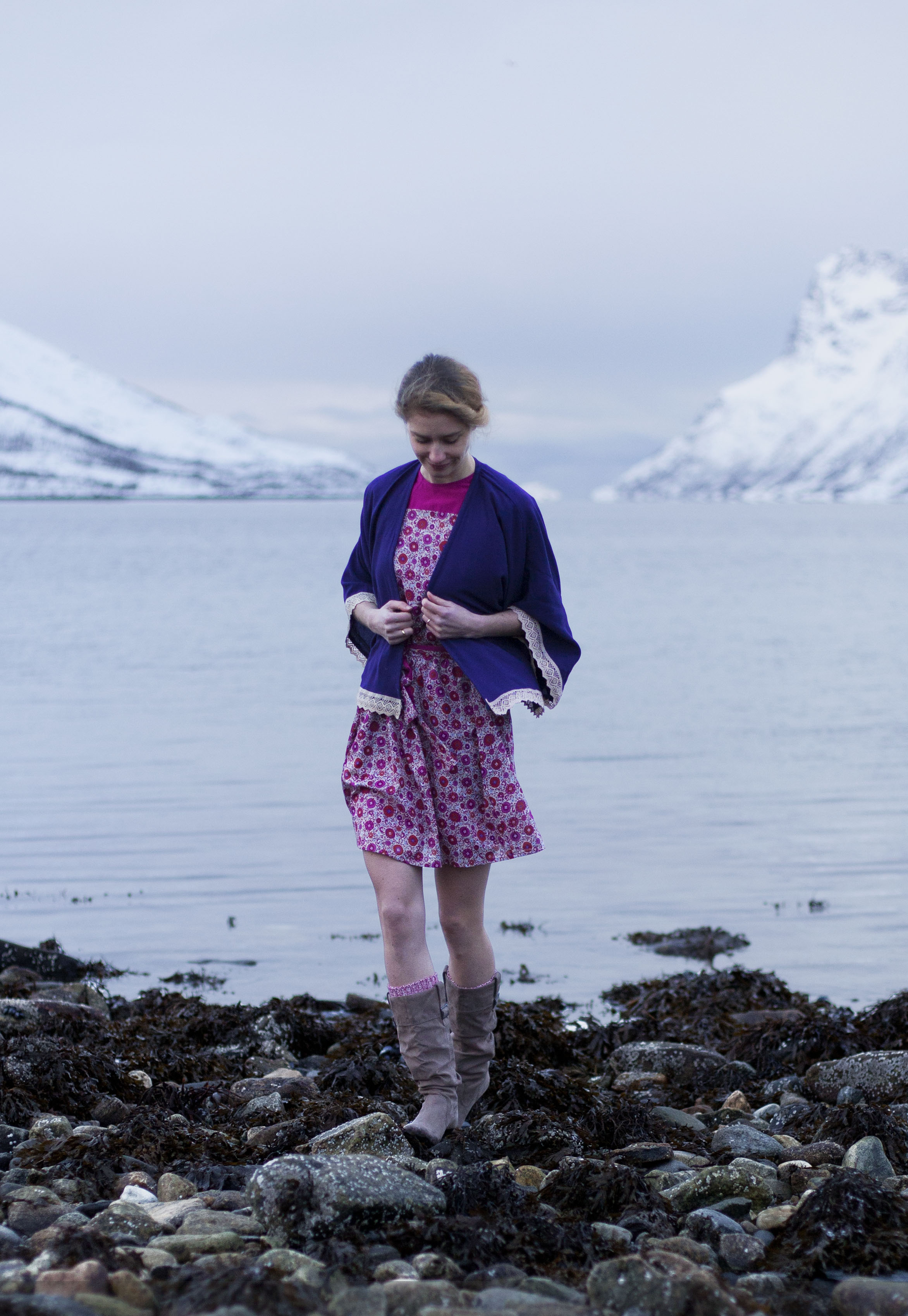 But back to the 2016 Spring Collection:
I have sewn three of the five patterns of the collection: the Sanibel by Hey June, the Florence Kimono by Sew Caroline and last but not least the Rushcutter by In the Folds.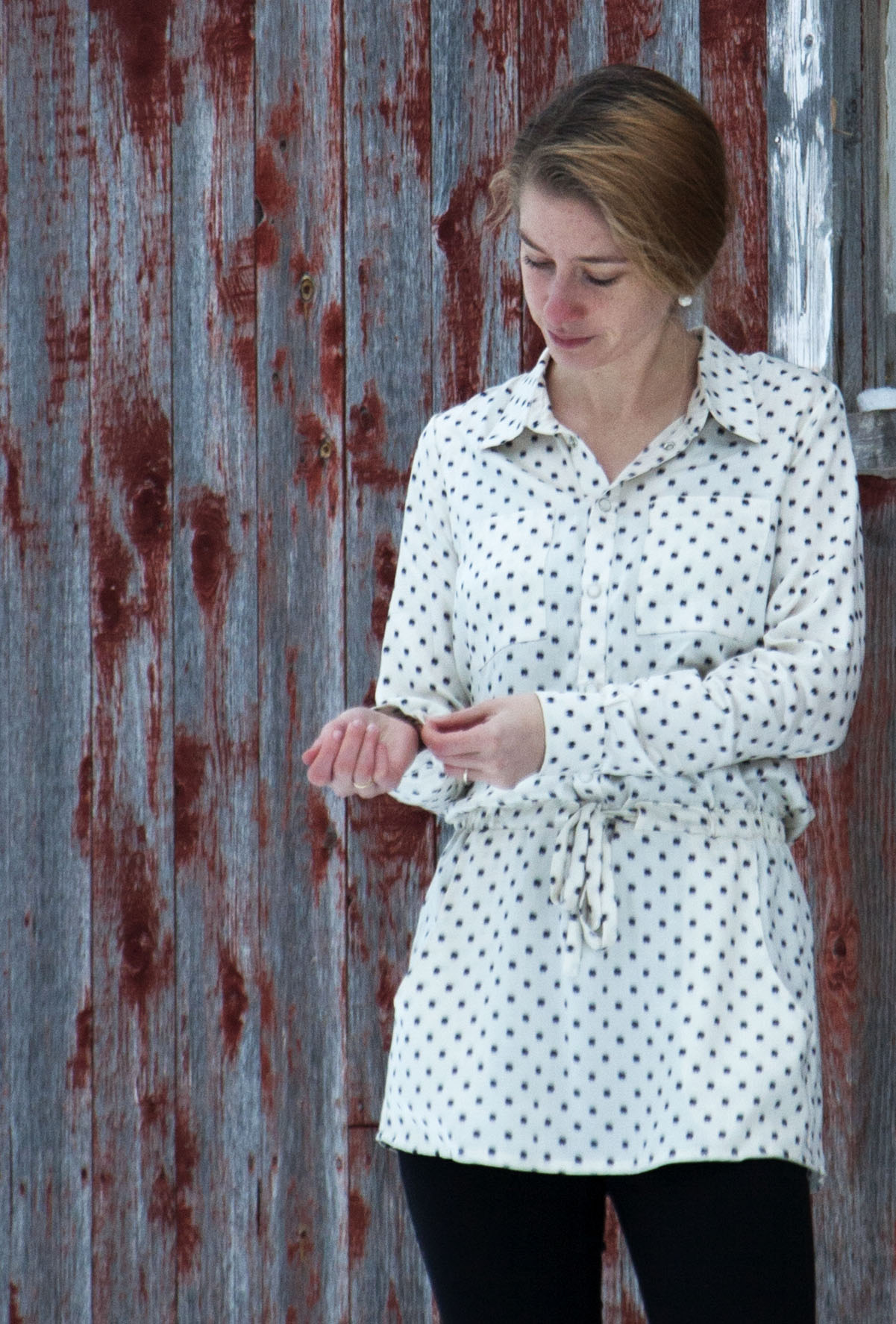 And it was about time to get my spring wardrobe ready, since spring is right around the corner here in Northern Norway. Just kidding… As you can see in my photos, we are not even close to spring up here in Northern Norway, but hey – the contrast makes the photos even better and this collection is totally worth freezing for!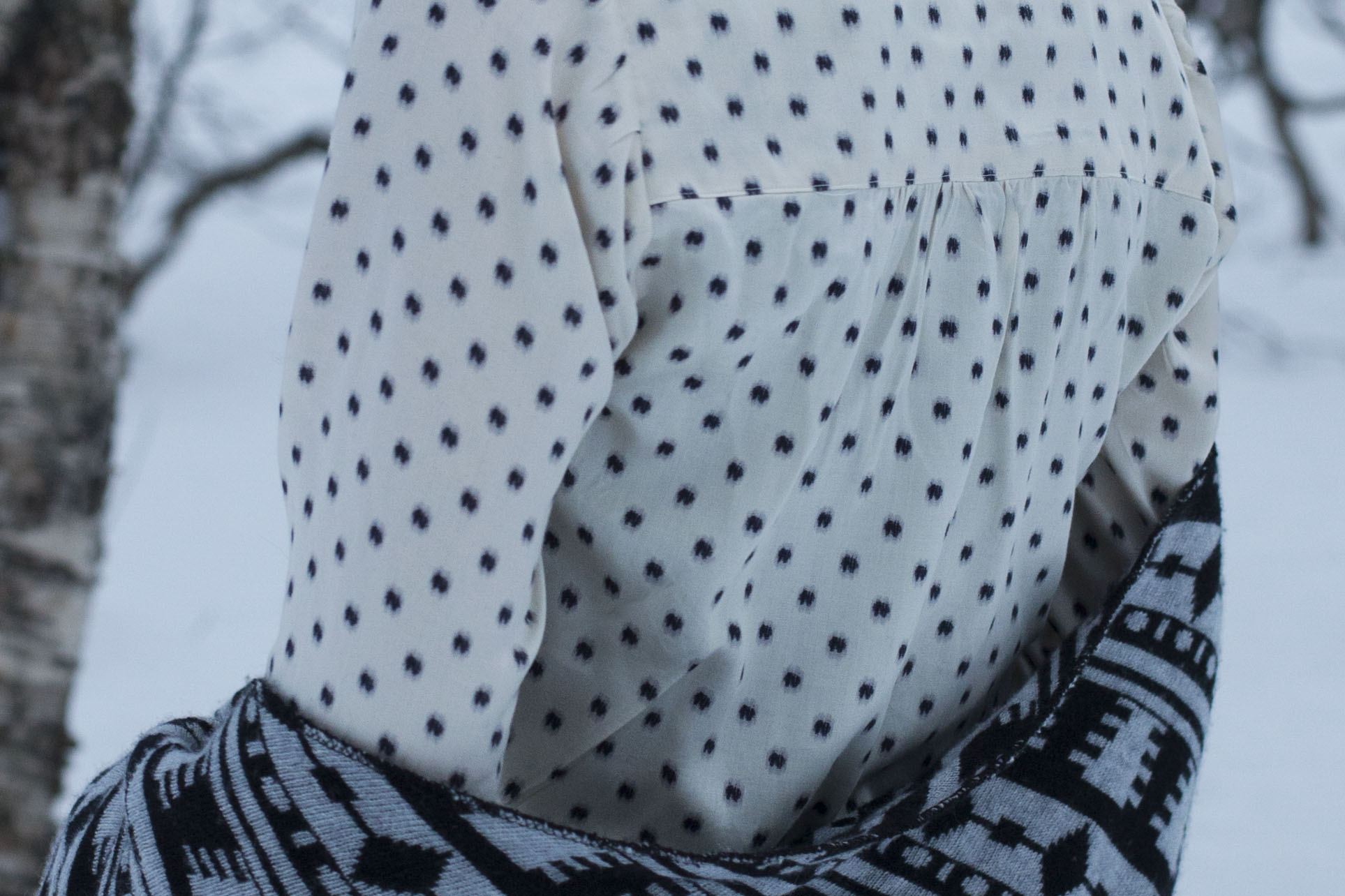 I have been a tester for the Sanibel and modified it into a blouse. I just took the dress pattern and cut it right under the pockets. There were two reasons for this: I had this gorgeous silky fabric from Indiesew that I really wanted to use, but I had just 1.75 yards. And I assure you, I used every. single. scrap to make this happen!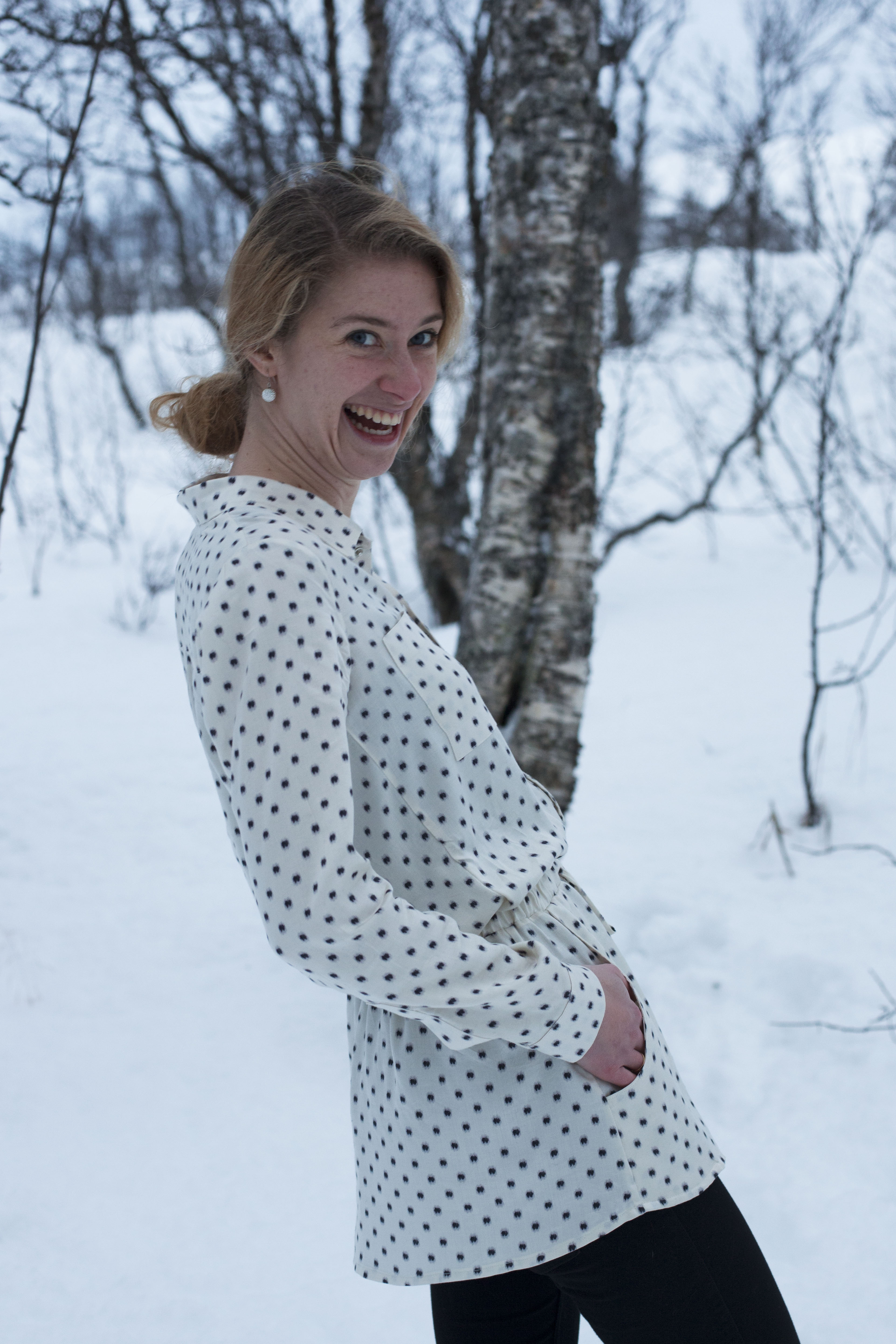 The other reason was that I really wanted to be able to wear the Sanibel at work and I wasn't sure if the dress would be long enough. The pattern also includes cap sleeves, a version without a collar and, most importantly, a romper version.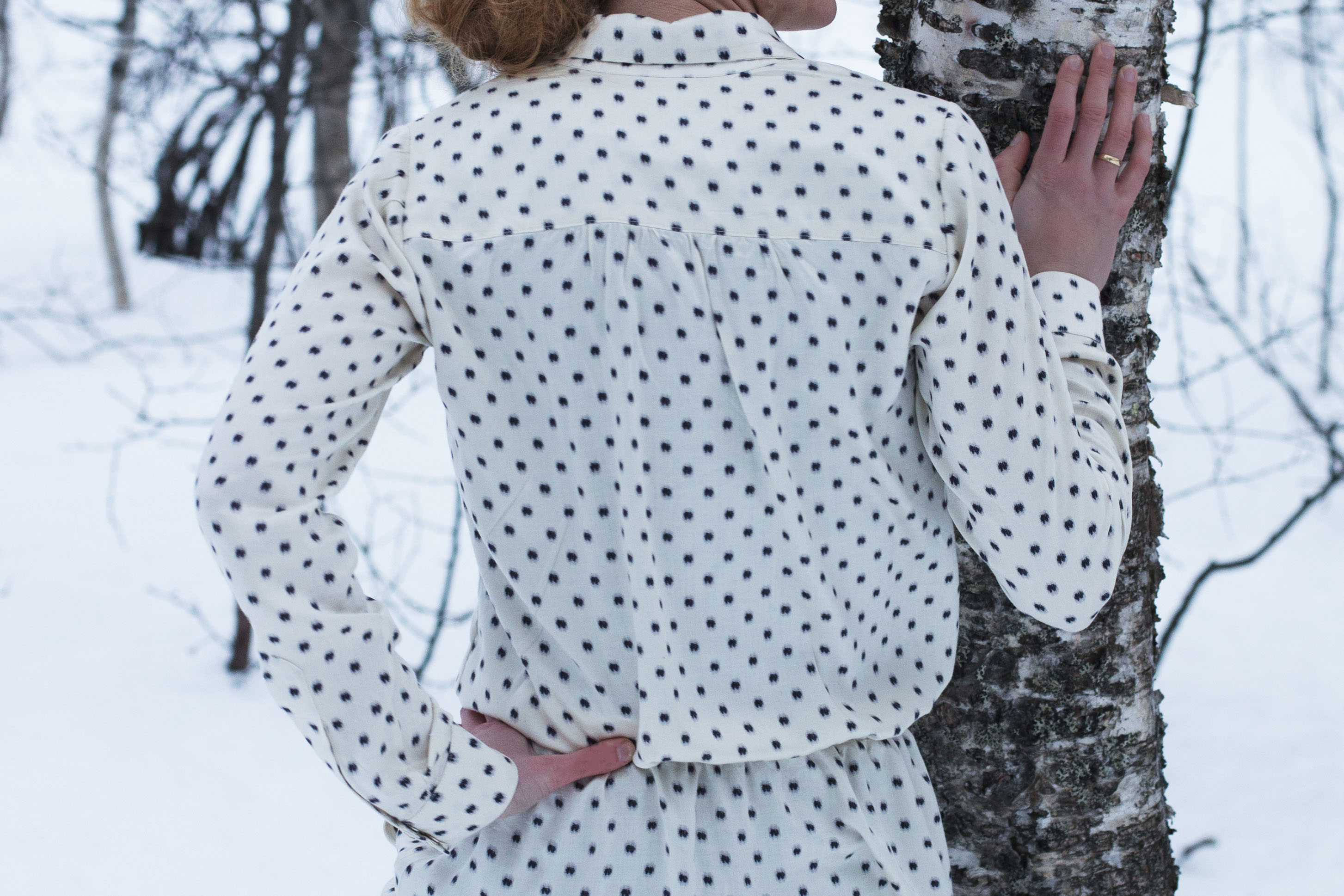 The romper looks so cute, but we have very few really warm days here in Northern Norway and I wouldn't have a lot of use for it. As always, Adrianna's instructions and the pattern itself are impeccable. I had no problems at all sewing the Sanibel.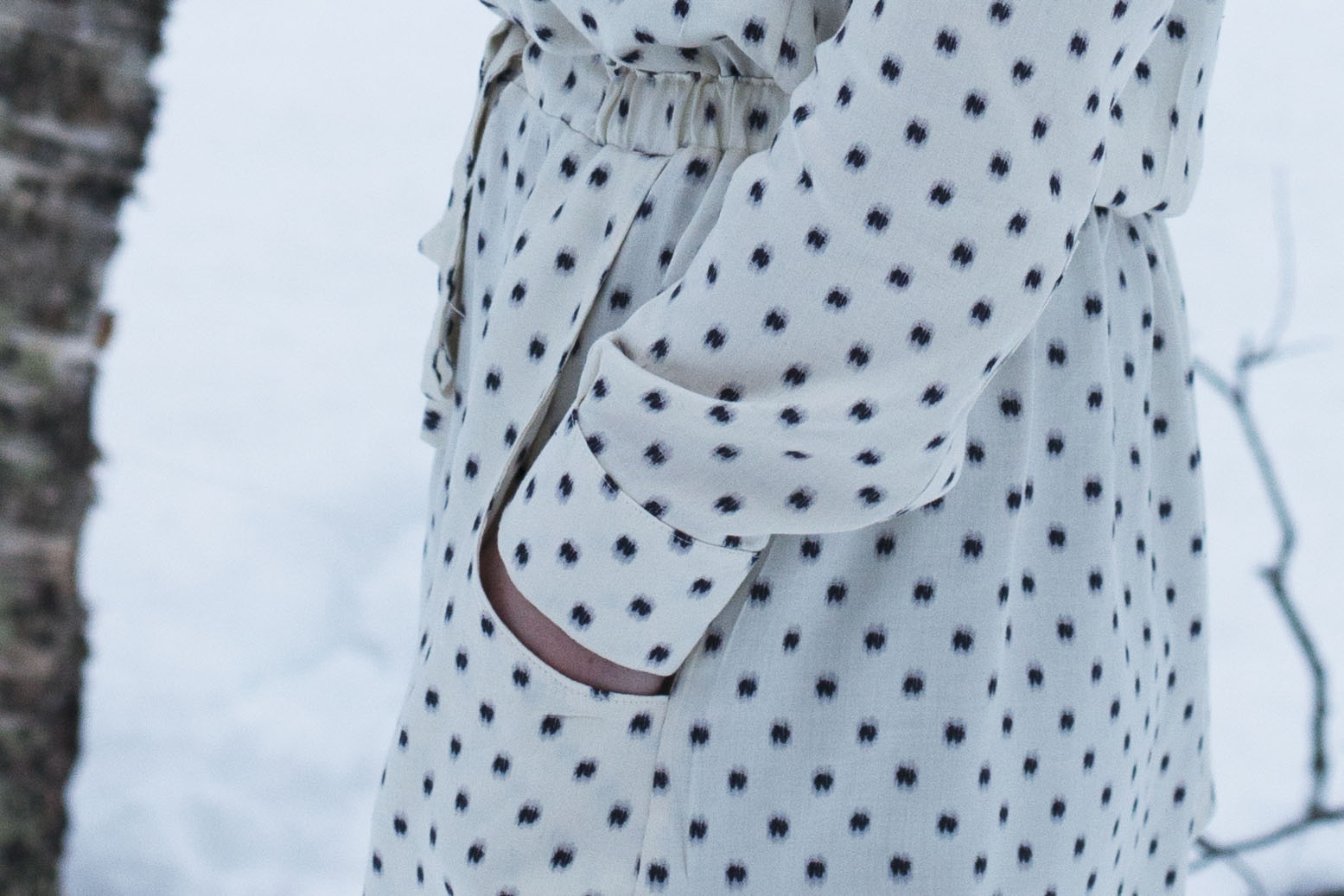 The only thing I changed beside the length, was using perl snaps instead of regular buttons and in the process of that I managed to switch the button plackets. But I guess that doesn't really matter.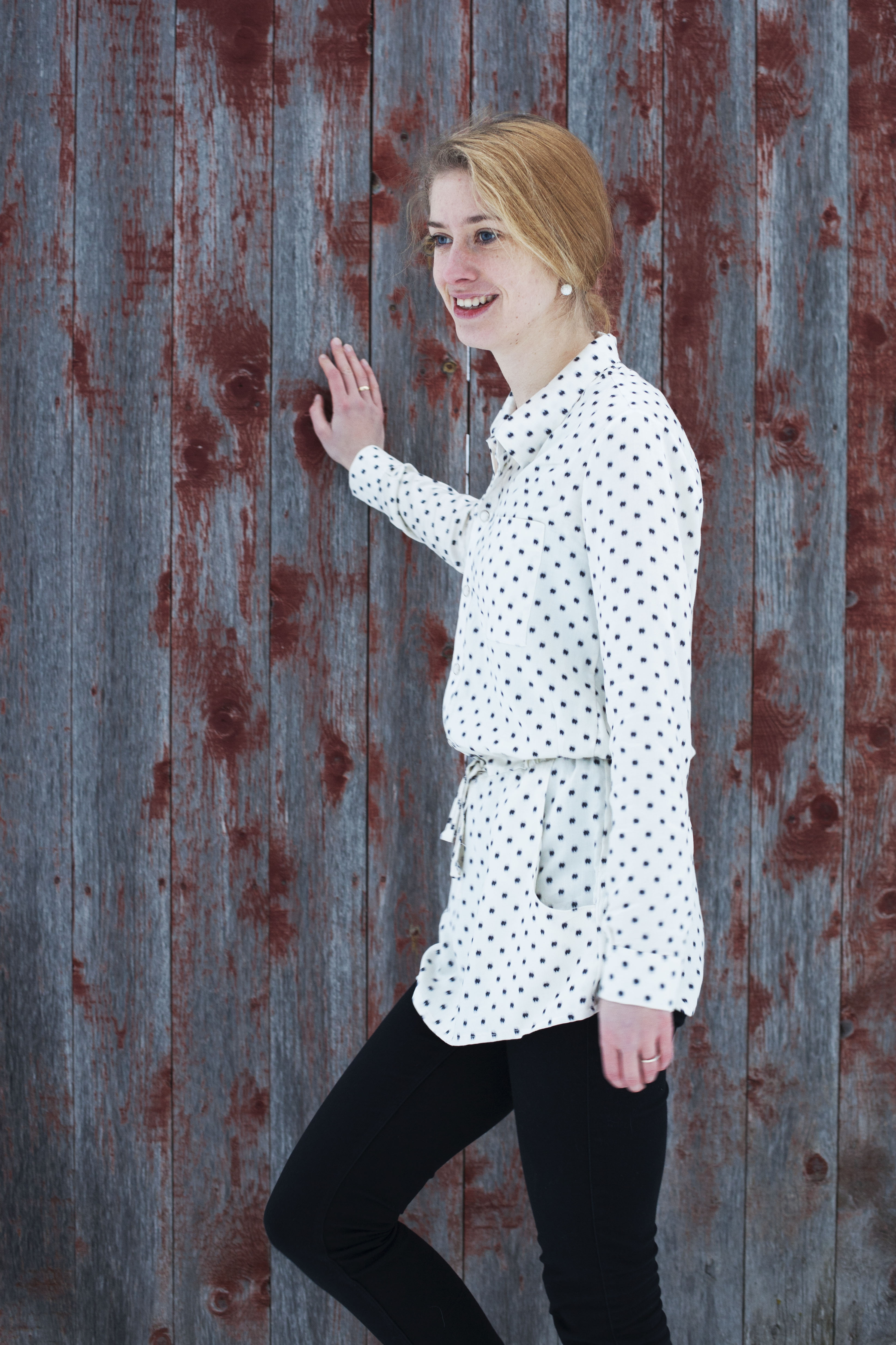 Next I made the Rushcutter by Emily from In the Folds. This is also a really versatile pattern, since it comes with long sleeves and big side pockets or with short sleeves and in-seam pockets. The looks are really different and you can change them even more by wearing both versions with or without a belt.

I went for the sleeveless version and didn't make any changes. And I have to say that I had a lot of fun putting it together and I was impressed by Emily's careful and thorough instructions. The construction of the yoke is a little bit unusual and for me it is always fun sewing something out of the ordinary. The whole dress is constructed with French seams (even the pockets!) and I appreciate a garment that looks as good from the inside as it does from the outside.

I used a thin cotton batiste that my sister bought locally in Germany as a Christmas present for me. The yoke is made out of gorgeous cotton silk from Robert Kaufman, bought at Imagine Gnats. I used it inside out, since it was a little bit too shiny for this kind of dress. I am usually not a very pink-and-glitter kind of girl, so I was a little bit unsure about choosing a bright pink for the yoke. But I am so glad I did!
The batiste is a little see-through, so I made a simple slip of the pink cotton silk to wear under it.
The last garment I made was the brand new Florence Kimono from Sew Caroline. It's one of those garments that are very satisfying to make, since it can be sewn quite quickly and adds a flattering and versatile piece to your wardrobe.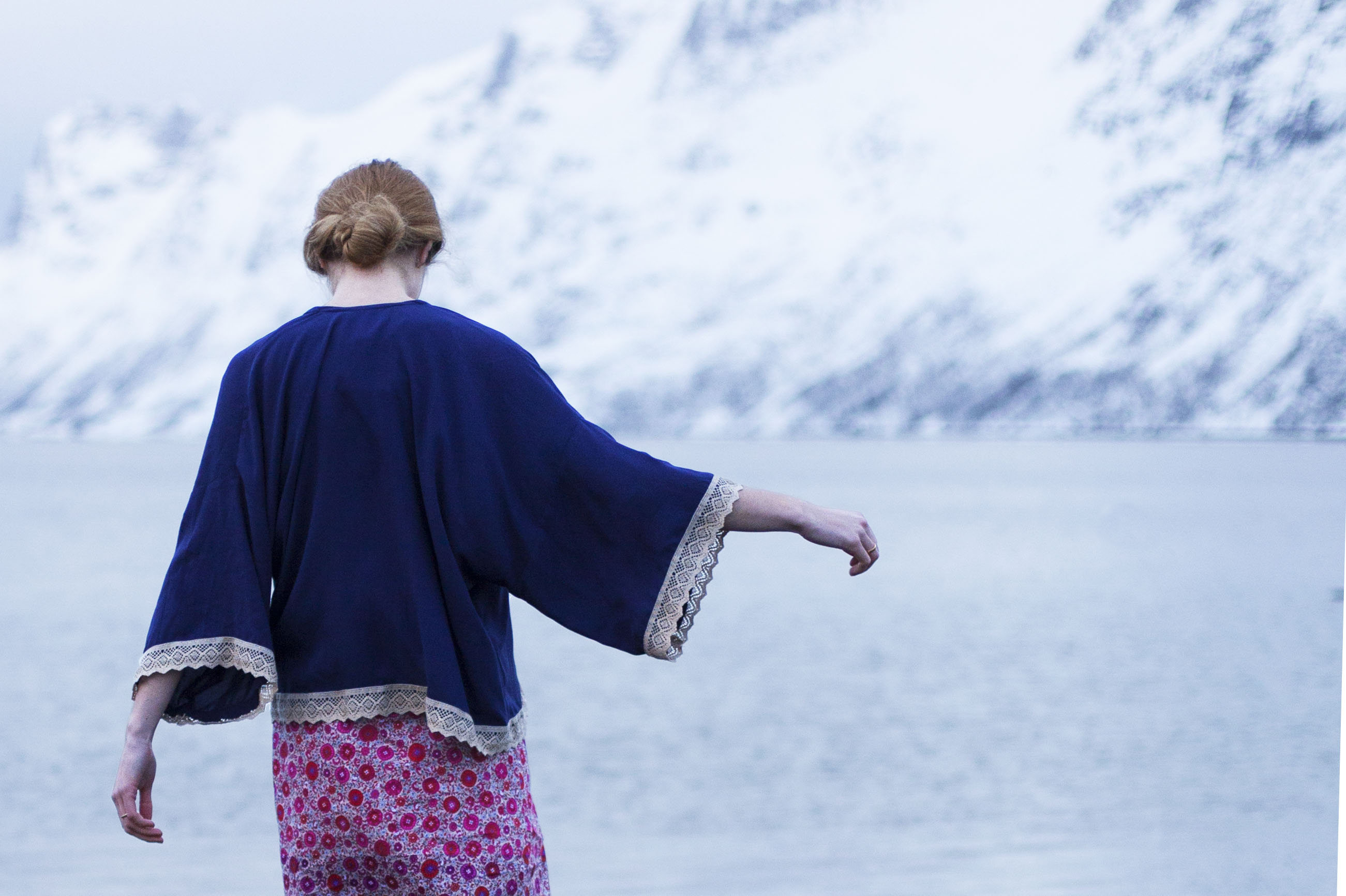 It still took me a few hours to make it, since it is made with French seams and is finished with bias binding at the front. My version is made of rayon challis from Imagine Gnats, and working with rayon didn't really speed up the process, neither did making the kimono in the middle of the night before the photo shoot. But I LOVE the result! It's soft and flowy, comfy to wear and especially because of the lace trim it has kind of a wow-factor. Now I want to use lace for everything I make.
I shortened the sleeves by approximately two inches, since they become a little longer again because of the wide lace trim – and I really like the bracelet length for this style.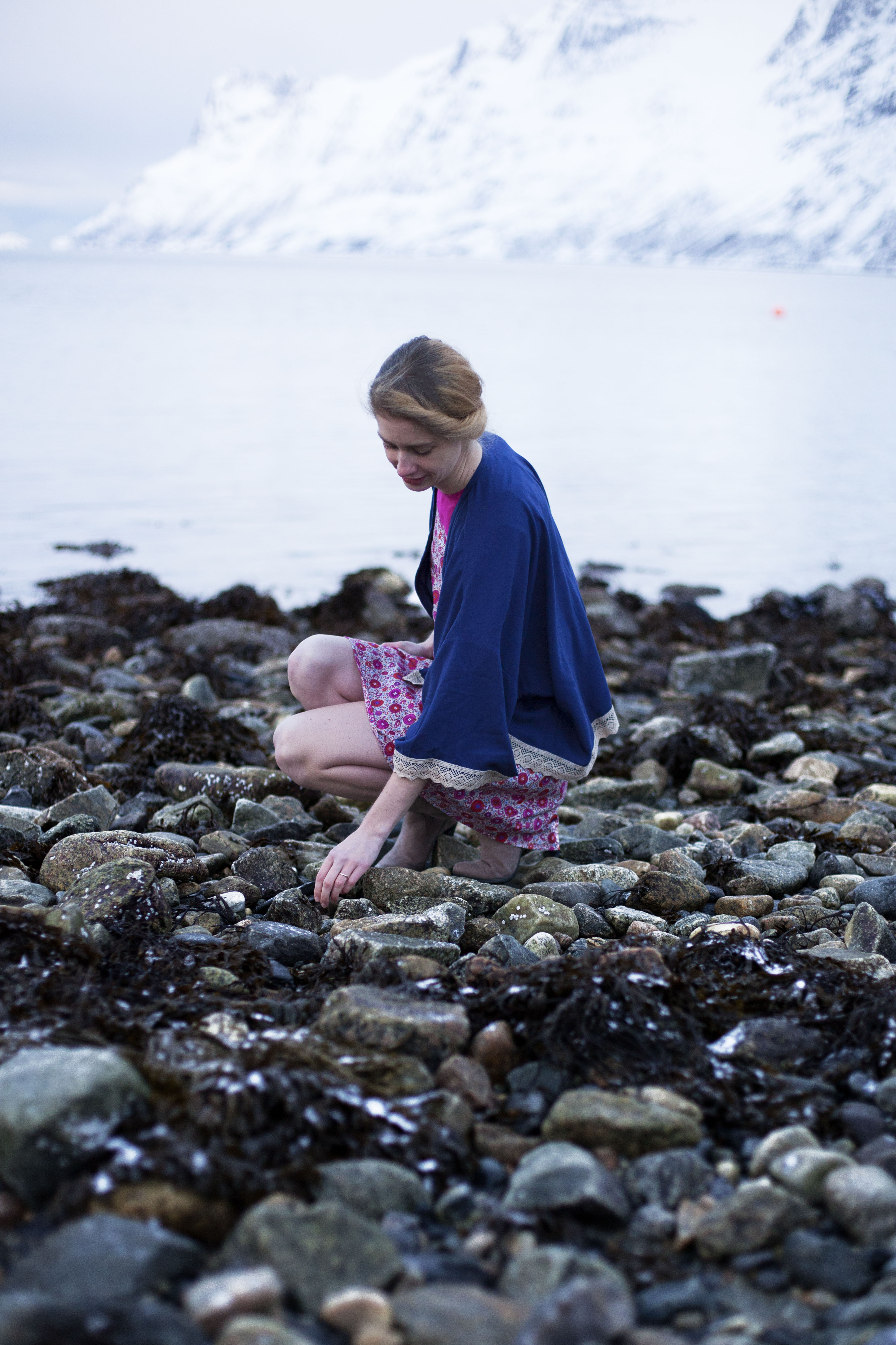 I originally cut the kimono at hip-length, but did shorten it again by about 8 inch after trying it on, it just went better with the dress like that. I think this makes it about the same length as the cropped version marked on the pattern.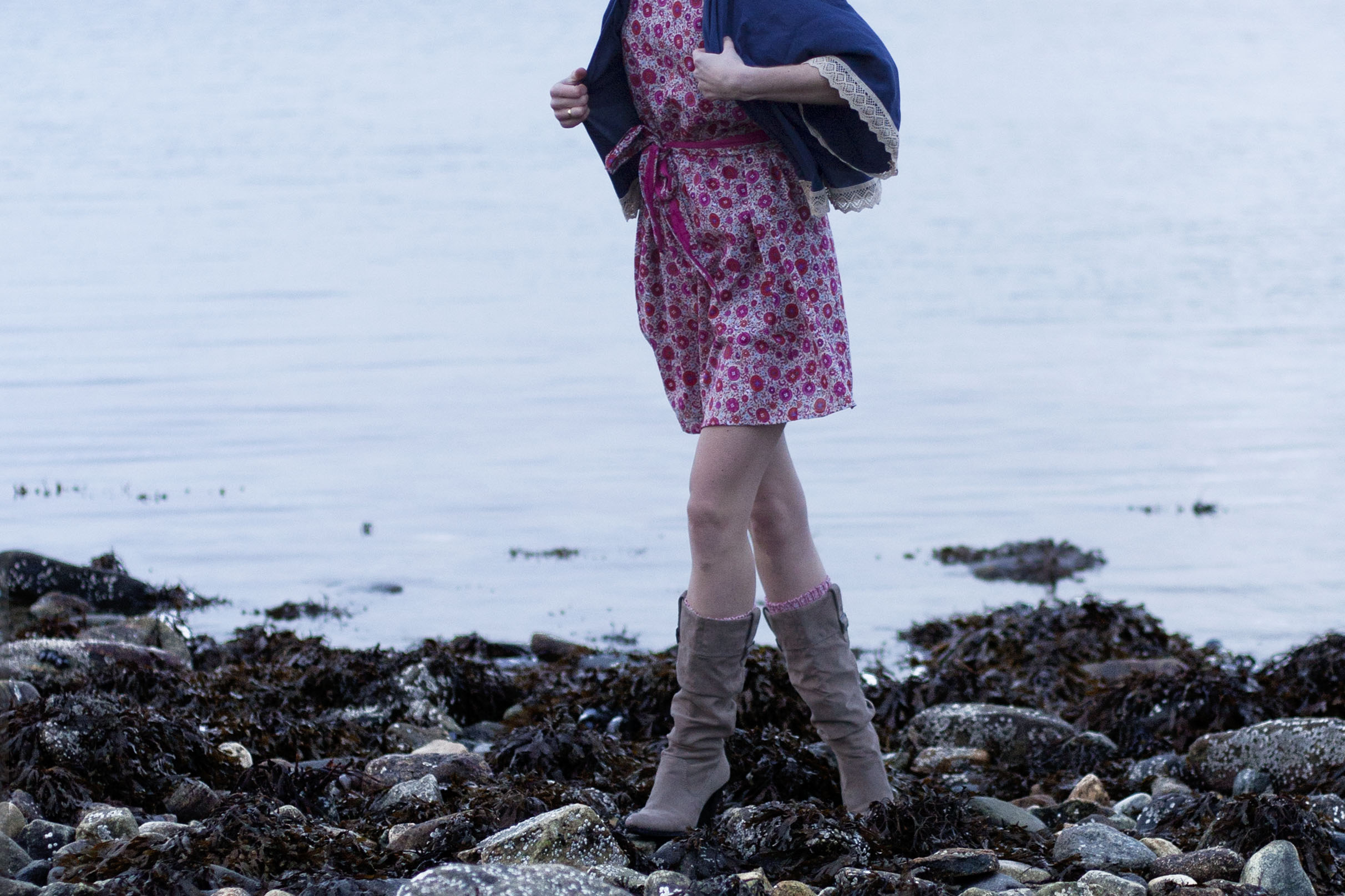 I was incredibly tempted to make the Birkin Flares and the Lou Box Top, too, and to photograph a third outfit, but sometimes I need to remember that I can't (and don't have to!) do everything… But maybe I'll post an unofficial Spring Collection blog tour post part II soon!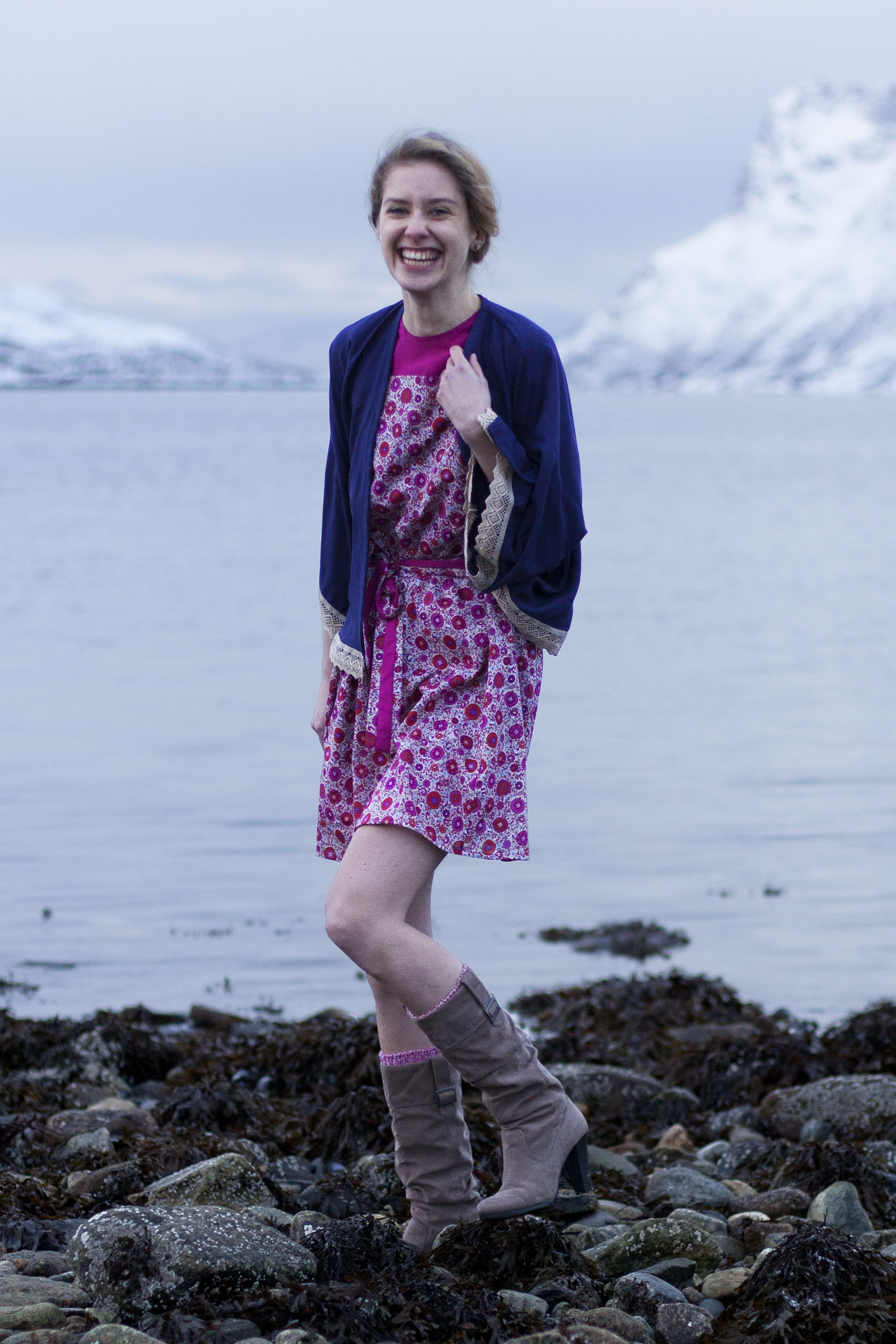 Anyway, this Spring Collection consists of great and well drafted patterns – I can see myself wearing every single one of the five items. Head over to Indiesew to buy the full collection or the mini collection and you can even save a up to 23%!
And don't forget to check out the makes of the other participants of the blog tour!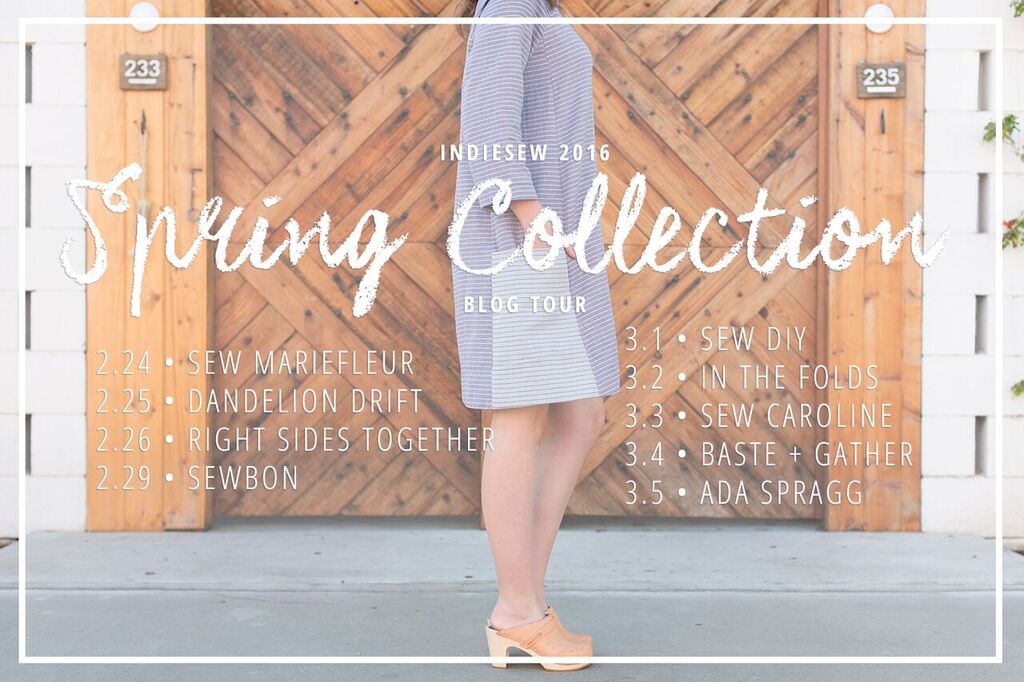 February 29:         Erin – 
Sewbon
March 1:                 Beth – 
Sew DIY
I received the patterns for free for participating in the blog tour, but was free to write whatever I want and all opinions are my own.