Sometimes I get contacted by pattern designers, asking me to sew one of their patterns. It's very nice to know that someone likes my pictures and my makes and wants me to use their patterns – but before I say yes I usually have to take some things into consideration. First of all: My time is valuable – I can't afford to sew things I don't even like and that won't get worn.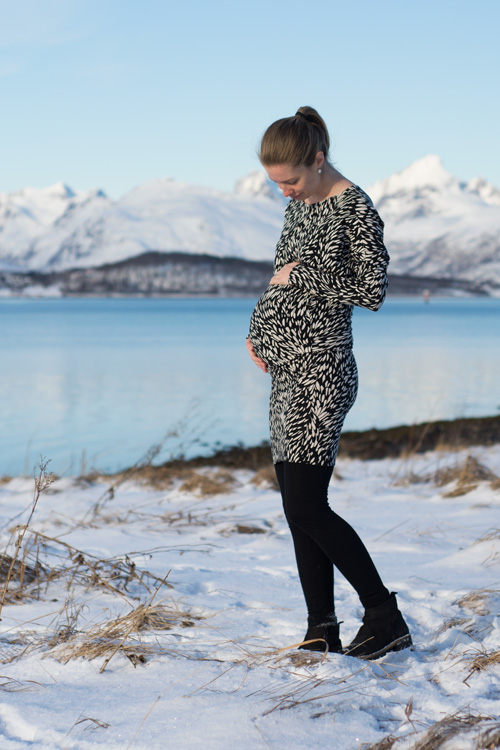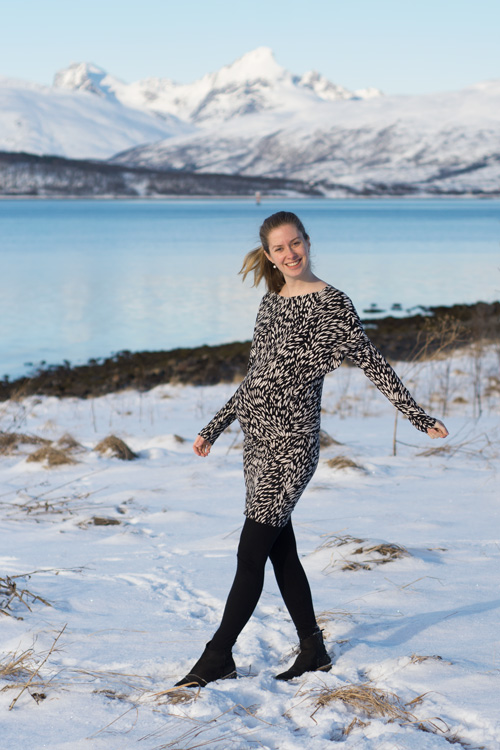 Another issue is the price of a pattern in relation to the price of the fabric and the notions I might need to buy. Often I'd rather pay for a pattern and sew it whenever I really want to sew it, rather than getting a free pattern and spending 30 USD or more on fabrics and having to work with a deadline. And most importantly: I want to be sure that the pattern I sew is a quality pattern, I don't want to promote anything on my blog that's not of good quality.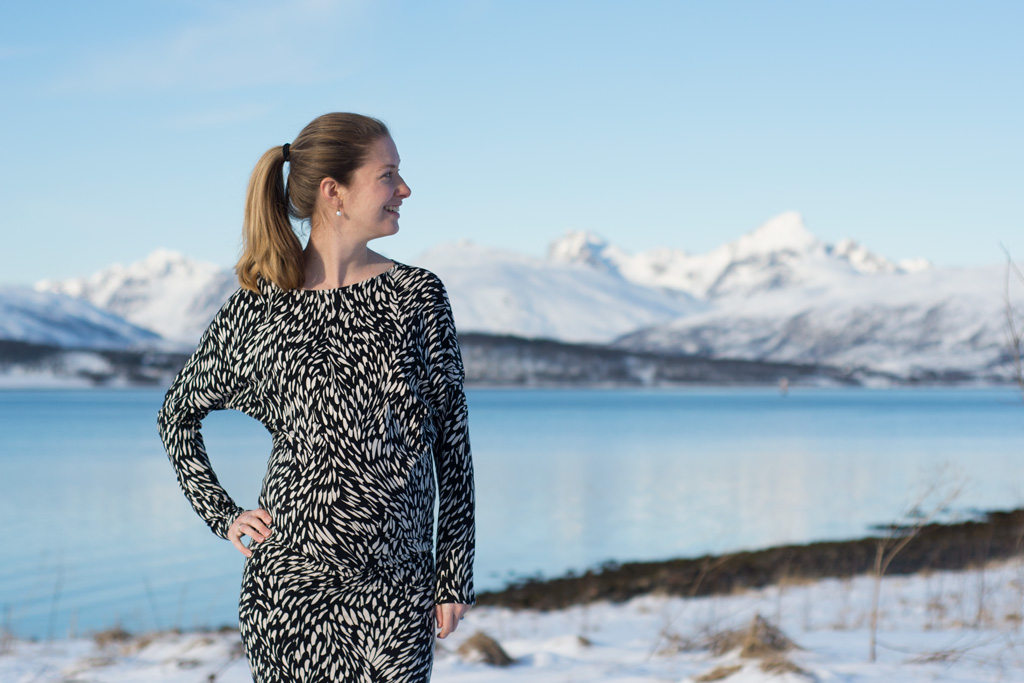 So when I got a nice message from Schnittmuster Berlin, a German pattern company I'd never heard of before, my first reaction was: Who is this, and do they know what they're doing? Well, Schnittmuster Berlin is owned by two German ladies, Dagmar and Ellen. They'both been worked in the garment industry for many years  designing products, making patterns and grading them. Since 2008 they have been working as freelancers for the garment industry and since 2012 they have been developing paper patterns for the home sewist, too.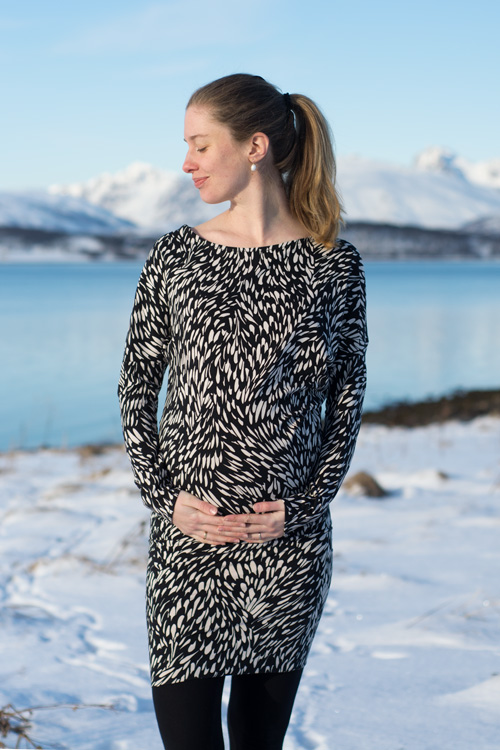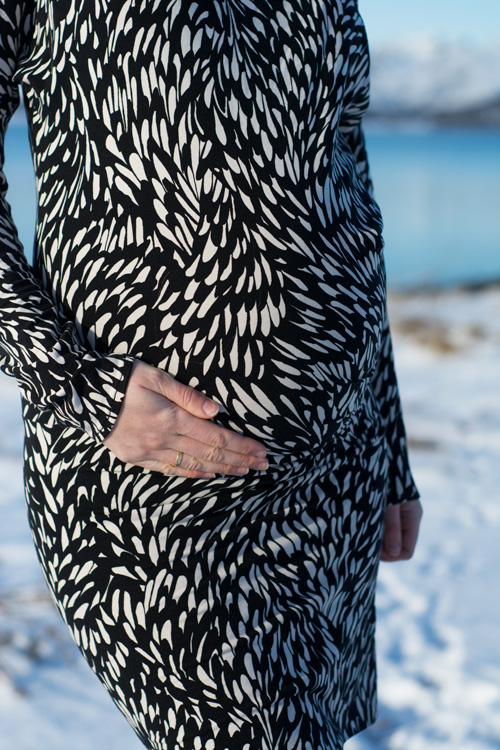 In other words – I got the impression that these two know how to develop a pattern and how to grade it, and my interest was sparked. The next step was to find out if there were any patterns I liked – and right now the patterns I might end up liking have to be maternity friendly, too! Most of the patterns by Schnittmuster Berlin are for women, and the selection is huge: 158 patterns!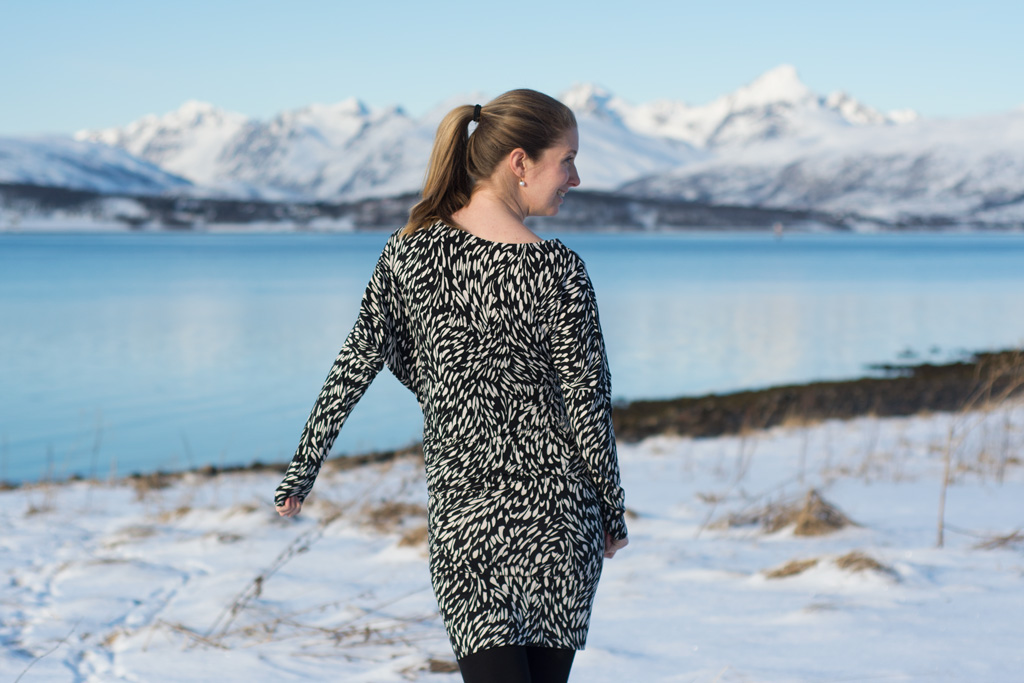 There were several patterns I liked, such as the Candice Dress or the Hermine Trousers – both not suitable right now. I ended up choosing the Liv Dress and the Karen Blouse, which arrived super fast in Norway, ready to be sewn. You can choose between buying a pattern in only one size, or you can buy the pattern in every size available – I was sent the second option. Fun fact: Liv is a female first name in Norway, but it does mean "life", too – which seemed very fitting for a maternity dress!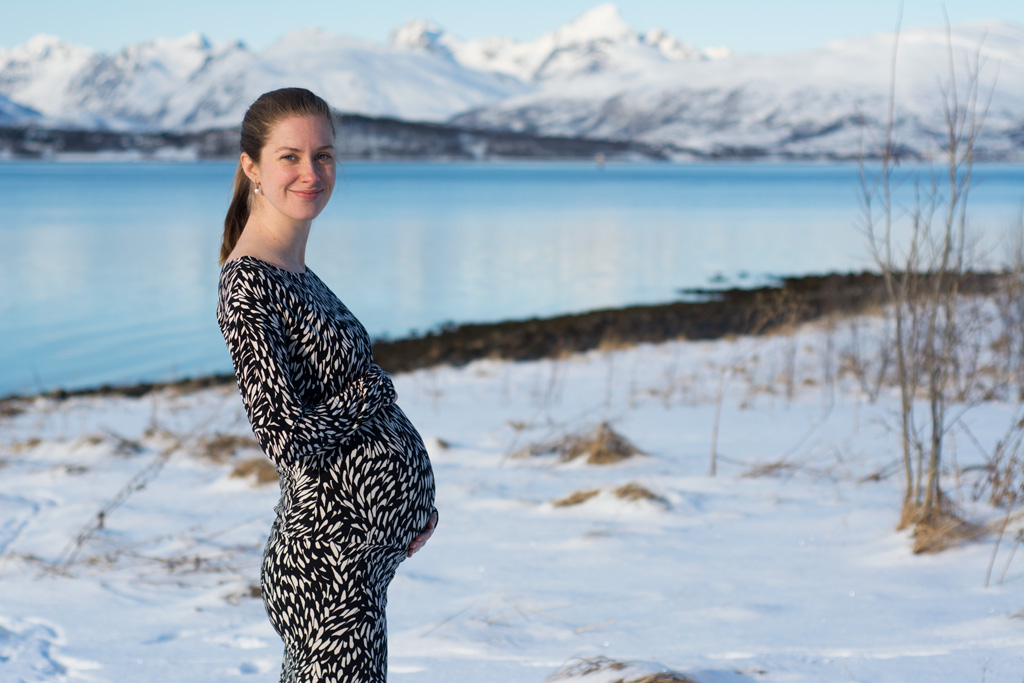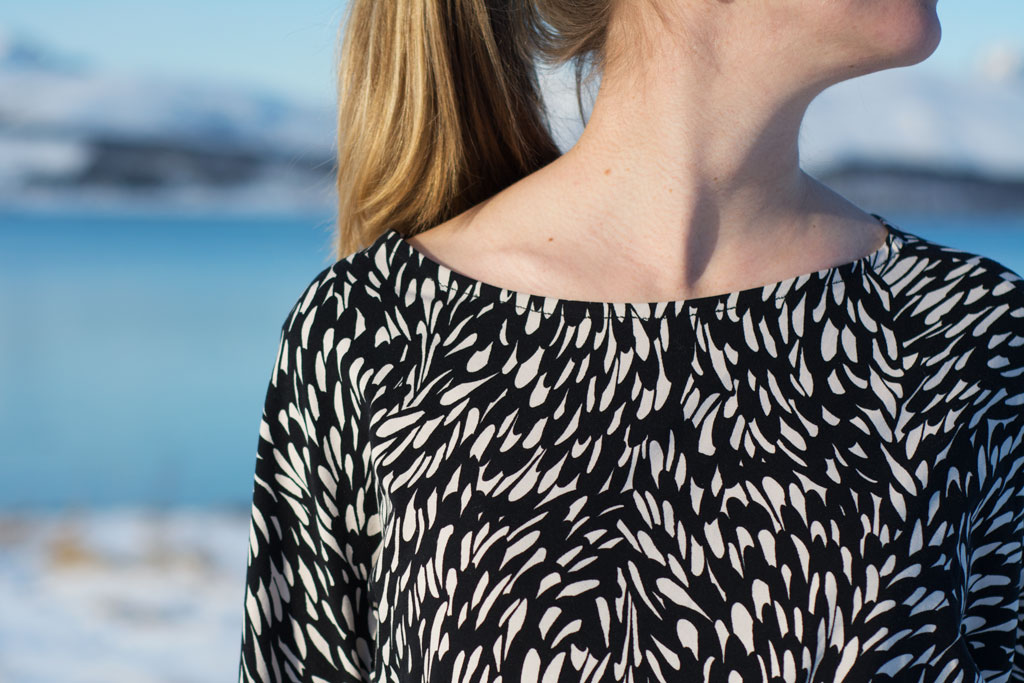 The pictures probably already gave it away: Today I'm showing you the Liv Dress. I used a brand new jersey from Nosh Organics for this dress – luckily I had ordered just enough of this print, Siipi Birch – Black, to be able to make the Liv. I'm usually not a lover of bold prints, and I don't think I own anything with an african animal fur print – no zebra, no leopard, nothing. Luckily this print reminded me much more of a floral pattern, or, as a follower on Instagram pointed out, of feathers. And that made me really like this fabric!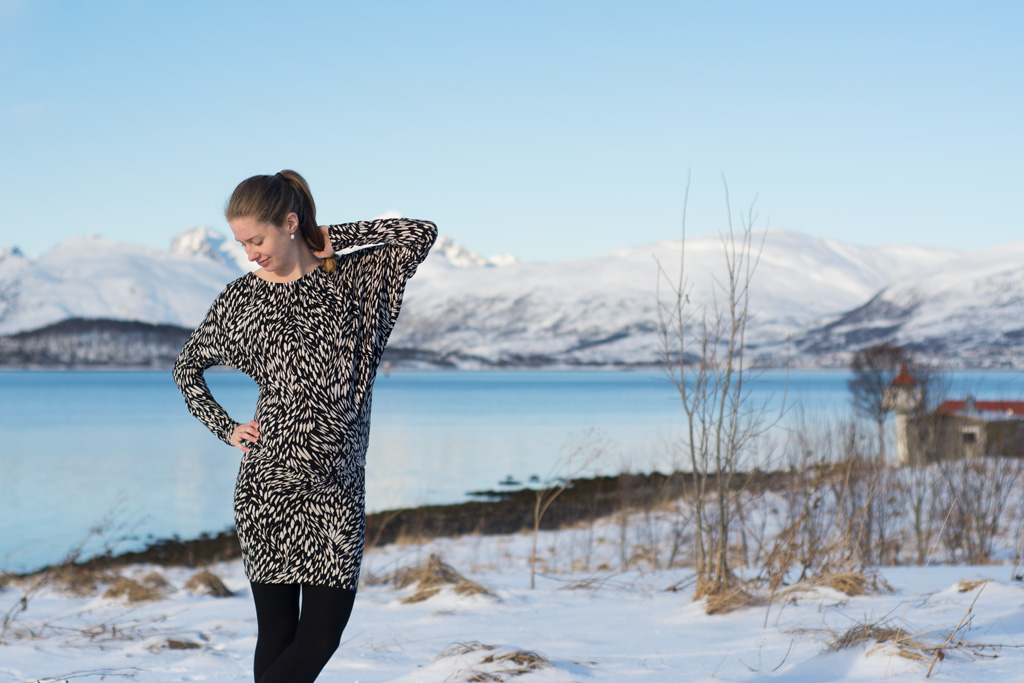 The Liv is an asymmetrical dress/top with wide dolman sleeves. You can't see the asymmetry very well on my version, since the dress doesn't drape as it would have draped on someone without a baby bump. And although the Nosh fabric is a beautiful high-quality fabric, the drape of a cotton jersey can't be compared to the drape of a thin rayon knit. But the left side is cut much wider under the arm and throughout the left side seam of the garment. I don't mind the asymmetrical cut, but I don't really need it, either. I could easily love this dress with a symmetrical cut, too – and hacking it into a symmetrical dress would be fairly easy.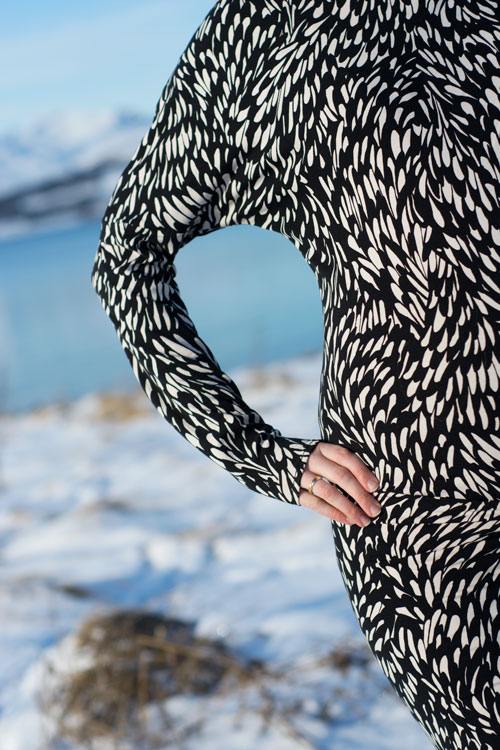 The Liv is a very easy pattern, suitable for beginners. It consists of a front, a back, two sleeves and a skirt  that's sewn out of one piece. That's it! Cutting and sewing the Liv was done in no time. I didn't modify the pattern, other than adding a tiny bit of length to the skirt, which I wouldn't have needed. The instructions that come with the pattern are rather short – think of Burda Style instructions. That's totally fine for a pattern like this and for people who already know how to assemble particular garments. More complicated patterns might have been a challenge for me when I started sewing.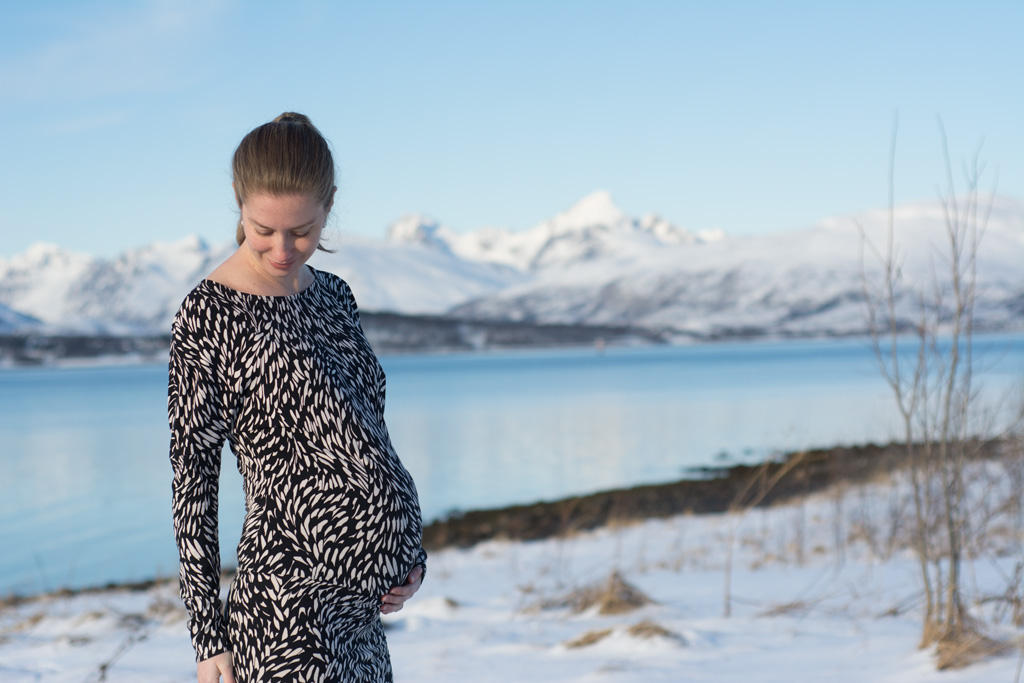 I really liked how Liv turned out and I love how it still fits me without any modifications. And it shows off the baby bump in a cute way! Now I'm curious to see how it fits me in a couple of months. My favourite feature of the Liv might be the skirt: It's sewn out of a single piece of fabric that is doubled. That means that the tight-fitting skirt of the Liv consists of two layers of fabric and not just one. For me, that means two huge advantages: First of all I often don't like using normal jersey for tight-fitting dresses – the idea of my underwear showing through the fabric doesn't appeal to me at all.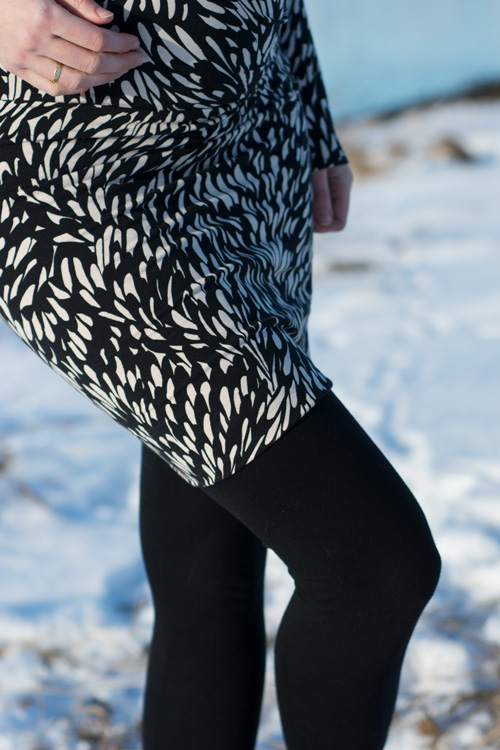 The double layers of fabric give the skirt a little more structure and make it less probable that you flash your underwear, even when using a thin and drapey kind of fabric. The second reason why I really like the double-layered skirt is that I didn't need to hem the skirt! That's great, because it saves time, but in my experience seams on garments that are as tight as this one and get stretched as much as thigh-hugging skirts do, often aren't strong enough over time. Without a coverstitch or a very good twin needle seam, one day you want to climb over a fence wearing your skirt and the seam is going to pop. At least that's how it is for me! But not with the Liv: No hemming means no popping seams and a dress that's going to last for a long time.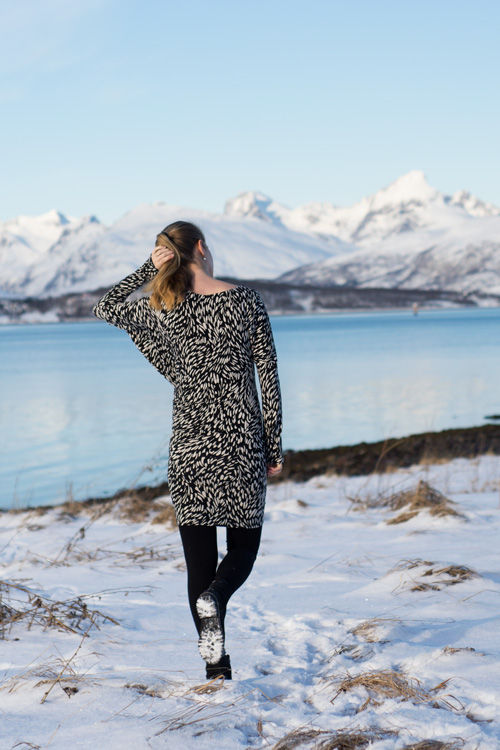 – Schnittmuster Berlin gave the pattern for this post to me for free and I received the fabric for free from Nosh Organics. However, all opinions are, as always, my own. The blog post is linked to the German blogger party RUMS.-