This blog post really deserves the title "very Scandinavian". There are several reasons for this: First of all, Christina, the designer behind Wardrobe By Me is Danish. She has been working for many years as a pattern maker (please correct me if I am not accurate enough, Christina!) in the fashion industry and now designs her own patterns. She is also involved in some other projects, among other things in a really cool business idea where parents can "rent" ecological baby clothes for their child on a monthly basis. As soon as the child needs a bigger size, they send the used clothes back and get new ones. The used clothes go to a another family. That's a little off topic, I know, but – what a great idea!
Not only is Christina from Scandinavia, her patterns are also inspired by a very Scandinavian style. I am not sure if I am able to describe what actually gives it the Scandinavian feel, but it's definitely there.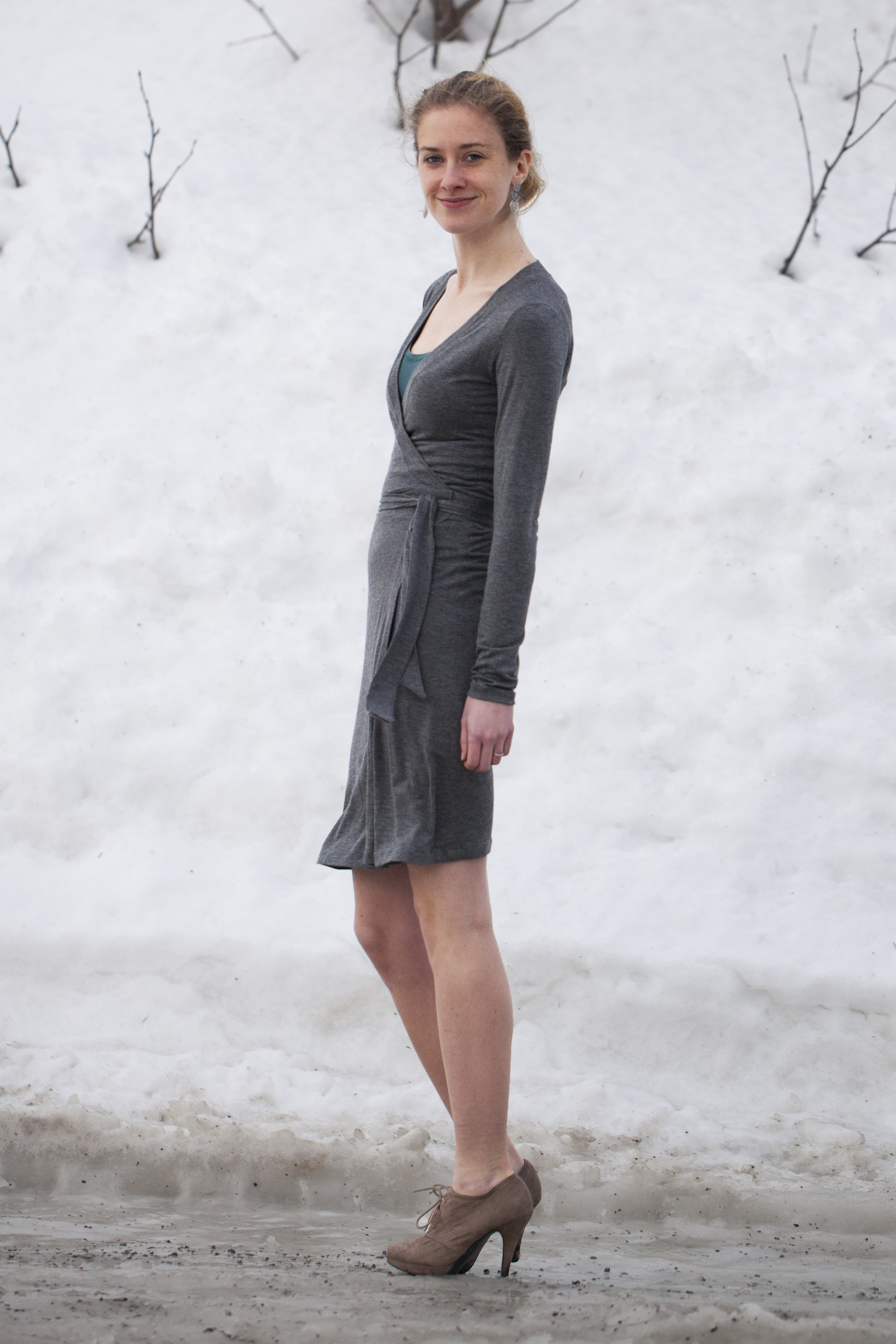 The second reason why this blog post is very Scandinavian is my choice of fabric. Since I didn't have the time to order, I bought my fabric locally, something I rarely do, since it's nearly impossible to find decent fabric for garment sewing in Tromsø. And, even more important, the colours I chose are very Scandinavian! Have you ever read about Scandinavian design? It usually means neutral colours, wood, lots of light, coziness and simple lines. And here you go – grey and beige! (The tunic looks really grey in the photos, but it usually looks much more beige, somehow. I'll add a photo taken inside so that you can see the difference!) By the way, the next dress I made was charcoal and black, so I am definitely on a roll here, colourwise.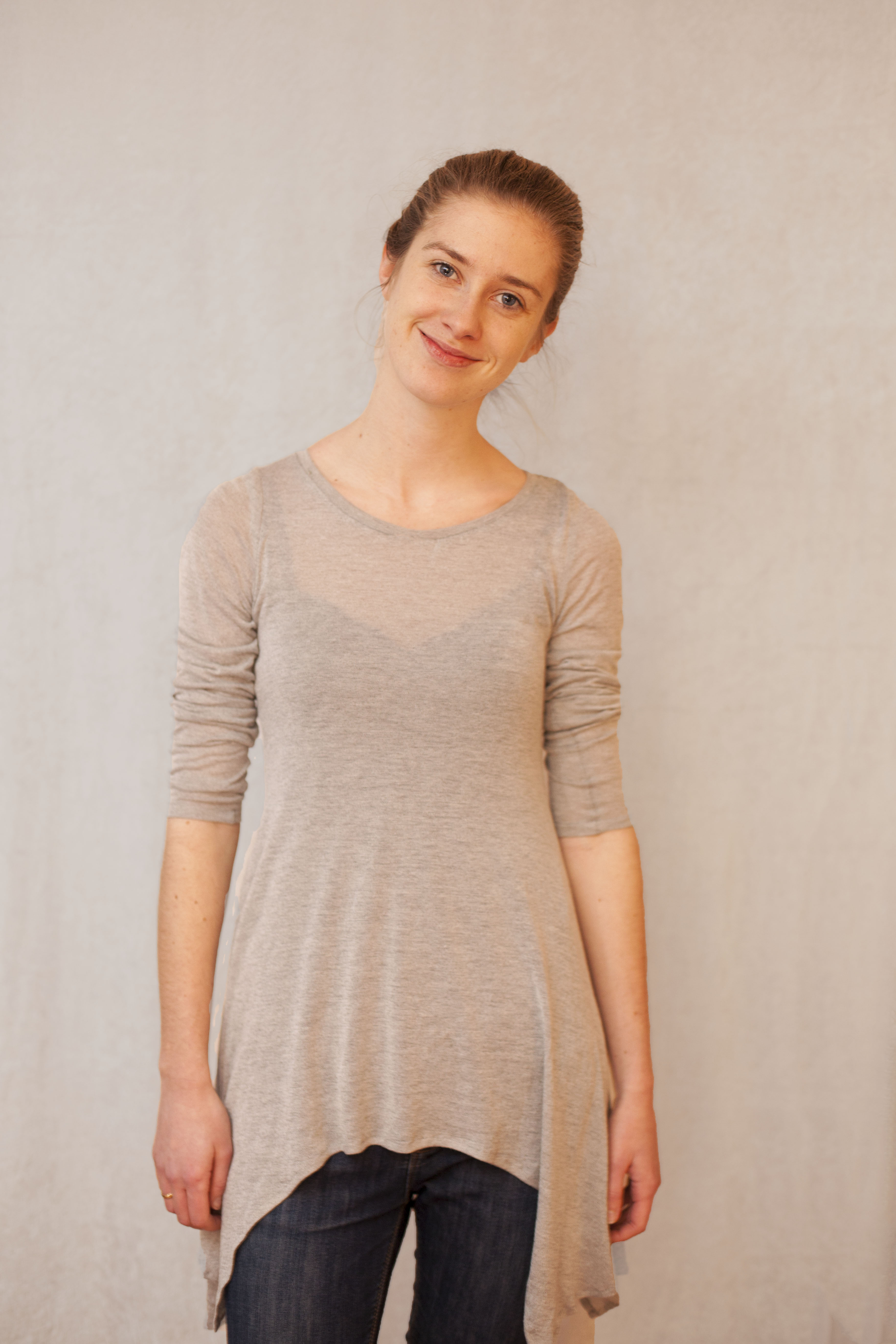 The third reason why this post has a Scandinavian feel to it is the weather. Yes, all my photos use to have snow and a Scandinavian landscape in the background, but this time it was windy, a little rainy and just not picture-perfect. Oh well.
But on to my garments, the Sneha Tunic and the Diana Wrap Dress!
When testing the Sneha Tunic, it was the first time I tested for Christina. Her size 2 proved to be a little too big, so she just added a size 0 to her size range! Isn't that kind? The main feature of the Sneha Tunic is the handkerchief hem – either on both sides or just on one side. You can make a short version, a longer tunic or a dress.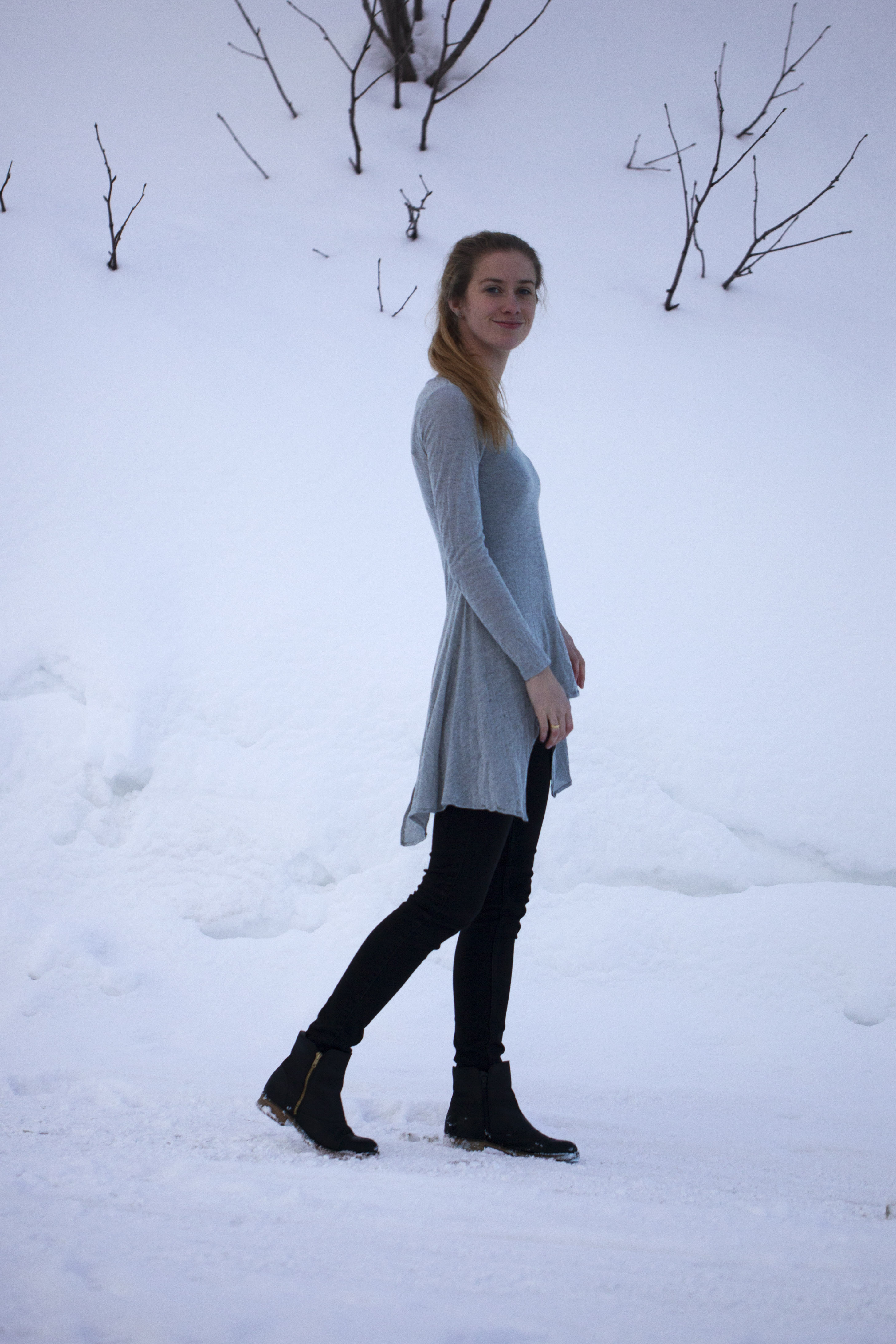 The asymmetrical style is just included for the longer tunic version, but as you can see on my version, it's easy to adjust the pattern to get the asymmetrical sides on the short version, too. It's a super quick project and it would have been even quicker if my serger had worked. It's important to use really lightweight knits with a lot of stretch to get this look, otherwise the fabric is not going to drape as nicely and you might end up with some bunching in the back, too.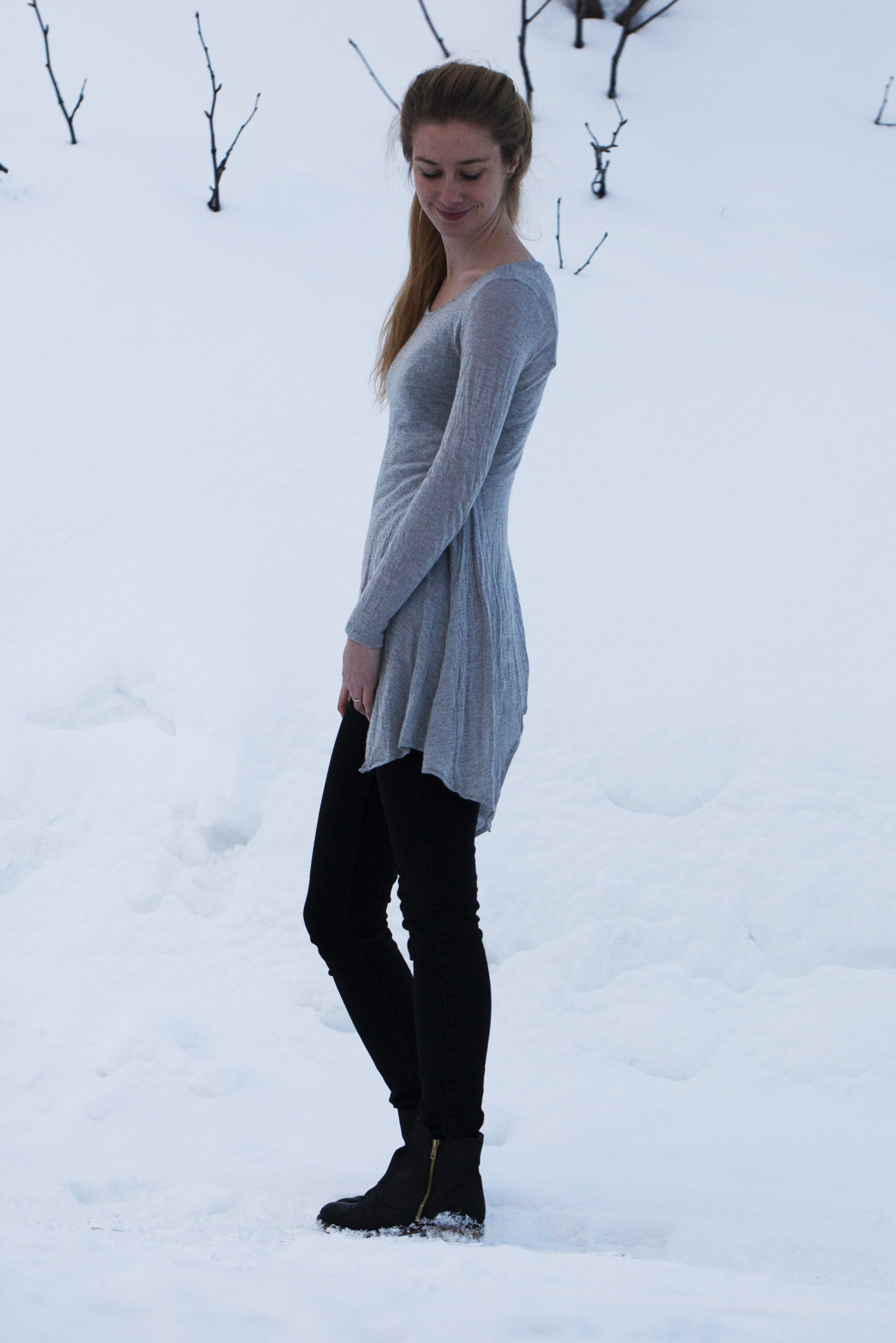 I rarely wear tunics, but I like how the Sneha Tunic makes me feel, especially while walking around. I don't really know why, but it gives me a "bouncy" feel that makes me happy – and I think it flatters my figure!
Next up is the Diana Wrap Dress, inspired by the Queen of wrap dresses, Diane von Fürstenberg. I didn't think I had the time to test this dress and frankly I didn't own a wrap dress, so I didn't really know if the style worked for me. But luckily Christina took the time to reach out to me and ask me to test, since she couldn't find a size 0 tester. Well, she had added the size 0 because of me and she gave me a few days extra to finish the dress, so how could I say no?
The pattern comes with several sleeve length and – best of all – two different detachable collars! I didn't make one for now, but I might just add one later. I made the dress out of super soft, thin and drapey viscose jersey, since I couldn't find something else. I like how it looks, but seriously, working with this fabric nearly killed me! It wouldn't lie flat, it took me hours to cut it (and I realized yesterday the the sleeves still don't seem to be cut 100% in the grain, since they are twisting!), it shifted all the time, my needle plate tried to seat the fabric and God knows why my thread tore all. the. time. (Ok, I might have an idea why – my only grey thread was serger thread, so…) And my serger is still not working, nope… I just wanted to get it done, since I had to move on to some other projects and instead this took me forever.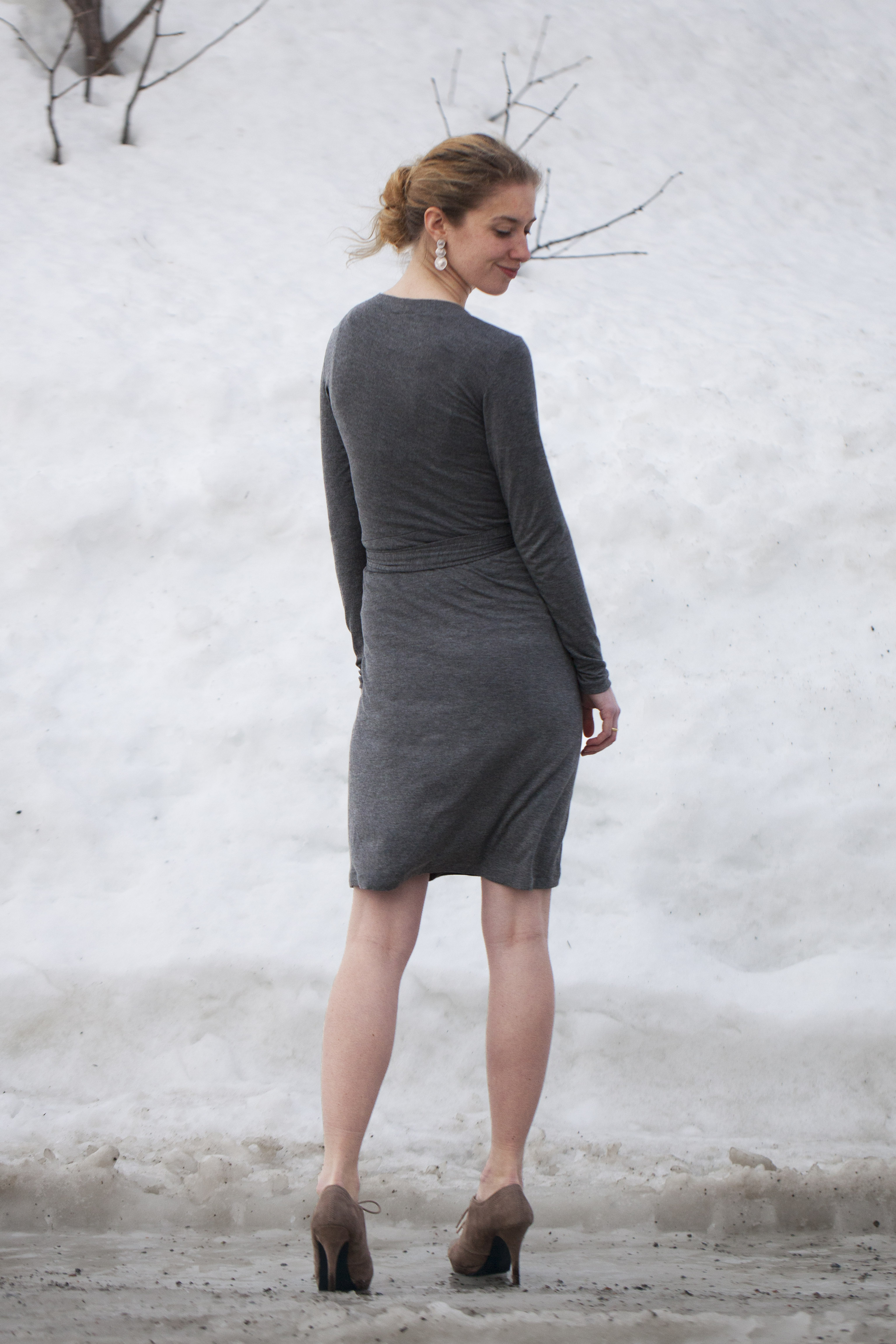 The end of the story was that I finally managed to finish in the middle of the night, but despite my love for having garments looking beautiful on the inside, too, this dress has several raw edges and the hemming work is really far from good. But the thread is nearly invisible on the fabric and I just hope that nobody is going to look that closely. Because this dress absolutely is going to be used frequently!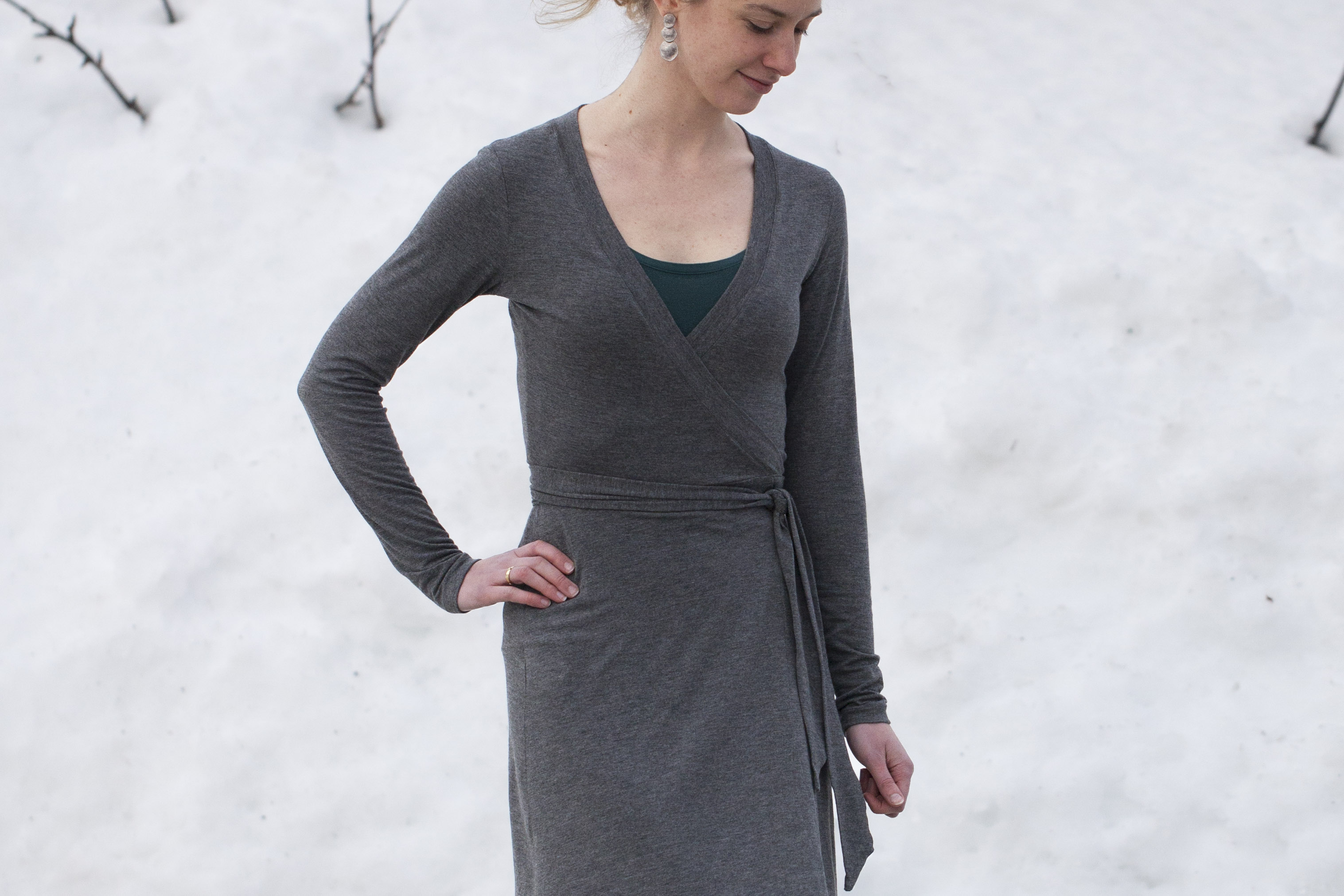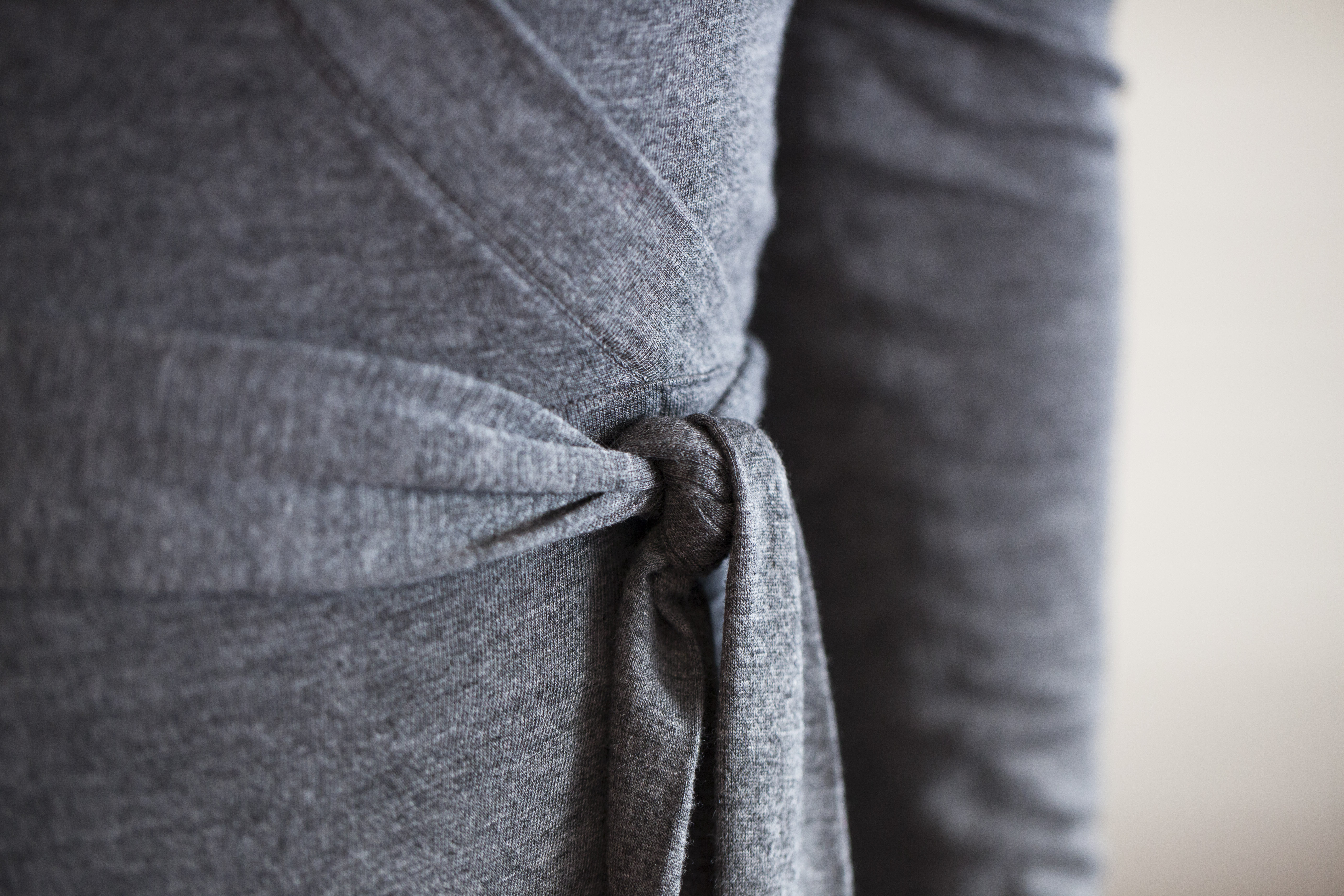 The dress really shows everything, since the fabric is so thin and I don't think I could wear it without a camisole under, but oh my, it feels so good wearing it! It hugs my none existing curves and is so cozy, that I actually wore it as a robe at home, over my pajamas the day after I finished it. Ok. I might have fallen asleep in it, too… *awkward*
Anyway, I don't think Christina's patterns are very well known yet, at least not in my "sewing circle" on instagram – but you should have a look and check out her patterns!