A few weeks ago I received a lovely message from Magdalena, the designer behind Magdalena Langa patterns. She asked if I wouldn't like to try one of her patterns – and since I the Camellia skirt had been on my sewing list for a while anyway, I saw this as an opportunity to actually sew it – finally.
And I am glad I did! Doesn't it look fabulous together with my Agnes Top from Tilly and the Buttons?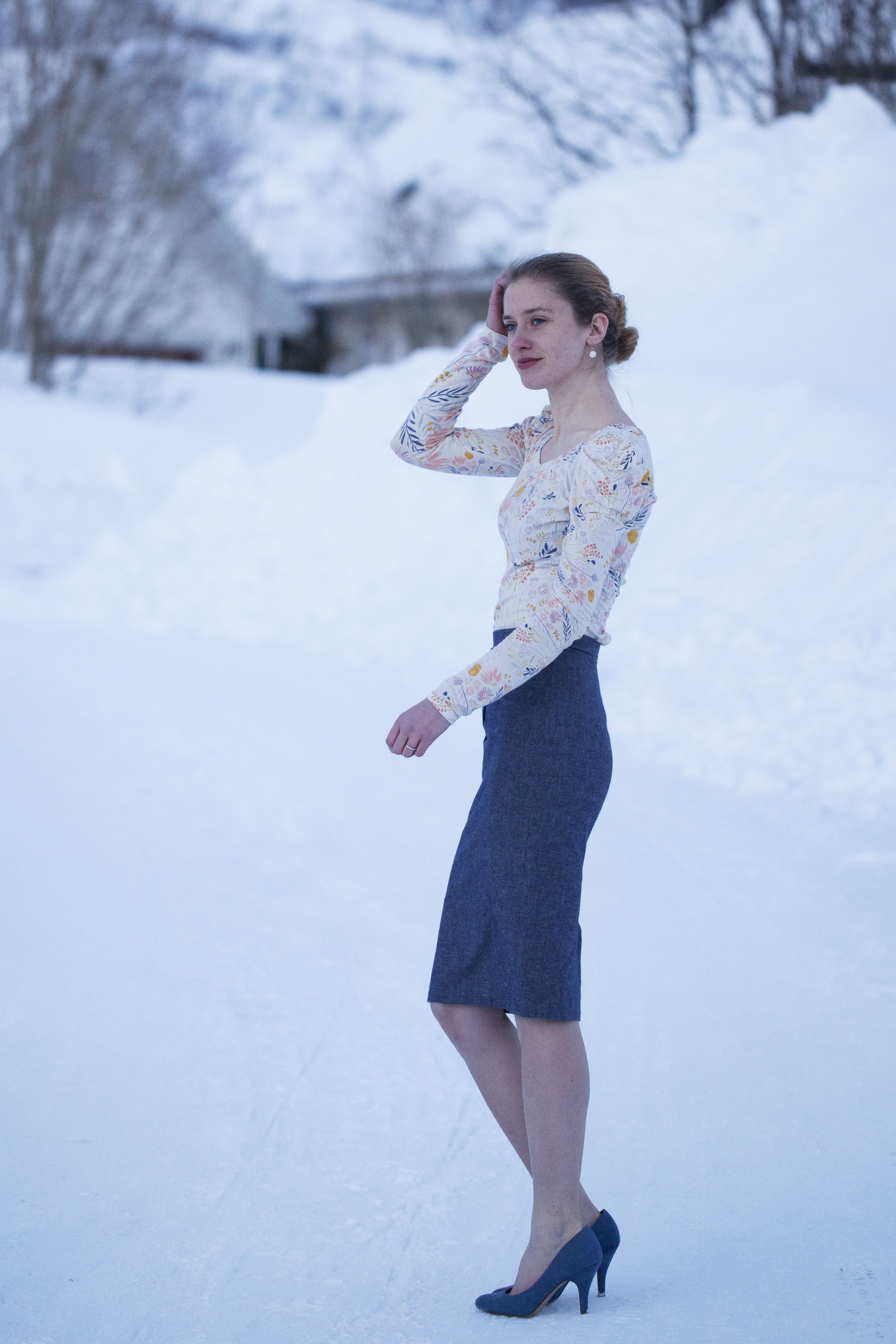 The Camellia skirt is a fully lined pencil skirt with four darts to create this fabulous shape and three pleats to make the skirt a little more special. And I am all for classic garments with a little twist! I chose a solid colour for this skirt, so the pleats would get all the attention – a good reason to order once more some fabulous brushed twill from Miss Matatabi. I really love this fabric, it's soft, 100% cotton, it doesn't wrinkle a lot and it's very easy to handle.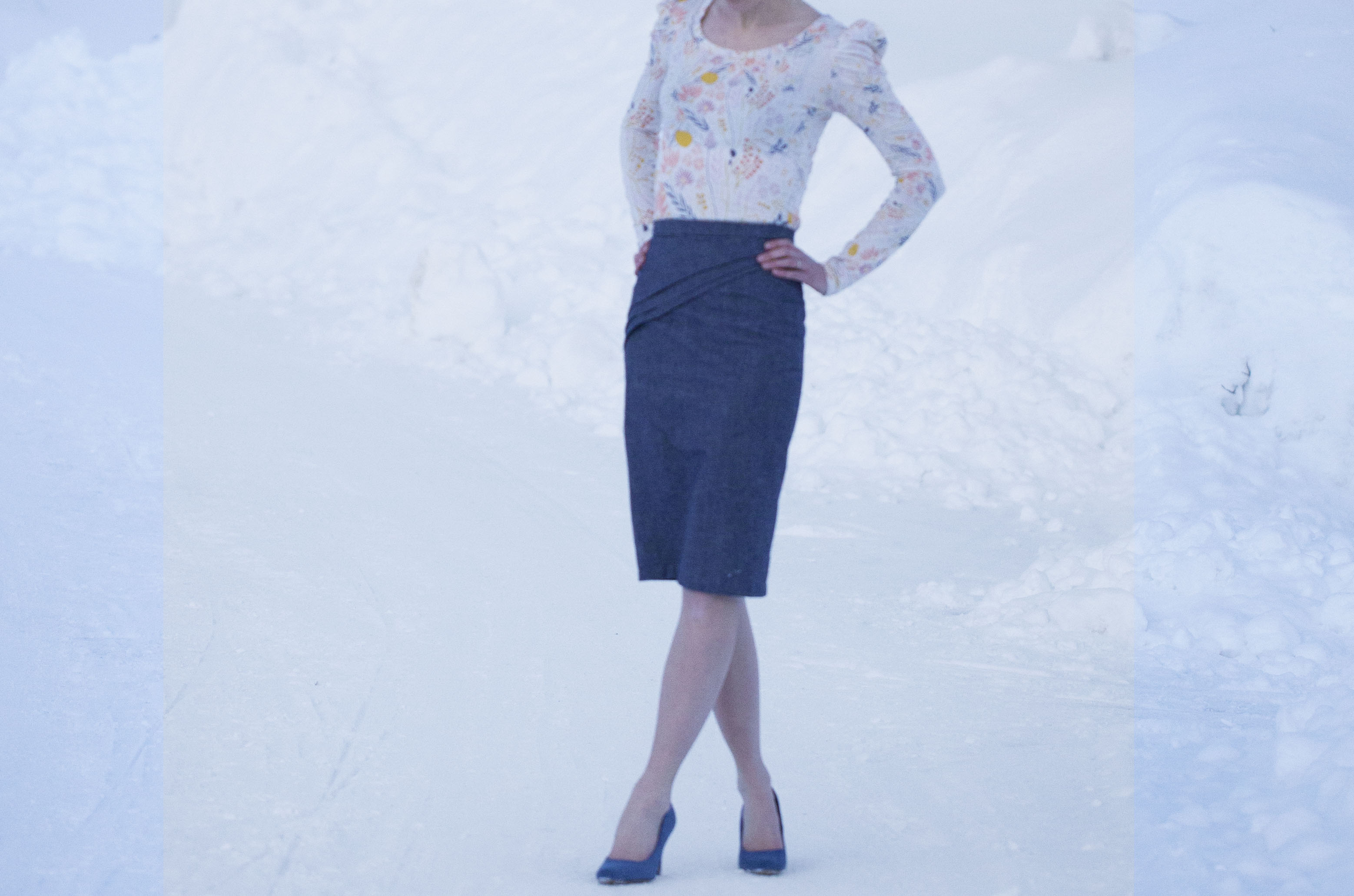 Something that immediately caught my attention was the fact that Magdalena's patterns come without seam allowances. I think Magdalena is Polish, (but lives in the US) and I know that it has been very common for patterns from Burda and other big European pattern companies not to include seam allowances. I, on the other hand, have sewn nearly exclusively with indie PDF patterns and most of them come with seam allowances – or even two set of lines, with or without allowances!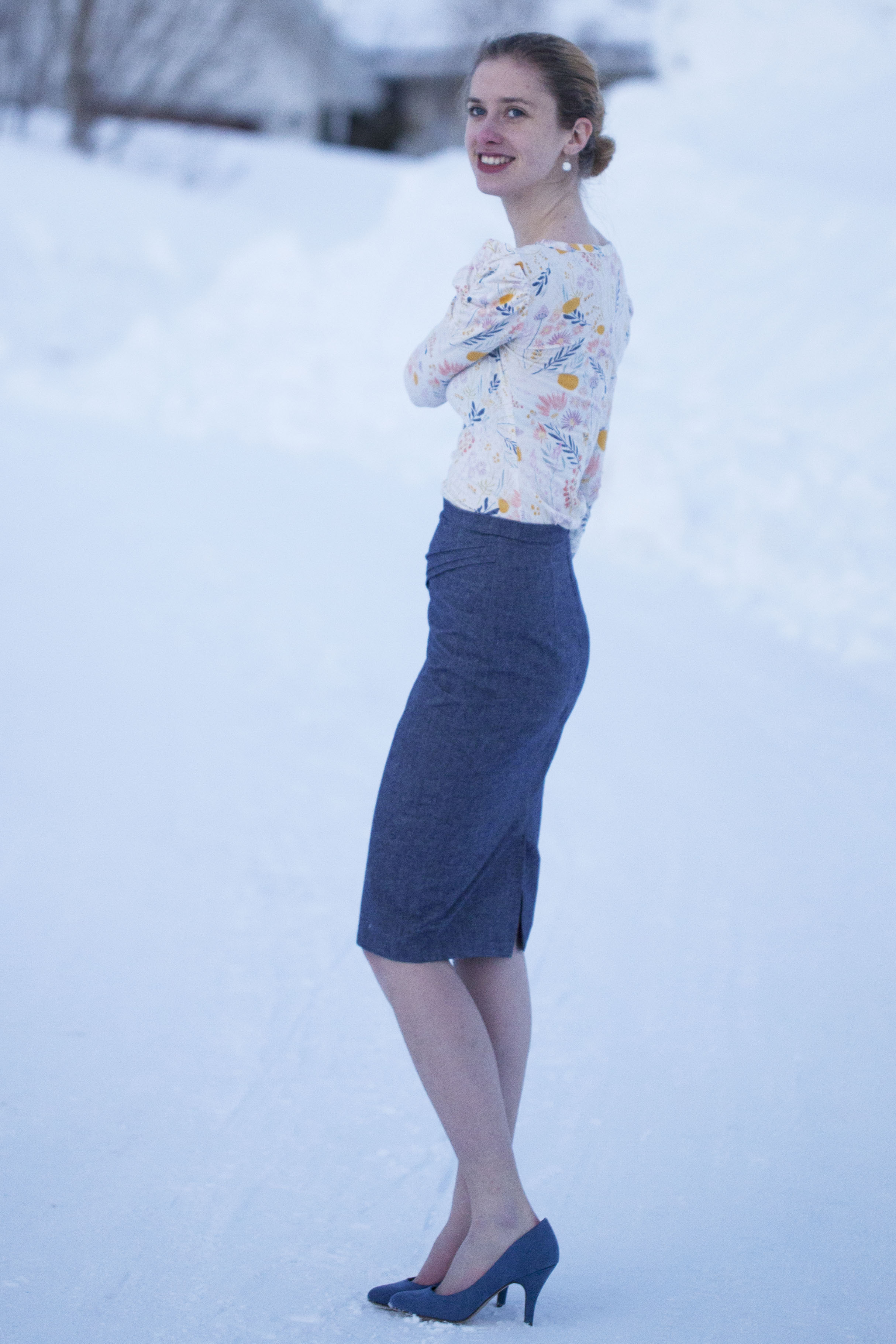 So I panicked a little at the thought of having to trace the whole pattern and add seam allowances. But it really wasn't that bad, although I might have taken a shortcut: I just laid my pattern pieces on top of the fabric and cut around them, eyeballing a 3/8″ seam allowance. I know, bad girl – but the fit turned out great, so it can't have been that big of an issue.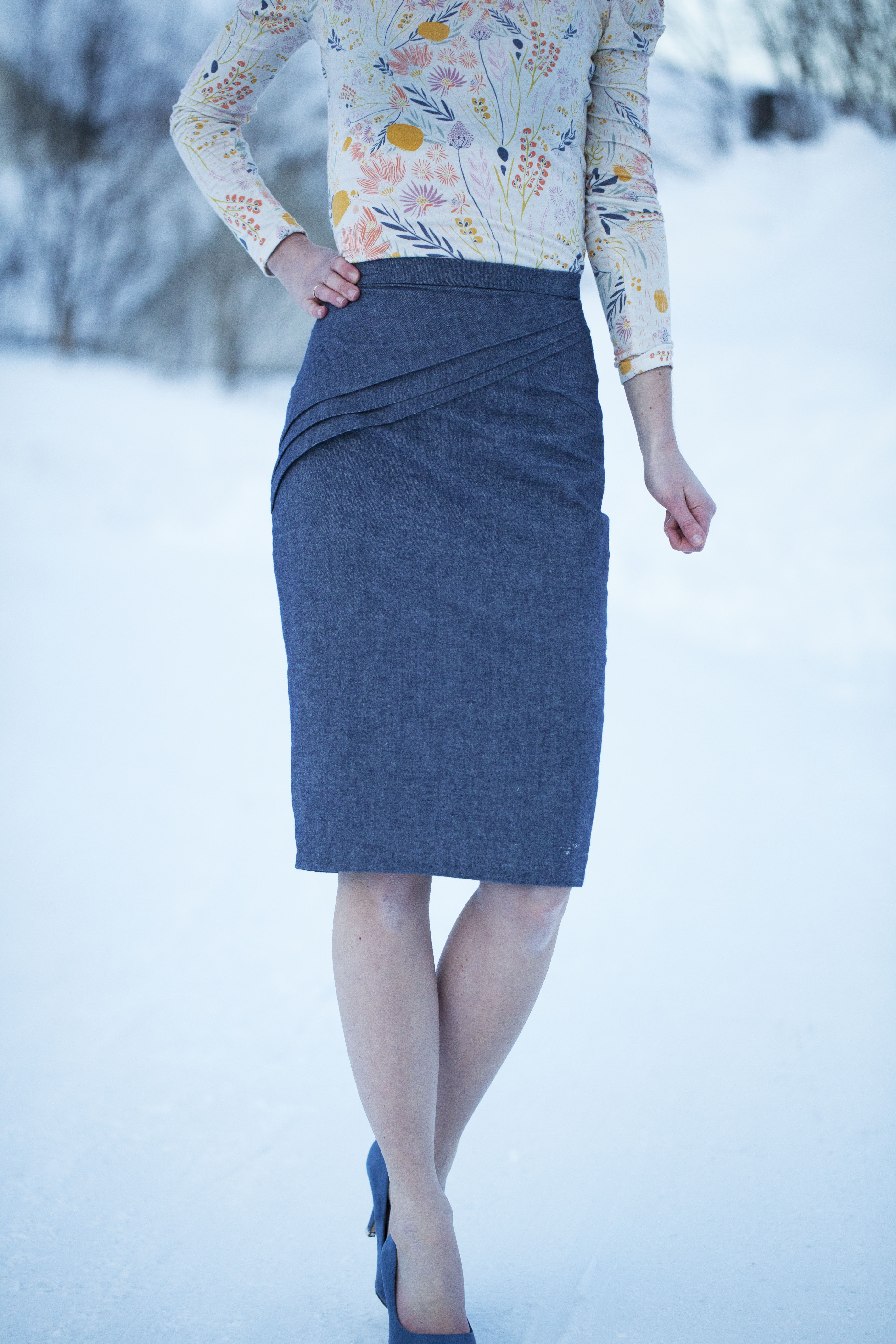 As I wrote before – I really enjoy sewing garments that remind me of making a puzzle. The Camellia absolutely deserves a spot in this category: The shape of the front pattern piece looks so strange when cutting it out! And then you start sewing darts and pressing pleats and everything makes sense, suddenly. But you really have to follow the instructions to make it work. As soon as the front ends up having the same shape as the lining, the rest is pretty straight forward.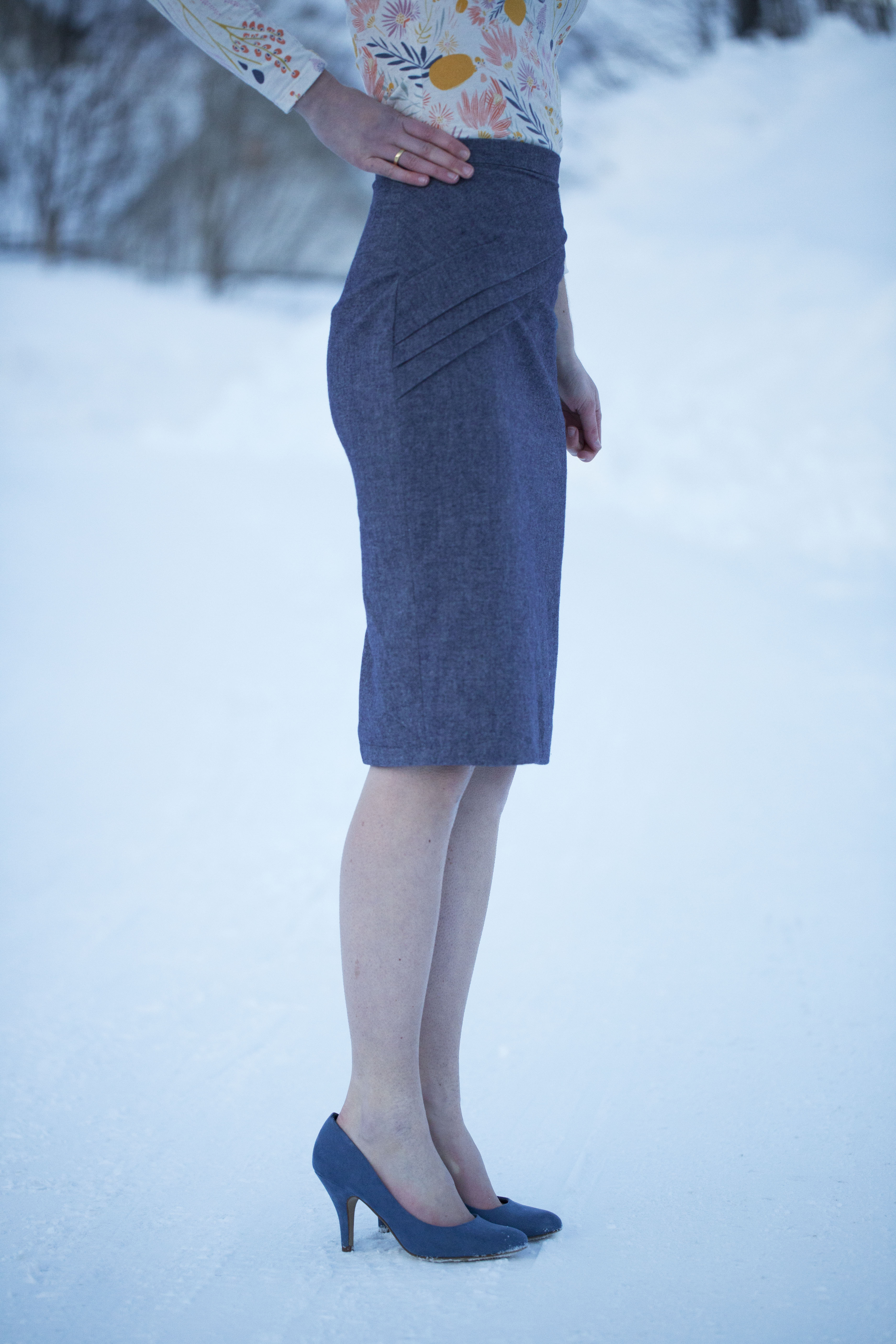 I have to admit that I had some troubles sewing the invisible zipper. After sewing it I realized that I never understood the correct method of inserting an invisible zipper! It's nearly embarrassing to say, but I never realized that it's possible to press the zipper teeth to the side to be able to sew right at the edge. I had just been wondering about how on earth people manage sewing THAT close to the zipper… As a result my zipper isn't as invisible as I'd like it to be just yet, but maybe I'll make an effort to fix it. Another thing giving me some headache was the construction of the lined slit at the back of the skirt.
Magdalena's instructions are a little scant sometimes and I had to concentrate to be able to follow. If you have never sewn a slit, a dart or a zipper before, you might have trouble to understand how exactly you are supposed to do things. I mean – not all instructions are designed to teach you special techniques, but it's just something to be aware of when buying the pattern. I am not quite sure if my slit ended up being exactly as it's supposed to be, but it looks fine from the outside and works.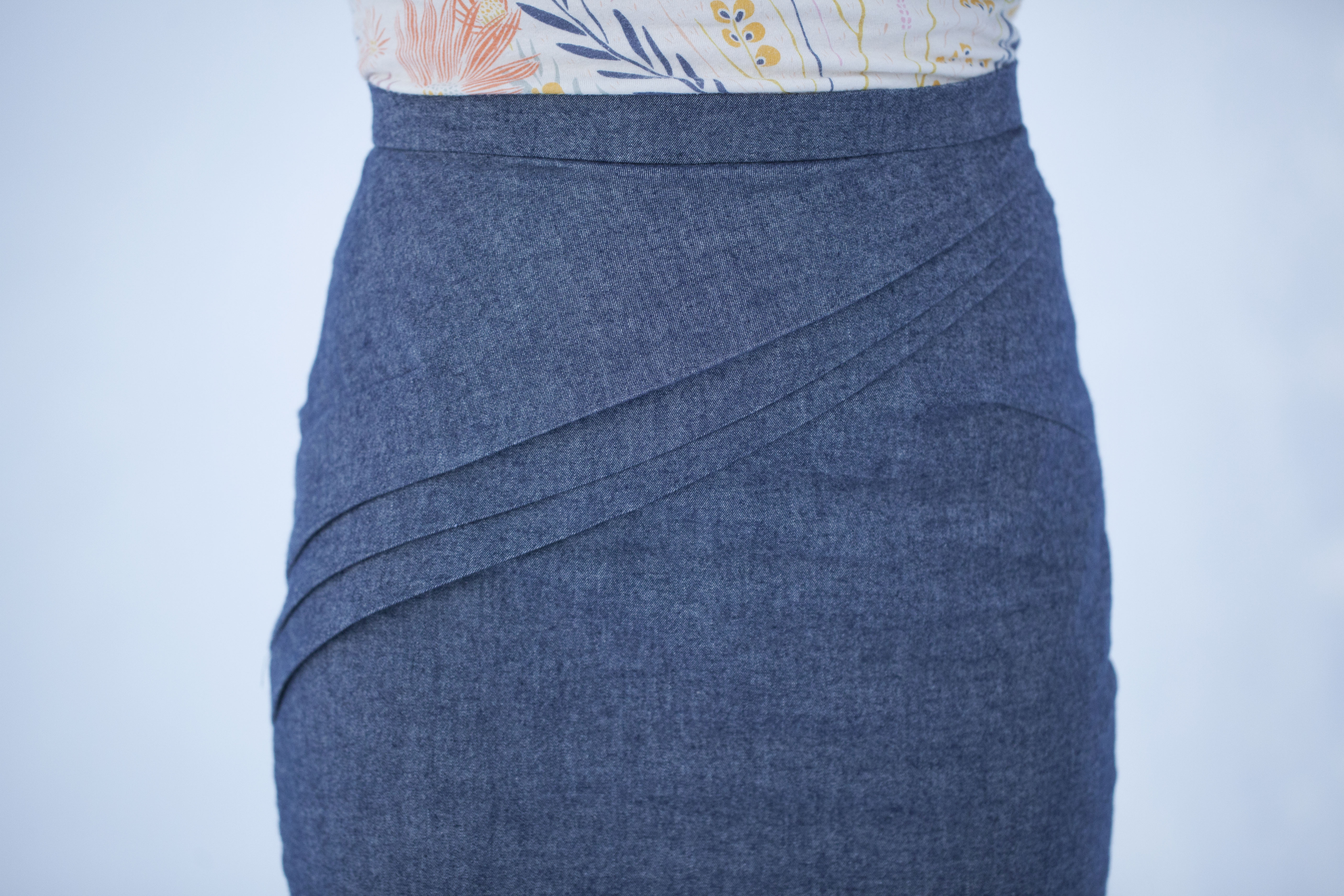 I think the Camellia skirt is really well drafted – just look at how it hugs my body and gives me curves everywhere (Me? Curves??). And all that in a fabric without any stretch! Since I am not the person known for bald fabric choices, creating visual interest through shapes is right up my ally. I didn't make any changes, other then taking it a little bit in at the hip (might have been my fault because of eyeballing the seam allowance!), where I had some bulk and shortening it by about an inch or two. I even hemmed it by hand! Oh, and I skipped the pocket at the back of the skirt.
You can buy Magdalena's patterns for example on Indiesew or on Etsy and rumors have it that she's going to release a new pattern today – and I can't wait to see it! [edit: The Cosmos Dress was just released – check it out on Kollabora!]