Yeah! It's my turn to show you my make for the Itch to Stitch Holiday Blog Tour! I am sure you have already seen me posting about the blog tour on instagram, since this is the first blog tour I am organizing – together with the fabulous Leslie from Threadbear Garments.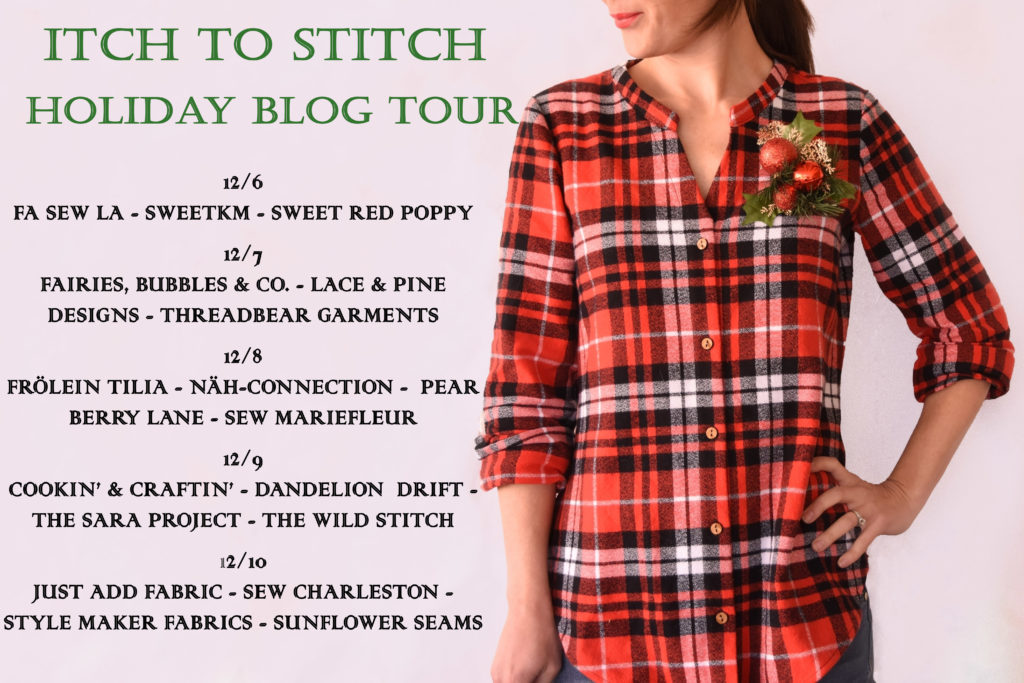 I am amazed by the fabulous makes we have seen so far, and today I'm showing you my holiday outfit: a Zamora Blouse and a Lindy Petal Skirt.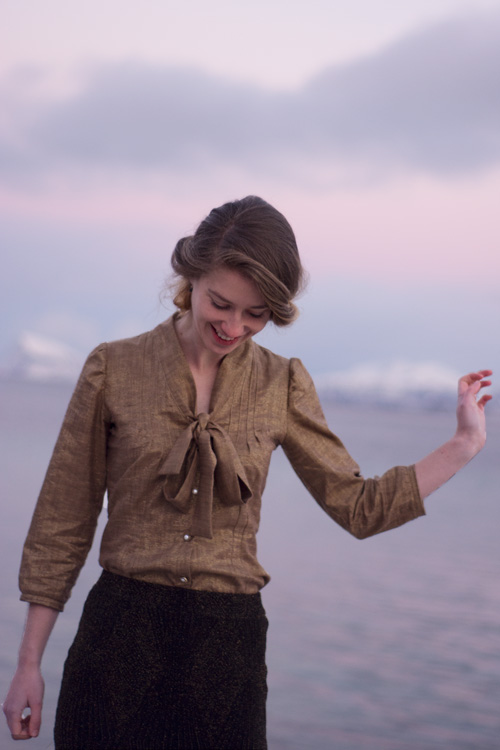 I might want to dress up even more for the main Christmas days, but this lovely ensemble is perfect for all the celebrations happening before and after Christmas, don't you agree? A small celebration at work, a Christmas lunch with friends, maybe New Year's Eve…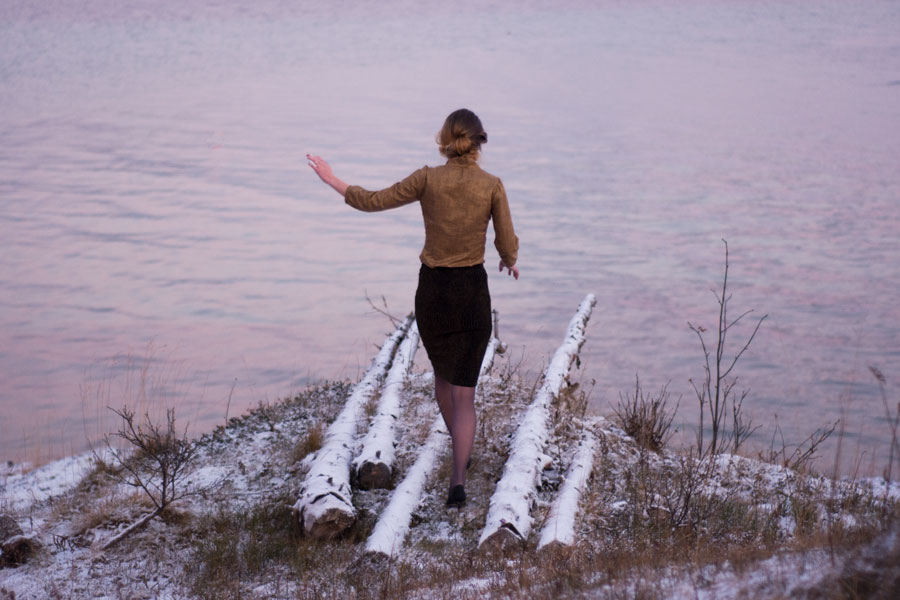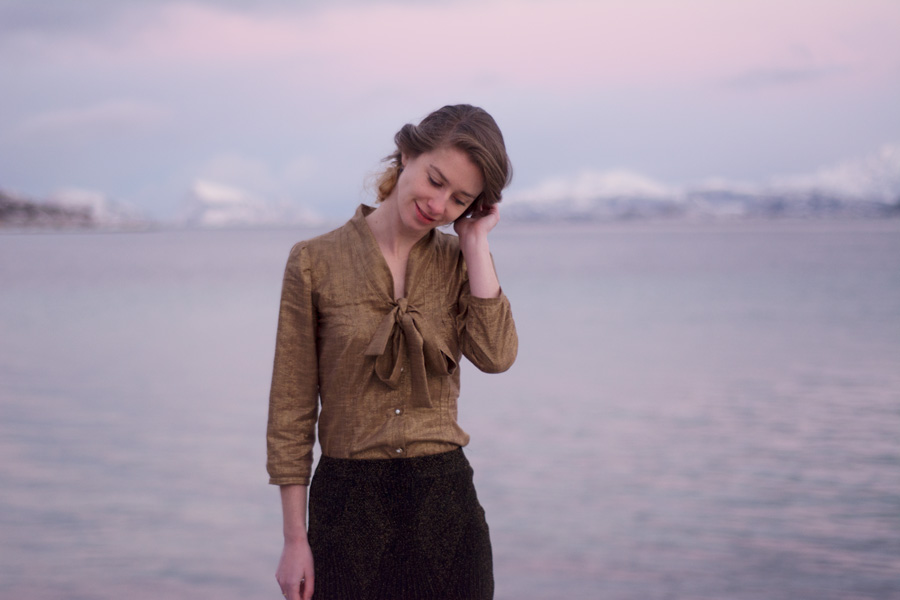 The fabric I chose is from Style Maker Fabrics, who generously sponsored this tour, and I think it really gives a holiday feeling to these great Itch to Stitch patterns, which are suitable for most occasions. The Lindy Petal Skirt (which is a free pattern, by the way!) is made of a black rayon/poly/lycra double knit with big diamond shapes, formed by tiny golden dots and lines. I think the structure of the fabric makes it so special, without being overwhelming.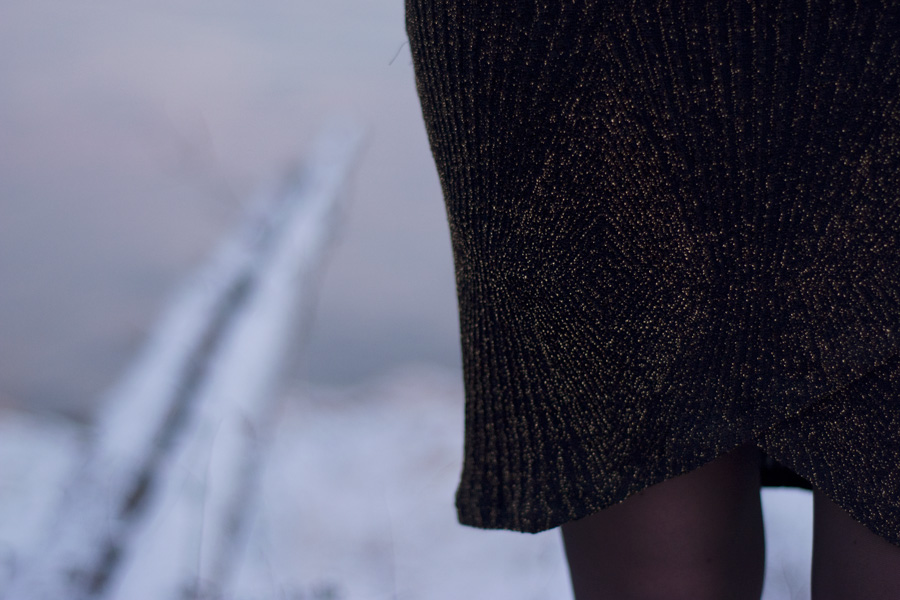 You can get away with just 0.75 yards of fabric for the smallest sizes – if the fabric is 60″ wide. No, 56″ is NOT wide enough! I discovered this when I wanted to cut the fabric and spent close to an hour placing the four pattern pieces on the fabric. I finally managed to cut the skirt with slightly slimmer seam allowances and a really creative layout – it even is kind of pattern matched. But really. Save yourself some precious time and order more fabric, if it's not exactly 60″ wide or wider…
The blouse is made of bronze Manchester Metallic cotton shirting from Robert Kaufman – also available in silver and champagne at Style Maker Fabrics. Michelle, the owner of Style Maker Fabrics, is totally awesome. I wanted to use the champagne colour (it's gorgeous!), but Michelle pointed out that the champagne colour is made with silver threads, while my double knit for the skirt has golden threads. So she went ahead and ordered the perfect colour, matching my skirt fabric. Pretty cool, right?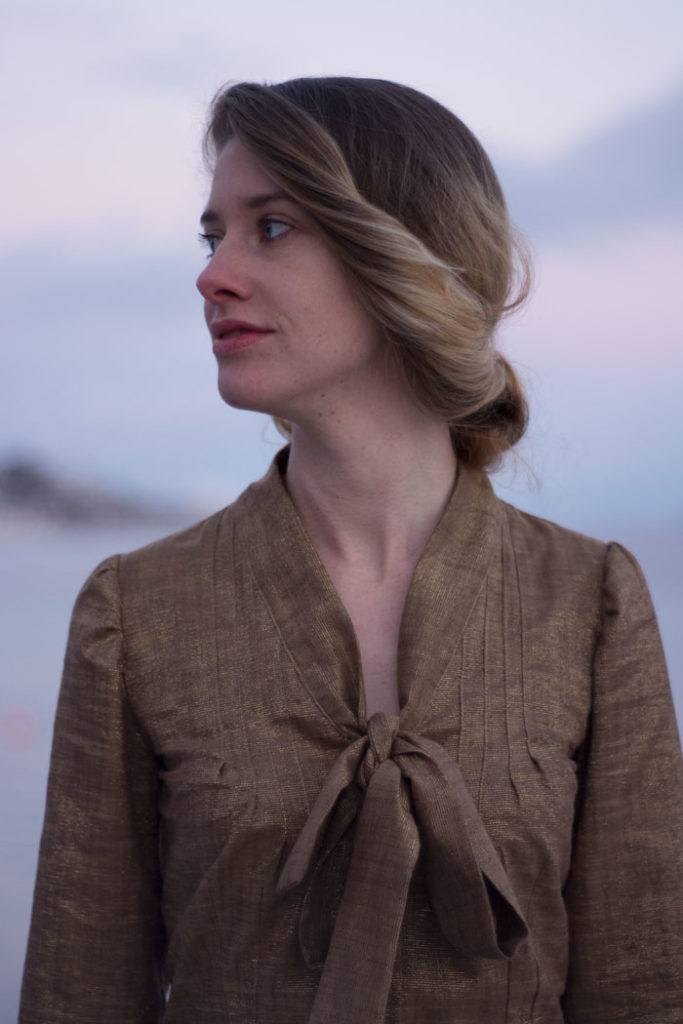 Making the Lindy Petal Skirt is very straight forward, and since it's a free pattern, making the skirt is a great way to test a Itch to Stitch pattern in case you haven't sewn one just yet. I didn't change a thing about the pattern, and I actually think that the skirt has the perfect length. Just how I like it! And since it's made of a stable knit, it's so easy to wear, and comfy, too!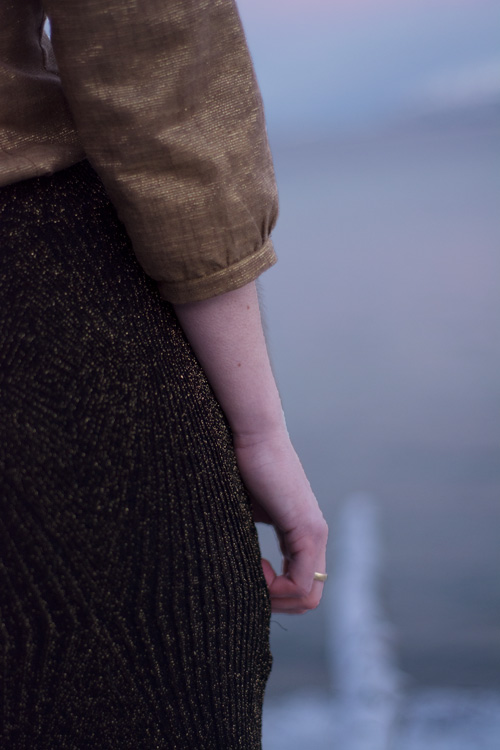 The Zamora Blouse isn't quite as quick to sew as the Lindy Petal Skirt. But I guess that's kind of obvious! It might not be very easy to see on the pictures, but the Zamora blouse has four pleats on each front and one pleat at the back, and besides that two waist darts on each front and two waist darts at the back. Oh, and if you're making anything other than an A-cup, there's a bust dart on each front, too! A total of 17 darts and pleats for one blouse! Marking all these darts and pleats, pressing and sewing them, was definitely what took me the longest. It's really not my favourite task. I have to find a better method for marking things like this on the fabric! I really need to buy som transfer paper and a marking tool!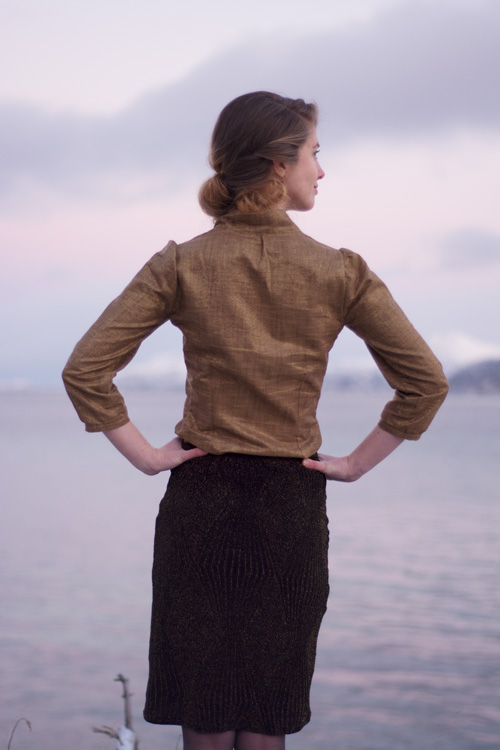 The rest of the blouse is sewn really quickly, compared with the time I spent on the darts and pleats. The rest of the blouse is sewn really quickly. But even if I'm complaining about this extra work, I also have to say that it's so worth it. This is my first blouse with double darts at the waist, and it gives the blouse a lovely shape. And the pleats on the front are so subtle and special! You already know that I like subtle and special, right??
Besides these darts and pleats, one of my favourite things about this blouse are the buttons I chose. They're so cute, and the small pearls make the buttons pop a little, without being too different from the rest of the style. And I love everything that looks remotely like a flower anyway. And I also love how the hem is shaped! I love it so much that I even had to go outside one more time to take a few pictures of me wearing the blouse with pants, so that you actually can see the fabulous curved hem.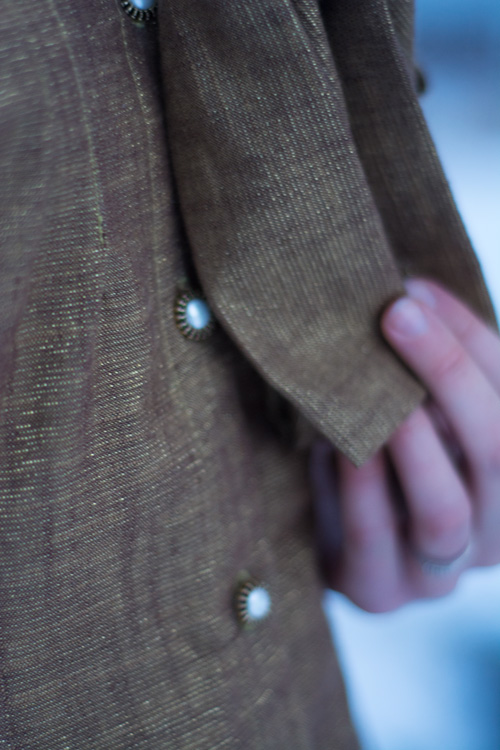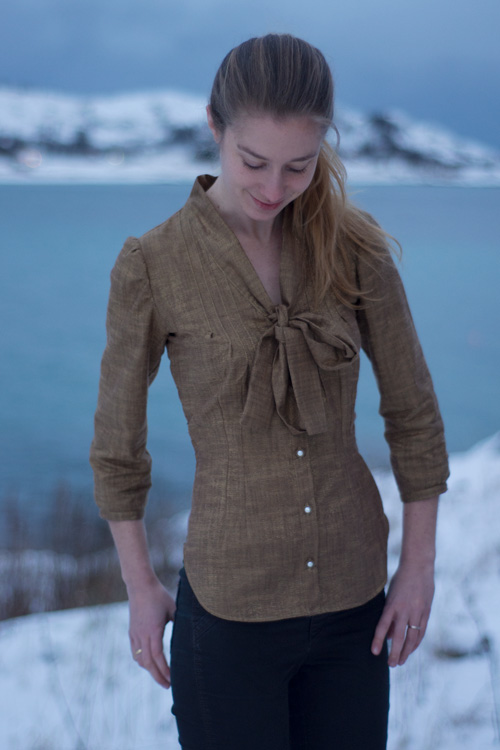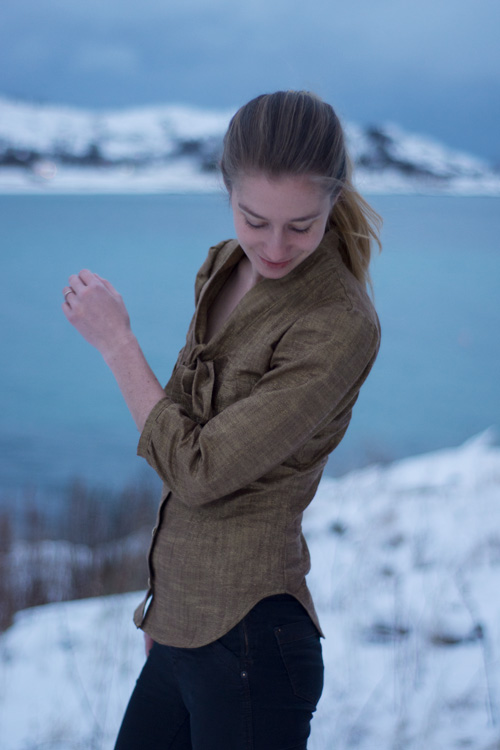 Although I'm sure that I'll wear this blouse a lot, I also think that I should have chosen to make a B-cup with darts instead of an A-cup, since the blouse is slightly wrinkled between my bust and arms. It's really a little more obvious in real life than on these photos, since I selfishly chose those pics where you can't see this flaw too well.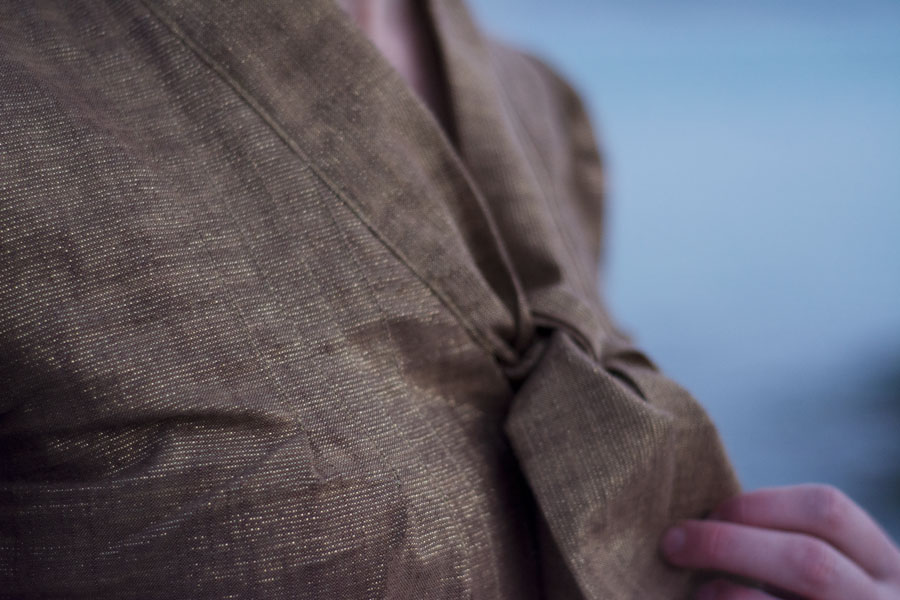 My husband thinks the blouse makes me look like straight out of Downton Abbey – and that has to be a compliment, right? I like the tie on the blouse, but having one or two blouses with big ties in my closet might be enough. That's why I'm so happy about the fact that Kennis has a tutorial on her blog, showing you how to remove the tie, making this a great shaped simple v-neck blouse. I really really have to make one of those. And there are tutorials for adding a drawstring to the waist, making the blouse sleeveless or adding petal sleeves, too!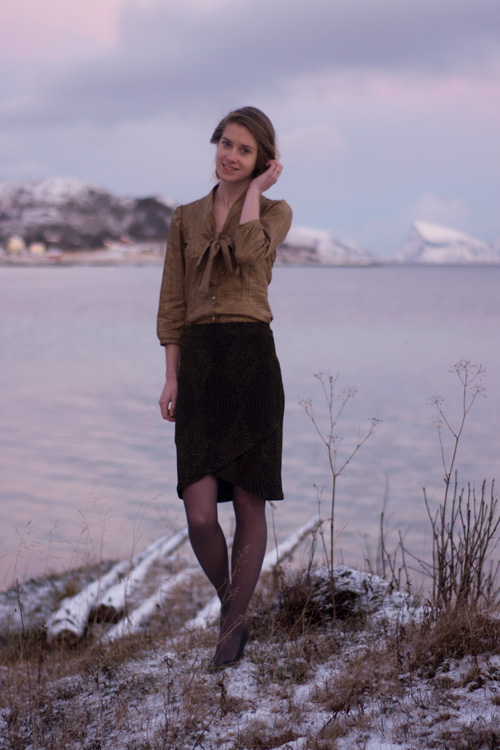 If you haven't followed along the tour until now, you really have to take a look at the other makes – you won't regret it, I promise! And you can get all Itch to Stitch patterns at 16% off until December 12th, 11.59 pm CST, using the code "holiday 16". And in case you need som Style Maker Fabrics in your life after following along this blog tour: Style Maker Fabrics is offering shipping for 5 USD in the US and discounted international shipping, too. What are you waiting for?? I, on the other hand, need a little break now, after completing my fifth blog tour in 11 days! Pewww!
And don't forget to check out the other bloggers participating in this blog tour – their makes are amazing, I promise!
ITCH TO STITCH HOLIDAY BLOG TOUR 2016
DECEMBER 6th
FA SEW LA | SWEET KM | SWEET RED POPPY
DECEMBER 7th
FAIRIES, BUBBLES & CO. | LACE & PINE DESIGNS | THREADBEAR GARMENTS
DECEMBER 8th
FRÖLEIN TILIA | NÄH-CONNECTION | PEAR BERRY LANE | SEW MARIEFLEUR
DECEMBER 9th
COOKIN' & CRAFTIN' | DANDELION DRIFT | THE SARA PROJECT | THE WILD STITCH
DECEMBER 10th
JUST ADD FABRIC | SEW CHARLESTON | STYLE MAKER FABRICS | SUNFLOWER SEAMS
– This blog post contains affiliate links to Itch to Stitch. However, all opinions are, as always, my own. The blog post is linked to the German blogger party RUMS. –