Many of you who are active in the sewing blogger community might know Audrey from Skirt Fixation. Audrey has recently started her own pattern company, Savvy Patterns, and designed her first pattern. I don't have to tell you that it's a skirt, right?
The Runway skirt is a knit skirt, simple looking from the front, but several godets at the back, making it a real runway skirt. The long skirt has seven godets, the midi skirt and the knee-length skirt have five godets. It comes in a number of lengths, making it everything from a knee-length skirt to a full length skirt, where the godets swish beautifully over the floor when walking. Or over the beach, in my case, since I chose a pretty beachy runway.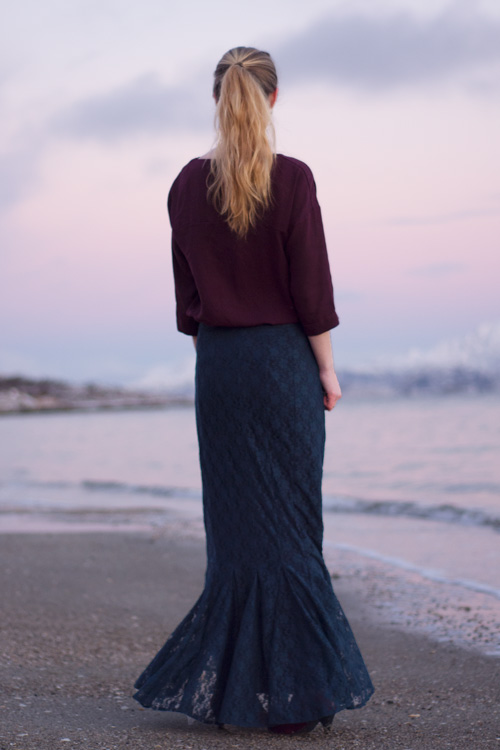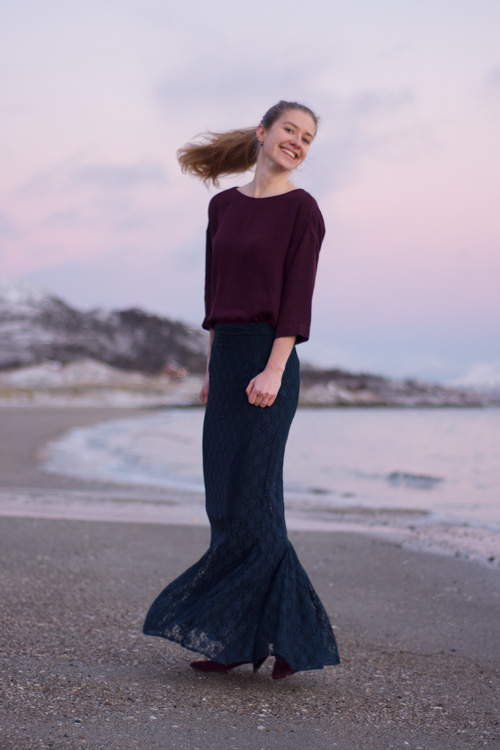 The skirt comes in a huge number of sizes, too, making it an option for most of you out there. To put it like this: I'm used to making the smallest size, but this time I did not just go up one size, but two sizes! And that's pretty unique.
The process of making this skirt has been quite a revelation for me. Not because the I learned new techniques or because I have never seen a skirt with godets, but because it showed me how far you can stretch your imagination and make a pattern really your own: When I saw the pattern for the first time, the godets in the back intrigued me. But none of the Runway Skirts I saw out there was really me. That made me think that I might not like the design after all? But I kept thinking and an idea came to life in the back of my head. I wanted airy godets, nothing stiff, no godets that are sticking out. I wanted this skirt to be romantic, with lots of movement. So I began thinking of a long lace navy coloured lace skirt.
I ended up making a regular Runway Skirt out of stretch lace from Stoff og Stil, although I had to make the godets a little slimmer, since I *might* not have ordered enough fabric. Whoops! The skirt could have been 1/2″ longer, but again – I *might* have ordered not enough fabric! Since my lace is see-through I had to make a lining, too. I chose thin and stretchy viscose jersey, also from Stoff og Stil. But instead of cutting all the panels at the back separately, I just cut the back in one piece, flaring the lining slightly out at the sides to make me able to walk in the skirt, even without godets. I also added some darts at the back to make up for the missing panels, which are shaped slightly curvy.
I attached the lining to the main fabric at the waistband, which works perfectly. I cut the lining about 1″ shorter than the lace and didn't bother to hem it. Partly because it doesn't show anyway, partly because I didn't want extra bulk, but wanted to keep the swishiness of the skirt, partly because hemming a thin and stretchy knit like this is horrible, and partly because I just didn't have the time. I actually took a few hours off from work to be able to finish this in time! I really have to get my priorities straight in the future… Five blog tours in two weeks and a blogversary is just too much! But that just on a side note from little Miss "I can't say no to anything"….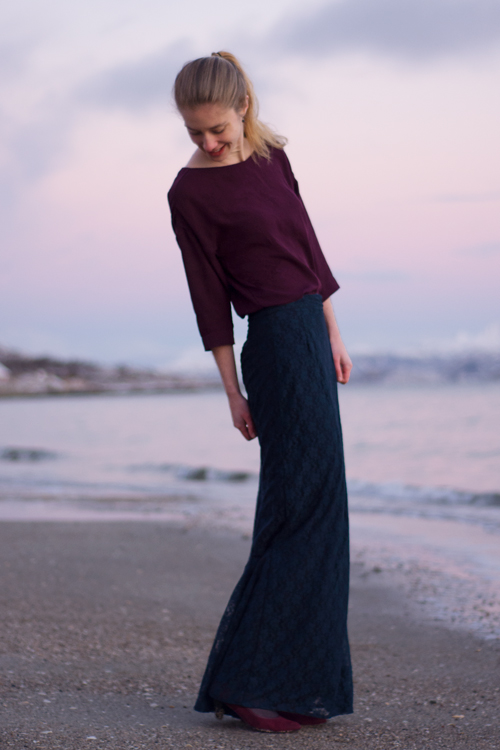 Back to the Runway skirt: It proved that my stretch lace hasn't got enough stretch to work without a zipper, I can barely fit it over my hips! So I seriously have to fix that… Because: I LOVE THIS SKIRT! And that's why I learned so much while making it: You can really make a pattern your own and make it perfect for you. I love walking in it, I love the movement, I love how romantic it feels, I love the shape. Who would have thought this would be the result?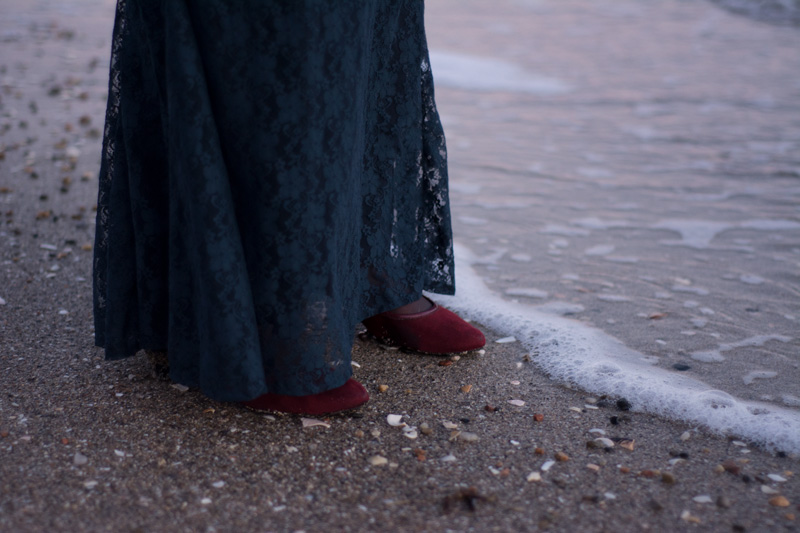 And to be honest, these might be one of my favourite blog pics ever, too! We visited my former host parents (long story short: I was an AFS Exchange student in Norway when I was 16) in Botnhamn on the island of Senja and took the pics on a long beach close to their house. The beach was the perfect runway, the light was perfect, there was no wind and I felt amazing wearing my skirt. The only thing that wasn't perfect was that I was seriously freezing to death. I walked through deep snow in my heels to get here! We even made a little video to show you how the skirt moves:
Don't forget to have a look at the other Runway Skirts that have been made for this blog tour, you can find the links in the graphic below. And there are more good news: The Runway Skirt is on sale, you can save 20% during this blog tour! And, even more good news: There's a giveaway! You can win a copy of the Runway Skirt and a 25 USD gift card from Urban Sew – you can participate using the Rafflecopter below.
12-5 Friends Stitched Together & Very Blissful Blog

12-6 Call Ajaire & Sew Mariefleur

12-7 Rebel And Malice & Inspinration & Shaffer Sisters

12-8 Paisley Roots & Feather Flights & Skirt Fixation

12-9 Enantiomerproject & My Sweet Sunshine & Sew Haute Blog