I'm sure it hasn't escaped your attention that I've been sewing quite a number of design samples for Hello Heidi Fabrics recently. In case you should wonder why: The two "Heidis" are two of my dearest sewing friends and I love to support them and. More importantly, however,  they have an exquisite taste for fabric and I basically love everything in their store. So sewing design samples for Hello Heidi is pretty much a win-win situation.
I've been sewing a lot with fabrics from Lady McElroy (the Phoenix Blouse, the Suki Kimono, the Emery Dress and the Florence Dress, I also have several other fabrics in my stash). You can imagine my delight when Hello Heidi considered selling some of the Lady McElroy fabrics in their store. And my delight was even bigger when I was offered to sew a design sample using this pretty blue lawn with flying swans. You can check out all the Lady McElroy fabrics over here – they are 11% off this week only!
I wasn't quite sure what to sew with it and thought about several different blouses. In the end Bettina from Stahlarbeit, one of the Heidis, sent me the link to the Henrietta Maria Top and Dress by Scroop Patterns. I had never seen the Henrietta Maria, nor had I heard of Scroop Patterns. But I was immediately sold. I've never seen a pattern like this and I always love trying something completely new.
The Henrietta Maria is a wide raglan top or dress with a many many, pleats at the neckline and the 3/4 sleeves. Exactly 74 pleats, to be exact. 44 at the neckline and 15 at each sleeve. The top comes with the option of sewing a straight hem, or a slightly rounded and longer hem at the back. I chose the second option.
I decided to lengthen the bodice of the Henrietta Maria by 3 cm or so – I can't remember exactly right now. But it's pretty standard for me to lengthen a top by 2 to 5 cm, so nothing out of the ordinary here. I was in between two sizes and decided to size down because of all the ease. The neckline is rather wide and I was afraid of the top falling off my shoulders if I sized up. It was the right decision, since I don't feel that the blouse turned out too small. And it doesn't fall off my shoulders, either!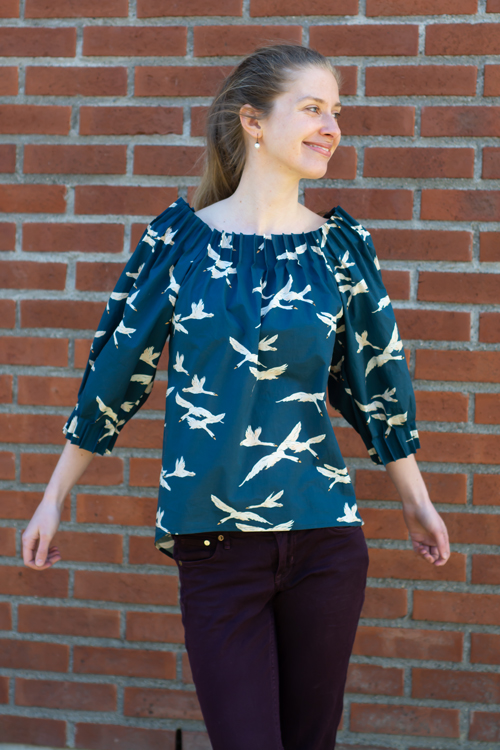 The pattern is designed for lightweight and flowy fabrics. The lawn I used is very soft, but rather crisp, too – just like real lawn fabrics tend to be. It worked nicely for the design, but I wouldn't use a fabric any stiffer than a lawn. I also think that sizing down was an especially good idea because of the fabric I used. It makes the top look a little more boxy than a silk or a slinky rayon, so I think sizing down is a good idea in this case.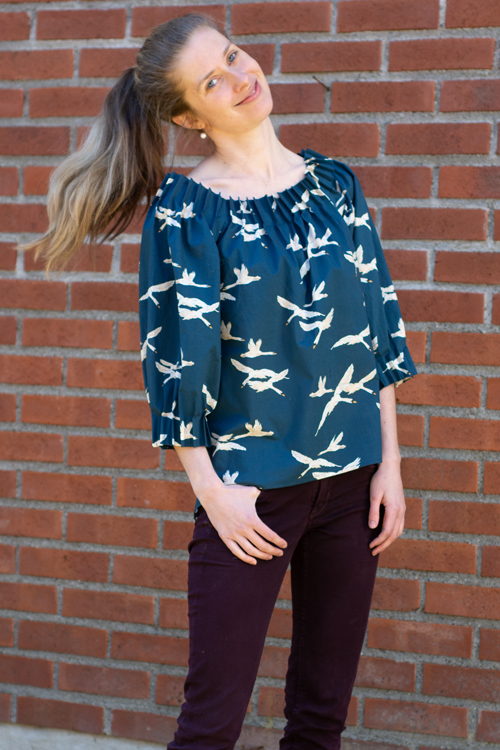 The Henrietta Maria is a very basic pattern, made special by all the pleats. Sewing the four main pieces together is done in no time – sewing the 74 pleats afterwards takes quite some time, to be honest. Even though, it wasn't as bad as it sounds. There are some good tips included in the pattern on how to sew the pleats without marking each and every one. First of all, the width of each pleat is the exact width of a regular presser foot. That makes it easy to sew the pleats without measuring. You can simply press the fabric at the middle of one pleat and sew 2″ down, making sure the fabric reaches exactly the edge of your presser feet. The instructions tell you to mark 2″ with washi tape or something similar – this way it's easy to see when you've sewn 2″/ 5 cm. After sewing one pleat, you can measure exactly 3.8 cm from the middle of the previously sewn pleat and you know where to press your fabric to be able to sew the next pleat. That makes the whole process rather easy.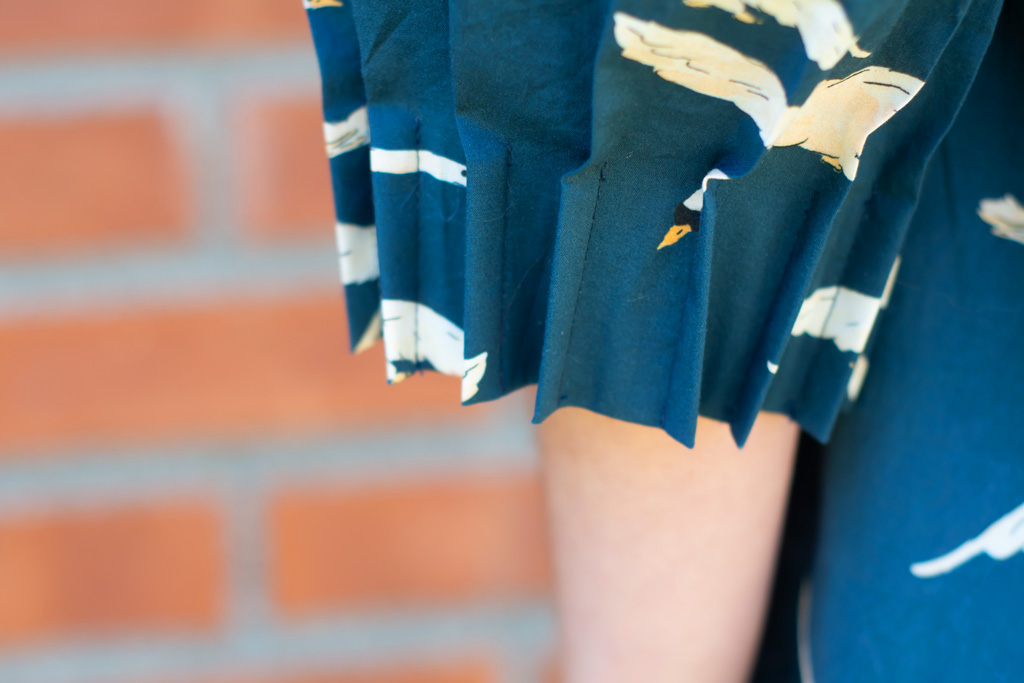 However, when I sewed my first few pleats I somehow ended up too close to the shoulder seam with my last pleat. I think that's because you lose a tiny bit of fabric in each fold, and there might be a little inaccuracy when cutting the fabric, too. So, what I did afterwards was measuring 3.8 cm from the first pleat in the middle towards the sides for all pleats before starting to sew. That way I could check whether the last pleat would end up where it was supposed to be. However, I didn't press those pleats beforehand. I sewed one pleat, re-measured the next pleat to make sure it was accurate, pressed the next pleat, sewed that one and so on. That meant a lot of forth and back between the sewing machine and my iron, but it was worth it. (I've never written the word "pleat" that often in a single blog post!!)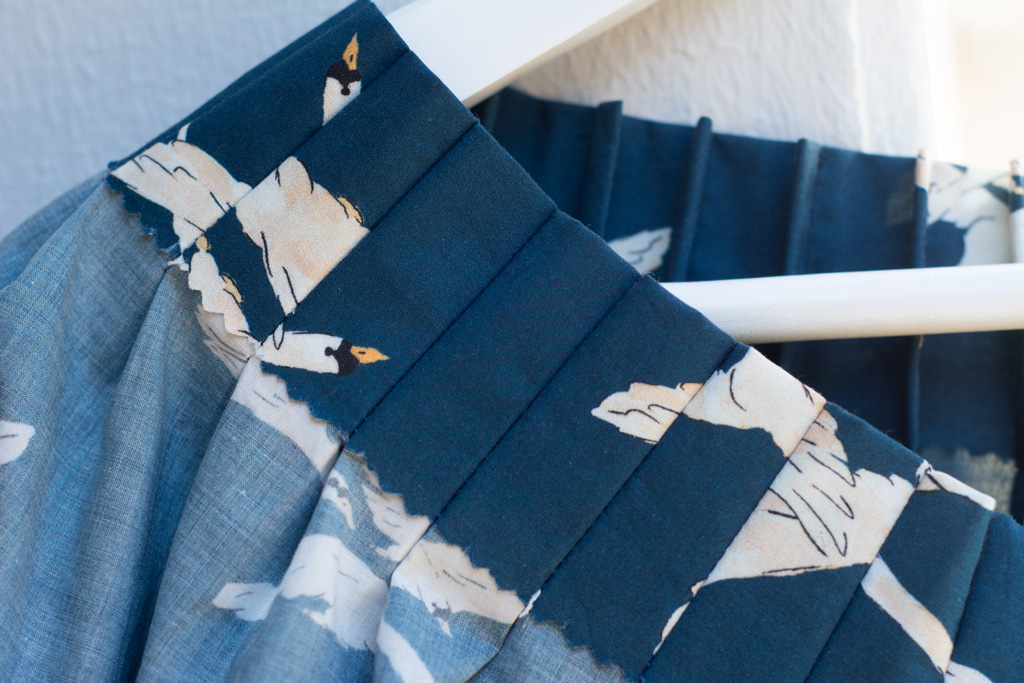 Since the fabric can't be hemmed at the neckline and the sleeves, the fabric is folded down 2″/5 cm before sewing the pleats. Usually I'm not a fan of solely using my pinking shears to finish the edge of my fabric, but in this case that's what I did for the edges where the fabric was pleated. I wanted minimal bulk, and I think all the pleats are going to keep the fabric from fraying. As usual for thin woven fabrics, I chose to do French Seams for the raglan seams and side seams, and a thin double folded hem.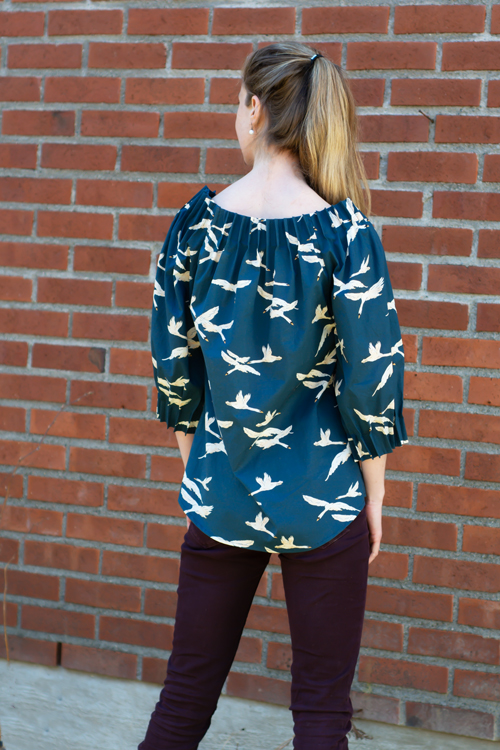 I have to say – I really, really like my blouse! I think it's a fun and different pattern, and this rich blue with the white swans was a good choice. I like the feeling that the blouse doesn't really "hang" from my shoulders, it more or less "sits" on top of me because of the pleats. It's hard to describe, but somehow the pleats make the whole neckline "stiffer" than a normal neckline would be. The pattern actually includes an instruction to add a bra strap guard, too – a little strap with a button on the inside of the top, meant to be fastened around your bra strap. I didn't add it, since I didn't feel I needed it, but I really like the idea of being able to make sure that this wide neckline keeps in place without showing the straps of your bra.
Make sure to check out the other Lady McElroy fabrics available at Hello Heidi, and follow their instagram or facebook accounts to see the other Lady Mc Elroy makes that will be blogged during this week. And a big thank you for the fabric, dear Heidis!
– The fabric was provided to me for free in exchange for a design sample. However, all opinions are, as always, my own. –