A couple of years ago I made a Biscayne blouse and ever since I've wanted to make another one. Somehow I ended up not wearing the first very often – I wonder if it's the combination of pin stripe fabric and welt pocket that makes the blouse a little too, well, serious?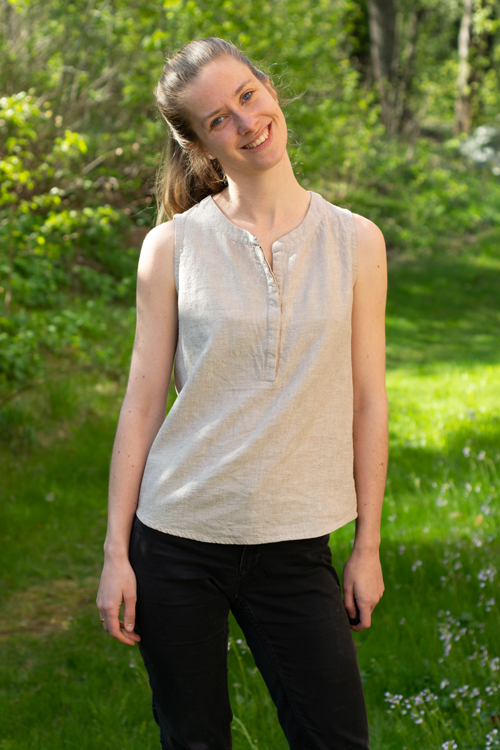 Anyway – the lovely Hello Heidi ladies needed a sample made of the wonderful viscose linen fabric they sell and it didn't take me long to decide that it was finally time to make another Biscayne. It's such a beautiful pattern, perfect for summer – and the fabric I wanted to use seemed to be a great match.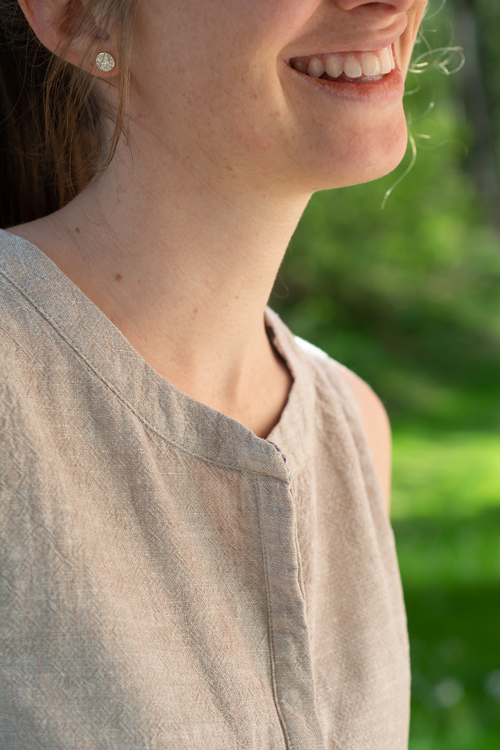 Hello Heidi fabrics have a whole bunch of linen fabrics right now (and they're 20% off this week!) – perfect for the upcoming summer. Linen is one of the oldest fabrics in the world and feels great against your skin on warm days. There are currently two different kind of linen fabrics in the shop: 100% linen from Birch Fabrics and a linen viscose mix (55% linen and 45% viscose). Mixing linen with viscose/rayon gives you the best of two worlds: You have the nice qualities of linen, but the added viscose makes the fabric less prone to wrinkles and adds a little more drape to the fabric.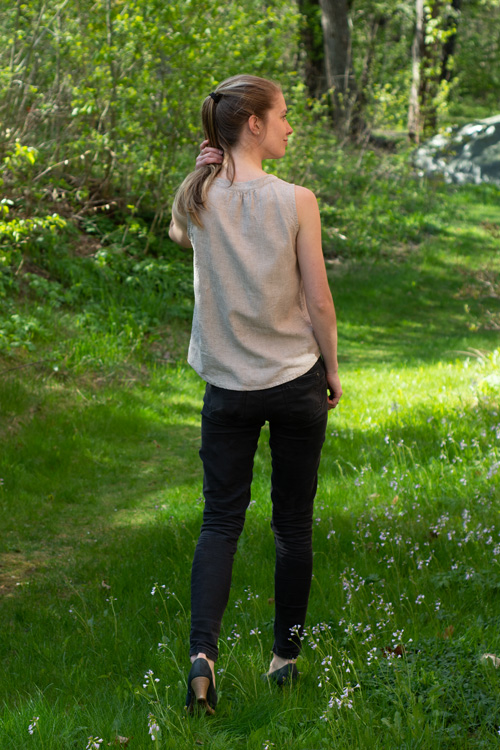 This specific linen from Robert Kaufman has been dyed before the fabric was woven. That way you get a chambray look and beautifully subtle colours, wonderful for summer. When choosing a colour from the fabrics available I went for the colourway "flax" – in other words a true natural linen colour. I don't think the chambray effect is as visible on this fabric compared with other available colours, but I like the natural look of fabric looks, like a true historic linen fabric.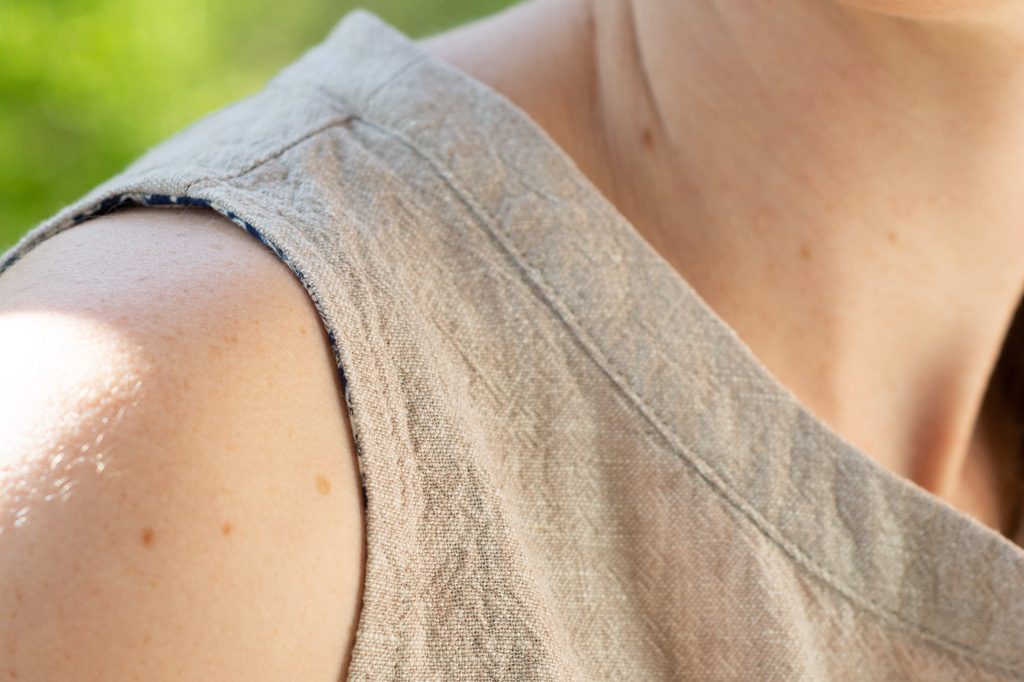 The Biscayne Blouse is a top with a hidden button placket, a shaped neckline and slight gathers at the front and back. It comes with an optional welt or patch pocket, which I both skipped for this version. The Biscayne isn't a very complicated sew, but the placket and the welt pocket can be a little daunting if you haven't sewn a few of those. Luckily there's a thorough sew-along on the Hey June blog.
The arm holes of the Biscayne are finished with bias tape and the neckband has a facing. To add a secret pop of colour I decided to use some blue lawn scraps I had left for the bias binding and the facing. The linen has a beautiful striped selvedge, so I decided to incorporate it on the inside of the button placket.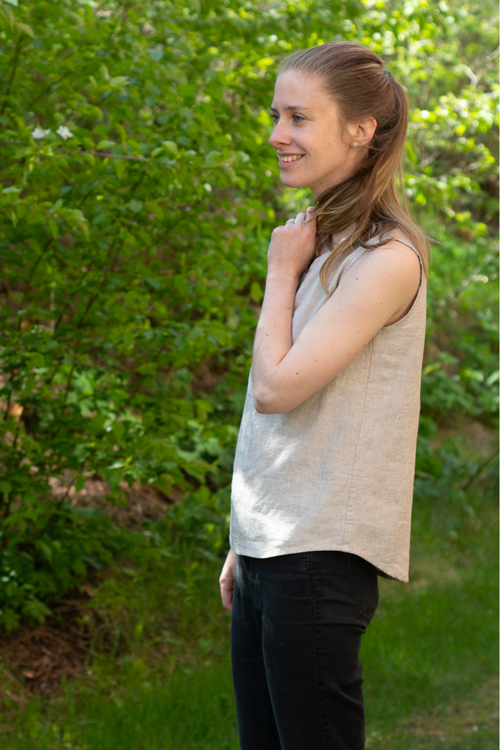 I'm very happy with how the blouse turned out! The linen feels nice against the skin and I think Robert Kaufman found a nice balance between keeping the slightly rough and slubby texture of linen and adding enough viscose to help the linen drape nicely.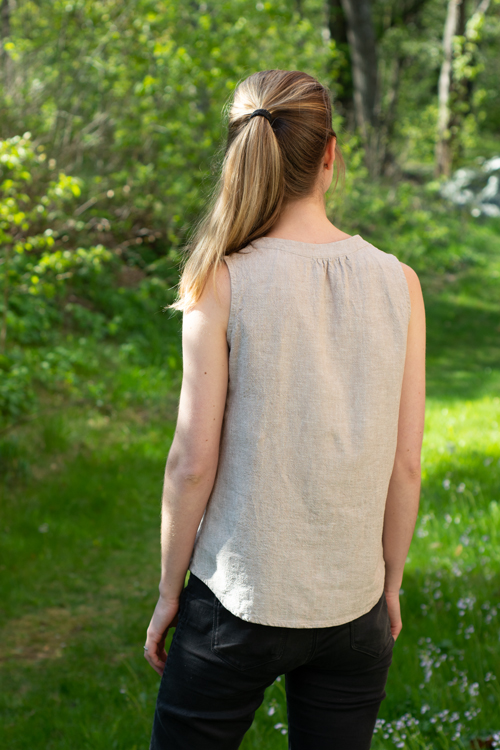 I'll keep it short and sweet this week – our little one is turning one tomorrow (how can it be that a whole year has passed already??) and we have visitors, so there's a lot to keep up with. But make sure to check out the Hello Heidi Instagram or Facebook account to see other beautiful samples sewn from this fabric, and make sure to buy some linen (if you want some in your life!) while they're on sale.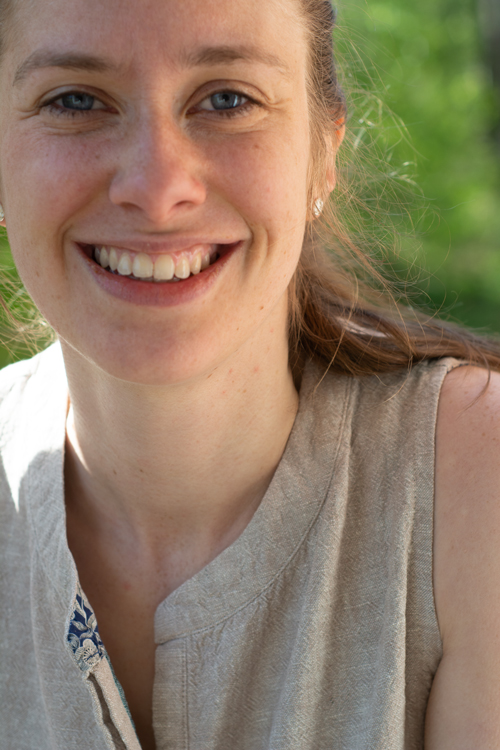 – I received the fabric for this blog post for free. However, all opinions are, as always, my own. –