Today I'm sharing with you a project with you that has been in the making for a long time: A Yasmeen Skirt by Just Patterns, made of "Claire", the new viscose twill by Hello Heidi Fabrics. I wanted to sew a Yasmeen Skirt for the longest time, and when Claire by Hello Heidi Fabrics came along I knew they'd be perfect together. I thought of sewing a blouse or a dress using Claire, but ended up with a vision of a long blue skirt, paired with a wool sweater in the snowy Norwegian winter landscape. The Yasmeen Skirt was the perfect pattern to make this vision come true!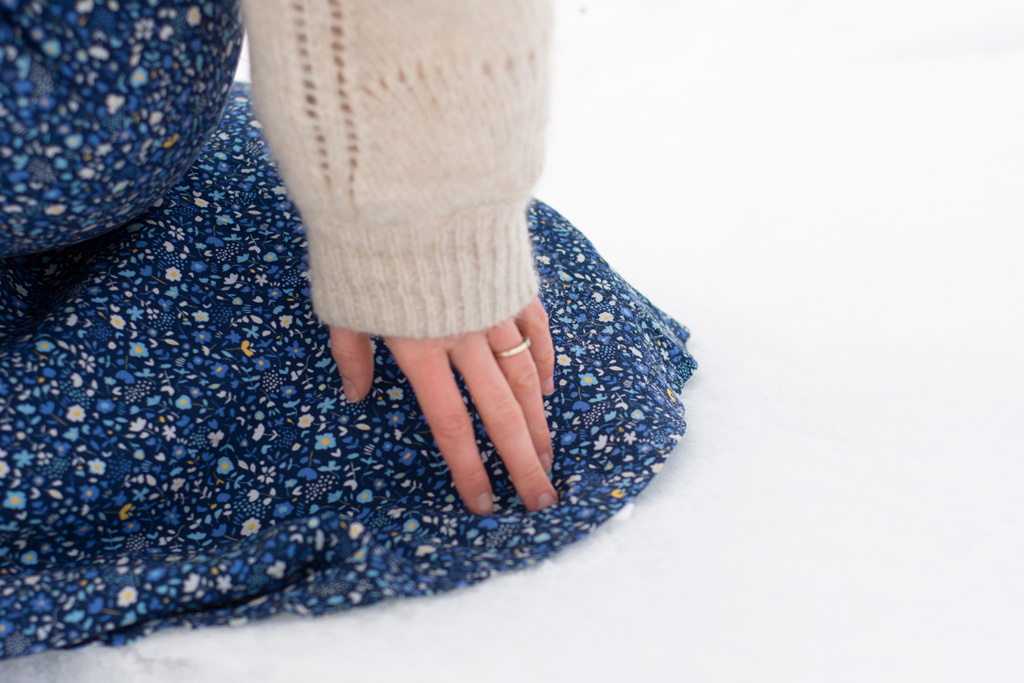 Claire is a beautiful fabric, originally available in three colourways – blue, rust and burgundy (sold out). I'm late with this blog post, so if you'd like to get your hand on this fabric, you need to hurry up! It's drapey, like most viscose fabrics, but not too light and flimsy. The weight of the fabric and the twill weave gives the fabric a lovely heavy drape, perfect for blouses, dresses and skirts. It's a little hard to cut the fabric correctly (I'm glad I didn't sew a blouse with collar, cuffs and the like!), but it's rather easy to sew with.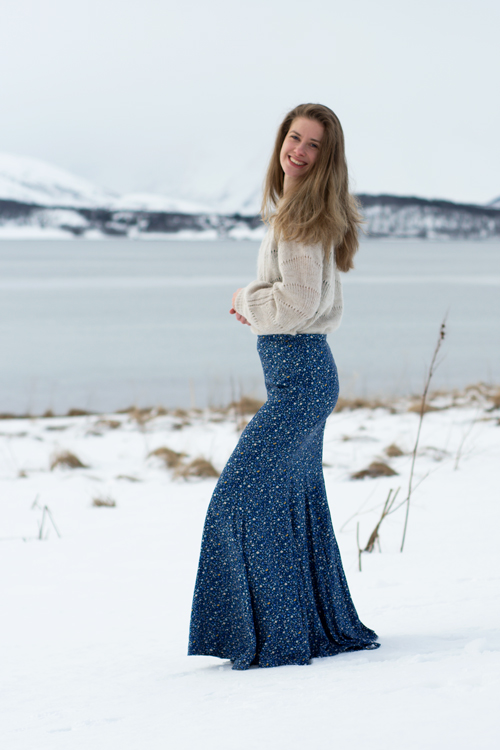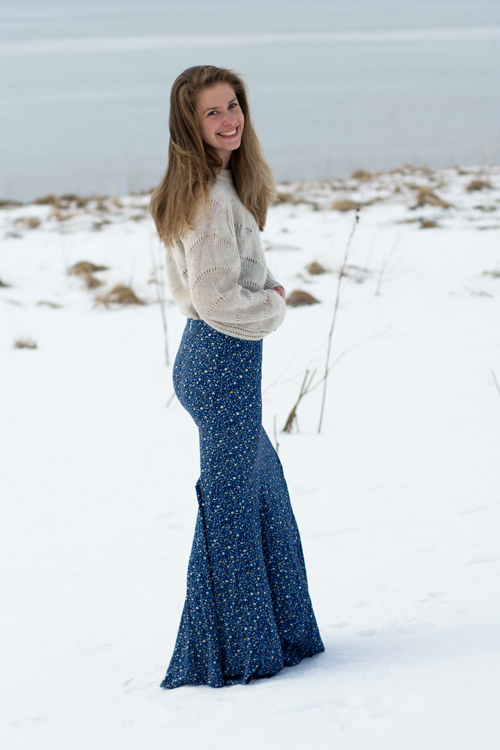 The Yasmeen Skirt is a panelled skirt, fitted at the top and wide from the knee and below. It requires a lot of fabric! I needed 3,7 metres of fabric for my skirt, mainly because of how wide the hem of all seven panel pieces is. I was able to turn some of the pieces upside down to use my fabric more efficiently – otherwise I would have needed one more skirt length of fabric.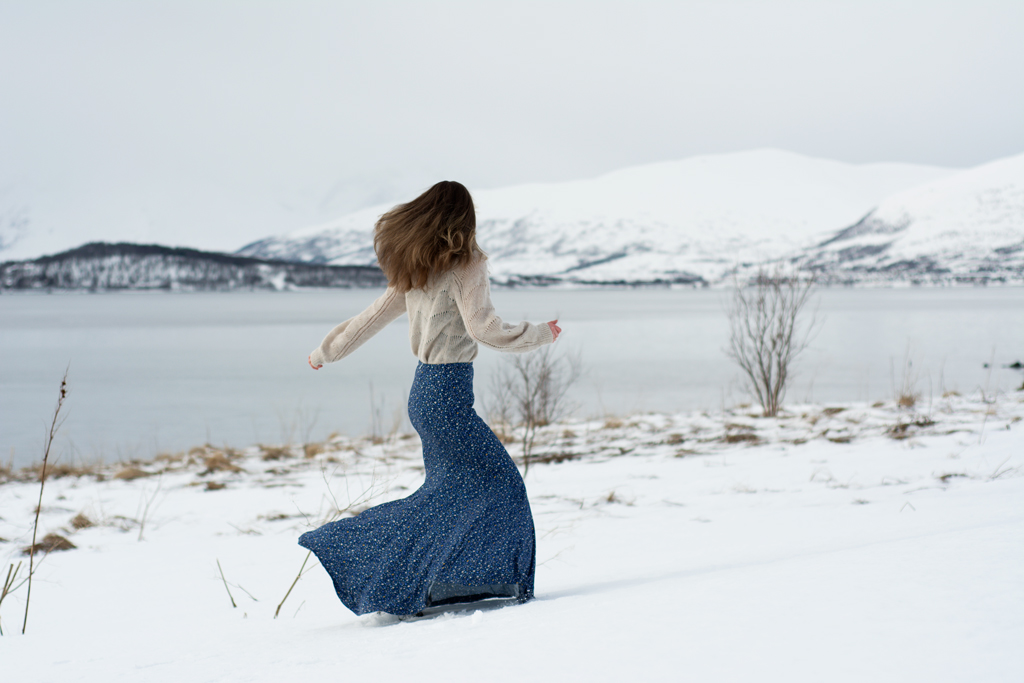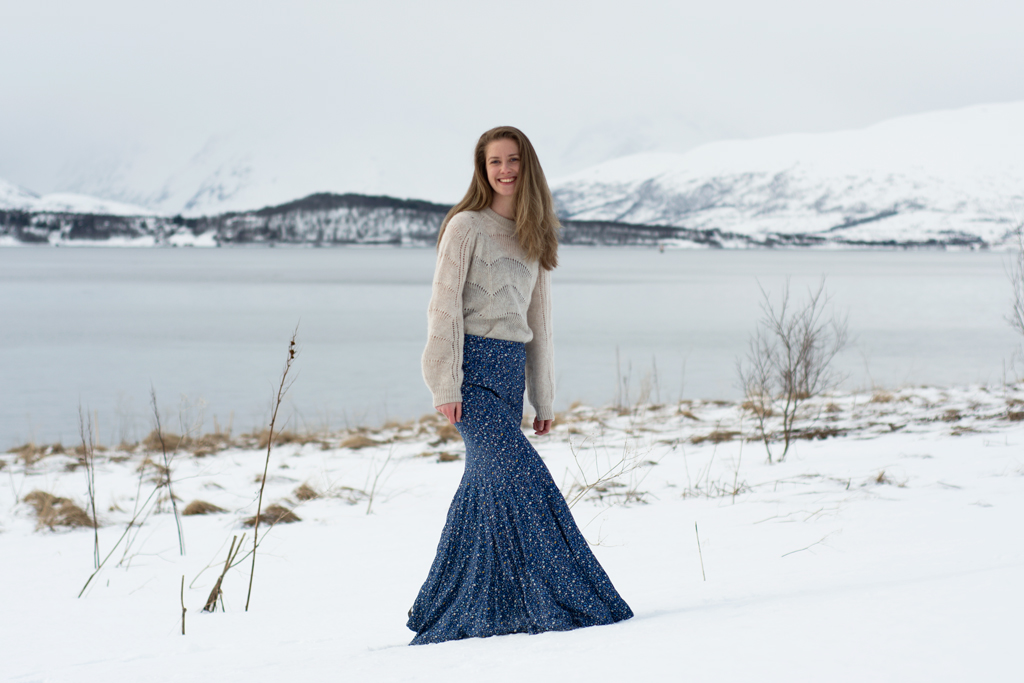 I sewed a size 36, even though my waist measurements are a little bigger than size 36, and my hip measurement a little smaller. The pattern comes with 1.3 cm/ 1/2″ seam allowance included, and consists, as mentioned previously, of seven panels. That gives you plenty of possibilities to alter the pattern a bit as you go. I sewed the skirt with a slightly smaller seam allowance at the waist, and took the skirt in quite a bit along the hip to make it fit properly. I chose to finish all seams but the middle back seam with French Seams for a clean finish.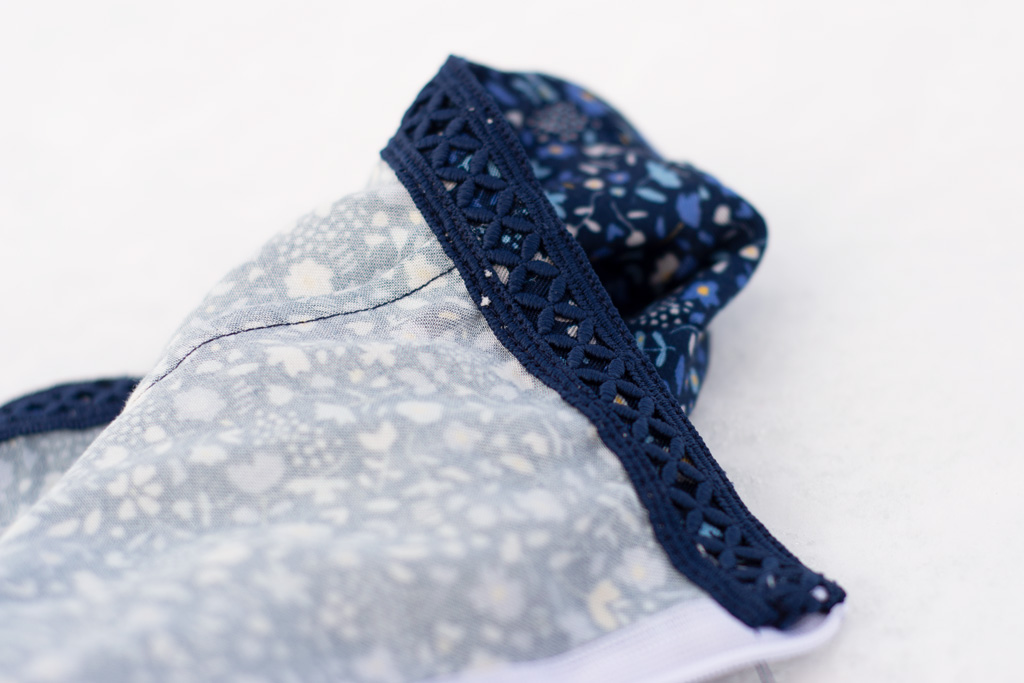 The Yasmeen is designed quite minimalistic, with some lovely curved panel lines along the hips and a very clean look otherwise. It is, among other things, designed without a waistband – the waist is simply finished with a grosgrain ribbon on the inside, which is stitched with a blind stitch to the outer skirt. Since I used a rather thin fabric, I decided to look for a slightly thicker and stable ribbon in my stash. I found this blue "eyelet trim", and I loved the look of it together with the floral Claire fabric. No-one will ever see this trim, but it's one of those little hidden extras that just make you happy, because you know they are there.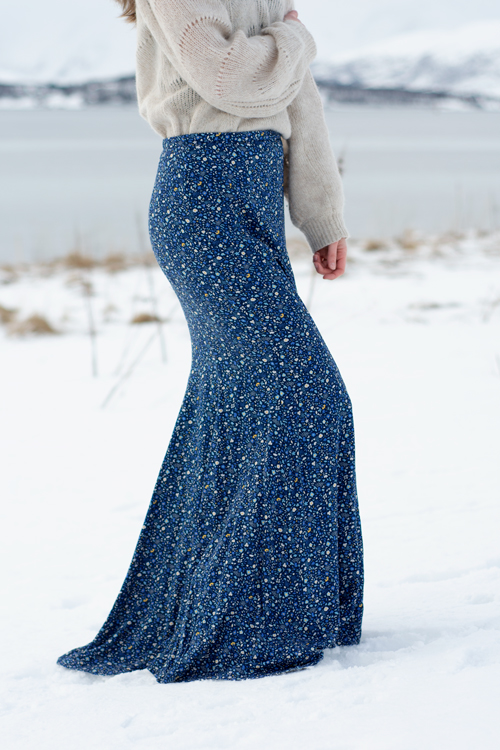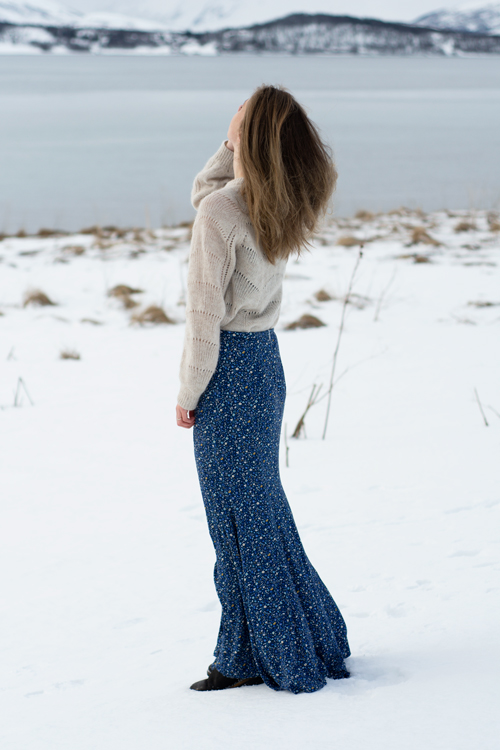 The instructions for the Yasmeen Skirt are extremely short – just a few short sentences about the order in which you are supposed to assemble the pieces. In other words: Just Patterns is – as the companies name states –  catering the needs of experienced sewists, who don't need detailed instructions. There's a resource page for the Yasmeen Skirt on the Just Patterns blog, linking to some useful tutorials showing how to add an invisible zipper and so on.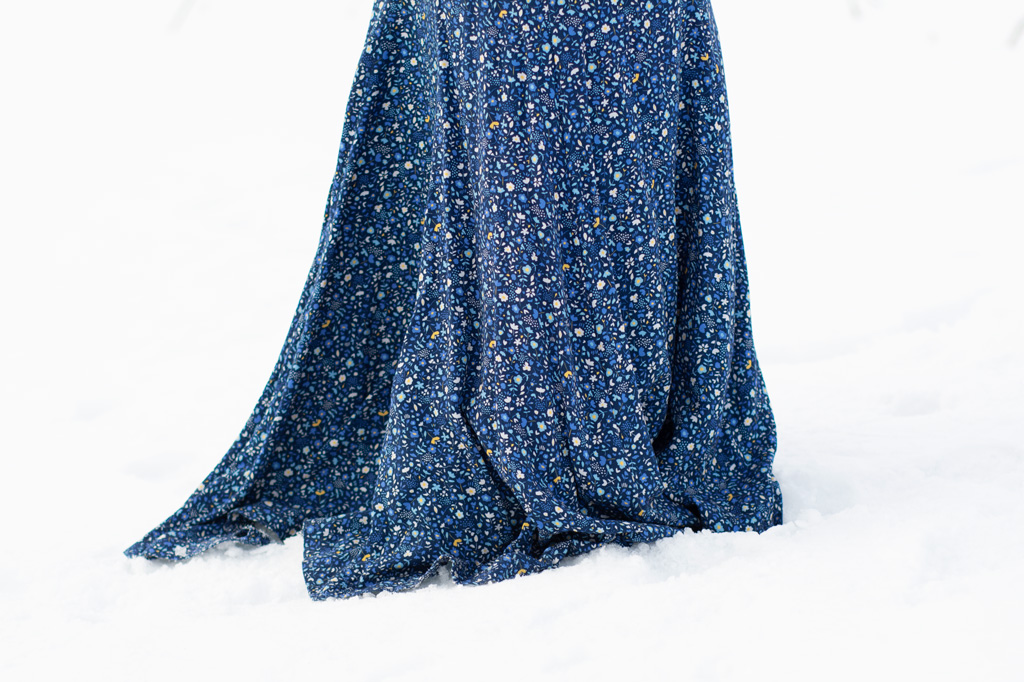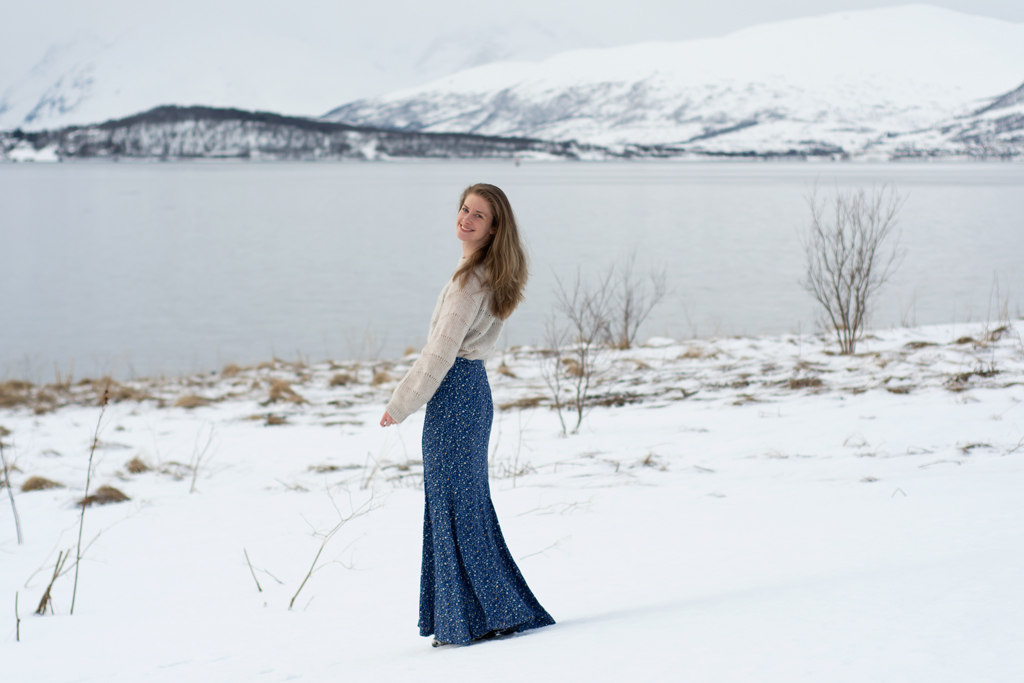 We had a lot of snow this winter, and it just keeps snowing. April is often a month where it melts more than it snows, but so far this year, the pile of snow has only been growing. But since I needed snow for my photo shoot vision for this make, I am rather happy with it! And for the first time, our son was playing happily by himself in the snow while we were taking pictures. That's a huge milestone for a sewing blogger! 😉 Maybe he will even start playing by himself inside and let me sew a bit? Who knows!
– The fabric was partly given to me by Hello Heidi Fabrics. However, all opinions are, as always, my own. –