It's always exciting when one of my friends ventures into making their sewing hobby into more – Leslie from Threadbear Garments started making patterns, Bettina from Stahlarbeit and Barbara from Walliba started an online fabric store, and now Eveline from Frölein Tilia is starting Tilia Patterns. I've been so excited for all of them and happy to support them, while being happy about keeping sewing as my hobby.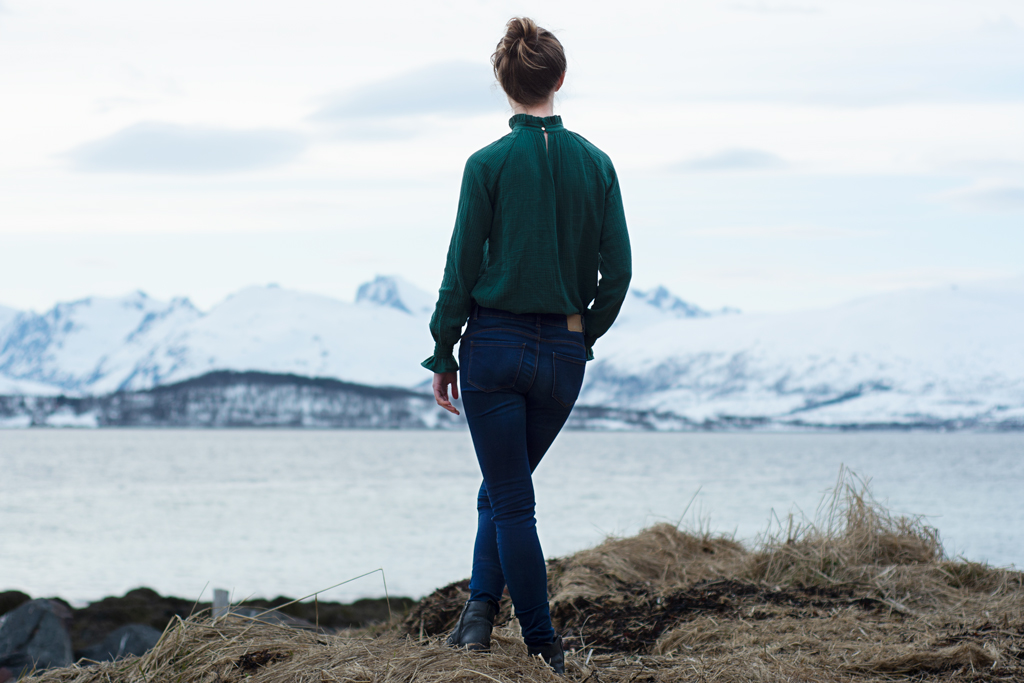 Today, Eveline launches her first pattern with Tilia Patterns – the Curcuma Blouse and Dress. The blouse perfectly combines Eveline's style: It's chic, it's a little French, it's romantic and it has a modern and urban twist to it. In other words: I will probably like all of Eveline's future patterns.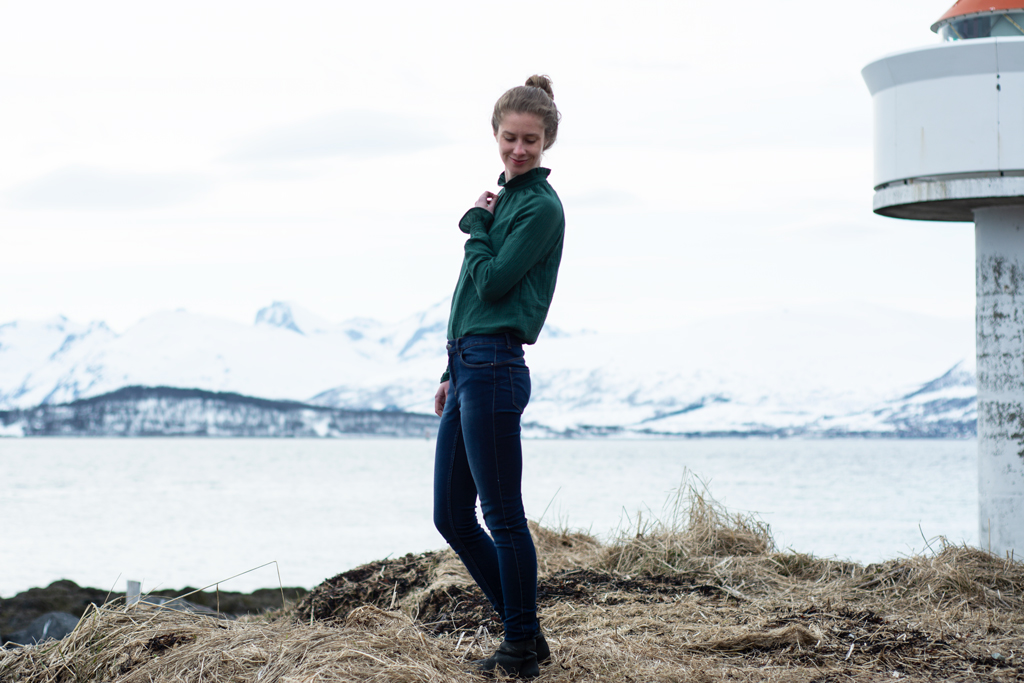 Curcuma is a wide raglan blouse with a ruffled collar, a slightly gathered neckline and shirred sleeves. The dress has a wide ruffle at the hem, too. The blouse has a slit back and is closed with a button.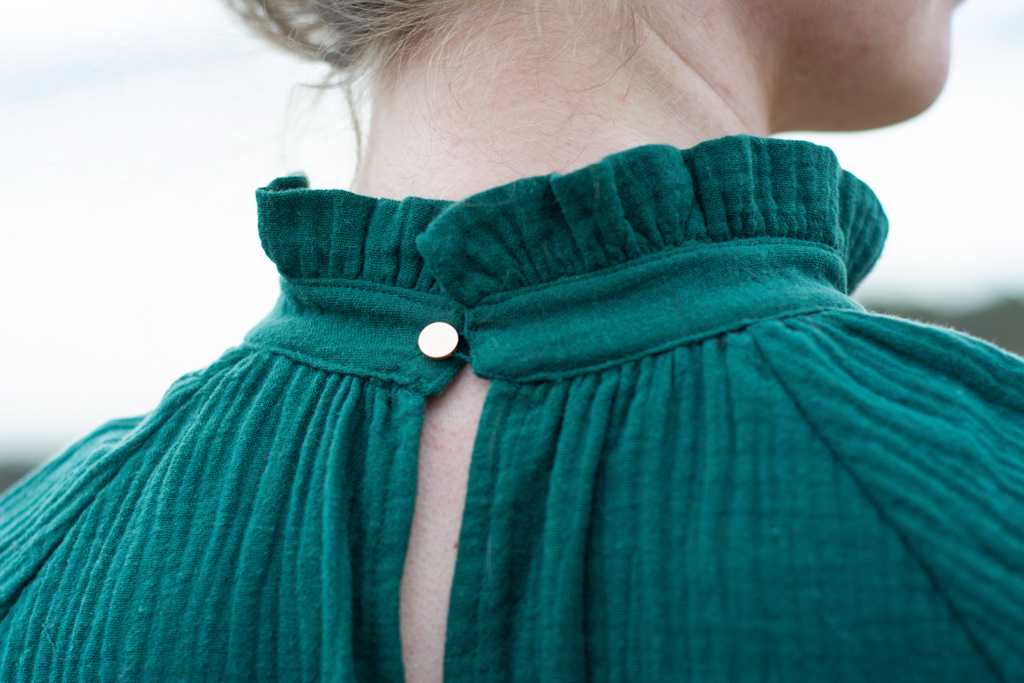 I chose to make my blouse using a lovely dark green double gauze from my local fabric store, Stofflykke. I really like the result, even though a few steps proved a little more difficult when sewing with double gauze. The blouse is designed for a B-cup and doesn't include darts, but Eveline has included a thorough explanation about how to make an FBA (Full Bust Adjustment) and adding darts for those of us who are a bit more busty.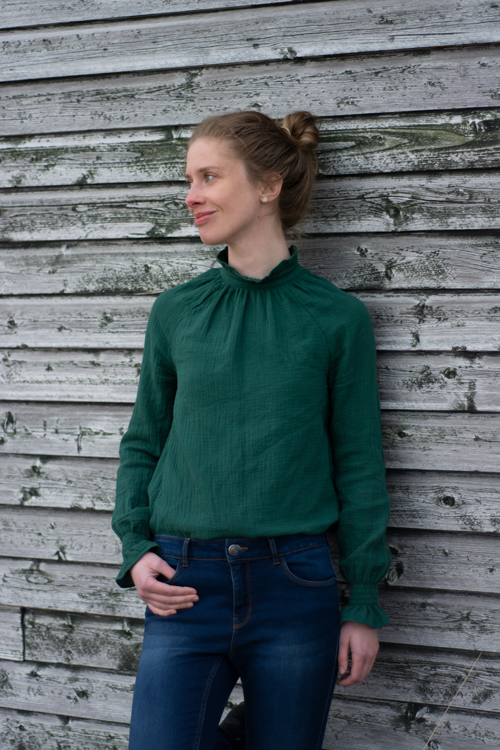 I didn't make any pattern changes to my blouse, other than lengthening it about 4-5 cm/2″. The only other small changes I made while sewing were to sew the back slit in a slightly different manner, since my double gauze fabric was too thick to sew the slit as shown in the instructions. The other change I made was not sewing the loop for the button out of fabric. The reason was again that my gauze fabric was too thick and "fluffy" to make it work. Instead, I opted to sew a little cord using thread.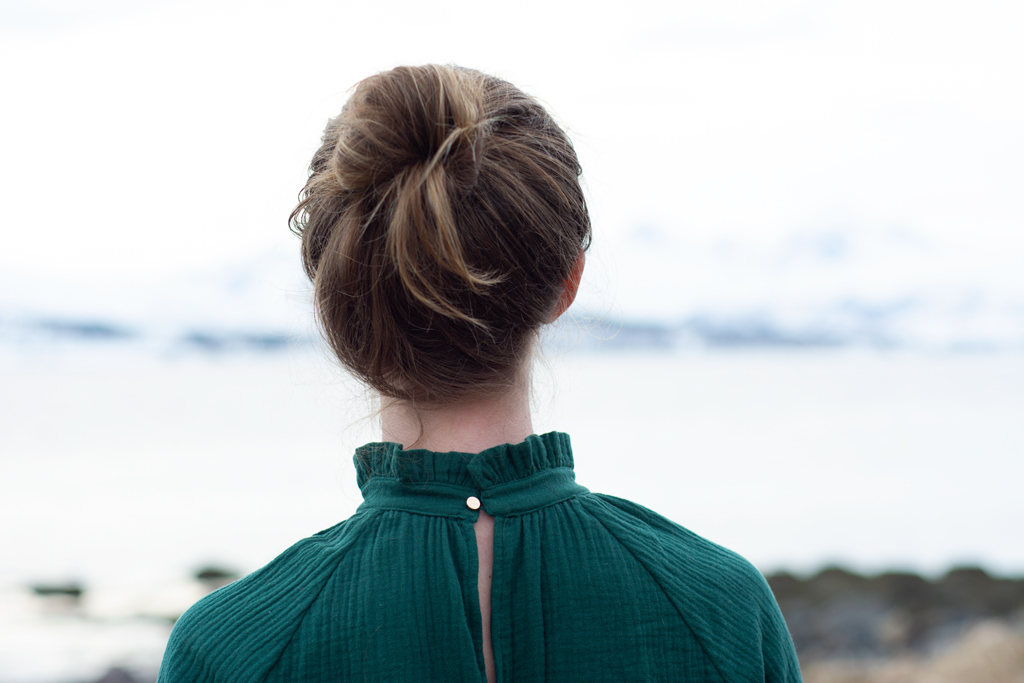 I can't remember where I saw this technique for the first time, but it's really easy and I like using it: You simply take a few strings of your sewing thread and place them side by side under your sewing machine foot. Make sure to hold them at both the beginning and the end. Then, sew a short zigzag stitch to the left and right of the threads. This way you end up with a thin cord. You can make it a little thicker, if you like, by sewing a second and third time over the cord, always using a zigzag stitch.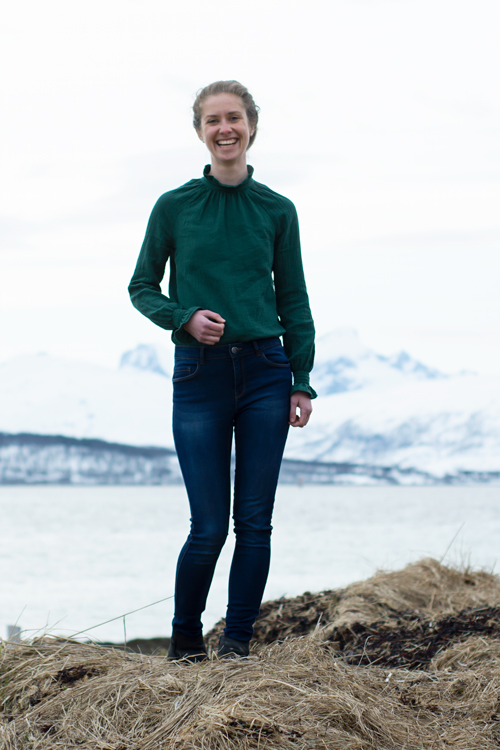 It has been ages since I last shirred fabric, but it went surprisingly well! I needed to make sure that the elastic thread was threaded correctly in the bobbin thread "thing" – it wouldn't glide into place as easily as a normal sewing thread. But after that it was really easy! I made the mistake of underestimating how well I needed to secure the elastic threads when I was done sewing. That way some of the elastic threads came loose while I was wearing the blouse for the first time and I had to re-do part of the shirring. Here are some tips to avoid this:
Be really careful with securing the elastic threads, especially if your fabric is as loosely woven as my gauze.
Tie a knot at the beginning and end of each shirring row.
If you're using a serger to sew your sleeves together: Try NOT to cut off those knots!
Secure your elastic threads by sewing over them several times with a small straight stitch or a small zigzag stitch within the seam allowance.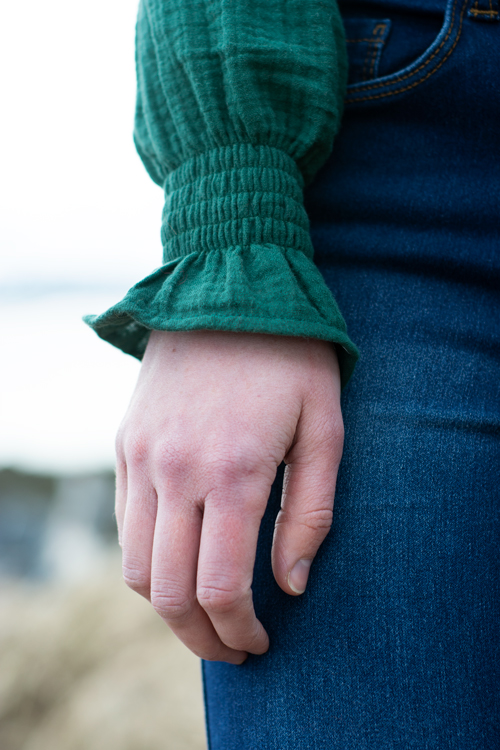 I've been wearing my blouse several times now and the shirring stayed as it is supposed to look – so I think re-doing the shirring and being extra careful helped!
Thank you so much for reading my post, and make sure to head over to Tilia Patterns in case you would like to have a copy of the Curcuma Blouse and Dress! The pattern comes in both German and English, and it's available at a 20% discount for a little while.