A couple of weeks ago I started to think about wanting to make a floor-length maternity dress and to take some pretty pics of my baby bump before it's gone. My husband and I haven't planned a professional maternity photo shoot, and he doesn't like to be photographed anyway – but I liked the idea of having a special dress and some special photos for looking back – and to look at – a couple of years from now. And as my mother always says: She can see it in my eyes that I'm very fond of the person behind the camera, so I'm sure the photos my husband takes are special in their own way.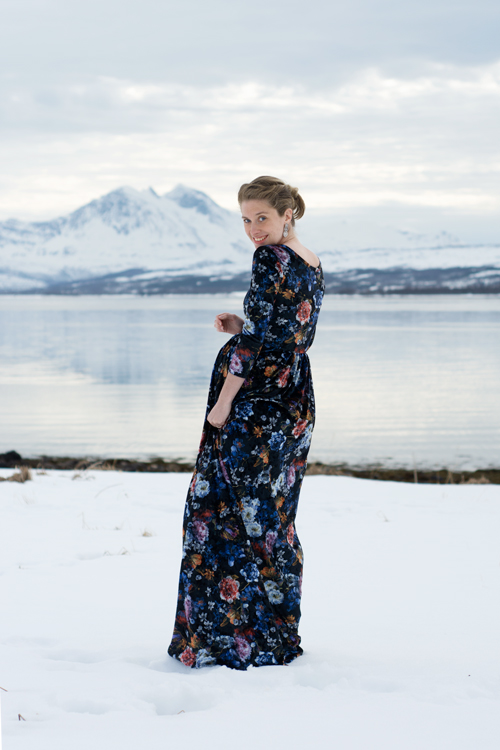 I started to search for the perfect fabric, but somehow everyday life and baby preparations came in the way and I never got around deciding on a fabric and ordering it. However, I did see a gorgeous velvet fabric from Harts Fabric on Instagram and ended up commenting that it would be the perfect fabric for a special maternity dress. And suddenly, out of the blue, there was a package for me at the local post office – filled with several yards of this gorgeous stretch velvet, looking like a baroque painting, together with the most adorable baby outfit and a wonderful card from the whole Harts team, telling me to go on and sew my dream maternity dress. Isn't that absolutely amazing? You might have watched my story about in on Instagram – in that case you have seen how incredibly touched and surprised I was.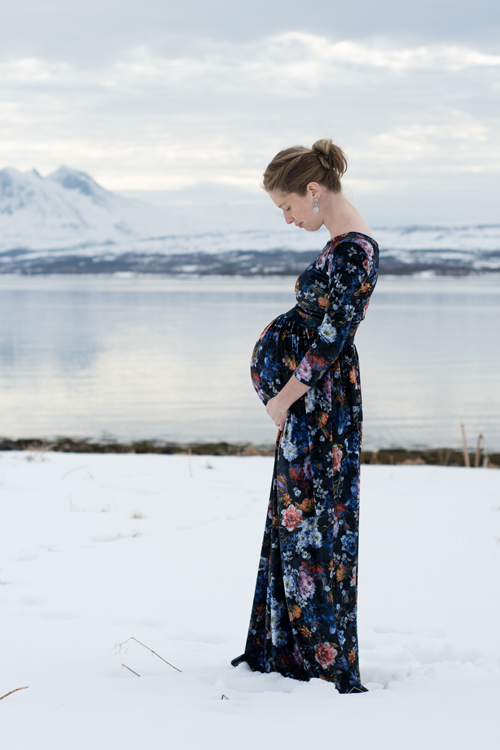 I knew pretty much what kind of dress I wanted – long, with 3/4 sleeves and a round, not too high neckline. Something rather simple to let the fabric shine. I browsed a little for different patterns, but realized I didn't really need to buy a new pattern for such a simple design. All I needed was a well-fitting bodice, and I knew the Asta Dress by Wardrobe By Me fit the bill. I've sewn it three times already and know that the fit is great for me – I only need to widen the shoulders by 1 cm/3/8″ to make it fit.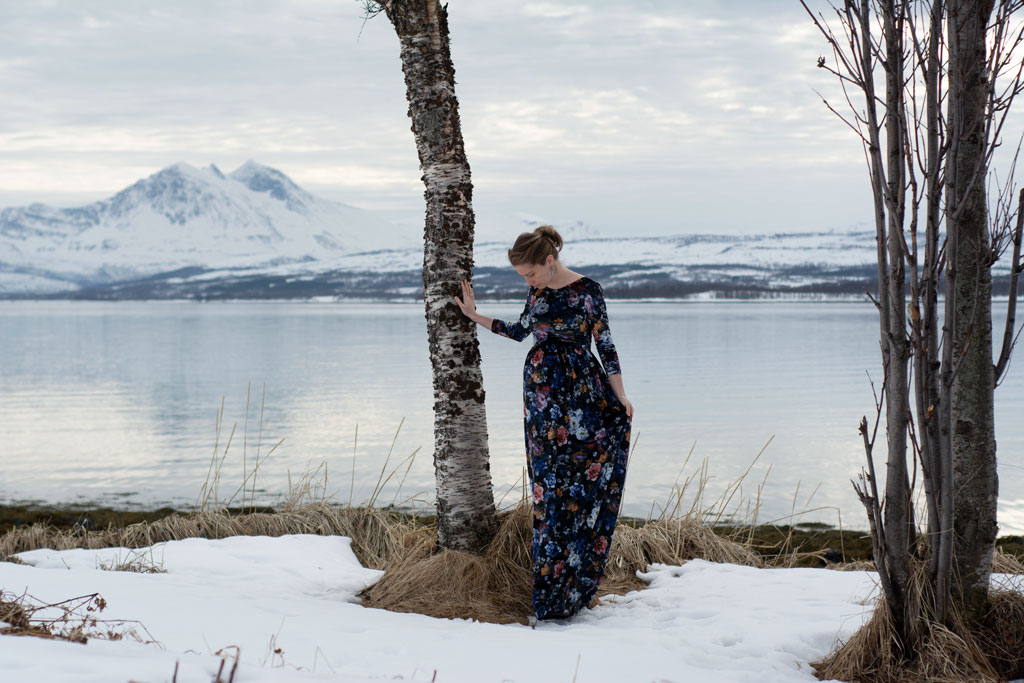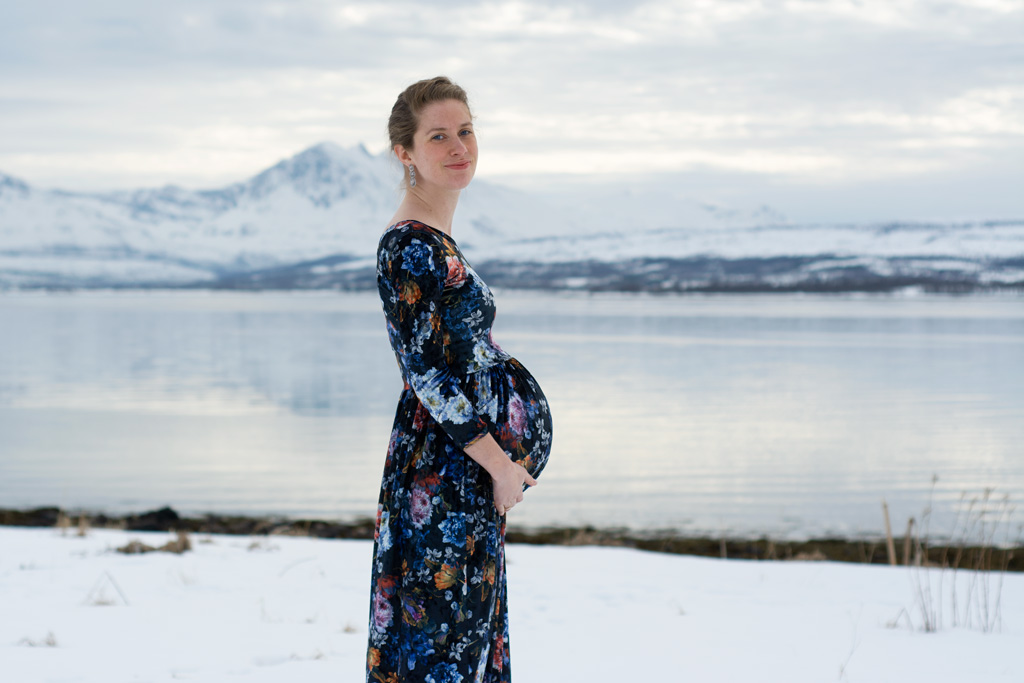 I neither wanted a dress with a high boat neck, nor with a turtle neck – which are the two options the Asta Dress comes with. So I decided to simply draw a rather wide and round neckline. I initially cut it too high, but simply re-cut it after trying it on and before adding the neckband. The Asta Dress isn't finished with a neckband, either, but I simply cut a neckband that was around 20% shorter than my final neckline measurements. It worked really nicely for this velvet! I don't think that neckbands are the most elegant solution to finish a neckline, but I don't like to topstitch velvet, it just doesn't look very good. I could have added a facing instead, but I thought that adding a band to both the neckline and the sleeves might look more cohesive.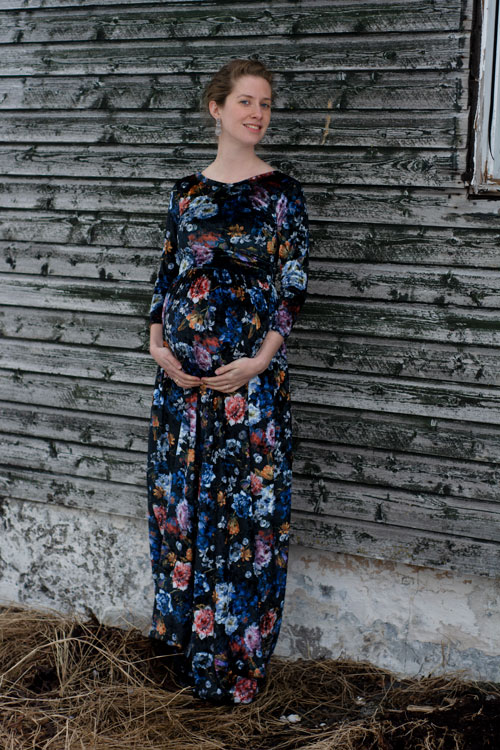 Since this is a maternity dress, I needed to rise the waistline a little to make the dress fit. However, I decided not to make a "true" empire dress with the waistline right under my bust. My goal was to rise the waistline enough to make it work with the bump, but hopefully not too much to make it look awkward without the baby belly. I absolutely love this dress and there's no way that I'm only wearing it for one single photo shoot! I have to check the fit after my pregnancy, but my hope is that it will simply look like a slightly too high waistline and very long legs. If not, I might simply re-cut the bodice front and back, I think I have just enough fabric left! Since the skirt is long and heavy, I sewed clear elastic into the waistline, stabilizing it and keeping the waistline from stretching out.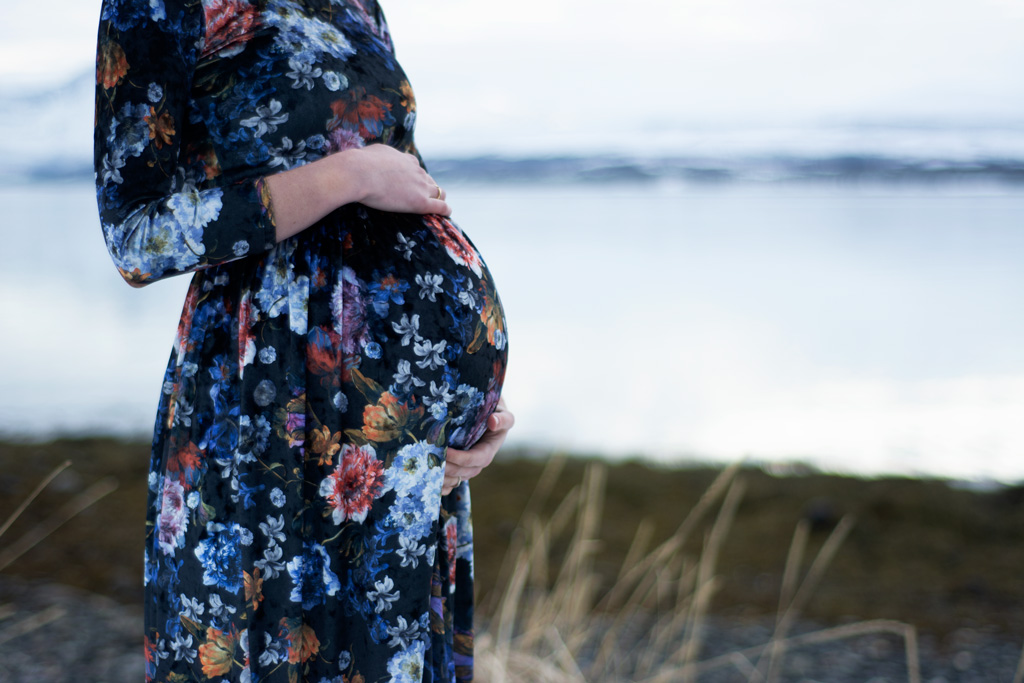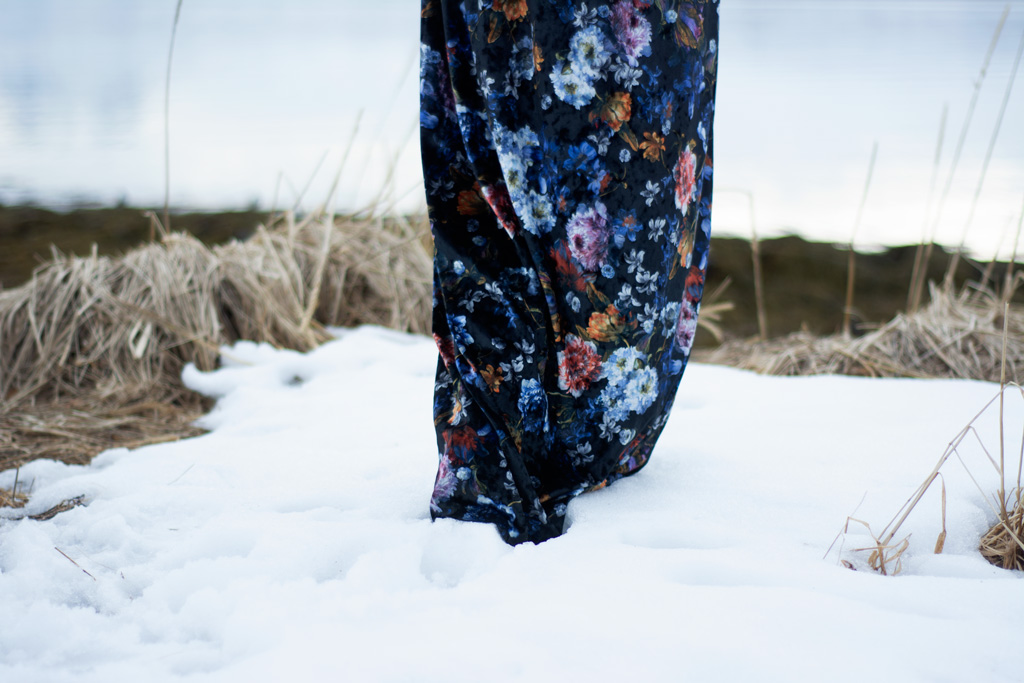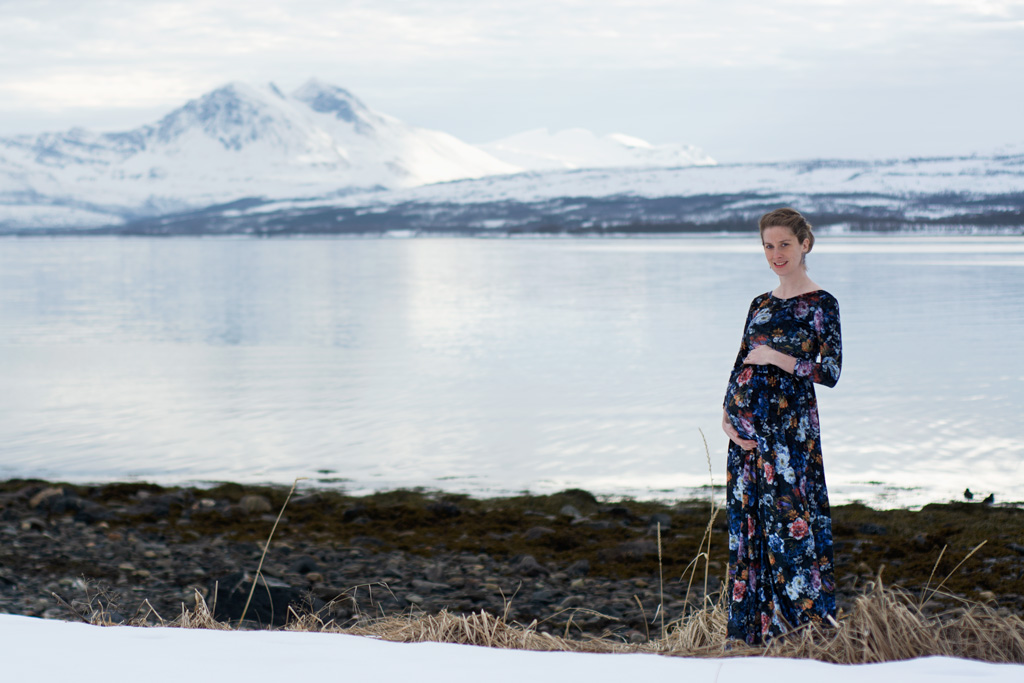 After checking the amount of fabric I had, I decided that a rectangular gathered skirt might work best. It takes less fabric than a flared skirt and isn't as heavy, either. This stretch velvet is rather heavy, and not having too much fabric in the skirt makes it more comfortable to wear. It's not a skirt with a high twirling factor, but I'm not doing a lot of twirling anyway these days! Adding a rectangular skirt was also much easier than adding a skirt that flares out and is curved at the bottom. I simply cut a rectangle using the full width of the fabric and added a side seam – that's it. I actually cut my skirt a little too long to make sure the front was still touching the ground. I haven't hemmed the skirt (yet), but want to decide on a final length after my pregnancy.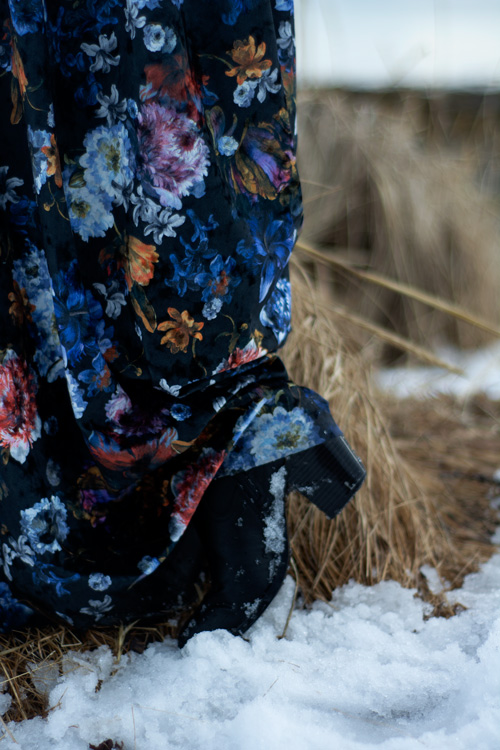 This was a very quick and satisfying project, especially since I could sew it entirely with my serger. I actually wrote another blog post about this project, containing some tips about sewing with stretch velvet in general and sewing velvet with a serger. You can find it on the Bernina blog.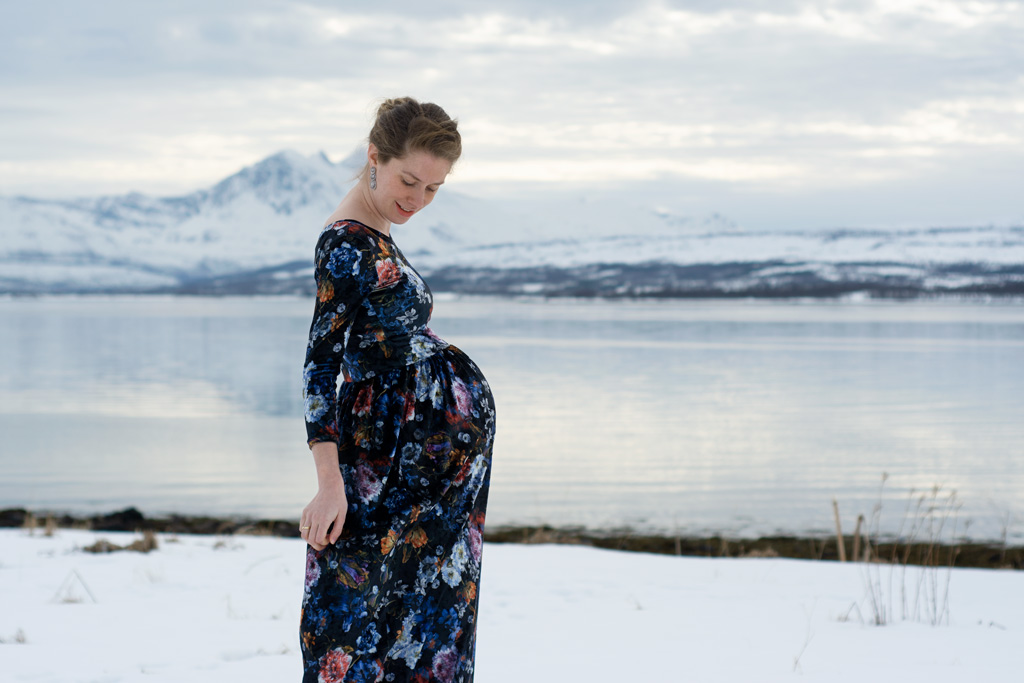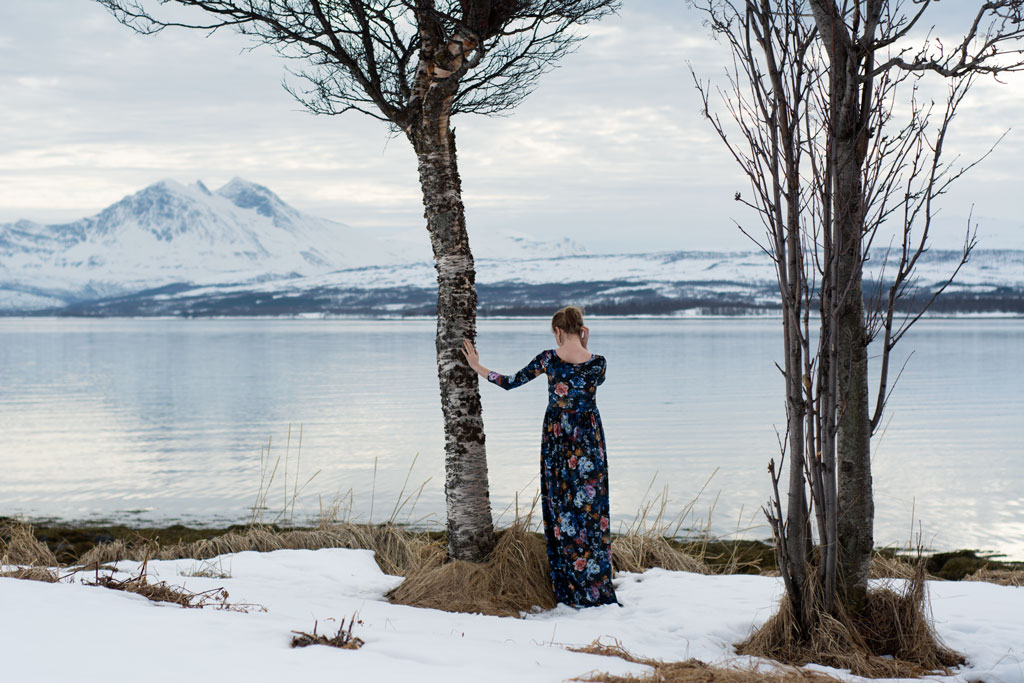 This blog post contains rather many pics, but I absolutely love these and I always want to share way too many pics when I'm happy with the result. We were lucky with the weather and my husband was so patient, taking tons of pictures to get the perfect ones. But without the Harts team's lovely surprise, I probably wouldn't have gotten around to making these at all!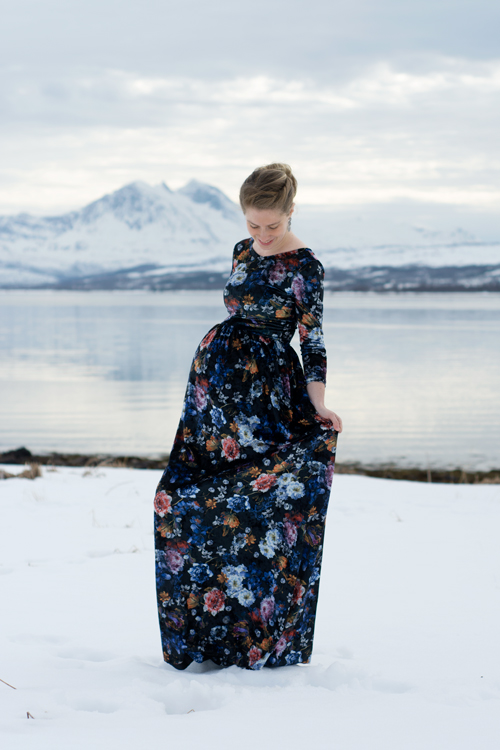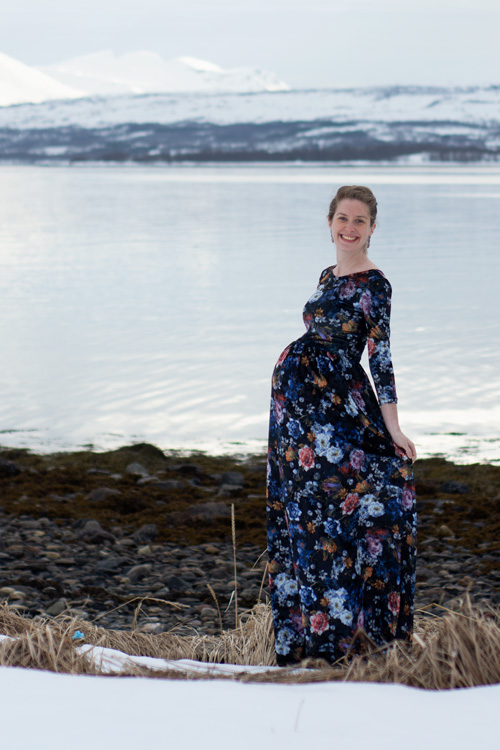 – This blog post contains affiliate links to Wardrobe By Me. However, all opinions are, as always, my own. The blog post is linked to the German pattern party RUMS. –