Last autumn I bought the book "Boundless Style" by Kristiann from Victory Patterns. I loved the look of the book, I loved the styling and I was intrigued by the patterns. The book has been sitting on my desk ever since and I'm nearly ashamed to admit that I haven't sewn anything from it yet. There were just so many other things to do! Victory Patterns is known for their clever designs and sense of style, so when they looked for testers for a new pattern, I jumped on board. Maybe that was everything I needed for finally making everything from Boundless Style, too?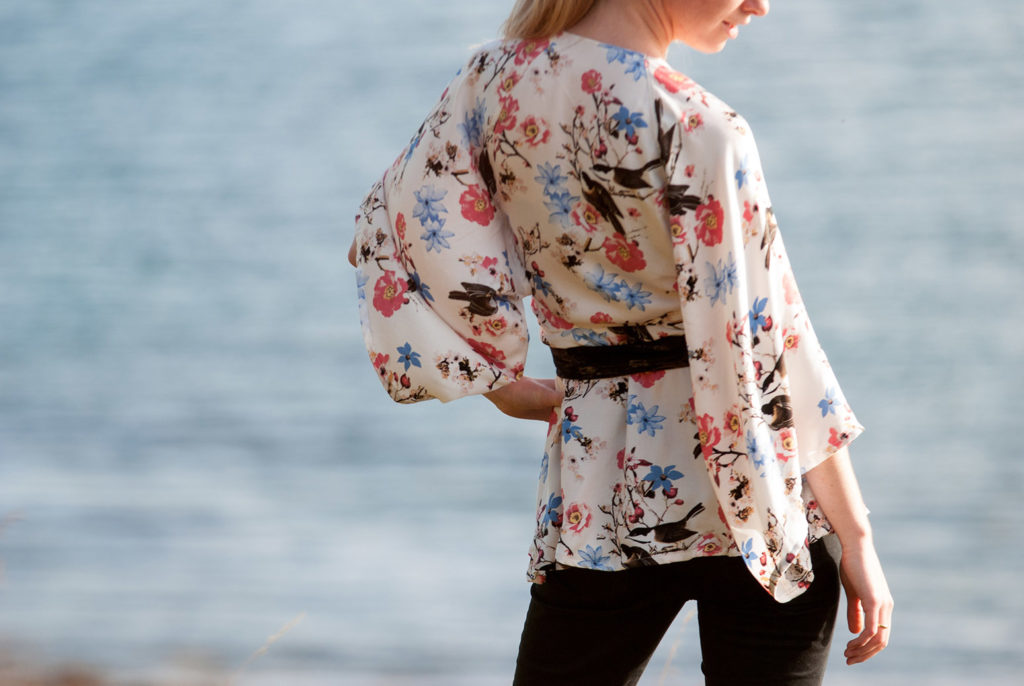 The Trina dress and tunic looks pretty simple at first glance, but believe me, it's not! It's full of intricate details and it's definitely not sewn in one evening – but that could partly also have to do with the fabrics you're supposed to use – flowy and slippery are the main features here!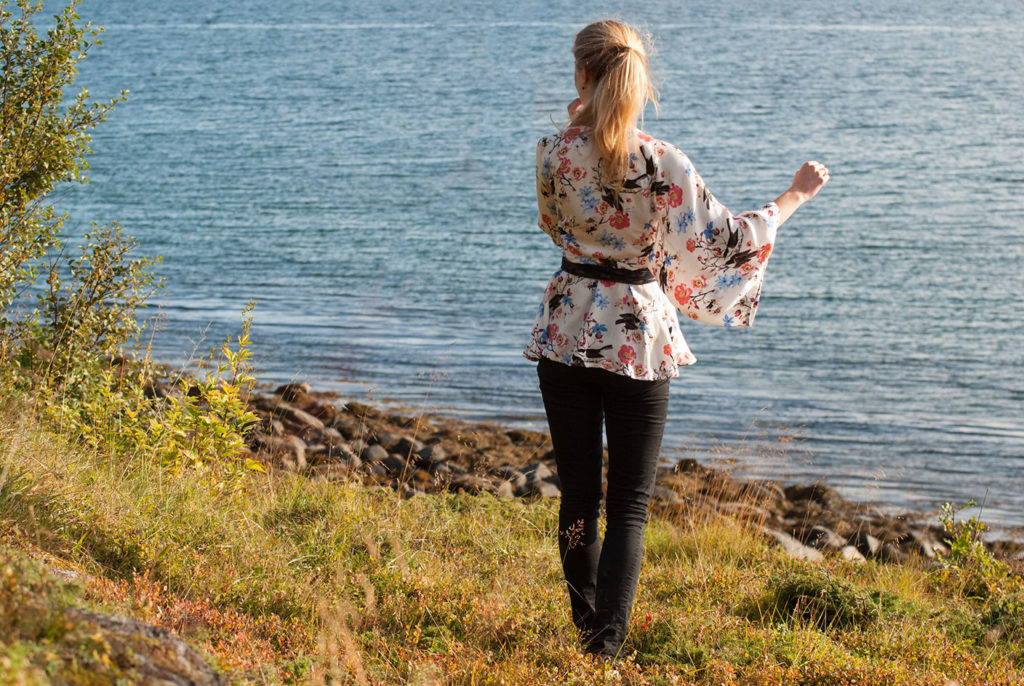 But let's start at the beginning: Both the dress and the tunic are made from the same bodice and a skirt. The bodice is designed cleverly with triangular pattern pieces for the front and back that intersect each other to make holes where you can pull your belt through. The wide sleeves aren't fully attached to the bodice, leaving a hole at the bottom of the sleeve.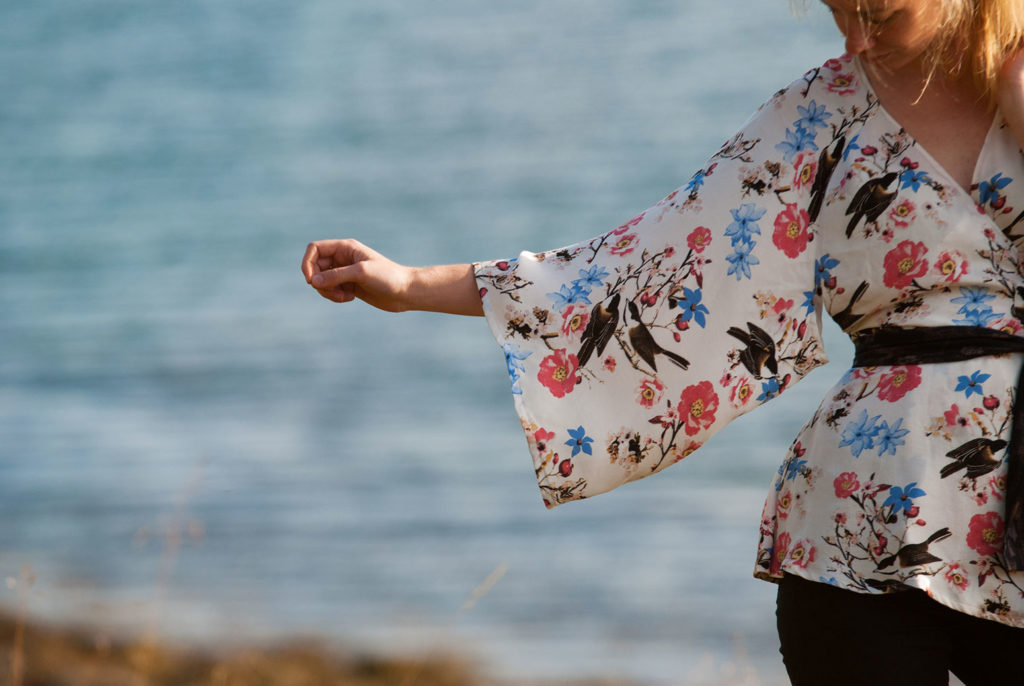 If you wonder why my tunic looks so much more like a blouse than a tunic, that's because it is just that, a blouse. In the tester version Kristiann called the shorter version a "blouse" and not a "tunic", so I shortened the pattern by 10″ to give it more of a blouse look.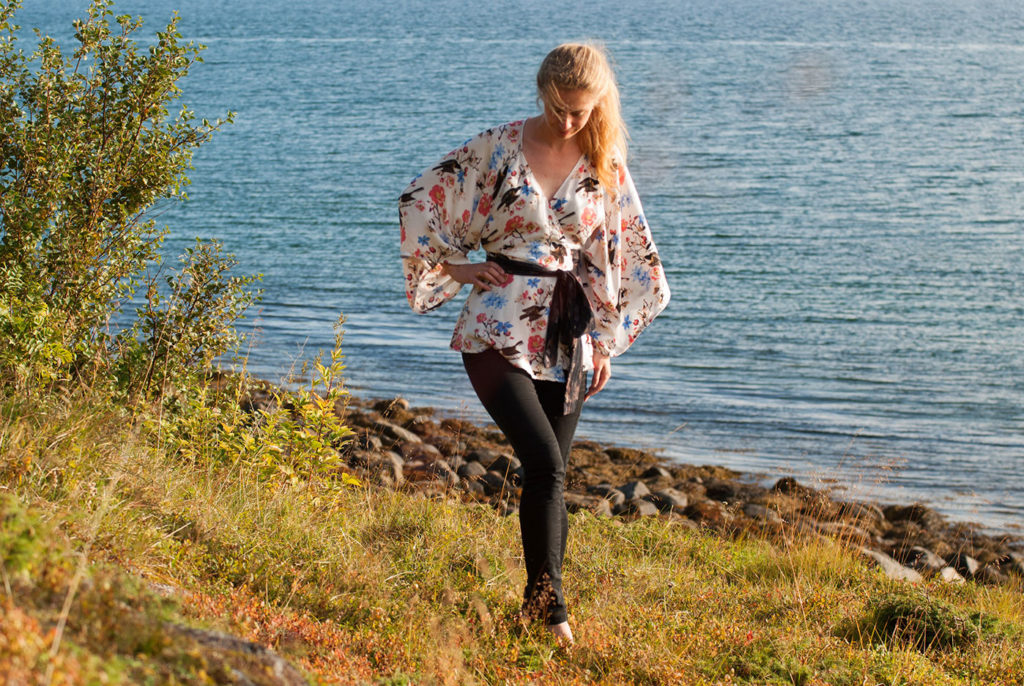 The other reason for shortening the pattern that much was my lack of fabric: I had two yards of this super thin and flowy rayon sateen from fabric.com. It looked like it was made for this pattern! But the big print made placing the pattern pieces difficult, and so did the fact that this is a directional print: The front bodice is supposed to be cut on the bias, which I'm sure can give a great effect for many fabrics. But having these birds diagonally on my blouse didn't seem to be quite right. So I turned the pieces and cut it along the grainline. The sleeves are supposed to be cut along the crosswise grain, but again – because of my print I had to turn them by 90 degrees and cut along the lengthwise grain.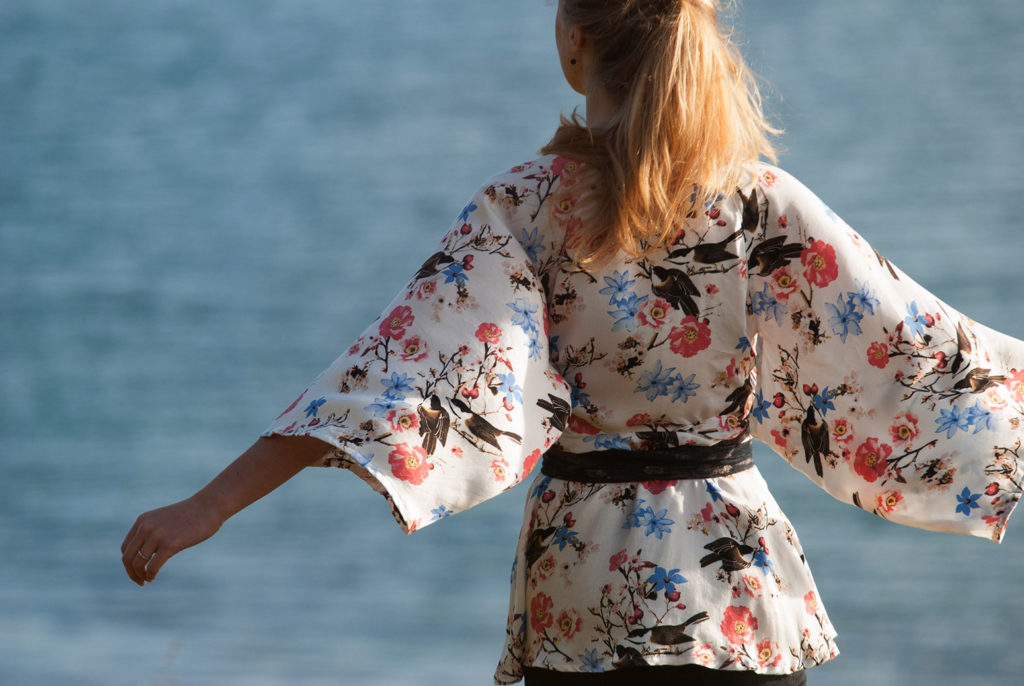 I'm SO relieved about the fact that I have some sewing experience now, earlier this year I might have cut my pieces as instructed and might have ended up disappointed.
The fabric for the belt is the same fabric I used as a lining for my Salamanca Cropped Jacket and for my Amber trousers.  The black side is the wrong side of the fabric, but it has a little bit of a red and white shining trough, Perfect for echoing the colours of my first fabric.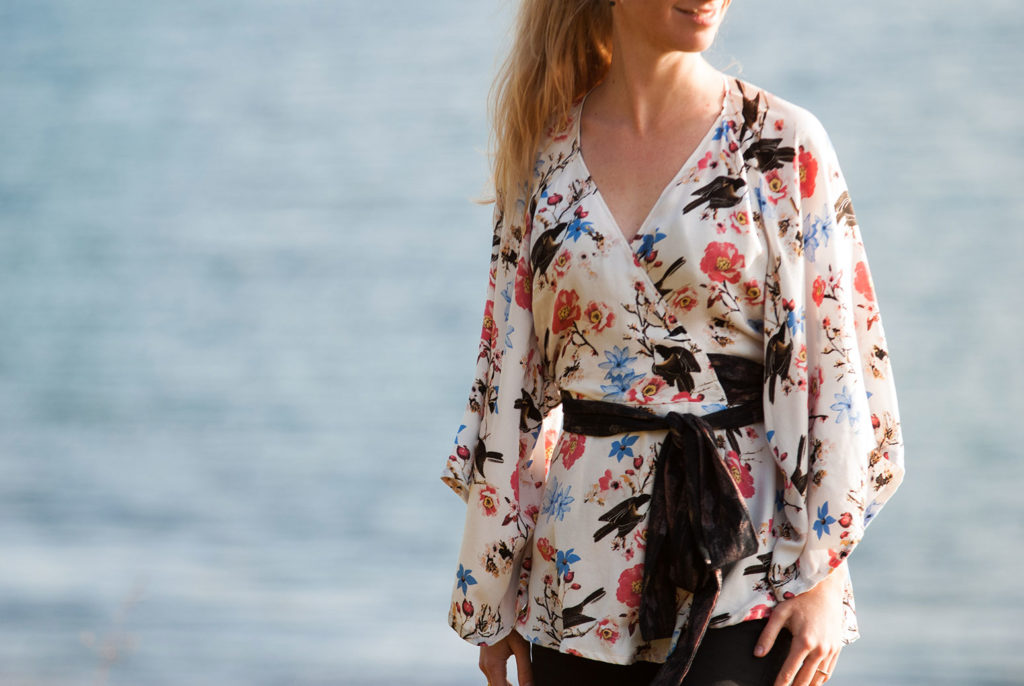 The main fabric was horrible to work with, to be honest. It was so flowy that it was nearly impossible to get it to lie along the grainline, and just using my scissors made the whole fabric moving. I checked that the print was printed along the grainline and tried using the print as a guideline for getting all pattern pieces right.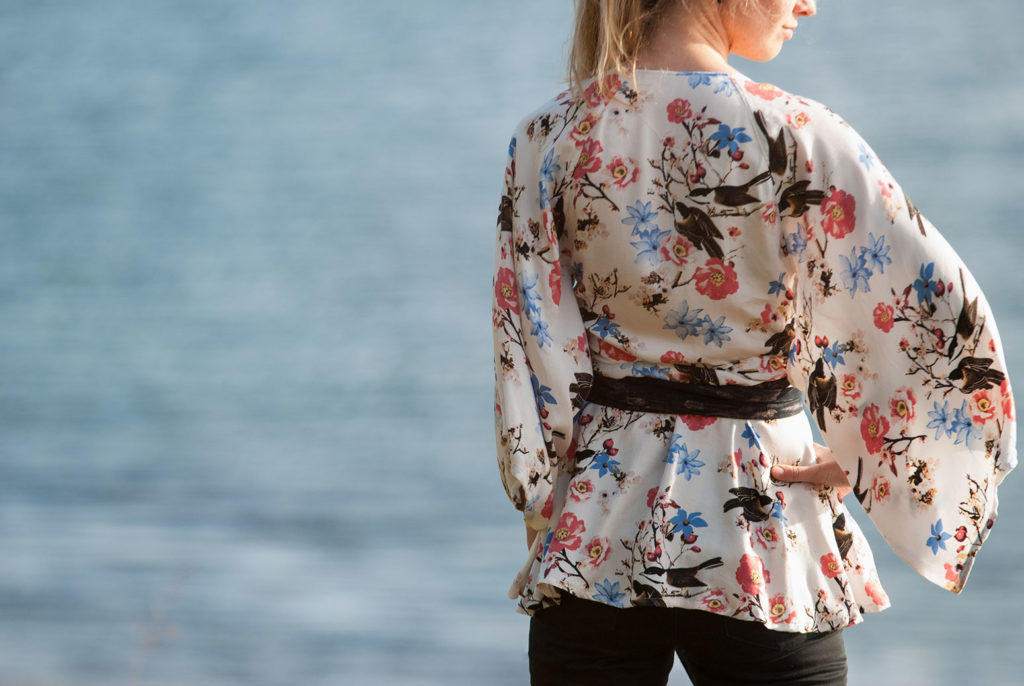 But even after spending an eternity on cutting the pieces, they seemed to have an entirely different shape afterwards. Luckily easing and stretching this fabric a little wasn't a problem at all, so even when having no idea what the true shape of my pattern piece was, everything fit together somehow and the result doesn't twist or anything, so I guess it ended up alright!
I feel really luxurious when wearing this blouse, and I love how the print and the fabric compliment each other. The only thing is: prints like this and the kimono style are often associated with dressing gowns, and that was the first thing my husband mentioned. He likes it, no doubt, but doesn't really feel like this is something to wear out of the house.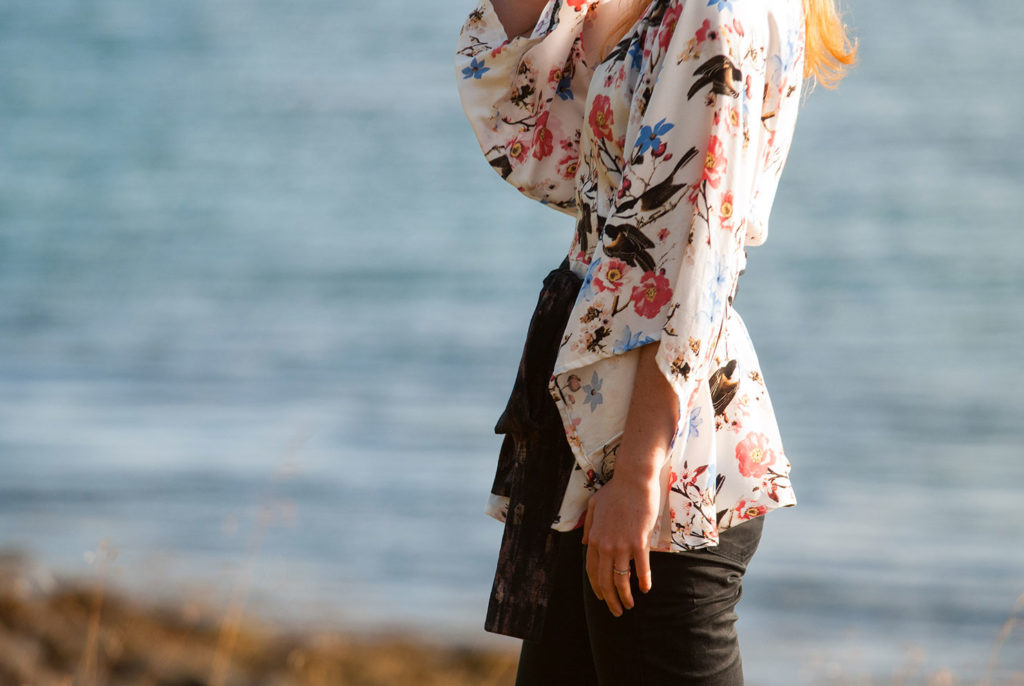 We're pretty free to wear whatever we like at work, anything from a nice sweater and jeans to pencil skirt, blouse and heels will do. Many days I'm just in my office, not seeing any people besides my colleagues. So what do you think – is this something I could wear on "office only" days, combined with a tank with a higher neckline? Could I wear this  for grocery shopping or at the theatre? Or should this mainly be a wear-at-home-garment? I'm curious to hear what you think!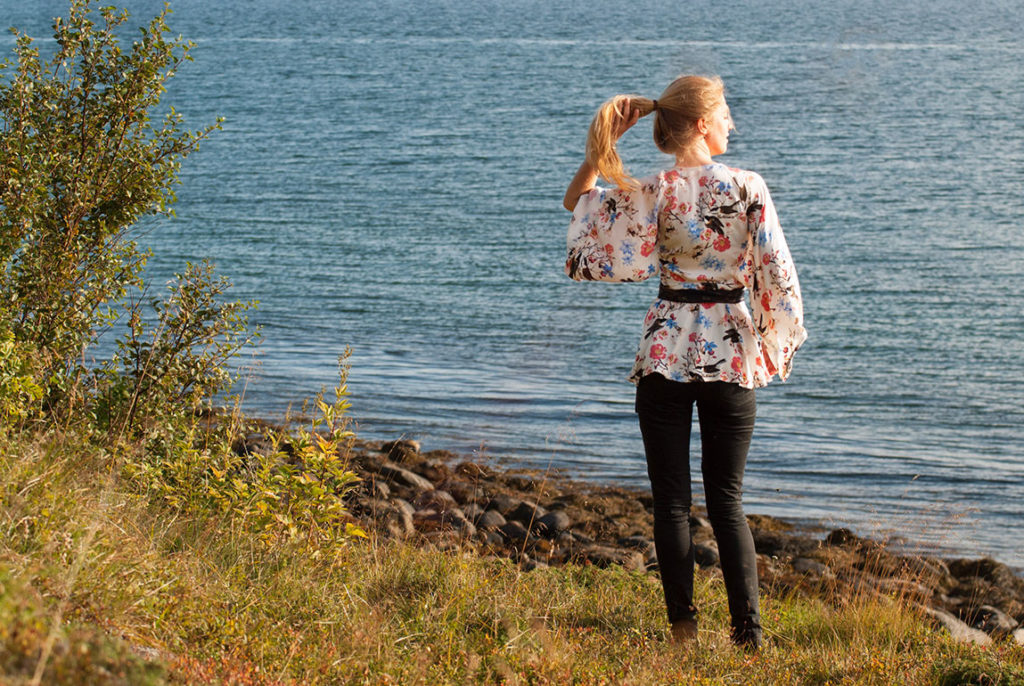 – This blog post is linked to the German blogger party RUMS. –