I can't remember how I stumbled over the Instagram account of Ready To Sew, but I started following Raphaëlle, the designer behind Ready To Sew, and was fascinated by the her unusual designs. Although couture is just a regular French word for sewing, it lets me envision something exquisite, special and somehow runway-like. And I think Raphaëlle's designs most definitely reflect this – she works with special shapes, materials and, most prominently, with volume. Just have a look at these examples from the Ready To Sew homepage:
Somehow Raphaëlle has noticed me, too, and a few weeks ago I got a lovely message from her, asking me to test her latest pattern, Jacob, and to write a blog post about it. I was really curious to see how her garments were constructed, and it's no secret that I enjoy sewing garments that have some kind of "puzzle" element.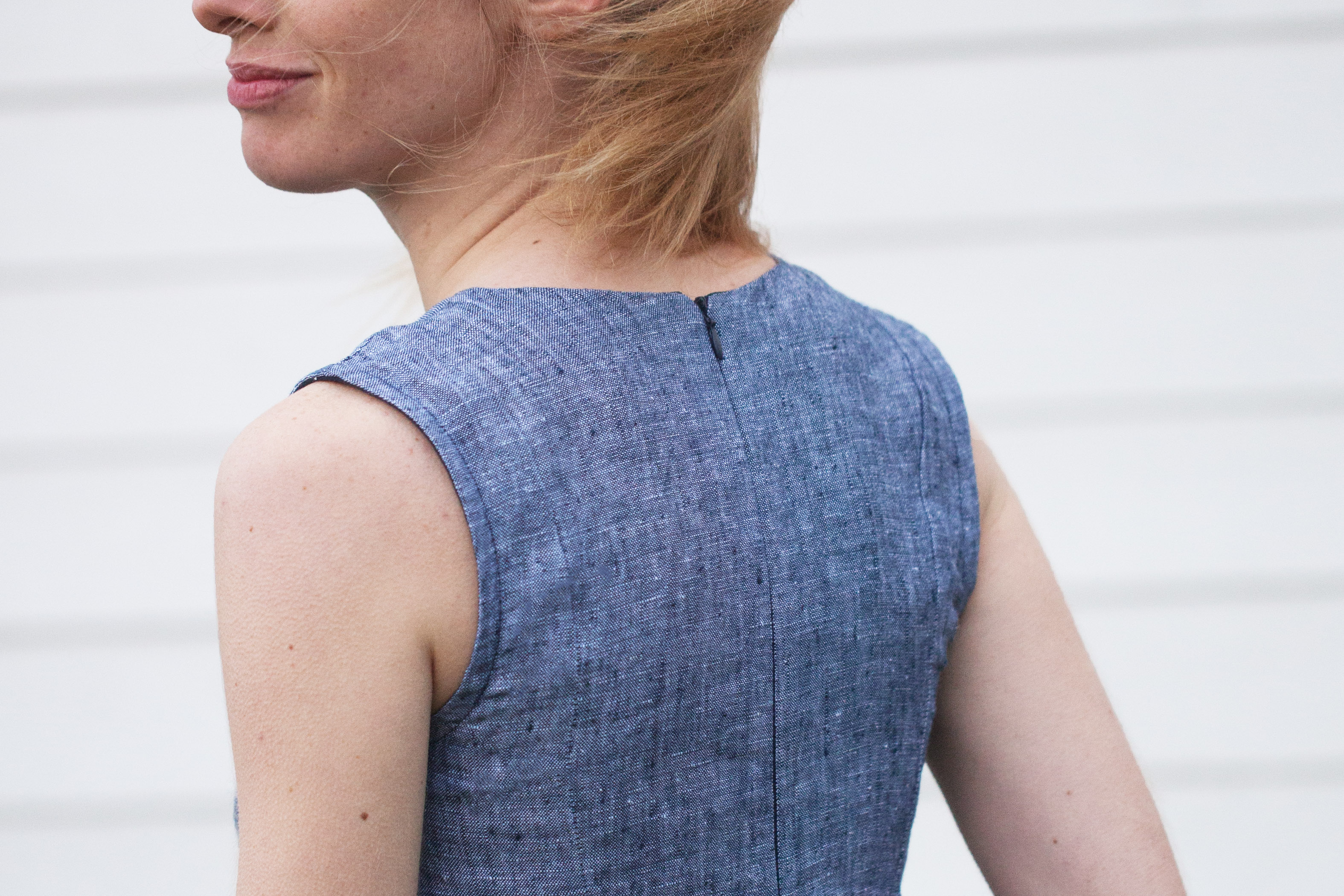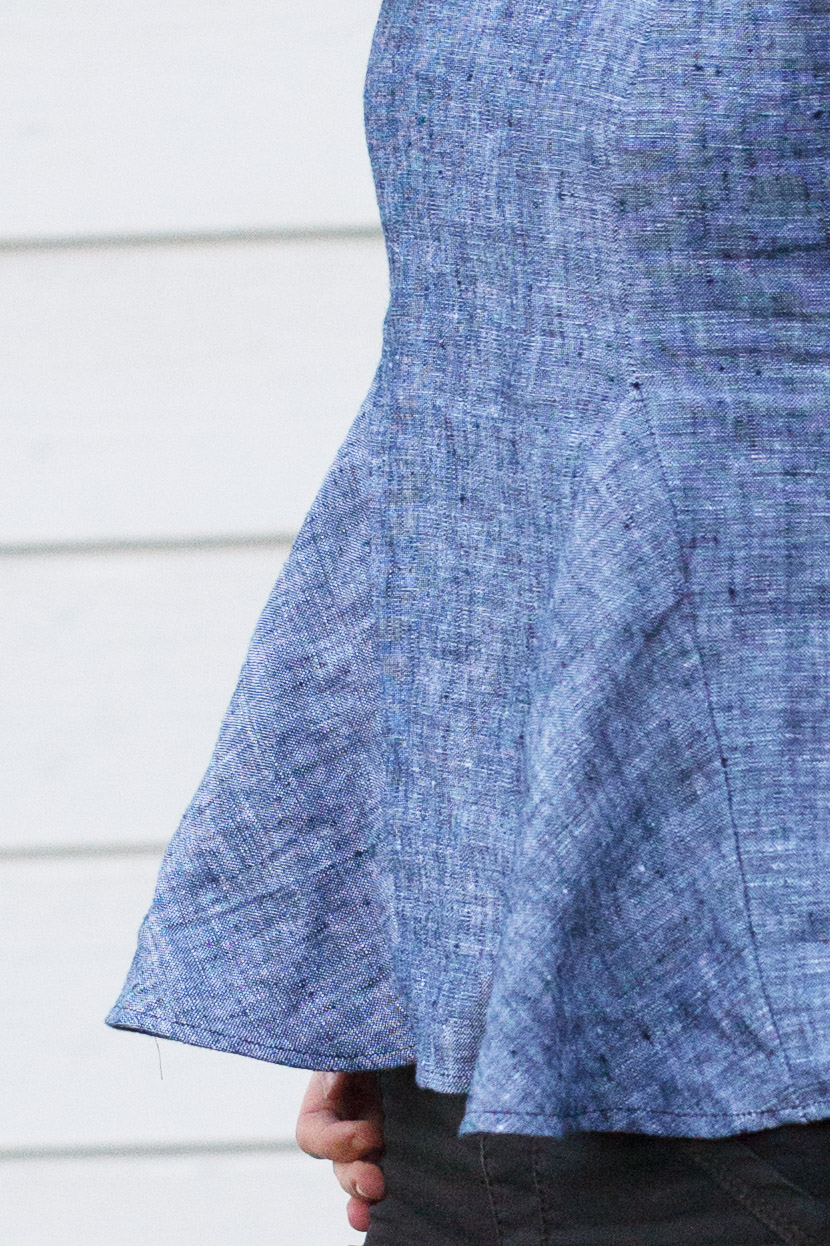 Jacob is a top with 3/4 sleeves and four godets at the front and sides. The rest of the garment is made of different panels, resulting in a very figure-hugging top. The neckline is finished with a tiny facing. As you can see, my top is sleeveless – it's not an option in the pattern itself, but I just finished the arm holes with bias binding instead of inserting the sleeves. Next time I might consider using a combined arm hole and neckline facing to finish the top.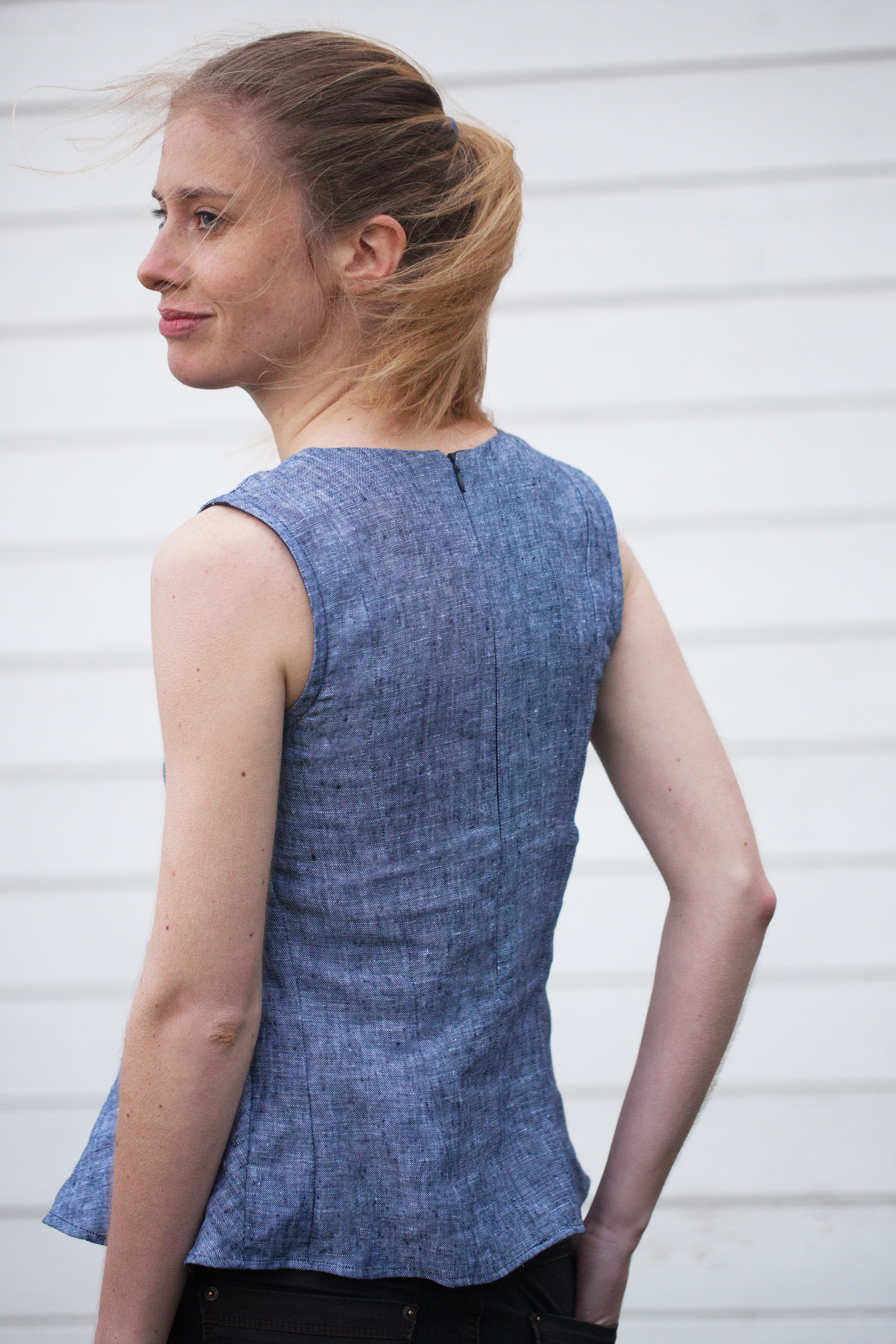 I chose to sew Jacob in a medium weight linen chambray from Miss Matatabi. It has some body to it, but isn't very stiff, which makes my version less extreme and more suitable for everyday life. But I'd love to try this top in an even stiffer fabric, maybe a neoprene fabric or something similar, to really make the godets stand out!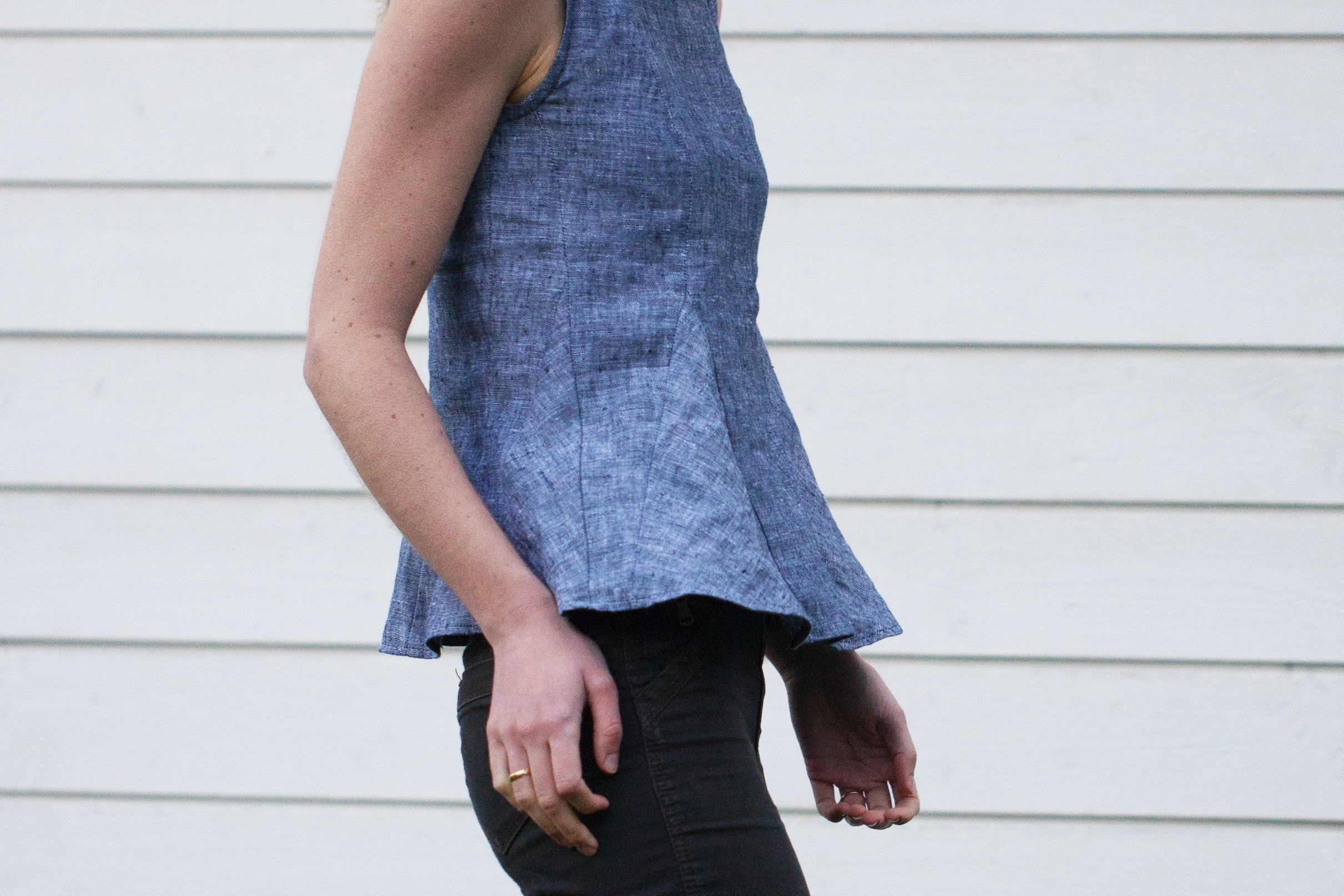 The Jacob pattern file consists of different layers: you can choose English og French and the size you'd like to sew. While I love layered PDFs, I found that layering the language isn't quite optimal, since I usually read the instructions on my phone and I can't figure out a way to choose layers on my phone – which leaves me with both English and French on top of each other.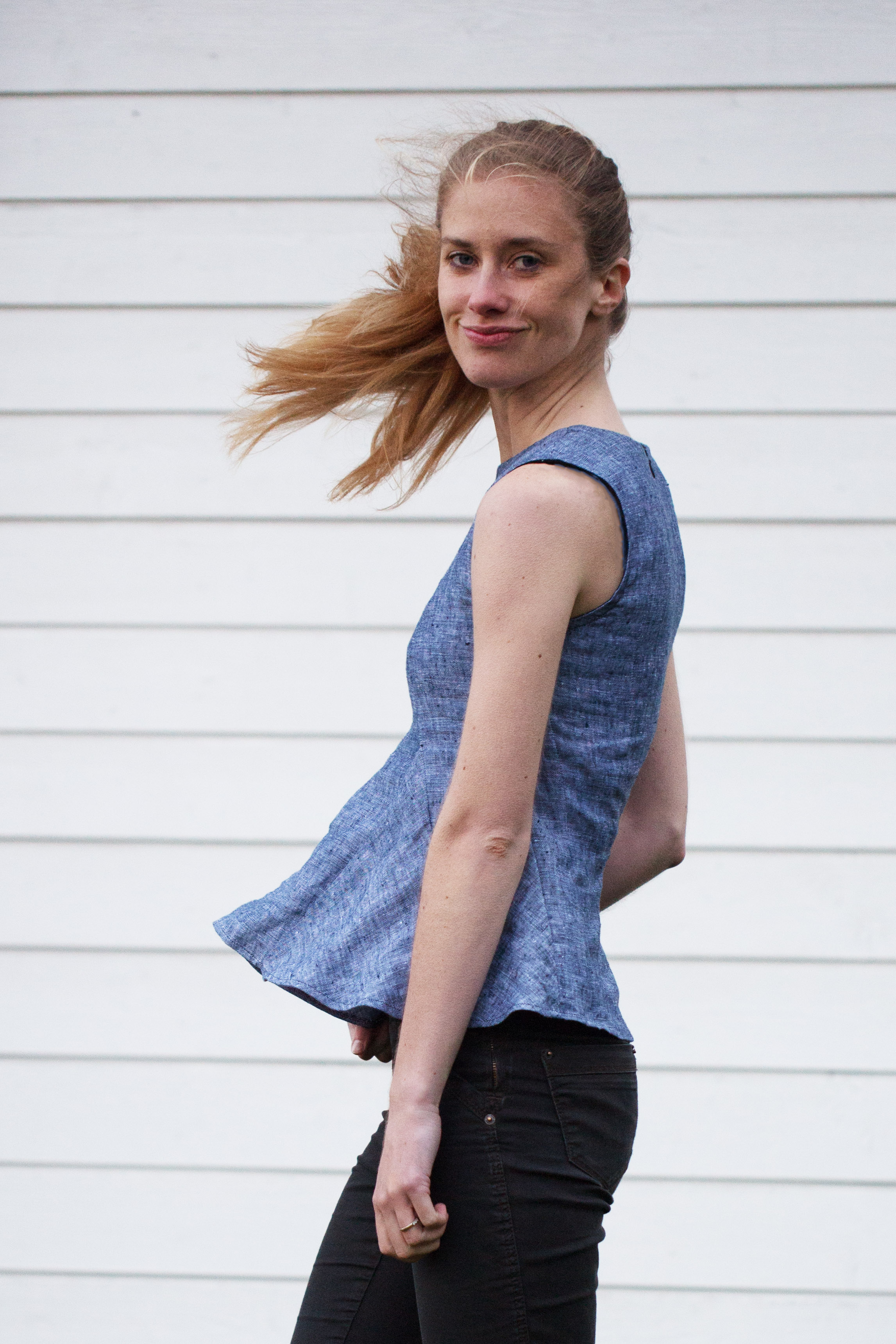 I made the smallest size on top, but graded out a little at the waist. But I would have been fine making a straight size 34, too, since i used a much bigger seam allowance when sewing the invisible zipper. The pattern is designed for an average height of 165 cm – I'm 175 cm tall and forgot to lengthen the top, which makes it pretty short on me, but it's *just about* working. Next time I'll add a few centimeters to the overall length. To keep as much length as possible i serged the hem and folded the edge just about 0.5 cm up.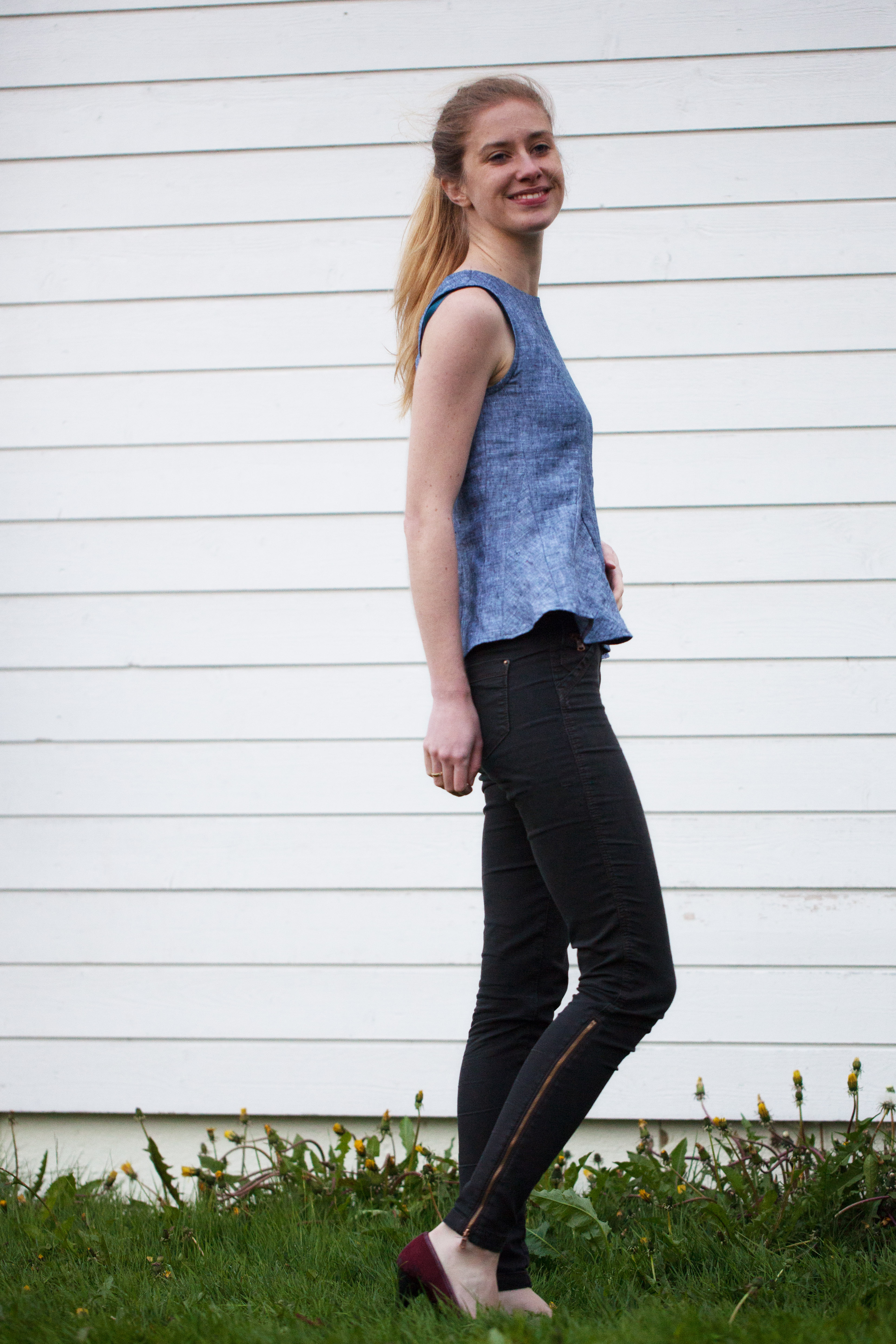 The instructions are rather short – personally I didn't have any problems understanding how Jacob is supposed to be put together, but the instructions might not be ideal for learning how to sew.The instructions don't tell you to finish the edges of your facing or to attach the facing to the shoulder seams, for example. [edit: Raphaëlle assured me these are things that were fixed in the final version of the pattern! I used an earlier version when sewing my top.]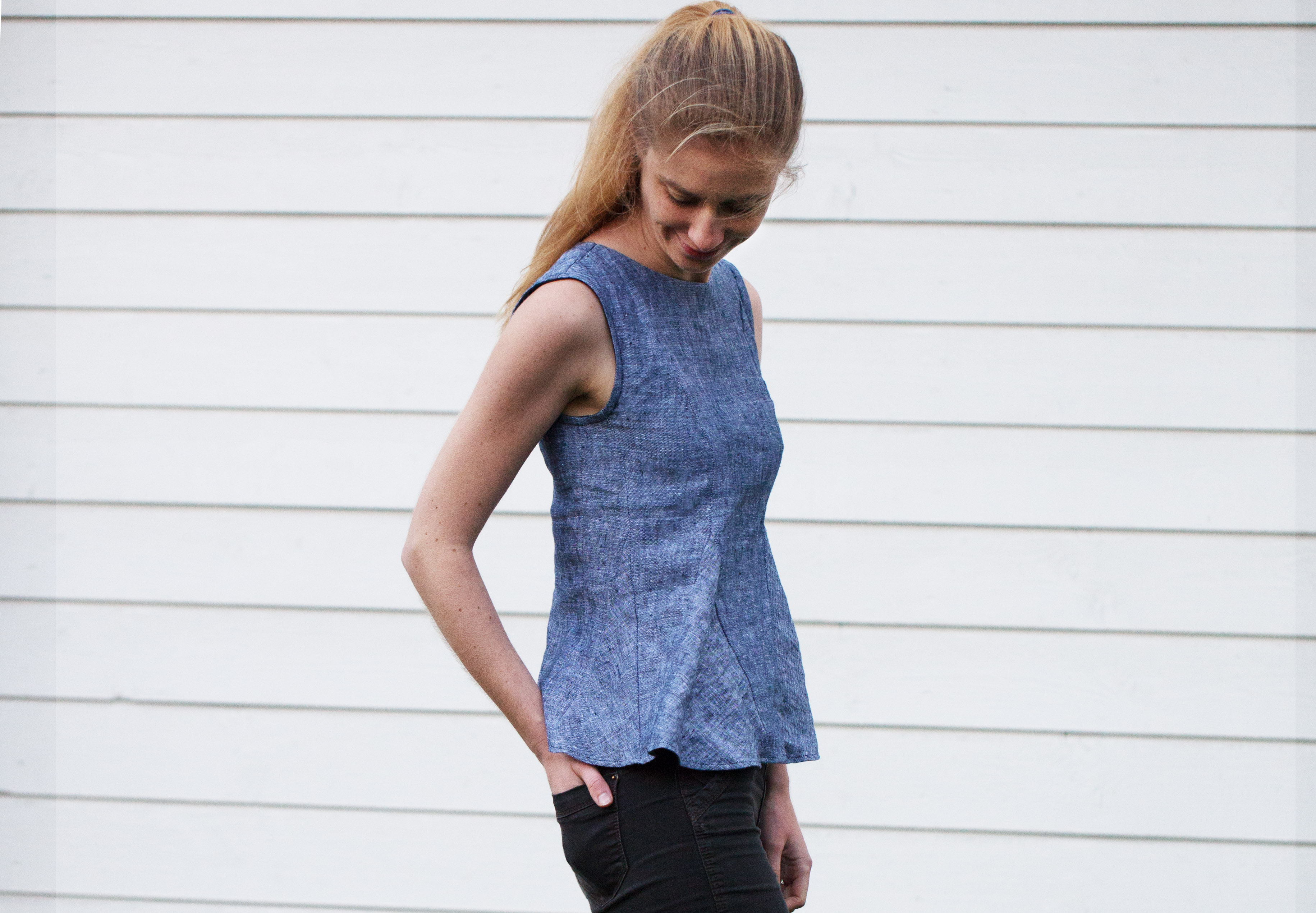 Since my fabric reminds me of a slub fabric with a lot of structure, I couldn't resist serging the seams with pink thread to create a hidden "balance" to the rough nature of the fabric on the outside. I also fell in love with the pretty fabric selvage and decided to include it in the seam allowance around my invisible zipper. Another "Secret" is the contrasting facing and bias binding, made of scraps from some Cotton + Steel cotton. This time all the exciting stuff ended up on the inside of the garment, but I'd love to experiment a little next time, maybe by adding slightly contrasting godets.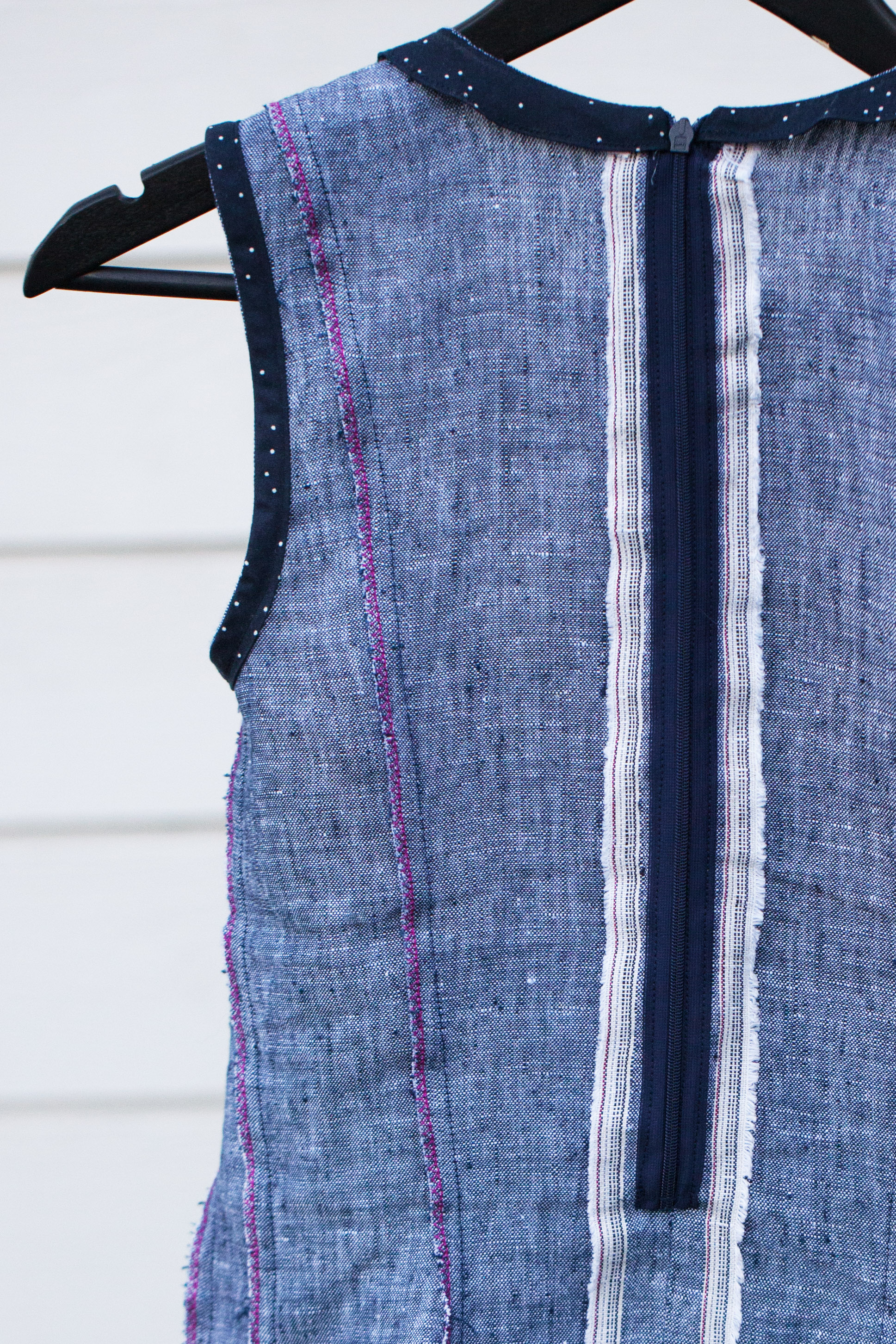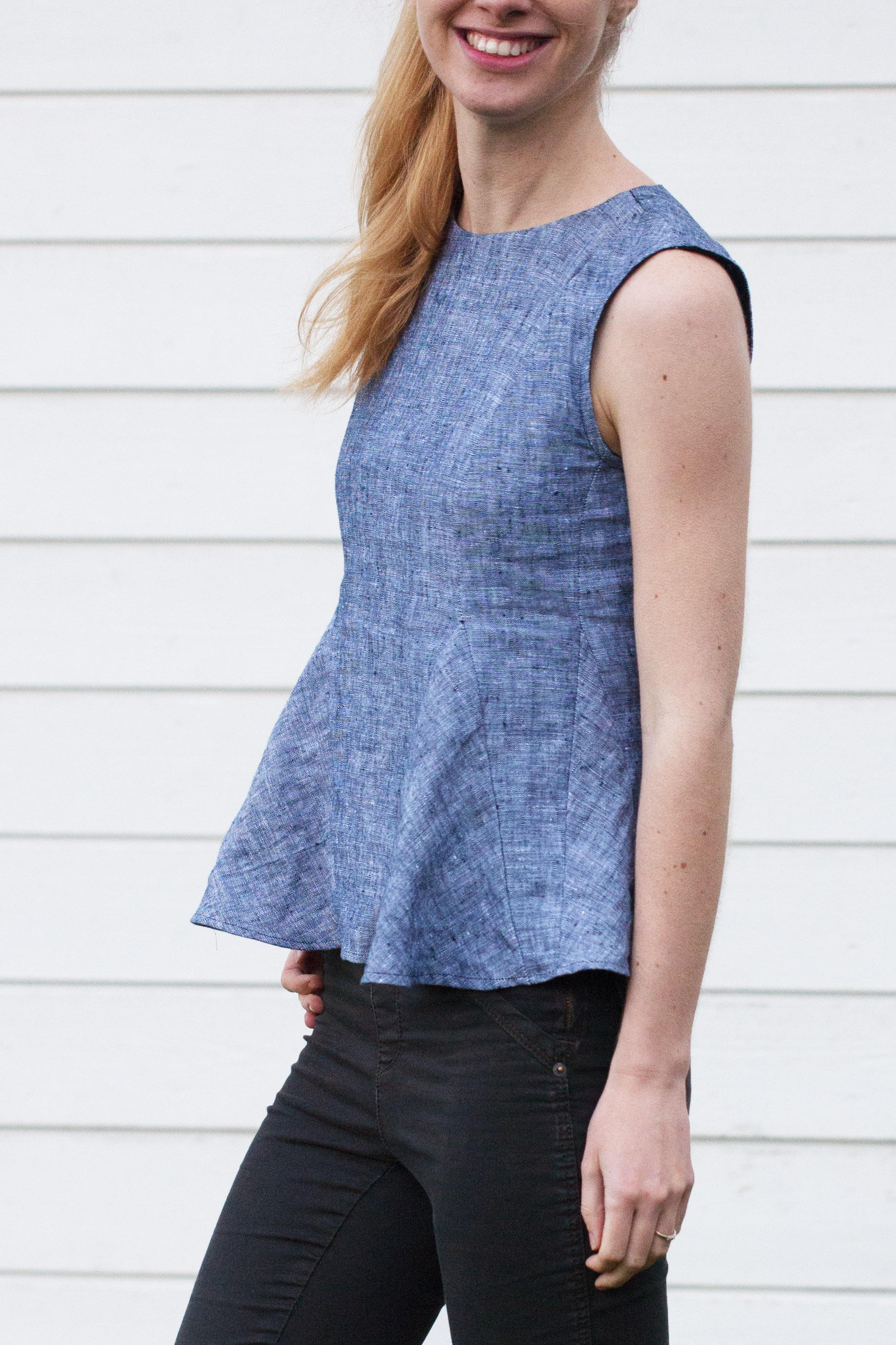 I am extremely happy with the result! I LOVE the fit and how special the top is because of the godets and panels. I will most definitely make more Jacobs and I am very tempted to try more Ready To Sew patterns – especially Janis stole my heart! And all in all – sewing Jacob is much easier than you might think at first glance.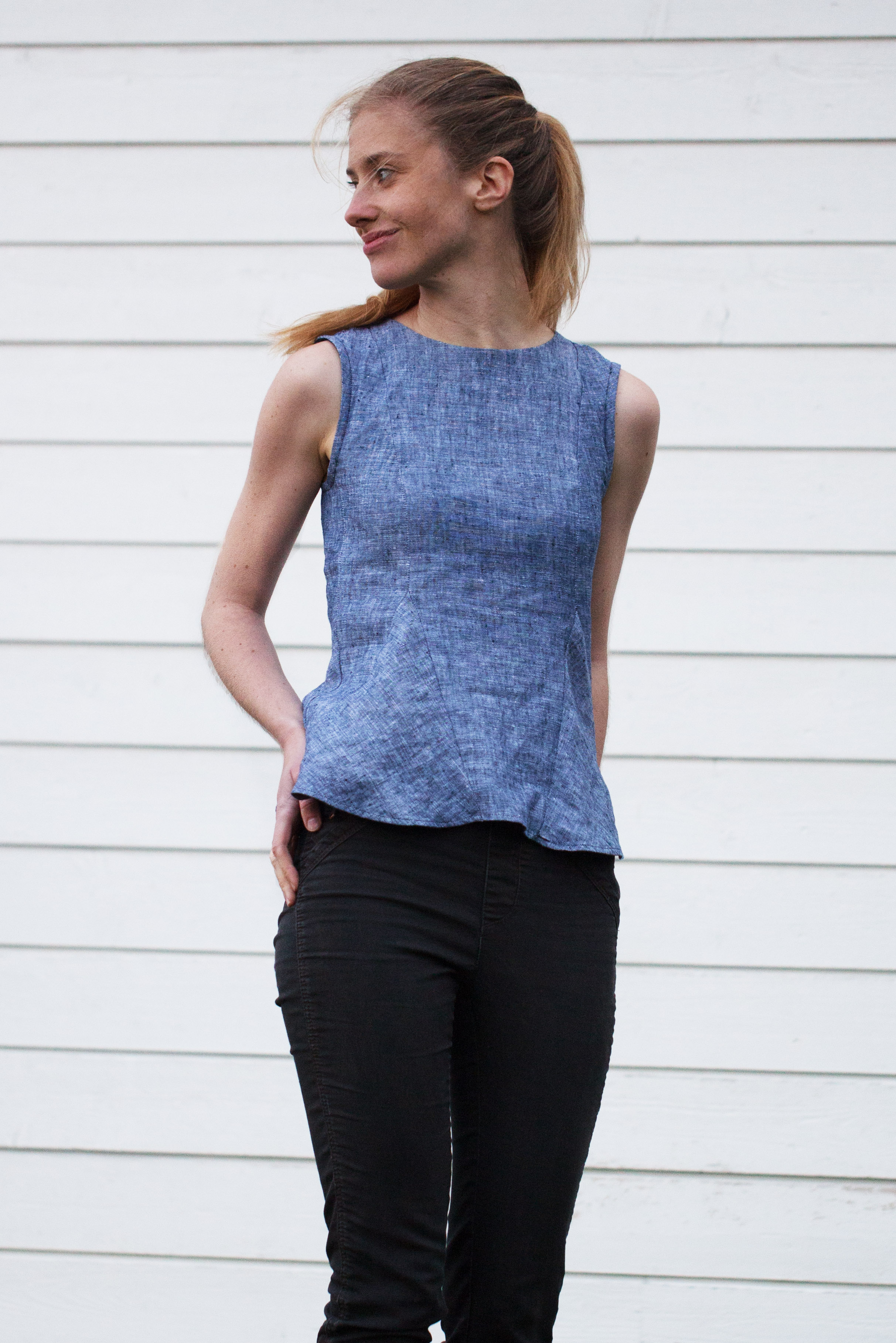 – I received the pattern for free in exchange for writing a review. All opinions are – as always – my own. –