Me Made May is over, but Emily from Replicate Then Deviate had a great idea: Why not add one more special day, a #heyjunejune? If you're an active part of the Instagram indie sewing community, you probably know exactly what kind of day this is – don't you? For the rest of you: As you might have seen on my blog before, I'm frequently sewing patterns from Hey June Patterns. And the ingenious lady behind this brand is Adrianna! You're still wondering why we need an #heyjunejune, also known as #adriannaisagenius day? Well, there are several reasons!
We love Adrianna's designs! I have tested everything she's made since I discovered her.
Her instructions are so clear and easy to understand, that a beginner probably could so a button up without even using the seam ripper a single time!.
She is incredibly helpful and active in her facebook group and on Instagram. You have a question or you are just sharing your latest Hey June creation? Give Adrianna five minutes and you have your answer/she is swooning over your make. I think she even did a Skype session with someone to explain some sewing steps!
And that's why we, her "groupies" use the #adriannaisagenius hashtag on Instagram – totally deserved, right?
I didn't have a chance of sewing something new for today, but I'll give you a little roundup of my Hey June makes!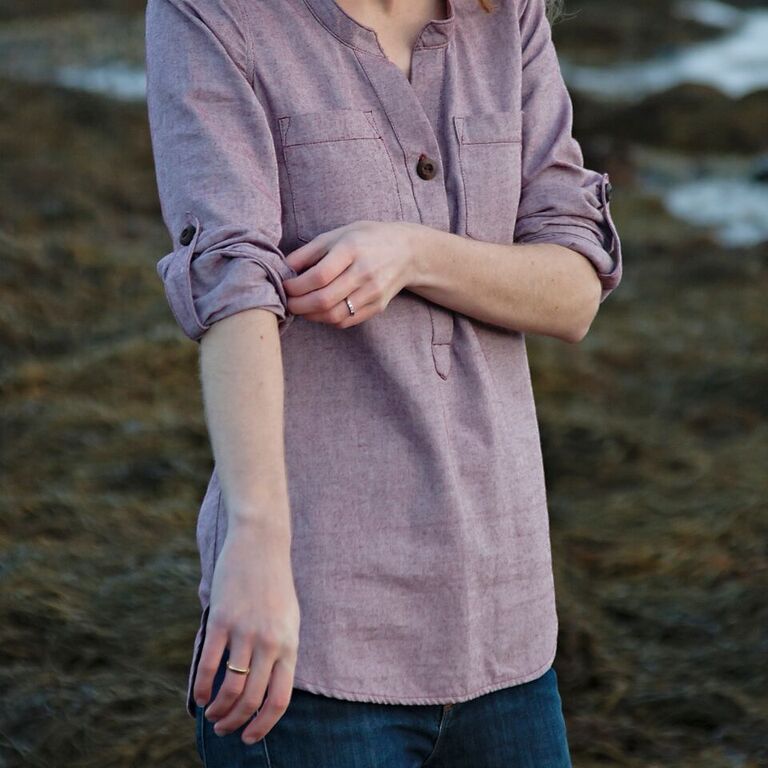 This was my first test for Adrianna (actually – my first pattern test ever!) and the first time I sewed a pattern from Adrianna. I have no idea why she picked me, but it was the beginning of all my friendships in the sewing community. I made two Cheyenne tunics, both with a half placket. The red one is made in a soft twill from Miss Matatabi and has long sleeves, the white one is made of voile from Imagine Gnats and has 3/4 sleeves. I love them both and I wear them regularly. I like the slim fit, the especially the possibility to make a full or a half button placket!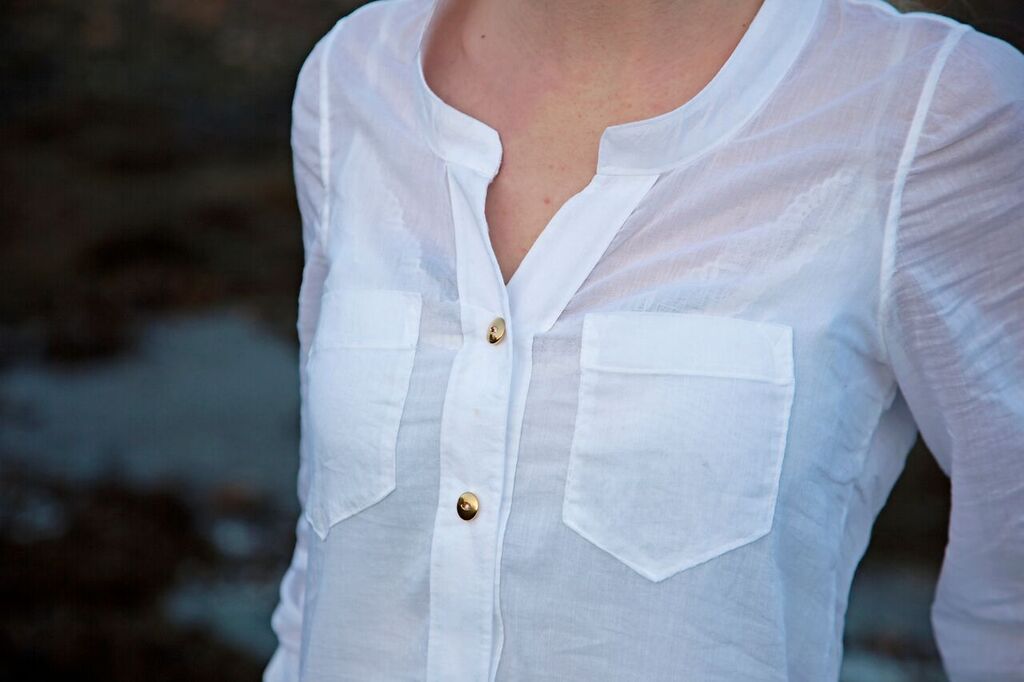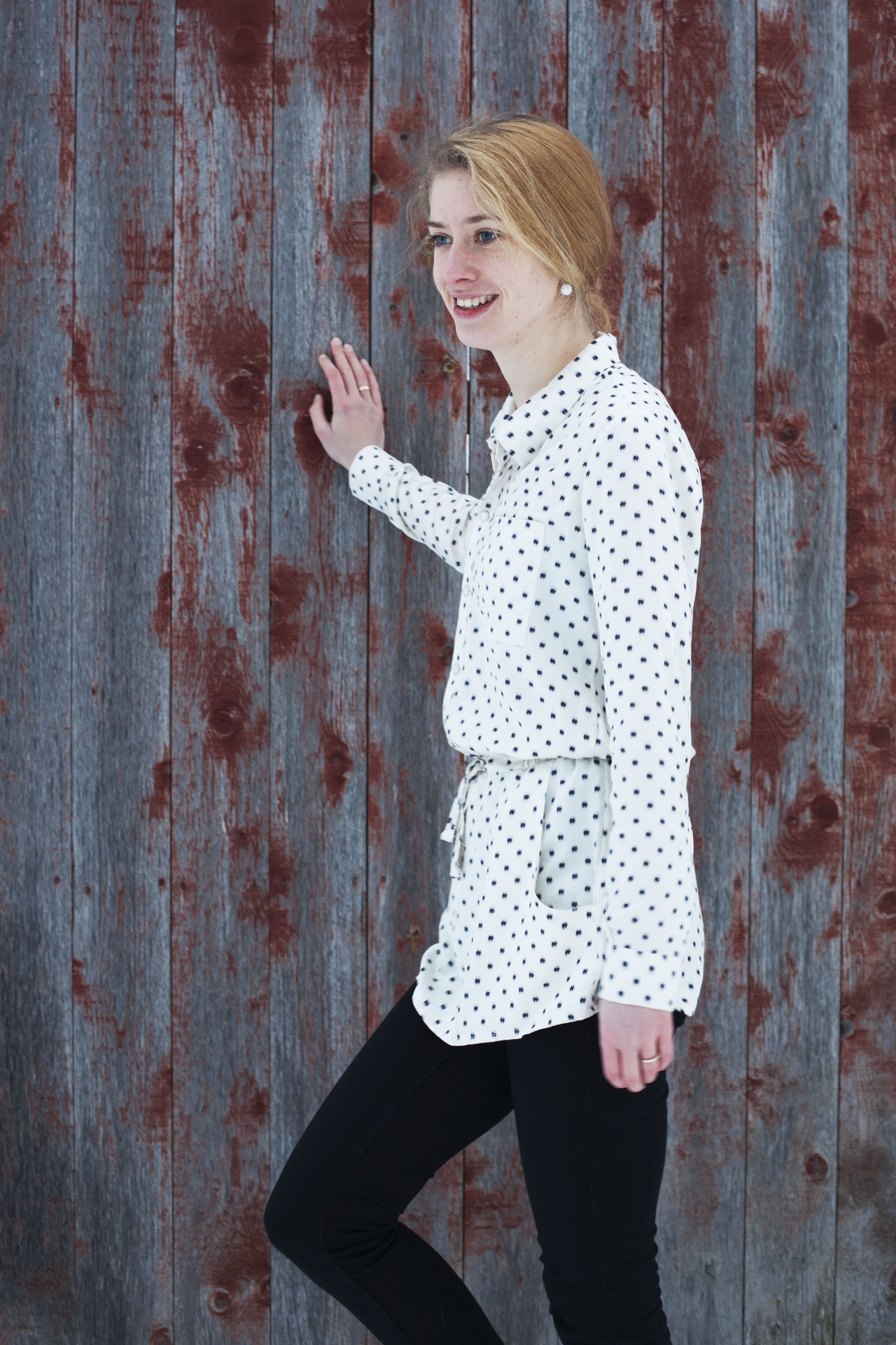 The Sanibel is a romper and a dress, with long or short sleeves and with a regular collar or a mandarin collar. So many possibilities, so many totally different looks!
I made the dress with long sleeves and a regular collar, but shortened it to a blouse. The main reason for this was that I didn't have enough fabric to make a dress or a romper, and that I wanted to be able to wear it often – dresses, and especially rompers, might not be the most frequently worn garments up here in Northern Norway.  But now it's summer over here in Norway and I realize that I'm longing for a romper with short sleeves. Hopefully I'll have the time to make one before the summer is over! Did you see the nice pockets the Sanibel is designed with? That's one of my favourite features!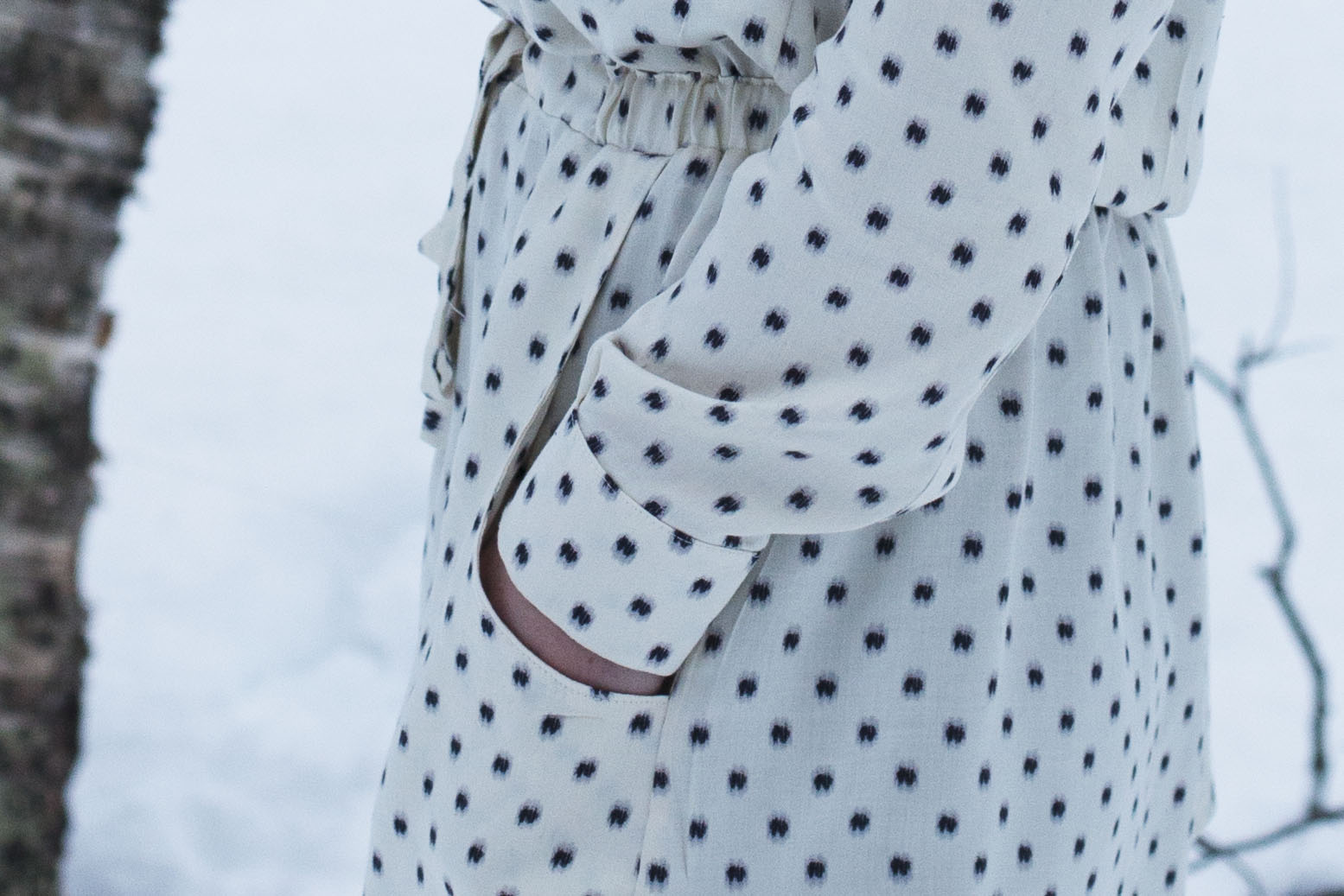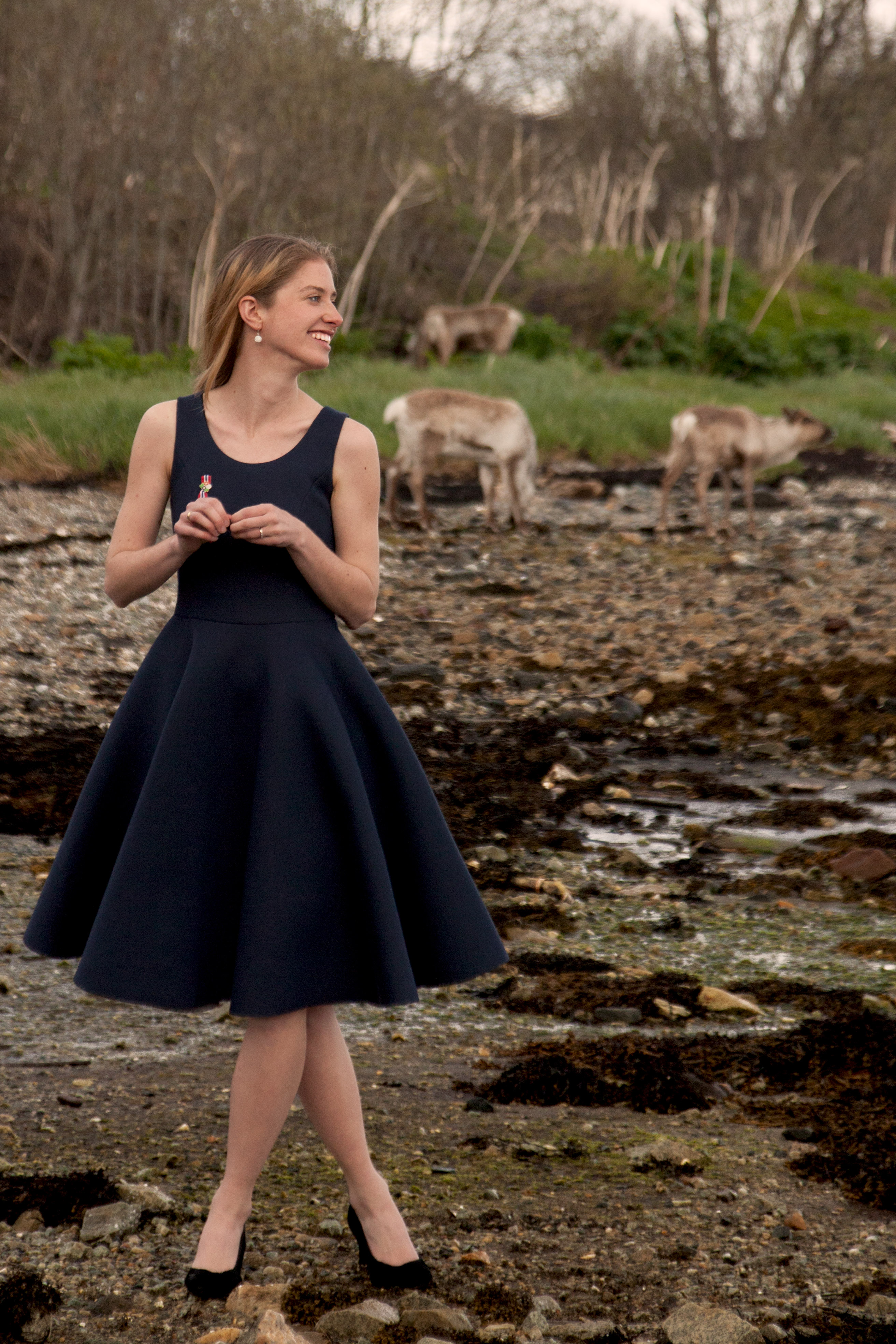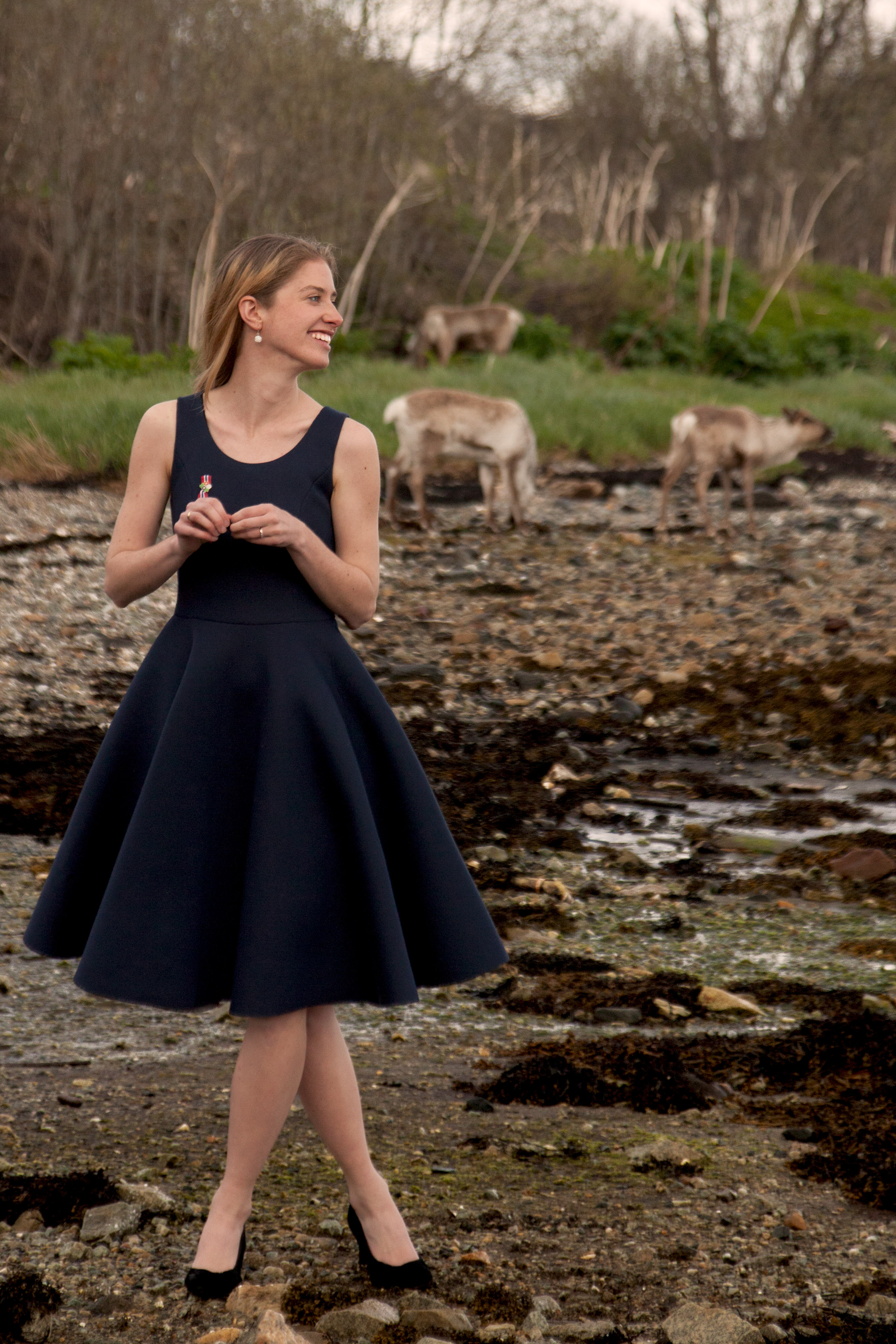 The Charleston is a princess seam dress for knits with two different skirt options – an A-line skirt with pockets, or a slimmer skirt without pockets. (Yes, you're right – the skirt option in the picture above isn't included, I attached a full circle skirt to the Charleston bodice!) And the dress comes with a ton of different sleeve options – long sleeves, 3/4 sleeves, no sleeves, cap sleeves, square sleeves and so on. My other version is a long sleeved version with a slim skirt and added stretch piping in a super soft merino wool. My favourite things about this dress is how good the bodice fits, how easy it is to sew and – again – how many great options there are!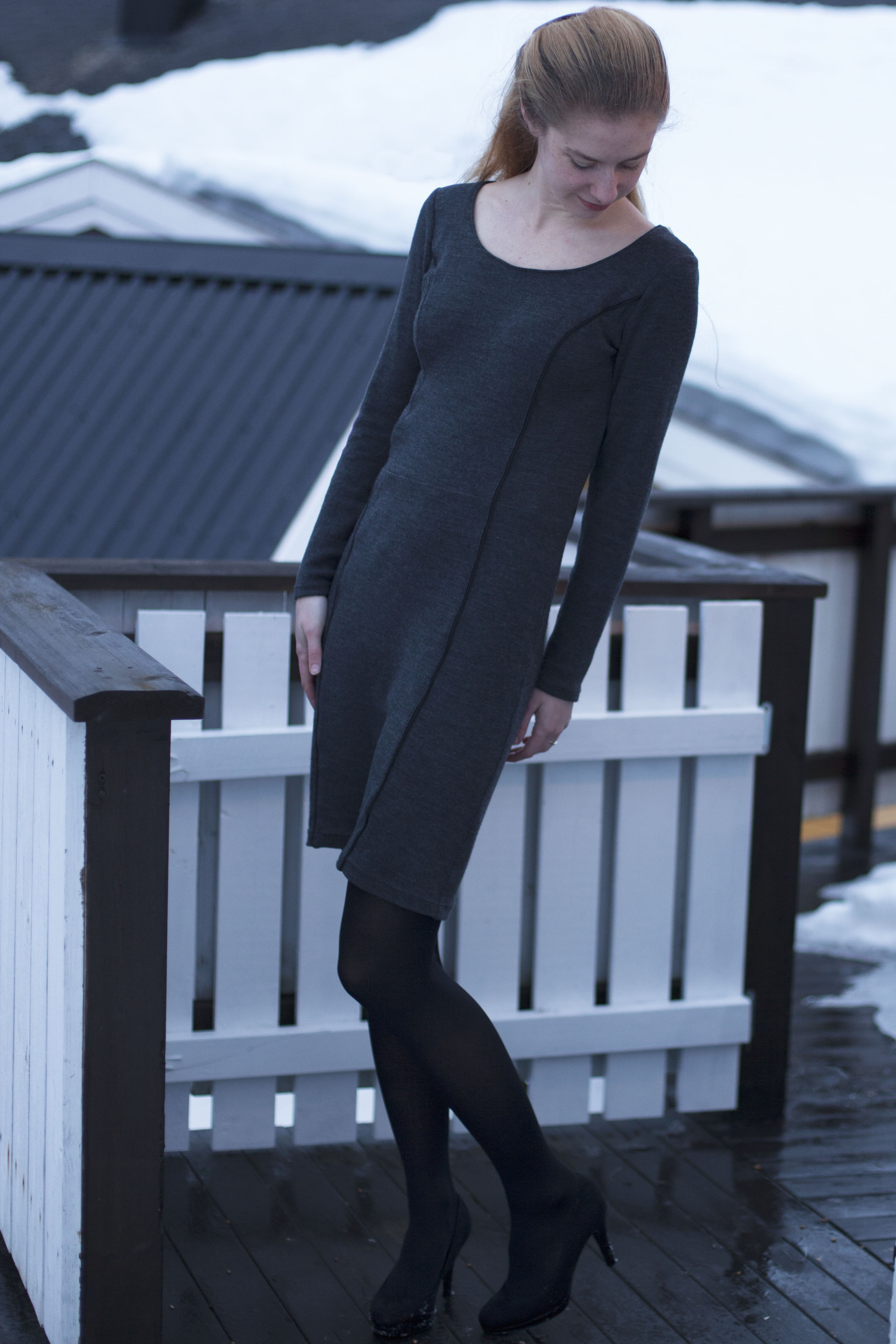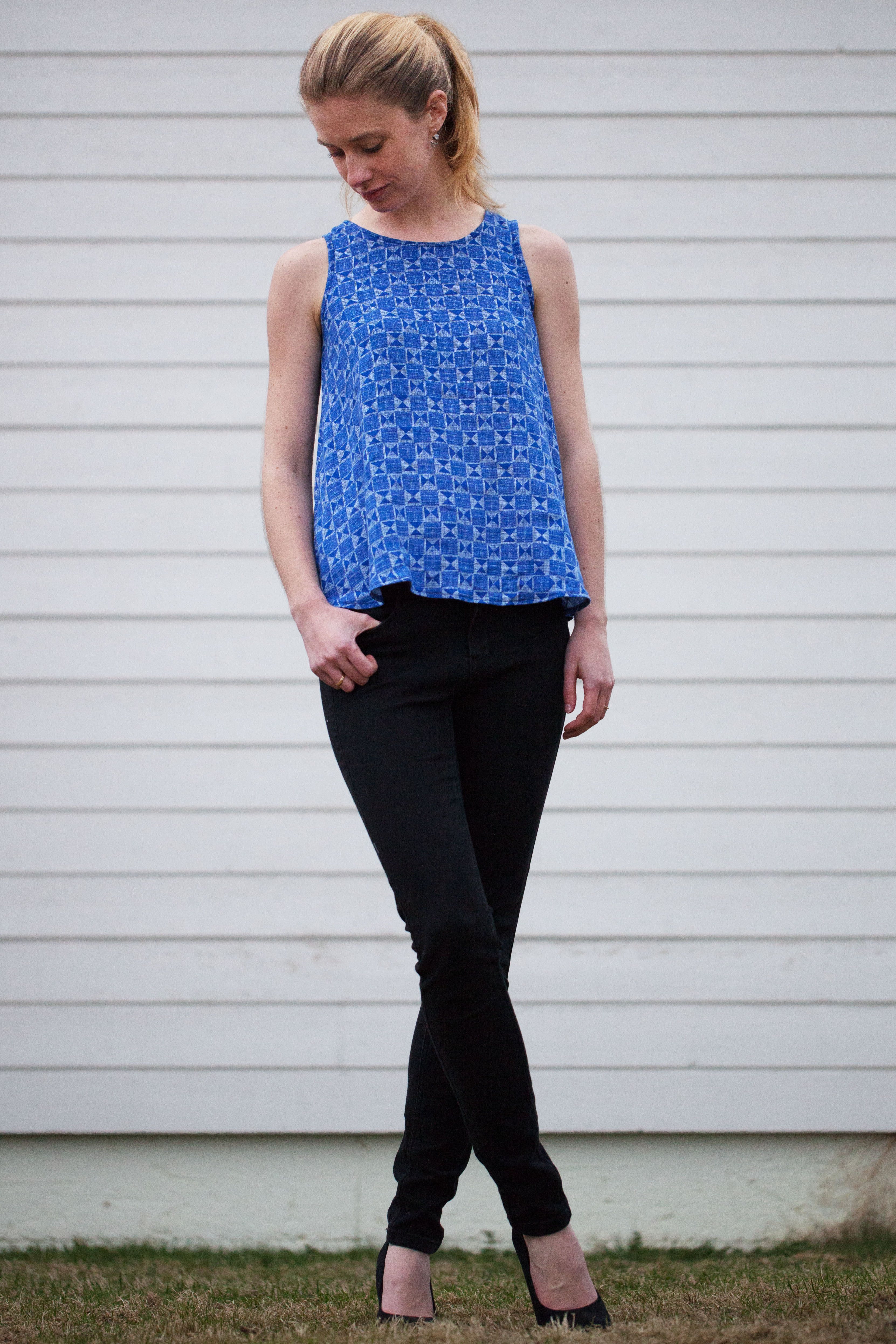 This is the latest pattern from Adrianna and – surprise, surprise – I love it! It's a top designed for flowy knits and it comes with tons of options, too. With side panels or without, with wide straps or slimmer straps and even with sleeves. It's a really flattering design and I love how I can play with different fabric on the side panels, while keeping the overall look of the top simple.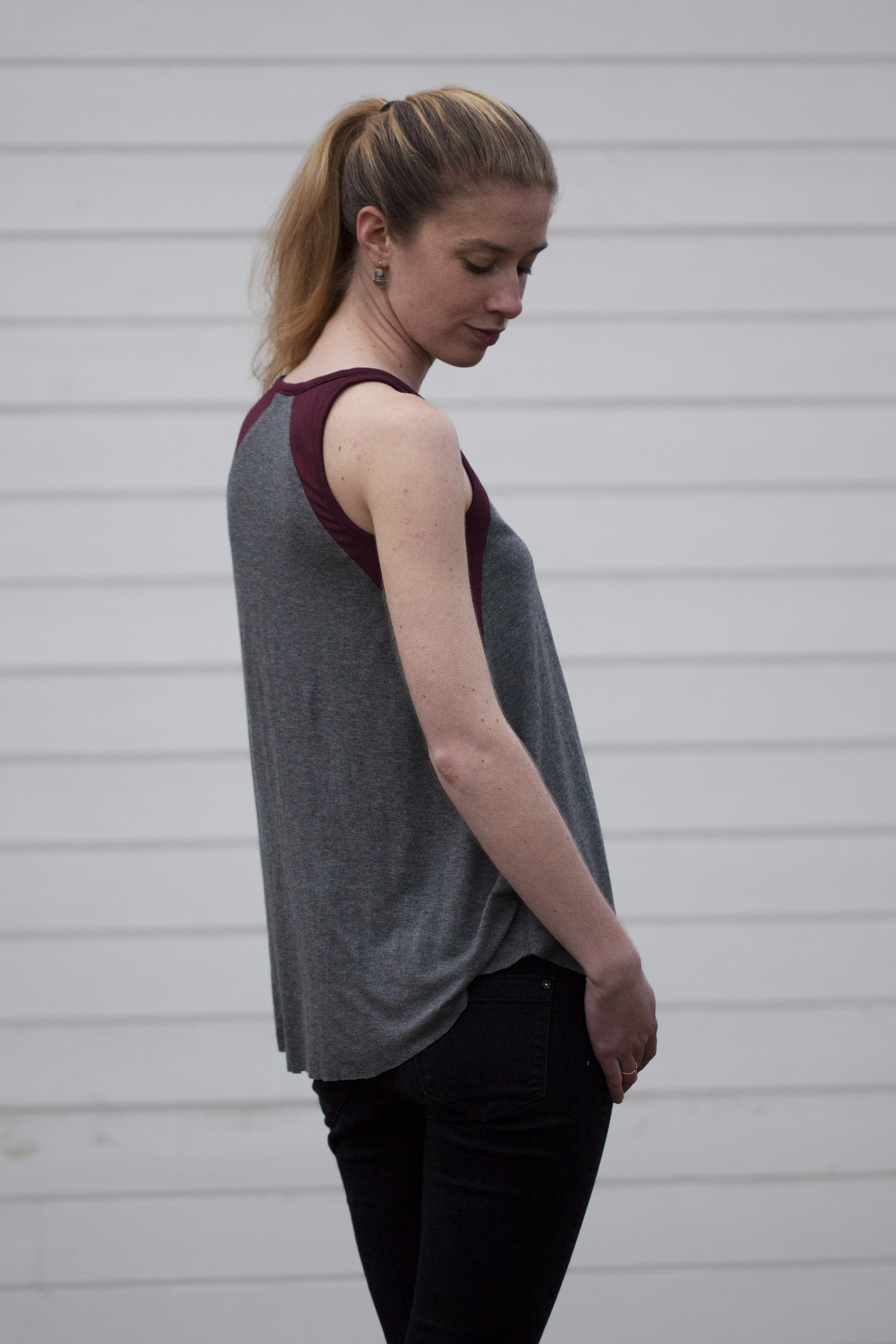 These are the garments I made with Adrianna's patterns so far, but I have so many more plans! I'll give you a few examples of the fabrics in my stash that I can't use, because they're explicitly reserved for special Hey June projects that I haven't come around to making yet: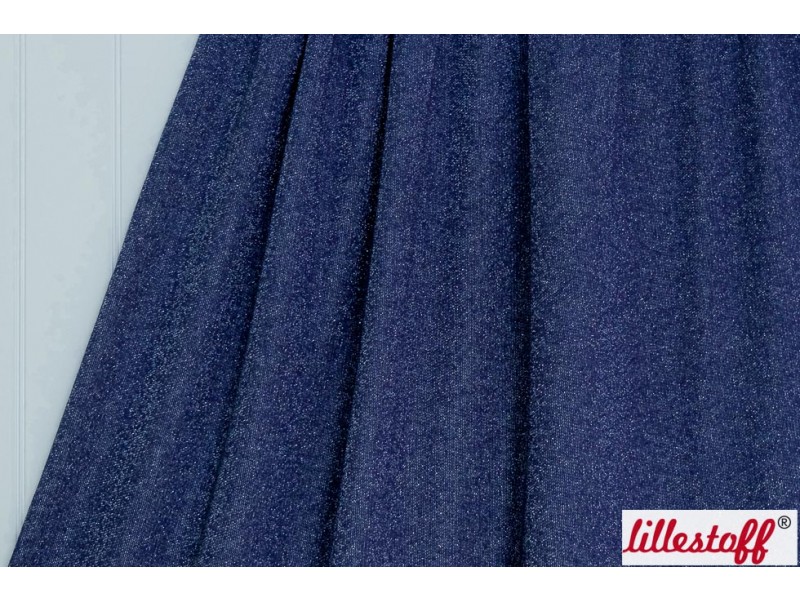 This pretty glitter French Terry from Lillestoff is just waiting to be turned into a Charleston dress – with an A-line skirt and 3/4 sleeves.
These three fabrics – the blue ones are from Miss Matatabi and the red one is a flannel from Indiesew – are waiting to become Cheyenne tunics…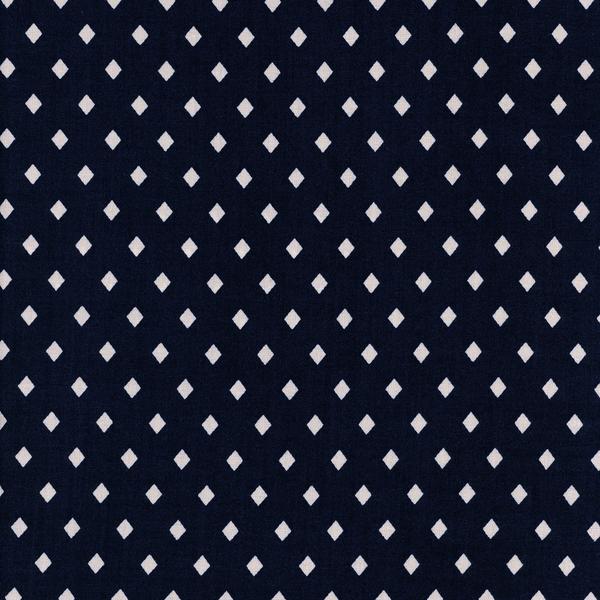 … this super soft rayon challis from Cotton & Steel is reserved for a Biscayne Blouse – a beautiful sleeveless blouse with a hidden button placket.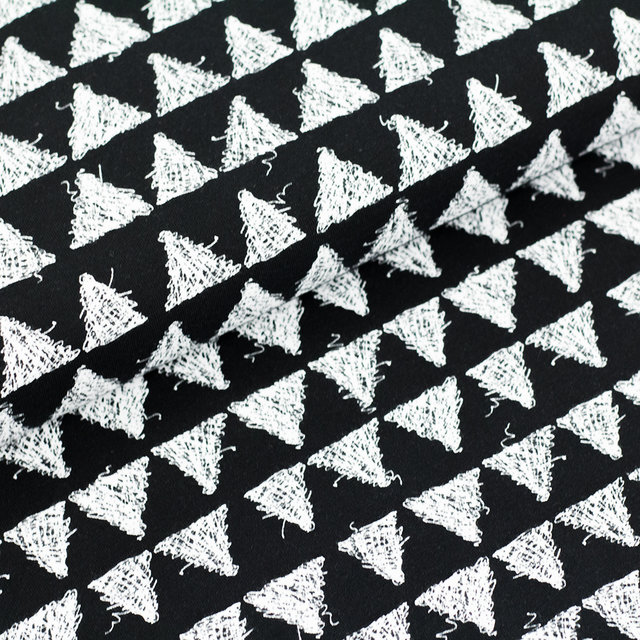 This jersey from Stoffonkel is reserved for a Lane – the famous raglan top from Hey June! I am slightly embarrassed over the fact that I haven't made one yet, since it's such a quick project…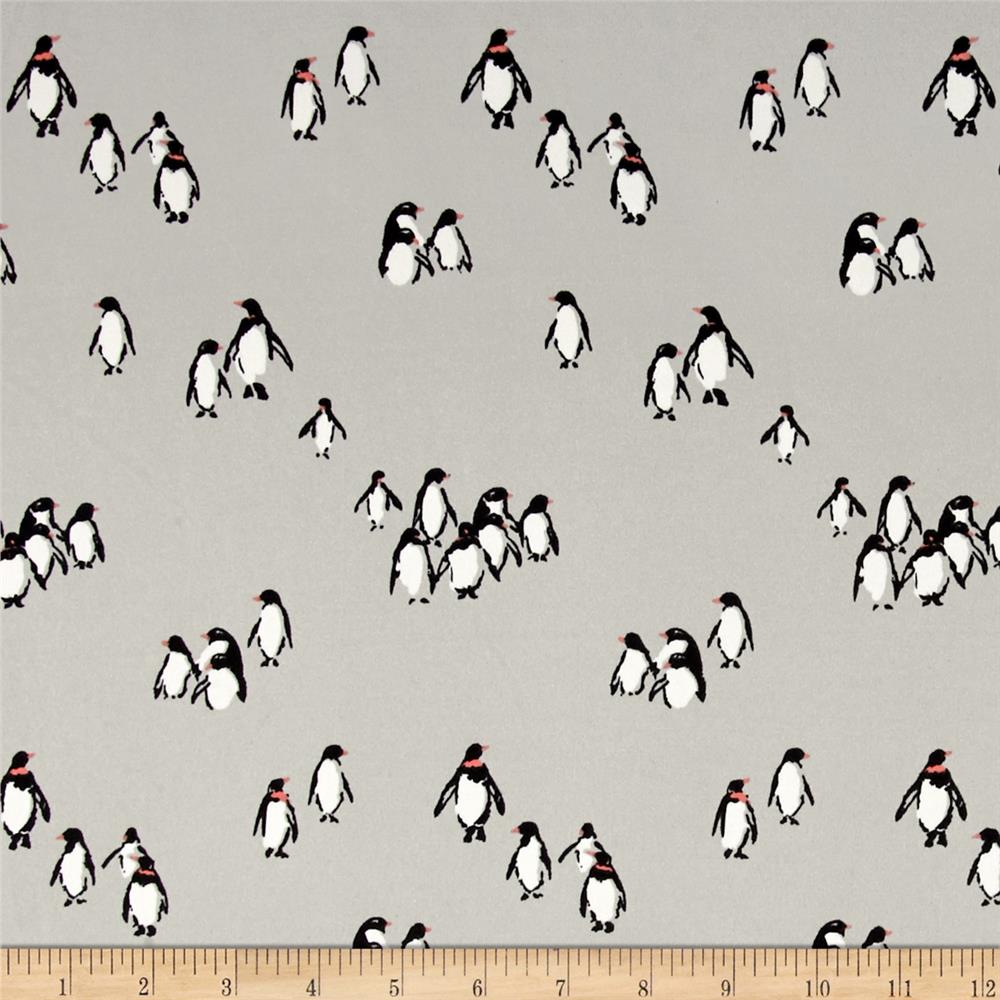 And last but not least, this super cute ITY jersey is going to be a Santa Fe! I obviously need a summer top with penguins… I also have several thicker knits, one of them with an incredibly soft plush on the wrong side, that are meant to be turned into some Halifax Hoodies.
You see – I'll never run out of Hey June projects and I can't wait to see what Adrianna is planning right now! I'm sure I'll love it, because – #adriannaisagenius!