It has been a while since I tested for Christina from Wardrobe By Me, but when I saw her testing call for the Asta Jersey Dress, I just knew I had to jump on board. The Asta is a simple knit dress with a flattering bodice with several neckline options. You can choose between a high turtleneck, a low turtleneck and a boatneck. And the boatneck option convinced me instantly. There's something about boatnecks that I just love. I think they're so flattering, and I feel instantly elegant when wearing something with a boatneck. How do you feel about boatnecks and slash necklines? Is this a kind neckline that feels so good to wear for everyone, or is this just my personal preference/my bodyshape?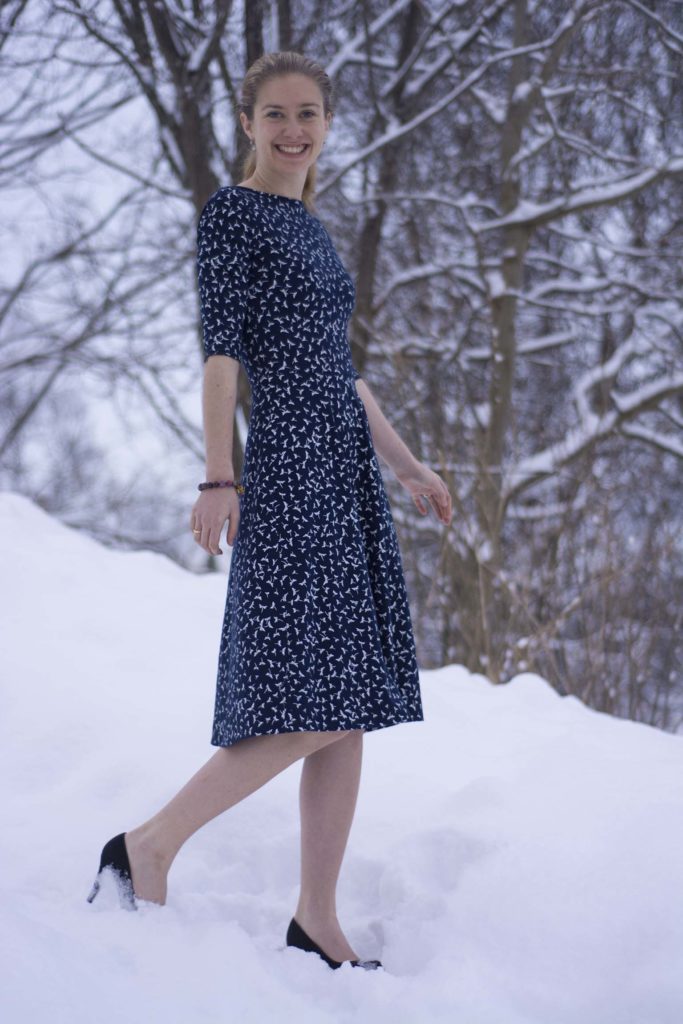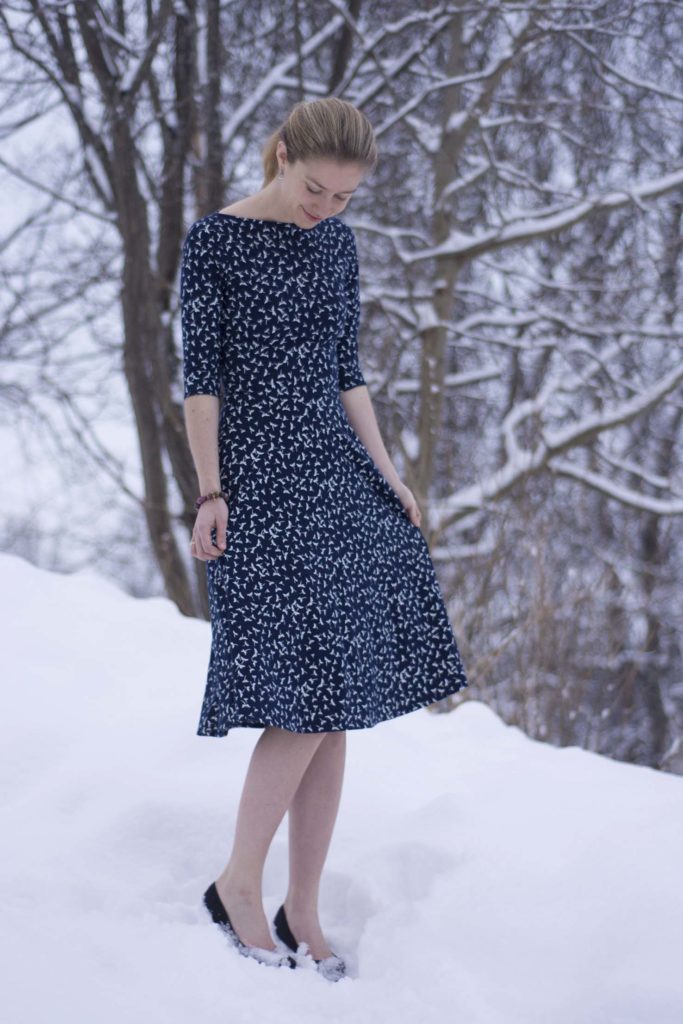 The dress comes with several sleeve options. You can make the dress sleeveless, or choose pretty much every length from short sleeves all the way to long sleeves. There are four skirt pieces, meaning that there's a seam in the middle of the front and back skirt to create visual interest. And the dress comes with patch pockets, which can easily be omitted, too. My fabric is so busy that I chose to omit both the middle skirt seam and the pockets. I didn't really feel this fabric needed any more details and this dress was my first sample of the pattern, so I wanted to keep things easy. And, to be totally honest, sewing patch pockets made of stretchy fabric onto equally stretchy fabric isn't really my favourite chore.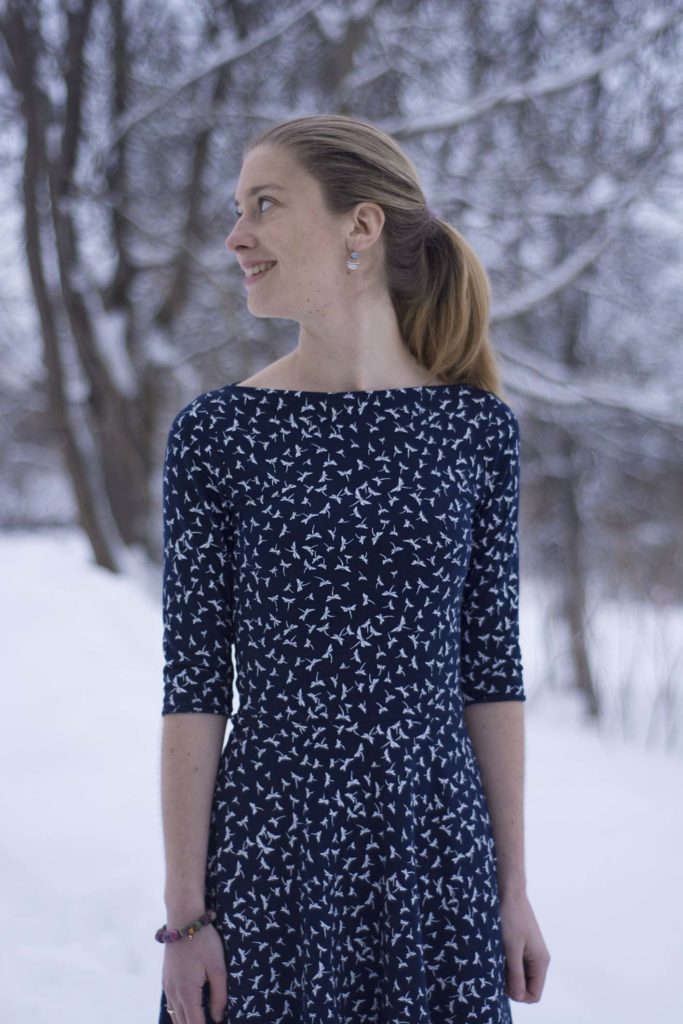 So here is my Asta, as easy as it can get, made of six pattern pieces and five seams (plus four hems). Ending up with a dress like this after cutting so few pattern pieces and sewing so few seams is pretty impressive, right??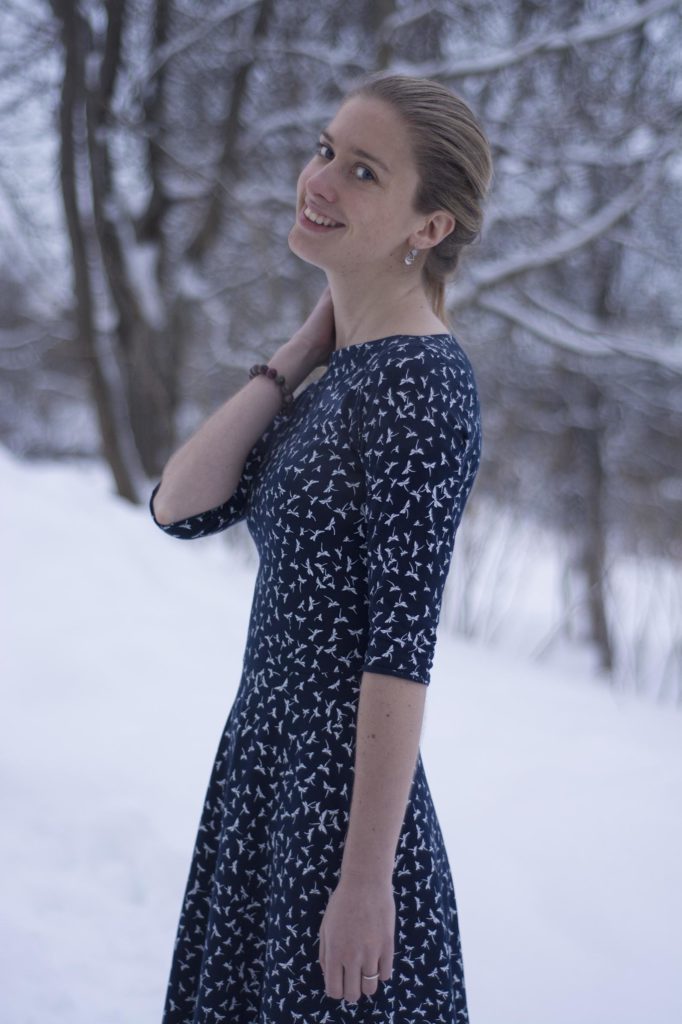 The fabric I used is a cotton jersey from Fabric Godmother, I bought it last spring and I really think I found the perfect pattern to use it with. It's not too thin, not too stretchy and the print is cute, but not overwhelming, The only thing I don't really like about this fabric is that it looks like the dragonflies are kind of "stamped" on top of the fabric, using pretty thick white paint. I'm curious to see how the print holds up after washing it a few times!
I made a size 32 with no alterations, and I love how the dress fits in the bust area. The bodice is pretty long, since it really depends on the stretchiness of your fabric how low your bodice is "dragged" after attaching the skirt. I suggest to just baste the skirt on and to decide if and where to shorten the bodice afterwards. Most people will most likely not need to lengthen the bodice. The skirt is designed to be longer than knee length, I have shortened my skirt just a little bit for this dress (I'm 175 cm tall), but took off about 15 cm off my next dress, which I intended to hit right above the knee.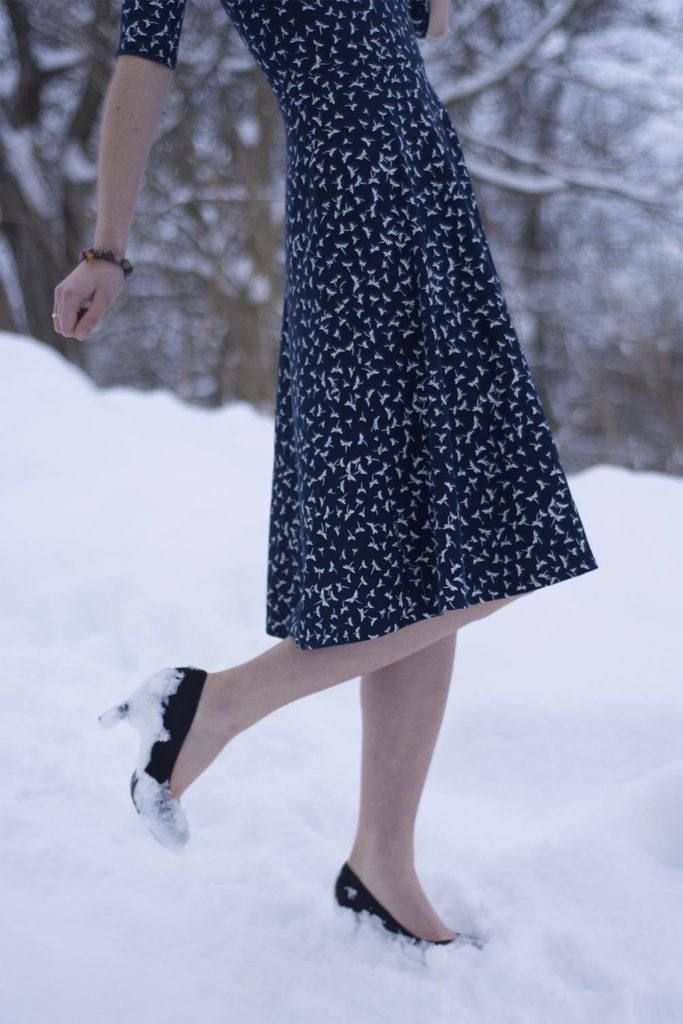 The only thing that didn't work out perfect for me was the width of the shoulders, but that's not really a surprise, since I am often doing a wide shoulder adjustment. Because of my shoulders the boatneck doesn't look as wide as I would have liked it to be, either. I'll show you my final version of the Asta in a couple of days and you'll see there how I modified both the width of the shoulders and the width of the boatneck to make it just perfect.
That being said, the placement of the shoulder seams on this dress doesn't make me any less fond of this beautiful dress! I chose to make this dress a little longer than my "usual" dress length, and I love it. Not for all of my dresses, but I definitely do for this particular dress.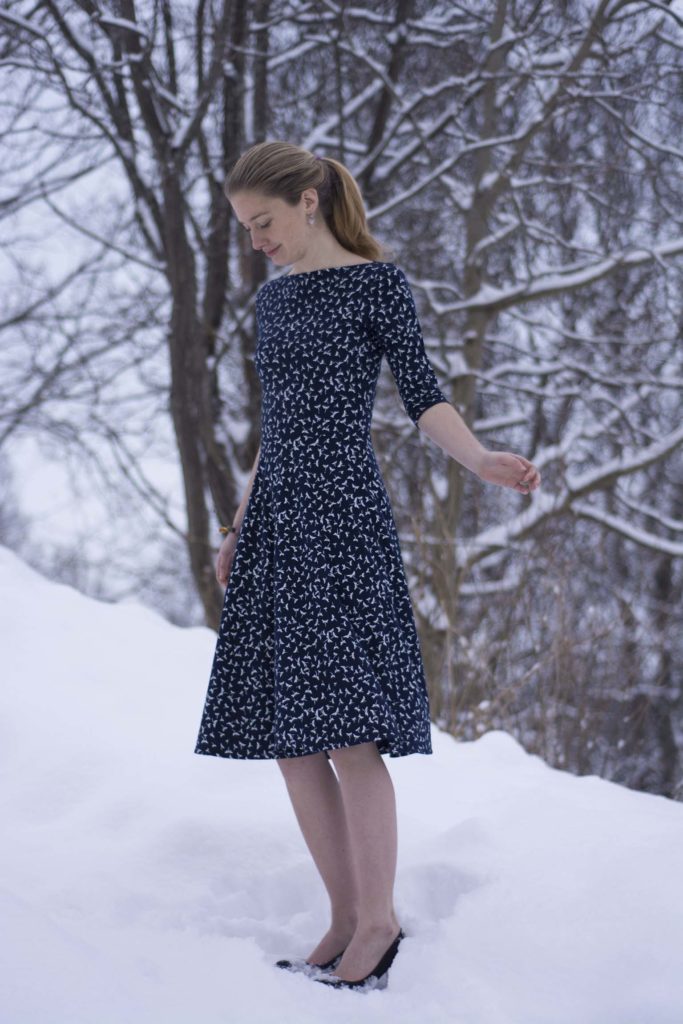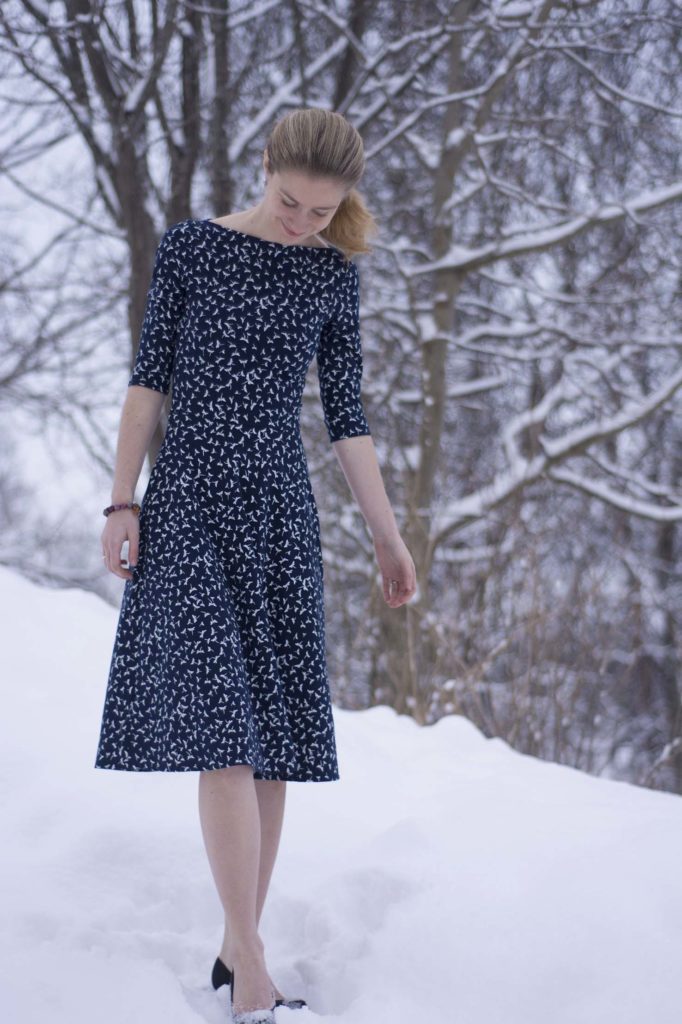 You can buy the Asta Jersey Dress here, it's on sale for 9 USD (instead of 11 USD) until February 2nd.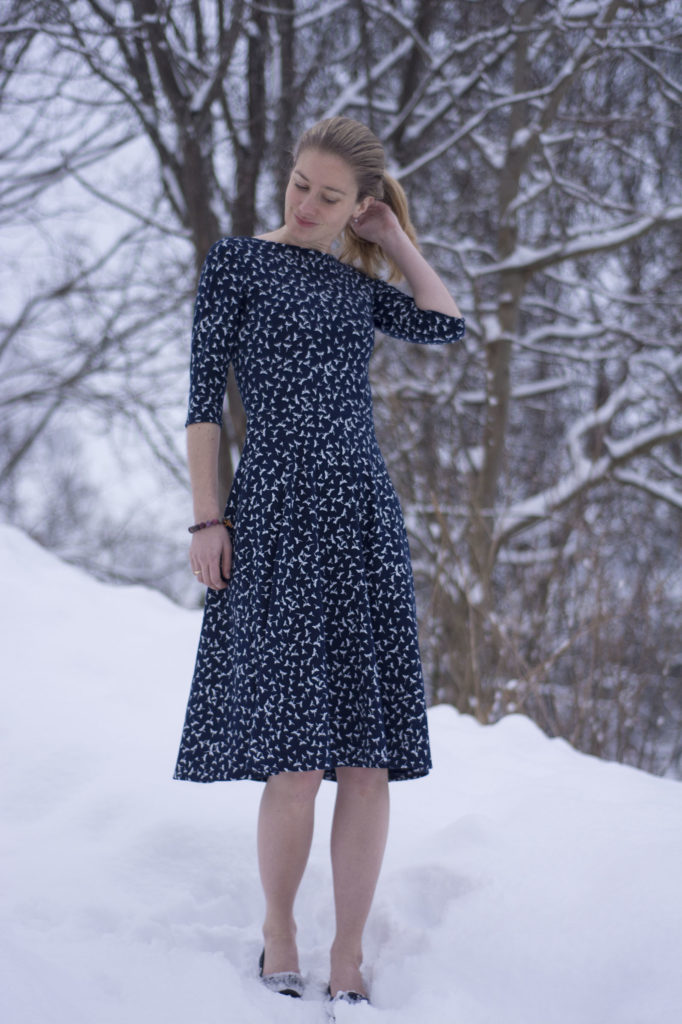 – This blog post contains affiliate links. However, all opinions are, as always, my own. I've been blown away by this dress before even knowing about the affiliate option! 😉 –