This dress has been worn for close to a year now and I thought it was finally time to blog about it, too – especially since it has been worn a lot and I usually get at least one comment about how pretty the dress is every time I wear it. As you can easily see, these pics have been taken a year ago, too – the hair is longer, lighter and there's absolutely no baby bump in sight.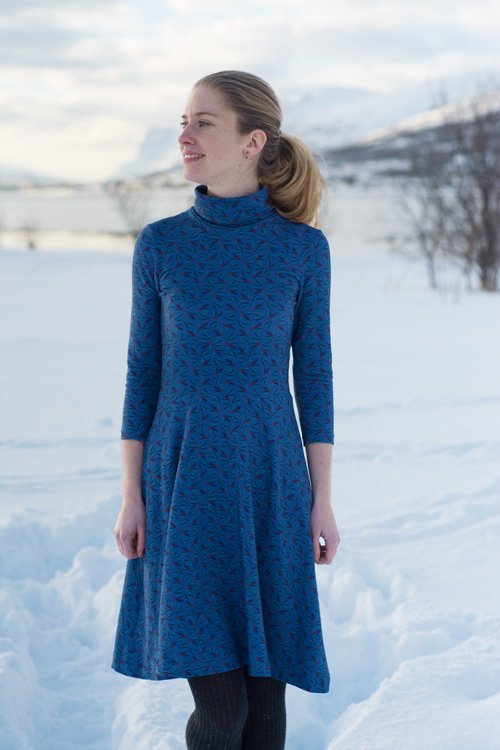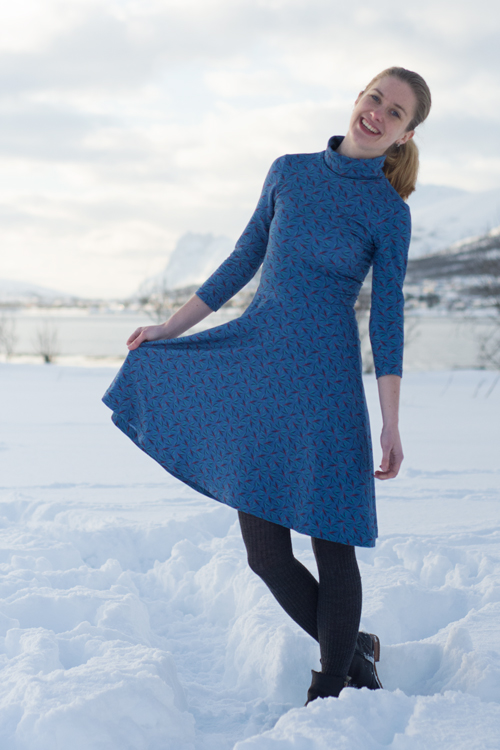 This dress has been made as a sample for the Swafing lookbook for the autumn/winter collection 2017/2018 and the design is by the German fabric designer Lila-Lotta. You can check out the lookbook over here – you can find three pics of my makes in there! Making samples for a lookbook does always mean that you have to wait at least 6 to 9 months with showing your makes on the blog. Sometimes that's so hard, especially when I love the garments and the pics! On the other hand: This way I can actually tell you how the fabric has been holding up and if the garment is actually getting worn or not. But to be honest – I'm wayyyy to late showing you this dress, as the fabric has been released last autumn!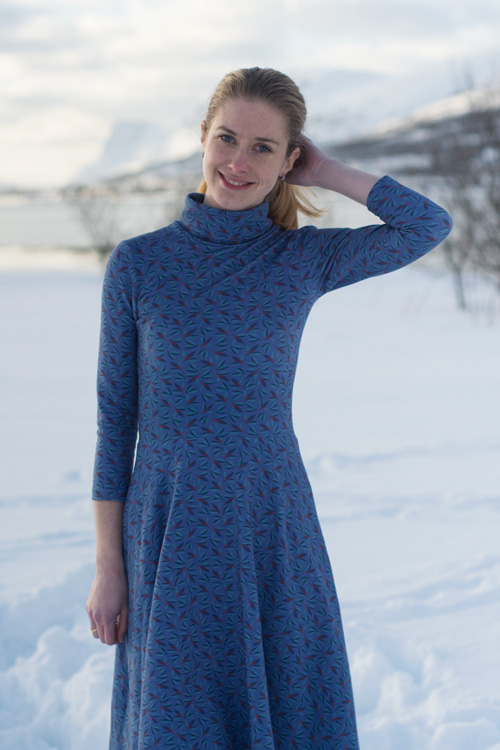 This is the third Asta Dress by Wardrobe by Me that I've made. You can find the other two dresses here and here – both have boat necks and the blog posts include some in-depth review of the pattern. For this dress I chose to add a turtle neck, which is actually included in the pattern too. As are a ton of different sleeve options. Check it out! The original dress pattern includes curved pockets that are sewed on top of the skirt, but you can find my tutorial on how to add curved inset pockets here. And for this version, I skipped the pockets all together! (And I have to say that I wish I had added two invisible in-seam pockets!)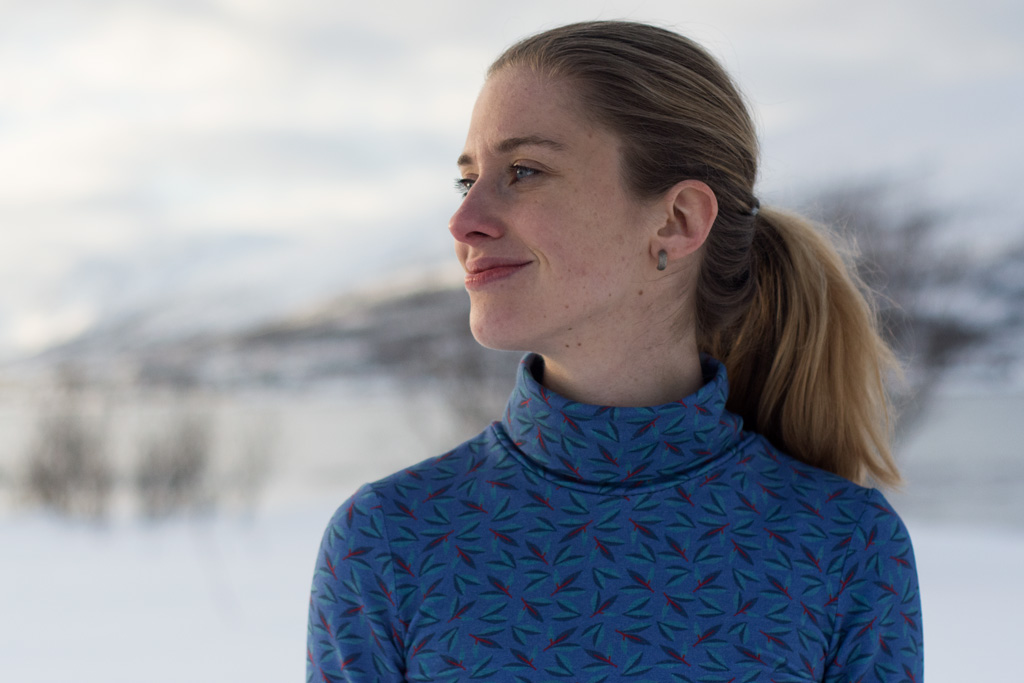 The fabric I chose to use is a modal sweatshirt fabric and I absolutely love it. It consists of 60% cotton, 35% modal (which is a special kind of viscose/rayon) and 5% elastan. The fabric isn't too thick, has a good amount of stretch and the added modal makes the fabric incredible soft. The back of the sweatshirt fabric is small soft loops. Since I've been wearing the dress quite often, I can tell you that the fabric holds hup very well, too – the colours look still nice and there's no pilling.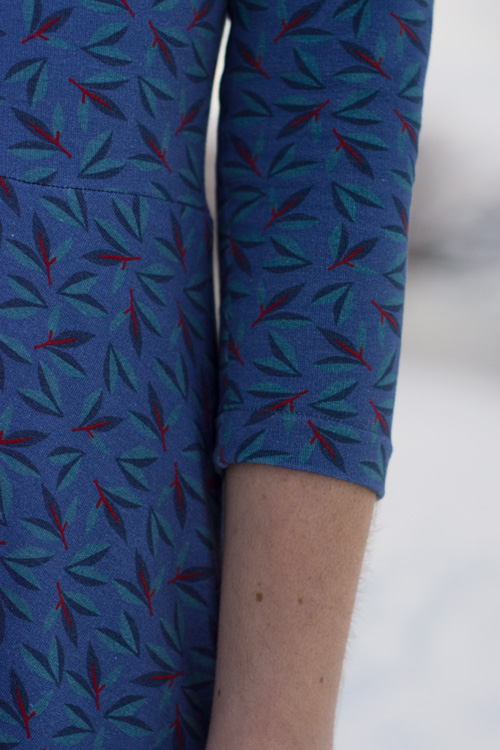 The fabric I used is called Autmn Feeling and you can find it in many (mostly European) shops by googling "Lila-Lotta Autumn Feeling". One of the shops selling this fabric is for example Nähzauberei.
Sewing this dress was very straight forward. The only thing I messed up was not adding enough width to the coal. I underestimated that sweat does not stretch as much as a thin jersey fabric. Let's just say: It didn't go to well when I tried to drag the dress over my head for the first time and my husband has a hilarious video on his phone showing his wife stuck in a turtle neck dress. And no. I won't share it here, not a chance! So I had to re-cut the cowl, which is luckily quickly done and the second time was a much bigger success. I'm very pleased with having found just the right balance between a wide enough turtle neck to be able to get the dress on and off and a slim enough turtle neck to keep my neck warm and make the fabric actually stand up the way it does.
I even took the time to add a little piece of the oh so pretty selvedge to the inside of my hem to remind me of the collection name. Only I know that it's there, but I always enjoy these little secrets in my me-made garments. Unfortunately I can't wear this dress right now, since the waist seam is pretty low and would stretch right across my bump, which would look rather strange. But it's waiting for me in my closet and I can't wait to start wearing it again!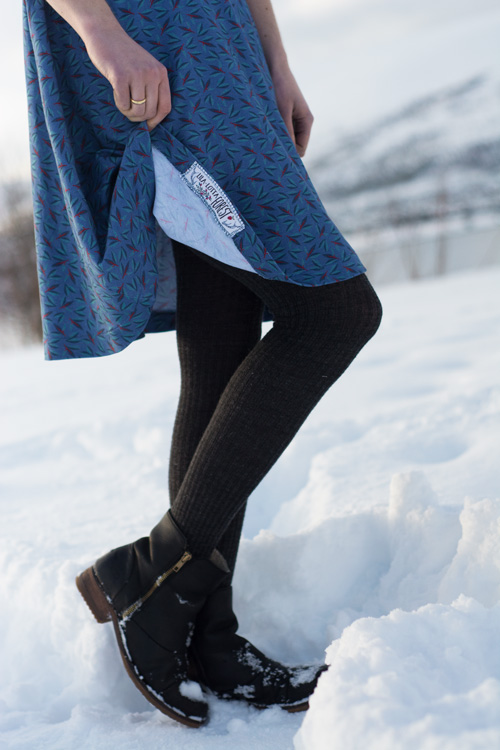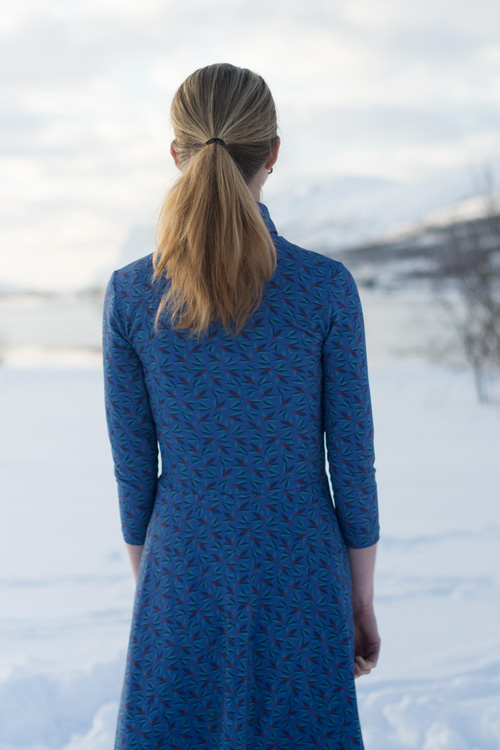 – This blog post contains affiliate links for the Asta Dress by Wardrobe by Me. However, all opinions are, as always, my own. –