It has been a while since I got the chance to sew a sample for my friend Bettina from Hello Heidi Fabrics, so I was really excited when she showed us her latest collection, "Anne". It's a silky smooth woven viscose fabric – not too thin, not too flimsy and not too difficult to cut or sew. It comes in two designs (Flowers and Garland) and three colourways – Cherry, Indigo and Marble. If you look closely, the Garland pattern is a slightly more muted palette than the Flower pattern. But they still work together beautifully!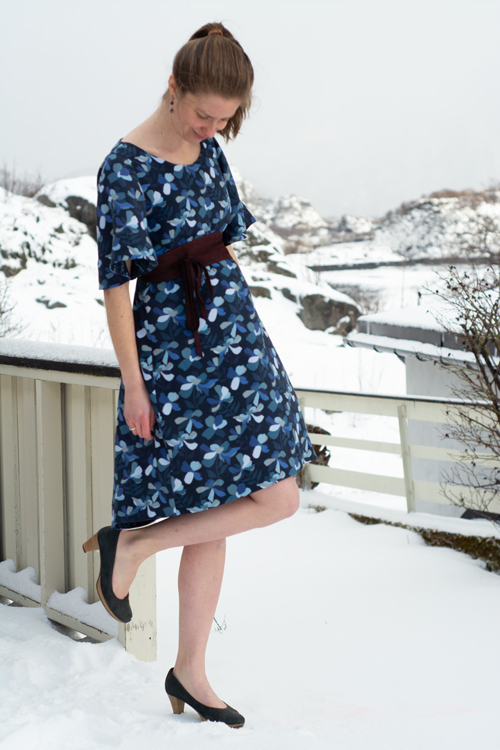 I knew I wanted to sew something using Flowers in either Cherry or Indigo, and went for Indigo in the end. The only question was – what could I sew that would fit now and would be equally useful after my pregnancy? When I was pregnant with our son, I tested the Sirocco Dress by Coffee & Thread. It looked lovely with a baby bump, and I've been wearing it regularly ever since. At least since I stopped nursing – it's not a very nursing-friendly dress! You can read the blog post about my first Sirocco dress here.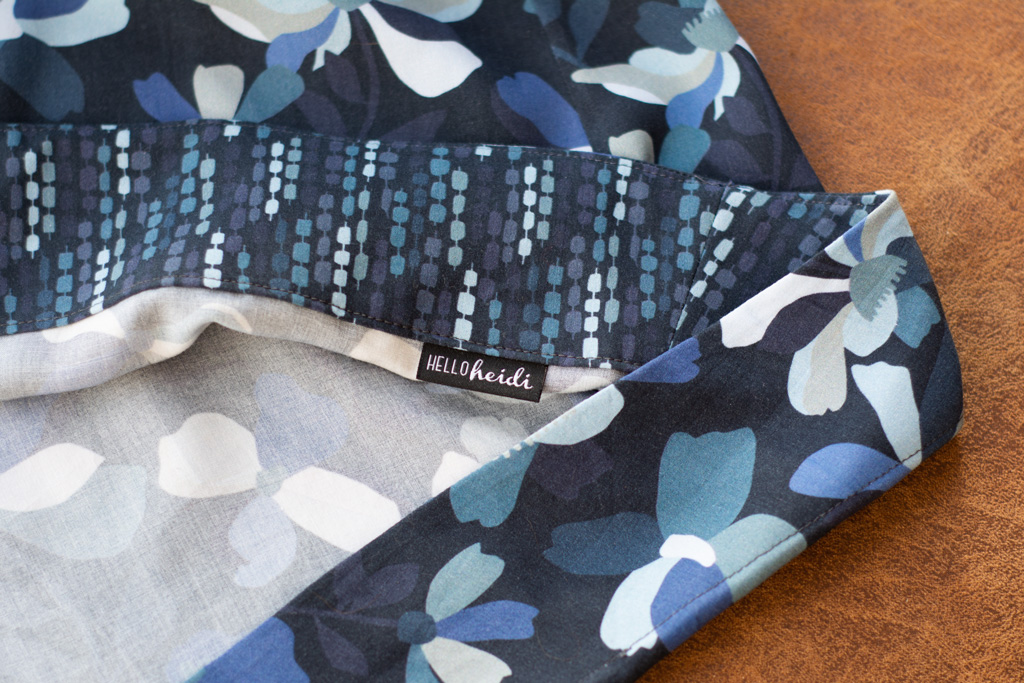 I love the clean finish of the Sirocco. I sewed my first version entirely with French seams, and the wide facings along the neckline, sleeve hem and hem give the dress an extra clean finish. It's equally beautiful inside out! Since I made the Sirocco before, no muslin was needed, either. I love my first version as it is, and luckily I had my first blog post to remind me that I made a size 4 and lengthened the dress by 2 cm. So that's what I did this time, too.
The only change I made compared with my first version was altering the neckline slightly. The Sirocco dress has a round neckline, just wide enough to be able to pull it over your head. Personally, I prefer a wider neckline – I simply think it suits me. To achieve this, I took off 4 cm on each side of the shoulder seam and raised the front neckline by 2.5 cm. The original neckline didn't feel too low at all, but I didn't want to risk the dress falling off my shoulders by widening the neckline that much. In the end I think raising the neckline wouldn't have been necessary, but I like the overall look, so it worked out nicely. (If you attempt this hack, don't forget to change the shape of the facings accordingly, too!)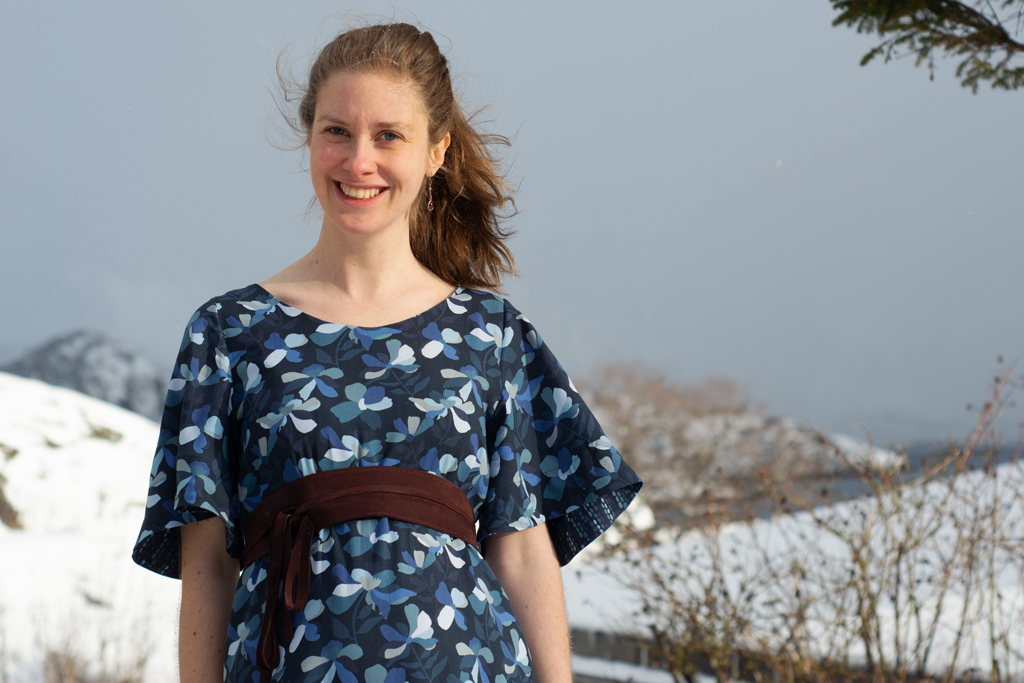 Another reason why I chose to make the Sirocco is the fact that the dress has a subtle high-low hem and very wide sleeves. Because of this, the facings on the inside are visible, and so I thought it could be fun to use Garland as a contrast facing. I know there are amazing sewists out there who could mix and match these prints in an amazing way, but that's just not completely me. I'm kind of boring in that regard. But adding just a tiny peek of the other print on the inside seemed perfect to me.
The fabric was rather easy to work with, much more like a cotton than a very flimsy viscose fabric. I wrote about how thin and unstable the viscose fabric I used for my Minna Dress lining was – but this fabric is proof enough of the fact that indeed not all viscose fabric is "evil".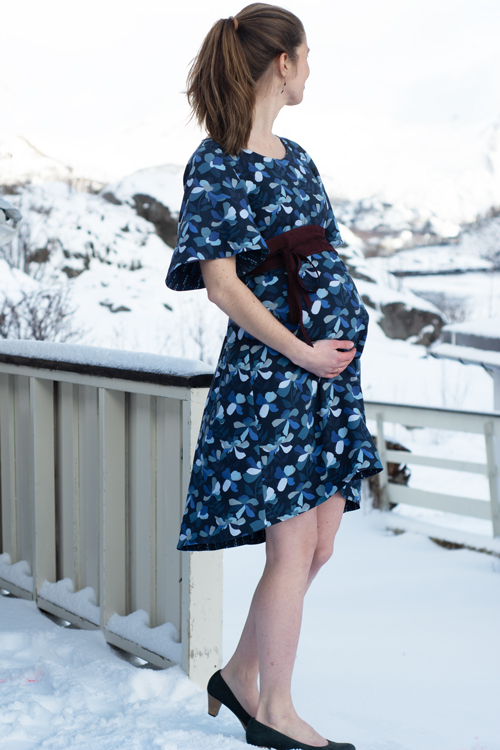 Only remote control pictures taken on our porch this time around, but that's how it is from time to time, right?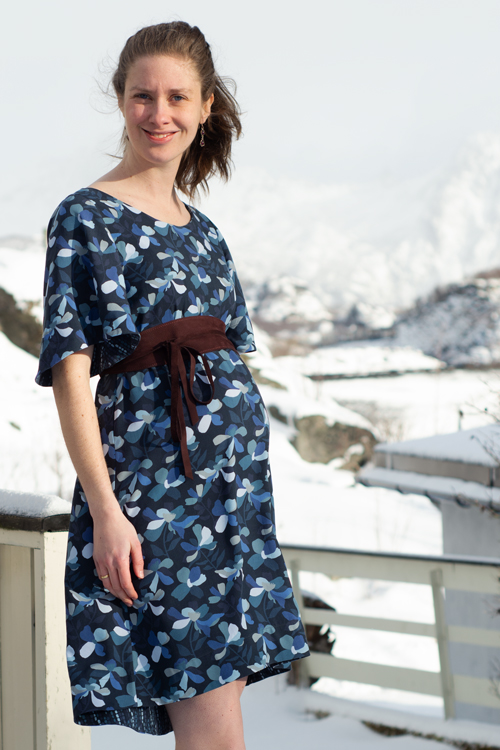 You can buy the fabric collection Anne in all three colourways over here. But hurry up – once a fabric is gone, it's gone forever!
– The fabric for this dress was provided to me for free in exchange for pictures. However, all opinions are, als always, my own. –