There's a new pattern in town – the Ashton Top by Helen's Closet. Well – on the one hand it's new, on the other it's not. I first tested the Ashton for Helen back in fall 2017, but the timing wasn't right and the pattern was put on hold for a while. I actually asked Helen several times about the pattern and was happy when she decided to run a second test and release it.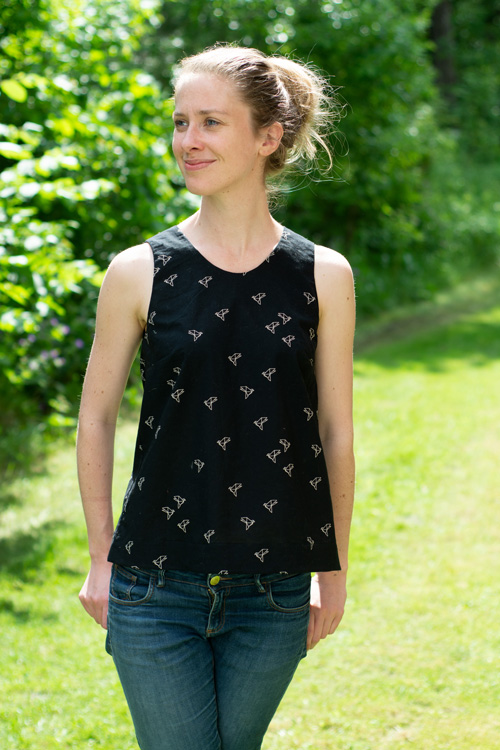 The Ashton is a simple woven top with an A-line shape. There's a cropped version and a hip-length version, both hems are finished with a wide facing. There's the option of finishing the neckline and the armholes with an all-in-one facing, or with bias binding. It's also important to mention that the pattern comes with one front for a B-cup and another for a D-cup, improving the fit greatly for people who otherwise might need to do make major changes to achieve a desirable fit.
One of the best things about the Ashton (besides the all-in-one-facing (I love such clean finishings!) is how little fabric it takes, especially the cropped version. It's just perfect for stash busting. And that's exactly what I did for my black version. Do you remember my Penny Dress from about two years ago? I had a some of this pretty lawn from Atelier Brunette left and it was just enough for front, back, and facings.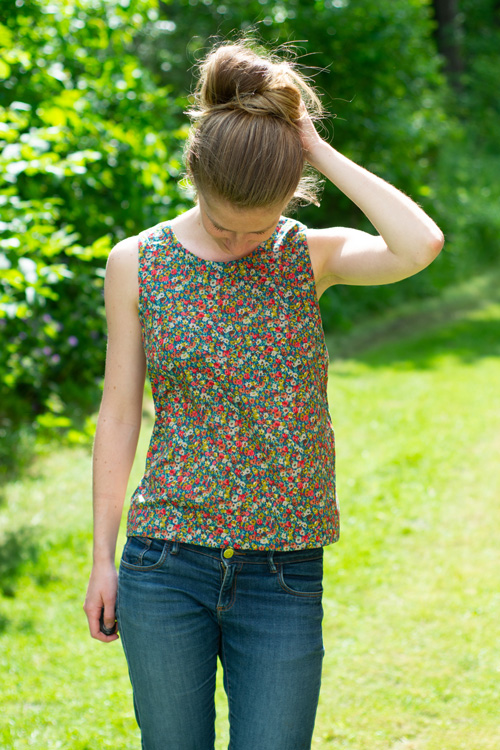 As you can see, I made two versions – the other one is a floral version made of a soft cotton lawn/voile. The floral version is actually my first tester version from 2017, not the same pattern Helen released today. But I wanted to share it with you anyway for two reasons: First of all, as my body is rather straight and simple to dress the fit of the first version worked nicely for me, as did the new one. I know from other testers that they found the now released version of the Ashton to be greatly improved, fit wise. The other reason is the neckline. The neckline of the new Ashton ended up being a bit too scooped for the lower sizes and was changed a little before the release to make it look more like the neckline on my floral version.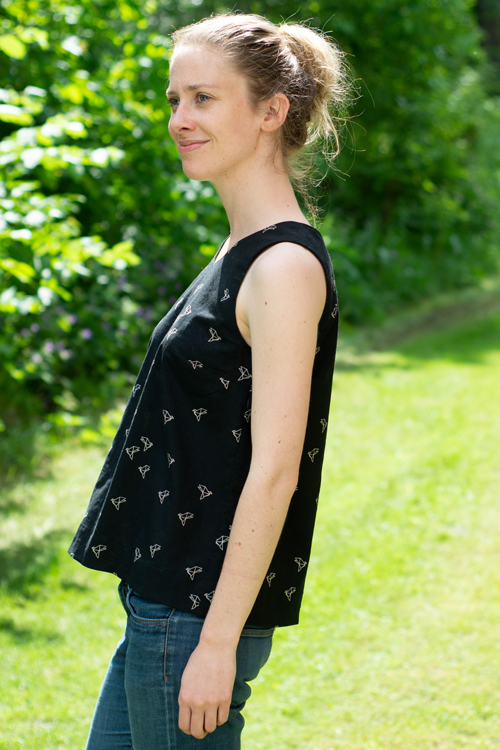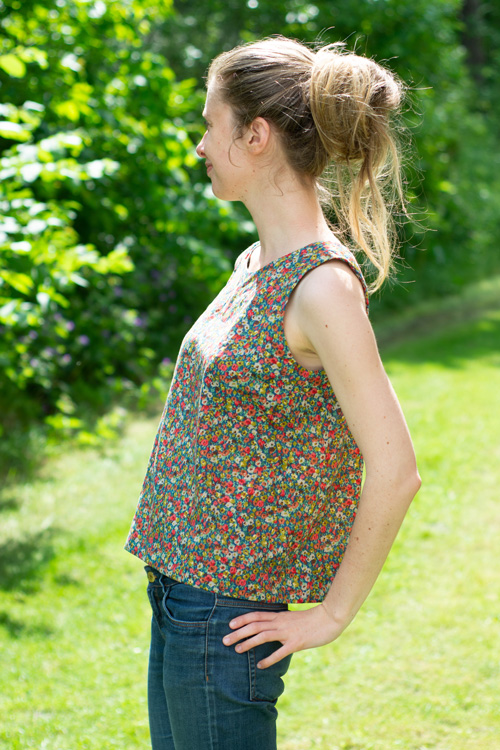 As always, Helen's instructions are absolutely thorough and clear. Helen's Closet is one of the indie pattern companies highest on my list when I suggest patterns to people who are new to sewing. The lengthy and thorough instructions are perfect for learning how to sew or learning new techniques.
The Ashton is sewn quickly and is very easy to sew, especially when you use fabric like cotton lawn, as I did. With fabrics like silk, rayon and so on, you get a drapier top that might be better for tucking it into skirts or pants, but it will also make sewing the top a tiny bit harder. The facings aren't interfaced to reduce bulk and if you're working with a fairly stable fabric there's definitely no need to do so, either. Should you work with one of those fabrics that mysteriously change their shape every time you turn around, you might want to consider interfacing the facings.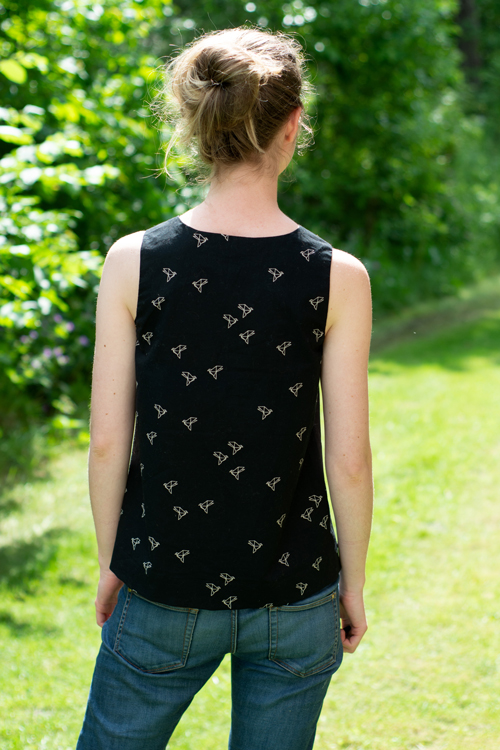 I am rather happy with the fit of the Ashton without any adjustments, other than the length. I lengthened the black Ashton (remember, that's the released one!) by 1″/2,5 cm, which is a little less than I should have lengthened it when comparing my height with the height the Ashton is designed for. You can also see some slight wrinkles above the bust, close to the armscye. I think that's partly because of the slightly stiffer lawn, but I might also consider shortening the top above the bust just a tiny bit to remove excess fabric.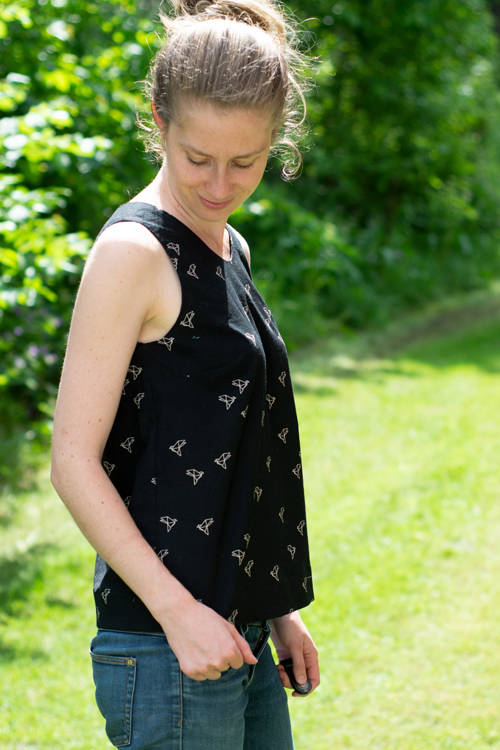 Oh, want to know a little secret before I wrap up this blog post? I never hemmed my floral Ashton from 2017 until this test came up! Yes, I am rather good at procrastinating. The beautiful top was just waiting in my sewing room to be finished. And once I finished my black Ashton, I took the time to finally finish the floral version, too. It took me ten minutes. Literally. Isn't it incredible how we can put off doing something for 18 months that only would have taken us ten minutes? If you have UFOs laying in your sewing room: Go finish them! It feels SO good!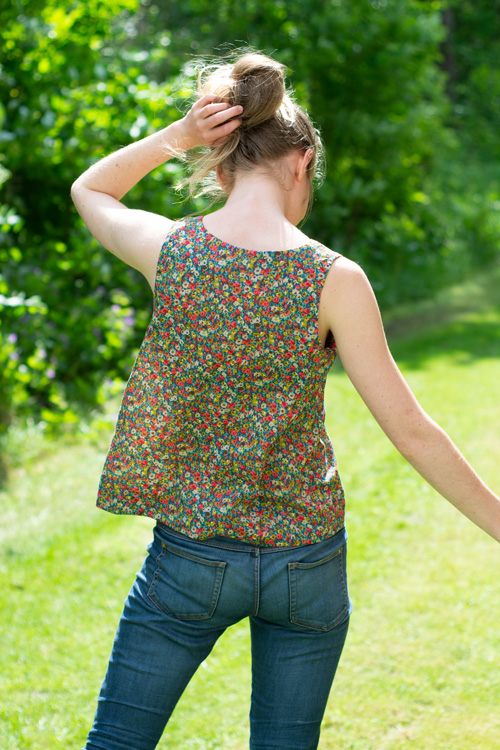 You can buy the newly released Ashton over here – it's 20% off this week only. And I completely forgot – Helen released a simple drawstring skirt at the same time, too! I haven't tested it, but you can find it over here, and it's on sale, too.
Thank you for reading!
– I tested this pattern and didn't pay for it. I also got the Donovan Skirt for free. However, all opinions are, as always, my own. –