I first made the Lou Box Top by Beth from Sew DIY when it was part of the Indiesew Spring 2016 collection, and I have made several of them since (here and here). I liked all the possibilities the pattern gave me and how easy it is to sew. So you can imagine how glad I was when Beth wrote an email telling me that she worked on not just one, but two Lou Box Dress patterns.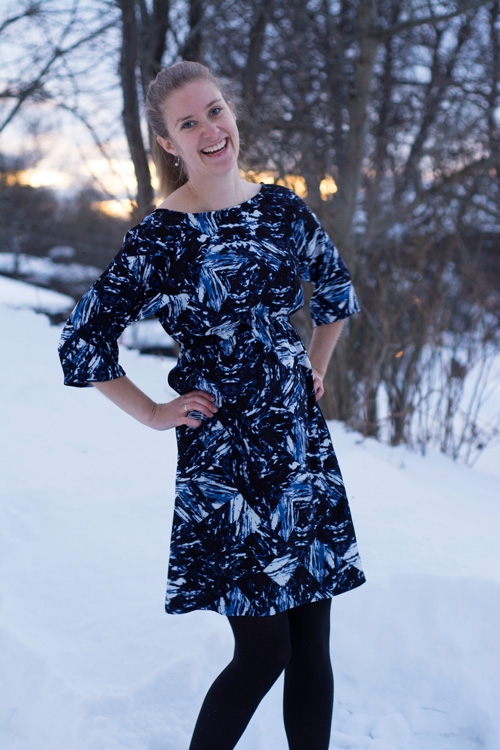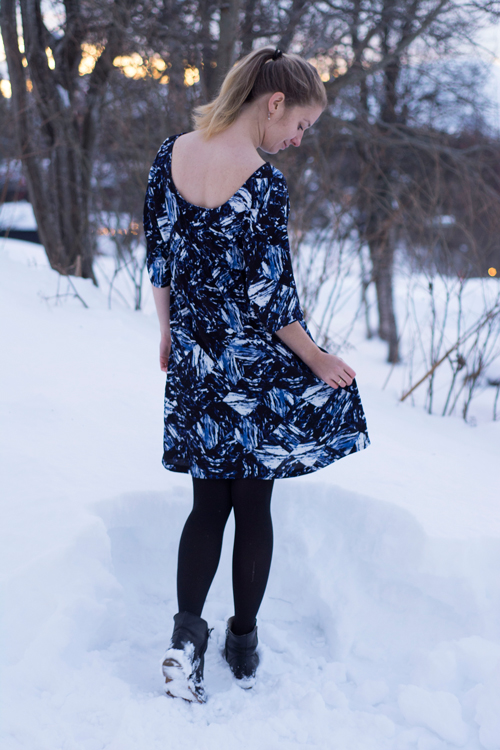 Version 1 is a boxy kind of dress with short sleeves and cuffs, version 2 has long or 3/4-length dropped sleeves, a gathered waist and curved pockets. Both versions have an optional chest pocket, two different back necklines and can be made using knit or woven fabrics. The instructions include adding a back slit and a button for woven fabrics, too.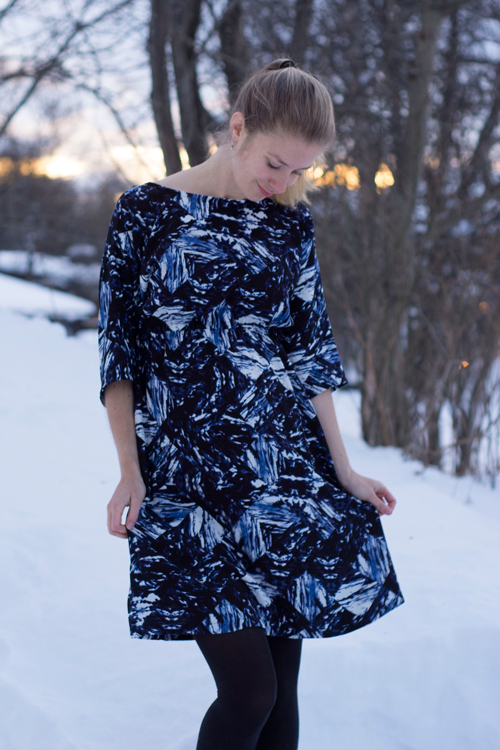 I chose to make version 2 of the Lou Box Dress and hacking it a little to make it work for maternity and beyond. I raised the waist by shortening the top and lengthening the skirt a little and omitted the pockets, since they might have looked pretty weird added to an empire waistline. Otherwise I haven't made any changes.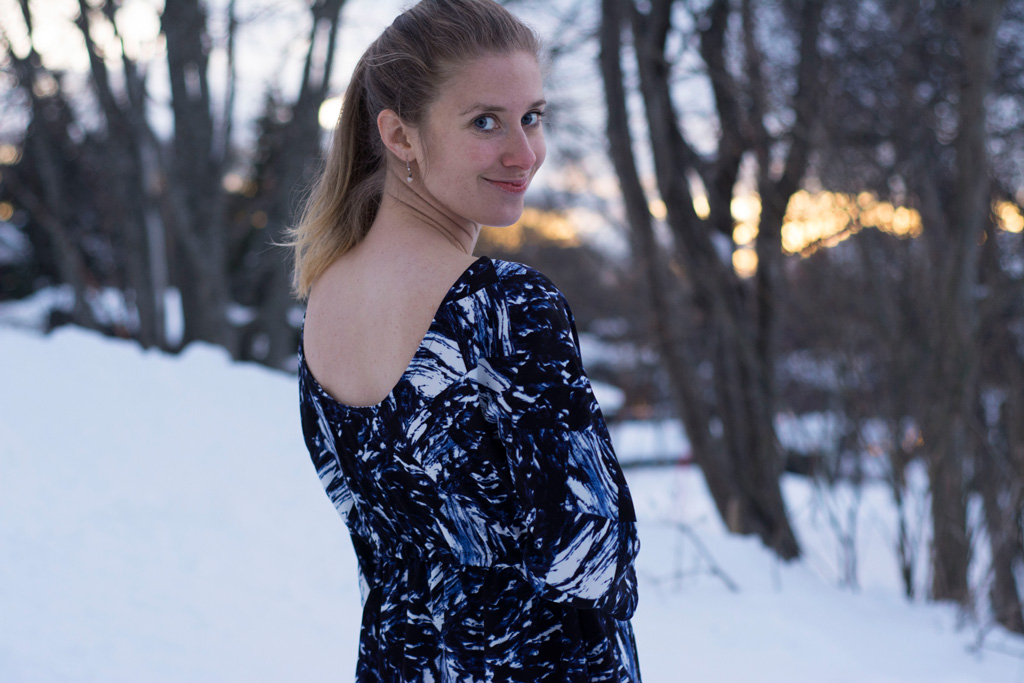 The fabric I used is an amazing rayon crepe from LA Finch Fabrics. I bought a bunch of fabrics from LA Finch while I visited Denver back in September and the lovely Josie, owner of LA Finch, suggested that I'd buy some of that fabric, since she thought it was just right for me. And how right she was! I might not have bought the fabric without her suggestion, but I am so glad that I got it! The fabric has a slightly higher weight and a beautiful drape, making it perfect for a dress. It's not flimsy at all! It's easy to work with and has a lovely subtle texture. And do you know what's best about the fabric? It doesn't really wrinkle! It might have a few wrinkles, but they don't show at all on the fabric and I can take it right out of the suitcase and wear it. The bad news: It's sold out! I'm so sorry about that!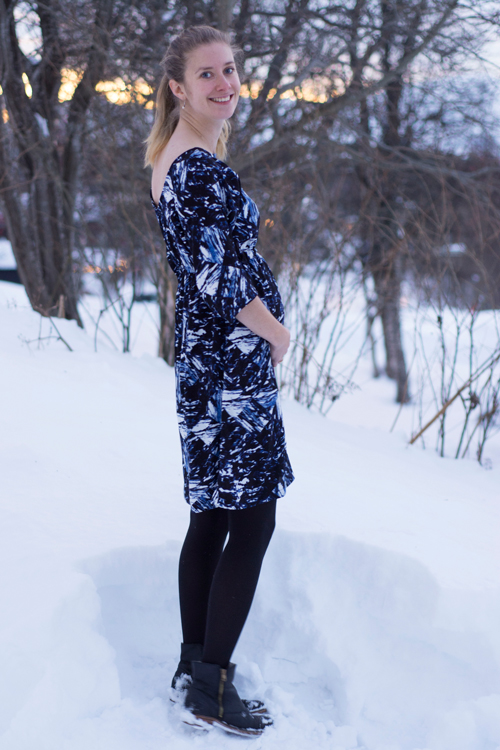 Sewing the Lou Box Dress (especially without pockets!) is very easy. When sewing the dress without pockets, you don't even have to print the front of the skirt part, since it's actually the same pattern piece as the skirt back, just with added cutouts for the pockets. Since I chose the lower back I cut the back on the fold, too – there's no need for the middle seam in the back if you're not adding a button. The only part that might be a little tricky for a beginner sewist is adding the neckline binding, especially when working with woven fabrics.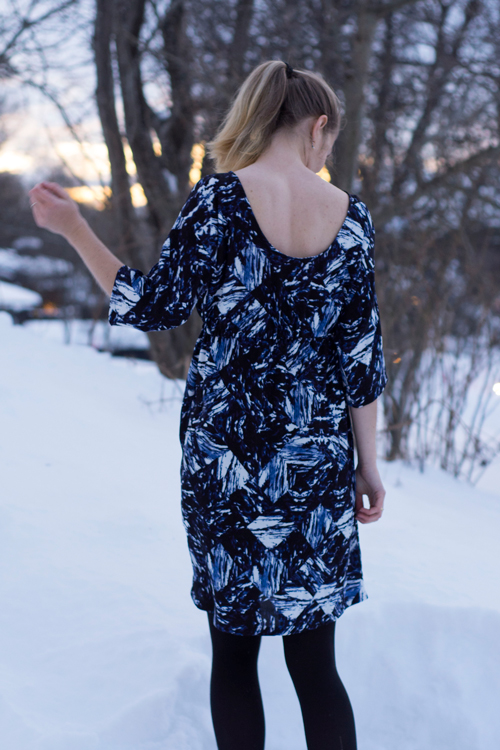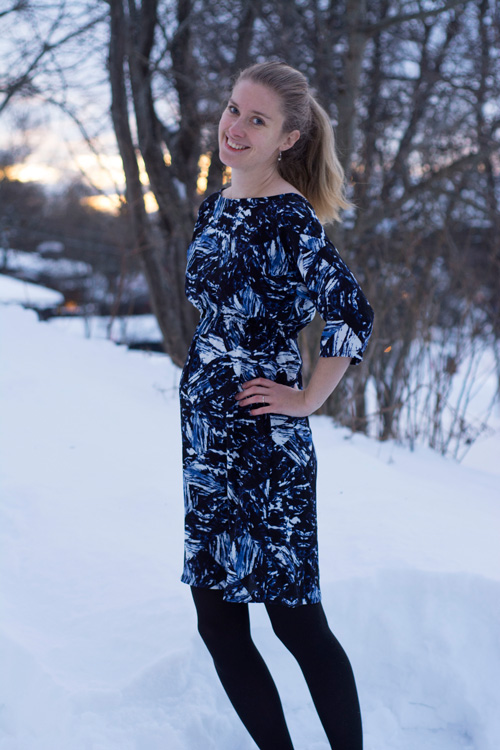 I chose to sew the whole dress (besides the waistline seam) with French Seams, making for a beautiful finish on the inside and outside. At first I cut the dress with long sleeves, but after trying it on I decided to cut the sleeves off, ending with a random 3/4-length sleeve, suiting the style of the dress better than the long sleeves.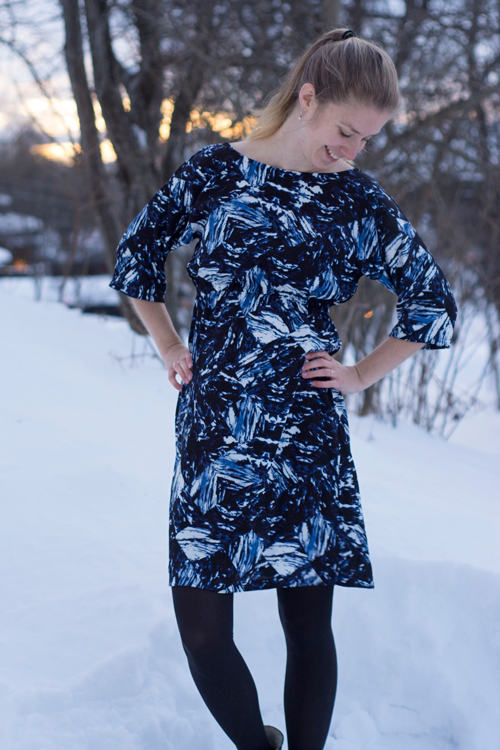 I've been wearing this dress a lot since I made it back in December, both to work and to more fancy events. It's very comfortable, easy to wear and gives me lots of room to grow. I absolutely love the cut of the neckline: The front is cut rather high and wide, which I like a lot on me. The back is deep enough to make the dress interesting, but not too deep: It doesn't show any bra straps and is just high enough to prevent the dress from sliding off the shoulders – at least when sewn in a woven fabric. And did you know that you can mix and match the two dress patterns with the Lou Box Top pattern? Even more options!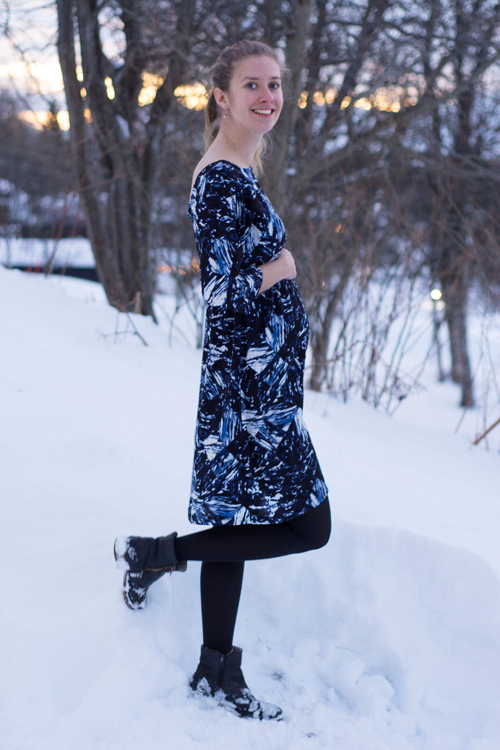 You can buy your own copy of the pattern here, or buy both patterns and save some money!