This has been a project that has been in the making for a loooong time! I saw the Beatrix blouse on Rae's blog way before it was for sale and loved it instantly. Rae made a lot of Beatrix blouses, as you can see here, but I knew that I also wanted to make a version using the selvedge, too.
I bought the pattern the same day it was released – and didn't sew it for a couple of months. Then I started sewing, got frustrated by the bust darts and didn't finish. I finally finished the blouse a few weeks ago and am SO glad I did! It was really just a matter of hours.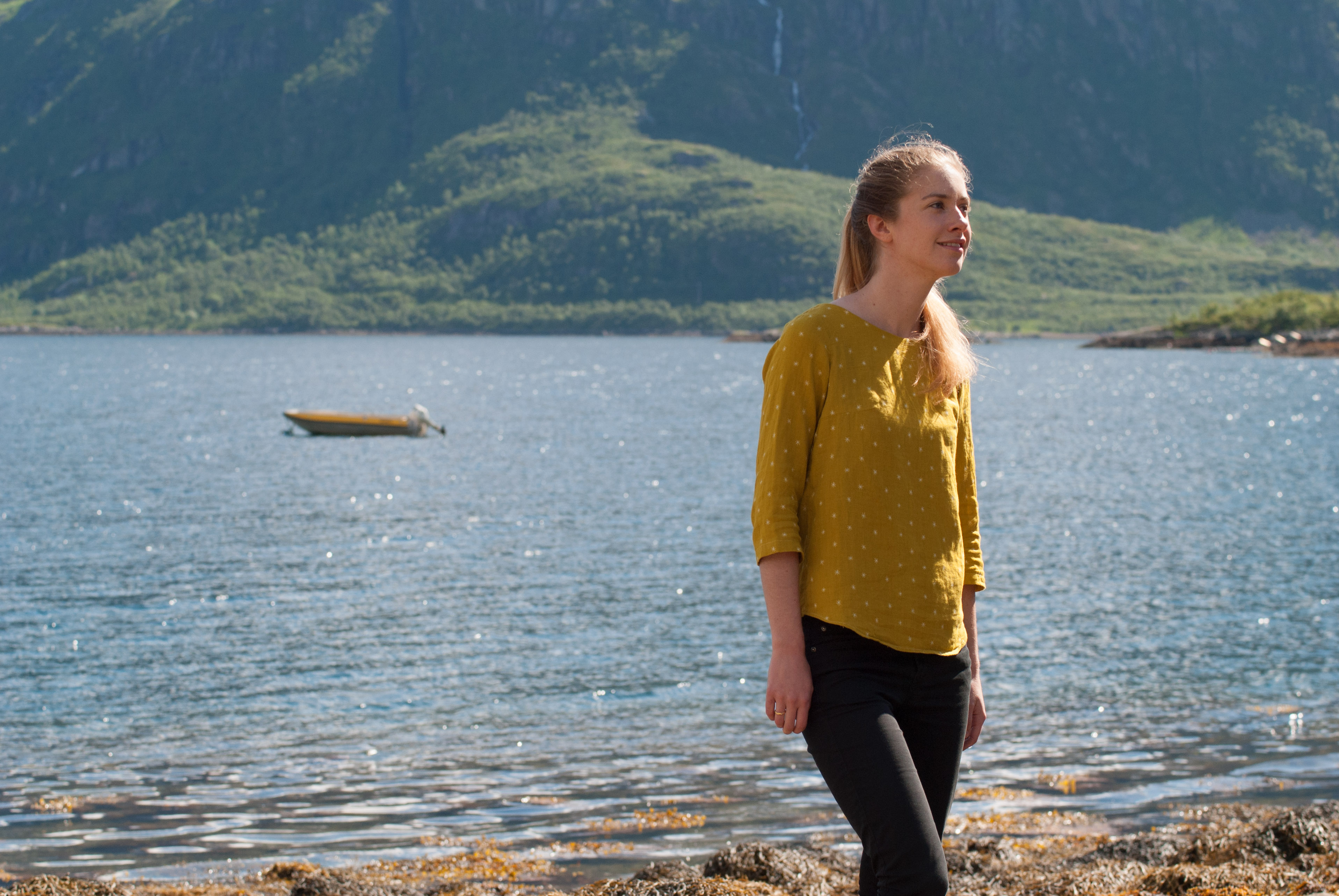 I used double gauze from Cotton + Steel for this blouse, since their double gauze is super soft and comfortable AND their selvedges are beautiful! I don't think it's produced anymore, but you can find it here and there – it's from the "Bespoke" Collection and this pattern is called "sparks". I used the same fabric for the facings and the inside of the button placket, but in the white colourway.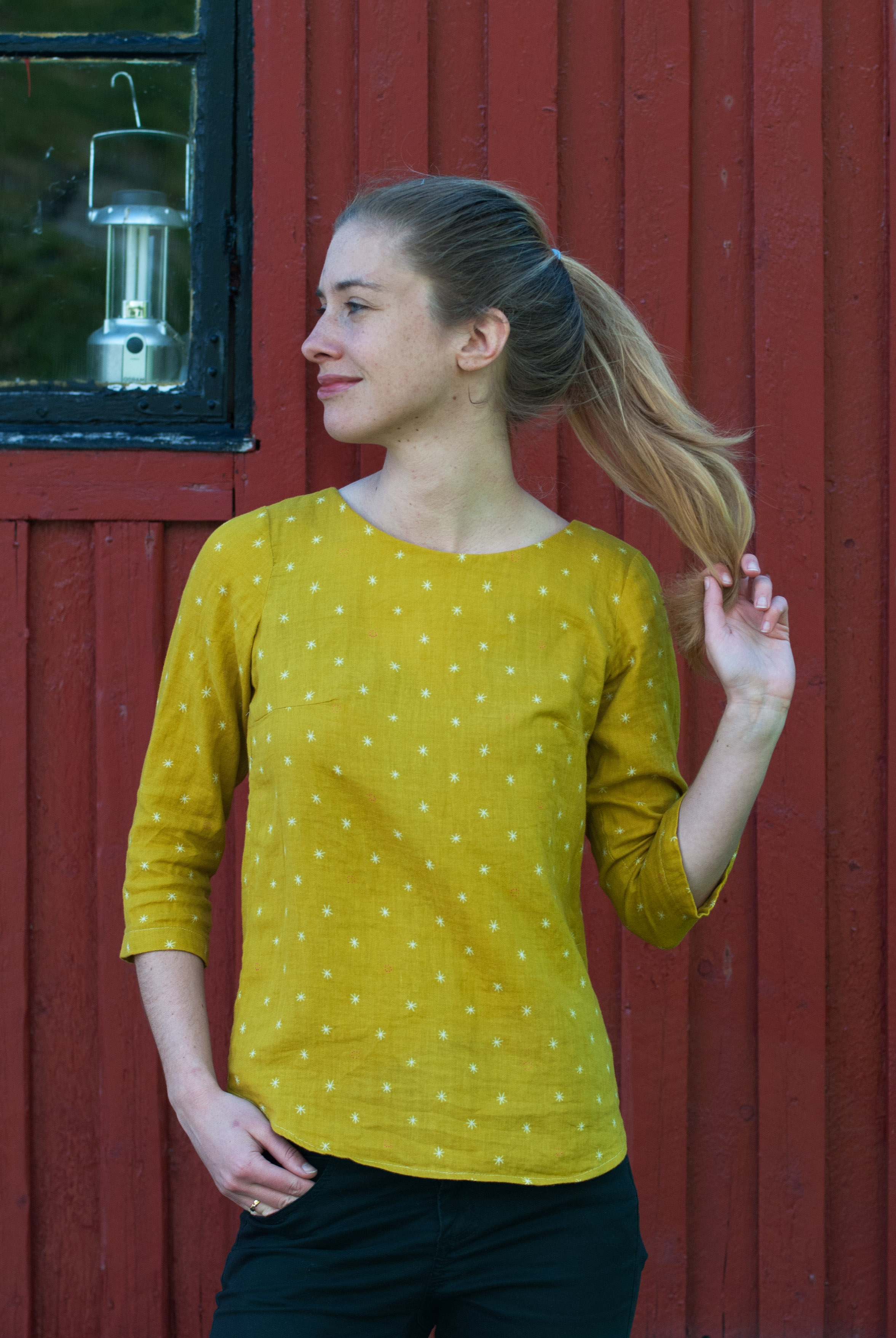 There are two different versions of the Beatrix Blouse – a shirttail version with a button placket made of the same fabric, and a banded version with a contrasting button placket. I mashed these two versions up, making a shirttail version with a (kind of) contrasting button placket. Rae has a tutorial on her blog, explaining how to make this easy hack. My case was a little different, since I could cut the main back piece and the visible part of the button placket in one piece.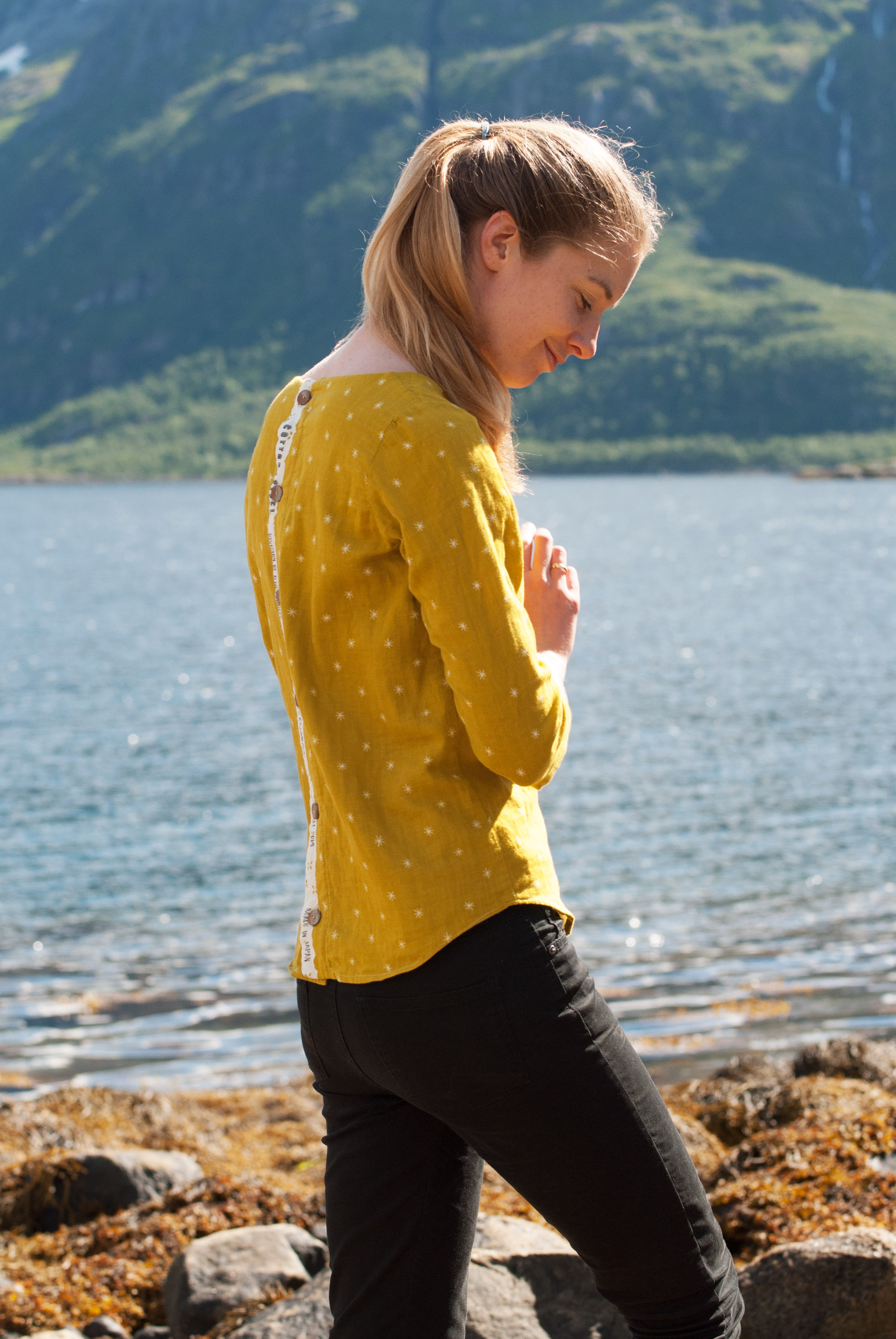 For obvious reasons I needed to cut a different pattern piece for the part of the placket that is folded to the inside of the blouse. For that I measured the width of the placket and added some seam allowance on both sides. I then joined the placket piece to the selvedge part of the placket, using a tiny seam allowance, because I didn't want to hide too much of the selvedge.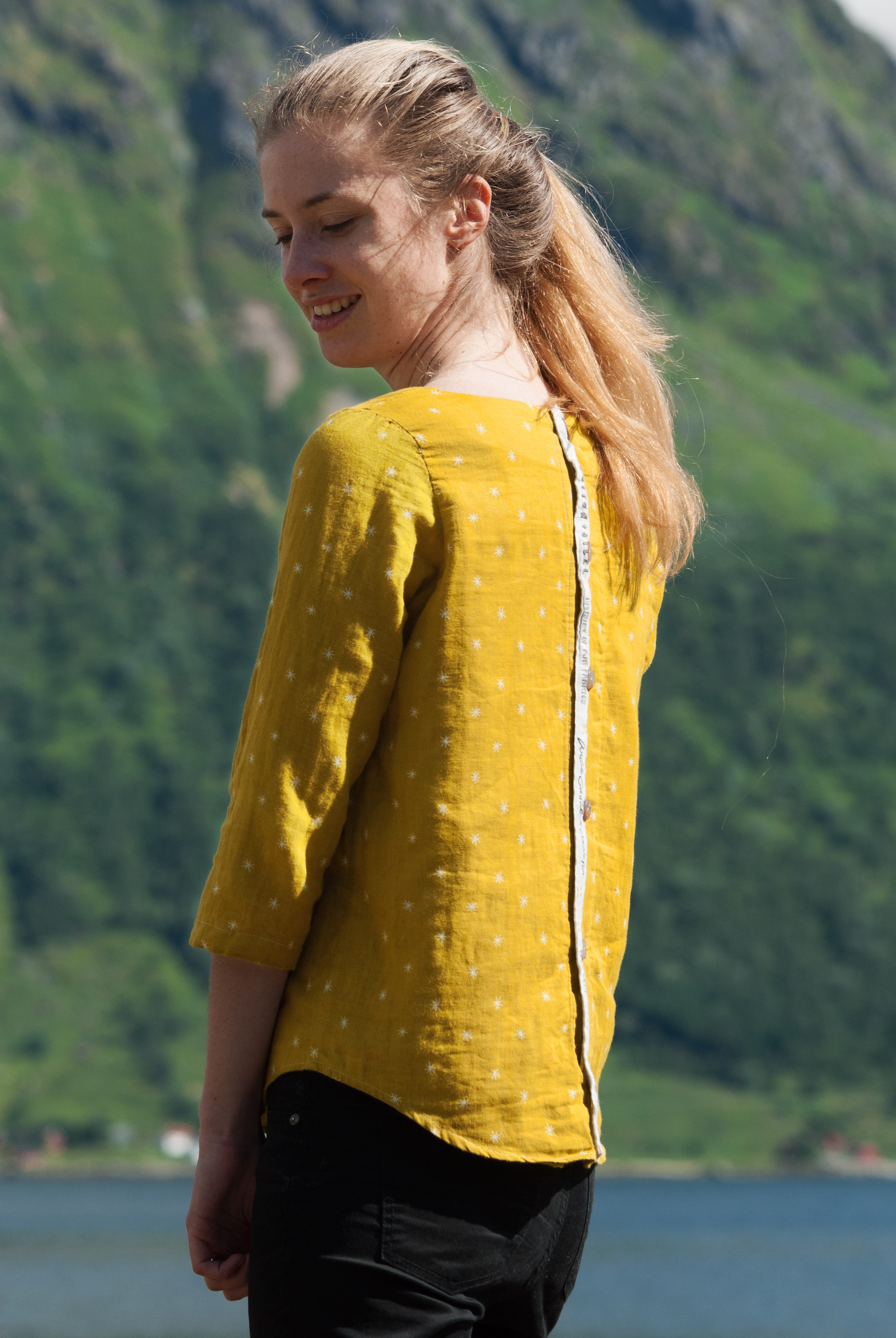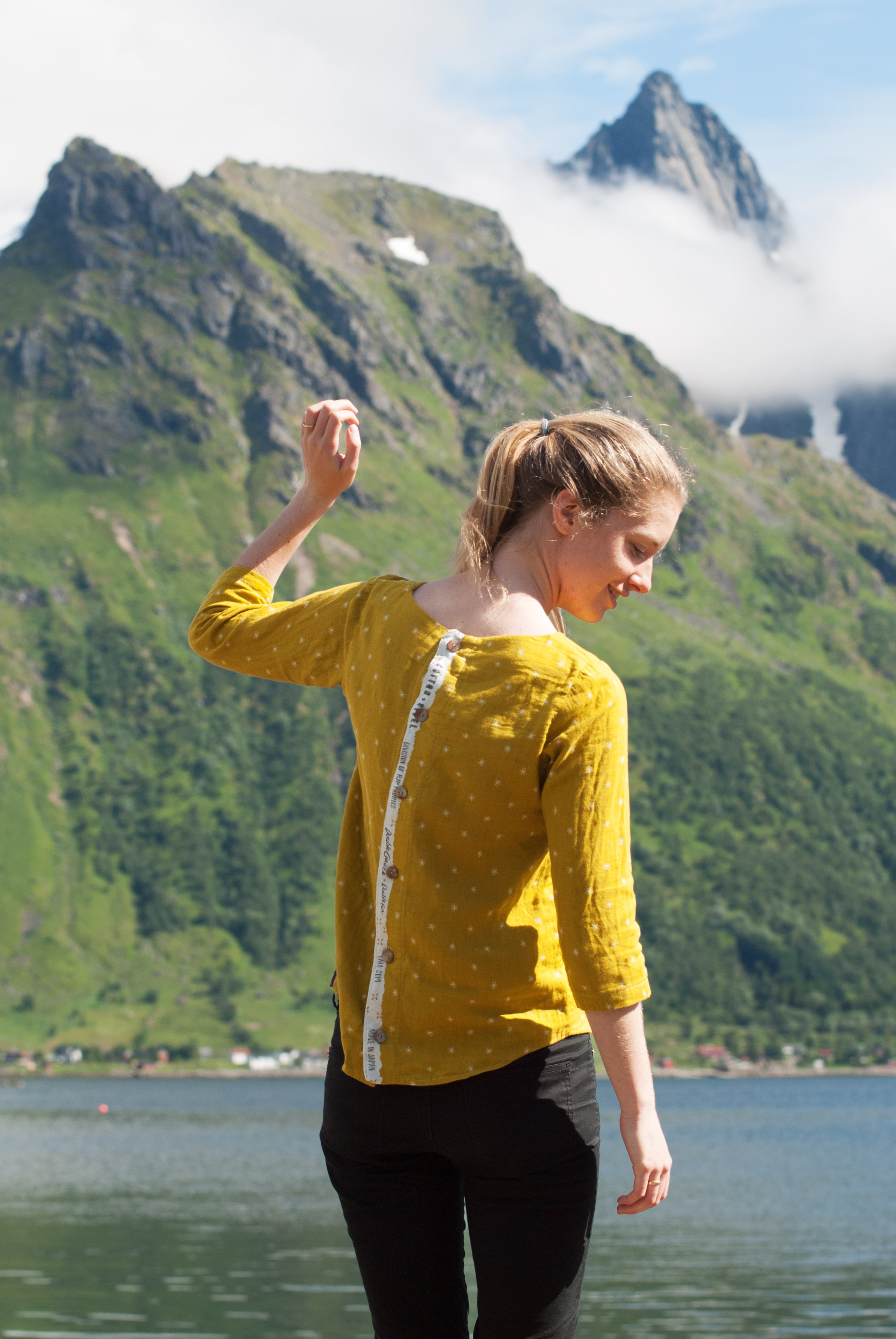 The rest of the process was exactly like sewing version A of the Beatrix blouse. Rae's patterns are explained very well and also suited for beginners. The only reason I had trouble with the darts when I started making this blouse was my inexperience concerning sewing darts and pressing them. When I tried again a few weeks ago it worked like a charm!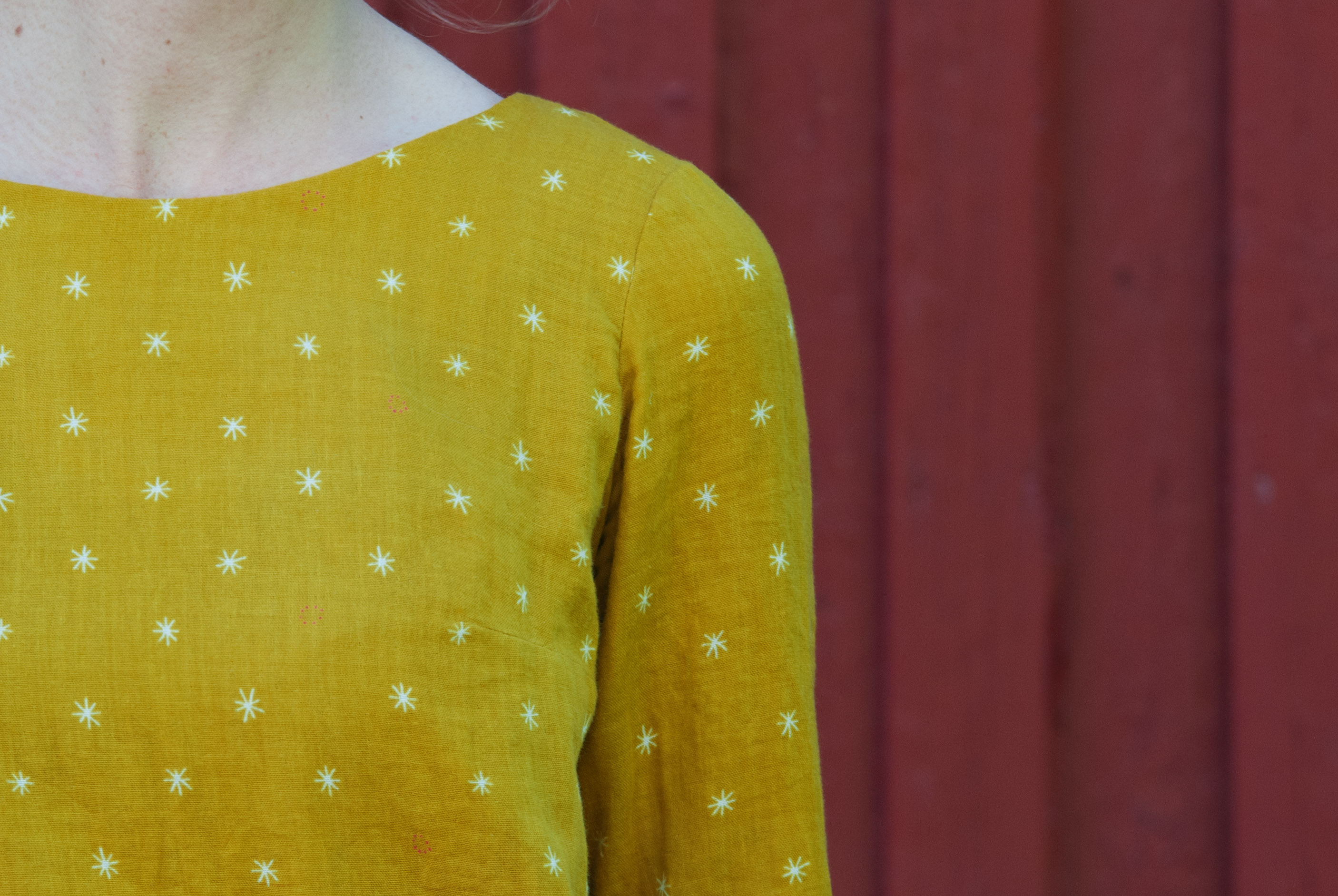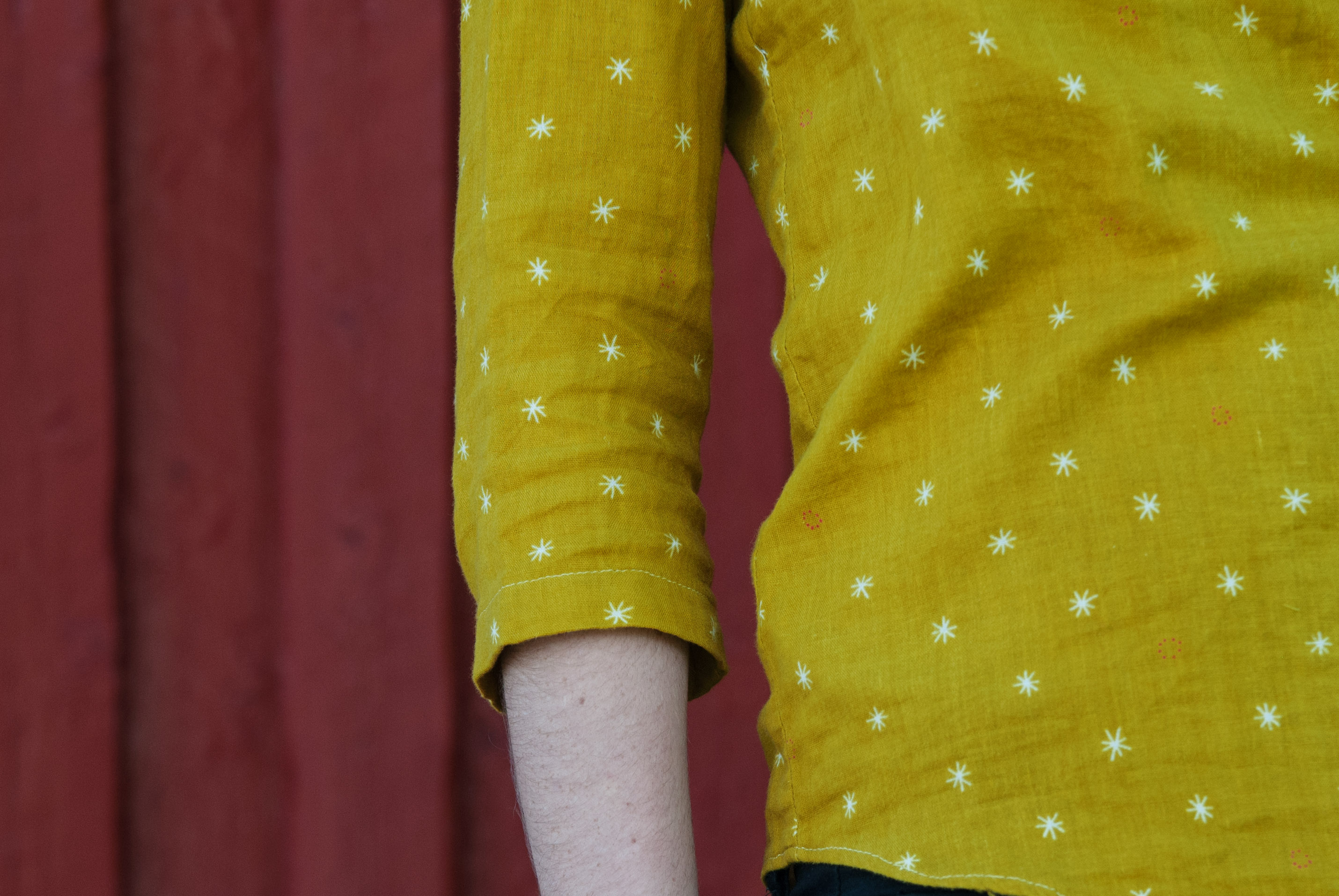 I love wearing this blouse! The neckline is wide enough for being able to get dressed and undressed without opening and closing the buttons all the time. Neither my husband nor me are big fans of garments I can't get on and off on my own! ("Could you please zip me up?" "This top turned out a little too tight, could you drag me out of it?" "I need you to close the buttons on the back!") I also love how clean and simple the neckline looks! I know that finishing necklines with bias binding is in, but I always think that facings look a teeny tiny bit more elegant than a neckline finished with binding.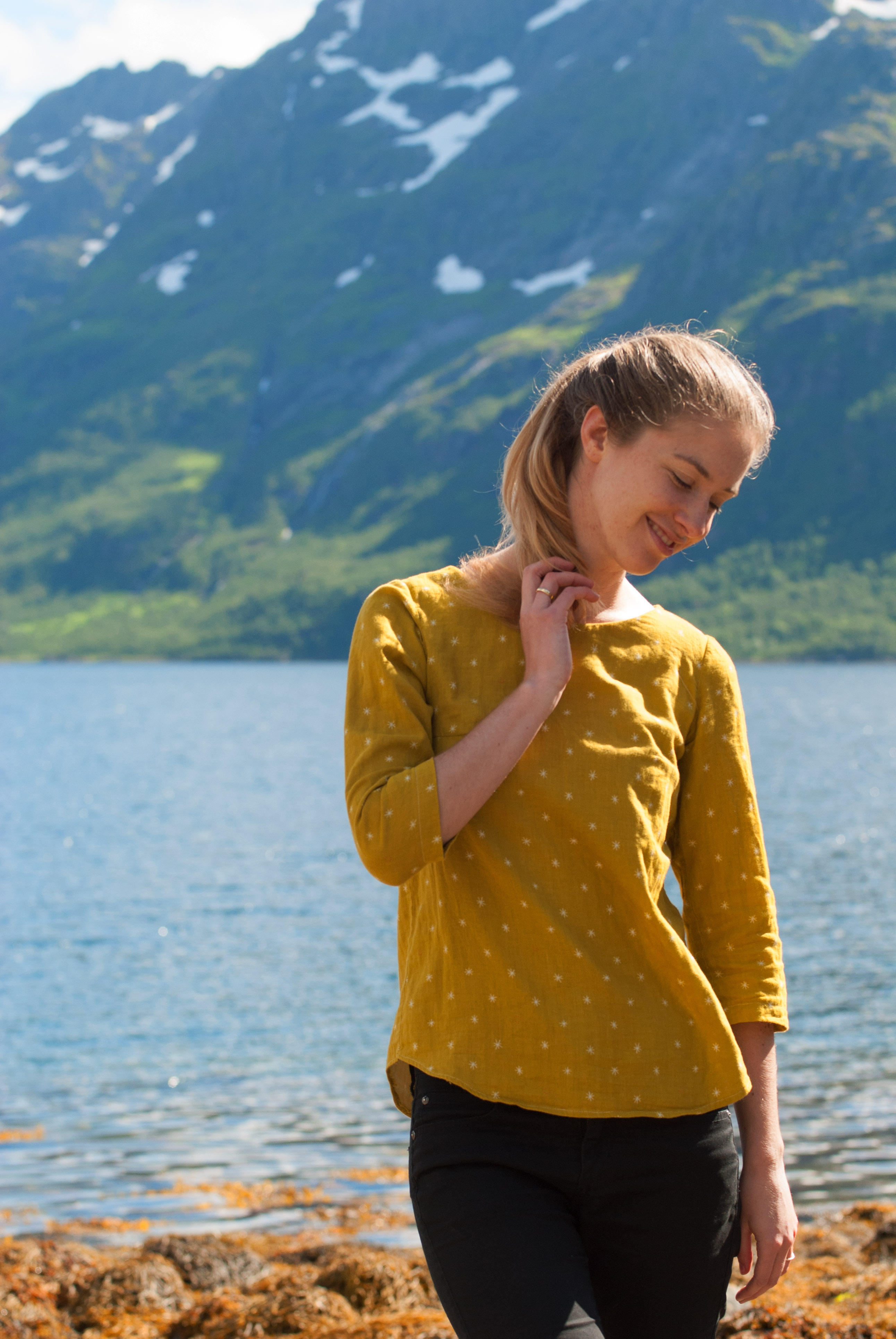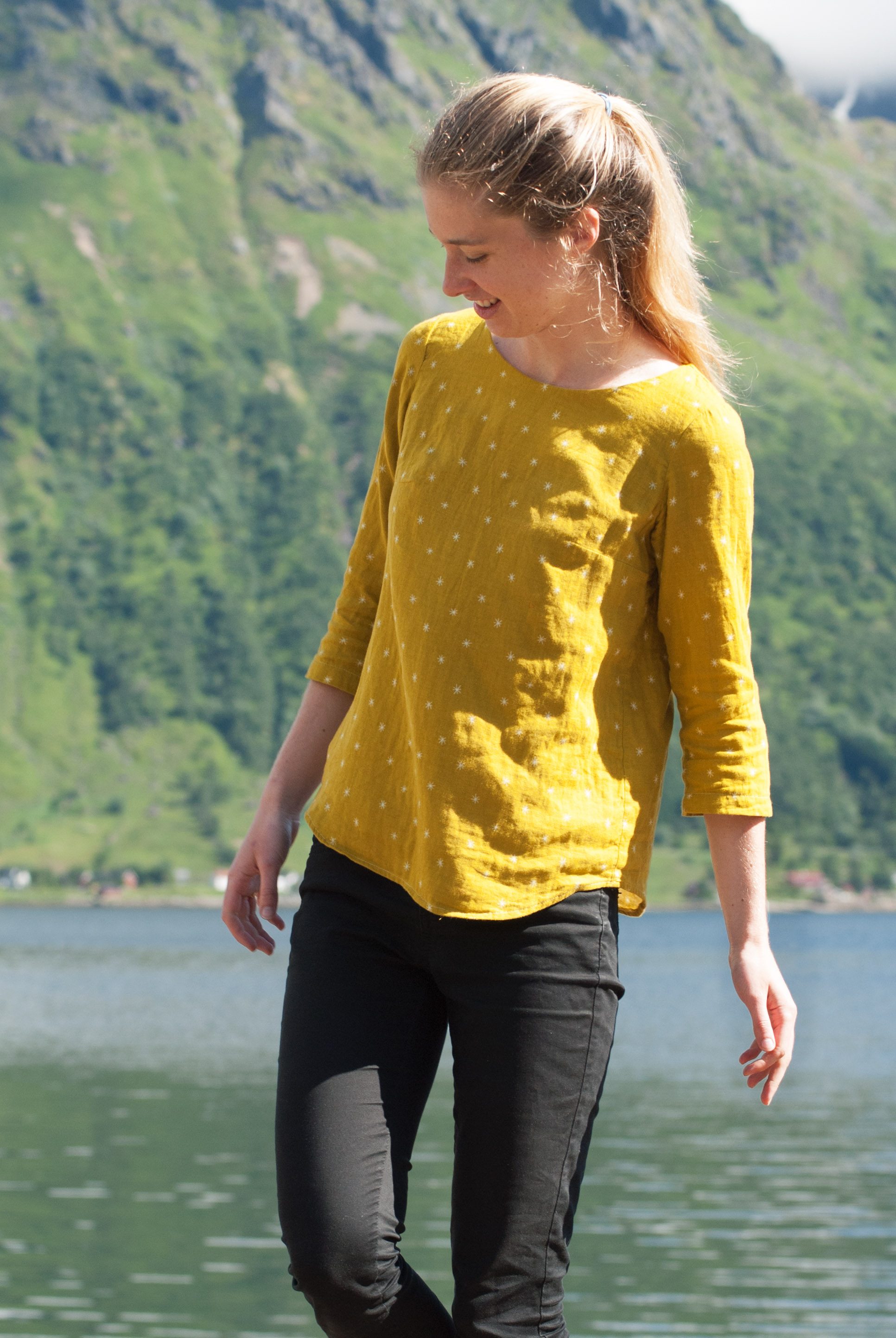 I already have tons of ideas for more Beatrix blouses. As always, I'm not sure if I'll ever find the time, since there are so many patterns I'd like to try – but at least I have some ideas! I'd love, for instance, to have a a simple summery version with short sleeves, made of voile. Or a striped version. Or a checked version – imagine this pattern made of white fabric with blue checks! So many possibilities – I hope I can realize at least some of them!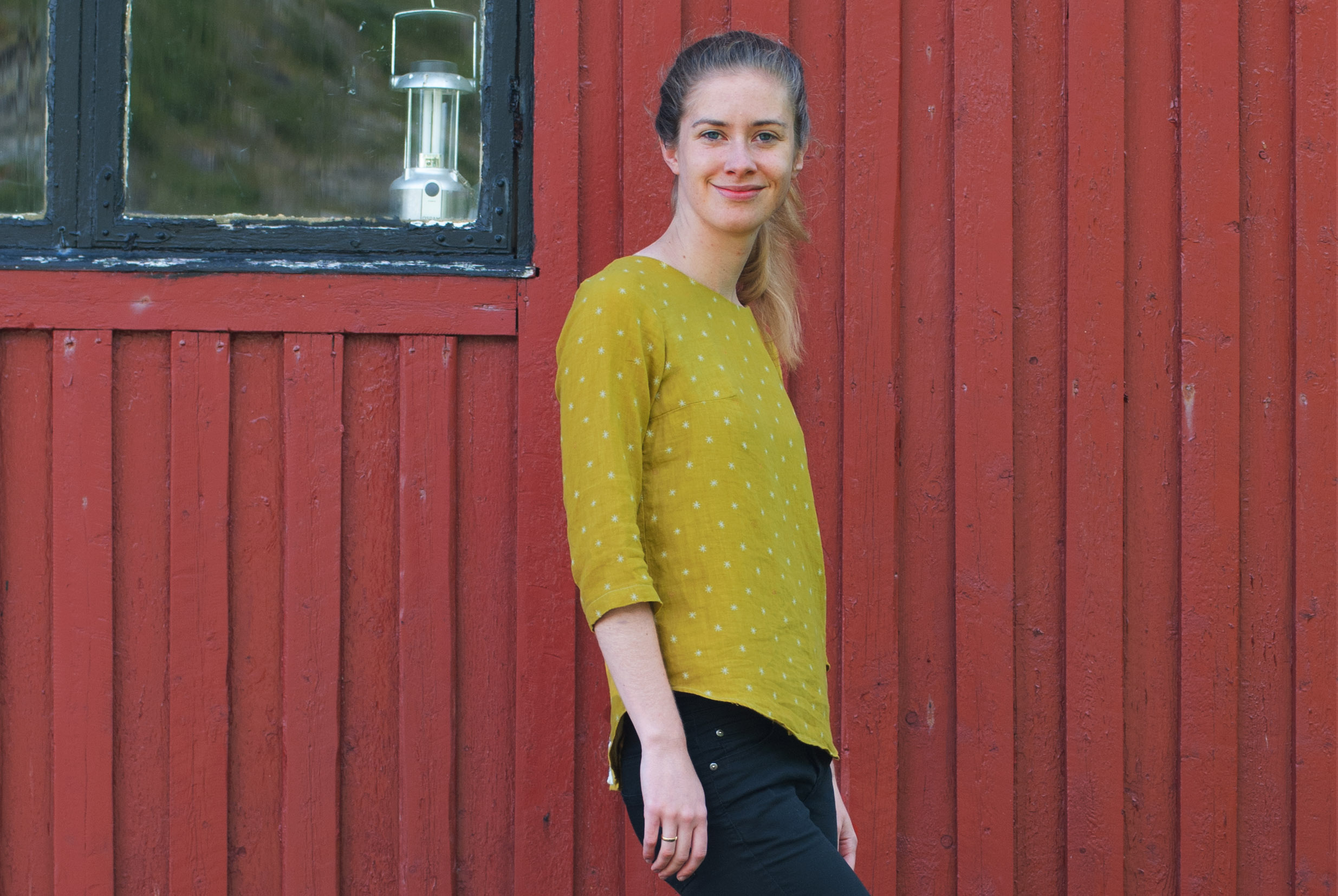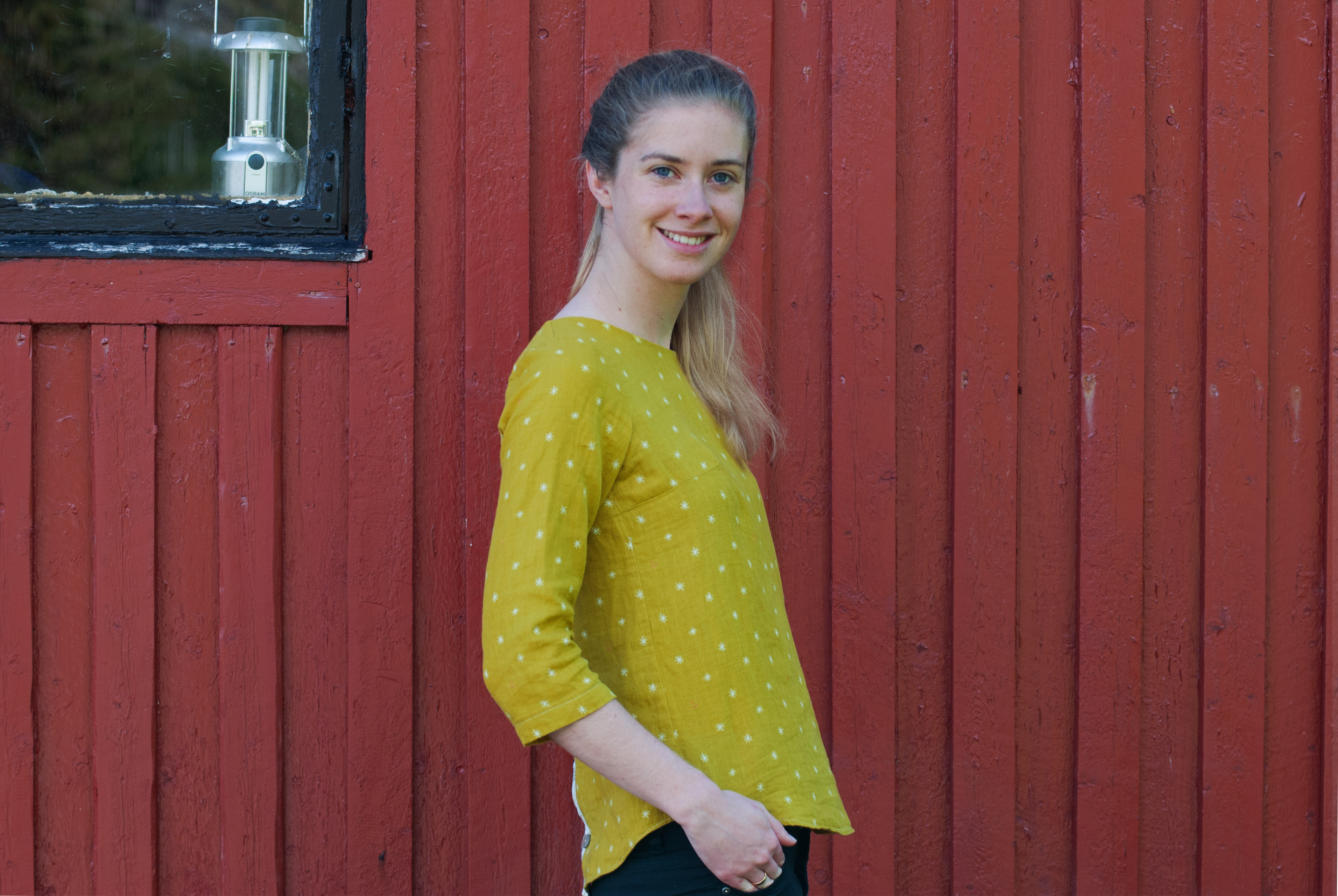 This blog post is linked to the German blogger party RUMS.