Welcome to the Waterfall Raglan "Make It Mine" blog tour! I've already shown you my blue Waterfall Raglan by Chalk & Notch a few weeks ago, and today I'll show you a little hack for the Waterfall Raglan. I know, I know – today it's time for showing off date night looks, not hacks! And I had all intentions of making a beautiful floral Waterfall Raglan, without any hacking. Alas, as you can see, that's not how it went! But it's still date night worthy, don't you agree?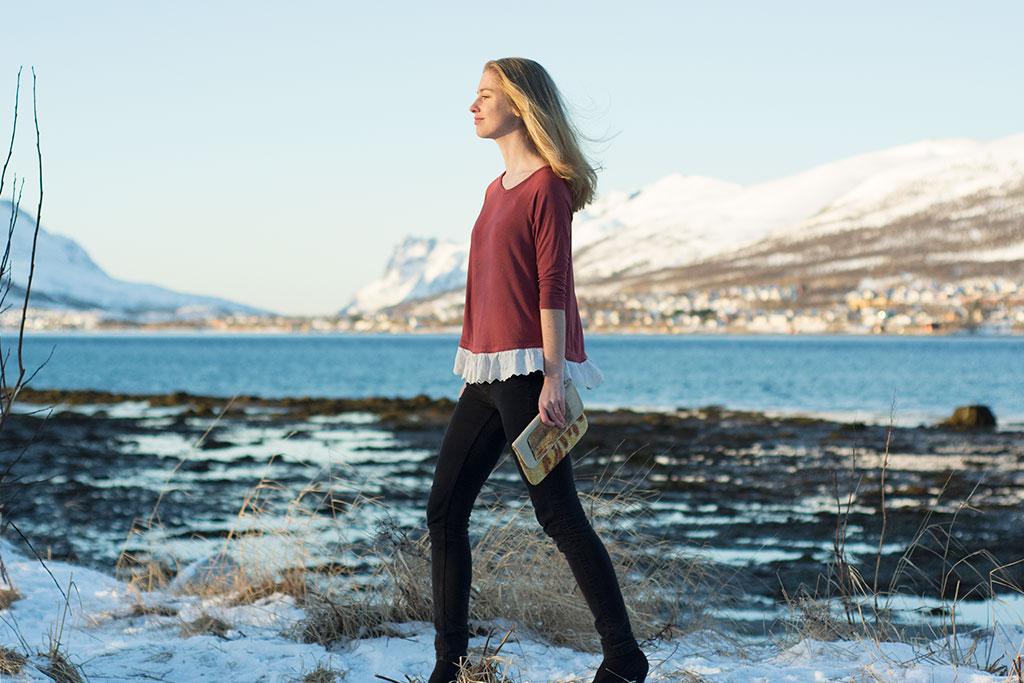 I suddenly got this idea of making a Waterfall Raglan with a woven ruffle at the bottom. But I didn't just want to add the ruffle the way the instructions tell you to add the ruffle. I wanted to hem the main top and add the ruffle underneath, to make it look like a top you're wearing underneath a very short jersey top. And I have to say – I quite like the result!
The main fabric is a modal rib knit from Indiesew, and it's very soft, very stretchy and has great recovery. And I love the colour! Sadly it's sold out now, but you can still buy the fabric in two other colourways. And you know what? This fabric is really special to me! I was whining to Leslie from Threadbear Garments about how I shouldn't buy any more fabric, and her response was "Well, no problem, I'll buy it for you!" Yes, you read correctly – she bought it for me and had it sent to me! I mean, we all know that we in the sewing community are great and supportive enablers ("I really shouldn't buy more fabric!" "Of course you need this fabric, go buy it, we support you!" Sounds familiar, doesn't it?) but buying the fabric for me was really a new twist of events. I am so thankful for this present and I think we can all agree on the sewing community and especially Leslie just being the best.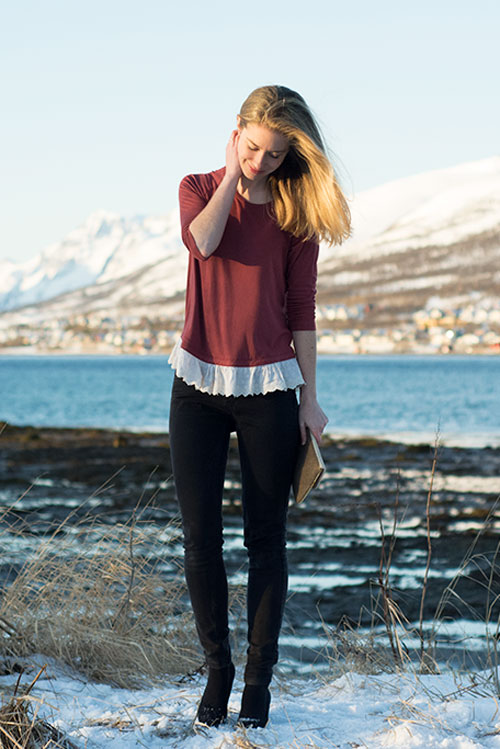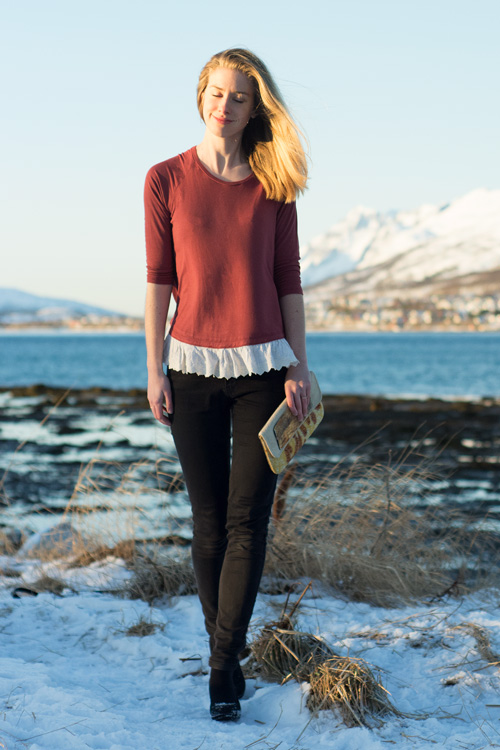 The woven embroidered ruffle is a fabric I bought a while back at LA Finch Fabrics – and I think I have enough left to make a cute woven top for summer. Broderie Anglaise, especially in a natural colour like this, just screams romantic easy-going summer days, doesn't it?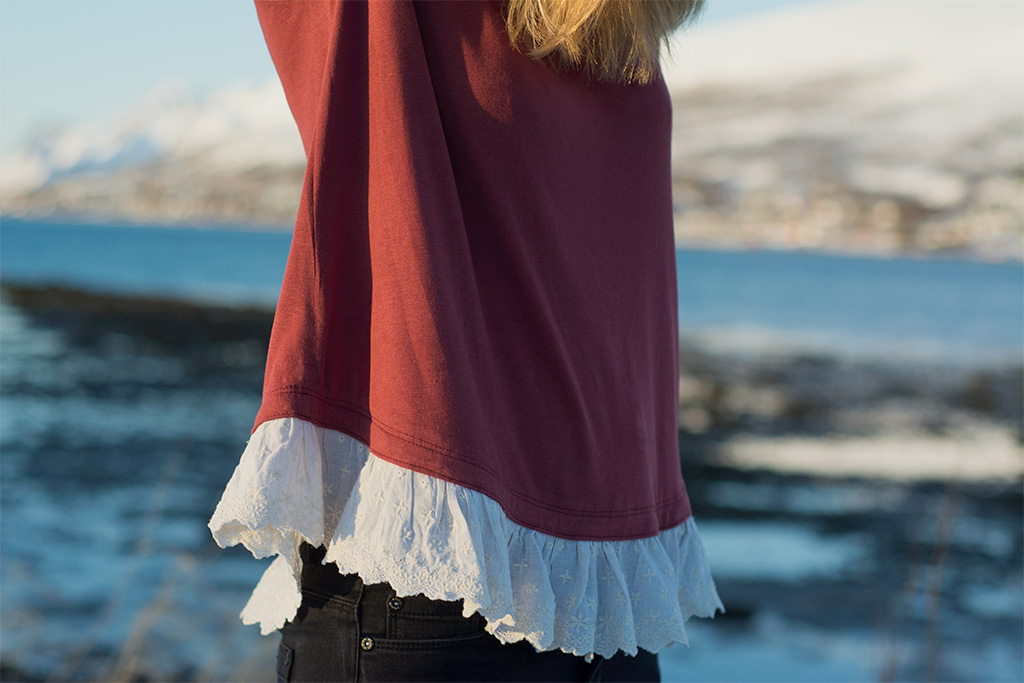 I lengthened the knit bodice a little bit, since I'm pretty tall and started out with cutting the ruffle at the original width. I didn't cut it curved, though, for obvious reasons. I forgot that I wouldn't need to hem the ruffle, so I could have cut the ruffle without the hem allowance. After trying the top on (before attaching the ruffle), I realized that I needed to shorten the ruffle to make it look like a cute woven top just peeking out beneath the knit top. That reduced the total length of the top (as did hemming the knit top), but I rather like this length for this style, so I'm definitely happy with the result!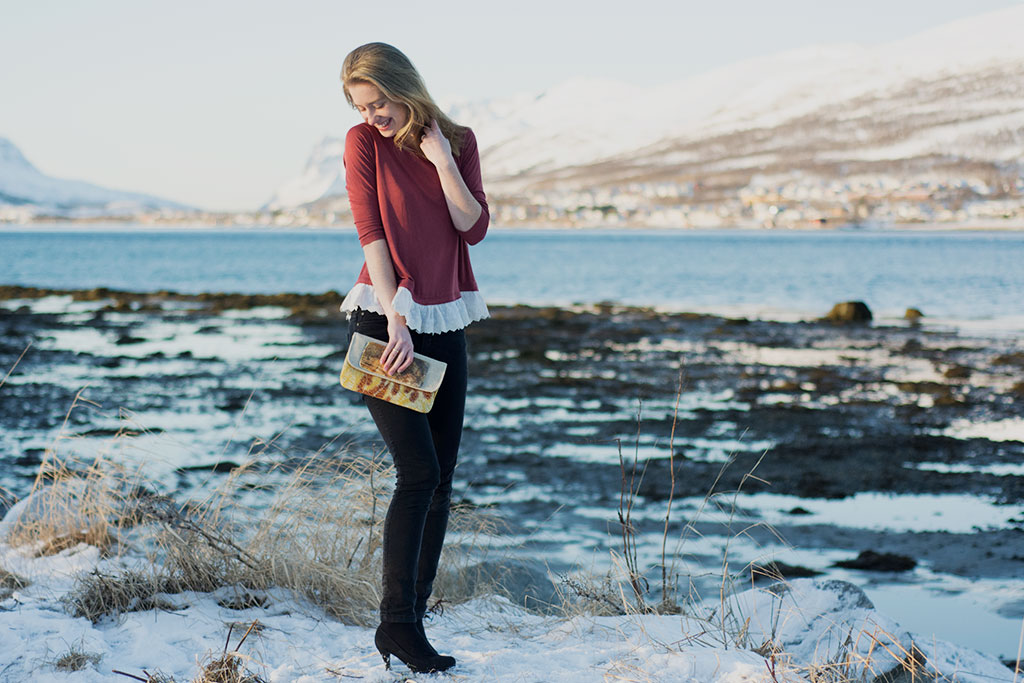 I wanted to hide the raw edges of the ruffle, so I decided to add bias binding to the ruffle and to sew the bias binding to the inside of the hem. I forgot to take a pic of it! I have to admit that that's not my most beautiful topstitching. The three seams at the hem don't look even all the way around, but I can live with it, and no one will ever look that closely. I didn't intend on having the third seam at the bottom of the hem, I wanted to make it look like the ruffle wasn't connected to the knit top, but the way I had attached the bias tape made it necessary to conceal the raw edge of the ruffle when moving around.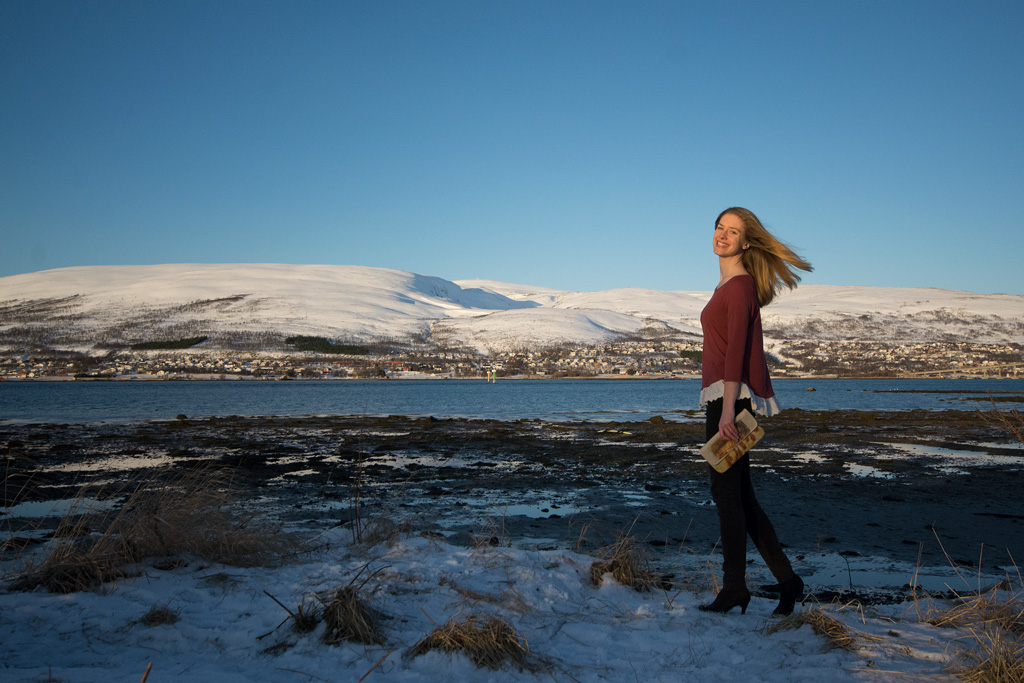 My raglan is definitely an everyday top, too, but for this blog post I tried to style it date night-worthy with black skinny jeans, heels, a clutch and open hair. In other words: This top takes you from day to night by changing your shoes and wearing your hair loose instead of having it in the oh so practical pony tail.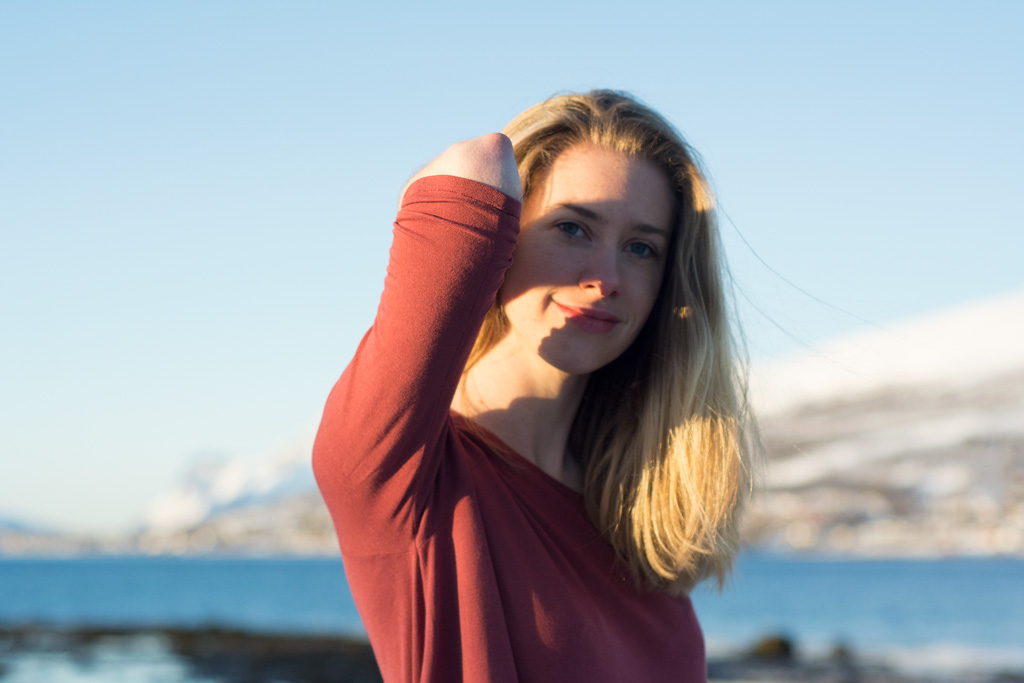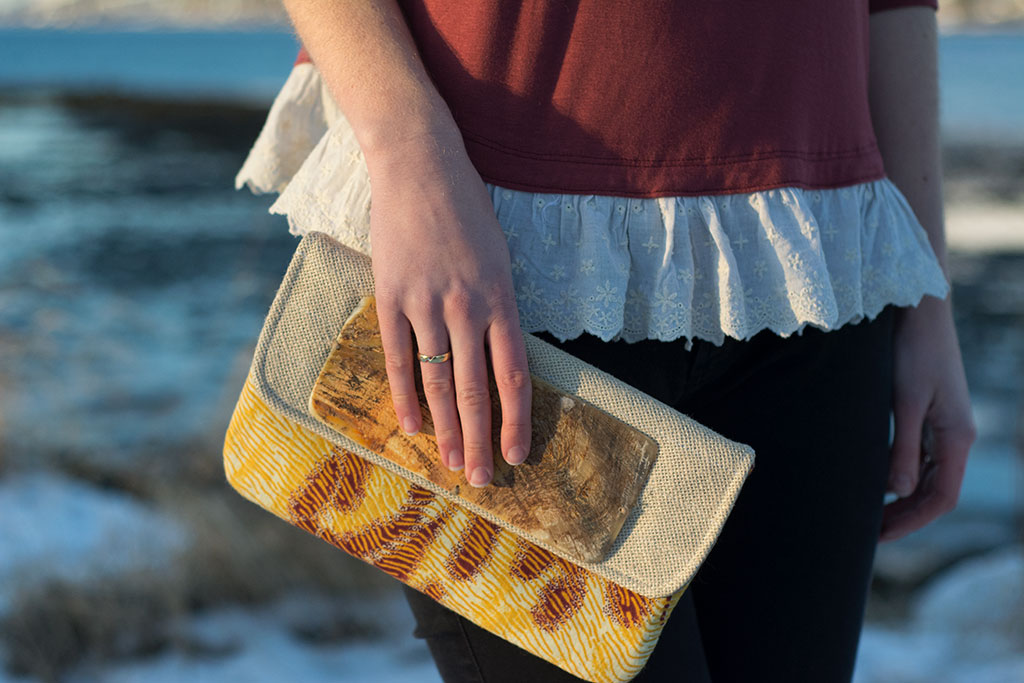 I want to add a few words about my clutch: It's from Vèvè Collection, a haitian brand, and I bought  it locally. Every product from Veve Collection is unique and provides income for the artisans making these bags. I've written my master thesis about a small local Norwegian-Haitian NGO (it's in Norwegian, so you probably won't be able to read it!), doing development work in Haiti. The organization's name is Prosjekt Haiti, and they were kind enough to invite me to stay with them for a month in Haiti during the summer of 2014. One of the things that made the biggest impression on me was how close richness and poorness are in Haiti. It's totally possible to live a comfortable western lifestyle in Haiti, but most people, living right in front (or rather behind) the houses of the rich, don't. Anyway, I am going off topic, I'm sorry if you came here to see my Waterfall Raglan hack and find yourself reading about Development work instead. But sometimes I really feel that the world is so much bigger than what is present in our sewing blogs, and from time to time I like to use my platform to show a little of what else is going on in the world. I hope you don't mind!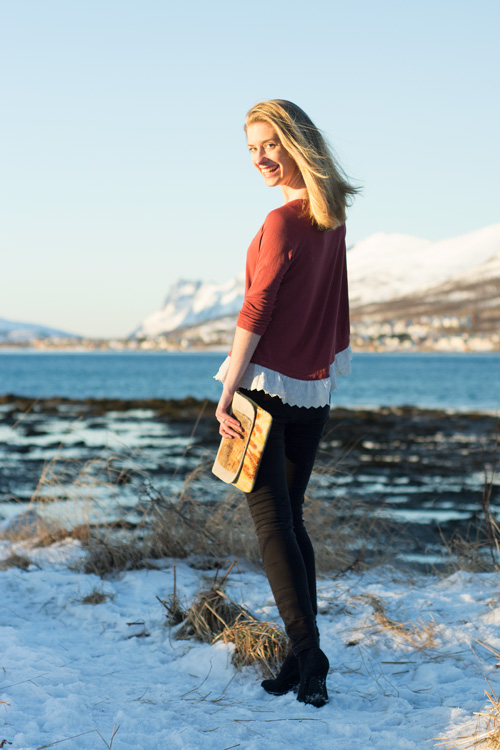 But back to the Waterfall Raglan Blog Tour. There's a giveaway and a link-up party, too! You can participate by using the rafflecopter below – Gabriela from Chalk and Notch organized some great prizes in cooperation with some of the best pattern designers out there. And you can participate in the Make It Mine link up party until February 12th. Sew a Waterfall Raglan, post it on your blog, on instagram or on facebook, using #makeitminelinkup and tagging @chalkandnotch and @stylishfabrics and link it up on this blog post. You can win a 50 USD gift card and a sewing kit, both from Stylish Fabrics.
And don't forget to check out the other participants of the tour. I've seen sneak peeks of many of their Waterfall Raglans, and I can tell you that I'm truly impressed by all the different versions I've seen!
Thursday Feb. 9th – Date Night
Thursday Feb. 9th – Date Night