New week, new blog post, new pattern! UpCraft Club had a new idea – custom patterns. That means that you can design a pattern, and they draft it. That's great for people with great pattern ideas but no pattern making and grading skills. The first custom pattern is designed by Rachel from House of Pinheiro and is called Everyday Blouse.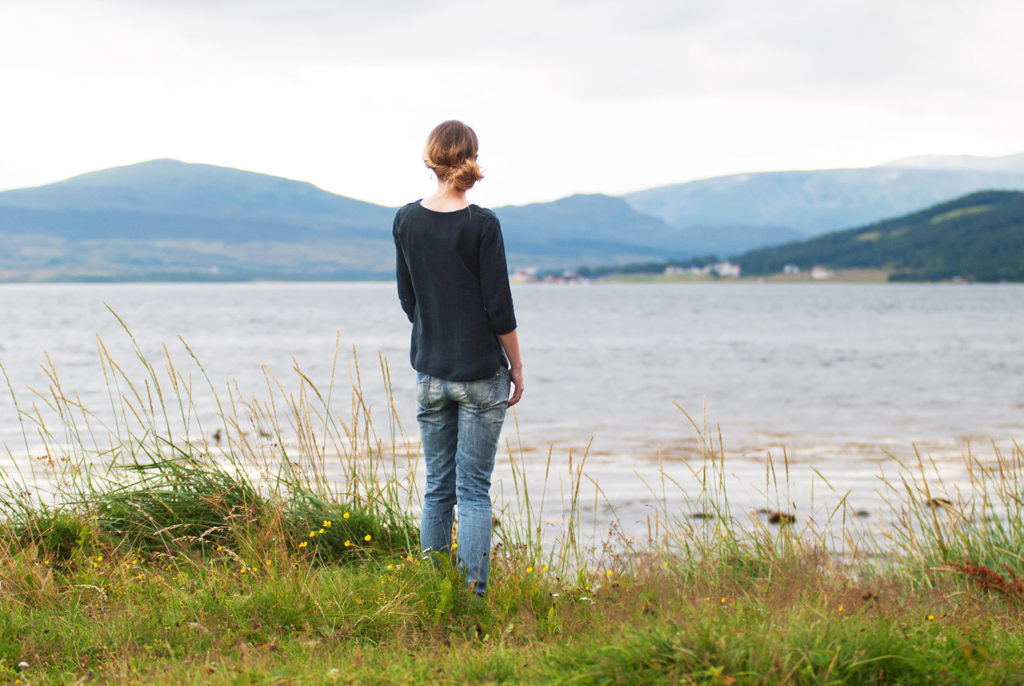 The most important features of the blouse are the ruching at the neckline, achieved by a wide elastic, and the exposed zipper at the lower part of the left side seam. The blouse is also designed with bust darts and – a first for me – with sleeve darts at the elbows.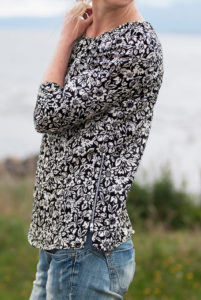 I made two versions of the blouse – the black and white blouse is made using an earlier version of the pattern, the navy blouse is made using the final pattern. Unintentionally I used two pretty unusual fabrics for these two blouses: The black and white blouse is made of a cotton-wool slub voile – have you ever stumbled over this fabric combination? It's a slub voile, made of 77% cotton and 23% wool.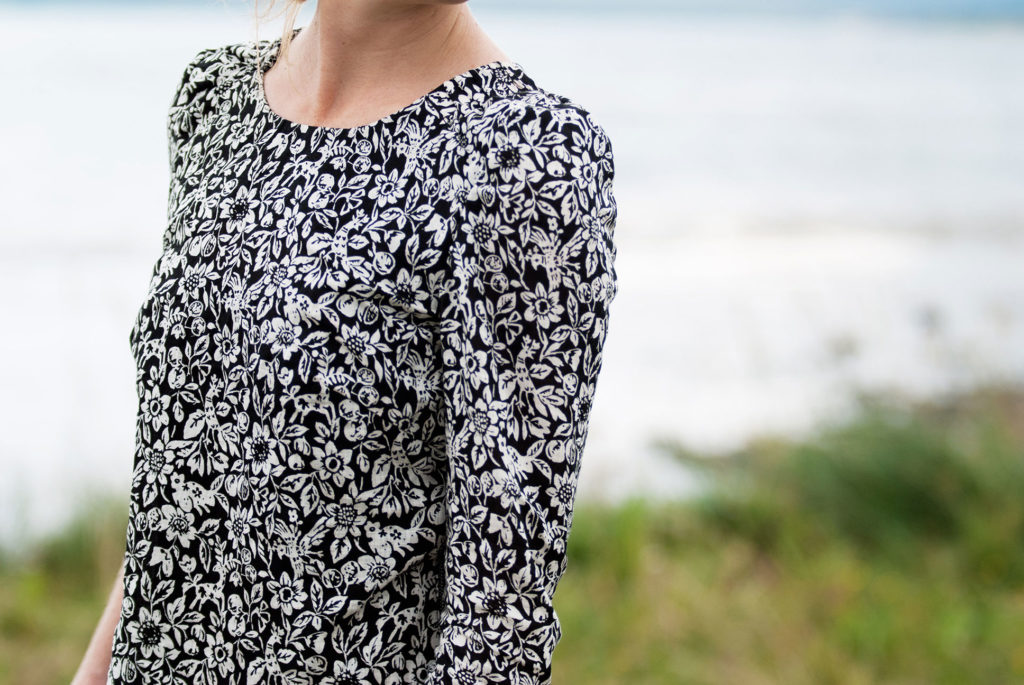 I feel so good wearing this light fabric, it's comfortable on the skin and doesn't make you sweat at all. And I love the print! Those little animals – a bird, a deer and a rabbit – are so cute and still subtle enough for me. The fabric is – of course – from Miss Matatabi (here in another colourway).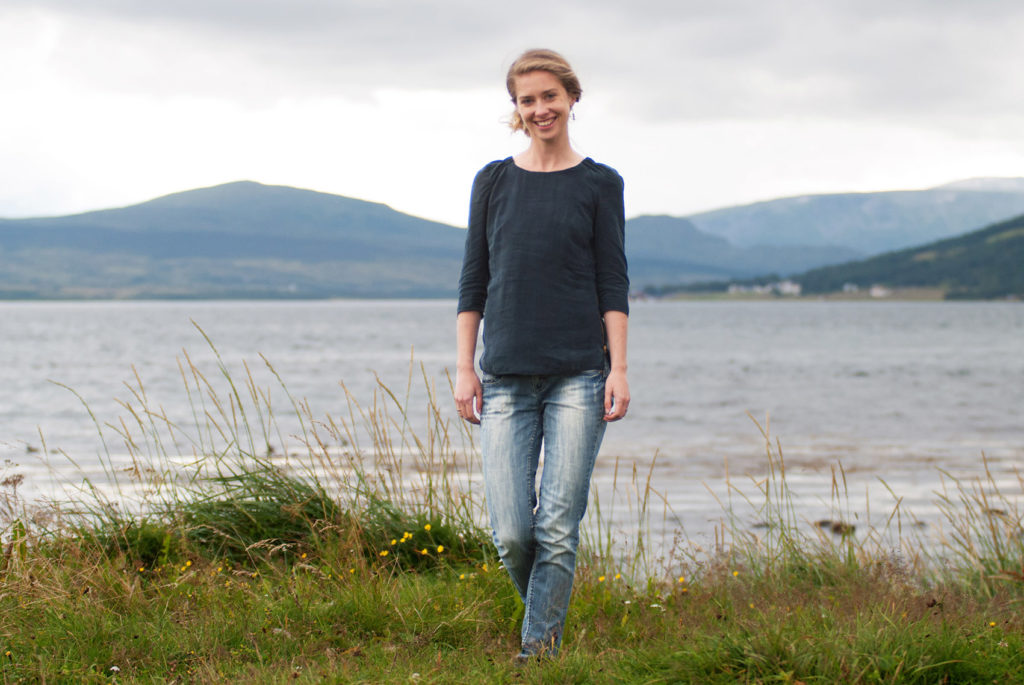 The navy blue blouse is made of sandwashed cupro from Stoff og Stil. Cupro is basically a viscose fabric, but as far as I know it's dissolved in a copper ammonium solution. I have know idea how that works, but the result feels silky, though much more sturdy (at least this cupro). You can see how heavy the fabric "falls", while it's still draping beautifully. I have never before worked with cupro, but I loved how it felt and I wanted to use a fabric that was easy to work with.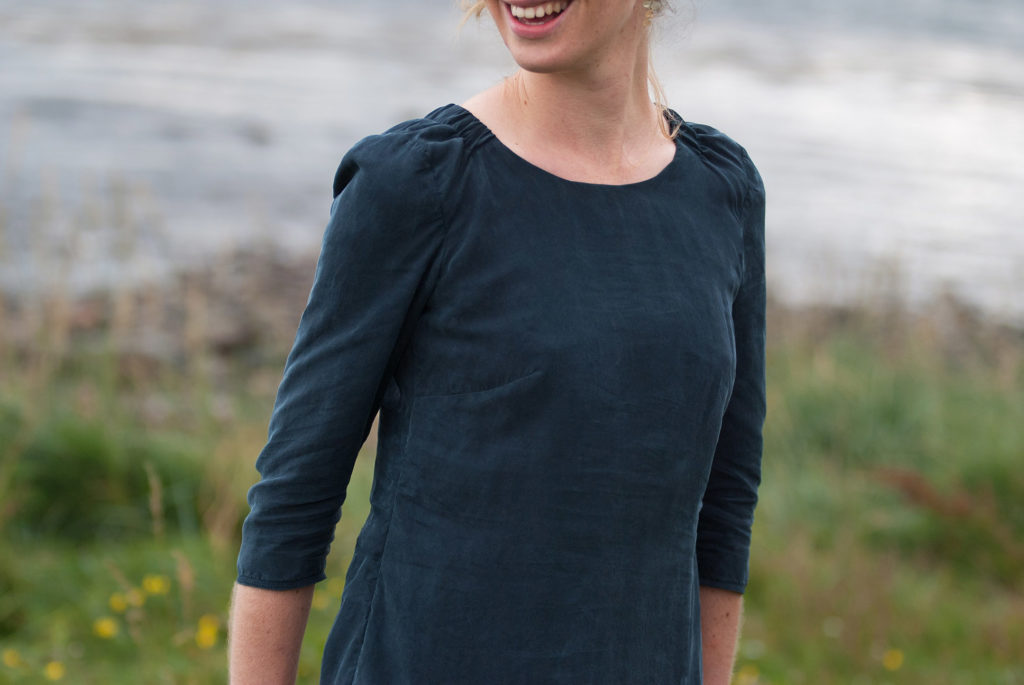 (My dog had – of course – to play the role of the photo bomber!)
Well – I was so wrong about the easy to work with part! I got the impression that my fabric pieces changed their shapes easily and the fabric got a lot of marks from handling and pressing it. I had to wash the blouse before being able to wear it to get rid of marks and wrinkles! While sewing this blouse it slowly dawned on me that one of you, my fellow sewing bloggers, complained about just that in an earlier blog post! (Unfortunately I can't remember who it was…)
Another thing I didn't realize before finishing the blouse was how "clingy" the fabric is. The blouse "sticks" to my body when trying to put it on or take it off, although the blouse isn't too tight.
I'm a big fan of the gathers at the shoulders, they show especially well when using solid fabric like the cupro – while they're nearly invisible when using a busy print like on the slub voile. And I always like using exposed metal zippers, so that's right up my alley, too.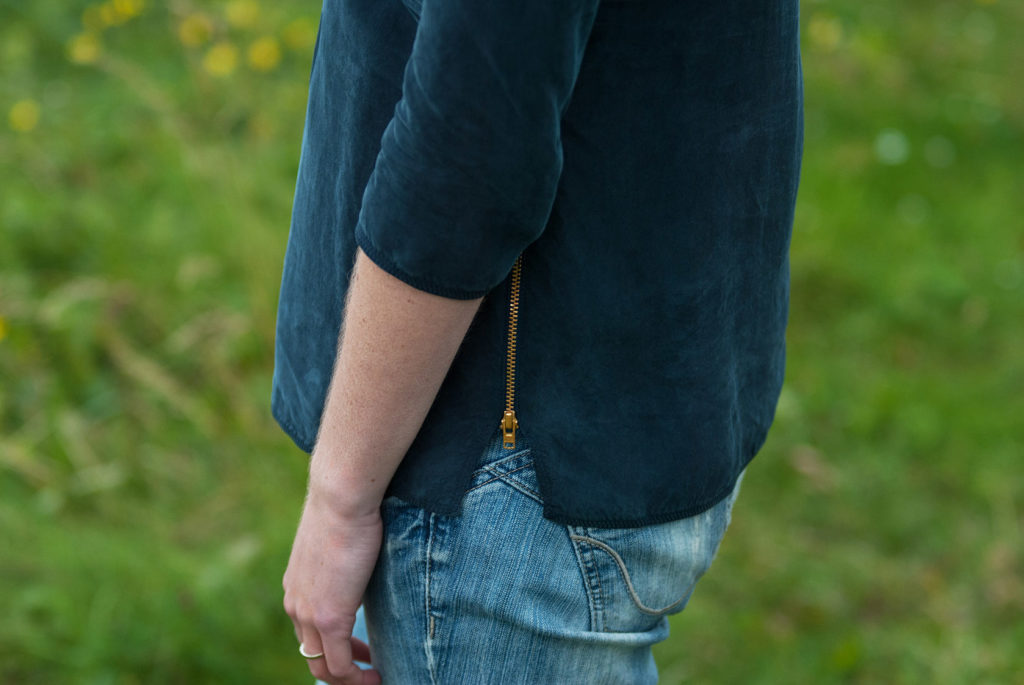 The neckline is finished with an all-in-one facing, which makes for a very clean finish, and the side slits give you enough room at the hips. You might see that the fit at the bust of my voile version isn't ideal, but that issue has been resolved and the fit at the bust is great in the final blue version.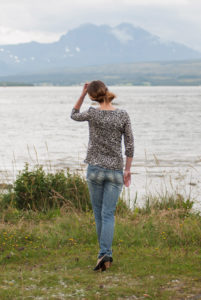 Inserting the side zipper can be a little fiddly, but if you're used to inserting exposed metal zippers or just take it slow while pinning and sewing it shouldn't  be a problem.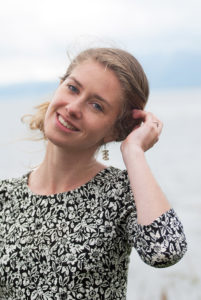 The blouse really lives up to its name – it's easy to dress up or down and the ruching and the zipper makes it special enough to prevent it from being boring. It goes with (nearly) everything and is still visually interesting enough.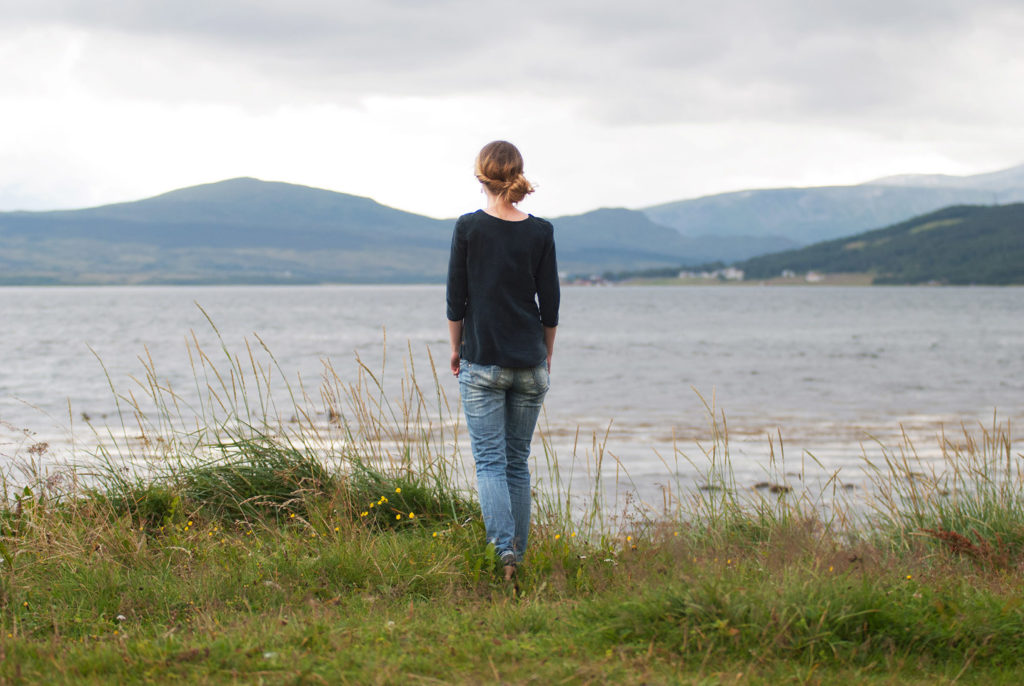 You can buy this pattern exclusively at UpCraft Club, it's on sale for a week. You can also see more versions of the Everyday Blouse at the UpCraft Club blog and of course on Rachel's blog, too!