A while ago Véronique from the small Belgian label Chat Chocolat asked me if I'd like to sew with some of here fabrics. Unfortunately it was too close to my due date, but this autumn I had the time and I couldn't have been more thrilled with Chat Chocolat's third "All Animals Are Equal" collection. Have you seen the first and second of these collections? They're so cute! Véronique designs fabrics with prints of animals that aren't usually seen on fabrics – ravens, penguins, ants, ostriches, scorpions, and so on. This collection features four different animals: sparrows, mackerels, poodles, and foxes – all on beautiful thick brushed sweatshirt fabrics and with matching smaller prints (tongues, fish bones, paws and claws!) fabrics. Oh, and there are solids and ribbings, too!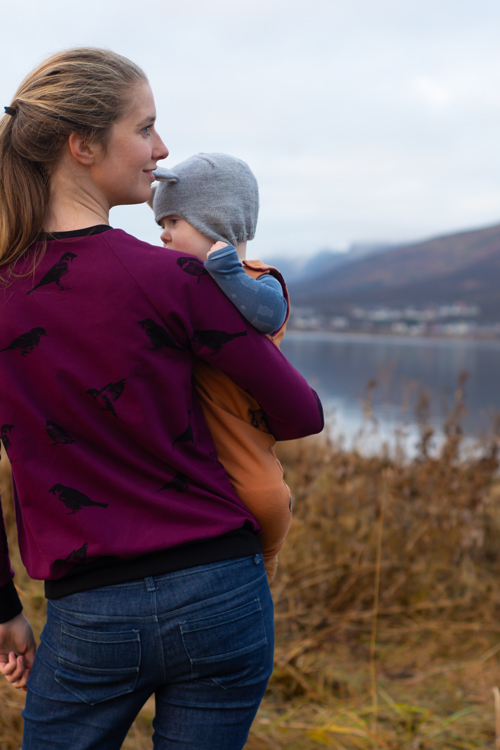 The fabrics are all organic and of excellent quality. The sweatshirt fabric is, as mentioned before, rather thick and doesn't have a ton of stretch. The back is brushed and so soft! So I wouldn't recommend this for something very fitted, unless you have buttons or a zipper.
I had the hardest time deciding on prints. The poodles weren't for me, but the three other prints were all so great! In the end I decided to choose the sparrow fabric for myself, mostly because I loved the dark purple colour. That left me with foxes or mackerels for my little one! I really like foxes – but my father-in-law is a fisherman, so shouldn't I choose the mackerels? In the end I went for the foxes, but I think I might need to buy some mackerels, too.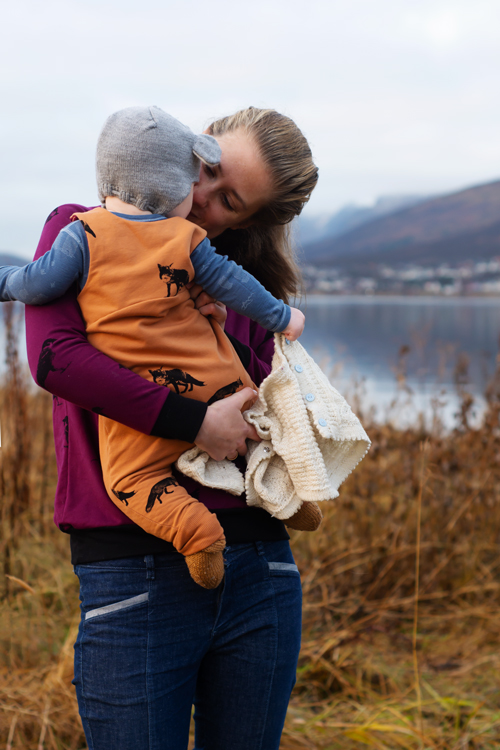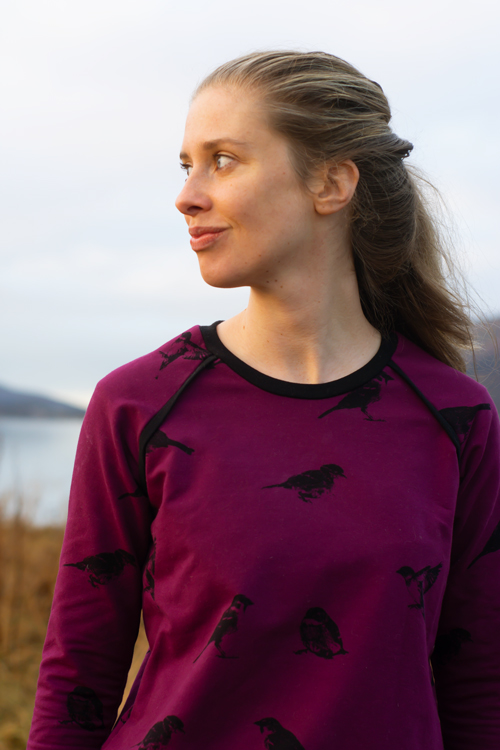 Just a few word about little I.'s outfit: I chose to make a Harem Romper by Brindille and Twig – I really like that pattern! I didn't have quite enough fabric – he was way smaller when I sent Véronique my fabric requirements! But that problem was easily solved by adding a seam below the arm scye, both on the front and back. I decided to curve the seam and I think that was a good decision! I used the matching ribbing for the cuffs and cut the facing out of the solid sweatshirt fabric in the poodle colour – by accident, I got a little of that colour, too. I'm happy with the result! Doesn't he look adorable wearing his little fox outfit?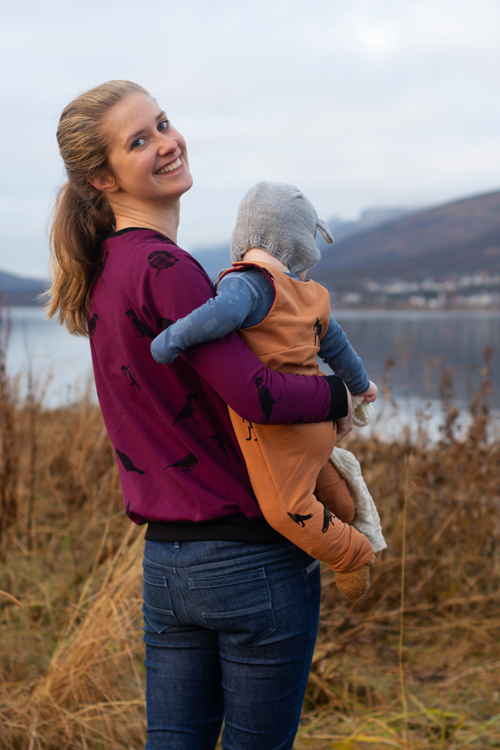 On to my outfit: I decided to make a simple sweater for myself. I hadn't asked for black ribbing, so I used some Nosh ribbing from my own stash. I'm sure you won't believe me when I tell you that this is another Waterfall Raglan by Chalk and Notch! I'm on a role making those … The truth is: I wanted to add a "piping" along the front of a raglan seam – and the Waterfall Raglan happened to lie around after making my other Waterfall Raglan hack. This time around I simply took out a lot of width from the sides of the Waterfall Raglan, added a hem band and shortened the sleeves a little to be able to add cuffs.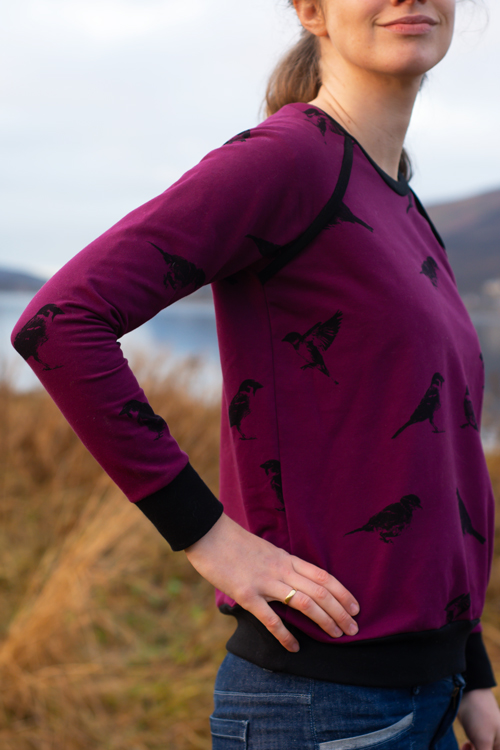 Before sewing the raglan together I folded a thin strip of ribbing in half an basted it to the raglan seams of the front bodice. That way I ended up with a wide "piping" at the front. I think it gives this sweater just a little extra, it's a little more than just a simple raglan sweater now. I had to adjust the piping a little to make it look even, but as long as you baste carefully, serge evenly and check that everything looks good before you proceed, you should be fine. Apropos serging: This fabric is a dream to serge! So easy, and the result is perfect!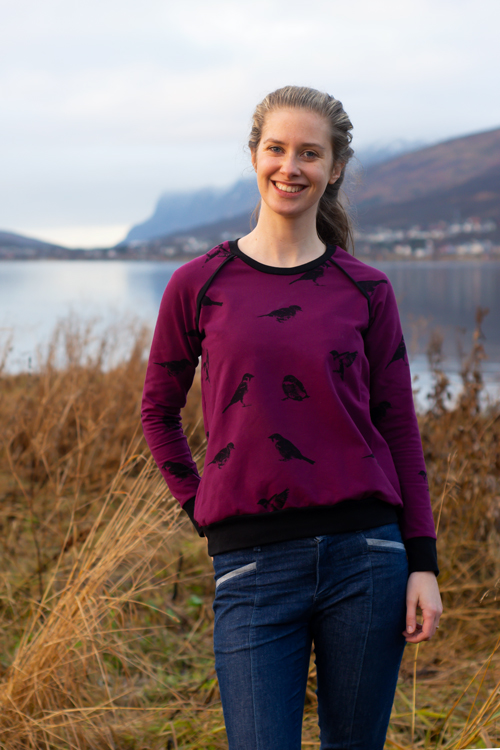 I have to say that I adore these pics of my little one and me. They're only tripod pics, but I love having a few pictures of him and me twinning like this. Same same, but different! Who says that only mothers and daughters can twin? (Although I have to say – Jill from Kneesocks And Goldilocks and her daughter are and will forever be the champions of twinning in style!) I will make sure that we'll wear these two outfits as often as possible, until my little one grows out of it. Which might be in a month or so …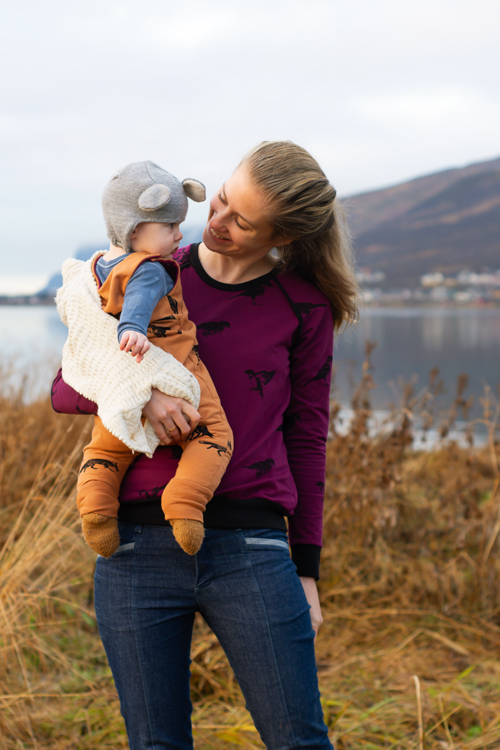 That's all for today – thank you, Véronique, for letting me try your fabrics! And to those of you who like these fun and different animal prints – make sure to check out her site. There are plenty more fabrics there and you can find a list over stores where you can buy these. Thank you for stopping by!