A while back I made an Agnes Top from Tilly and the Buttons. I really liked the version with the ruched shoulders – it's such an easy way to add a little playfulness to a simple knit top. The pattern also includes a version with regular sleeves and the possibility to add a ruched neckline.
I used jersey from Art Gallery Fabrics for this version, Wispy Daybreak Aura from Leah Duncan's Morning Walk Collection. I bought the fabric at Imagine Gnats right when it came on the market in March last year. I just needed to make something of this fabric asap well, alright, to have this fabric as soon as possible… I had had an eye on this fabric even before it was sold and loved the way Leah Duncan had painted the flowers  – in subtle colors and not too sweet, even a little whimsical, maybe. And then – as so often – I had the fabric in my stash for nearly six months, not being able to make a decision on what to do with it!
I made the Agnes Top a few weeks after making the Moneta Dress, which I had to adjust quite a bit to make the bodice fit. It was such a relief to realize this top was fitting just right, without any adjustments! I think this top might be one of my go-to and mash-up patterns, just because the fit is so good for my body type.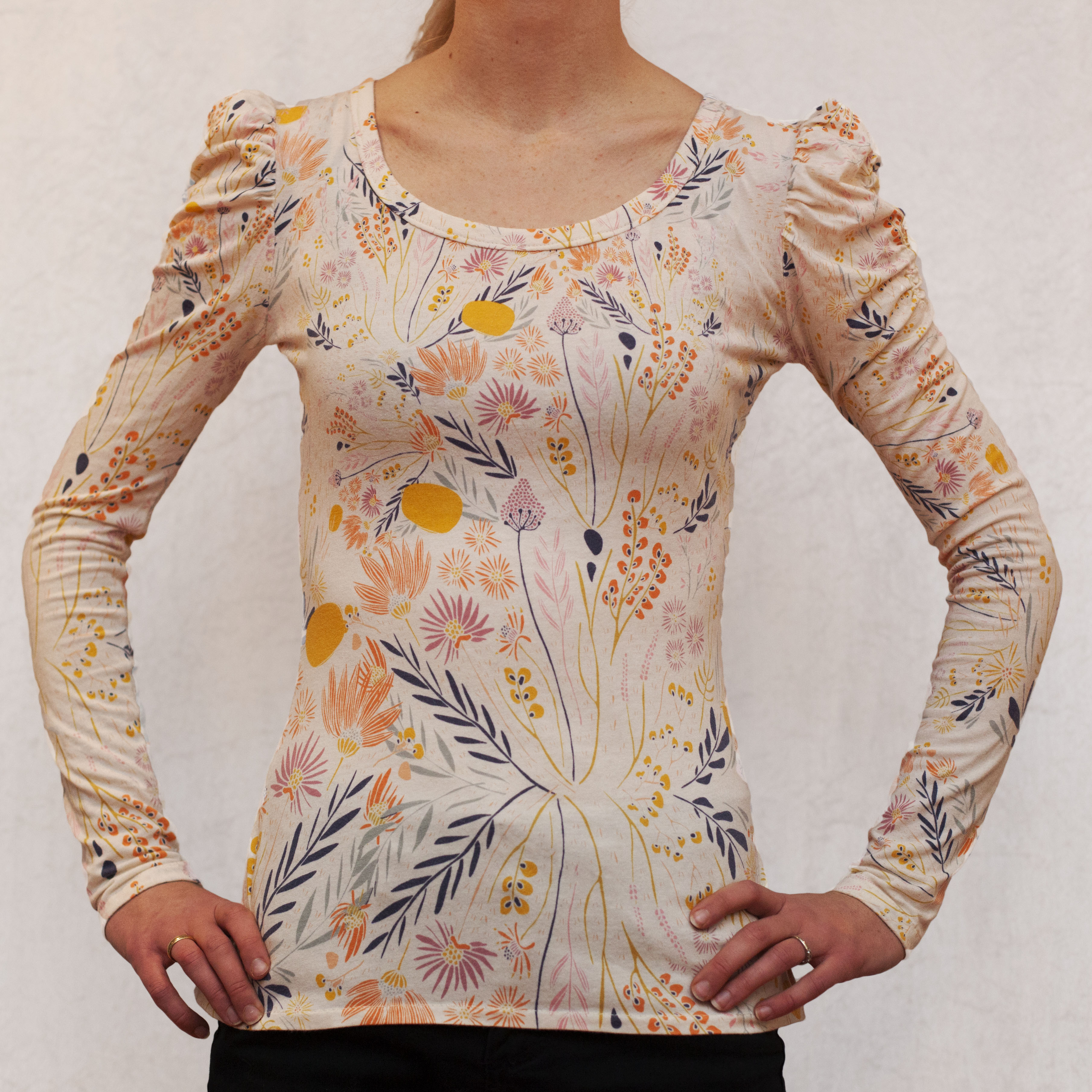 I realized later that I didn't finish the neckline according to the instructions Tilly gives: I folded the neckband around the neckline, while the instructions tell you to sew the neckband to the edge of the neckline and fold it away from it. I think my neckline might be just a little bit deeper because of this, but I really like it that way and I think I might just keep this technique for my next Agnes.
The ruching on the arms is done easily with the help of a stripe of elastic that is sewn with a small zig zag stitch to the inside of the sleeve. I guess it's because the Art Gallery jersey is quite thin, but the elastic pulls a tiny "hole" into the fabric on one side. But it really is not that visible – and I always have to remind myself that no one else is looking as closely on my clothes as I am.
I already made two more Agnes Tops – one without any ruching for myself and one with extra ruching at the stomach for a good friend of mine who is pregnant. I used this tutorial by Sew Caroline for the maternity version and might blog about it soon – if I can get my friend to model it for me! 😉