It's February, which means that it's time for Sewn With Hart, the yearly sewing event by Harts Fabrics that's all about self-care. And if you read my blog post about how sewing saved (and still saves) me, you know that I am all about sewing as self-care, as therapy, as a way of taking a break and making yourself feel good.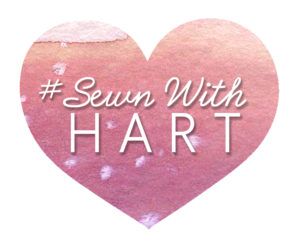 Harts Fabrics invited me to choose a fabric from their store and to sew something for myself that makes me feel good. After browsing the extensive collection of fabrics, I fell for a wool-silk knit. It's not a pure wool-silk knit, but is made of 44% acrylic, 36% wool. 18% silk and 2% spandex. The fabric has a nice weight for a sweater and some stretch and recovery. It's not silky-soft, but rather a little rough. Some people might not be comfortable with wearing the fabric directly on their skin, but I am not very sensitive to wool, so I don't mind at all.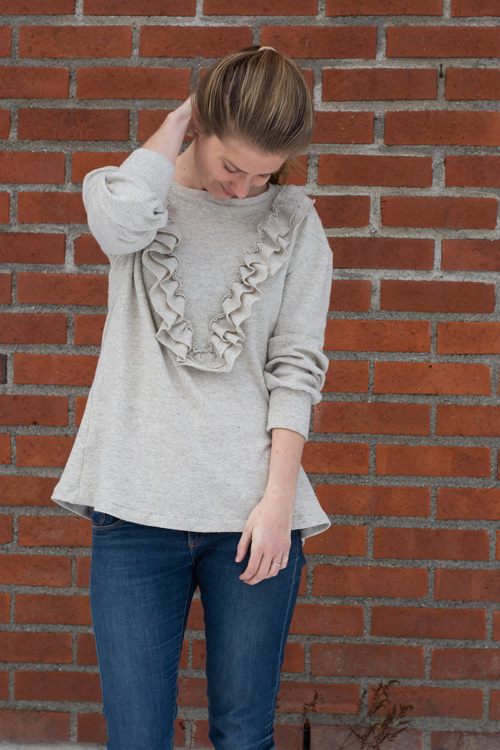 The pattern I chose is the Kiki Shirt by Schnittchen, a German pattern designer. I saw the pattern when it was released before Christmas and bought it spontaneously, since I really liked the ruffles. And what could be more "self-care" more than a comfy sweater made of wool silk fabric? I actually own another Schnittchen pattern, but haven't made it yet – so this was my first real experience with their patterns.
Working with the fabric was a joy and I love the fact that the edges could be left unhemmed. That way it was much easier to make the ruffles! Somehow I gave Harts the wrong amount of fabric, which meant that getting all the pieces on the fabric was a real jigsaw puzzle, but I made it! I am actually really glad that I didn't have any more fabric – it is really satisfying having only tiny scraps left after you're done with cutting.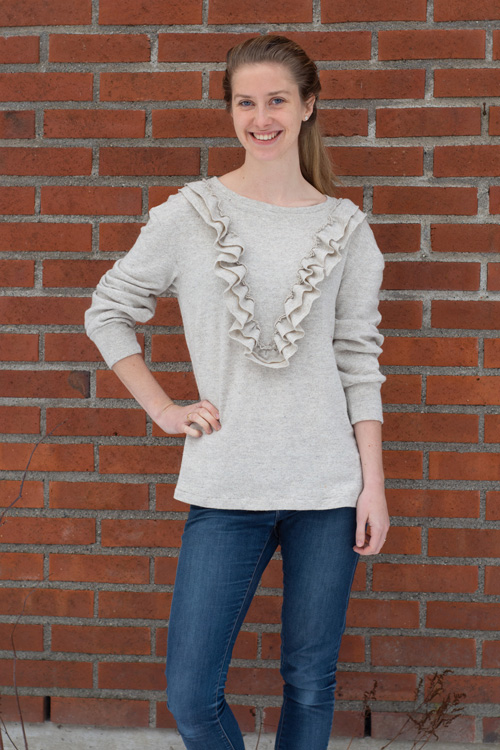 My experience with the Schnittchen pattern was rather mixed, to be honest. In the end it didn't really matter that much, since the fit is rather forgiving and the design is simple, not requiring lots of instructions when you know what you're doing. But I do have a few comments regarding the pattern:
First of all: I did not lengthen the sweater. There is only a general body sizing chart included, no chart for the specific pattern or a chart for the finished garment measurements. The chart states that the patterns are designed for a height of 167,6 cm for size 4. I am 175 cm tall and usually lengthen my garments. However, my sweater has plenty of length, while the sample by Schnittchen looks shorter on the model. It is important to mention that the sample is made of a woven, while I used a knit – but my fabric did not stretch very much, so the effect on the length it can't have been that big.
This brings me to my second point: The instructions tell you explicitly that the pattern is suitable for both wovens and knits. However, there aren't any instructions given for actually using a knit. I would have liked information included like sizing down when working with stretchy knits, or shortening the neckband (and dropping the interfacing) when using a knit.
My third point is that there are some issues with the labelling of the pattern pieces, which I actually wrote to Schnittchen about, without getting a reply. I mean, it was rather clear which pattern piece is the front and which one the back, but I'm rather spoilt by the patterns of some meticulous designers who eliminate every so little mistake in their patterns and instructions.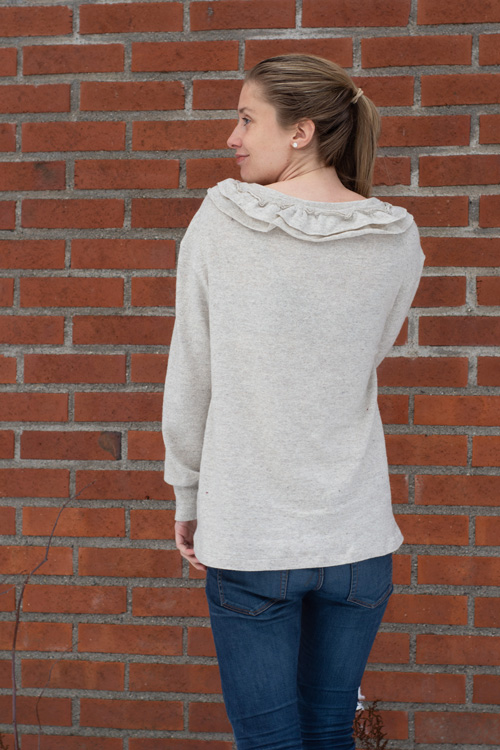 That being said – I am very happy with the result! By now I have enough experience to be able to sew without relying heavily on the instructions. I've been admiring the ruffle trend from afar, without jumping on board. And now I finally did! And I feel wonderful in my comfy and pretty sweater made of this fabulous fabric.
– Harts Fabrics sent me the fabric for this blog post for free. However, all opinions are, as always, my own. –