I haven't sewn a lot for my son – and now he's already a year old! Somehow it didn't interest me a lot to sew baby clothes, and he has been growing so fast that everything only fit a few weeks anyway. However, recently I have begun to sew more for him – simple gauze pants, sweaters and now these  "Käpt'n Flóki" pants by the German pattern designer Rabaukowitsch. Somehow I feel I can add more details now, make the clothes look cool and special and not just practical. Sure, I could have done this for his baby clothes, too – but somehow I just didn't. I felt like putting him in soft, roomy and stretchy garments – and I don't like sewing onesies!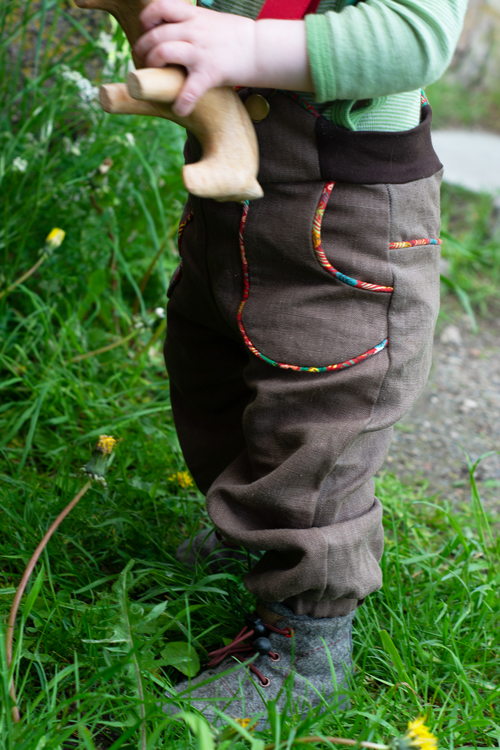 Now I am actually enjoying to think about what kind of garments would suit my son and how to make them special. So when Luise from the Norwegian fabric store Askeladden Naturstoffer asked me to sew a design sample with her newest hemp canvas fabric, I immediately said yes. Askeladden Naturstoffer is a rather new fabric store, focusing on only natural fabrics – wool, linen, hemp, wool-silk, and some special cotton fabrics. All the fabrics you need to sew truly "old-fashioned" (and highly functional!) garments for your child (or yourself).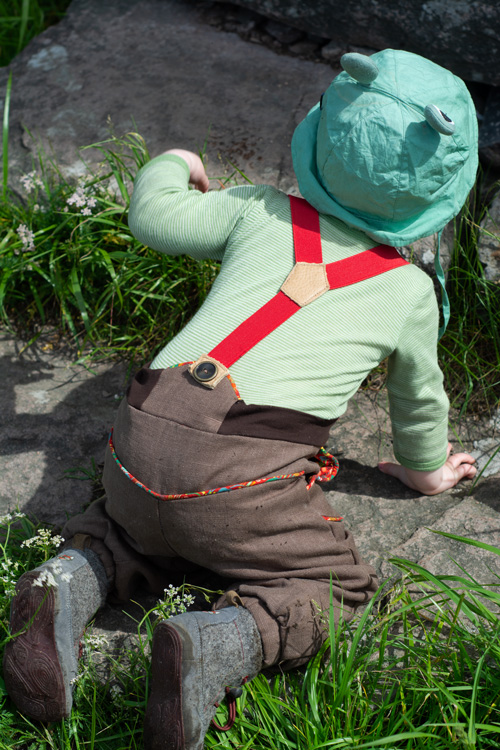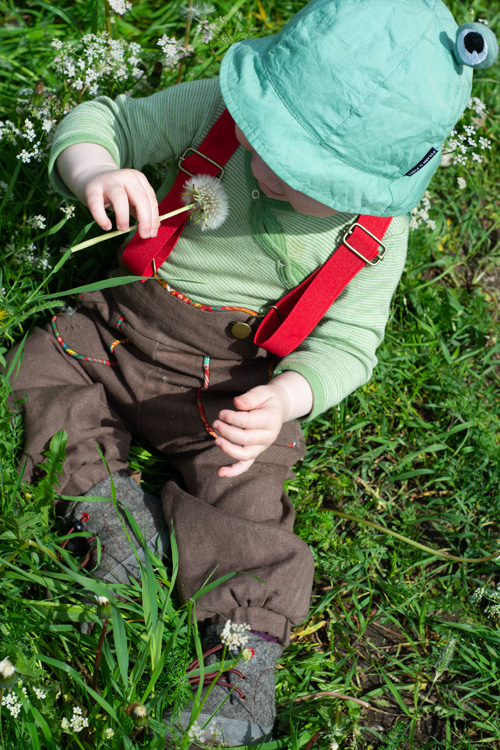 Hemp is a very old textile fibre and has very special qualities. It is very enduring, feels cooler than cotton during summertime and, interestingly enough, it doesn't burn until it reaches really high temperatures, which has traditionally made it an excellent choice for work clothes. Hemp is rather antibacterial, too, and both absorbs and releases moisture quickly. I had never before worked with hemp, so I was definitely curious to try it.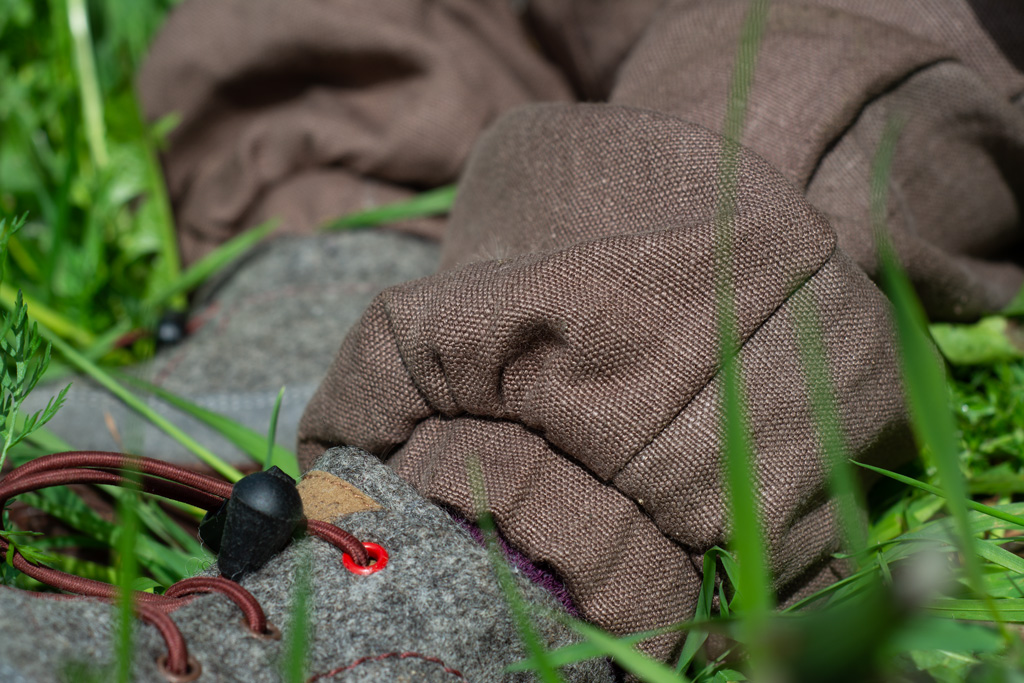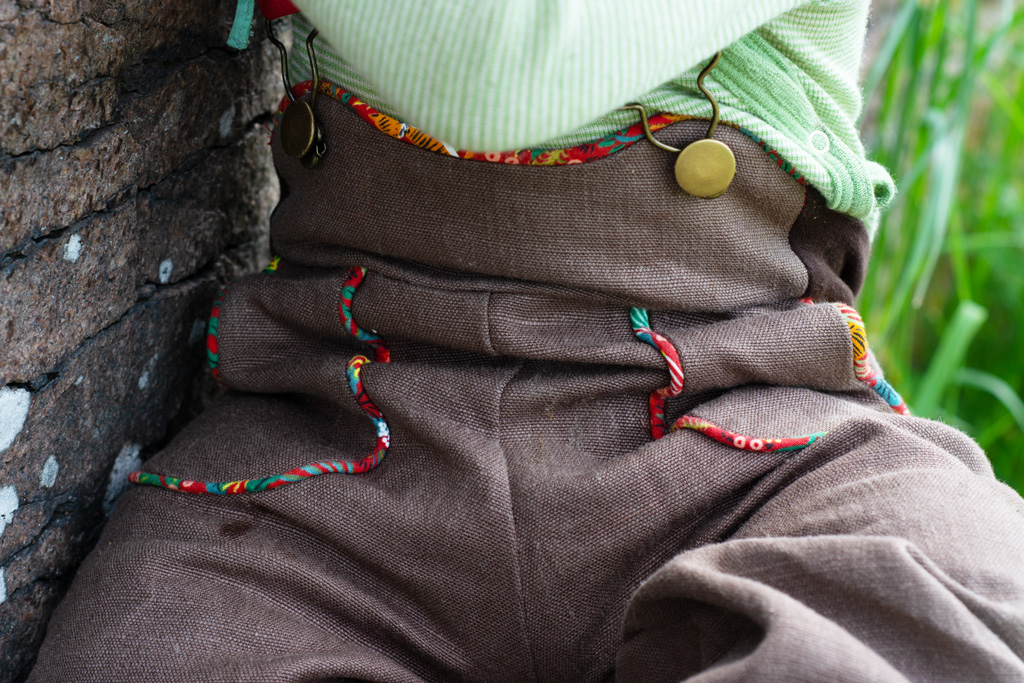 The hemp canvas is rather heavy (but not the heaviest in the store!) and reminds me a little of burlap – woven with thick threads and fraying quite a lot. It feels sturdy, but not too hard or thick to make comfortable pants for a one-year old.  I have only washed the fabric once, but Luise told me it is going to get quite a bit softer after a few more washings.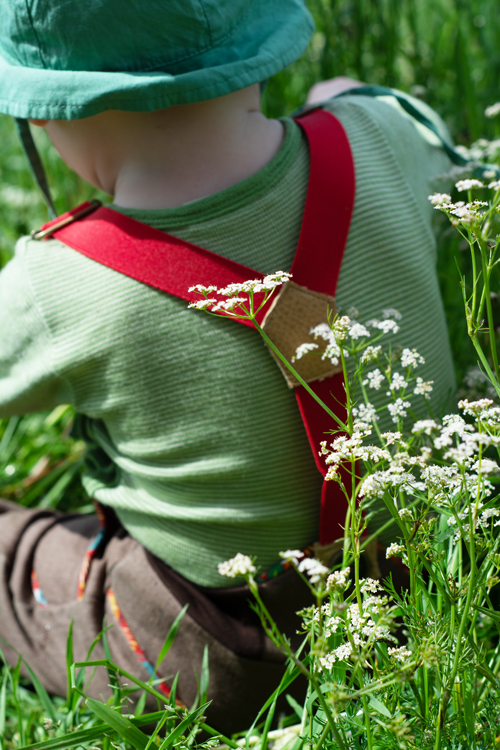 I wanted to make a pair of pants for my son suitable for playing outside and preferably designed to be worn with suspenders. I always feel that pants with suspenders and dungarees might be more comfortable for a little child while playing, since they aren't tight at the waist. Luise suggested the Käpt'n Flóki pants by Rabaukowitsch and I was sold. I just love the old-fashioned look and the details! And it is perfect for a fabric like hemp, linen, or wool. I made my own piping for this project and chose a soft red cotton from Miss Matatabi for both the piping and the facing of the waistband and the pockets. I bought this fabric before my little one was born and it's just so adorable: Jungle flora with small tigers and monkeys in between. The waistband is made from brown ribbing I had lying around.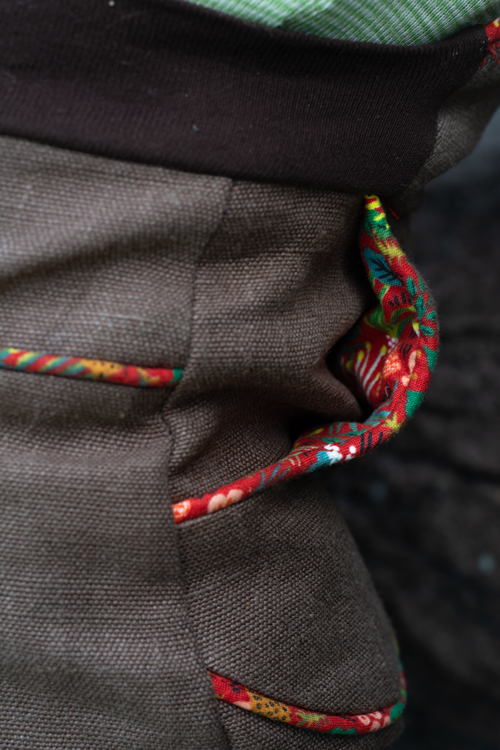 This is the first time I worked with a Rabaukowitsch pattern and it was an alright experience – everything printed correctly, the pattern pieces fit together and the pants fit just as they should. As most German pattern instructions, this one, too, comes with photos instead of illustrations. I didn't have any problem with following the instructions, but I would have liked a chart with the measurements for each size – both the measurements of the child and those of the finished garment. I agree that it isn't as crucial for children's garments as it is for grown-up garments, but I still prefer being able to measure my child and decide on a size, rather than guessing which size might fit based on store-bought items or comparing finished garments with the pattern pieces.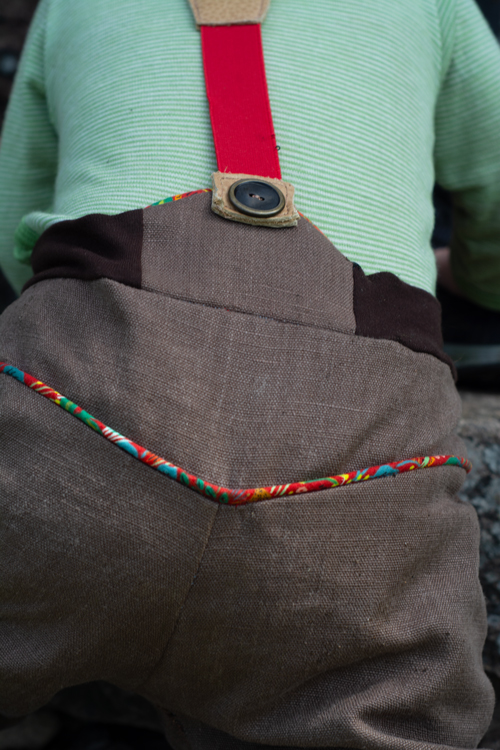 Cutting and sewing the hemp fabric was really easy – but because of the fraying I was glad to have a serger I could use! Originally I sewed most seams with the serger, but I realised that the loose weave of the hamp needs a tighter stitch than a simple serger stitch, so I sewed along some of the seams a second time, using my regular sewing machine. I still have a little bit of fabric left and next time I am simply going to serge every edge before sewing the pattern pieces together using my regular sewing machine.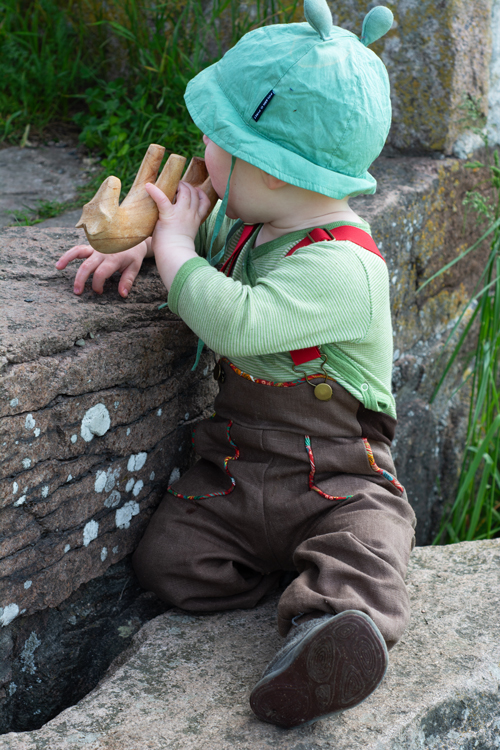 I went to the city centre to buy the supplies for the suspenders, and believe it or not – I actually had a hard time finding what I needed! I ended up with a set of clips for dungarees from Stoff og Stil, slightly bigger than I would have liked them to be for such a young child. I also had trouble finding nice elastic with exactly the right width. This red elastic is from Sømsenteret. The leather is from a scrap I had lying around. I actually bought it in Denver while visiting some of my dearest sewing friends.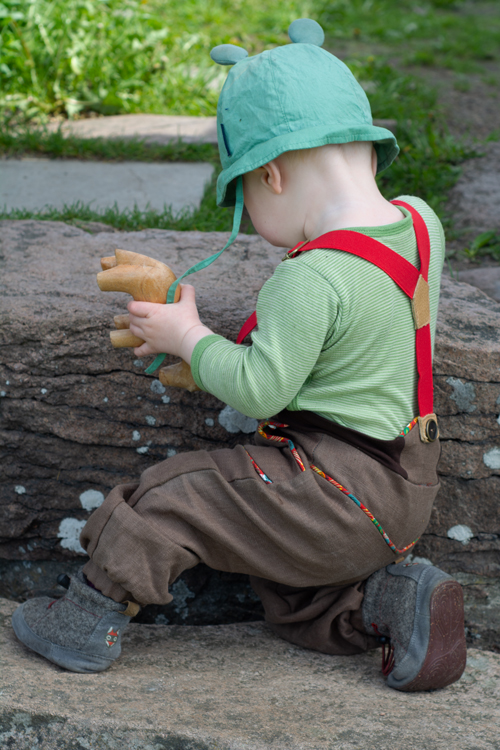 I'm super happy with how the pants and the suspenders turned out and I love seeing my little man wearing them – this won't be my last pair of Käpt'n Flóki! And even if this is mainly going to continue as a blog about women's garments, some cute children's garments might make their appearance from time to time!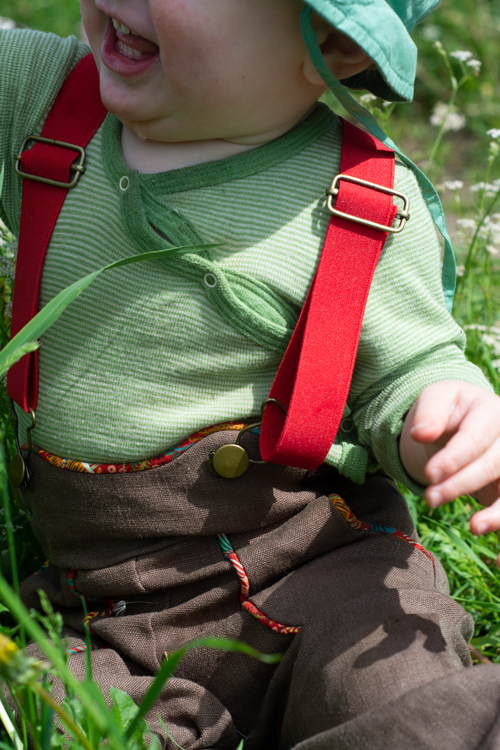 – I received the hemp fabric for free from Askeladden Naturstoffer. However, all opinions are, as always, my own. –