Last spring I tested the Moto Sweatshirt by Seamly and I love wearing it! I don't own a lot of regular sweatshirts, but this jacket feels like a comfy sweatshirt, while looking way more interesting. I love the high collar, the asymmetrical zipper and the pockets. Naturally, it was about time to make a second Moto Sweatshirt.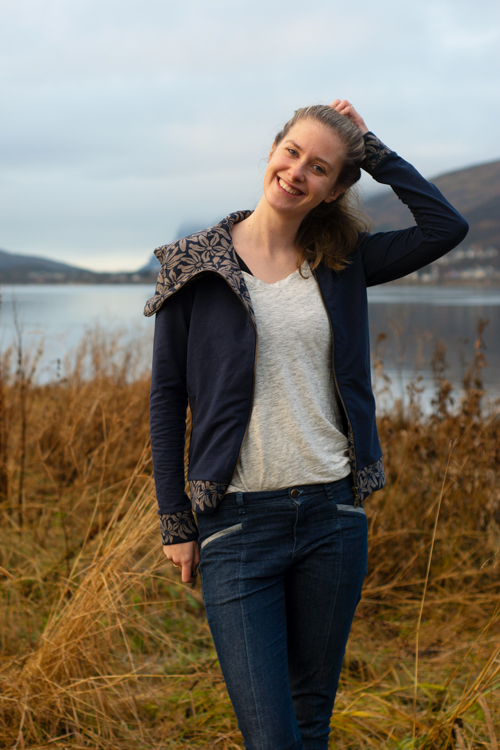 I wasn't very creative: Like my first Moto Sweatshirt, this one is blue, too. But while my first jacket was sewn in one fabric, I added a few fun details to this version: a contrasting collar and ready-made cuffs and bottom band. Do you wonder where I got these perfectly matching fabrics from? Well – Hello, Heidi! All of the fabrics are from the Swiss store Hello Heidi Fabrics. My main fabric is a French Terry, the collar a jacquard and the cuffs and the band are cut out of coordinating ready-made cuffs. All of the fabrics are made of cotton, produced in Germany and organic.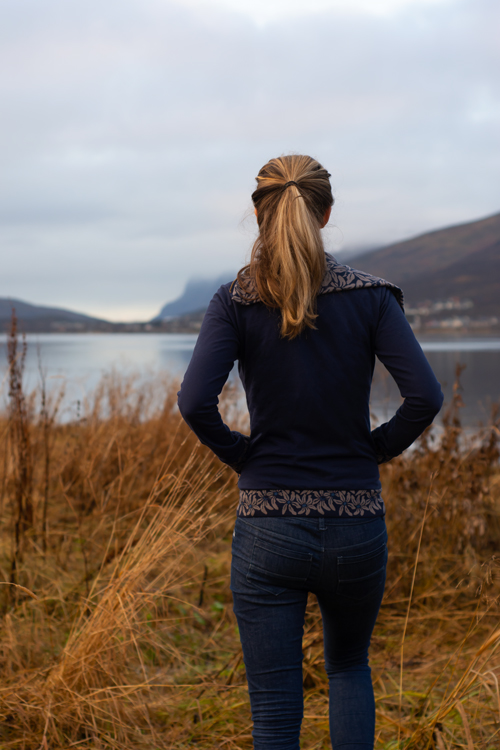 I've already told you a little bit about Hello Heidi Fabrics in this blog post, featuring the same fabric in another colourway (sold out). However, I didn't tell you anything about the origin of this pretty fabric design! Hello Heidi Fabrics sell high-quality fabrics from other brands, but they have their own exclusive fabric designs, too. This floral design, called Flur, was their first design and available in four colourways. Barbara, one of the owners of Hello Heidi Fabric, had a grandfather who used to work at a fabric manufacturer in Switzerland. Like most local fabric producers, the mill closed one day, but her grandfather took a piece of an original wooden printing plate home with him. Barbara and Bettina found this printing plate and loved the timeless floral design. A friend wirking with them who digitalised the pattern and added missing pieces. Barbara and Bettina chose four beautiful colourways – and the result is this beautiful and unique fabric with a very special story.
As you might see, the fabric I'm using for the collar of my jacket is knitted using two different colours, while my cuffs feature a tiny dot of a third colour. All of these colours are available as jerseys and French Terrys, too, making mixing and matching a breeze. This particular colourway of Flur has been a hit, by the way! The jacquard was sold super fast, but was just restocked for one last time – be quick if you want some!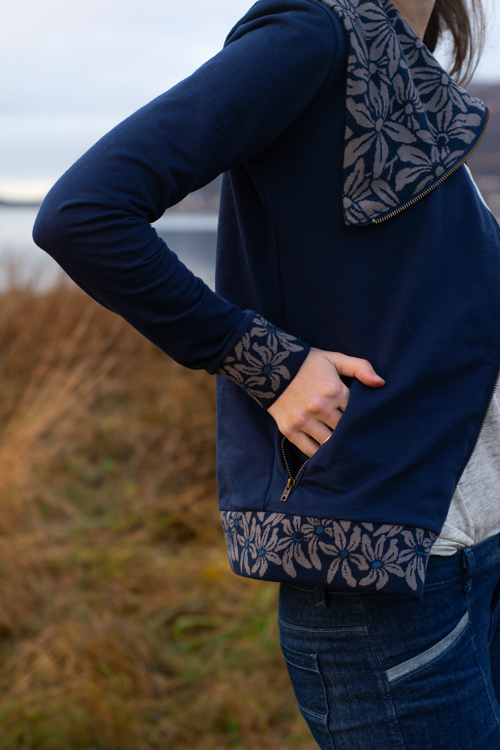 My first Moto Sweatshirt fits really well, so I did the same adjustment for this jacket: lengthening it by 5 cm/2″. And for this jacket I had to adjust the cuffs and the band, too. Since these cuffs are pre-made, you don't need to fold these, you just sew the unfinished edge to your garment. To account for this, I simply used the pattern pieces for the cuffs and the band to cut the right length, and, in the case of the band, to cut the short edges of the band in the right angle. (They're cut angled, since the front zipper is sewn in at an angle.)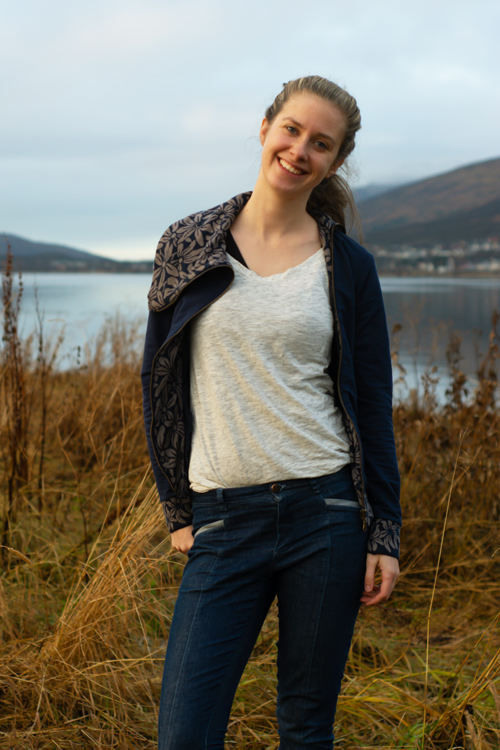 Sewing the Moto Sweatshirt is way quicker than you'd imagine – sewing-wise it's definitely more of a sweatshirt than a jacket. Good for me! That way I managed to squeeze this project in before moving to Oslo. I am not super happy with the pics – I had to set up my tripod, it was cold, there's only little light left here in the far north, and our baby was with me, too. I wish I had taken the time to take more pics! Somehow, on these pics, I either forgot to close the zipper pockets, or the jacket is creating drag lines and so on. Well – you get the idea!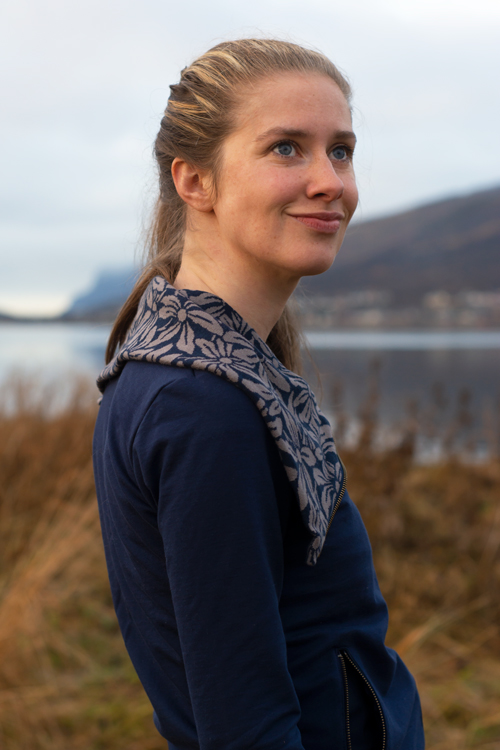 – I got the fabric for this jacket fir free from Hello Heidi Fabrics and I am compensated by Indiesew for this blog post. However, all opinions are, as always, my own. –