I finally participated in a new pattern test – and I finally made a new pair of pants.
I like making pants since I don't mind more complex projects and don't have a lower body half that is particularly hard to dress. But somehow it has been quite a while since I last made pants – I always ended up with dresses, blouses, tops, skirts, and so on.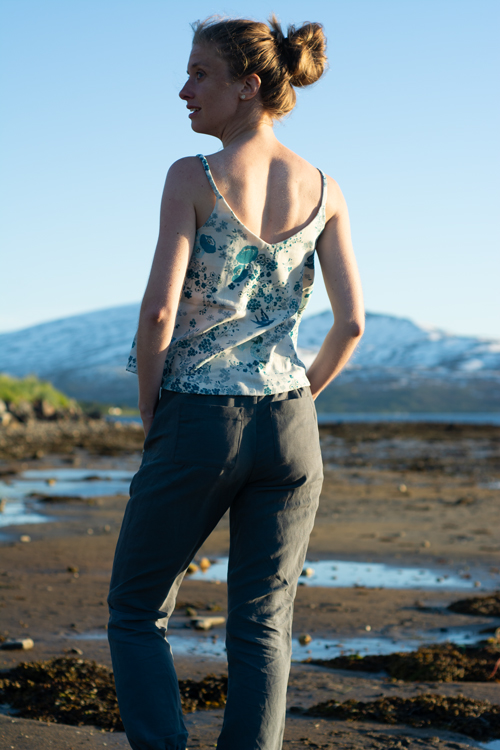 That being said, the new Seaforth Pants by Hey June aren't the most complicated pants to make and can't really be seen as a very complex project. They Seaforth Pants have an elastic waistband, (optional) patch pockets in the front or back, including zipper welt pockets at the front. They also include darts in the back, shaping the back nicely. They come as full length pants with wider legs, and as slimmer, ankle length pants with a wide elasticated hem.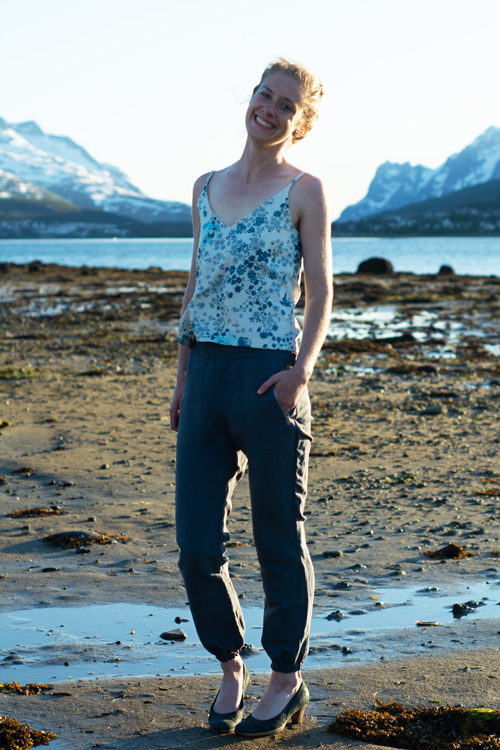 I rarely wear wide summer pants, probably because it's rarely so warm up here in Northern Norway. But somehow the shorter version with the elastic hem really inspired me. Instead of  relaxed summer pants, I had a vision of fancy pants in a more elegant fabric, with an elastic hem and heels.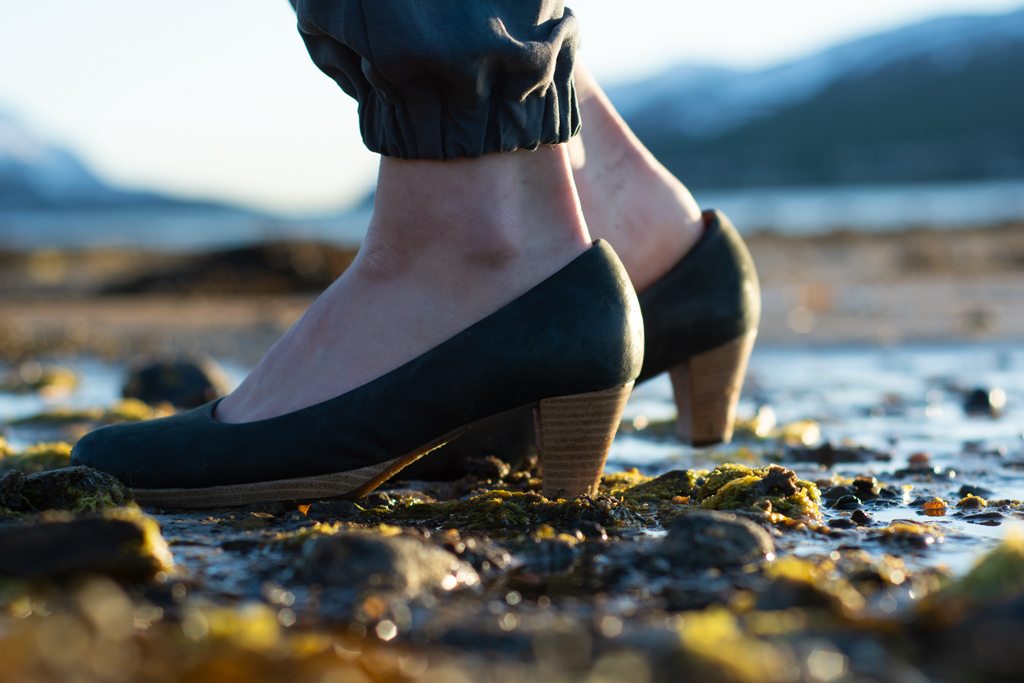 I searched for a suitable fabric at Hello Heidi Fabrics and found a perfect slub linen tencel fabric (sold out in grey, available in different colours). It has a lovely structure and is a little heavier, making it great for pants and giving it a nice drape. And it's easy to sew with, too!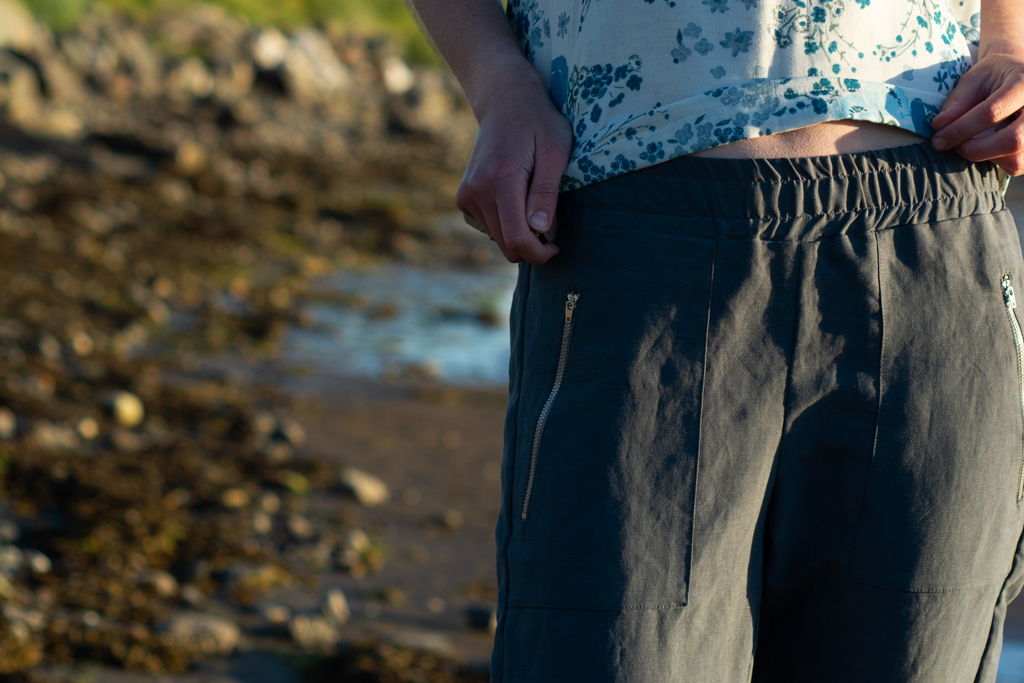 Hey June patterns tend to fit me pretty well without many alterations, and these pants are no exception. I made a size 4 at the waist, grading to a size 0 through the hip and the rest of the pants. I lengthened the pants by 2″/5 cm since I am rather tall. Other than that, no changes were needed.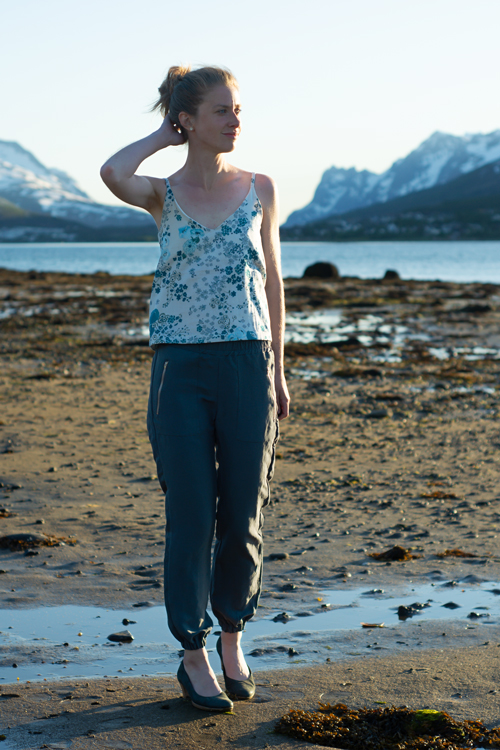 I knew exactly which shoes to wear with my Seaforth Pants, but I realized I didn't have any great tops to go with it. Luckily, Loni decided to pair her Seaforth Pants with an Ogden Cami by True Bias, and I decided to copy her. I know, I know – everyone has sewn Ogden Camis for years – but I never made one before now! No idea why – the fit is lovely and it is so easy to sew.
Several years ago, I bought 50 cm of lovely Nani Iro double gauze. I hadn't used it until now – because what are you supposed to sew with 50 cm of 45″ fabric? Luckily for me, the answer is "an Ogden Cami". I managed to squeeze both the front, back, and straps out of the 50 cm, I only needed to cut the hem of the cami slightly slimmer. I had matching offwhite solid double gauze in my stash, too, which worked perfectly as a facing.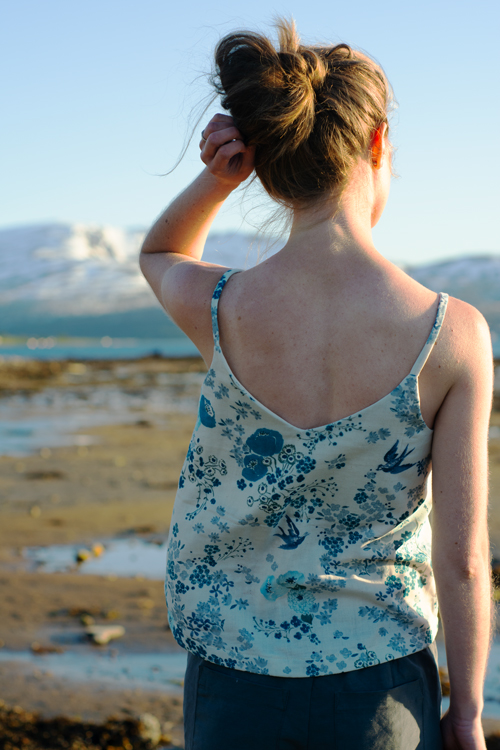 I am very happy with my Ogden Cami and I think it's the perfect match for the Seaforth Pants. I decided to sew the cami with a rather wide hem.  I wanted the Ogden Cami to cover the elastic waistband of my pants, without being too long or too short. But I didn't want to cut anything off my Nani Iro fabric, either. That's why I decided to work a wide hem, allowing me to lengthen the Ogden Cami later on, in case I realize that I prefer it to be longer in the long run.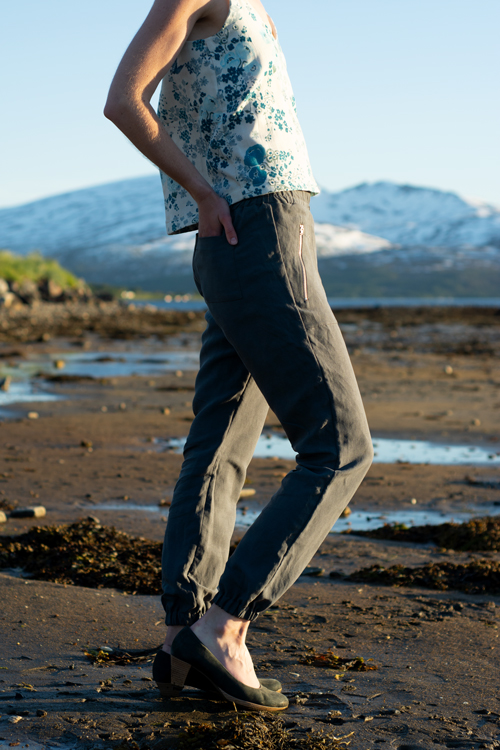 You can find some more details about the Seaforth Pants on the Hey June blog, and Adrianna is going to post a tester round-up for inspiration, too. The Seaforth Pants are on sale for a week, so be quick if you already know you need these in your life!