What a week it has been! Four days with two outfits every day, made of the most beautiful fabrics from Marcella Romano. Read my own blog post for the tour over here to get some more details about these very special Italian fabrics. Everyone on the tour thought so much about what to sew with their fabric and put so much work into sewing their garment. Once again, ladies: Thank you so much for joining the tour and for putting so much effort into it!
Let's have a little round-up of everyone's projects:
Monday
Vicki from SewVee made a stunning gown for a seaside wedding, using this blue jacquard. She wrote that she felt like a mermaid and got lots of compliments – I'm not surprised by this either! Vicki really knows how to wear bold prints and huge circle skirts, and this dress is no exception!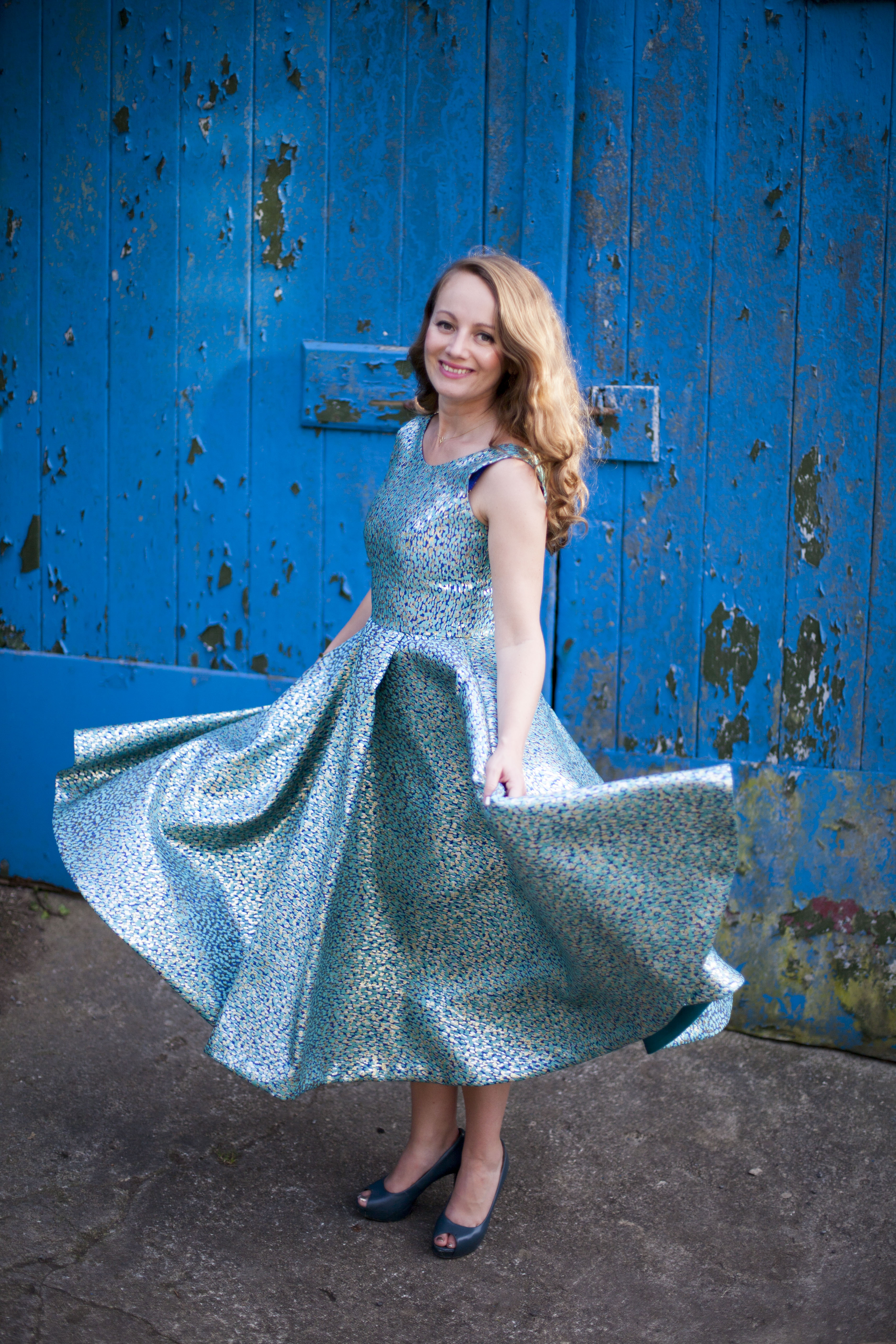 The second blog post on Monday was my own – I made a Wedgwood Skirt by Straight Stitch Designs using this fun eyelet fabric. You can get all the details over here.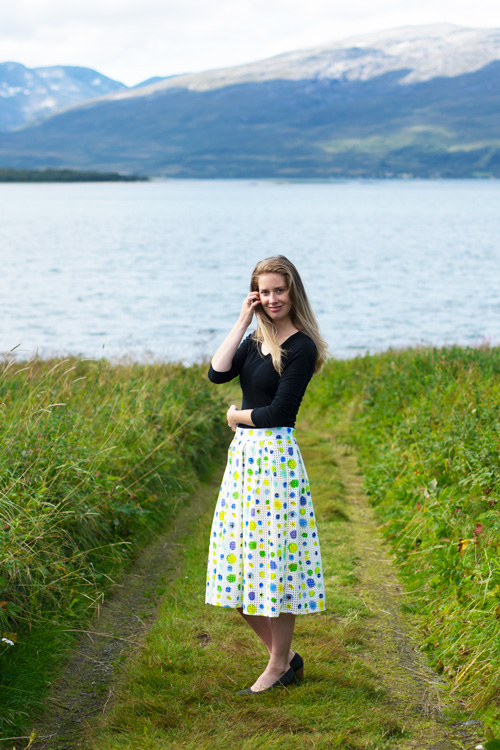 Tuesday
Heidi from Handmade Frenzy showed the more quiet site of Marcella Romano by showing off this black and white linen fabric. She made a beautiful jumpsuit that really lets the fabric shine. She had a hard time while sewing but didn't give up – and I'm glad she didn't. I love how this jumpsuit can be dressed up or be worn as a casual everyday outfit.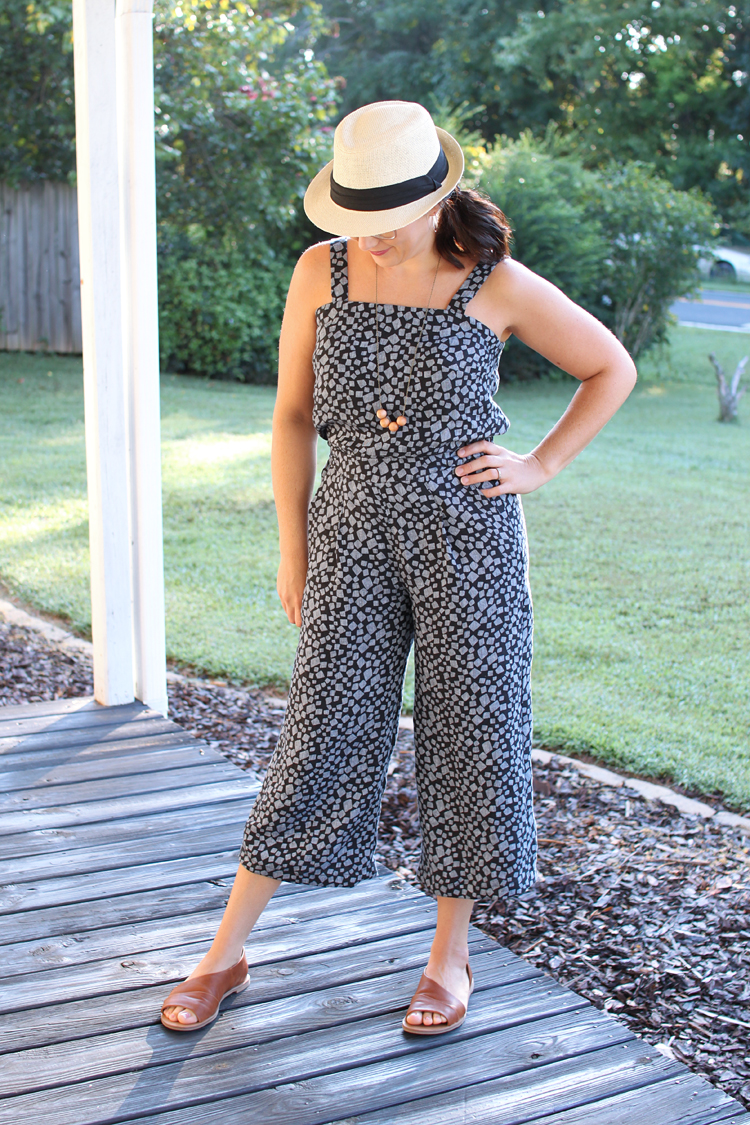 Nicole from Merritts Makes amazed the whole Instagram community by making a pair of the most colourful pants we've ever seen – and rocking them! I would never have thought of making pants out of this fabric – would you? These pants and seeing how perfect they are for Nicole and her style makes me smile – and that's what clothes should do for us, right? Make us feel good!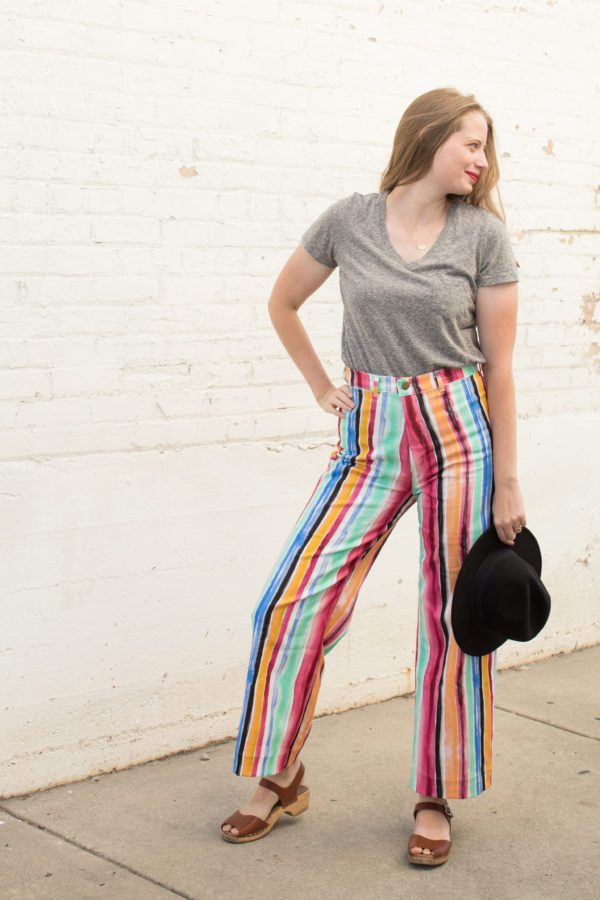 Wednesday
Leslie from Threadbear Garments chose this floral stretch denim to make a pair of cute shorts. I think she chose the perfect pattern, that buttoned side closure with the big white buttons works perfectly together with these shorts. Check out this inside view of her shorts – isn't this the neatest finish you've ever seen? And as always, Leslie has shown her sense of style by showing these shorts off sporting an umbrella and rain boots. I can promise you – next time it's raining I'm going to take umbrella blog pics, too!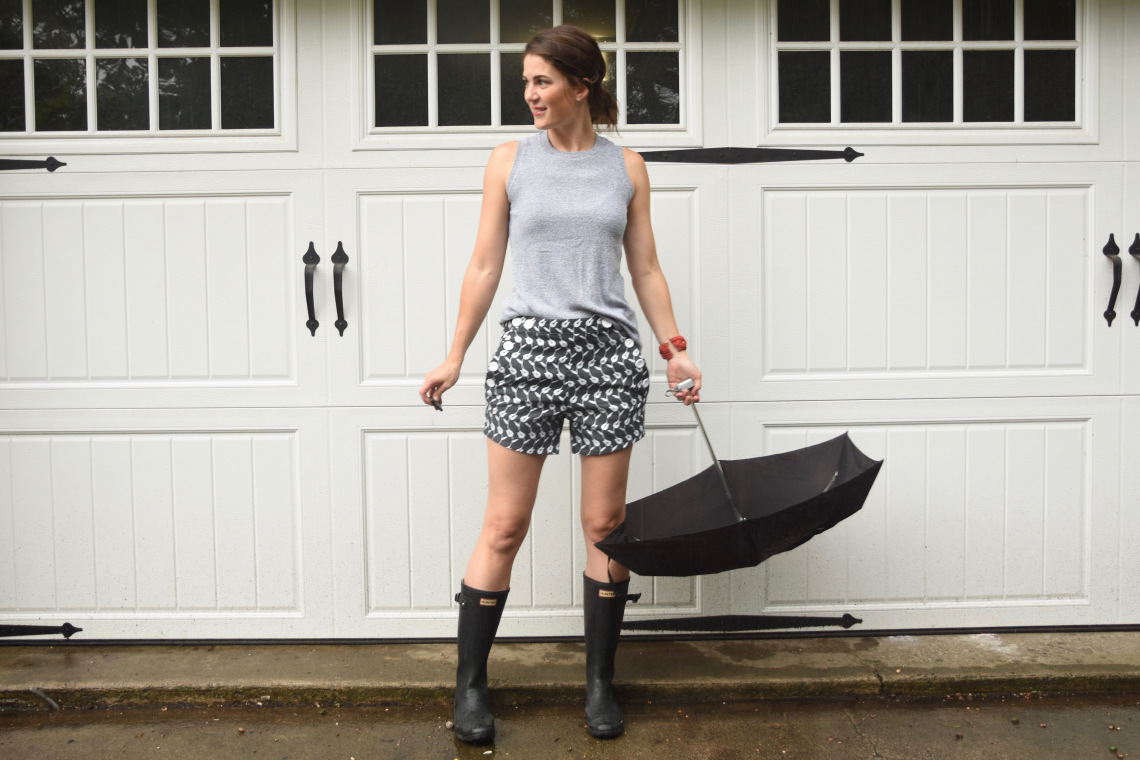 Next up is Star from Well Fibre – I think she nearly broke Instagram when she showed off her fancy gown using this jacquard fabric. She worked so hard to make this and went all in with hair, make-up and a true photo shoot. Doesn't she look like a professional model? I mean, this could be an ad for something! (Photo by Jill Nicole)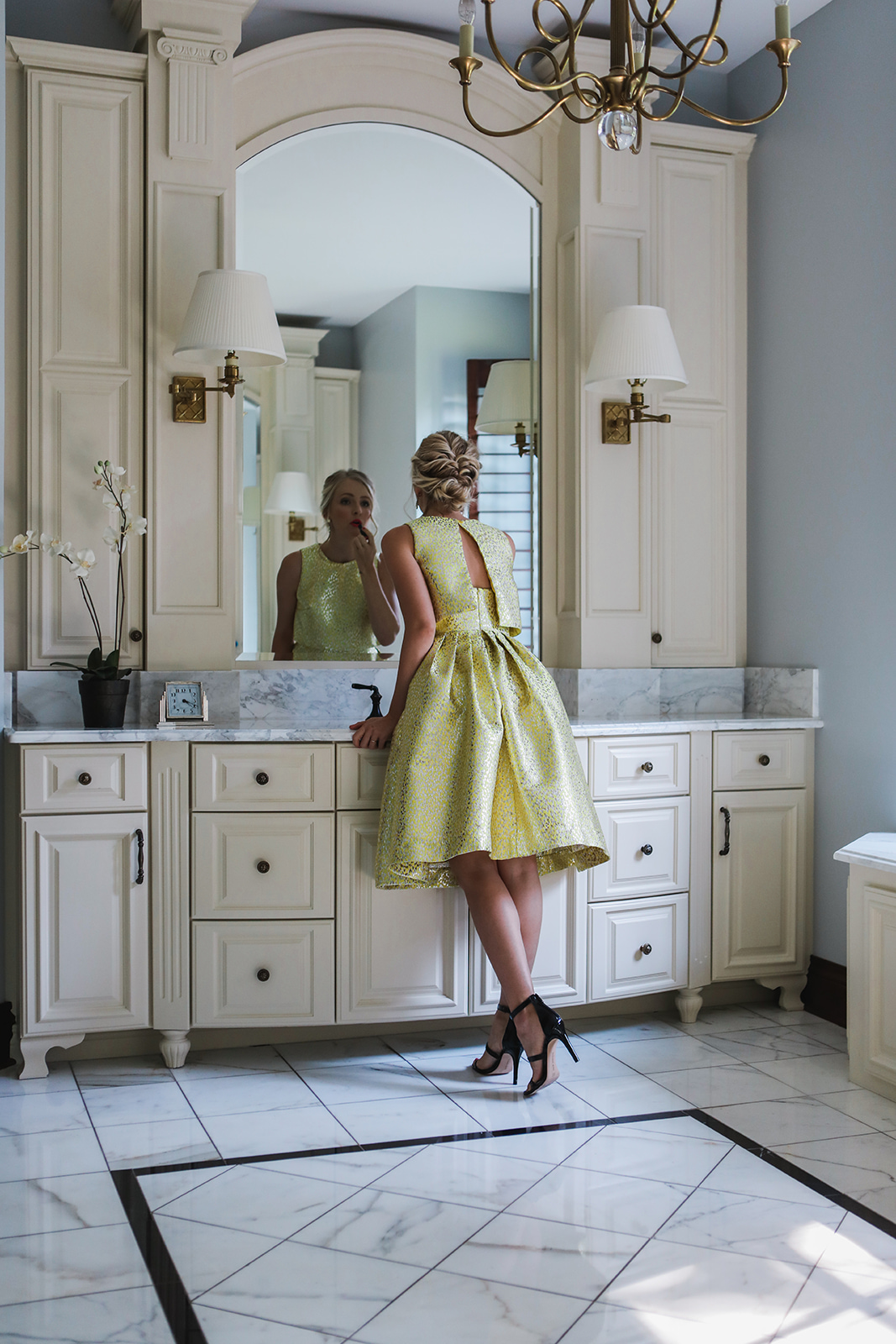 Thursday
Dominique from Kreamino used a stretch canvas – the same type of fabric Nicole used – to make a colourful pinafore dress. I love how she paired it with a simple long-sleeved tee and tights, showing that this is the perfect autumn dress, brightening up every gloomy day. And can you believe that she's merely weeks away from her due date? Nope, me neither!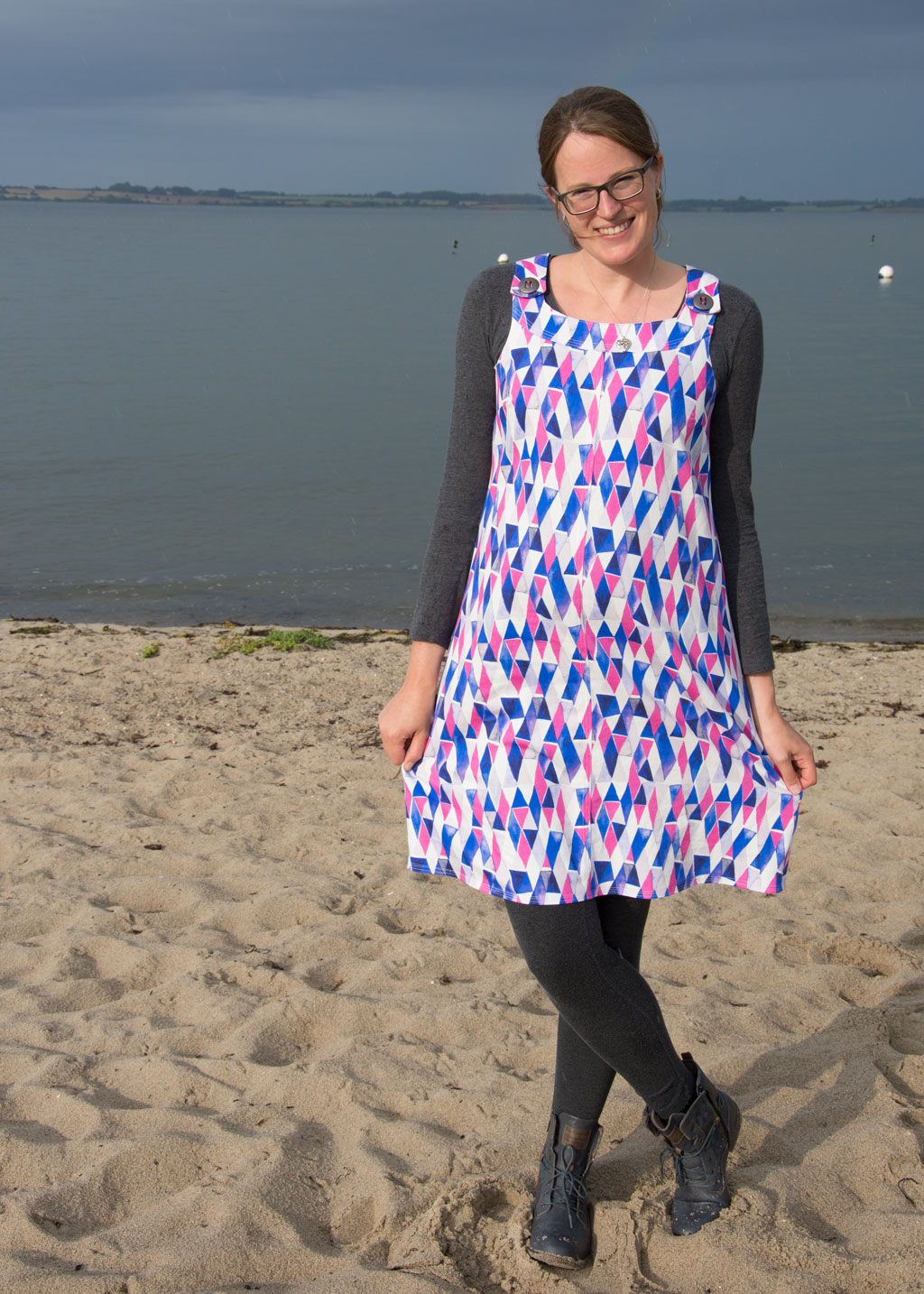 Last but not least – Eveline from Frölein Tilia. She, too, thought carefully about what to sew and came up with something I never ever would have thought of. She used this pink floral jacquard to make a retro-inspired jacket, adding a little twist by adding striped cuffs to give the jacket a little more edge. Another one of those projects that I would not have been able to even think out but that turned about absolutely amazing.
That's it – that was the whole Marcella Romano blog tour! I hope we could inspire you to think outside the box when choosing fabrics and patterns! Don't forget to head over to Marcella Romano to have a look at all the other beautiful fabrics we haven't shown you. Maybe they will inspire you to make something truly unique and special, too?