The last pattern test I did while being pregnant was for Hey June Patterns. Adrianna had designed a summery blouse with a fun boho-vibe, and when I realized this could actually be a great maternity pattern, too, I just had to join the test.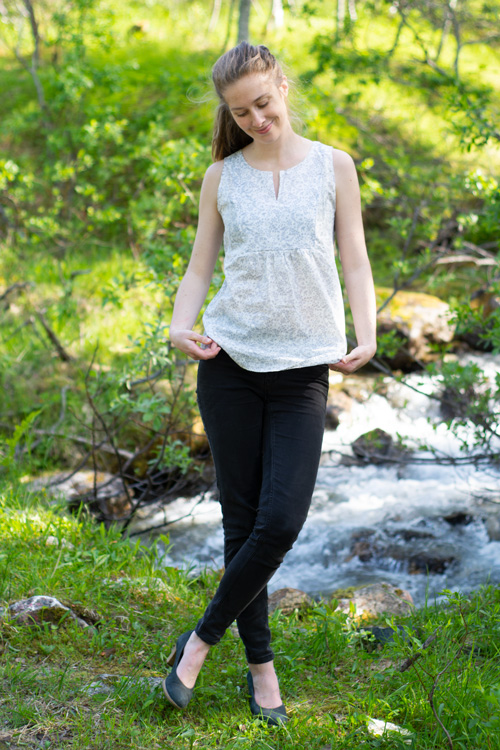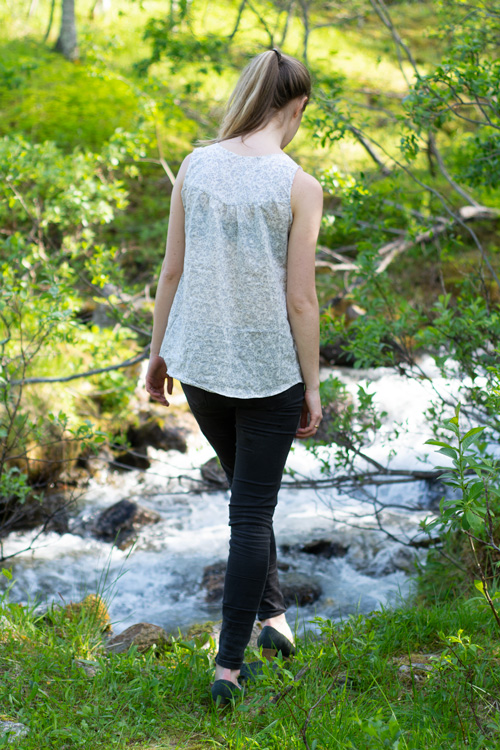 The Phoenix Blouse has a split at the neckline and uniquely shaped yokes in the front and back. Both the front and the back are slightly gathered below the yokes and the blouse comes with and without 3/4 bell-shaped sleeves. I've sewn the blouse both with and without sleeves, you can see more of the sleeved version (and my tips for making the blouse maternity-friendly!) on the Hey June blog. By the way – the blouse fits perfectly now, too!
Today I'm showing you my first version. Although I didn't make any changes to this version, I could wear it while I was pregnant, too. The sleeved version fits better, but this was definitely wearable as it is.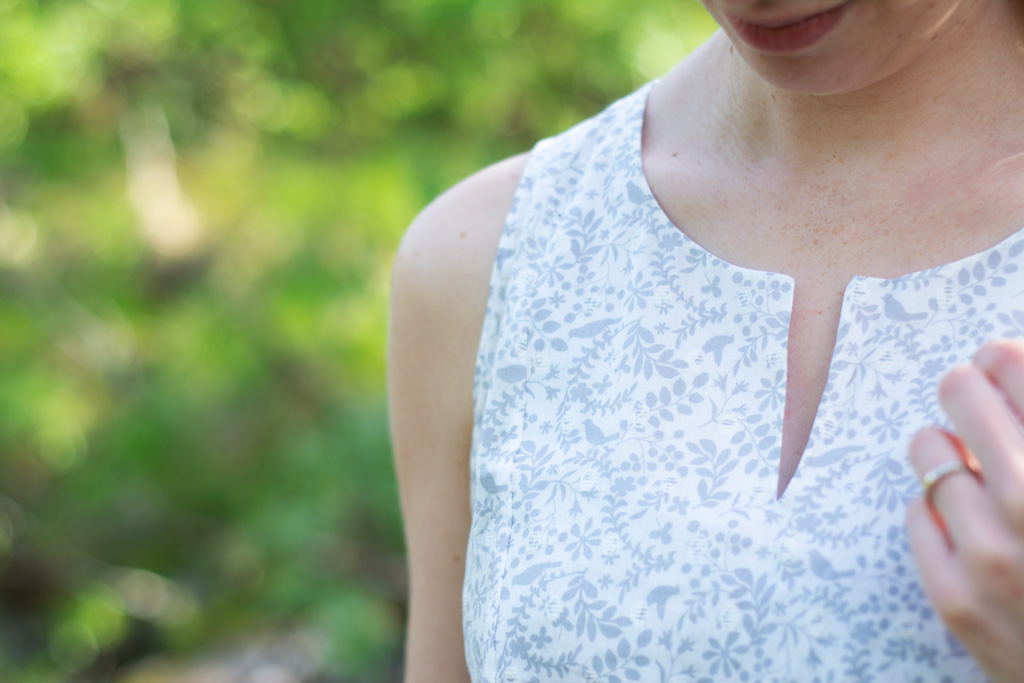 The fabric I used is a very thin dobby cotton lawn from Miss Matatabi, bought around Christmas and sold out by now. It's a bit see-through, but since the yoke is lined anyway the blouse is definitely wearable without a top underneath. For lining I used some lightweight white lawn scraps from my first Cheyenne Blouse. I'm actually surprised by how little this dobby lawn wrinkles! We took these pics while we were on a hike. I had everything in our backpack, changed into these clothes when we found a nice spot and changed back into my hiking outfit afterwards. Even though this blouse had been stuffed into the backpack for a couple of hours, it looked surprisingly nice for a cotton lawn!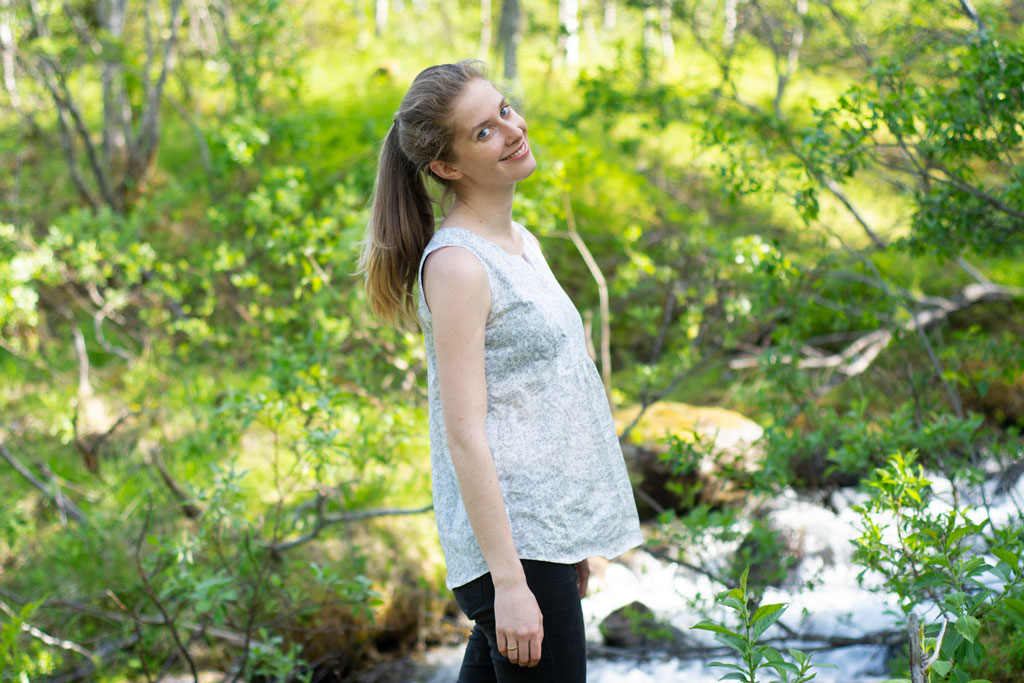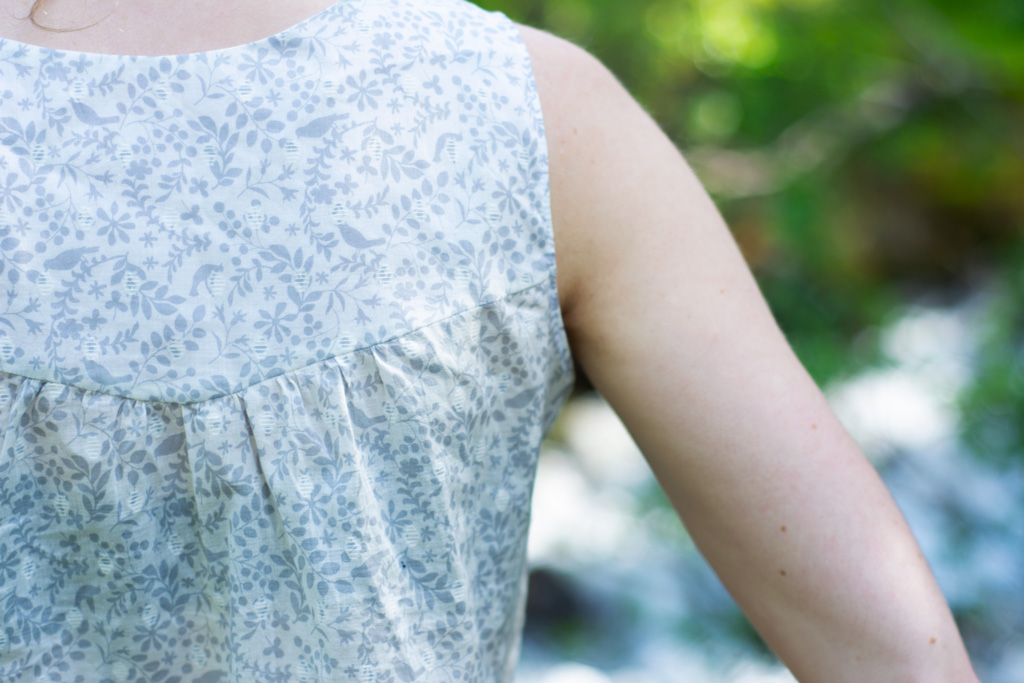 I made a size 4, graded to a size 6 at the hips because of the baby bump. I lengthened the top by 1 3/8″, which is a usual adjustment for me. Sewing the Phoenix isn't very difficult but sewing the front yoke can be a little challenging, since you have to sew around the corner and have to clip right to the stitch line to be able to end up with a clean corner. Adrianna came up with a really fun (and impressive!) method for finishing the front and back yoke, the shoulder seams and the neckline, all in one big step. Sewing for me is not so much about quick results – I thoroughly enjoy unique designs and fun and clean construction methods. And the Phoenix Blouse is definitely one of those patterns!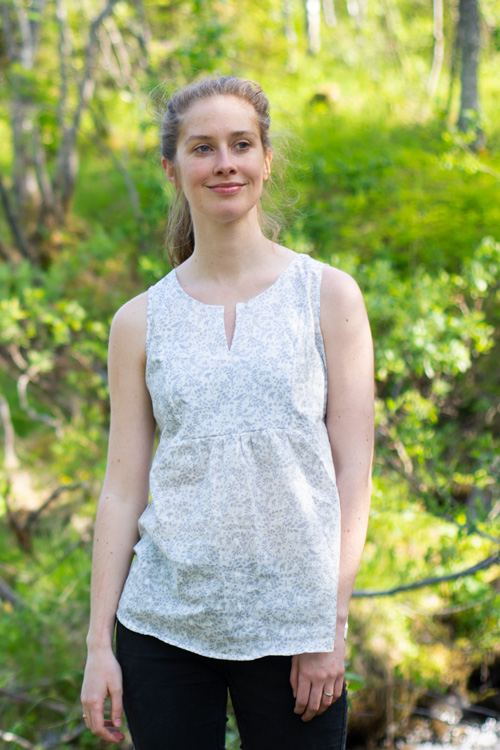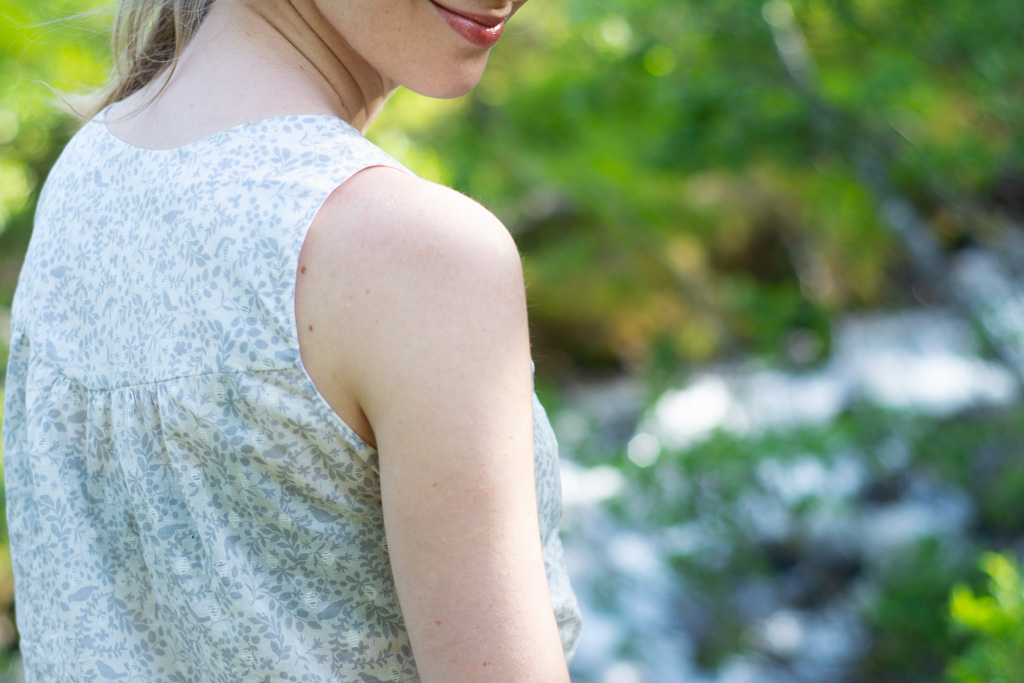 The armholes are finished with bias tape – I cut my own bias tape instead of using store-bought bias tape. Somehow I didn't think the final width of the folded bias tape through, ending up with the tiniest bias tape ever! I actually like the look of this super slim binding, but it was difficult to attach and the result is definitely different from the intended look.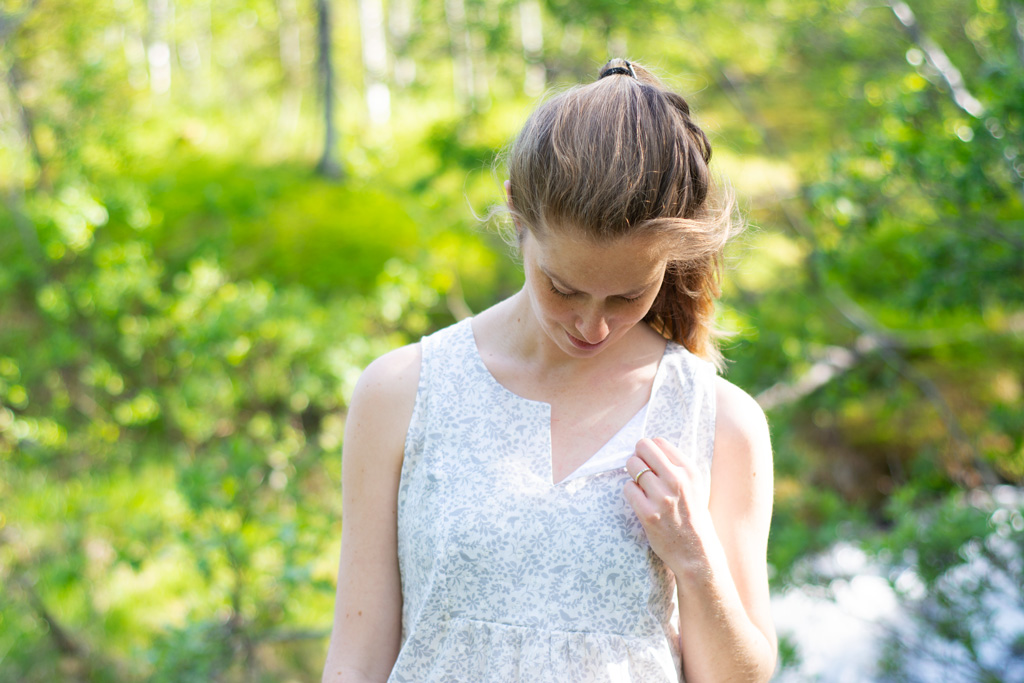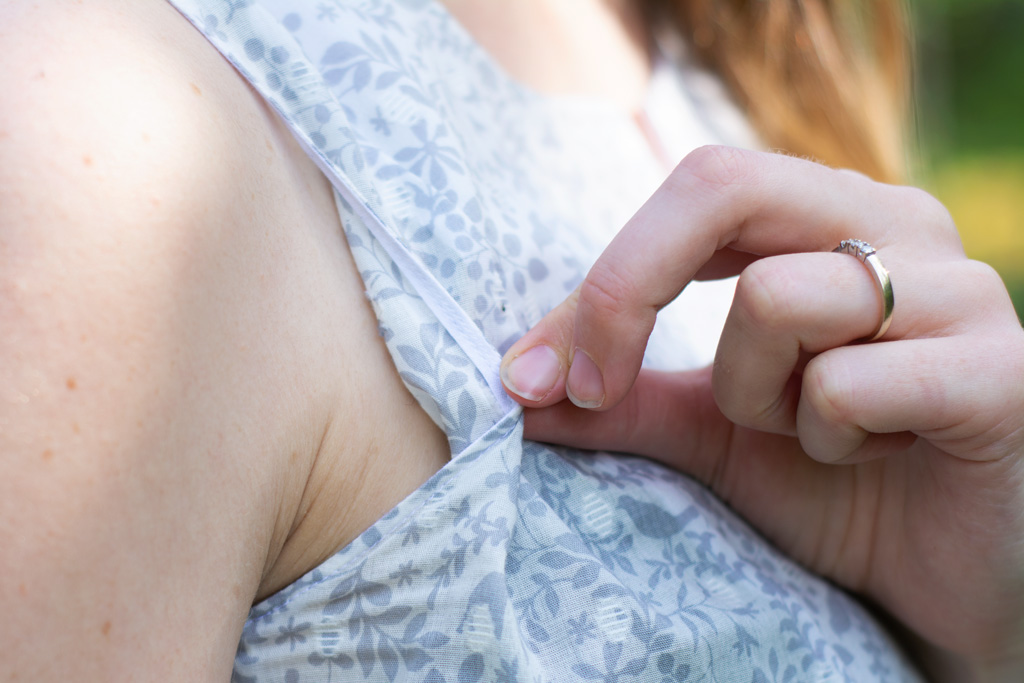 Check out Adrianna's tester round-up for more Phoenix Blouse inspiration and don't forget to buy your own copy of the pattern!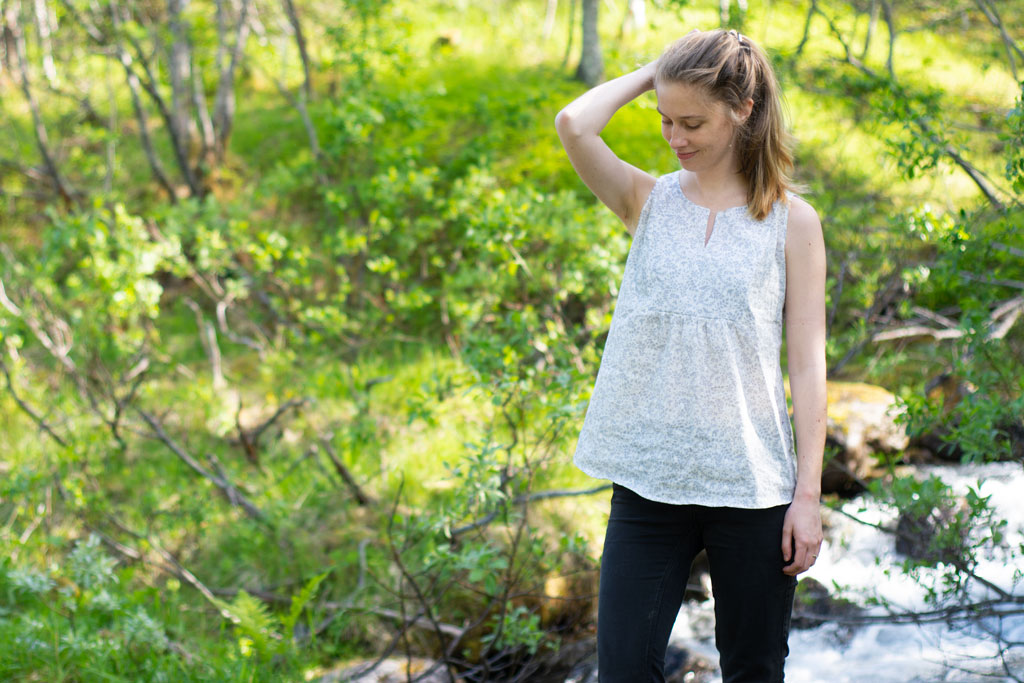 – This blog post contains affiliate links. However, all opinions are, as always, my own. –