Here I am – back from a little hiatus. It's not like I haven't been sewing (even though admittedly not as much as before …), I even have taken pics of three or four garments. I just never got around posting them on the blog or Instagram. Life is busy and I don't want to promise too much, but hopefully you will see me a bit more often from now on.
As always, it took a commitment to get myself to actually taking photos, editing them and writing a blog post. This time around the reason was the latest Fibre Mood – issue 20 already! It was released today and there was one particular pattern I fell in love with: Nina.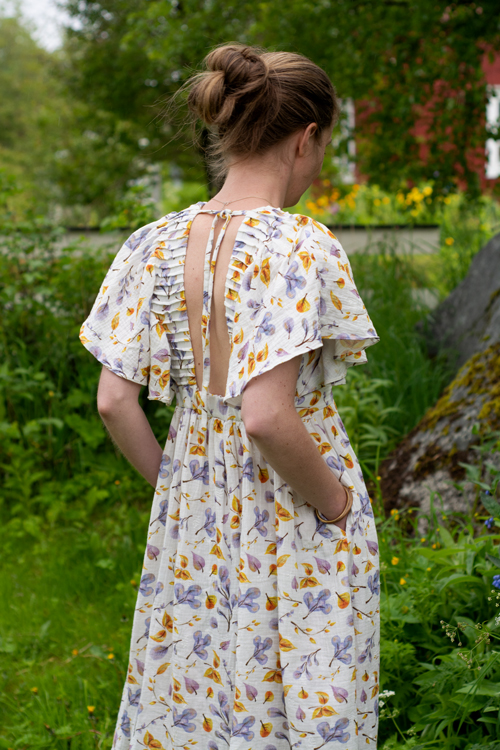 Nina is a beautiful summer dress with big sleeves, a v-neck and an open back. Its main feature are all the pleats on the front and back. And have I mentioned that it has pockets?
I chose a romantic double gauze fabric from Stofflykke (sold out) for Nina. The design made me think of Scandinavian midsummer evenings and simply felt fitting. There are pros and cons to using a double gauze fabric for a dress like Nina. The fabric is so crinkled and loosely woven that the pattern pieces don't really keep their shape, and it is hard to sew all 82 (!) pleats exact with a shifty fabric like this. But since the fabric is so airy and crinkled, small imperfections don't really show, either.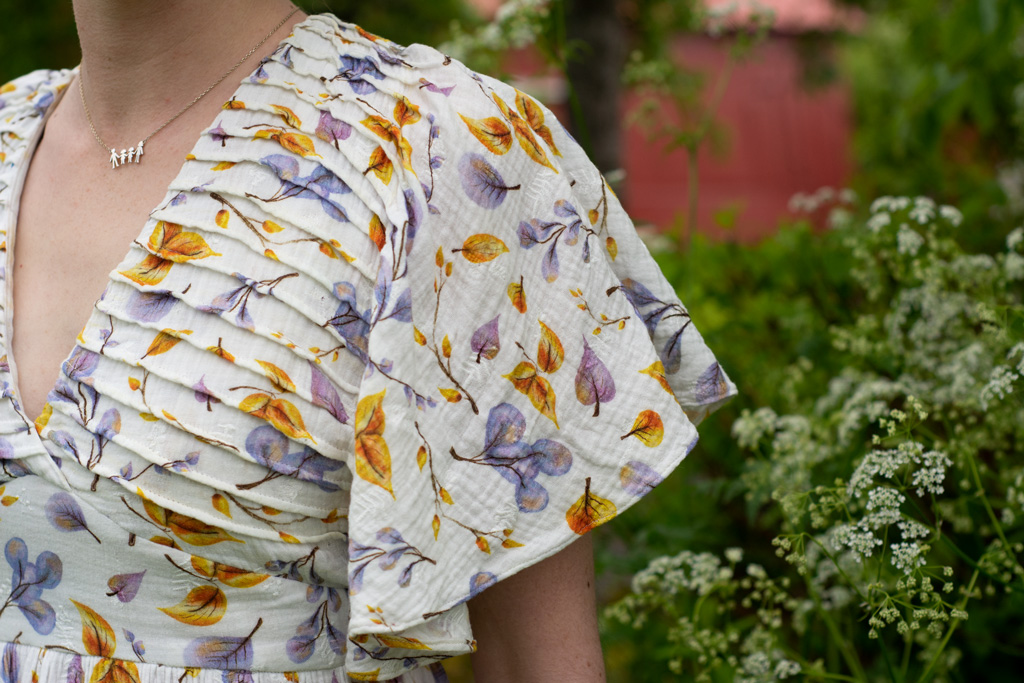 I sewed a straight size 34 without any adjustments, other than shortening the skirt about 5 cm/ 2″. I am 175 cm tall and usually need to lengthen my patterns, but I wanted a shorter skirt and I didn't want to mess with the construction of the top. I am not quite sure if the panel underneath the bust is supposed to sit as high as it does on me (even though it is supposed to be an empire waist dress), but on the other hand I wouldn't have liked a deeper neckline, and I think the overall shape looks good on me.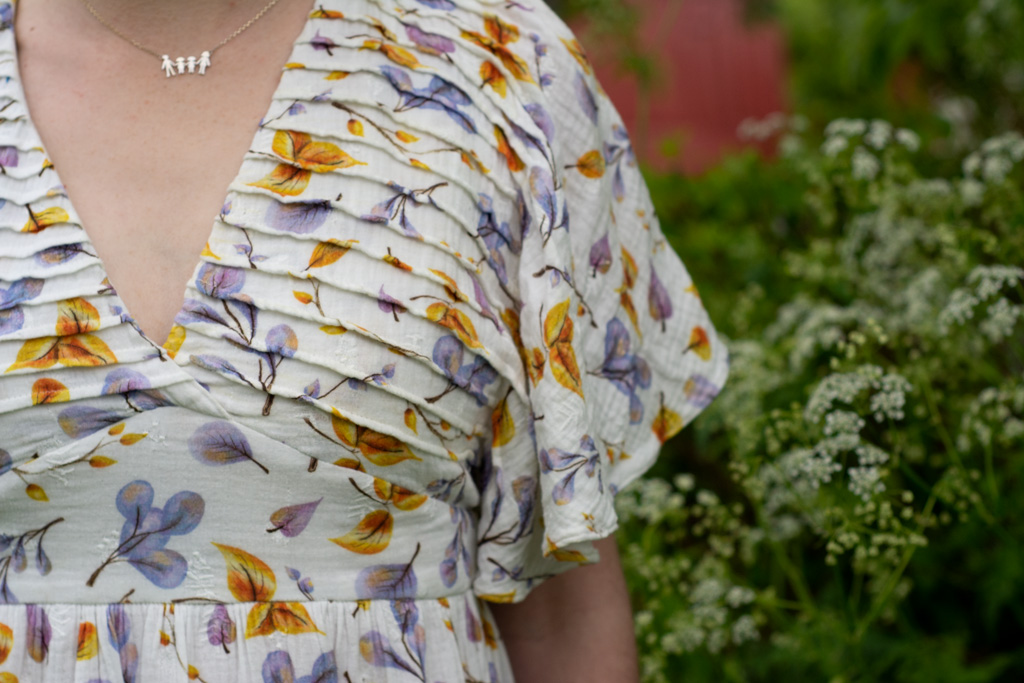 I liked sewing Nina, since the dress has an unusual construction. The bodice front and back are made from the same pattern pieces as the sleeves, simply shaped by all the pleats and varying lengths. The bodice has a lining, too, which helps the bodice keep its shape and at the same time forms the part of the bodice under the arm.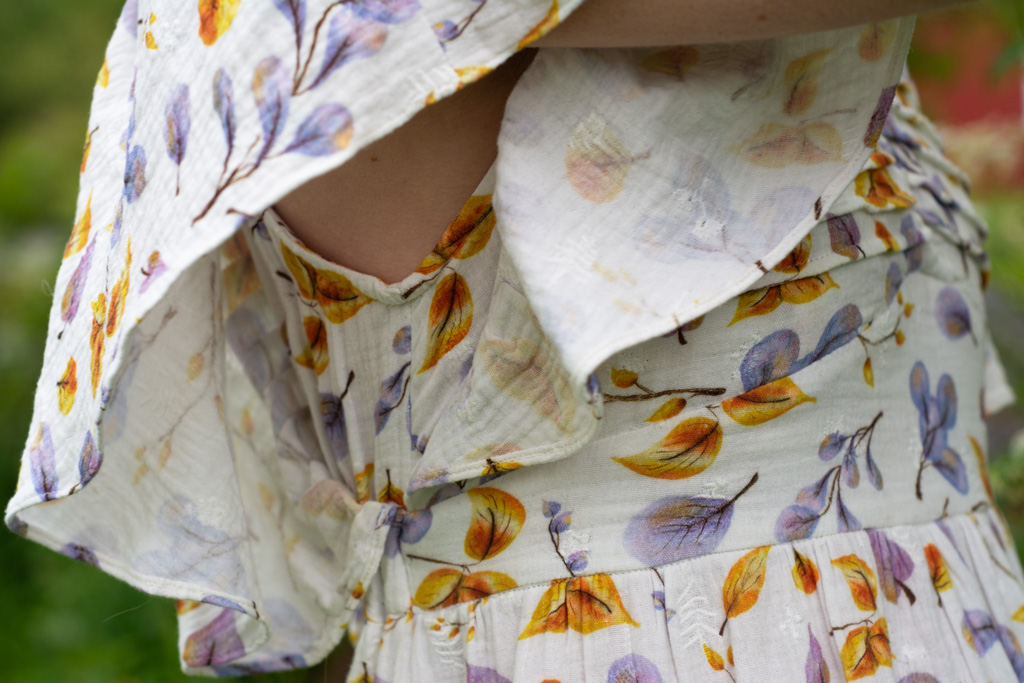 The most complicated part is figuring out the amount and width of the pleats. The instructions let you figure out the amount of pleats and the preferred width yourself, simply stating that the length of the outer bodice piece needs to match the length of the inner bodice piece once the pleats are sewn. There's also a chart with the approximate amount of pleats for every size. I ended up with one pleat for every 2,5 cm (1″), sewing every pleat about 0,5 cm wide.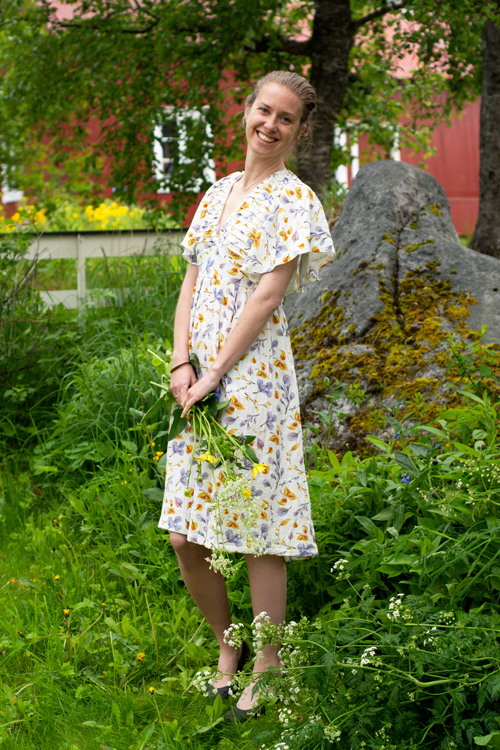 It worked great for three of four pattern pieces, before I ended up messing the last one (left front). The pleats were a bit crooked, the length wasn't correct and I spent a lot of time ripping out seams. Not to mention all the yellow chalk marks I ended up having over my whole bodice after marking the pleats again and again. In the end everything turned out nicely, even though I have to admit that the left front has one pleat less than the right front. Oh well!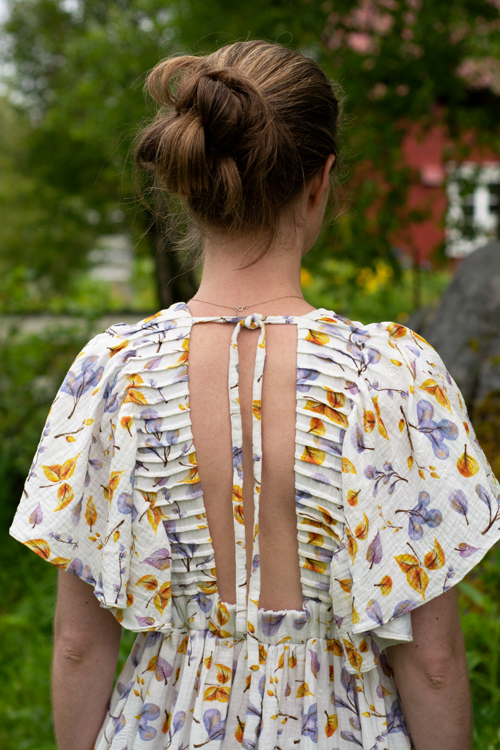 My suggestion would be to sew a few pleats on a fabric scrap to get an idea of how wide/spaced you would like your pleats to be. Afterwards you can calculate how many pleats you will have to sew to match the length of the bodice lining. If you sew your pleats with a width of 0,5 cm, each pleat will shorten the bodice/sleeve by 1 cm. Sewing the pleats will be much easier if you mark all your folding lines with chalk before sewing the pleats.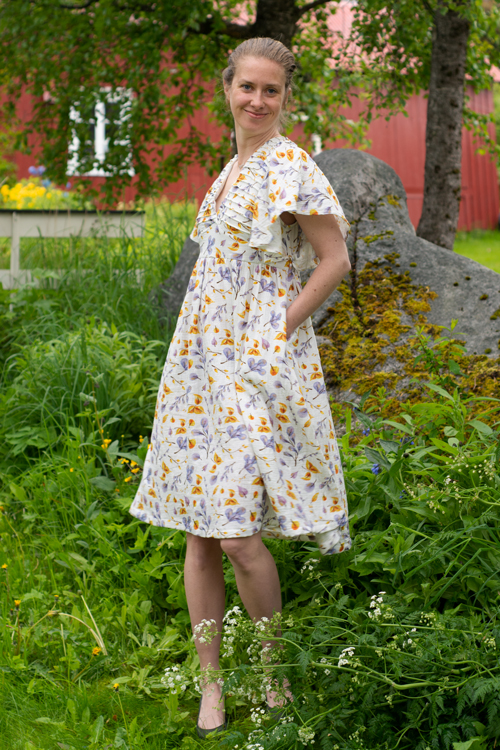 I am very happy with the dress. It's a great combination of being simple enough for everyday use, but nice enough to be abler to wear it to special occasions, too. And even though I can't wear a bra with this dress, the double layer of fabric at the top in combination with all the pleats makes me feel comfortably covered. I even got quite a few compliments the first time I wore my Nina!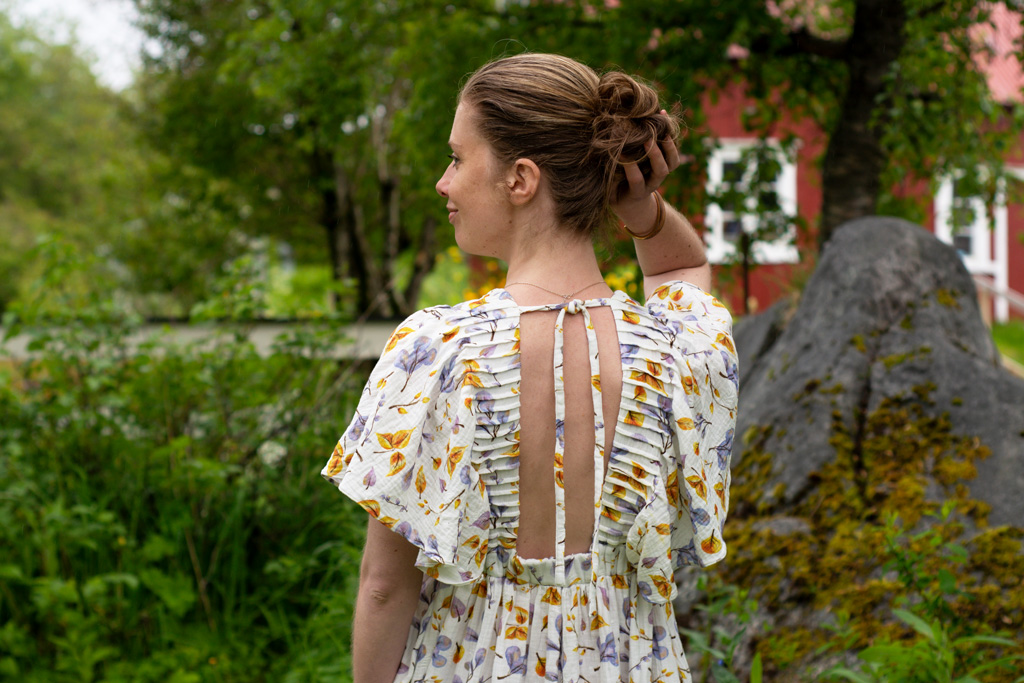 '
– I got the pattern for this blog post for free in return of linking it up to the Fibre Mood Linkparty. The fabric has been bought by myself and all opinions are, as always, my own. –