Our time in Oslo is over, and so is my maternity leave. In a few days the moving company is going to get our things and we will be on our way back to the north, where we like it best. So this is my last blog post from Oslo and my last blog post before going back to work.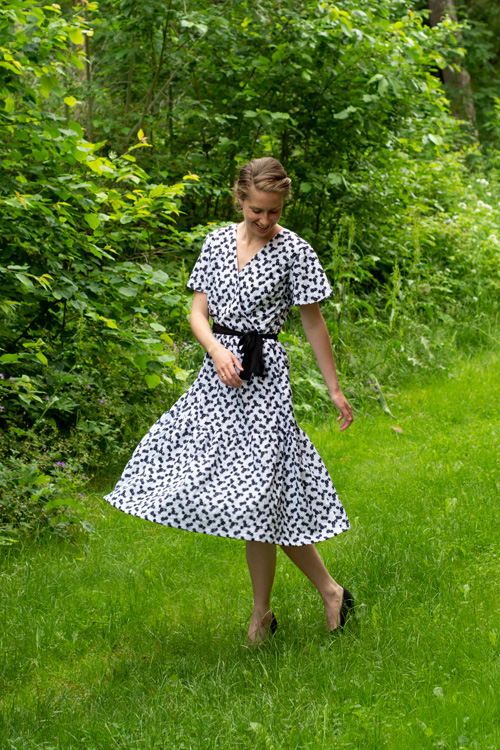 A while ago Olga from Coffee and Thread tested a new pattern, the Madrid Dress. I couldn't join, but luckily I got another chance to make the dress by joining the Madrid Dress blog tour. I am aware of the fact that I don't need testing or a blog tour to sew a pattern, but I often need a testing group or a blog tour to get going. Otherwise patterns just end up at the back of my sewing queue, even though I really love them. But I'm rather sure that I'm not the only one with this problem!
The Madrid Dress is a boho dress (and top), perfect for summer. It has a wrap bodice and a tiered and gathered skirt. At first I really wanted to sew the long version for a maximum boho look, but for reasons of practicality I ended up with the shorter version. That way I will probably get more wear out of it.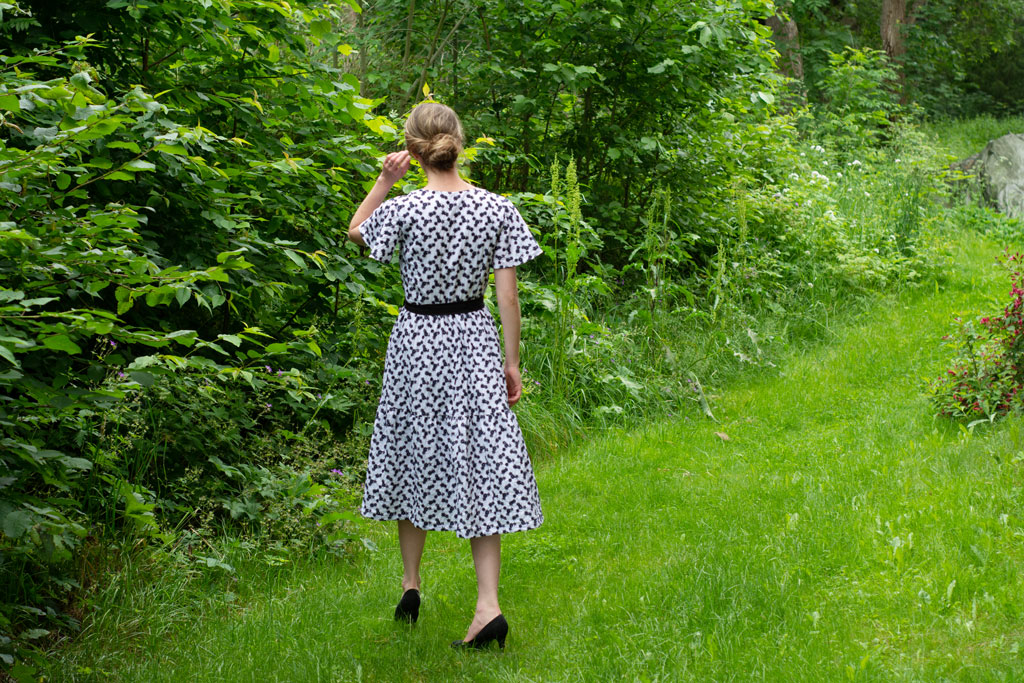 The Madrid Dress comes with several different kinds of sleeves, too – long sleeves, short sleeves and flutter sleeves. Choosing the flutter sleeves was easy – the style is perfect for an easygoing summer dress! The bodice is designed with waist darts at the front and back and bust darts. The dress has an invisible zipper at the side seam to make it easy to get in and out. The dress is finished with a facing.
While looking for fabric, I saw a beautiful embroidered cotton from Harts Fabric and knew it would be perfect for this kind of summer dress. It's not online yet, but will be available soon! The fabric is rather thin and a little "bubbly", kind of like a gauze fabric. It is a little see-through, so I opted to line the dress with a crisp white cotton lawn from a local store instead of using the facing. I really like that I don't really need to iron the dress, since the naturally "wrinkly" texture of it hides all "real" wrinkles. Oh, and it hides small fit issues, too! Win-win, right?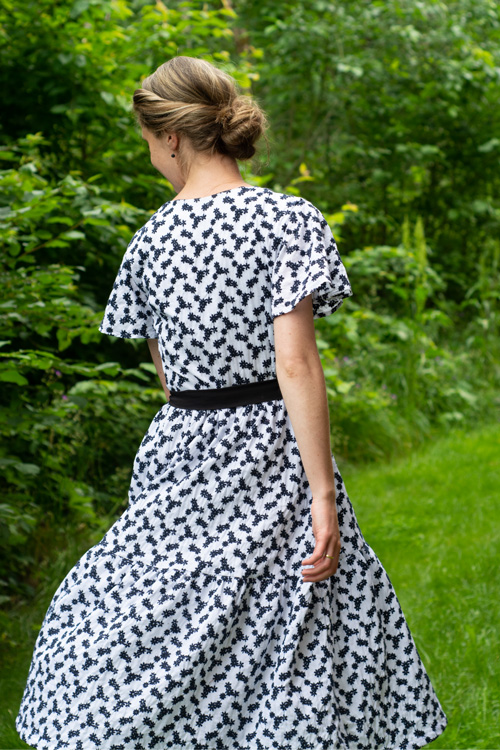 To add the lining I simply cut out the bodice twice. I didn't line the sleeves. For the skirt I cut a short A-line skirt, ending a little above my knee. Instead of adding the facing, I sewed the lining to the outer fabric along the neckline. Afterwards I topstitched the lining to the sleeves. It ended up a little wonky because of the embroidered flowers, but again – the texture of the fabric hides it wonderfully.
I didn't make any changes to the bodice but added a few inches to the two skirt pieces to lengthen the dress. Looking at the dress now it probably wouldn't have been necessary. I made a muslin before cutting into the fabric and decided to size down from a size 4 to a size 2. I have some excess fabric around the bust, so I should have made a small bust adjustment (SBA). I usually don't need one, but this dress seems to be designed for a little bustier ladies. I know that Mie from Sewing Like Mad needed an SBA for the first time, too, when sewing the Madrid Dress. However, I was short on time and decided not to so the SBA this time around, since I was pretty sure that the embroideries and the texture of the fabric would hide the extra fabric well enough. I am happy with the look of the dress, even though I will definitely do an SBA next time, especially when working with a more plain fabric.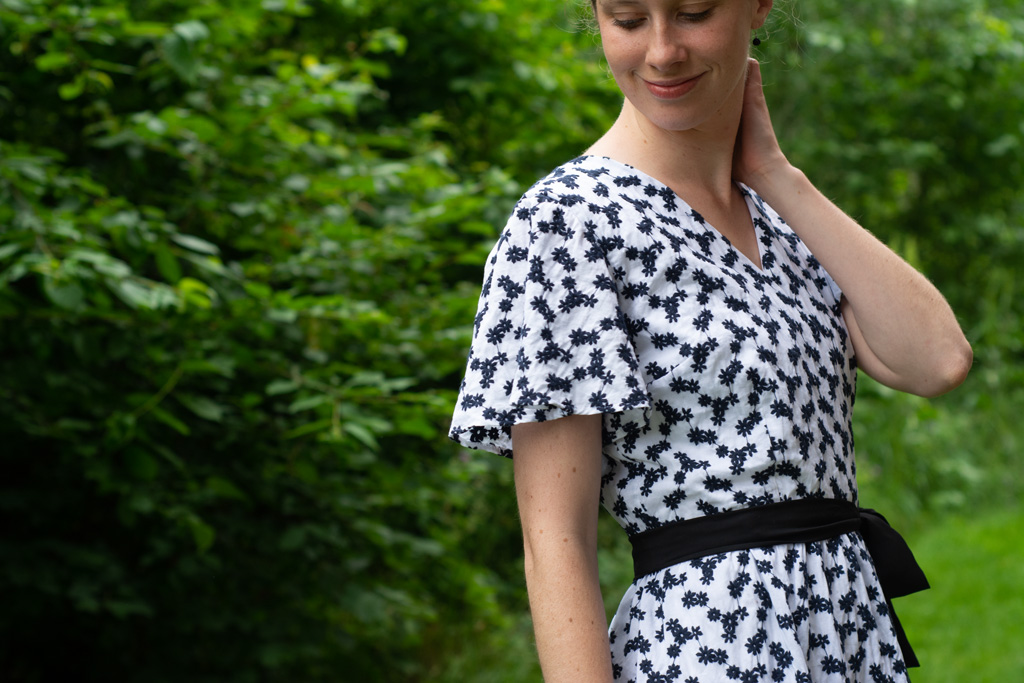 After trying the dress on I decided it needed a contrasting belt. Luckily I had just enough scraps (the lining from this dress) left in my stash to sew a short belt. The Madrid comes with pattern pieces for a belt, but I simply cut the belt as long and wide as my remaining scraps allowed me to.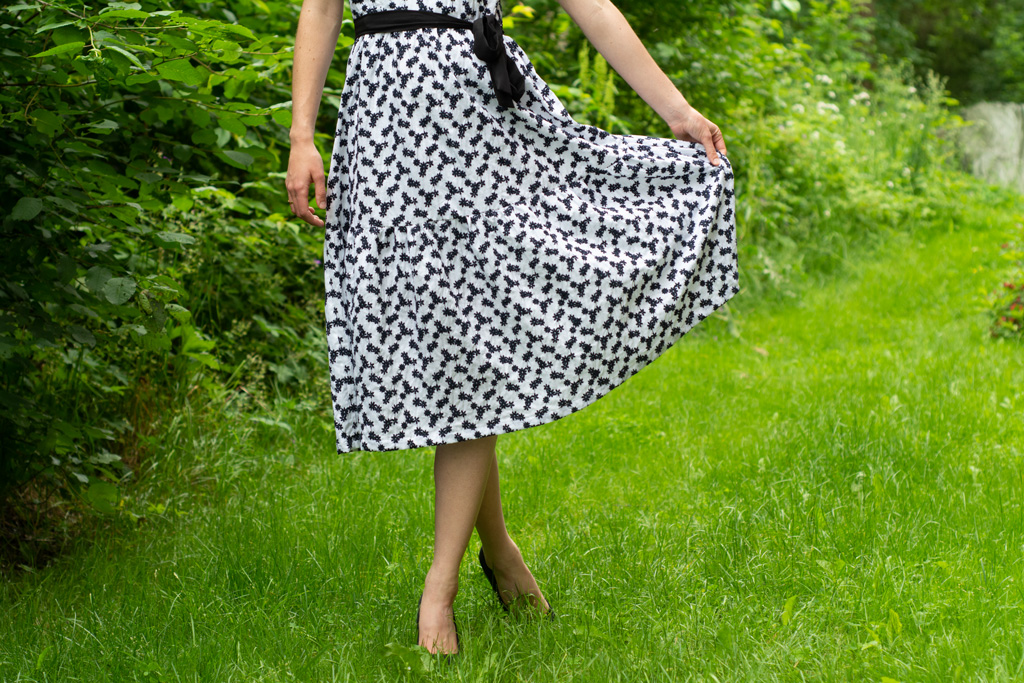 Thank you Claudia from Frl. Love for inviting me to this fun blog tour! Make sure to head over to her instagram account to see all the Madrid dresses, tops (and even skirts!) made for this blog tour.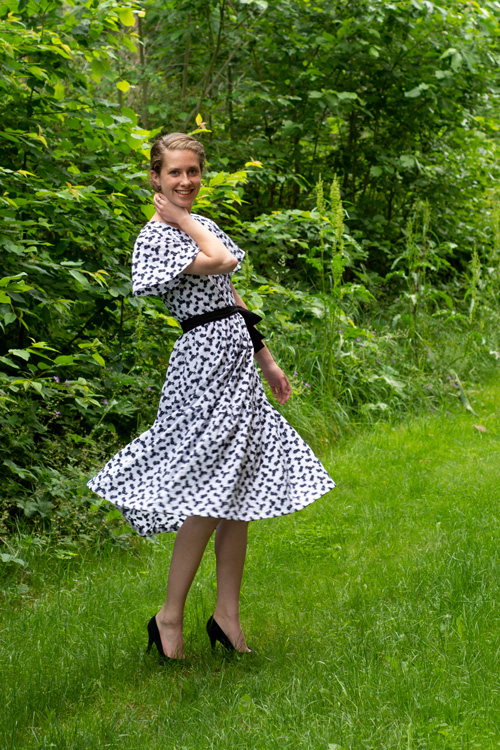 – I received the pattern for free in return for participating in this blog tour. I also received the fabric for free from Harts Fabrics. However, as always, all opinions are my own. –