The La Paz Jacket by Itch to Stitch has been released today, and as promised in my last post, I'll tell you a little more about this new blazer pattern.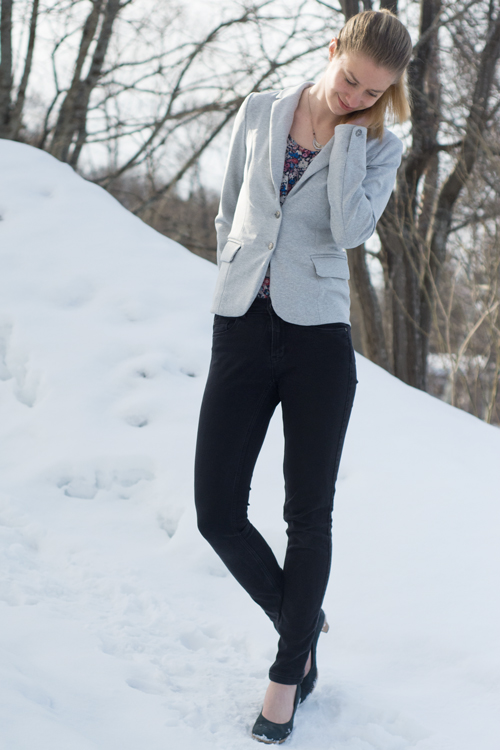 The La Paz Jacket is an unlined knit blazer with princess seams. It has a collar, a notched lapel and welt pockets with pocket flaps. The La Paz Jacket has long, two-pieced sleeves that are closed with a button and a vent at the back. The blazer is designed to be on the shorter side, making it a little less formal blazer – as are the pocket flaps, in my opinion. Dressed up, but not too dressed up, wearable every day, while playing with the kids, to work or to date night.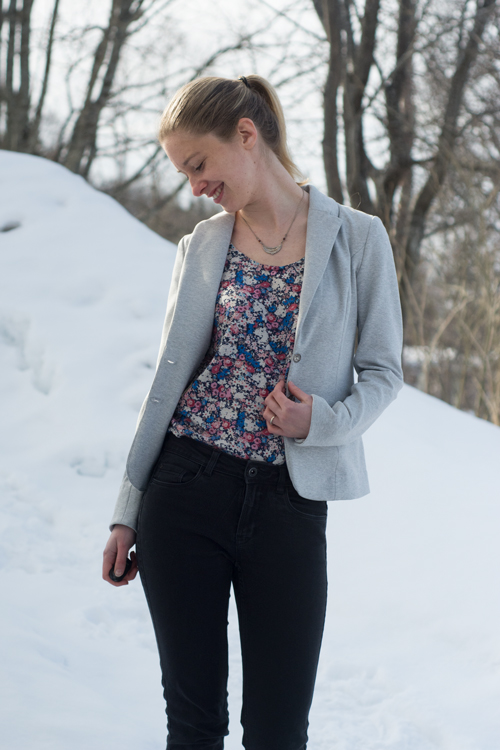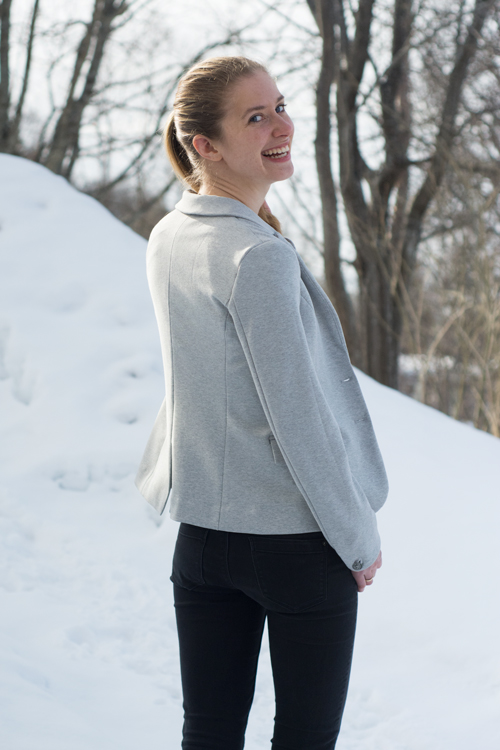 As always, Kennis's patterns come in different cup sizes, making fitting easier for those with a small bust or those with a bigger bust. I made the smallest size and chose an A-cup. My measurements are a little bigger than that, but Kennis suggested I should try the smallest size when making my muslin. I think the fit is good for me, both closed and opened – although I tend to wear my blazers open, making sizing down even less of an issue.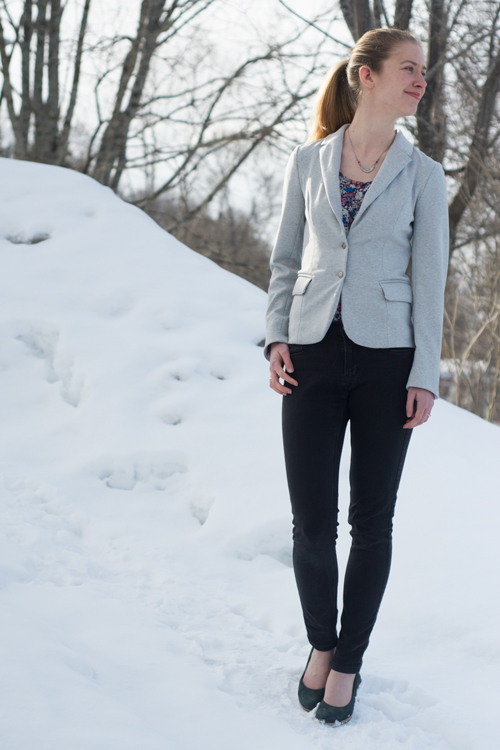 Everyone testing this pattern made a muslin first, something that's really worth it when sewing such an advanced pattern. Making a muslin is done pretty quickly, you only need the front, the sides, the back and the sleeves – basting these parts together doesn't take long. If you have some extra fabric and don't expect too many changes, you could even cut the pieces using your main fabric and re-cut the pieces that need altering afterwards. Kennis's drafting is spot on, so you might be lucky and have a perfectly fitting jacket right away! Personally I had to shorten the sleeves by about 1 cm / 3/8″ – something that has to be done prior to cutting the sleeves, since they're finished with a facing and closed with a button. I also had to widen the shoulders by about 1 cm / 3/8″ and did a sway back adjustment to keep the vent from gaping. I took out about 1,5 cm / 5/8″ above the back vent tapering to nothing towards the front of the side pieces.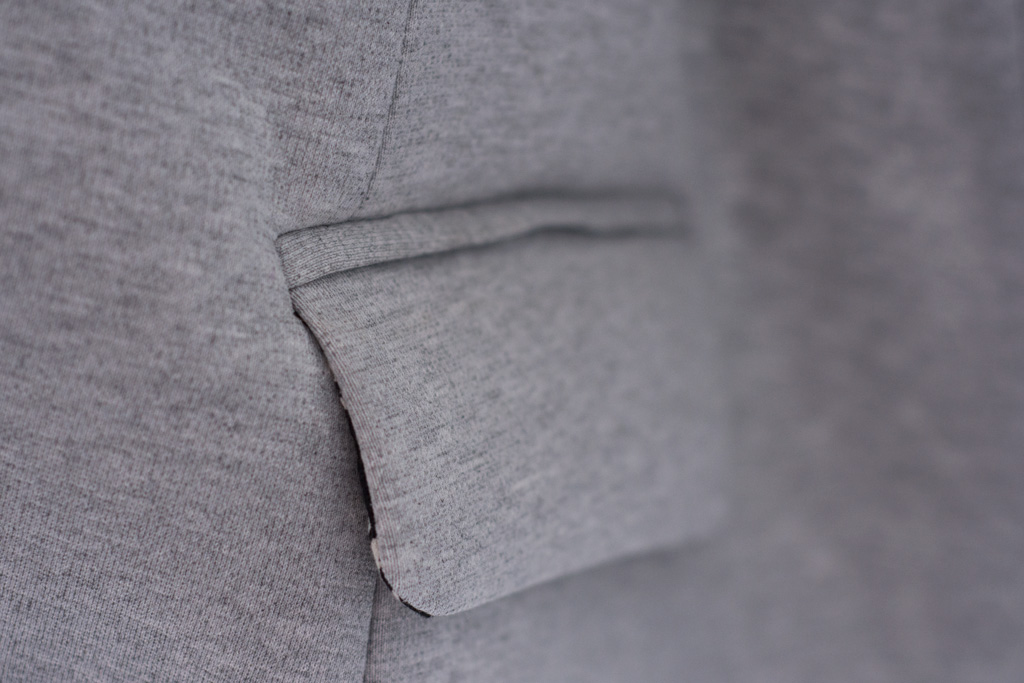 The fabric recommended for the La Paz Jacket is a stable knit with a good recovery. Personally I wouldn't use a fabric that is too thick, since that can look a little boxy. Choosing a very thin fabric can result in the seams showing through the blazer. So something in between would be perfect! My fabric is a double knitted ponte fabric, 70% viscose, 22% poly and 8% lycra. As I wrote in my last post, I try to avoid polyester fabrics, but 22% poly is an amount I can live with. The fabric is firm, not too thick and has a great recovery – I feel comfortable wearing it! It's from the Norwegian store Stoffdronning, by the way. (You can't see the long break I had to take after writing this sentence – writing me made me realize I never paid the bill for this fabric! Whoops! I just had to take care of that…)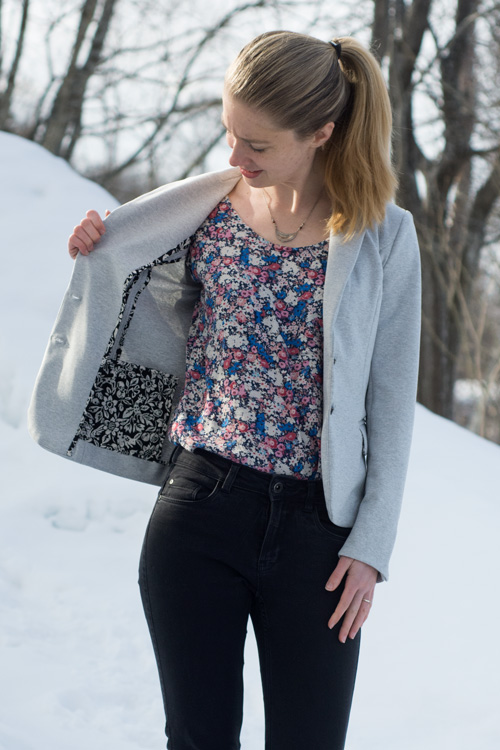 The fabric used for the back stay and the pockets should be a lightweight woven – I used every single scrap of the rests of this wool slub voile that I used while testing the Everyday Blouse by House of Pinheiro. This jacket has a lot of seams and isn't lined, so you should either use a serger, flat felt the seams or, as Kennis suggests, use a Hong Kong Finish for all the seams. That's what I (and most of the testers) did, and I think it looks spectacular. In that case you need some more woven fabric – if you're not using store-bought bias tape.
Oh, and by the way: The Hong Kong Finish looks amazing, but it takes an amazing amount of time, too. You have to bind 40 seams! I actually had to count this several times, but I think 40 is correct. And it takes forever! I don't think the pattern itself is incredibly time-consuming, and not that difficult, either. But sewing these seams took forever. I thought I could sew it within a day, but it took me several evenings and a whole Saturday! But it's worth it, isn't it? My tip would be to cut the bias tape a little wider than needed – it makes it gives you a better chance of actually catching the whole bias tape on the back of the seam – I had to re-do several seams, and my seams do look a little wonky here and there. Luckily, it doesn't show too much! I just didn't have the time or the energy to get it perfect…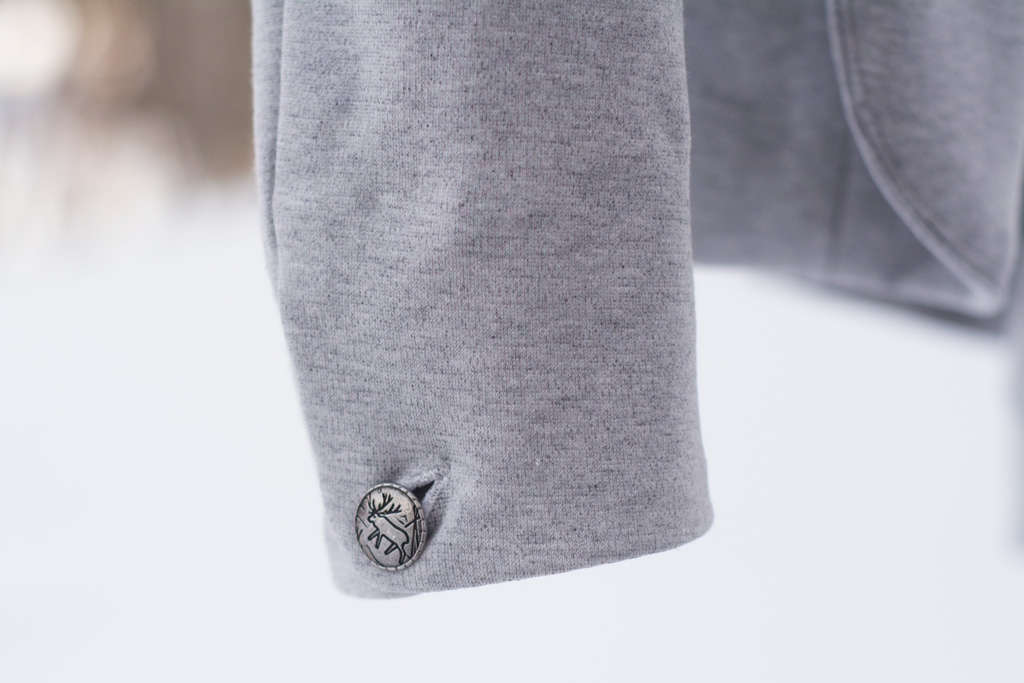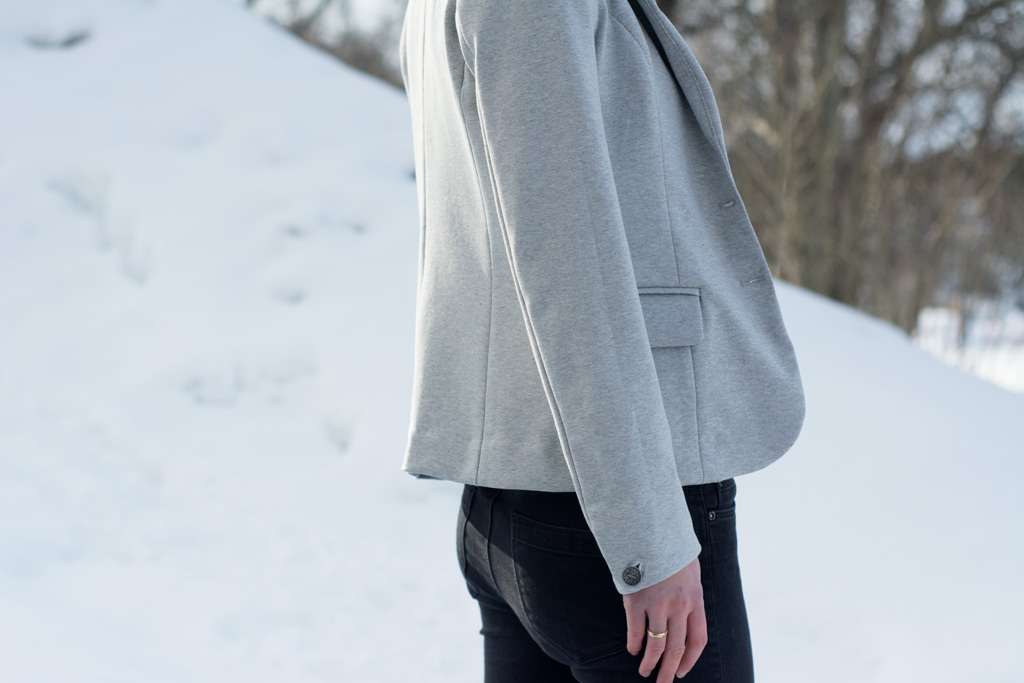 I thought a long time about which buttons to pick – after looking at a ton of pinterest pics I figured I had to choose dark grey buttons, blank silver buttons or black buttons. I stood for half an hour in the only store in Tromsø with a decent selection of buttons, and these cute reindeer buttons won in the end. The colour of the jacket is pretty neutral, so I figured a little bit of fun with the buttons couldn't hurt! And they're so Norwegian, too!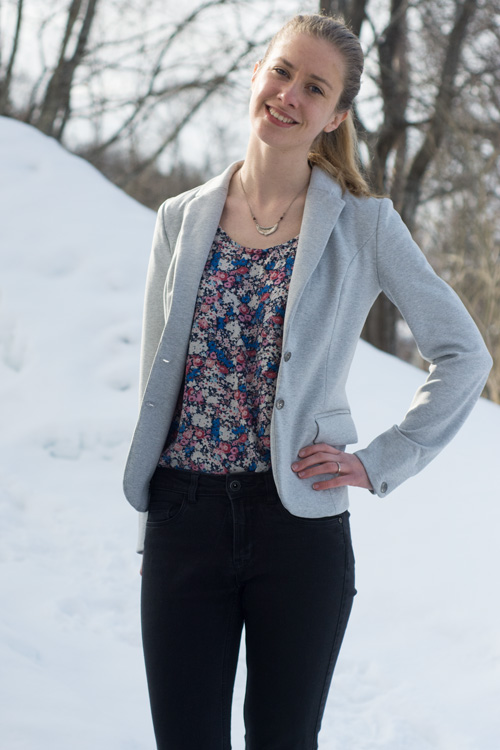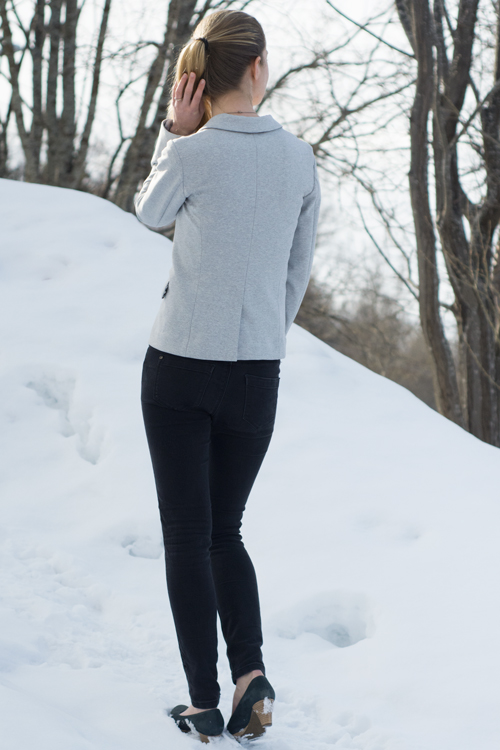 By the way – did you spot that I made these pics using a remote? My husband is still in Lofoten, so I went ahead and bought a tripod. I had the remote since I bought the camera, but hadn't used it until now. I think it worked pretty well! The pics aren't as natural and getting pics takes a little longer, but I'll definitely continue using the remote whenever my personal photographer isn't around. Or needs a break… I've been pretty demanding lately!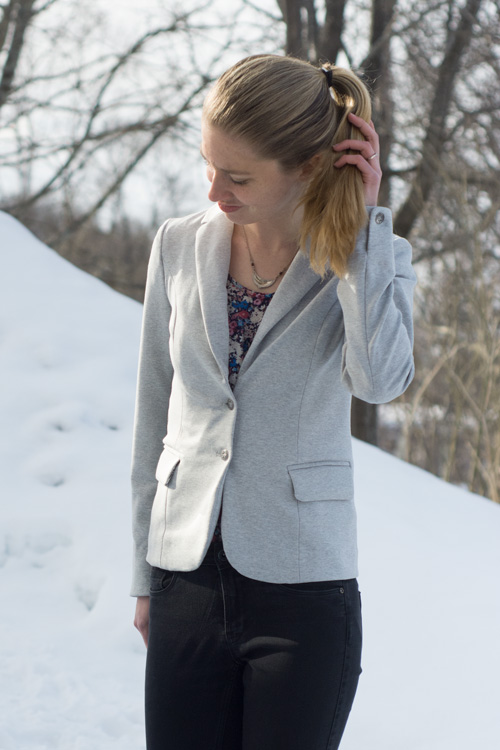 You can see some other tester pics on Kennis's blog, and you can buy the pattern here. It's on sale for a week! I'll be back in a couple of days, posting a little comparison of the two blazers I've sewn recently – in case you're having trouble to decide where to start!
– This blog post contains affiliate links. But all opinions are, as always, my own. –