That I'm particular about the backdrops for my photo shoots is nothing new to you, my dear readers. But this time around I actually surprised myself – by taking my photos while standing in a swamp. But let's start at the beginning: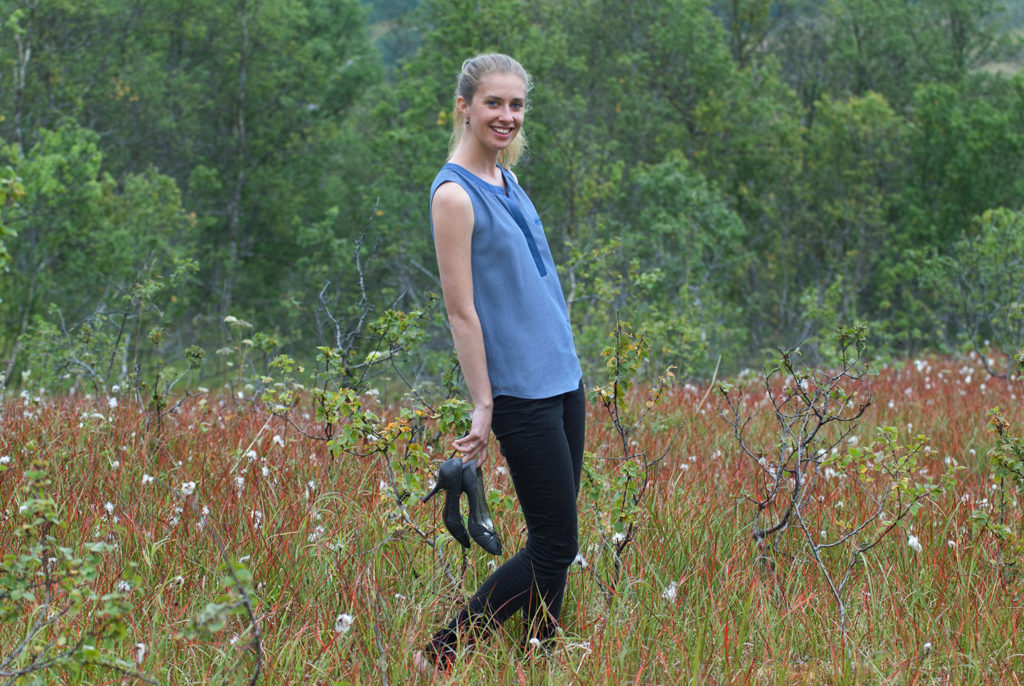 A few weeks ago I ordered this beautiful Hacci rayon knit  from LA Finch Fabrics. It was the first time I ordered there and I must say that the service was incredibly good. Josie, the owner, responded to all my e-mails quickly and made sure that I could order, although there's no shipping option to Europe on the website right now.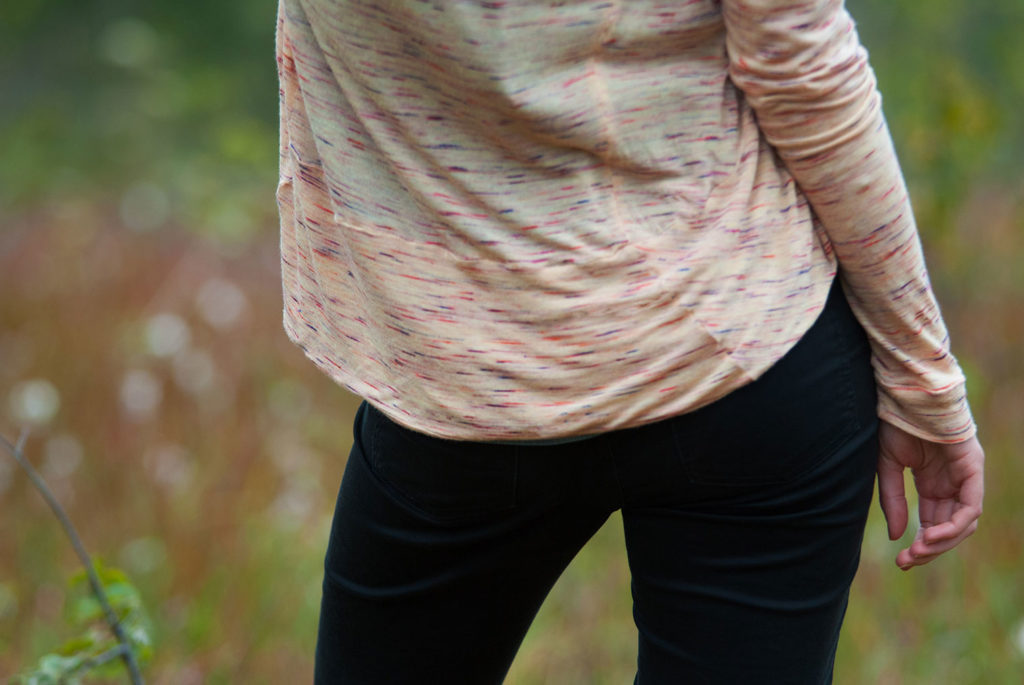 I instantly knew that I wanted to make a Julia Cardigan by Mouse House Creations. I had been eyeing this pattern for a while and I knew that this thin and drapey knit would be perfect.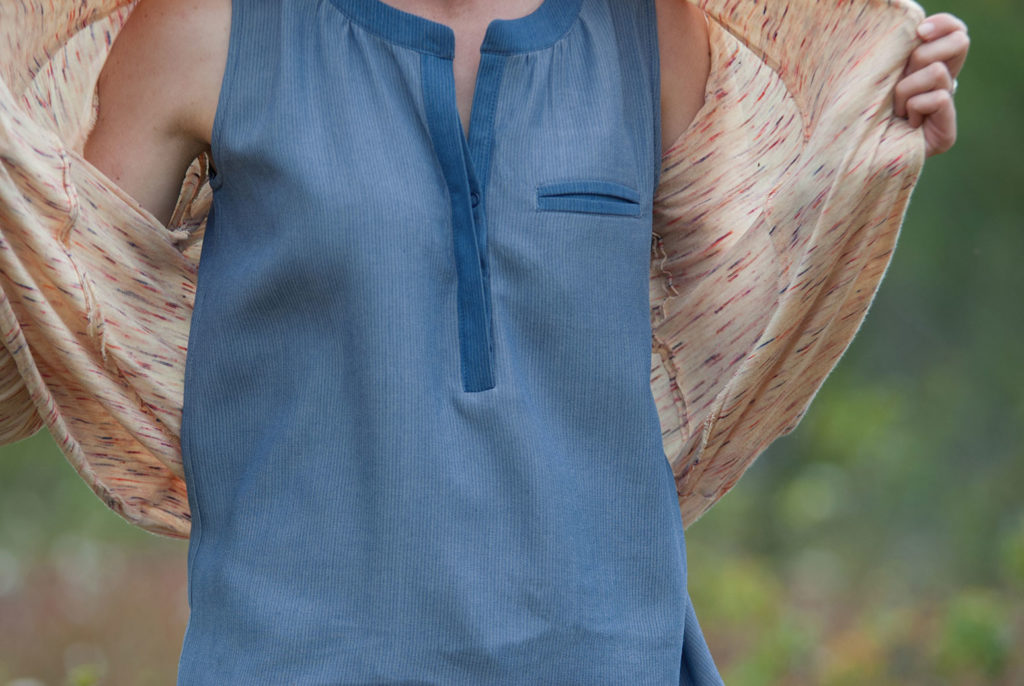 But I needed something to go together with the Julia Cardigan and decided on the Biscayne Blouse by Hey June. Believe it or not – I bought this pattern the day it was released and I never made it! I even had fabric for it for about a year…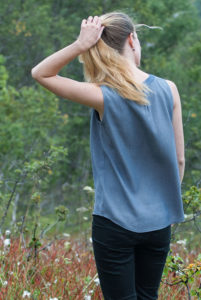 So it really was about time. I bought some of this rayon denim shirting from Indiesew and knew that the blue would work great with the colour of the Hacci knit and that a Biscayne made of this fabric would be very appropriate for work, too. The fabric has a good drape and is very soft, without being too thin. It's pretty easy to work with, too – which was such a relief! Have you ever tried lining up ticking stripes AND coping with a shifting fabric? No? Me neither, but I can tell you, the stripes were enough and I was glad about the fact that the fabric was so easy to handle.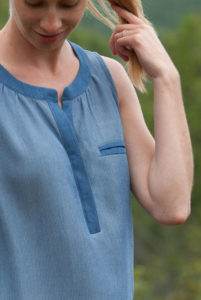 Back to the Julia cardigan: I chose the version with long sleeves and a double collar, which saves you hemming the cardigan. I find hemming such stretchy and thin knits nearly impossible, so doubling the collar was most definitely the easiest thing to do.
I didn't have more than 2 yards of the knit, and since the instructions tell you that you need nearly 2 3/4 yards of 58″ wide fabric (mine was 56″ wide), getting everything cut proved to be quite a challenge. It's possible, but it really is quite a puzzle you have to solve. Sewing the cardigan was a quick and painless affair, thanks to my walking foot. I didn't finish the edges, since the thin fabric rolled up anyway. It looks pretty neat the way it is.
I have really thin arms, so I had to take the sleeves in quite a bit. And then, while cutting off the excess fabric, I managed to CUT INTO MY SLEEVE! A big hole, impossible to mend. I didn't have any fabric left, so my only choice was to sew the sleeves even tighter. Luckily for me the fabric is incredibly stretchy, the sleeves still fit, even though they're several inches slimmer than intended.
Unluckily for me, I love cardigans with long sleeves, but I also love pulling them up to my elbows. Since the fabric is so thin and stretchy and my sleeves are so tight, this results in stretched out sleeves. After one day of wearing I have to wash the cardigan to get the sleeves back in shape. Alternatively I could stop pulling my sleeves up all the time… But who am I kidding – that's not gonna happen anyway!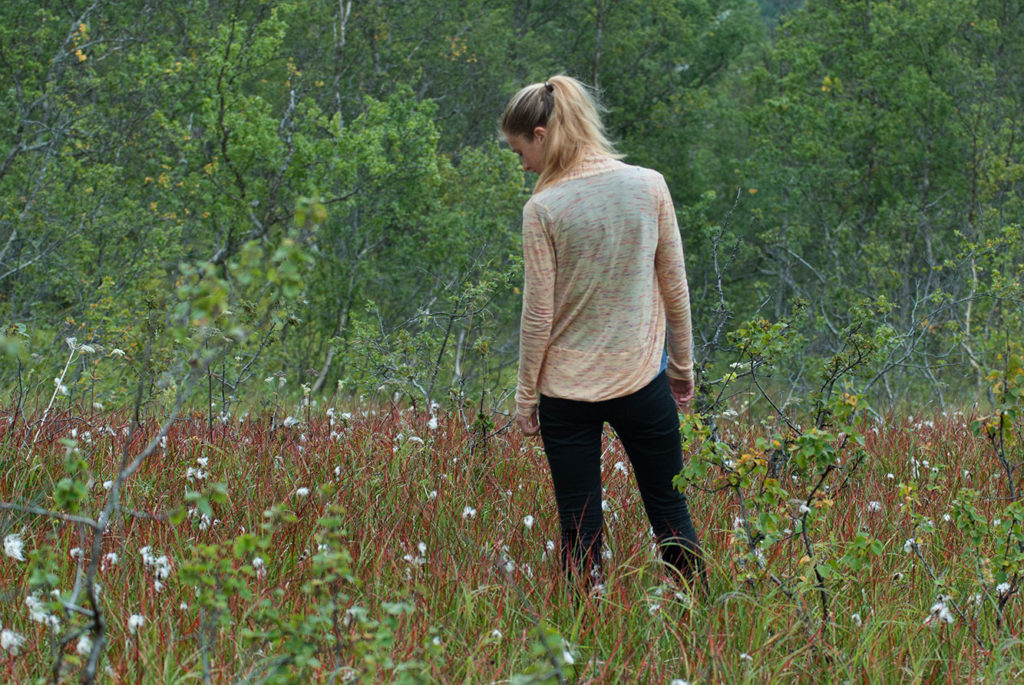 The cardigan is very comfy and I have already worn it several times. Sometimes while wearing I notice that the shoulder seams are totally off, way down my shoulders instead of on top of them. I'm not sure if that has anything to to with the pattern, or just with the stretchy fabric that can be stretched in any direction.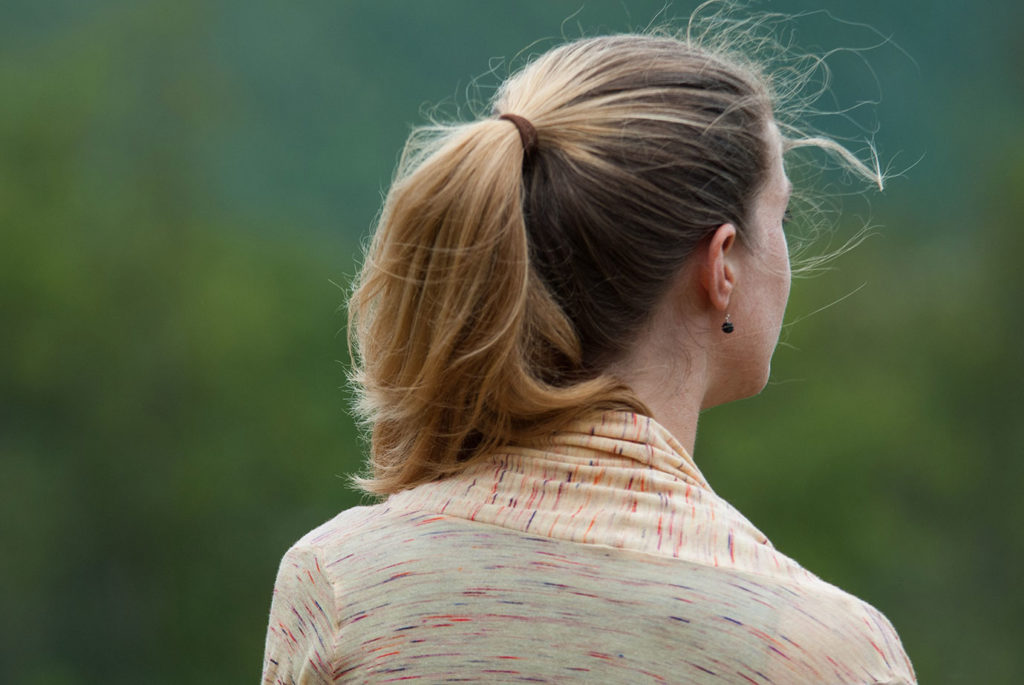 I've been looking closely at photos of the Julia Cardigan online and saw both a lot of cardigans fitting just right and several with the "dropped" shoulder seam issue. So it might just be a body type or fabric issue.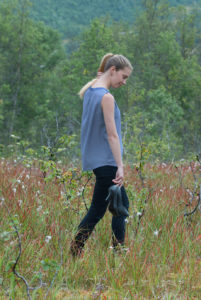 I love the patterns Adrianna from Hey June designs and already knew that making the Biscayne would be a very enjoyable sewing project. The fun thing about the Biscayne is that the two most difficult parts – the placket and the welt pocket – are sewn first. I spent quite some time on these – and suddenly you're just done! Everything that comes afterwards is a piece of cake.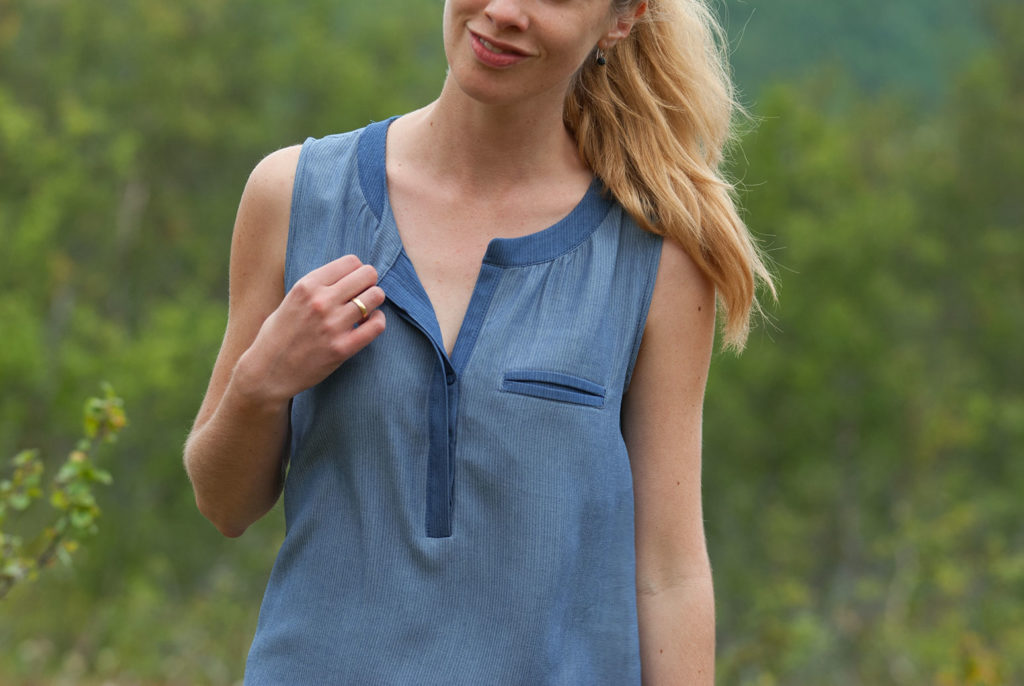 I decided to use the light blue back of the fabric as my main fabric for the blouse, while using the dark blue right side of the fabric for the welt pocket, the placket and the collar. I really like the contrast, but I got pretty confused while sewing, since the "right" and "wrong" sides of the fabric were constantly changing, depending on the pattern piece I was working with.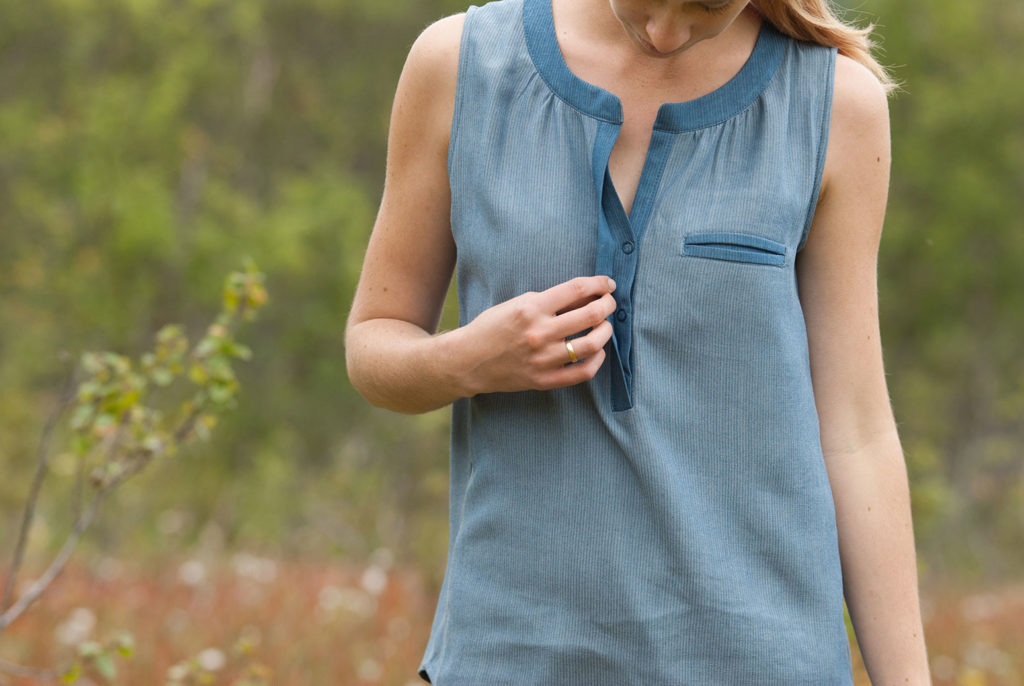 The smallest size of Adrianna's pattern is usually a tiny bit too big for me, I noticed that I could have taken in 1/2″ on each side easily, since the armholes are gaping a little bit. But it's not that much and the blouse is still very much wearable – and the fit is spotless otherwise!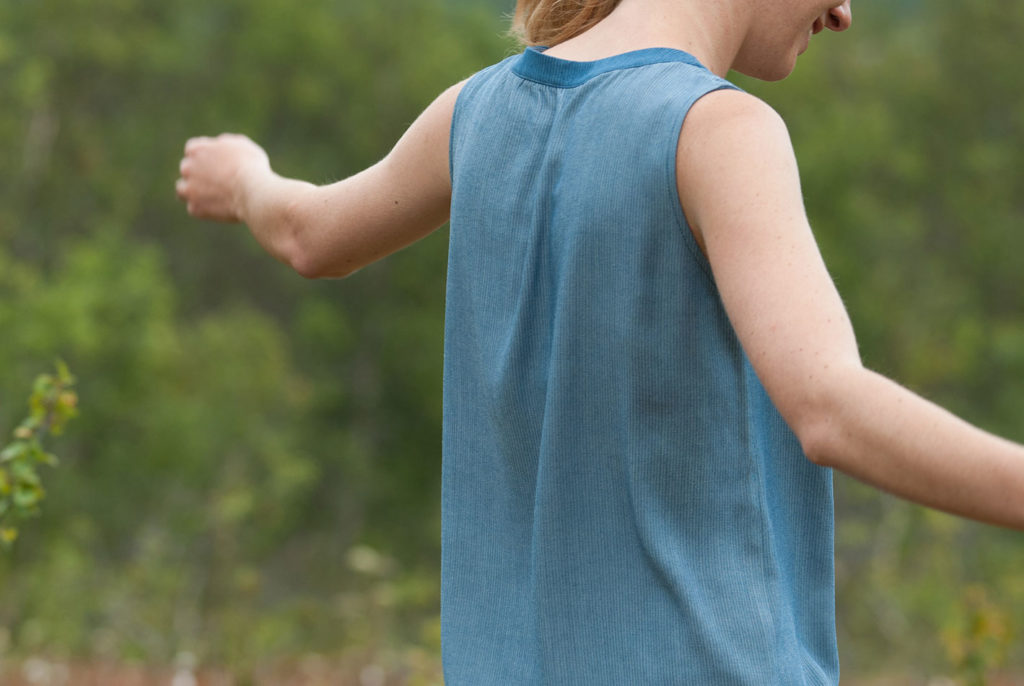 Last but not least, to end this ridiculously long blog post – the swamp: My husband is taking all of my pics these days, and since we're hiking nearly every weekend, I like taking photos of my things while on these hikes – nice views, good light, no people. I can't really hike in the things I make, so one of us has to carry my high heels, my jeans and my me-mades in his backpack until we find the right spot to take pictures.
This time the "right" spot proved to be a swamp instead of a mountain top. I just loved the red grass and the white flowers, called troll grass in Norway! Wearing heels in a swamp proved impossible, so instead of posing in them, I waded through water. I love the result – but next time I'll give you a sea view again, I promise!
– I am part of the Indiesew Blogger Team and some of the patterns and fabrics used for my blogger team posts may have been given to me by Indiesew. However, all opinions are, as always, my own. –