I managed to get some sewing time and decided to sew a sample for the latest Hello Heidi fabric collection. Hello Heidi has in recent years had several floral fabric collections and I sewed samples for a couple of them – Flur, Flurina, Anne, and now Flora. Flora is a collection printed on silky smooth cotton sateen and consists of three prints in three colourways each: Garland, Leaves and Iris, each of them in the colours lilac, blue and henna. (Garland was already part of the collection Anne – but much smaller! You can see a peak of it at the hem of my dress.)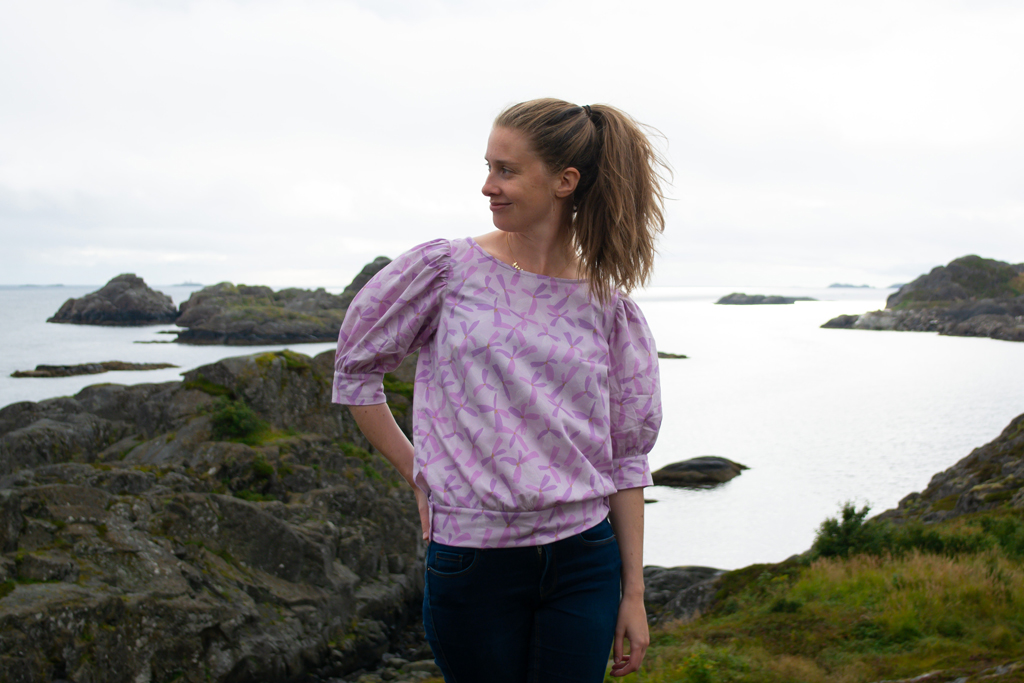 The cotton sateen is stable enough to be easy to sew with and at the same time drapey and thin enough for garments like blouses. It's not the kind of cotton sateen that only works for more structured dresses or pants. It's only 115 g/sq m, so rather lightweight.
I decided to sew a sample with the Iris print in the lilac colourway. I didn't want to take too much away from the design itself and went with a tried pattern with only few details: Blouse Ermine by C'est Moi Le Patron. I already sewed that pattern about one and a half years ago and I wear it a lot – so I thought another version of it in my closet wouldn't hurt! The first time around I used rayon and interfaced the characteristic sleeve and hem band rather heavily. I also used snaps instead of regular buttons. This time around the fabric I used was a little more stable, so I interfaced the bands less than the first time. I also added a bit more length than the last time (2 cm vs 1.5 cm the first time) and used regular buttons.
One of the lovely things about Hello Heidi Fabrics is the fact that they have matching buttons for their fabric designs – so I simply asked to include four matching buttons, and I think they work nicely! I still have my big box with quality thread from Mettler. Whenever I need a thread colour that isn't one of the colours I use most, I am so glad to have it! As you can see – as always, I found something matching perfectly. No need to leave the house with a fabric swatch to hunt for matching thread!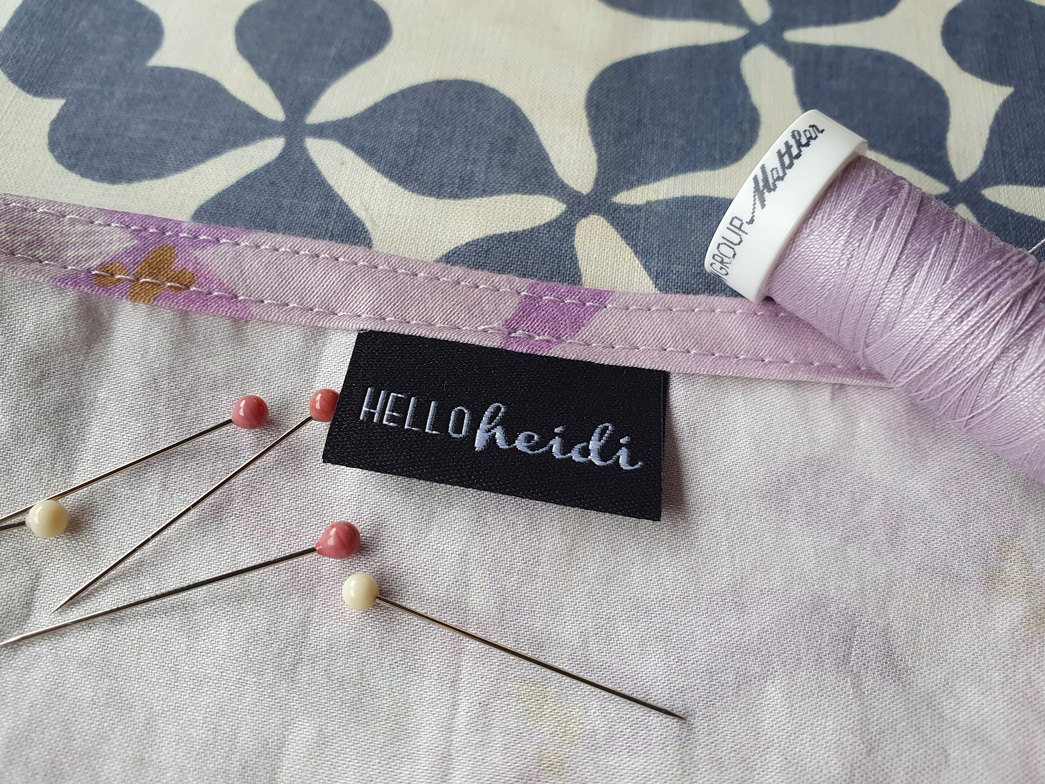 Ermine isn't a very complicated pattern to sew, but these days everything I sew takes its time. I could certainly sew faster, but I know myself: Unless I know that everything inside and out looks as good as possible, I won't be able to be truly happy with my make. And sewing everything with French seams, understitching, pressing, pressing and more pressing, adding labels and distributing gathers as evenly as possible simply takes time.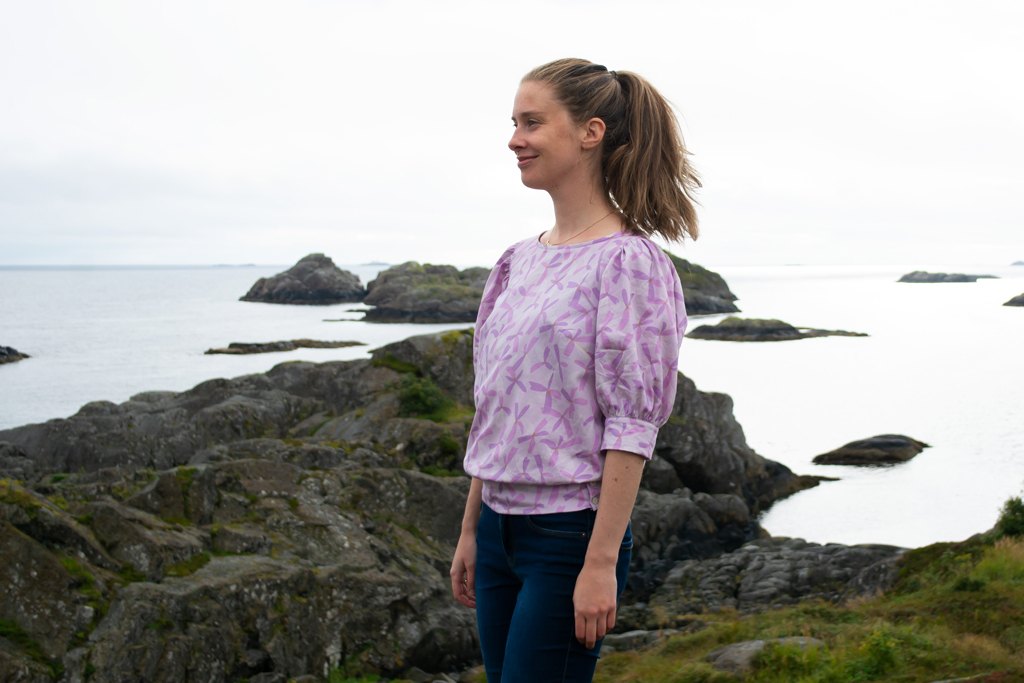 I won't write too much about the pattern itself, since you can read about it here. I will simply add that the instructions tell you to add the sleeves flat before sewing them together or before sewing the side seams. I did that last time, but this time around I opted for set-in sleeves, meaning that I added the sleeves once they were sewn together. That way I was able to sew the sleeves with French seams, too – something I can't do with the side seams because of the side slit.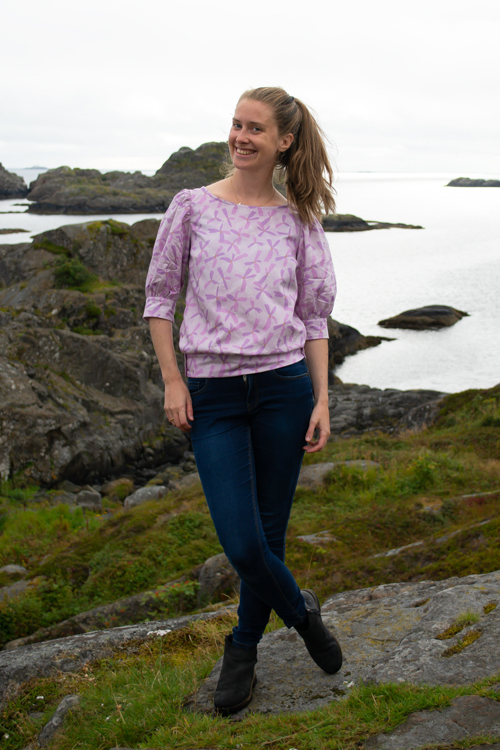 I am happy with how my second Ermine turned out and I am very curious to see how the purple colours will go along with the rest of my wardrobe. It's a colour that isn't represented too much in my closet, and I am not sure why, actually. I read that purple is a real trend colour these days, and I am happy to be able to give it a try myself!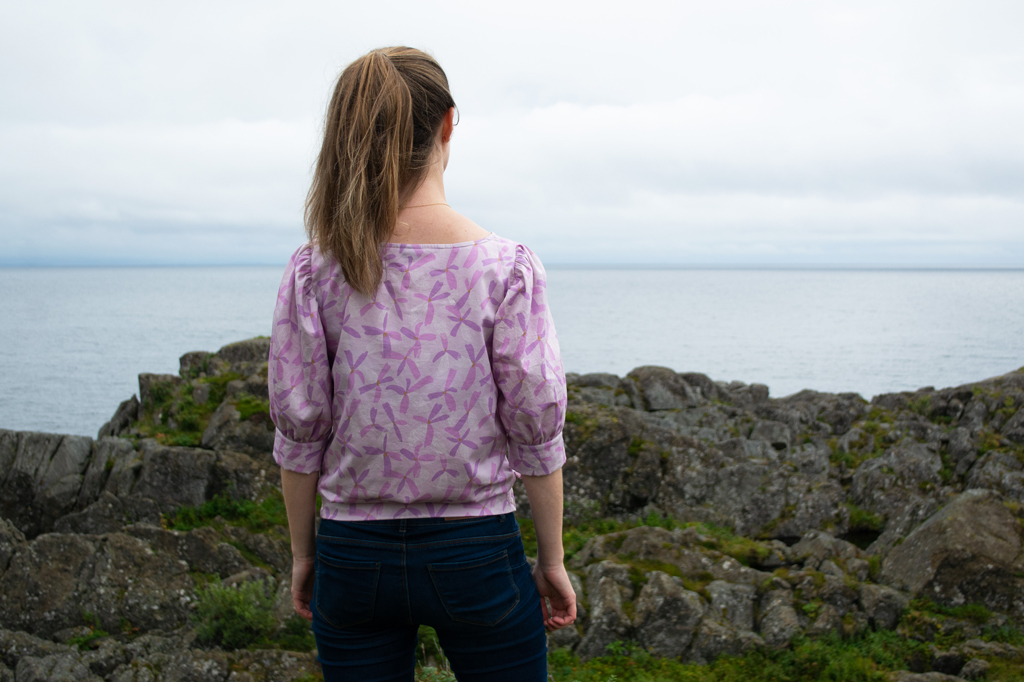 You can buy this fabric and the other eight fabrics of the collection over here – but be quick if you set your heart on one of these! I heard rumors that they are selling fast, and these Hello Heidi collections never get printed again.
– The fabric for this make was given to me for free in exchange for sample photos. The thread I am using is from Mettler and was given to me in exchange for reviews. However, all opinions are, as always, my own. –