My blog has been awfully neglected lately – and I miss the interaction with all of you both here and on social media! After we moved back home to Tromsø, our guestroom/sewing room was turned into our son's bedroom. We are going to have a little more space soon, once our tenant moves out. But right now my sewing machine sits on a tiny table in our bed room and sewing is really not that easy. I have been working fulltime again since July, too, and our little one started daycare last week. Oh, and I started running a bit! All in all this means that both sewing, taking pictures and blogging have been rather neglected lately. But hopefully this will change again soon!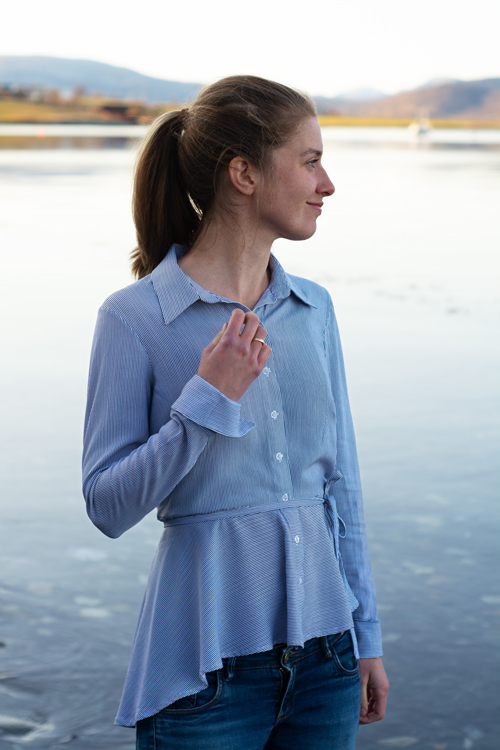 But let's focus on the star of this blog post – Emmanuelle by C'est Moi Le Patron. Started in August, finished in the middle of September, finally photographed in October, after dragging it around all of Scotland. And now a whole week has passed since I edited the photos. Time to wrap this project up!
Emmanuelle is a gorgeous peplum blouse with a high-low hem. I have always had a soft spot for patterns like this one: Classic and timeless, but with something special, feminine and romantic to it. It's not just a classic blouse – it's a (mostly) classic blouse that makes you feel fabulous and special.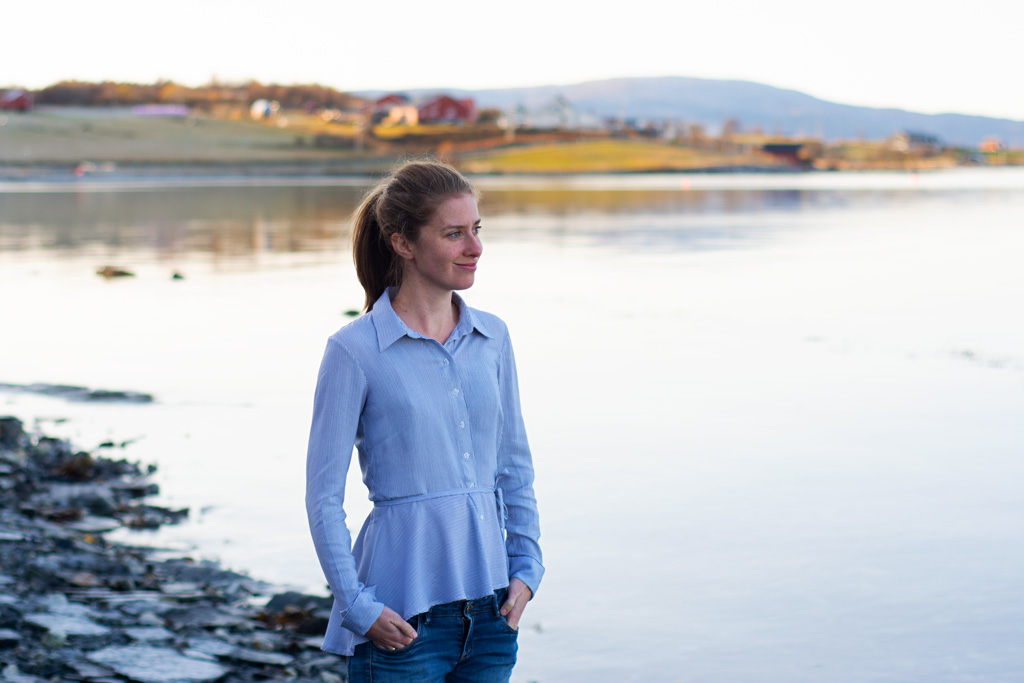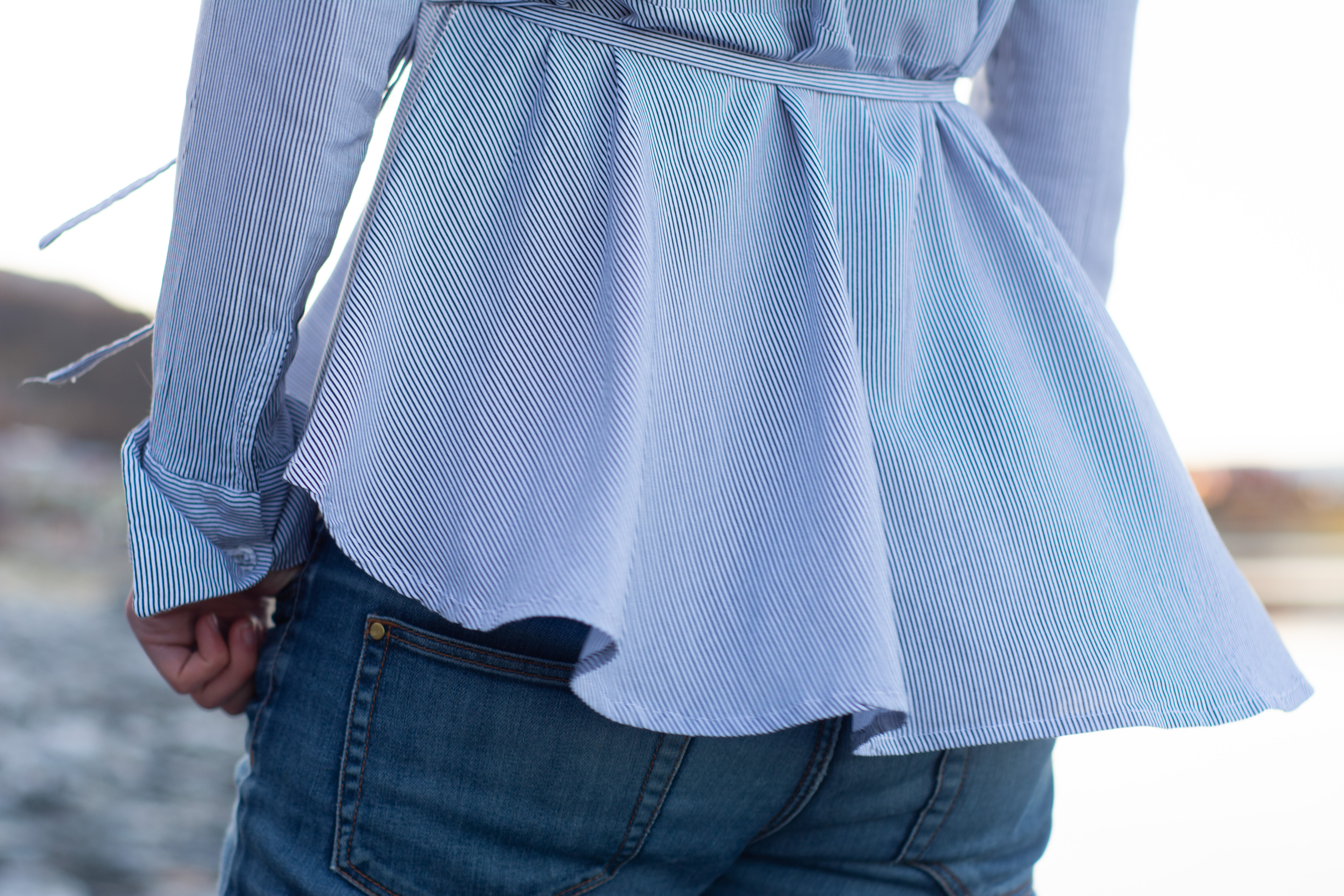 From the neck to the waist, Emmanuelle is designed exactly like a classic shirt. Button front, collar, under collar and bust darts. But below the waist there's a beautiful high-low peplum and the shirt cuffs are extra long, designed to be folded upwards. The pattern also comes with two different belt options: A simple tie and a wide belt with snaps, designed to be made of leather.
The first sample I saw of Emmanuelle was made in a striped fabric. I loved how the fabric emphasized the classic shirt pattern, while the stripes helped to create some visual interest on the peplum, too.
Luckily I had bought a beautiful rayon challis fabric from Indiesew a while back – just waiting for me to make it into a shirt. The navy stripes were so slim that I didn't have to think about pattern matching, and the fabric itself feels silky soft against my skin. The fabric is rather thin and has a lot of drape, which I really liked for the peplum. It wasn't the easiest fabric to work with, but far from the worst rayon challis I worked with.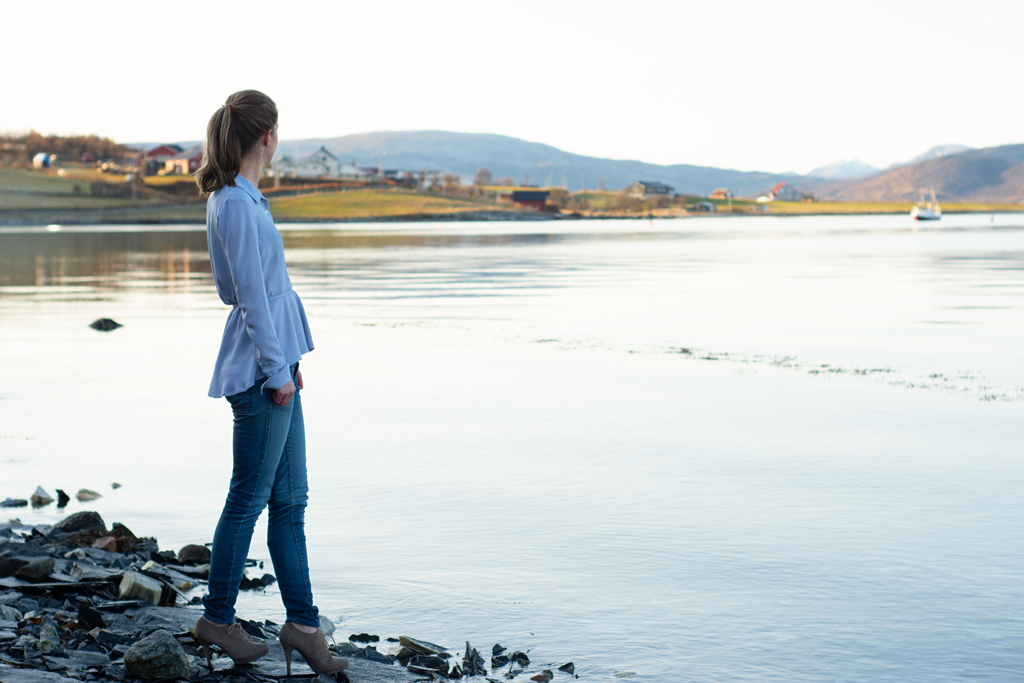 The instructions for Emmanuelle aren't the longest I've ever seen, but I didn't have any issues while sewing the shirt. It might have helped that I've sewn quite a few shirts before. I would love to tell you a little more about the sewing process – but a big disadvantage of writing a blog post weeks and weeks after finishing a project is simply that I can't remember the details. I'm very sorry! But the advantage is that I actually wore the shirt quite a few times already and can tell you that I love wearing it! The fit is good and I feel both professional and pretty and fun while wearing it. The fabric does wrinkle a bit, especially when the blouse is carried in a suitcase. But if I put the blouse on right after ironing it, it survives the rest of the day easily.
I haven't made any alterations to the blouse, other than adding a little bit of length and adding a button to make sure the blouse isn't gaping anywhere due to the extra length. I chose really simple see-through buttons for this blouse, since I think the blouse itself has more than enough details. I need to make forward shoulder adjustments from time to time, and I think I should have made one for Emmanuelle. It's not as bad as it looks on the picture below (I think the blouse fell slightly towards the back), but the fit would have been improved by moving the shoulder seam a bit towards the front.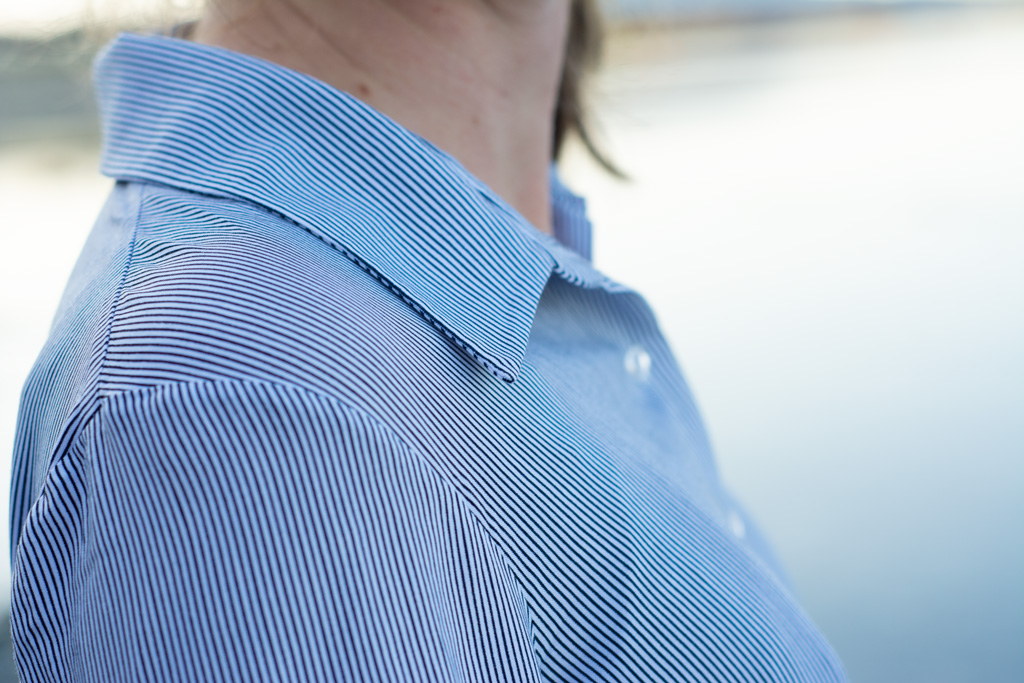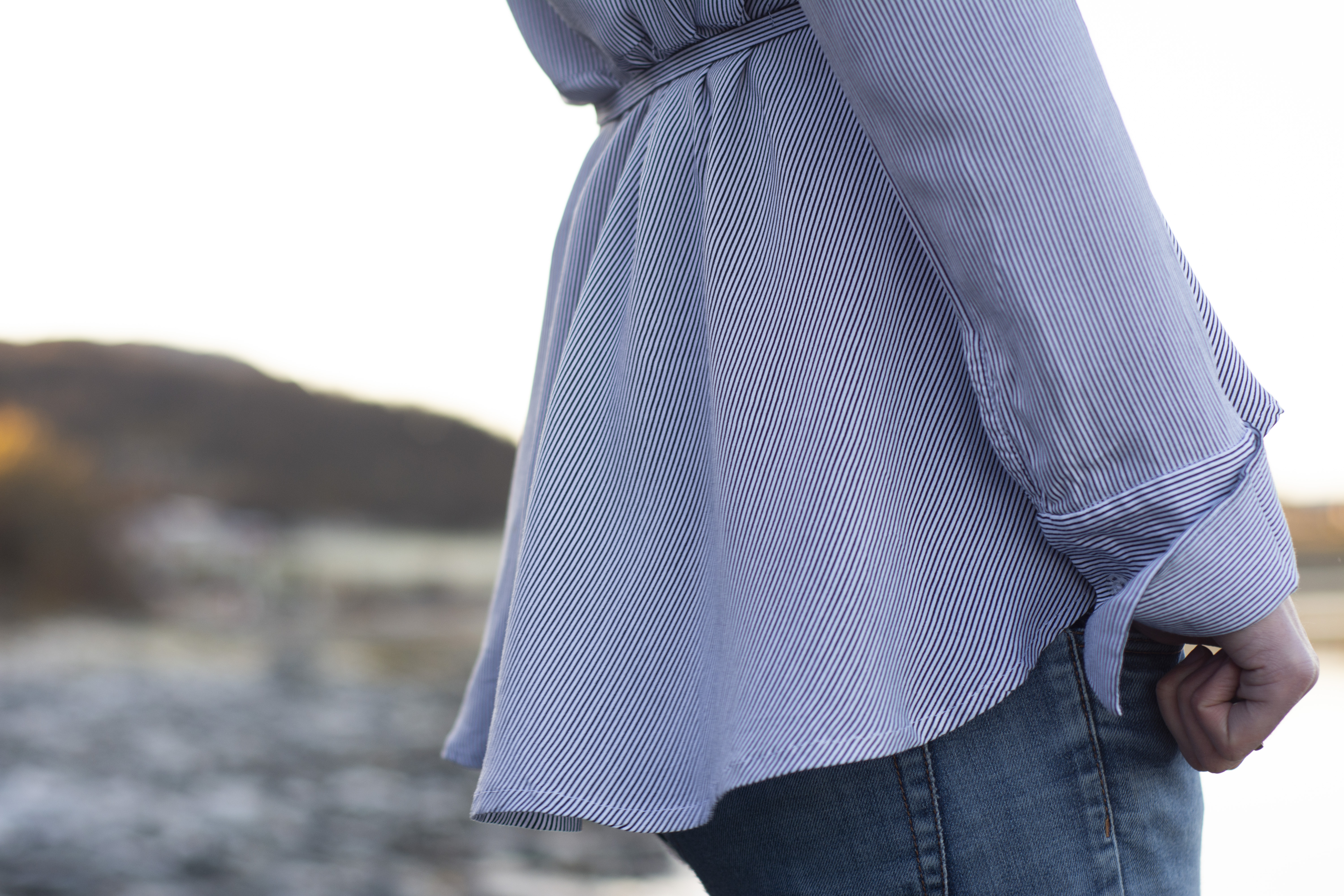 I am not sure how I feel about the cuffs. They are extra long and designed to be folded upwards. On the one hand I think it's a nice detail, making the shirt a little more playful, as does the peplum. But on the other hand I can't get my cuffs to stay in place nicely and somehow they end up being in the way. Personally I think I might choose to sew a regular (aka "boring") cuff next time I sew this shirt.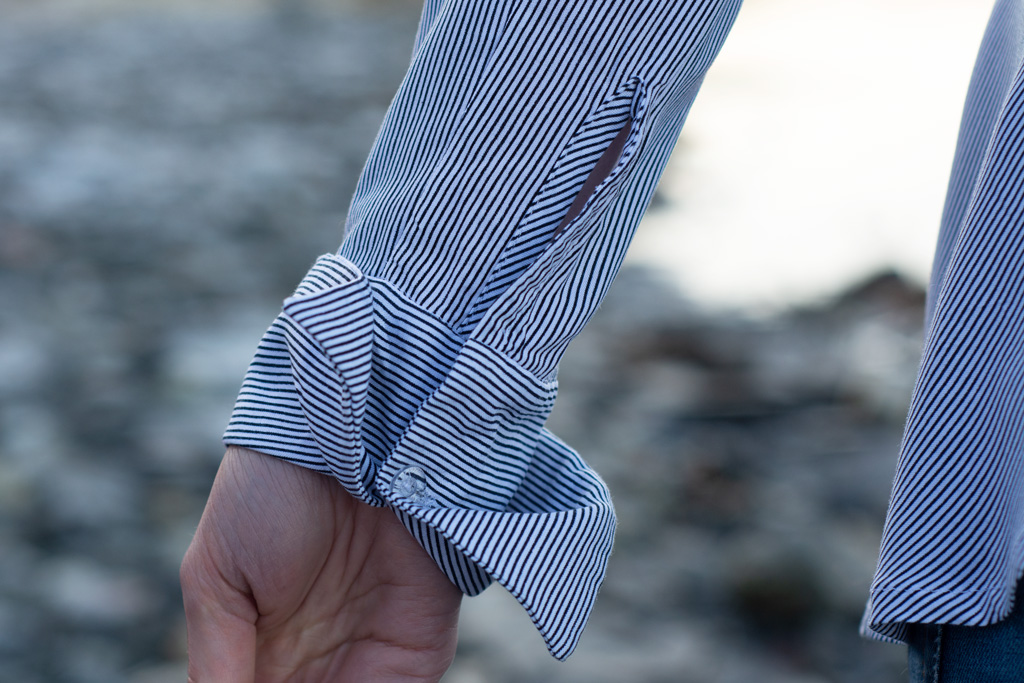 You can buy Emmanuelle over here – and even though my fabric is sold out at Indiesew, it is always a good idea to keep an eye out for new fabulous fabrics at the shop.
I hope you love this blouse as much as I do, and that it won't be too long until the next time I manage to sew and blog!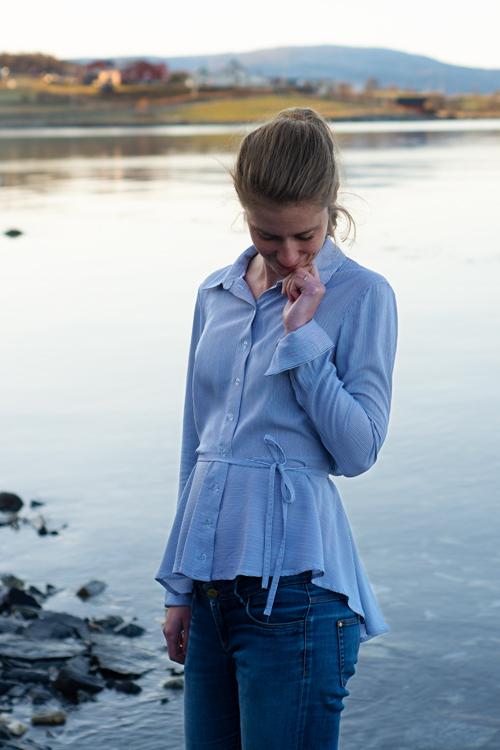 – The pattern was given to me for free for writing a review. However, all opinions are, as always, my own. –